The Bahamas are a popular destination for family vacations in the Caribbean.
The Bahamas are one of the few countries that can brag about turquoise waters, pink sand, and a dozen beaches. A true tropical paradise.
The Bahamas consist of over 700 islands, though most are uninhabited. Visitors usually travel to one of the sixteen primary islands. Grand Bahama, New Providence, Paradise Island, and Eleuthera are among the favorites.
The Bahamas offer outdoor activities like snorkeling, scuba diving, and cave exploring. Nature lovers will enjoy seeing the dolphins, turtles, iguanas, and pigs while exploring the islands. The Bahamas have a rich history and culture, enticing over 7 million visitors to the country in 2019.
When planning a trip to the Bahamas, you will need to consider several aspects of your vacation to determine the cost.
Getting to the Bahamas
One of the main expenses of your vacation to the Bahamas will be your flight. The Bahamas has dozens of airports, however, most international travelers fly into the Lynden Pindling International Airport in Nassau. From here, you can carry on to other destinations if desired.
The cost of flying to the Bahamas will depend on several factors, including where you are departing from, what airline you fly with, and what class you are flying. For example, Delta has nonstop economy tickets from New York City to Nassau for $350 roundtrip but their premium tickets are $561. Purchasing economy tickets for a family can save you several hundred dollars.
Generally, the farther you are from your destination, the more expensive the flight will be.
Nonstop economy flights from Seattle to Nassau start at $530, while flights from Miami are just $239. If you have some flexibility in when you can travel, consider going during the off-season. Flights to the Bahamas are usually cheaper from August to November as the country does not see as many tourists.
How to Save Money Flying to the Bahamas
While the cost of flights can be expensive, there are a few things you can do to make this part of your trip cost less. The first and most important thing is to shop around–do not just book the first flight you see. Do some comparison shopping on different websites such as Expedia, Kayak, or Booking.com.
Compare the cost of flying into and out of different airports and airlines. Look at the price of flights on weekends compared to weekdays–you may be surprised at how much the cost can change by bumping your trip by a day or two. Travel during the low season if possible and always fly economy.
If you have several airports near you, check to see which one offers the cheapest flights. Also, consider what it will cost you to get to each airport.
Another way to save money when booking your flight is to look at rewards programs. If you fly with the same airline often, you may have loyalty rewards you can redeem for a discounted flight price. Many credit cards also offer programs that allow you to use points for a flight credit. Hotels sometimes offer points that can be applied to flights as well.
Lastly, check with the airline to see if you are eligible for any discounts. For example, you could qualify for a lower price if you are a member of the military or a student.
Why not also check out our guide to which airlines kids fly for free on?
Accommodation
Where you stay when you're in the Bahamas will have a huge impact on how much your vacation costs. There are budget accommodations, luxury resorts, and everything in between to choose from. Keep in mind that if you are traveling during the busy season–December to April–you will typically pay more than during other times of the year.
The length of your stay can also influence the price of your lodgings. For example, you can sometimes get a cheaper per-night rate if you book for three or more days at one place.
Staying for a week can substantially reduce the per-night fee at many accommodations. If you stay at hotels regularly, it can sometimes make sense to stick with the same company to earn loyalty rewards.
When traveling as a family, the age of your children can also impact the cost. Many accommodations do not charge a fee for kids under 12 years of age; some include people up to age 17. If you are traveling with just one child, consider booking a less expensive room with one bed instead of two–you can often get a roll-away cot for the child at no extra cost.
Budget Accommodation
For a family of four, expect to pay between $80-$140 per night for budget lodgings, depending on location and amenities.
This Airbnb in Nassau is only $106 per night during the high season. It features two queen beds, a fridge, freezer, microwave, as well as dishes for your use. Air conditioning, television, and wi-fi are all included.
If you're staying on Grand Bahama Island, this hotel in Freeport offers rooms for as low as $83 per night. You'll have your own private balcony or patio, direct access to the pool, and all of the amenities you need in your room.
Luxury Accommodation
When it comes to luxury lodgings, the sky's the limit in terms of price. You can easily spend over $500 per night and as much as $3000 per night.
If you're looking for luxury, The Ocean Club on Paradise Island has everything you can imagine. This hotel is located on a 5-mile white-sand beach and features a golf course and spa, and spectacular gardens. A room with an ocean view is $2,860 per night.
Also on Paradise Island, The Cove at Atlantis is a luxury hotel on the water. Their deluxe ocean suite features all of the amenities and starts at $525 per night. The hotel includes a full-service spa, golf course, fitness facilities, and pool.
Food
One of the nice things about being on vacation is that you get to explore the cuisine of another region. Being on an island country, you'll have access to plenty of fresh seafood dishes including conch, crab, and lobster. Bahamian dishes are full of flavor and use seasonings like hot chilies, coconut, ginger, lime, and cinnamon.
The cost of food during your vacation can vary widely. If you are staying at a lodging that has kitchen facilities you can save a lot of money by preparing your own food. Shopping at local markets and making your own meals will cost around $150-300 per week for a family of four depending on what you purchase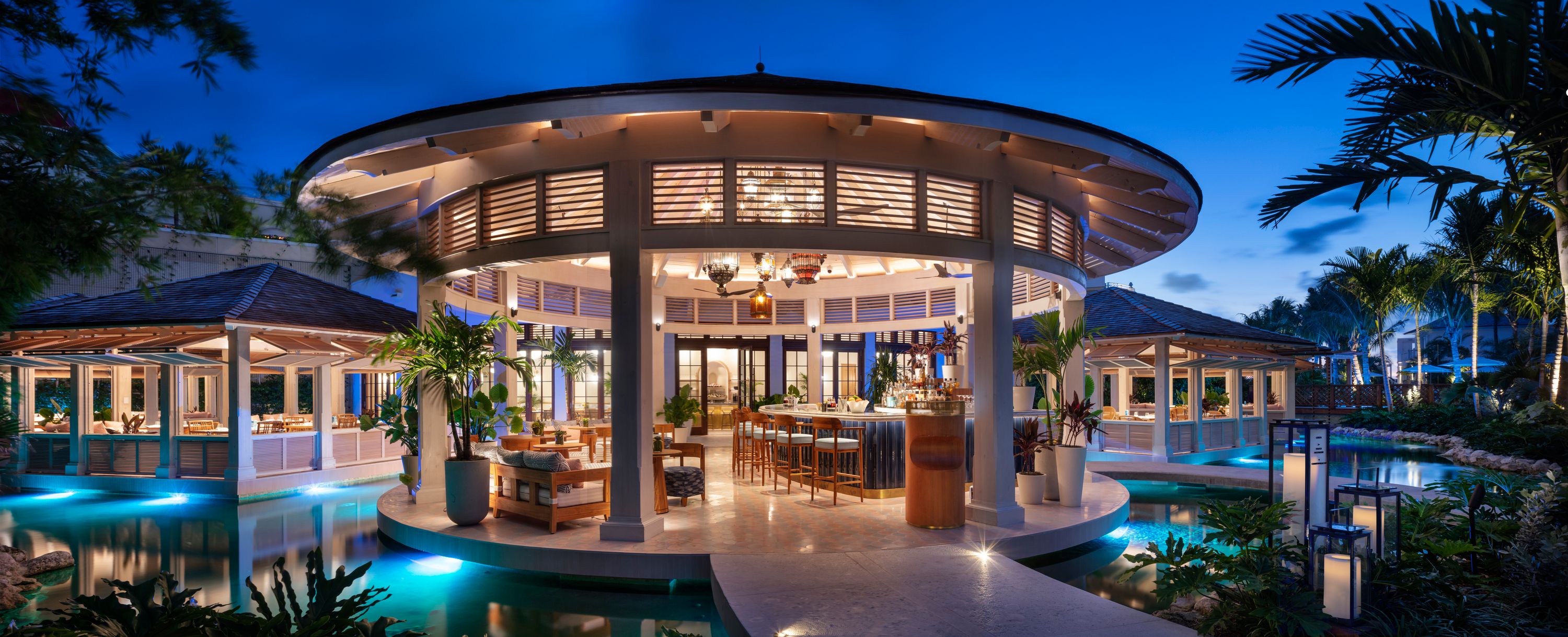 Dining at inexpensive restaurants for most of your meals will cost around $50-75 per day for a family of four. A conch burger with fries runs about $10, a stuffed crab lunch special for $12, and you can get a vegetable salad for $6.00. If you buy a dessert with every meal that will increase the cost.
Fine dining in the Bahamas can vary quite a bit in price but expect to spend at least $30 per person for a meal.
Budget Restaurants in the Bahamas
Here are some great restaurants that feature the unique taste of The Bahamas at an affordable price.
Sonia's Jerk, Nassau
This fabulous waterfront cash-only restaurant is located right on the beach just west of downtown Nassau, near Esplanade Way and Arawak Cay Drive. Sonia's Jerk serves Caribbean dishes like jerk chicken, steamed oxtail, boiled plantains, and peas and rice. Sonia, who runs the restaurant, provides a friendly and welcoming atmosphere for her customers.
Daddy Brown's Conch Stand, Freeport
Visitors to Grand Bahama Island will want to check out this stand located in the Port Lucaya marketplace. Inside this tiny hut, Daddy Brown serves up fried conch, fish, lobster, and fritters. Dine at one of the outdoor tables nearby or take your lunch for a stroll along the water.
Fine Dining in the Bahamas
Celebrating a special occasion and looking for somewhere a bit fancier to enjoy dinner? Try one of these fine dining restaurants.
This exceptional restaurant features outdoor seating so that you can enjoy the view of the water. Chefs create delicious dishes like seared tuna, grilled flank steak, grilled calamari, or crispy pork belly. Treat yourself to dessert with the tiramisu mousse cake or triple chocolate bread pudding–you won't be disappointed!
Cafe Matisse, Nassau
Situated on Bank Lane, near Parliament Square in downtown Nassau, this restaurant is an exquisite delight. Enjoy grilled lobster, filet mignon, or lamb shank for dinner. The service is impeccable and the beautiful courtyard has a lovely ambiance to enjoy your meal.
Alcohol
If you will be consuming alcohol during your vacation, you can expect that this will add to your cost. The prices can vary quite a bit depending on what you are drinking and where you purchase it.
In The Bahamas, alcohol is not sold at grocery stores, just at liquor stores of which there are many on the islands. Purchasing your alcohol this way is less expensive than buying drinks at a restaurant, bar, or resort. You can easily spend $10-20 on a single drink at a restaurant.
Overall, liquor tends to be cheaper than wine or beer. Rum is the drink of choice in The Bahamas and you can buy a liter of it for $10-20. Similarly, vodka sells for $8-16 a liter. A bottle of wine ranges from $5-20 depending on the type. Beer is the most expensive alcohol, costing about $5 for one small bottle.
Local Transportation
When vacationing in The Bahamas, you will want to factor in transportation costs, though this will vary based on your itinerary. If you plan to stay in one location only, your expenses may be limited to a taxi or bicycle rental and will be minimal. On the other hand, if you plan to island-hop, your costs will add up quickly.
Many visitors to The Bahamas stick to one island, though if you are traveling for a longer period you may want to visit two or more of the larger islands.
Depending on the size of your family, flying from one island to another can get expensive. For example, a one-way flight from Nassau to Freeport is around $140 per person. Ferries from one island to another range in price, for instance, a one-way trip from Eleuthera to Nassau is $92 per person.
Travelers to major islands like New Providence or Grand Bahama can take advantage of the public buses called jitneys. An inexpensive way to get around, these cash-only buses cost between $1.25 and 3.50 per person. Note that they don't usually run late in the evenings, generally stopping around 7:00 PM.
Taxis are another option when traveling in The Bahamas and are reasonably priced. Be sure that you are using a licensed taxi provider as they are required to use regulated rates–confirm the charges before agreeing to the ride.
A taxi from the Lynden Pindling International Airport to downtown Nassau will cost around $22, while a taxi from downtown to Paradise Island is about $10. Note that taxi fees are generally for a maximum of two passengers and that an additional fee of $3-4 is charged for each extra passenger.
Renting a car can be a convenient way to get around The Bahamas–expect to pay around $65-100 per day depending on location and type of vehicle required. Ebikes are also available for rent in some areas and this will cost approximately $50 per day. For a less expensive option, bicycles can be rented for around $20 per day including helmets and locks.
Things To Do
How much you spend on activities while vacationing in The Bahamas will depend on what you want to do. There are plenty of no-cost things to do including exploring the islands' beaches, going hiking, observing wildlife, and taking in the sights of local towns and cities. If you plan on guided tours and undersea excursions, your costs will add up quickly.
Low or No-Cost Activities
Beach-goers will have no shortage of spots to enjoy while traveling as this island nation features over 2000 beaches. Visit the Pink Sands Beach on Harbour Island which features a lovely light pink sand that comes from coral. Gold Rock Beach on Grand Bahama Island features stunning views, crystal clear water, and soft sand. Love Beaches on Long Island are ideal for families with small children as there is a shallow, calm area for them to play safely.
Visitors will want to check out some of the parks and natural attractions. In Eleuthera, the Leon Levy Native Plant Preserve features over 300 plant species indigenous to the island and over 60 different types of birds. If you travel to Long Island, be sure to visit Dean's Blue Hole, the deepest saltwater blue hole in the world. Snorkelers will enjoy the excellent visibility here.
Higher Cost Activities
A unique excursion that you might want to try while in The Bahamas is swimming with pigs. There are a few places in the country where you can do this, one of the most popular being Big Major Cay in Exuma.
This island is nicknamed Pig Beach due to the population of wild pigs that live here. Several companies offer boat tours that include this swimming experience; expect to spend $150-350 per person.
Want to learn about the culture and history of the country? Try a guided walking tour, which usually takes about 3 hours including stops for drinks and food. These tours range in price from $30-100 and are a great way to get to know the local culture and add an educational element to your vacation.
Snorkeling or scuba diving can be a fun way to explore the waters of The Bahamas. Depending on the location, you can expect to see green sea turtles, dolphins, and even sharks. Tours range from 3 to 6 hours and can cost between $100-250 with most including lunch for your group.
Tipping
The majority of restaurants in The Bahamas will include gratuities in the bill; if they do not, it is customary to tip between 15-20 percent for the wait staff. Bartenders should be tipped $1-2 per drink.
When taking taxis, tip your driver 15 percent. For short trips, you can round up to the nearest dollar. Tour guides should be tipped between 5-10 percent; this includes walking tours and boat tours.
If you are staying at a hotel, tip your porter $1-2 per bag. Housekeeping services should be tipped between $2-3 per day for their service.
Final Thoughts
For budget travelers vacationing in The Bahamas, a family of four can expect to spend between $1,000 and $1,500 per week, excluding flights.
The lower range would include preparing most of your meals, limiting your activities to free excursions, minimizing alcohol, and staying in one location.
Travelers who plan to eat out for most of their meals, take a few guided tours, use taxis, and drink alcohol daily can expect to spend at least $2,500 per week.
More about our TFVG Author
A seasoned traveller, Dad, and avid sports tourist, James foundered The Family Vacation Guide to share his expert vacation experiences- especially when it comes to being a travelling family man.
Featured in Travel articles such as Travel + Leisure, TripSavvy and SFGate, you know you're reading some of the best vacation tips online.