If you are planning your dream Caribbean family vacation, both Punta Cana and Cancun are sure to come up. They're both incredibly dreamy Caribbean destinations, and either would be a great pick. However, which one is better? 
When traveling with children, there are a lot of factors to consider, like how safe the destination is, what family-friendly activities are there, and if the beaches are safe for children, especially younger children.
You have to think about all this and more when choosing your dream family destination. While both Cancun and Punta Cana are great, you can only choose one, so you'd best pick carefully.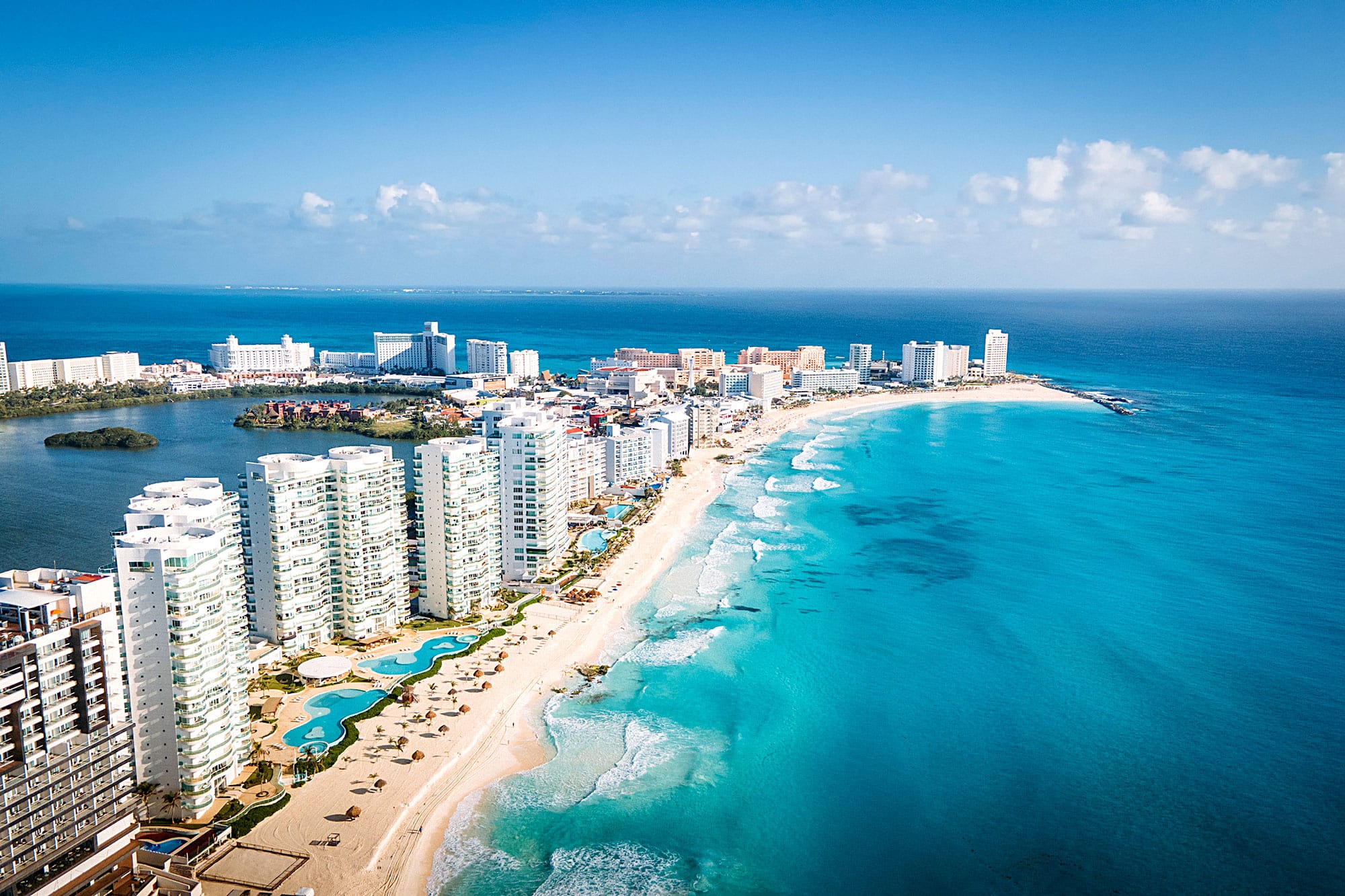 Traveling to and From Cancun and Punta Cana
These destinations have international airports with shuttles to major resorts and hotels in the area. Their hotels are also grouped together, with shuttle access between the hotels. So if you're traveling with extended family or another family on vacation, you can book at different hotels and still be able to meet quickly.
Cancun
The Cancun International Airport boasts one of the busiest travel hubs in the Caribbean, with 470 flights daily from all over the globe. They also have an impressive shuttle service that can take you almost anywhere in Cancun for a small fee. Hotels may offer their own shuttle services as well, so you have plenty of options for getting to your hotel. Hotels are all grouped together in the Hotel Zone, a seven-mile strip of sand.
The airport is the largest hub for car rental in Cancun, with many more prominent brands and more local options. If you want more freedom or a more private ride, taxis and rental cars are also available. While regular taxis don't stop at the airport, the airport offers its own taxi-like service that can take you anywhere in the city. It's the cheapest "private" option available. It's recommended you book rental cars ahead of time to make sure you get a car as they run out quickly.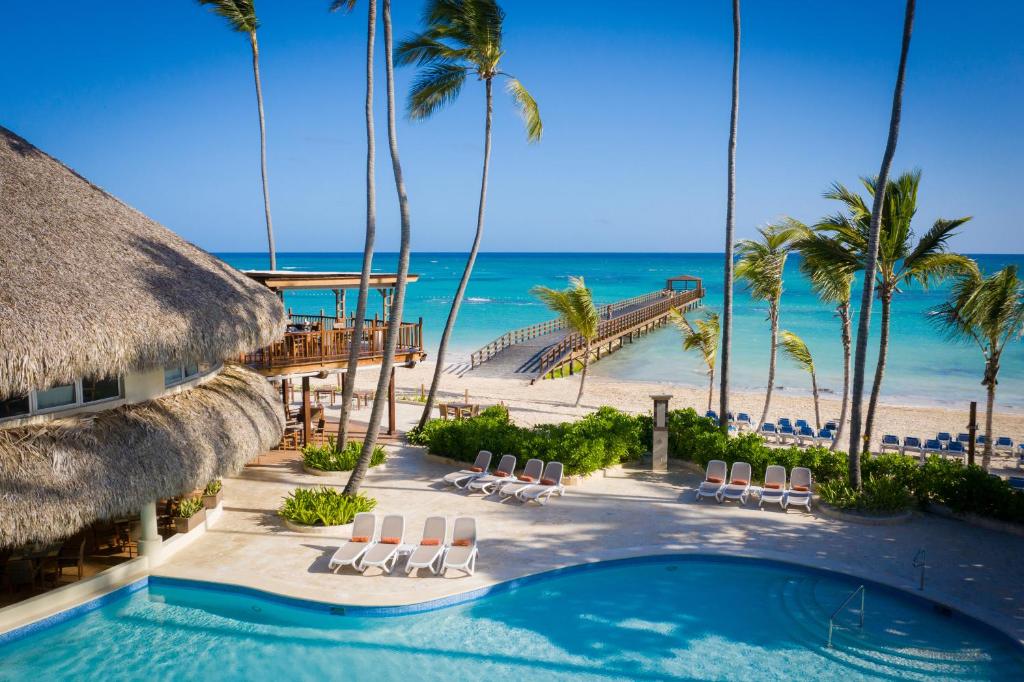 Punta Cana
Punta Cana International Airport was the first privately owned airport globally and has 60 million arrivals per year. A tourist card valid for thirty days is bought for 10 dollars upon arrival, so make sure you have cash ready for when you land. Punta Cana is more sprawling than Cancun, and not all hotels offer complimentary shuttles. However, the hotels are usually a short taxi ride away. Resorts are grouped together in Megaplexes which can have over 2000 rooms.
The airport also has a thriving rental car hub, which may be a better idea if you're planning on getting out of your hotel and seeing the sights. You should book ahead of time, but if you don't plan to leave your resort much on your trip, you can probably skip the rental car.
Beaches In Cancun and Punta Cana
Cancun and Punta Cana have pristine Caribbean beaches for sunbathing, water sports, swimming, snorkeling, and just about anything else you can do on the beach. However, they have some essential differences that could help you decide which sunny shore is right for you and your family.
Cancun
Most of Cancun's beaches lie along the Hotel Zone, meaning you can easily access them from your hotel. They come with lifeguards, equipment rentals, open-air restaurants, and just about any other sort of amenity you can imagine.
The trade-off for readily available amenities is that plenty of people use them, which means crowds. Lots of crowds. Since the beaches are along the Hotel Zone, many tourists spend their days there. If you imagined a more private beach experience, this might not be for you.
That doesn't have to be the end of it, though. If you want to get away from the crowds, plenty of public beaches are available in Cancun. Many tourists leave the crowded hotel beaches and spend their time at the gentle public playas available. Playa Tortugas is less busy than the Hotel Zone, and its gentle waves are great for kids.
Punta Cana
Luscious vegetation, palm trees, secluded beaches. Punta Cana has it all. Except for the amenities. While less crowded beaches are lovely, it comes with the trade-off of fewer amenities situated on them, like no lifeguards or restaurants. If you like having everything you need on the beach readily available to you, this might not be for you.
The waters in Punta Cana are also typically rougher, and the significant beaches might not be a good fit for young kids. But that doesn't mean you don't have options. Arena Gorda, a beach situated by many hotels, has vast sands and shallow waters, making it ideal for families with small children. 
Family-Friendly Activities in Cancun and Punta Cana
Both cities have water sports, reef snorkeling, beaches, and pirate-themed adventure cruises. Both are also popular spring break destinations, so if you want to avoid the crowd, avoid going March-April.
Cancun
One of Cancun's biggest draws is the Mayan ruins. Cancun is known as the entrance to the Mayan world, with El Rey, a small group of Mayan ruins situated smack dad in the middle of the Hotel Zone. El Maya Museo is a must-see for those interested in Mexico's history, along with Chichén Itzá, one of the new Seven Wonders of The World located about two and a half hours away.
There isn't much to do on the Isla Mujeres, but many travelers like it that way. If you want to skip the crowds, you can visit some of the smaller Mayan ruins and take the ferry out to Isla Mujeres to explore the ruins of a Mayan moon goddess. If you get out early in the morning, you can see where the sun first hits Mexico's breathtaking dawn.
Cancun is also known for its shopping. Plenty of shopping centers offer authentic tourist experiences, such as El Parque de las Palapas, a small shopping center in downtown Cancun with fantastic street food and smaller souvenir shops. It offers a more authentic experience than most other shopping centers. But if you want something a little more touristy and convenient, take a look at La Isla Shopping Village. La Isla is an adorable shopping center that's just a short walk over a canal from the Hotel Zone and offers plenty of retail therapy.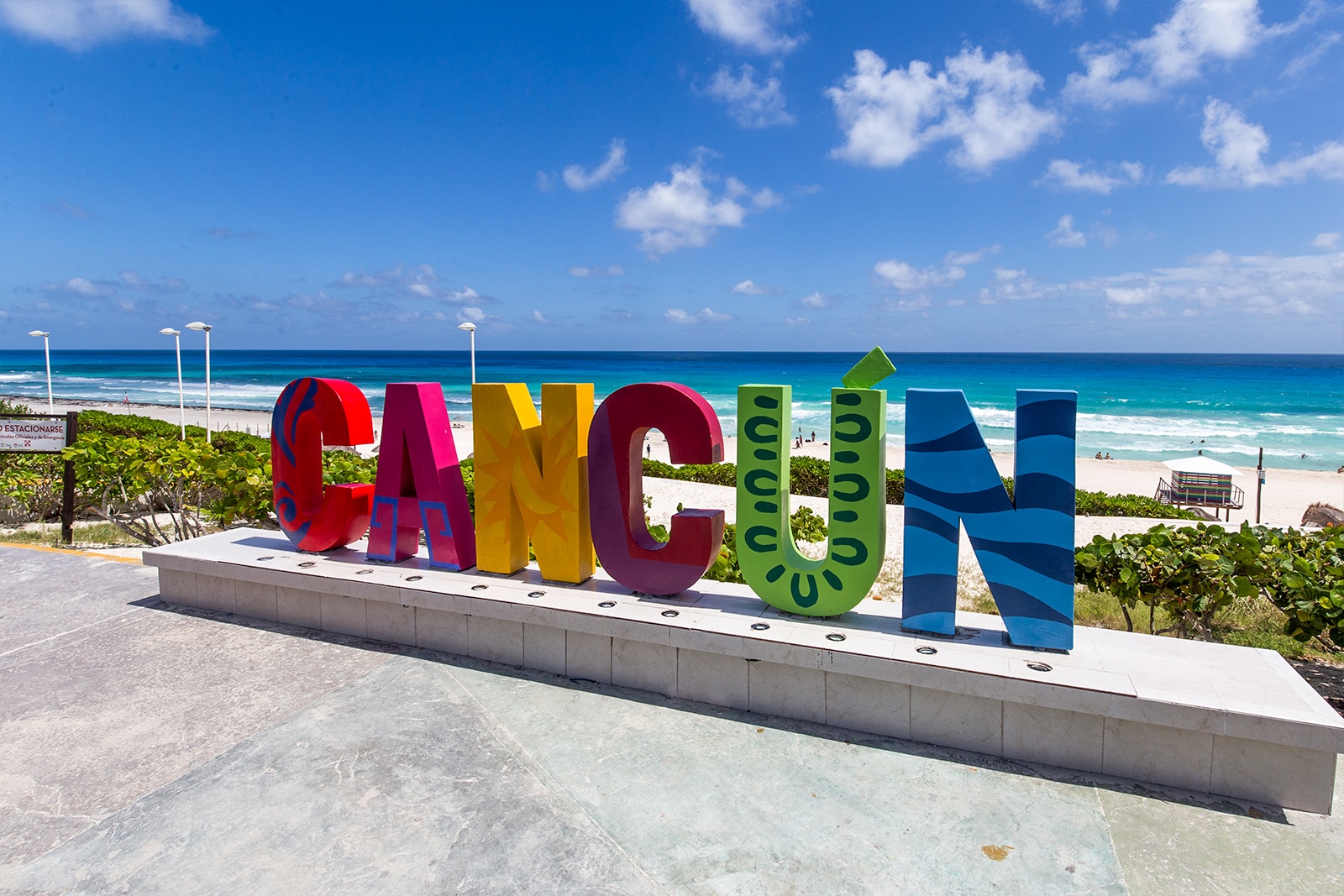 Punta Cana
Perhaps you are looking for something a little more…adventurous? Then Punta Cana has you covered. In addition to the usual water sports and reef snorkeling, you can also arrange for horseback riding or ziplining at the hotels in Punta Cana. And that's only the beginning.
Head over to Indigenous Eyes Ecological Park to laugh and take photos of the kids playing with spider monkeys. Walk one of the many trails in the area, suitable for people of all ages and fitness levels. You can also take off-road vehicle tours to explore Punta Cana uniquely or open-top Jeep tours.
Punta Cana also has interactive animal activities, such as Dolphin Discovery and Manati Park. The kids can play and interact with the animals in both of these parks. Dolphin Discovery offers packages where you can swim with dolphins. Manati Park offers open-air exhibits where you can feed the birds of reptiles, along with Taino dance shows. They're both great attractions for adults and children alike.
You might think Punta Cana doesn't have many cultural attractions to explore with all of this outdoor adventure. But they offer plenty of cultural attractions as well. Altos De Chavon is a 16th-century Italian village one does not expect to see in the Caribbean. Still, it has a great history your family can explore. And while in Punta Cana you must see the Basilica Catedral Nuestra Señora de la Altagracia. This unique cathedral boasts a modern facade with a stunning 250-foot arch and is entirely free.
Dining in Cancun and Punta Cana
Both locations offer attractive dining options, both in the hotels and on their own. That being said, Cancun has more American tourists and is geared towards American palettes. Punta Cana offers more international options to please more international tourists. However, you can find options for any kind of dining you'd like in either destination.
Cancun
When traveling, you should always make an effort to try the local cuisine, and Cancun has some of the best options in Mexico. One of the best Mexican restaurants available is Benazuza. The reviews all place this restaurant at the top with their commitment to providing stellar Mexican cuisine and the best service. It's on the expensive side, but you should enjoy the finer things in life while on vacation.
Punta Cana
Most restaurants are located inside resorts and offer buffets and a la carte. Many offer Dominican restaurants, but most will dedicate at least one night a week to Dominican food. If you are looking for dining options outside the resorts, the best ones are located on the beach.
If you are hungry for seafood, the best restaurant in Punta Cana is Capitán Cook, which offers a wide selection of caught-that-morning seafood. The stunning seafood will knock the socks off of any foodie, and they typically have live music.
Safety in Cancun and Punta Cana
When traveling with children, safety is frequently the number one priority. However, Cancun and Punta Cana are safe for tourists as long as you keep your wits about you.
Cancun
Cancun currently has a normal travel advisory from the US government, meaning it's safe to travel. Even when the travel advisory goes up, Cancun is typically considered safe for travelers. It is well policed and has a lot of resources since it's a major tourist destination. That said, you should still be careful when traveling, especially with children.
Punta Cana
The Dominican Republic is currently under a Do Not Travel advisory from the US government due to the high crime rate in the country. But tourist areas like Punta Cana are well policed and have emergency services. Other regions do not, so it's generally safe as long as you stick to more touristy areas and avoid confrontations with locals.
History in Cancun and Punta Cana
While Cancun is known as the entrance to the Mayan world and has an extensive history of people living there, Punta Cana doesn't have the same historical draw.
Cancun
Cancun is known as the entrance to the Mayan world for a good reason. There are Mayan ruins located right in the Hotel Zone and plenty of Mayan destinations in the city and beyond. In a more local sense, the city's tourism began to grow in the 1960s when the government realized its potential and revealed its development plans.
Punta Cana
Punta Cana began as a couple of sparsely populated fishing villages until some American investors saw the potential in the region and began developing it with Frank Rainieri. Frank was the original owner of the Punta Cana International Airport. With his help, they convinced many wealthy investors to build hotels and resorts. This development was all done in the late seventies and early eighties and resulted in the major tourist destination Punta Cana is today.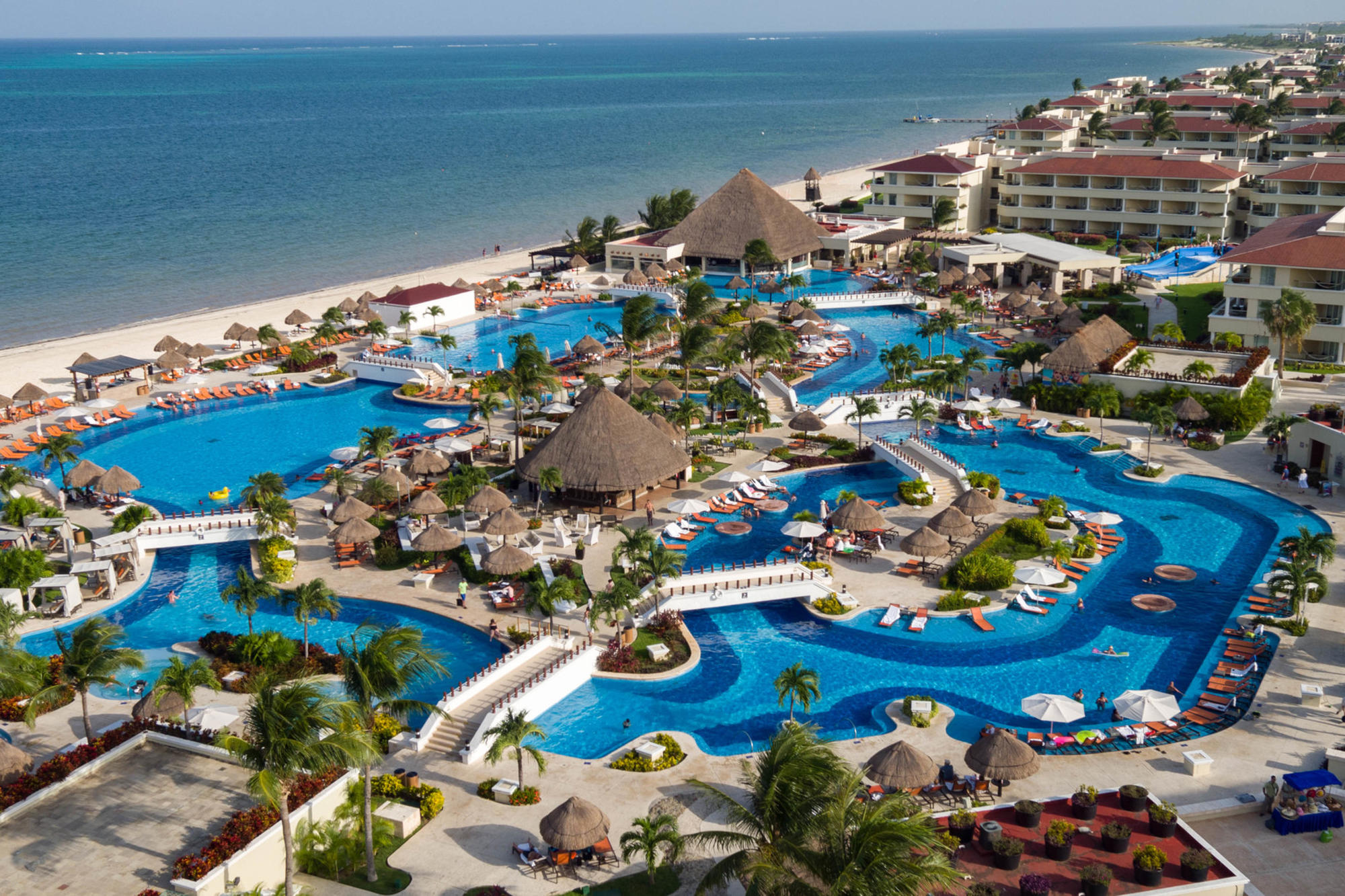 Hotels in Cancun and Punta Cana
Both destinations offer luxurious five-star hotels you and your family will enjoy. Among them are family-friendly options, with activities for both kids and adults that the entire family will enjoy.
Cancun
Cancun has no lack of hotels for you to choose from, but one of the best for families is Moon Palace. This jaw-dropping resort offers many activities for children and adults alike, from non-motorized water sports to an arcade and game lounge. While the hotel doesn't provide sea views, you won't be spending that much time in your room anyway, with a spa, kids club, and waterpark available.
Punta Cana
In Punta Cana, many hotels advertise their suitability for families. Still, the most highly rated is The Family Club at Barcelo Bavaro Palace Deluxe resort complex. Their two-bedroom suites are ideal for vacationing families. Their activities are fun for the whole family, from laser tag to escape rooms. There are not just kid activities either, as you can drop your children at the kids club, then relax at the spa or visit the nightclub or casino.
Cancun Vs. Punta Cana: Which Should You Choose?
Either Cancun or Punta Cana will make a great dream vacation for your family. Ultimately, it all comes down to your preferences. Do you want to see the wildlife in the Dominican Republic or visit ancient Mayan ruins in Mexico? Do you like having all of the beach amenities at your fingertips or a more secluded beach experience? Do you want more nature or more shopping?
Either way, your dream Caribbean vacation will come to life, and you'll make unforgettable memories with your entire family.
More about our TFVG Author
A seasoned traveller, Dad, and avid sports tourist, James foundered The Family Vacation Guide to share his expert vacation experiences- especially when it comes to being a travelling family man.
Featured in Travel articles such as Travel + Leisure, TripSavvy and SFGate, you know you're reading some of the best vacation tips online.