St. John and St. Thomas are two islands in the U.S. Virgin Islands, a U.S. territory located in the Caribbean. These islands are a fantastic place to go on vacation if you're ready for sunshine, warm sand, and tropical fun.
You'll find many activities on St. John and St. Thomas that kids and adults alike will enjoy. You can't go wrong choosing either as a family vacation destination.
The Caribbean is rich with other fantastic vacation spots for families, too. Aruba and St. Lucia, for example, are two more islands with lots of fun activities for kids. 
Let's compare St. Thomas vs. St. John to see if one is better for your family vacation. 
Travel
The three main islands in the U.S. Virgin Islands are St. John, St. Thomas, and St. Croix. All three are well-traveled with a thriving tourism trade. However, St. Thomas is the most convenient location since it has an airport.
St. Croix is the biggest at about 84 square miles and sits 40 miles south of the other two islands, solidly in the Caribbean Sea. You might want to plan a day trip or an overnighter to visit St. Croix. A ferry ride from St. Thomas or St. John to St. Croix takes about two hours one way.
You'll probably arrive at the Cyril E. King Airport in St. Thomas unless you plan to fly into St. Croix and sightsee first before heading to one island or the other. A ferry ride between St. Thomas and St. John only takes between 20 and 45 minutes, depending on which ferry you choose.
You can stay on one island and visit the other on a whim. The most expensive ferry costs about $20 for each adult and $10 for each child. Some trips will cost less than $25 for a couple with several children, so shop around for the best rates.
U.S. Citizens don't need a passport to travel to either island since they're part of a U.S. Territory.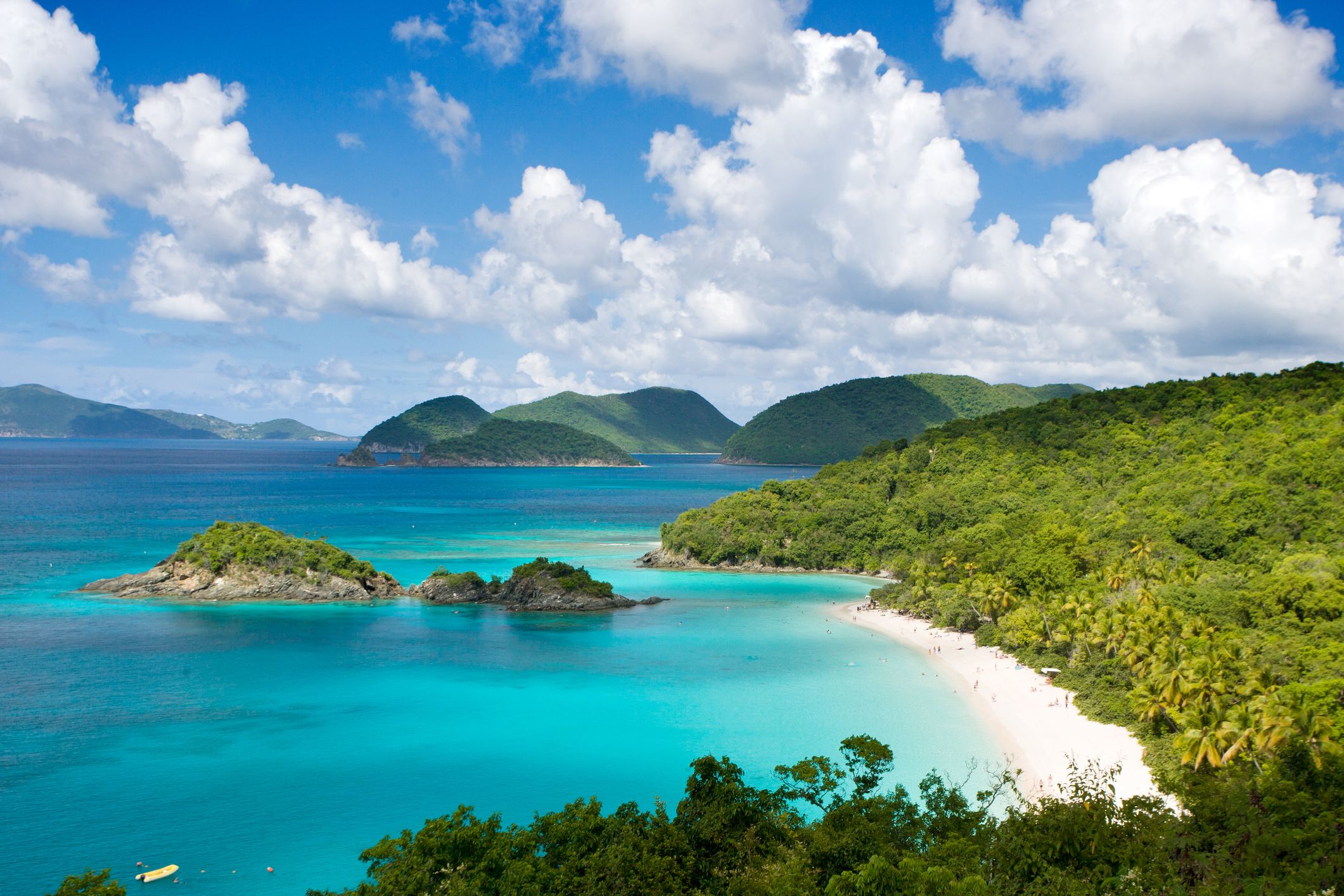 Weather and Geography
The weather is the same in both places since they're so close together. Both have plenty of outdoor activities for families who want to enjoy the hallmarks of Caribbean weather: warm temperatures and low humidity.
Comparing St. Thomas vs. St. John on geography shows similar landscapes with beach and wildlife but a large size difference. St. Thomas measures 32 square miles. St. John seems tiny by comparison with only 20 square miles. Both border the Caribbean Sea to the south and the North Atlantic to the north.
The Virgin Islands National Park makes up about 60 percent of St. John Island, but there's no lack of nature and outdoor activities on St. Thomas. Families who plan to spend most of their vacation enjoying nature will find plenty to see on either island, thanks to stunning geography and pleasant weather. 
Cost
Both islands cater to tourists, so a family vacation to either one will be expensive. You might think the cost would be about the same in either place since they have so many similarities, but that's not true.
St. John
St. John is more expensive because it's less developed than St. Thomas. You'll have fewer choices on St. John, so the average price of lodging and dining is a little higher. A rental car to get around the island will cost more, and taxi services can be pricey.
St. Thomas
The airport and size make St. Thomas busier and less expensive. It's more developed with many more budget-friendly options. You'll have a choice between car rental companies and taxi services, so deals are always available.
If you base your decisions about St. Thomas vs. St. John on the cost, St. Thomas offers the least expensive vacation.  
Lodging, Dining, and Shopping
St. John offers fewer choices, but both islands have several hotels suitable for families. You'll find more familiar names and more resorts on St. Thomas.
In general, expect to pay between $200 and $500 for most resort stays on either island. Some cost more, but a few budget options exist.
Hotels in St. Thomas
Dozens of hotels provide everything from all-inclusive resort service to budget lodgings in St. Thomas. 
Why not check out our guide to the best all-inclusive family resorts in St. Thomas?
Resorts and Four-Star Plus Hotels
The Marriott Frenchman's Cove in St. Thomas is a beach resort where any family will be comfortable. The resort sits on a beach but still offers a pool. The hotel has a restaurant and a market. If you plan to stay put rather than see the sights, you can do that at this hotel, since everything you need is right there.
The hotel shares its property with the Marriott Reef and Morning Star Beach Resort. This resort has a spa, an infinity pool, and nine restaurants. Even families with the pickiest kids will find something they can eat.
The Ritz-Carlton St. Thomas has four restaurants and spa services for children. Kids get their own pool, and you can have a family movie night.
The Secret Harbor Beach Resort has two restaurants, a freshwater pool, and ocean activities for families. The one and two-bedroom suites have balconies and kitchens, so you can stock up and cook meals in your room if you prefer that to a restaurant.
The Bolongo Bay Resort features Iggie's Beach Bar, a popular nightspot on the island, and a natural beach that gives the place a less-developed feel. 
Less Expensive Options in St. Thomas
The Emerald Beach Resort is a more budget-friendly option than a Marriott or Ritz-Carlton resort. You'll still get a balcony, easy access to Emerald Beach, a restaurant, and a pool with a bar.
Small families of three or four can enjoy a less commercialized experience at the Virgin Islands Campground. Each cottage has electricity, and you can use the shared kitchen. You'll also share a bathroom unless you pay for the luxury of staying in The Suite, where you'll get a private bath and a better view.
Budget-Friendly Options
Prices vary by season and sometimes the day. If you're looking for budget options under $200, try the Lindbergh Bay Hotel and Villas. The Sunset Gardens Guest Houses typically cost less than $100 per night.
You'll lose the resort experience with either choice, but if you need an inexpensive place to stay so you can enjoy other parts of St.Thomas, you can save money.
Many of the resorts offer on-site restaurants, so you can stay and eat in one place. The island also offers plenty of stand-alone restaurants and bars. Shopping centers, ice cream shops, and the type of eateries you typically find in tourist spots pepper the island and offer a lot of choices.
Hotels in St. John
You have fewer choices in St. John, but you can still find everything from high-end lodging to less expensive room rental.
Resorts and Four-Star Plus Hotels
The Westin St. John Resort is a high-end option for families. You'll enjoy a sprawling beach, water activities, and a full kitchen with a washing machine and dryer.
The Grande Bay Resort overlooks Cruz Bay and is minutes from the ferry to St. Thomas. This property offers two condo suites, but only one with two beds.
Seashore Allure offers a getaway feel while still providing amenities like Wi-Fi and babysitting services. You'll find bayfront condos, some with as many as three bedrooms, so big families will fit.
The Artistic Villas are a family-owned company. You can choose from several villas, each with its own atmosphere and price. You won't save money staying here, but if you want an Airbnb vibe and a laid-back atmosphere, you'll find it.
Garden by the Sea in St. John offers an expensive bed and breakfast feeling for couples. This lodging has only one room available that can sleep three, for an extra charge, and you have to stay at least two nights.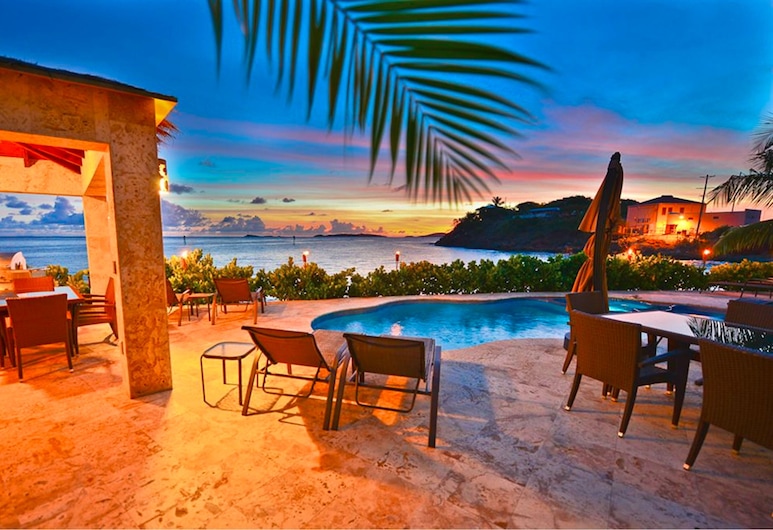 Less Expensive Options in St. John
The Wharfside Villa Hotel offers a more standard hotel experience with Wi-Fi and standard guest rooms, located among restaurants, activities, and beaches.
St. John Inn is a more affordable option for families with a choice of suites that can sleep kids in extra bedrooms and on a sofabed. The location is minutes away from many of the restaurants and attractions.
Budget-Friendly Options
Many vacation rentals are available with different locations and amenities. For less than $200, you can stay at the Concordia Eco-Resort Campground. The Cinnamon Bay Campground has options for as low as $50 per night, though you can spend a few hundred if you choose an eco-tent.
St. John has fewer restaurants and dining establishments than St. Thomas. If you don't eat at your resort, you can find fine dining and options in most price ranges, but not chain restaurants or stores.
For families, especially those with many kids, you'll find many more budget options that accommodate several people on St. Thomas. If you're looking for a more secluded getaway, St. John is probably your best bet.
Activities for Families
Both islands make fantastic getaways for swimming, boating, diving, hiking, and all kinds of outdoor fun.
St. Thomas offers the full Caribbean resort vacation experience with tons of things for families with kids to enjoy. St. John offers activities, boat rentals, and similar attractions, but you'll find fewer commercial options.
St. Thomas Attractions
You'll find many scheduled activities for adults and kids across the island, with several programs for children's activities. 
Beaches
Some of the most famous beaches on St. Thomas include:
Sapphire Bay
Coki Point
Lindquist
Magens Bay
Dorothea
Bolongo Bay
Stumpy Bay
You'll find crowded beaches and small, isolated spots to enjoy the sun and surf.
Parks and Gardens
Don't miss Coral World Ocean Park. This park is a wonderful place to spend the day enjoying water and nature. Your family can enjoy ocean pools, aquariums, and wildlife like exotic birds. One of the highlights is snorkeling to experience the underwater beauty of the Caribbean.
The Phantasea Tropical Botanical Garden can provide some structured nature time on an afternoon or the whole day. This garden is a beautiful and educational way to enjoy the wildlife and native foliage on the island. The Plantation Crown and Hawk Botanical Garden also offers activities for all ages.
Indoor Attractions
The Virgin Islands Children's Museum is the perfect place to take your family if it happens to rain or you need some time indoors. The museum is inside the Buccaneer's Mall and has a lot of exhibits and activities aimed at kids under 12.
Another option is the Pirates' Treasure Museum, featuring real-life shipwreck cargo and activities for children. 
Outdoor Adventure
Mountain Top lets you and your kids enjoy a meal at the restaurant and take in the view from the observation deck that's over 600 feet above sea level. Shop at the duty-free store for souvenirs and treats.
You can also take the Skyride to Paradise Point for a stunning view of St. Thomas from a tram. You'll see the beautiful capital city, Charlotte Amalie, from 700 feet in the air. Don't miss the Tree Limin' Extreme Zipline if you want more adventures in the air.
Historic Attractions
Fort Christian is a 17th-century fort that's the oldest remaining structure on St. Thomas. To share some more history with your kids, visit the Emancipation Garden that commemorates the ending of slavery in 1848 in the Danish West Indies.
St. John Attractions
St. John has fewer activities aimed at kids. While this may seem like a downside, fewer options mean you can do everything in your short stay.
Of course, most of the attractions are beaches and nature-related. 
Beaches
Make sure you take your kids to one – or all! – of these St. John beaches:
Honeymoon
Maho Bay
Hawksnest Bay
Caneel Bay
Denis Bay
Gibney
Trunk Bay
Salomon Bay
Salomon Bay is harder to access, so it might be one to cross off the list if you have small children.
Parks and Outdoor Fun
Most of the island is within the Virgin Islands National Park. You'll find ample opportunities for engaging with nature and wildlife through the park. Enjoy snorkeling, hiking, and going on guided tours.
Plan to go to Trunk Bay to enjoy the Underwater Snorkel Trail. Snorkeling the trail is a paid activity but one of the don't-miss attractions on St. John. Some of the most beautiful Caribbean sights are underwater.
You can also enjoy Trunk Bay activities without going on the trail. Small children might enjoy the beach more than the underwater experience. Your older kids can explore the water and coral on the self-guided walk.
If you go to Hawksnest Beach, you can dress up like a mermaid and be Ariel for a day at the Mermaid Swim. 
Historic Attractions
A relaxing afternoon of learning about the island should include the Reef Bay Sugar Plantation. This historic attraction was an 18th-century cattle and cotton plantation that became a sugar mill at the beginning of the 19th century.
The Petroglyphs of Reef Bay are an interesting way to slow down and learn something about the history of St. John. You can enjoy the waterfalls and ancient petroglyphs carved into the stone by pre-Columbian residents of the island.
St. Thomas vs. St. John on Activities
The better location depends on your family and the kinds of attractions and activities you want to fit into your vacation.
St. Thomas
Families with small children will find more structured activities and programs across St. Thomas island. The sprawling resorts and tourist spots cater to all ages. The hardest part will be doing everything that looks fun.
St. John
St. John provides some activities for small children, but the beaches and resorts cater more to adults and older children. You'll find fewer structured activities but more hiking trails, natural beaches, and ways to enjoy the beauty of the island independently.
A good way to choose would be to explore all the popular activities in both places and decide which one appeals more to your family. You can always ferry to the other island for its attractions while spending most of your time on one. 
St. Thomas vs. St. John Atmosphere
One notable difference between the two islands is their atmospheres. While it may not seem like a critical factor, the general feel of a place can make or break your vacation, especially when you're looking for something special for your kids.
St. Thomas
St. Thomas is busier and has more tourists and residents than St. John. Its size, the airport, and a brisker tourism trade contribute to the island's more commercial nature.
The St. Thomas island is the best choice if you don't mind the crowd because you'll get more options and amenities.
St. John
You won't find shopping centers or chain commercial enterprises on St. John. If you want to unplug and relax, St. John will suit you better. St. John feels more laid back, in part because the Virgin Islands National Park makes up over half of it.
St. John boasts a calmer atmosphere with fewer commercial ventures. This island offers more boutique hotels and rentals with a focus on the national park and beaches more than stores or tourist attractions.
If you and your family want to spend a lot of time in nature and don't mind missing out on some amenities and options, then St. John is the better choice.
The Verdict: St. Thomas vs. St. John
The wonderful thing about comparing St. Thomas vs. St. John is that no matter where you stay, you and your kids can enjoy the attractions.
Of course, there's no reason not to enjoy both islands when you go to the Caribbean! If choosing between St. Thomas vs. St. John is too difficult, consider staying on both islands for a day or two.
You'll be able to enjoy all that each island has to offer and balance the cost between the higher-end St. John and more affordable St. Thomas hotels.
Don't forget to plan a day to visit St. Croix so you and your family can leave the Caribbean for home with no regrets!
More about our TFVG Author
A seasoned traveller, Dad, and avid sports tourist, James foundered The Family Vacation Guide to share his expert vacation experiences- especially when it comes to being a travelling family man.
Featured in Travel articles such as Travel + Leisure, TripSavvy and SFGate, you know you're reading some of the best vacation tips online.