A small country in Central America, Costa Rica is a tropical paradise for travelers. The landscape is diverse, featuring mountain ranges, jungles, and pristine beaches. Spanish is the official language of Costa Rica, with many residents also speaking English.
The country has something to offer every traveler, whether you are taking a family vacation with kids, looking for a romantic getaway, or seeking an outdoor adventure. The cost of traveling to Costa Rica will vary based on the time of year you are traveling, what sort of activities you participate in, and the style of accommodation you stay at.
Without further ado, read on to learn more about the cost of taking your family to beautiful Costa Rica.
Airfare
Traveling to Costa Rica starts with your plane tickets. The country has two main airports: Juan Santamaria International (SJO) and Daniel Oduber International (LIR). The cost of flying to Costa Rica will depend on the time of year you are flying and what city you are flying from. Airlines will vary in prices as well.
The cheapest flights to Costa Rica are usually available in May, June, and September to mid-December. Round-trip flights during these times of the year can be found for as low as $400 for economy fares. The high season includes July and August, as well as mid-December to April. During these times, the cost ranges from $500-600.
Accommodation
Along with airfare, your accommodation will be one of the biggest expenses of your trip. Costa Rica has lodgings that cater to the budget traveler, the luxury traveler, and everyone in between. Prices will typically be less during the low season.
Budget travelers can expect to spend around $250 per week for private accommodations. Those who choose to stay in dormitory rooms can spend less. Mid-range accommodation will range from $600 to $800 per week. The sky's the limit when it comes to luxury places to stay as there is no shortage of extravagant options.
All-inclusive resorts are another option when traveling. Some resorts cater specifically to families and offer plenty of activities for both adults and children. 
Budget Accommodation
Villa Pacande Bed and Breakfast, $32 per night
This budget bed and breakfast is conveniently located 20 minutes from the Juan Santamaria International Airport. All rooms have a beautiful view, include a complimentary breakfast, and provide access to a large garden. There is also a small pool located on the property.
La Purruja Lodge, $34 per night
A small, family-owned lodge, La Purruja is located on the southern Pacific coast of Costa Rica. Private rooms are $34, while dorm beds are available for $8 per night. The lodge has a common area with a kitchen and dining area. Outdoors there is a freshwater pool, hammocks to relax in, and wildlife to observe.
Mid-Range Accommodation
Doce Lunas, $85 per night
On the Pacific coast in the Jaco district of Costa Rica, Doce Lunas offers affordable lodging without sacrificing quality. The property is located on five acres of jungle gardens on the edge of the rainforest. In addition to a pool and waterfall cave, there is also complimentary yoga available. The Eclipse restaurant features local food including fruit and vegetables that are grown on-site.
Danta Corcovado Lodge, $110 per night
Situated in the Osa Peninsula, the Danta Corcovado Lodge features rustic lodgings that emphasize sustainability and ecological design. Close to the Corcovado National Park, this is an ideal spot to start a hiking trip. Activities at the lodge include a jungle night walk, bird watching tours, and kayaking excursions.
Luxury Accommodation
Nayara Gardens, $600 per night
Located in the Northern Highlands near the Arenal Volcano, Nayara Gardens is a luxurious space to relax and enjoy the natural beauty of the country. Lodging at Nayara Gardens features a wrap-around terrace overlooking the rainforest. In addition to a private garden and outdoor rain showers, there is also a jacuzzi tub and hammocks.
The space features complimentary yoga, twice-daily maid service, and a state-of-the-art gym. There is also a swim-up bar, mineral hot-springs pools, and an award-winning spa.
All-Inclusive Resorts
Hotel Riu Palace, $300 per night
This all-inclusive resort is located in Guanacaste in the northwest part of Costa Rica. Enjoy the Matapalo beach and the resort's four swimming pools. Other amenities include a spa, gym, jacuzzi, and sauna.
Outdoor activities at Hotel Riu Palace abound with a waterpark, tennis court, volleyball, and kayaking available. There are five restaurants to dine at in the resort. Prices start at $300 per night for double occupancy, with kids staying free.
Fiesta Resort, $200 per night
Located just 85 kilometers west of San Jose, this resort is situated on the Pacific coast of Costa Rica. Featuring tropical gardens, six swimming pools, and a beautiful beach, Fiesta Resort has plenty to keep travelers busy.
Visitors can enjoy mini-golf, tennis, and volleyball. There is a theatre, live shows and entertainment, and dancing, as well as a spa. Clubs and activities for children and teenagers are also provided. The resort features four restaurants to enjoy. Prices for the Fiesta Resort start at $200 per night for double occupancy.
Why not take a look at our guide to the best all-inclusive family resorts in Costa Rica for inspiration?
Food
With the abundance of fresh food grown locally in Costa Rica, eating here is a delight! Here are some common dishes.
Casado is a traditional Costa Rican meal that consists of rice, beans, plantains, salad, and either chicken, beef, or pork.
Arroz con mariscos is a seafood dish with rice and vegetables.
A hearty stew packed with flavor, olla de carne is a delicious meal. Pieces of beef are combined with plantains, yuca, sweet potatoes, and chayote.
Gallos is a corn tortilla stuffed with pork and then topped with lettuce, tomato, and fresh lime juice.
A traditional breakfast plate may include eggs, plantains, tortillas, and gallo pinto–a combination of rice, beans, peppers, onions, and cilantro.
Other Costa Rican dishes include sopa negra (black bean soup), chorreadas (corn pancakes), chifrijo (red beans and fried pork), and picadillos (vegetable hash).
Though prices can vary widely from region to region, expect to spend around $10 to $15 per day if you are dining out for every meal. Fine dining restaurants will increase your costs while you can spend less by purchasing groceries at a local market and preparing food yourself.
Alcohol
If you drink alcohol during your trip to Costa Rica, this will add to your expenses. A bottle of beer will cost around $2-3 depending on the brand. A mid-range bottle of wine is about $10-12.
Main Attractions
Costa Rica is a relatively small country, covering just over 50,000 square kilometers, making it slightly smaller than the state of West Virginia. Luckily, the country is packed with attractions and activities to keep you busy.
Located about 60 kilometers northeast of Golfito, near the border with Panama, the Wilson Botanical Garden is a must-see for visitors. The garden has over 2000 species that are native to Costa Rica including some that are on the verge of being extinct. Guided walks are available twice a day or visitors can explore on their own with the help of a trail map.
In addition to the great variety of plants and flowers, there are also many butterfly and bird species to see. Climb to the viewing platform for an incredible view of the forest. Cabins are available on the property for overnight stays. Guided tours start at $34 for adults and $23 for children under 13. Nocturnal wildlife walks are also offered.
La Paz Waterfall Gardens is the biggest animal sanctuary in the entire country. Located near Volcan Poas, it's a great option for a day trip from San Jose. The property has 3.5 kilometers of trails and five stunning waterfalls. You'll see a vast array of animals including toucans, frogs, wild cats, sloths, and monkeys. There is also a butterfly sanctuary and dedicated reptile space. Admission costs $48 for adults and $32 for children under 13.
The 1,633 meter-high Volcan Arenal is an active volcano that can be seen in this national park. On cloudy days, the volcano may be less visible. Located near the town of La Fortuna, the park features 15 kilometers of hiking trails.
Visitors can expect to see anteaters, parrots, sloths, deer, monkeys, and snakes. There is an observation tower that provides an excellent view. Admission to the park is $15 for adults and $5 for children.
Catarata Manantial de Agua Viva
Nature lovers will want to visit Catarata Manantial de Agua Viva, the highest waterfall in the country. At 200 meters high, this waterfall is stunning to see and there is no cost to visit. Visitors can hike 3 kilometers down to the bottom, though the trail is steep and slippery. Once at the bottom, you can enjoy one of the many swimming holes before climbing back up to the top!
Playa Negra
This gorgeous black-sand beach is located in Cahuita and offers incredible swimming thanks to the clean water. Surfers will also enjoy the waters here. Since this area is only accessible by dirt roads it is not usually crowded so you will have plenty of space to yourself. And best of all there's no charge to use the beach!
Costa Rica's most popular national park covers just 1680 acres but includes gorgeous beaches, jungle trails, and an incredible variety of wildlife. Expect to see monkeys, toucans, sloths, and more. Adults are charged $18 for admission while children under 12 pay $5.65. Guided tours are also available.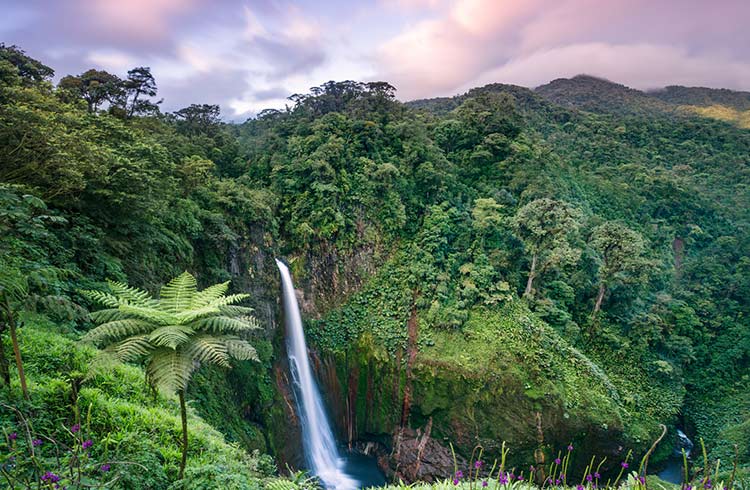 Shopping and Souvenirs
If you are planning to bring any souvenirs home with you from Costa Rica, you'll need to factor this expense into the budget for your trip. There are many places to shop in Costa Rica, from small markets featuring local artisans to large shopping centers and malls. You may find a treasure or two for yourself or decide to buy something to bring home for friends and family.
Mercado Central
This busy market in San Jose offers everything from clothing and souvenirs to food and flowers. There are also cafes where you can grab a bite to eat while shopping.
Central Farmer's Market
This excellent farmer's market is located in Escazu and is only open on Saturday mornings. Visitors can find all types of fruit and vegetables, cheese, seafood, and homemade tortillas. There are also a variety of locally-made handicrafts for sale.
Located in Jaco, this fantastic gift shop features work from local artists as well as from craftspeople in various parts of Costa Rica. Shoppers will find wood carvings, soaps, leather goods, cards, and home decor. Other gift options include books, jewelry, puzzles, paintings, bags and purses, pottery, masks, and chocolates.
Mercado Nacional de Artesania
The national craft market is located in San Jose. It features plenty of handicrafts made by local artisans including carved statues, beadwork, ceramics, and jewelry.
Multiplaza Mall
Located in Escazu, this is one of the largest malls in the country. It has a variety of department stores and designer clothing shops as well as a movie theatre and multiple food options.
Local Transportation
How much traveling you will be doing within Costa Rica will affect your spending. There are many options to choose from for getting around. Rental cars, taxis, and buses are the most popular choices.
Rental Cars
If you plan to see a lot of the country or visit areas that are not served by public transit, you may want to consider renting a car for the duration of your stay.
Be sure to shop around when renting a vehicle in Costa Rica as the prices can vary greatly. Picking up an economy-size rental car at the airport from Enterprise for one week will cost about $650. Renting a similar-sized car from Budget in San Jose will cost just over $300.
The price of gas in Costa Rica is about $4 per gallon. You'll also need to consider the cost of insurance when renting a vehicle. Liability insurance is mandatory and costs about $20 per day.
Taxis
It's important to know how to identify legitimate taxis in Costa Rica as you will want to avoid illegal cabs. Licensed taxis are red and have a yellow triangle on the door. Taxis typically charge one dollar for each kilometer, though the prices sometimes rise at night. If you will be traveling a long distance by taxi you can negotiate a flat rate.
Buses
In Costa Rica, buses are an affordable way to get around the country. Several bus companies operate throughout Costa Rica, servicing most destinations. San Jose is the main transit hub in the country and you can travel to most areas of the country from here by bus. Prices vary based on the destination, however, you are unlikely to pay more than $20 for a trip anywhere in the country.
Travel Insurance
Purchasing travel insurance for your trip to Costa Rica will ensure that you are covered should you have medical issues while traveling. Insurance will cover expenses you may have if you become ill, but it can also cover injury-related costs.
Many travelers to Costa Rica participate in adventures like surfing, hiking in the jungle, or water sports. Insurance is essential if you are taking part in such high-risk activities.
In addition to medical costs, travel insurance can also cover expenses related to trip disruptions or cancellations. For example, Costa Rica can have severe weather like earthquakes and flash flooding. If these types of occurrences happen during your travel time, insurance can reimburse you for related costs.
Travel insurance costs will vary based on several factors but anticipate spending around 5 to 10 percent of your total trip costs. Check with multiple insurance providers to compare rates and ensure that the policy you choose covers all activities you intend to participate in.
Total Expenses
Expenses for a family vacation can vary widely based on many factors, including the time of year that you travel, what parts of Costa Rica you visit, and what activities you participate in.
Budget travelers who go to Costa Rica during the off-season, stay in inexpensive lodging, and choose mostly free excursions can expect to spend around $400 per week plus airfare. People traveling during the busy season, visiting more costly attractions, and staying in mid-range accommodation can anticipate spending around $800 per week.
Since most accommodation is based on a double occupancy rate with children staying free, families will find their biggest cost is often airfare since each seat requires purchasing a ticket. Compare various airlines for the best price and if you have some flexibility consider traveling during the off-season for discounted flights.
More about our TFVG Author
A seasoned traveller, Dad, and avid sports tourist, James foundered The Family Vacation Guide to share his expert vacation experiences- especially when it comes to being a travelling family man.
Featured in Travel articles such as Travel + Leisure, TripSavvy and SFGate, you know you're reading some of the best vacation tips online.