Do you need a vacation from your vacation? Drive a few hours down to Miami, Florida, relax on the pristine beaches, and book an Airbnb with a pool and view. 
If you've ever been to Disney World with your kids for a week-long "vacation," you may need some time to unwind before heading home.
Miami is one of the best U.S. cities for family vacations, and it has some fantastic spots for parents to temper their frayed nerves and get that vacation glow. There are still plenty of fun activities for families in the magic city.
Whether you plan on spending a weekend or several weeks, these 15 rentals are the best Airbnbs in Miami for families.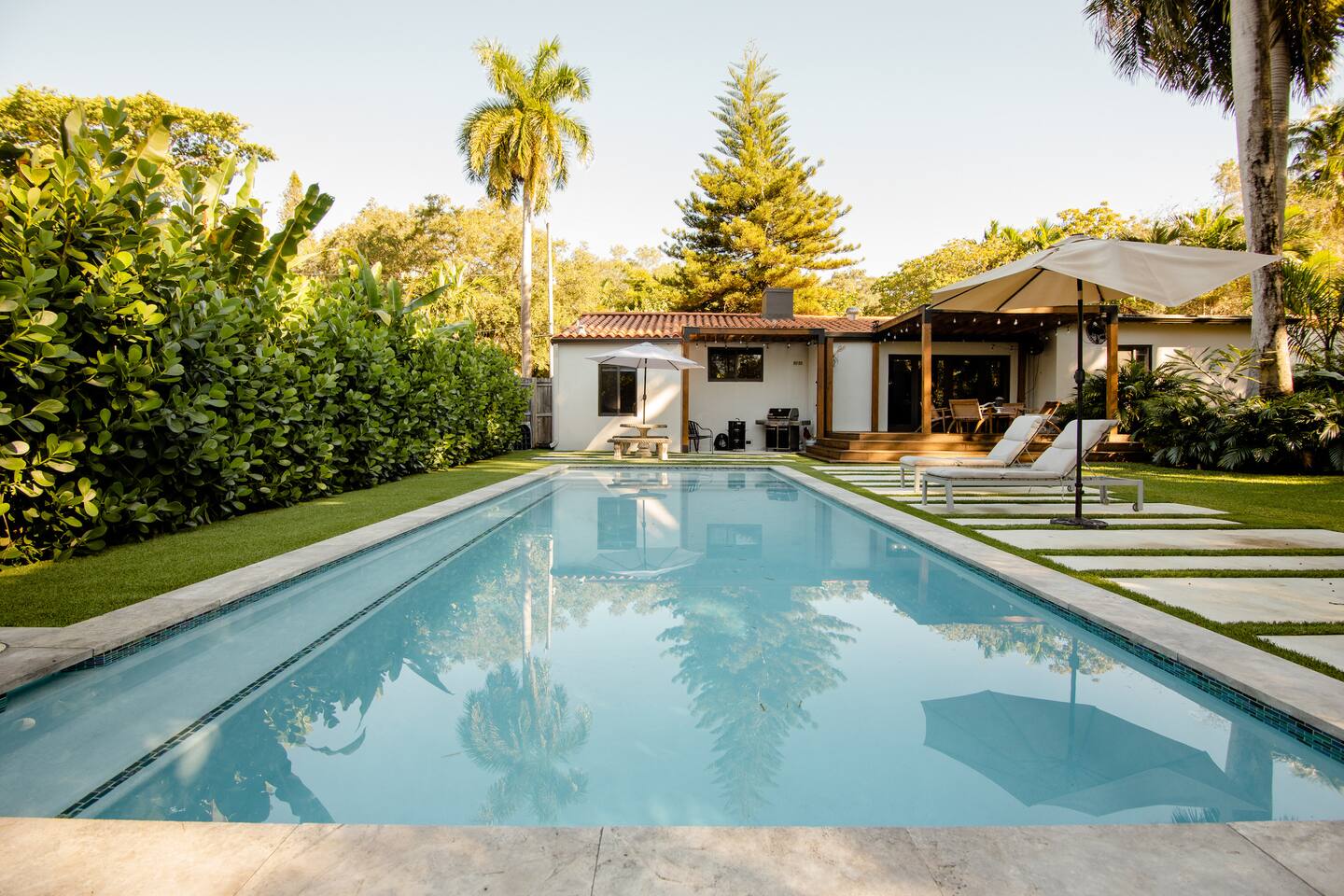 In the El Portal neighborhood, Sherwood Forest is a suburb between the Miami shore and the Little River. It's a charming and eclectic area filled with beautiful homes built in the 1930s and 40s. This mid-century home is right on the Little River and features a large heated saltwater pool.
This river house has three bedrooms and two bathrooms, perfect for up to six guests. It has plenty of amenities for your family, including a kitchen with stainless steel appliances, an outdoor BBQ area, a laundry room, and a fully equipped gym.
The house is minutes away from the beach and within walking distance of great restaurants and unique shopping. You can relax on the outdoor patio, take a canoe down the river, and enjoy watching movies with a surround sound system. Other amenities include Egyptian cotton bed linen and a dedicated workspace with free Wi-Fi.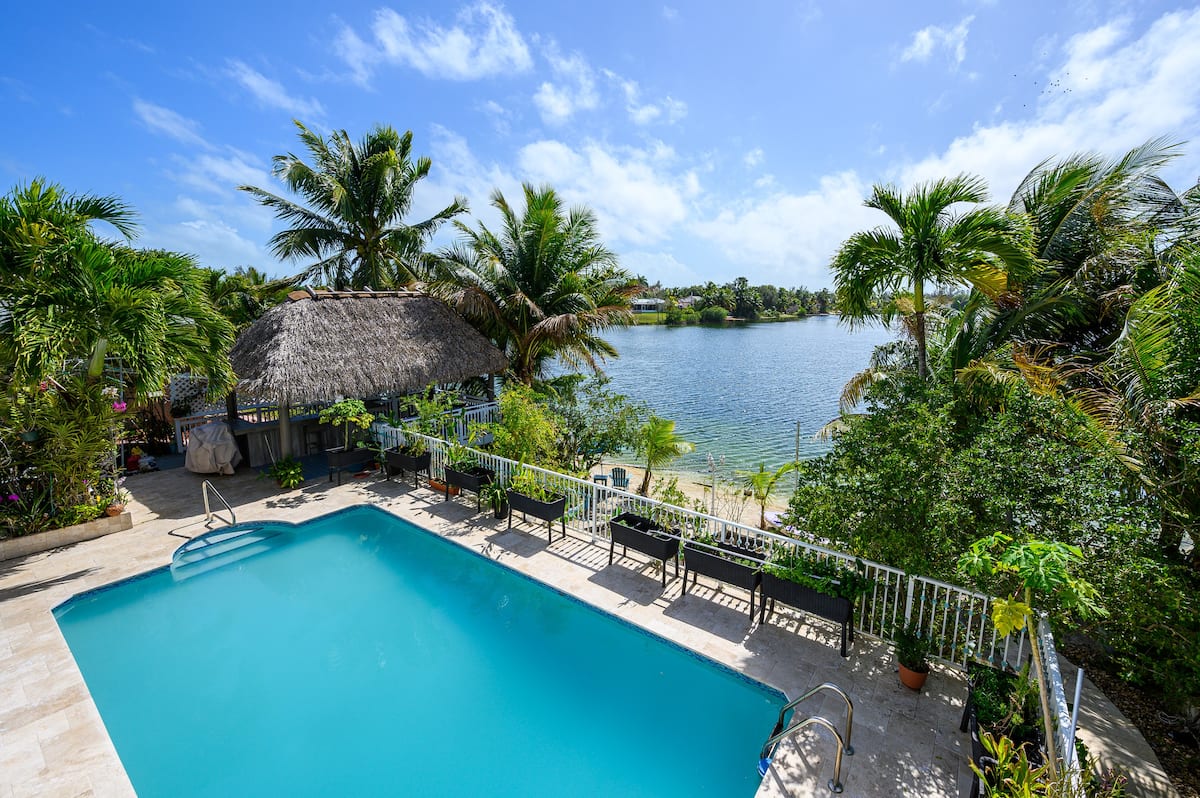 Situated on the shores of Saga Bay Lake, this home is a tropical, minimalist retreat. The neighborhood is family-oriented, so you don't have to worry about late-night parties. The rental property is a house that's divided into different units. Your unit is completely private, except for the outdoor space, which is shared.
This lakefront house features a chic, minimalist design and has three bedrooms and one bathroom, comfortably fitting up to 8 guests. Enjoy a fully-equipped kitchen, Wi-Fi, and Smart TVs equipped with the latest subscriptions. They also have a travel crib and children's toys.
Enjoy the backyard with a shared pool, lounge chairs, and access to the lake beach. A spacious park, plenty of shopping, and delicious restaurants are within walking distance for your convenience. Don't wait to book this rental; spots fill up fast!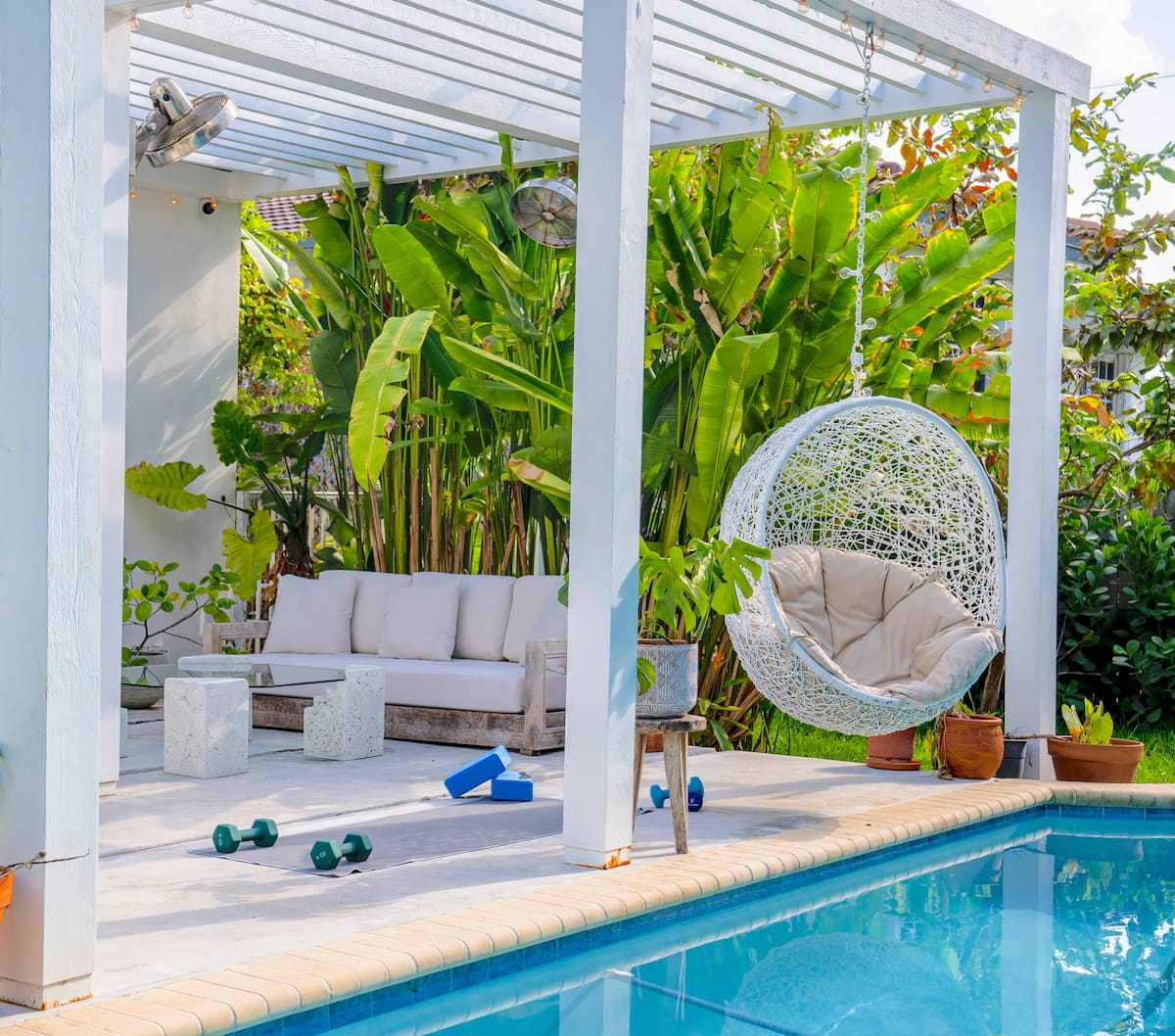 This home is a cozy, modern bungalow featuring a tropical backyard oasis. It's within walking distance to the best shopping and dining Miami offers and is close to the Little River and Biscayne Bay.
This private getaway provides three bedrooms and three bathrooms and comfortably fits six people. Many convenient amenities include a full kitchen, laundry room, travel crib, and exercise equipment.
The star of the house is the backyard. Swim in the private pool, lounge on comfortable outdoor furniture, and eat fresh fruit from 20 different tropical trees. The backyard is fully fenced and completely private. Pets are allowed on the property, so feel free to bring the family dog!
Other features of this property include free Wi-Fi, Smart TVs with subscriptions, and parking space for up to four cars.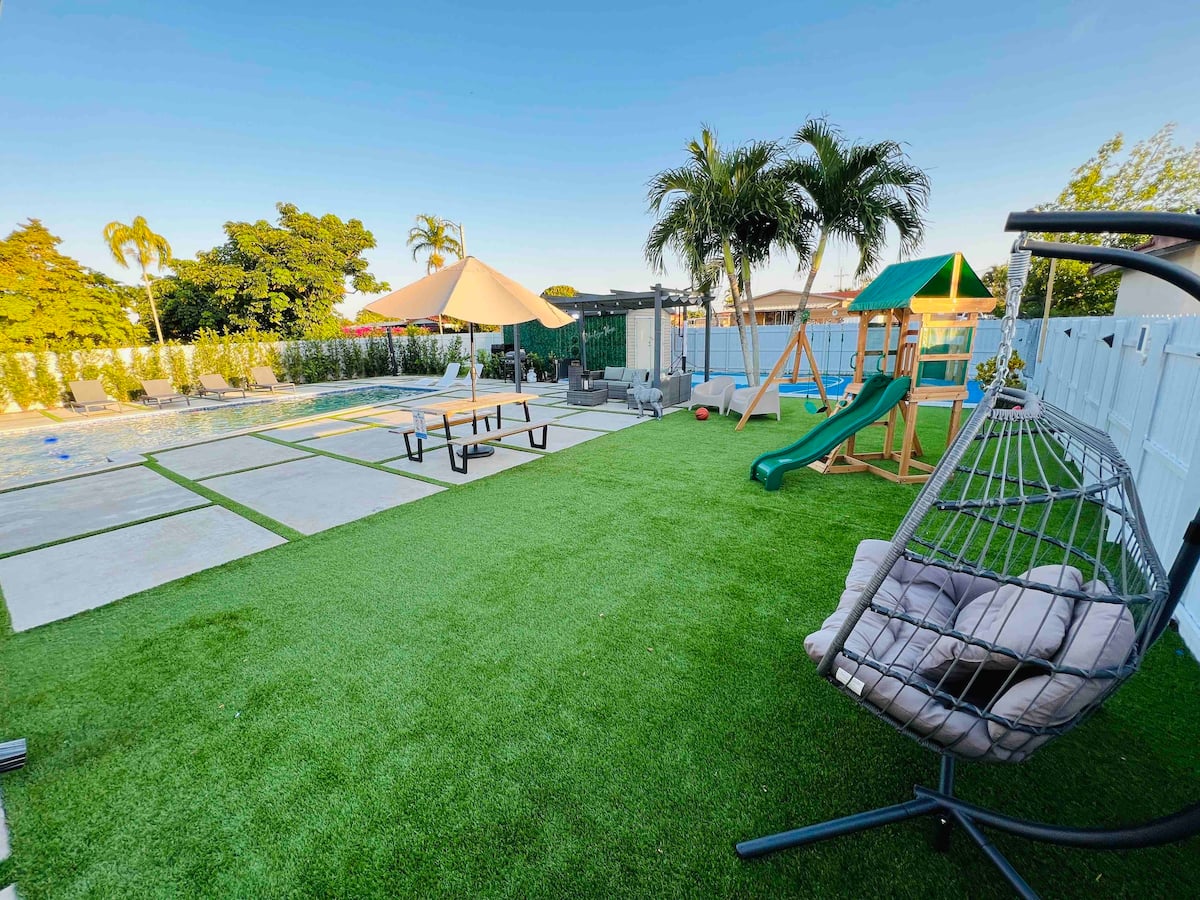 Bring your whole family to this getaway in the heart of Miami. You will get access to the entire house and backyard; you can even rent the owner's SUV! The house is in the University Park neighborhood across the street from a recreation area and dining options within walking distance.
This modern luxury home features four bedrooms and three bathrooms, perfect for up to 14 guests. Enjoy outdoor space with a heated lap pool, basketball court, and play equipment. The home also comes with all your essential baby needs, such as a crib, high chair, bathtub, and toys.
This amenity-loaded house has a fully stocked kitchen, laundry room, TVs with subscriptions, fireplace, and many sleeping options. Bring the whole family to this Miami escape and experience one of the best Airbnbs in Miami for families.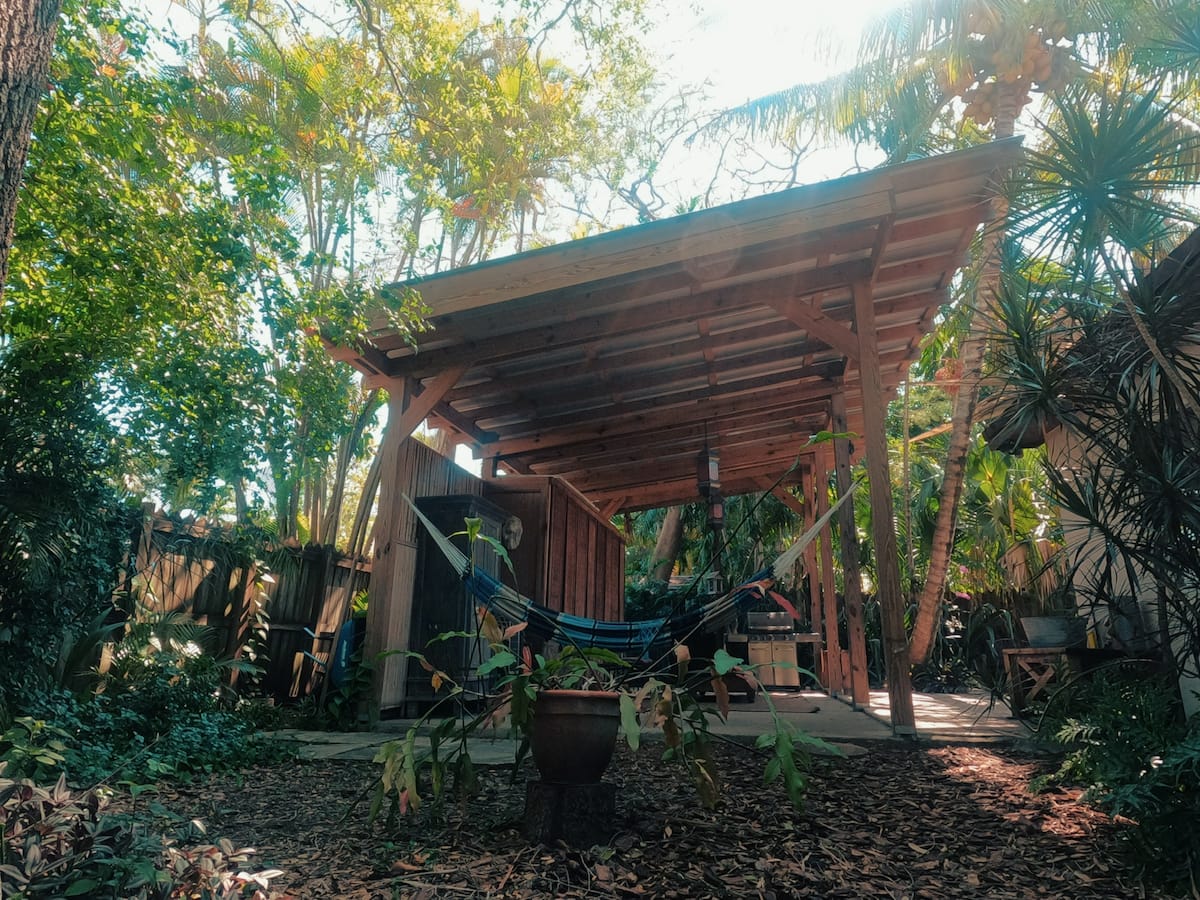 This South Miami home is located in a quiet family neighborhood and is the perfect space for a relaxing family vacation. Walk a few blocks and grab some food or groceries to cook in the fully-equipped kitchen. Or, grill outside in your private tiki area.
The home is spacious with 1500 sq. feet, two bedrooms, and 1.5 baths (up to five guests). Enjoy amenities like Wi-Fi, a full kitchen, dedicated workspace, TV, and laundry room.
The outdoor space is a tropical oasis with a private pool, covered eating area, and lounge chairs. Take a shower among the tropical plants in the outside shower! If you're looking for a clean and quiet oasis, this guest house may be for you.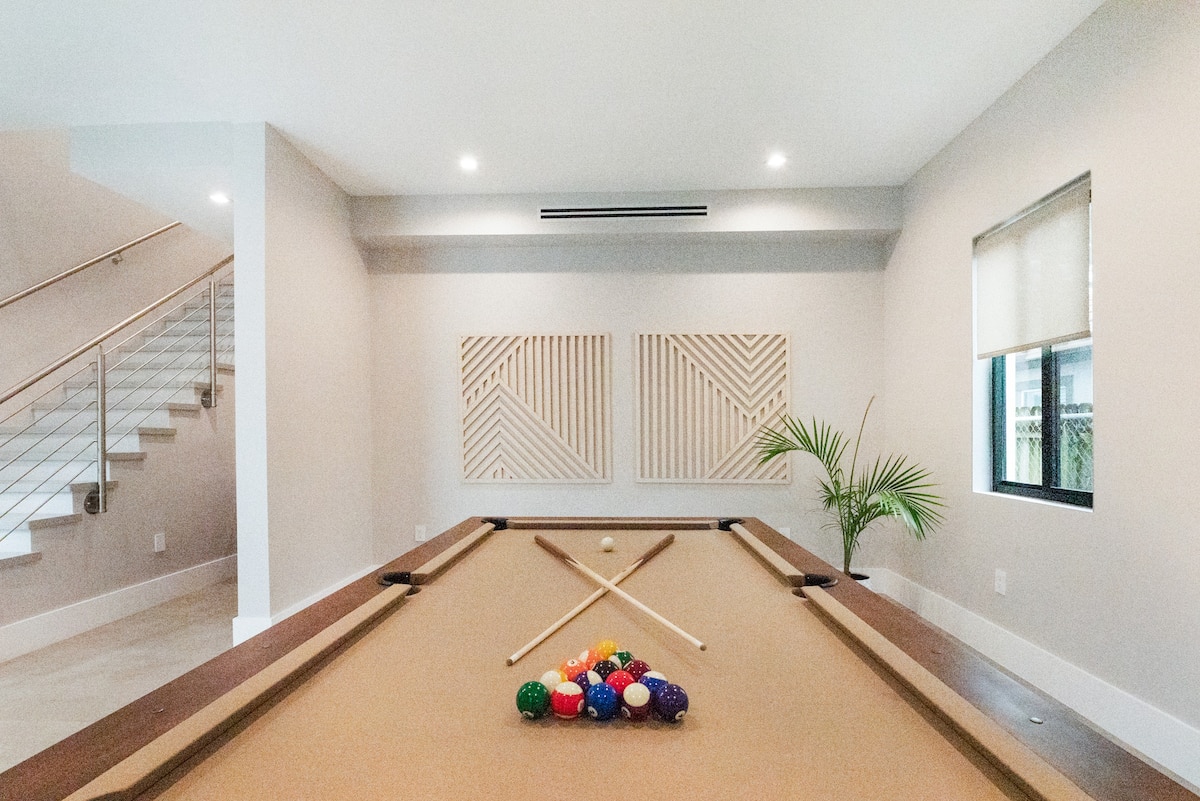 Designed to mimic a luxury resort, Villa Blanca does just that. This luxurious home is a block away from outdoor restaurants, boutique shopping, and an open-air mall. Enjoy the beautiful architecture, expert interior design, and luxurious amenities.
The backyard is a tropical-style oasis complete with a heated saltwater pool, lounge area, and a fire pit. The home provides four bedrooms and four bathrooms, great for up to 10 guests. There are plenty of sleeping arrangements so your large family can fit comfortably.
The house features an open concept; the kitchen flows into the living room, which flows out into the backyard and outdoor eating area. You will also find a parking garage, Wi-Fi, baby products, and a large Smart TV. Also included is a pool table and various games the whole family can enjoy.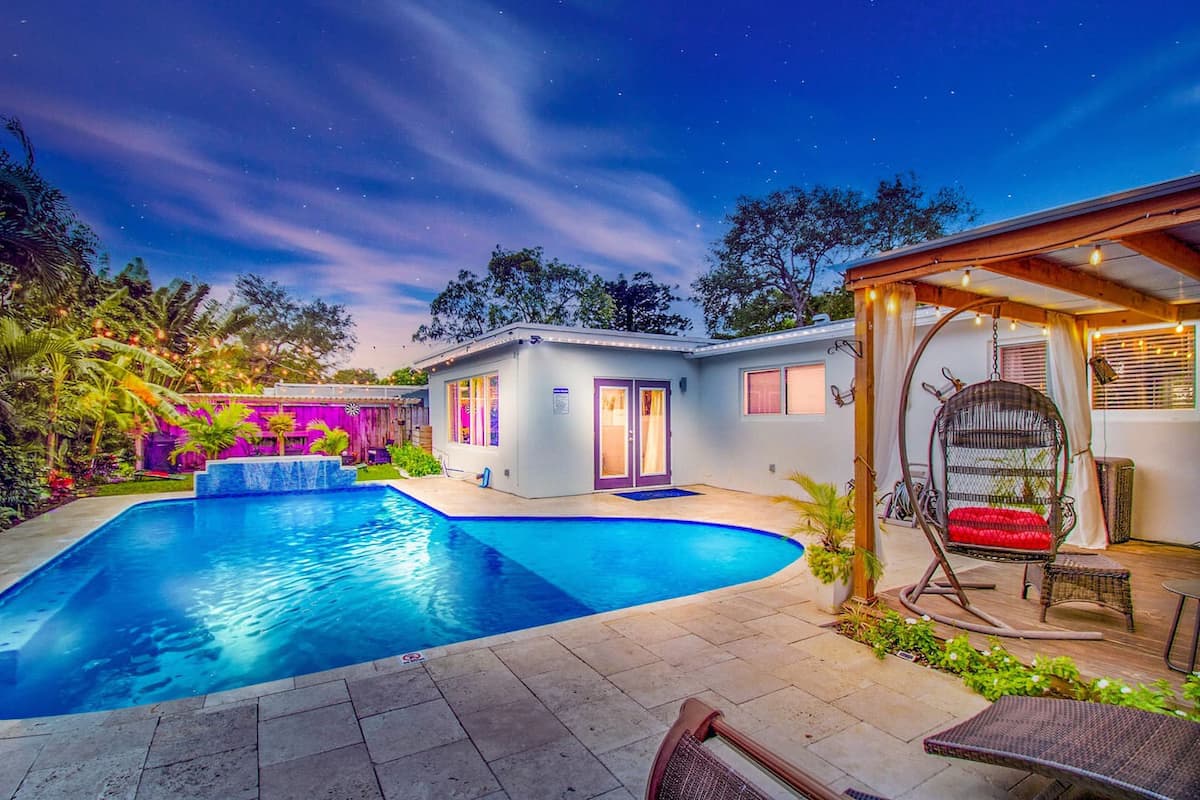 If you prefer to be away from the hustle and bustle of Miami, try this tropical home in Fort Lauderdale (only a 30-minute drive)! Shopping and dining are only a few minutes away and 20 minutes from the beach. This home embodies tranquility, perfect if you're looking to re-energize.
This three-bedroom, two-bath home has a luscious backyard garden, a heated pool, a lounge area, and a grill. BBQ outside in the warm Florida air or prepare a homecooked meal in the fully stocked kitchen and dining area. The outdoor area has a privacy fence, two pergolas, an outdoor bar, and family games like darts and ring toss. 
The owners thoughtfully decorated the home to include places for social media photo opportunities, such as a grass wall and neon signs. Enjoy the smart upgrades that control lighting, temperature, family games, and entertainment. Other amenities include a laundry room and high-speed internet. Also, bring your pet!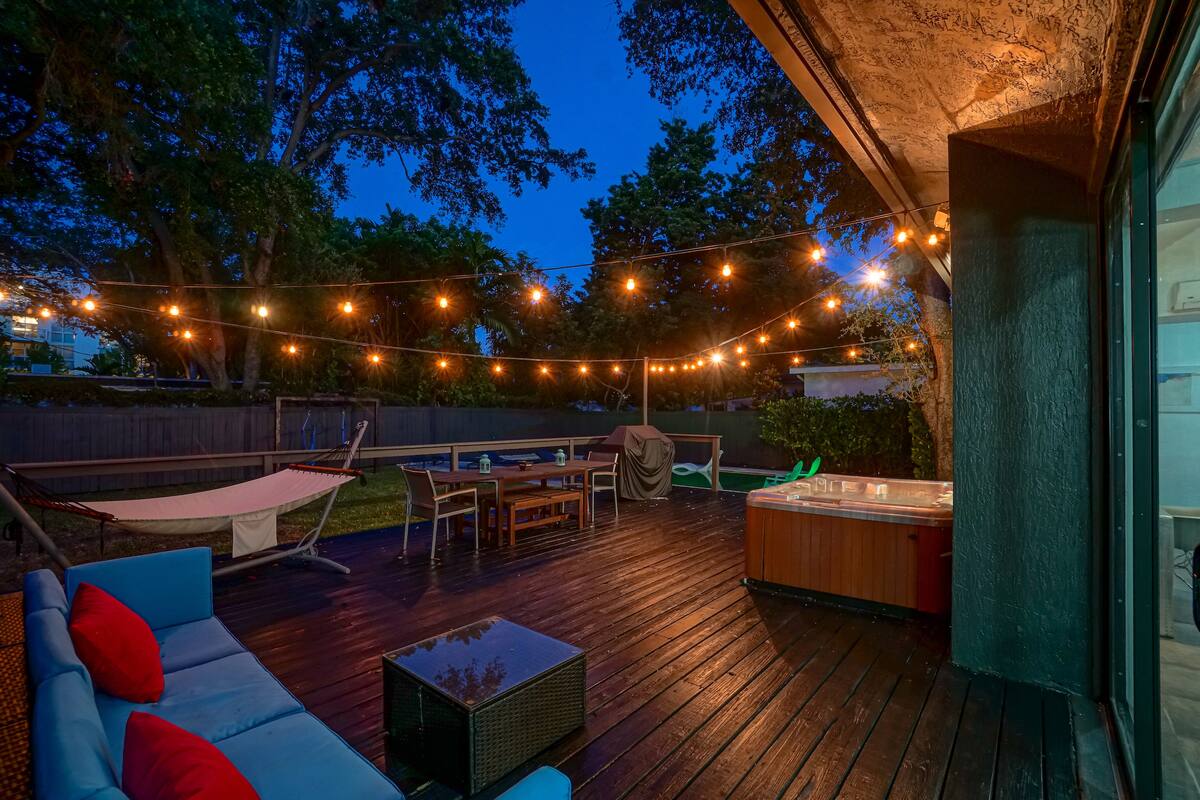 Miami's Upper East Side is growing and constantly adding new restaurants, bars, and fun things to do. This luxury Airbnb is in a popular area with a ton of amenities. The house features many activities and has people of all ages entertained and relaxed.
This home can easily fit eight people (bring your pet along). This house has a modern, cool interior, a top-of-the-line kitchen, big soaker tubs, and silky soft bedding. Hang out with family in the backyard, swim in the heated pool, soak in the jacuzzi, or lounge in the sun. with three bedrooms and three bathrooms 
You can snuggle up with several big-screen TVs at night and watch the latest movies on comfortable couches. Even though you may never want to leave, the neighborhood is only 15 minutes away from downtown Miami.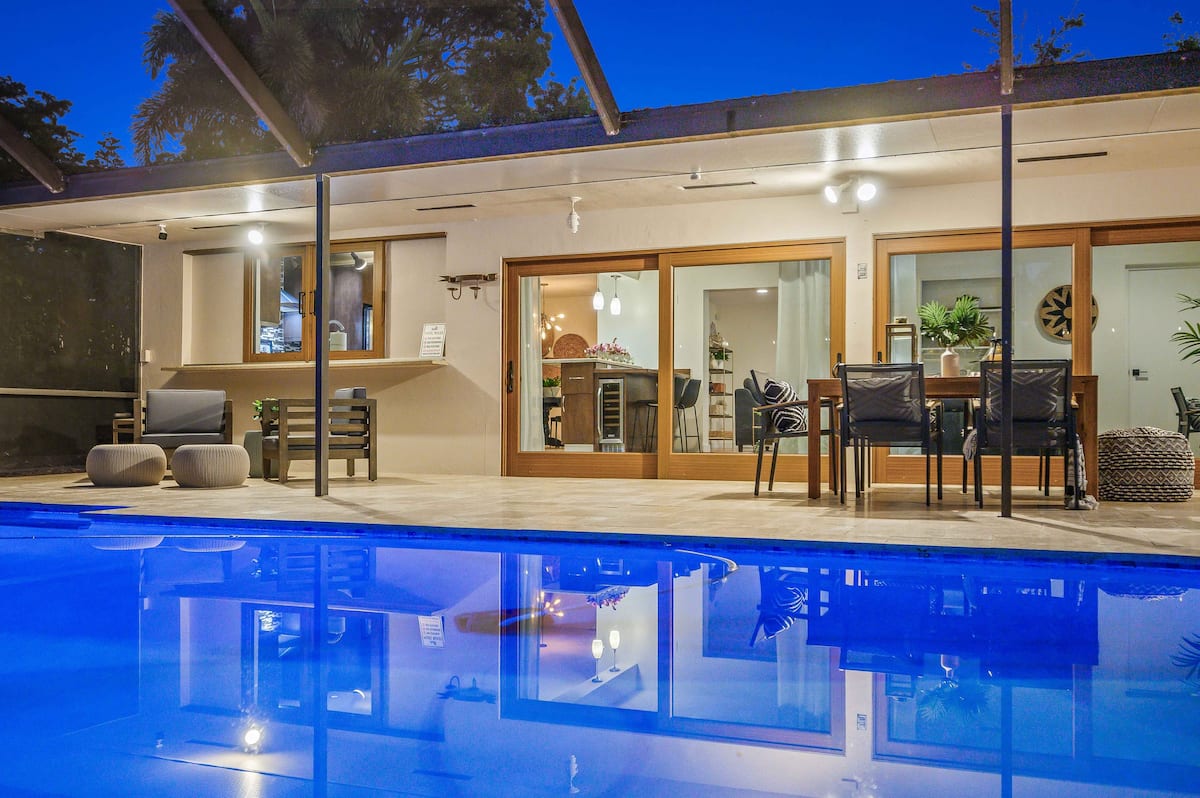 Hollywood Hills is a short drive from Miami and is an excellent spot for families wanting something out of the big city. This comfortable, modern villa is four miles away from white sandy beaches. The neighborhood is safe, family-friendly, and surrounded by lush green, just minutes away from the famous Hard Rock Hotel & Casino.
You can grill in the backyard by the fully enclosed pool or prepare a meal in the state-of-the-art chef's kitchen. The pool and back deck are screened-in, so you don't have to deal with the southern bugs, especially mosquitos. If you would rather relax indoors, watch a movie on a big TV or play board games with the kids.
You will find other amenities such as high-speed internet, a dedicated work area, baby equipment, and other essentials for everyday life.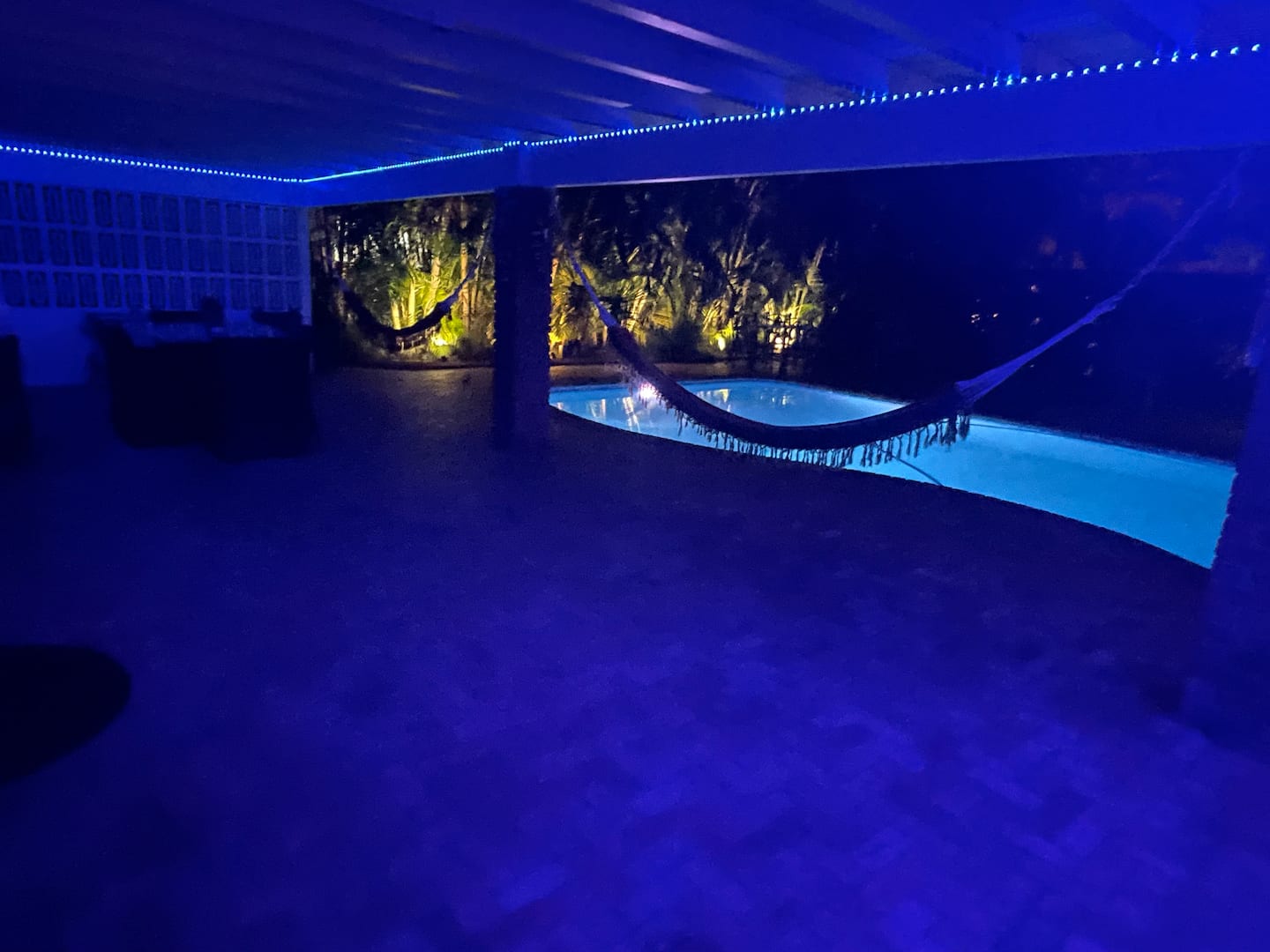 Book the weekend at this newly remodeled luxury home in an upscale neighborhood. You will have amazing views of Biscayne Bay and are just a short bike ride or walk from the beach. The surrounding landscape will make you feel like you are on a tropical island.
This fully furnished luxury home has all the amenities you could need. You have access to the private pool in the backyard and a fully-stocked kitchen to prepare meals and snacks. Or, you can take a short walk and be at the best restaurants Miami offers. All the bedrooms come equipped with Tempur-Pedic beds and large Smart TVs to provide a relaxing and comfortable night.
The house comes with high-end appliances, high-speed internet, and innovative home functionalities with an integrated sound system. Enjoy your stay at this clean, comfortable, and luxurious home in the heart of Miami.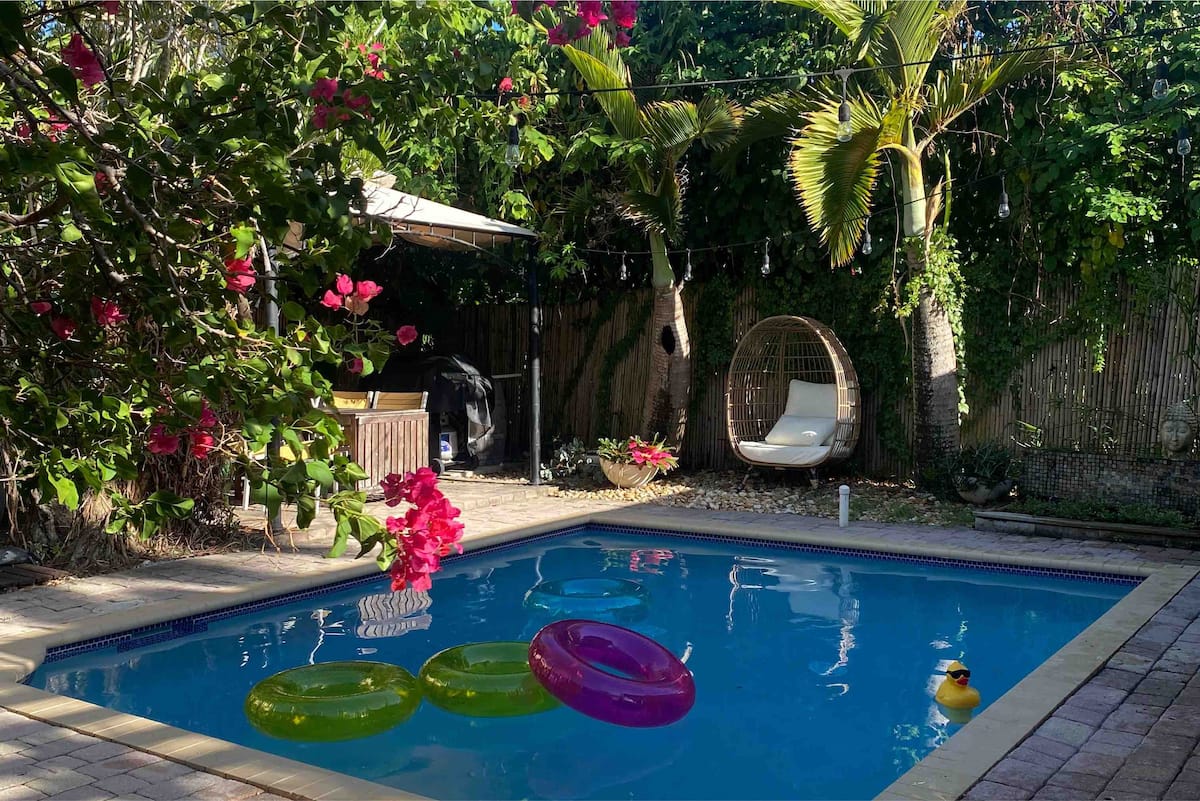 You are only 15 minutes from the airport and a few minutes' walk from the best shopping and dining in the city. This Coconut Grove home has undeniable tropical zen that you feel the moment you step inside. It's quaint, charming, and in one of the best Miami neighborhoods in the center of the magic city.
The home is pet-friendly, and you have access to the entire house, including the guest house and outdoor pool area. You can bring up to six guests; there are two bedrooms and one bath in the main house and an additional bathroom in the guest house.
The home comes with many amenities, such as a large soaking tub and essentials. Enjoy the lush Florida nature and soak up some sun in the comfy bucket chairs while watching the Koi fish swim in the pond. Whip up a homecooked meal in the kitchen or grill some steaks on the patio while the kids splash and play in the pool.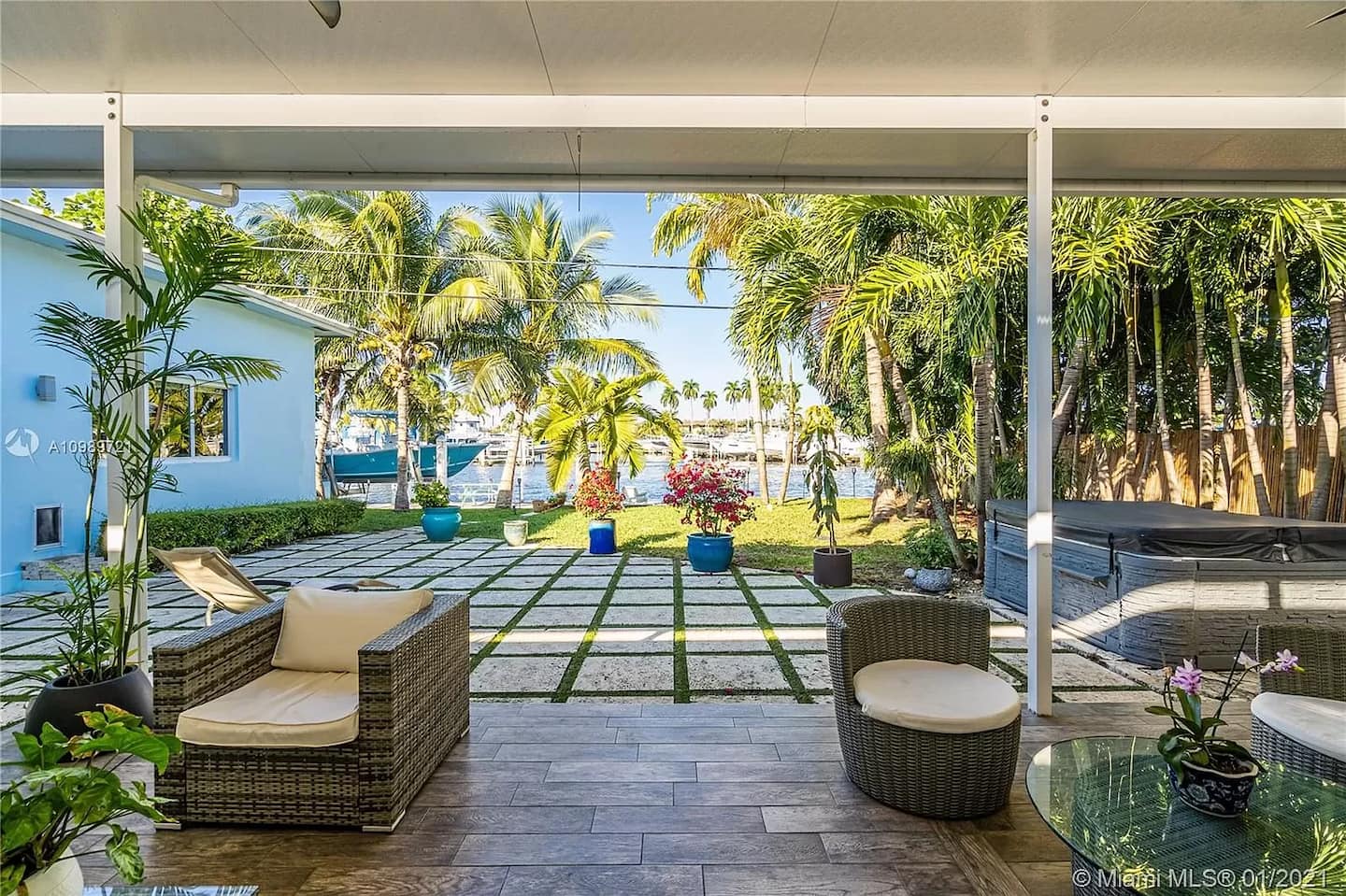 Bring your family to this luxury home right on the main waterway of South Florida and enjoy gorgeous views of boats and ships rolling by. You can get anywhere you need to go by boat, bike, or walk within minutes. Even the airport is only a few miles from this centrally located home.
The house can comfortably fit six guests with two bedrooms and two bathrooms. Enjoy the backyard with a private oasis that backs right up to the water. Lounge by the pool and jacuzzi or relax out of the heat with a glass of wine in the chic living room. The backyard has a fire pit; you can sit outside at night, see all the city lights, and hear the water lapping. 
Everything you need is in this fully-stocked home, or you're a short walk to stores and restaurants. The home also features a gym, outdoor shower, surround system, and baby equipment. Book this rental to experience one of the best Airbnbs in Miami!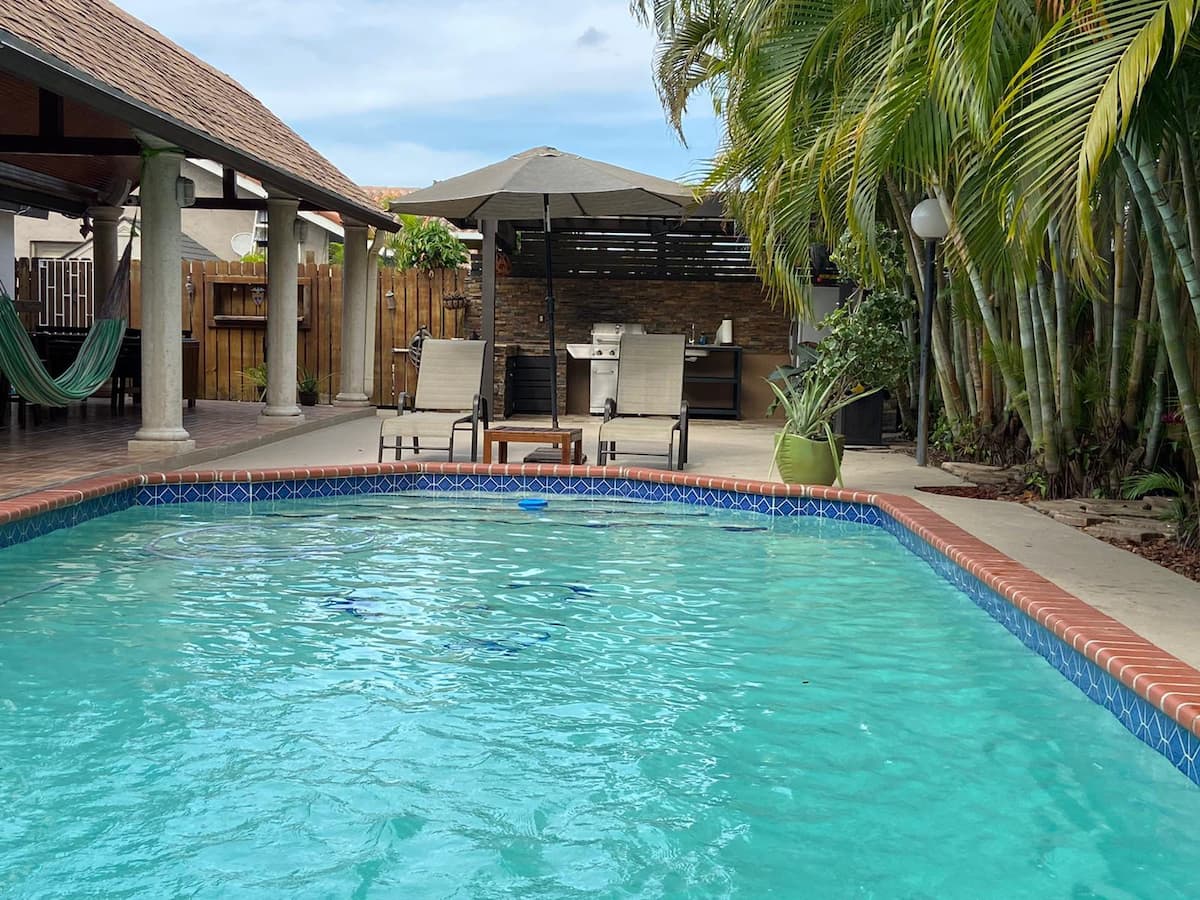 This peaceful family home is in Kendall Lakes, a quiet residential neighborhood in Miami. You can spend the day Downtown and then come home to a clean, comfortable, and peaceful atmosphere. It's an excellent spot for families wanting to be in Miami but not at the center of activity.
The house is suitable for eight guests with three bedrooms and two baths. You have access to the backyard with a private pool and outdoor dining area. Lounge by the pool and palm trees in a hammock or grill some burgers while you listen to music (at a respectable volume).
The home features other amenities like Wi-Fi, a laundry room, a full kitchen, large TV with Roku, and plenty of parking. You can also bring your family pet to share in the fun!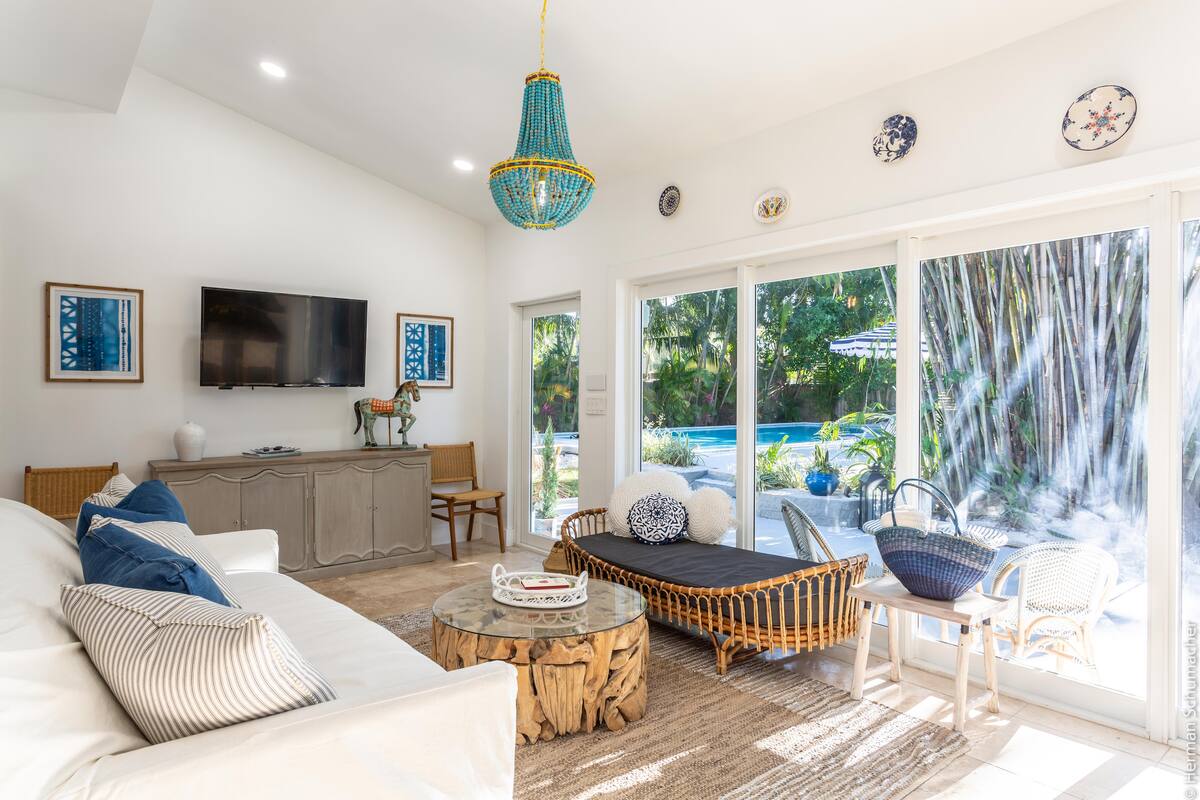 Are you looking for a beautiful home out of the tourist areas in Miami? This bungalow in North Miami might be just what you need. Book a trip at this luxury home that looks like a resort and experience Miami the way it should be. The owners decorated the house to remind you of a charming Greek home nestled by the Mediterranean Sea. 
This home will remind you of a private resort without all the people. You have the entire house to yourself, including the enormous pool in the backyard. Trees are lined along the perimeter for complete privacy and seclusion. You will truly feel as if you've stepped into another world.
The house is suitable for nine people and features three bedrooms and two bathrooms. This bungalow has everything you need, including internet, TVs, a full kitchen, laundry room, and baby equipment. In addition, there are retro arcade games hooked up to the TV and in the garage for your kids to play on when they tire of the pool (not likely).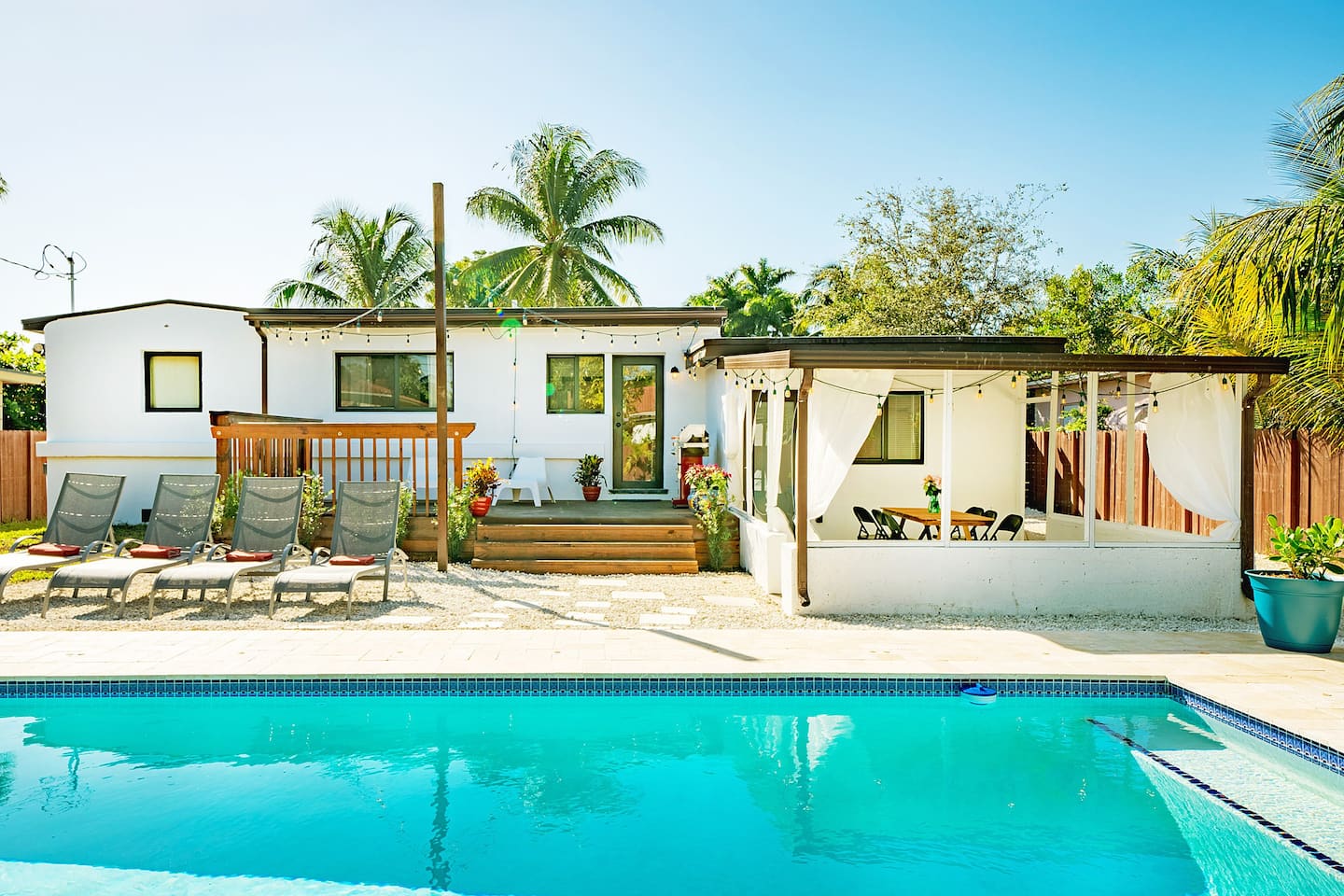 This quirky boutique home is in a quiet residential neighborhood near Biscayne Park. Although still reasonably close to the center of Miami, you may want to use a car to get around. However, there are plenty of stores and restaurants within walking or biking distance.
This charming home has a bonus room, a full kitchen, and a private backyard. The house has three bedrooms, two bathrooms, and space for eight guests. Enjoy swimming in the fresh heated saltwater pool and eating meals outdoors in the bright Miami sun.
Enjoy other features like high-speed internet, laundry room, large TV, and free, private parking. Spend the day touring Miami hot spots and return to your private oasis where you and your family can unwind.
Final Points
Whether you're in Miami for a weekend or several weeks, there is an Airbnb for you and your family. Find a chic condo with amazing views, or book a cozy bungalow with a backyard oasis.
The rentals on this list are the best Airbnbs in Miami for families, and most places provide essentials for young children, including baby equipment, toys, games, and other entertainment.
Are you still searching for the perfect vacation spot in Florida? Check out this list of the best Airbnbs for families in Orlando!