From its calm blue water to its white sandy beaches, Clearwater Beach is an excellent destination for any family's trip to Florida.
With plenty of things to do in the area, like jet skiing, playing mini-golf, or going to the Clearwater Marine Aquarium, there's no shortage of having fun. However, you'll need somewhere to unwind after a long day of exploring the area.
Thankfully, there are plenty of places to eat at Clearwater Beach, many of which offer a lovely beachfront view of the water. What's more, these lively dining destinations are great places to enjoy a meal with your kids.
Check out our list of the best Clearwater Beach restaurants for families with kids if you're having trouble narrowing down your top options.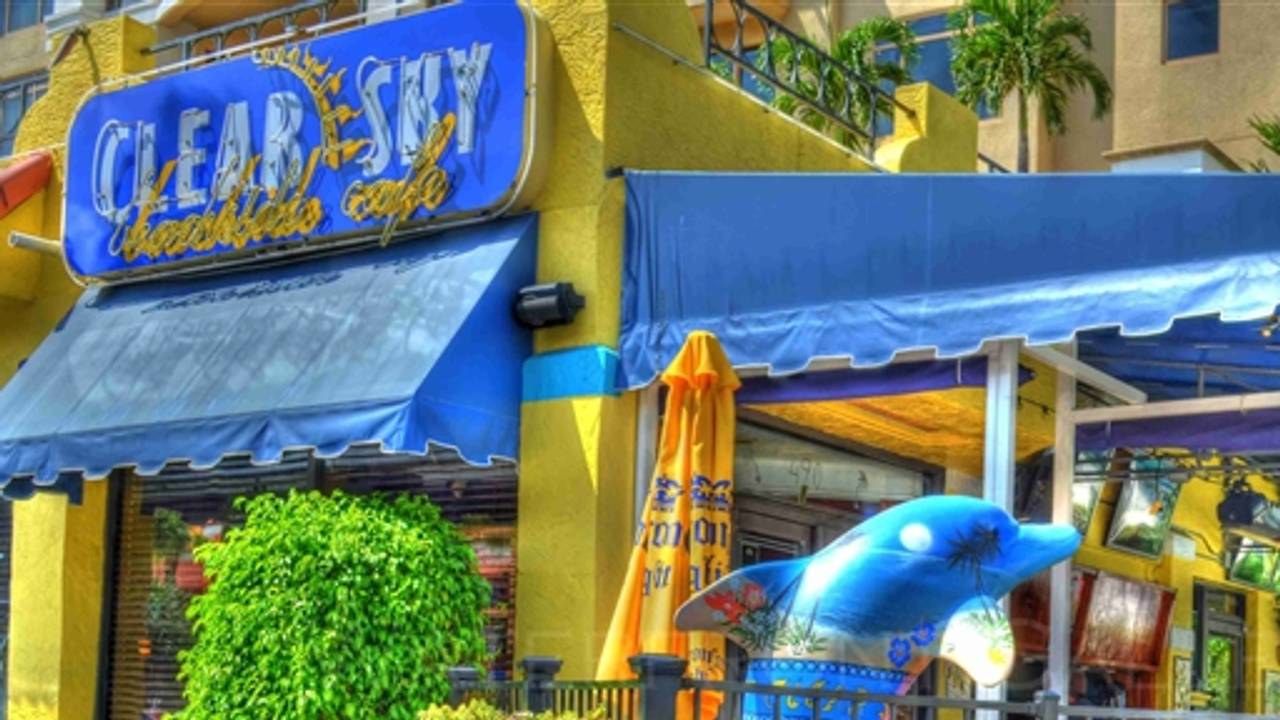 490 Mandalay Avenue, Clearwater, FL 33767
Located minutes away from the beach and Sandpearl Resort, Clear Sky Beachside Cafe is one of the best Clearwater Beach restaurants for families with kids because of its charming atmosphere and seafood-centric global menu. They also have outdoor seating and live music every night.
Clear Sky offers some of the freshest seafood on the beach, like coconut-crusted hogfish or pan-seared grouper. These are served alongside other breakfast, lunch, and dinner specialties, like lobster ravioli or Kobe beef sliders.
Let them sample their French toast or M&M pancakes if you're treating your kids to breakfast. We also recommend their flatbread and fish & chips if you stop by for dinner.
397 Mandalay Avenue Clearwater Beach FL 33767
Are you having trouble finding a casual place for breakfast or brunch with your family? Then, consider Beach Shanty Cafe, near Pier 60 Park, for a sweet or savory start to your morning or afternoon. We enjoy its laid-back ambiance and convenient proximity to several souvenir shops.
Besides the standard omelets and pancakes, you can also enjoy their signature egg-wich or egg-ritos to spice up your morning. There is also a wide selection of breakfast sides for the hungriest guests.
They offer several salads, sandwiches, wraps, burgers, and hot dogs to indulge in if you're stopping by for lunch.
674 S Gulfview Blvd, Clearwater, FL 33767
Gondolier Pizza is a casual family restaurant offering classic Italian cuisine and Greek specialty dishes near Clearwater Bay. For over 40 years, this restaurant has offered a cozy setting for families to relax after an exciting day at Clearwater Beach's top attractions. You can always find something to enjoy whenever you stop by for their daily breakfast or dinner.
Your family can choose from a wide selection of pita sandwiches, pasta, chicken, or seafood dishes if you're craving the best flavors in town. We also recommend their specialty strombolis, calzones, and pizzas.
Their menu offers vegetarian-friendly appetizers, entrees, and salads for anyone with specific dietary preferences. The kid's menu (for children aged ten and under) is reasonable, including chicken fingers, lasagna, grilled cheese, and a personal-sized pizza. You'll have plenty of soft drinks to choose from, and refills are free.
37 Causeway Blvd, Clearwater, FL 33767
Crabby's Dockside is minutes away from Pier 60. This eatery has a lovely panoramic view of the water, so you can watch boats and jet skis pass by while you dine. They also have live entertainment every day.
Their signature gulf grouper and stuffed flounder are some of their most popular seafood options. You can also sample their beach tacos, seafood pasta, lobster or crab platters, or shell bar oysters with a handcrafted cocktail, frozen float, or signature dockside punch. Don't forget to treat yourself to their pie for dessert.
The kid's menu is varied, and features seafood choices like grilled fish and fish fingers. However, if your kids aren't fans, there are tried-and-trusted options, such as chicken fingers, hamburgers, or mac and cheese.
430 S Gulfview Blvd, Clearwater Beach, FL 33767
If you're looking for a tropical atmosphere with an authentic waterfront dining experience, look no further than Sandbar, nestled inside Opal Sands Resort. It's only a short walk away from the southern side of Clearwater Beach.
The decorative palm trees and tiki bar enhance its tropical feel. Enjoy a fresh mai tai or summer sangria by the sea with any of their zesty starters. Then, consider their fish tacos or island crab BLT. They also offer a kid's menu for children ages 12 and under. If you have room for dessert, ask for their key lime pie or creamy gelato.
100 Coronado Dr, Clearwater, FL 33767
Treat your family to quality seafood and Asian fusion fare by taking them to Ocean Hai, found inside the Wyndham Grand Clearwater Beach Hotel. This chic destination offers a captivating view of the bay.
Sous Chef Nana Darkwah prepares each dish with the finest ingredients to ensure quality in every bite. They also offer shaded patio tables and private dining for special occasions.
Try their noodle or rice dishes or signature sushi, sashimi, and nigiri if you're looking for something different. They also offer a vegetarian menu and a wide selection of dessert martinis and coffee to pair with their signature desserts.
7 Rockaway St, Clearwater, FL 33767
Frenchy's Rockaway is another popular hotspot for seafood. This lively, open-air restaurant has a stunning beachfront view of the Gulf of Mexico, perfect for watching the sunset. Their lounge has several games and pool tables to pass the time before or after you eat.
We recommend trying their world famous grouper sandwich. You can also try their grilled seafood or BBQ meats for a flavorful dining experience. For a flavorful kick, start with their tuna nachos or cheese fries.
They also have a kid's menu, so you and your children can enjoy a fried shrimp or grouper nugget basket. Your kids can also opt for classics like cheeseburgers or mac and cheese.
317 Coronado Dr, Clearwater Beach, FL 33767
Don't know where to find a place to eat with a relaxed vibe? We consider Coco's Crush Bar & Grill one of the best Clearwater Beach restaurants for families with kids because of its breezy outdoor setting and colorful nighttime look. They also have live music every night starting at 8 PM.
Their Beach Burger, Firecracker Shrimp, and pulled pork sandwich are among the many dishes you don't want to miss out on whenever you visit. The kid's menu offers a junior size burger, chicken tenders, or grilled cheese.
If you stop by for a drink, you can enjoy it in a colorful, insulated tumbler or hand-carved monkey coconut and take it home as a souvenir. You can also let your kids try out some non-alcoholic super smoothies.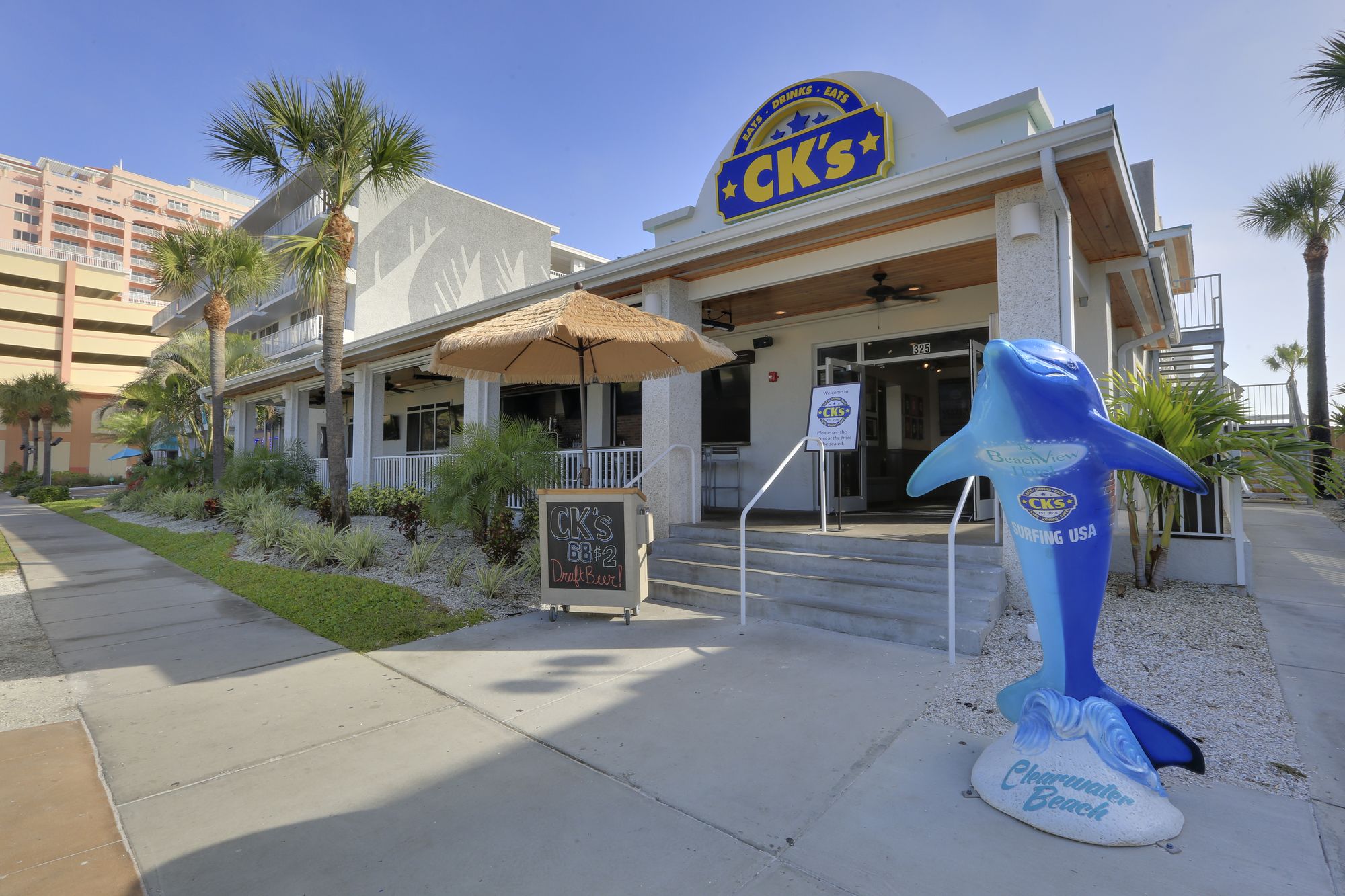 325 S Gulfview Blvd, Clearwater Beach, FL 33767
Located inside The Beachview Inn Clearwater Beach, CK Eats n Drinks is the go-to destination for fresh seafood, brick oven pizza, gourmet tacos, and other waterfront snacks. It has a casual atmosphere, indoor and outdoor seating, and is within walking distance from the shoreline.
You can expect quality flavors when ordering their tacos, sandwiches, pizza, or 100% Angus beef burgers. Don't forget to pair your food with any of their craft beer or soft drinks.
They offer breakfast daily if you're looking for something to eat earlier in the day. Consider sampling their breakfast bowls or quesadillas. 
301 South Gulfview Blvd, Clearwater Beach, FL 33767
You can find SHOR American Seafood Grill nestled within Hyatt Regency Clearwater Beach Resort and Spa's second floor. Its sleek and stylish atmosphere makes it perfect for a tasty breakfast or dinner specialty by the beachfront.
They also have an open kitchen where you can watch SHOR's culinary team prepare the upscale fare and seasonal seafood before your eyes.
We recommend enjoying any of SHOR's dishes in their rooftop seating area. They serve delicious frittatas and seafood benedicts for breakfast. Also try out their appetizers, filet mignon, redfish, or salmon topped with lobster tail or scallops for dinner.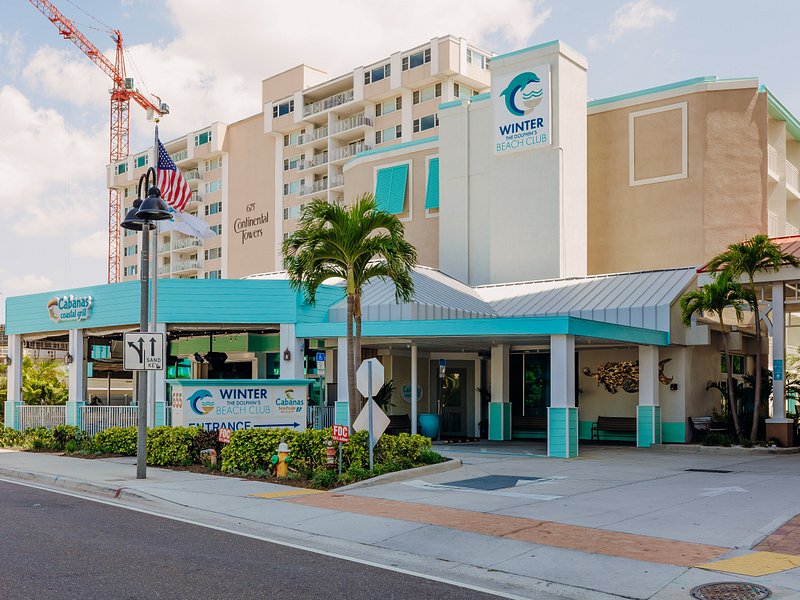 655 S. Gulfview, Clearwater Beach, FL. 33767
From its friendly staff to its view of the white sandy beaches, Cabanas Coast Grill is one dining destination you and your family shouldn't miss out on. It has a casual and cozy vibe, making it ideal for enjoying a bite to eat with the kids. They have a covered patio that keeps the sun out of your eyes as the waterside breeze blows through your hair.
Cabanas Coast Grill serves amazing chicken, seafood, pasta, and sandwiches made with locally sourced and sustainable ingredients to ensure bold flavors. Kids can choose between chicken tenders or a cheeseburger. You can also stop by their bar for a refreshing cocktail, margarita, or house wine.
794 S Gulfview Blvd, Clearwater Beach, FL 33767
If you and your family are in the mood for authentic Italian cuisine, Cesare at the Beach might have what you're looking for. Their outdoor seating has a scenic view of the water and Sand Key Bridge. Its cozy and intimate atmosphere makes it excellent for regular dinner nights or private parties.
Their menu offers plenty of pasta, meat, and seafood dishes to sample, from agnolotti and veal picatta to sea scallops primadonna. Kids can choose between penne with butter, spaghetti with meatballs, mozzarella sticks, or chicken fingers. If nothing from their wine list interests you, there are coffee, iced tea, and lemonade options.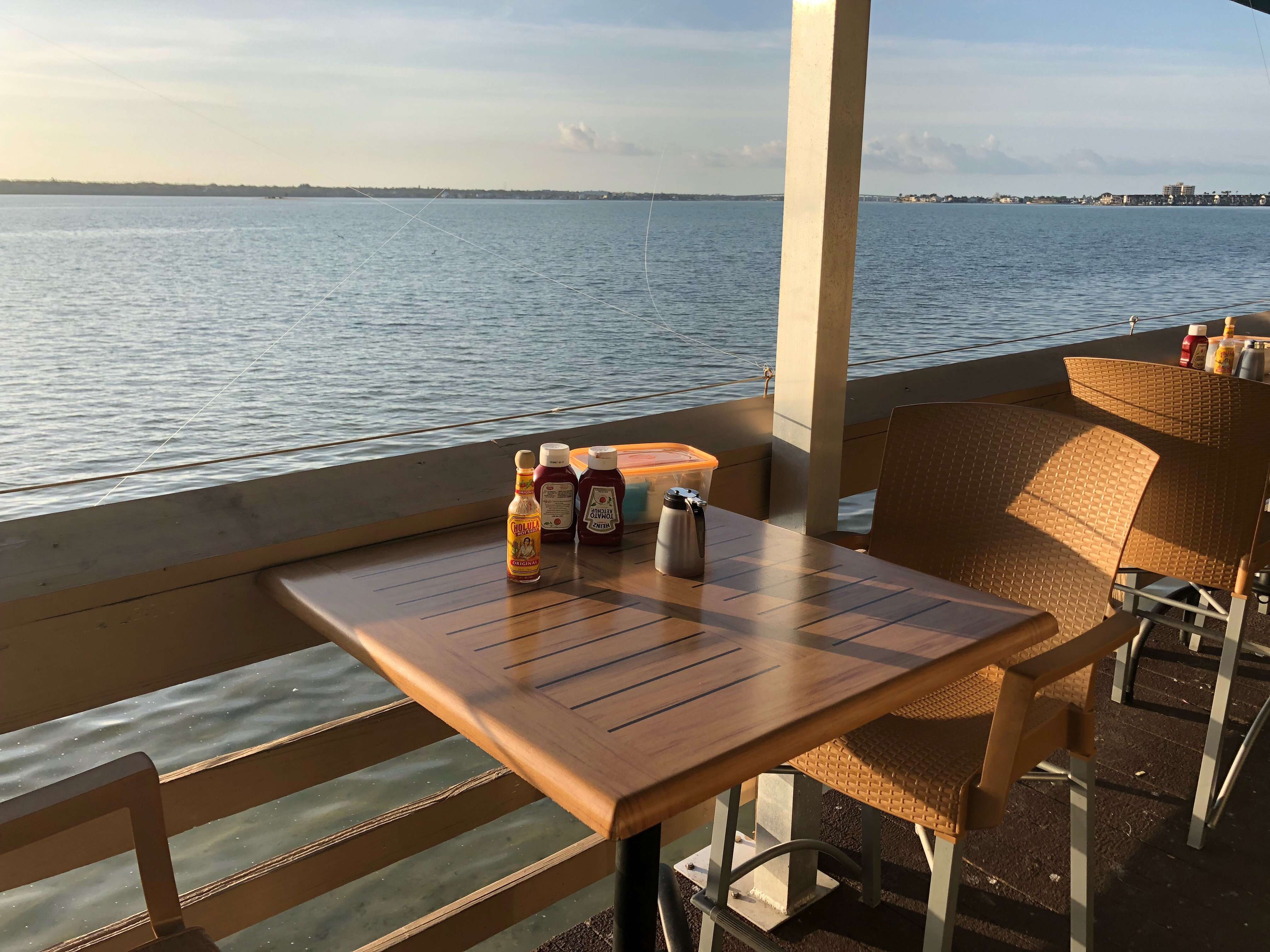 1261 Gulf Blvd #104, Clearwater Beach, FL 33767
Are you planning on treating your family to brunch? Then, consider visiting Maggie Mae's Waterfront for the best breakfast and lunch dishes by Sand Key Park. It's a colorful, relaxed place ideal for starting your day. Additionally, their outdoor deck has a nice waterside view.
You and your kids can enjoy their pancakes until noon. Don't miss out on their veggie omelet, huevos rancheros, Original Maggie Burger, or Buffalo chicken wrap. Be sure to pair your brunch with a refreshing glass of grapefruit, apple, or cranberry juice. If you're craving something sweet, consider ordering some grilled pecan sticky buns for you and your family.
483 Mandalay Ave Unit 200, Clearwater Beach, FL 33767
Located within Pelican Walk Plaza, Blessed Cup is a fantastic choice for enjoying an all-day breakfast with your family. This casual, laidback coffee shop serves locally roasted coffee to start your day in style or end the night with something hot and bold. They also have outdoor seating, free Wi-Fi, and a peaceful second-floor view of the area.
Blessed Cup serves authentic, imported Belgian waffles topped with fruit, Nutella, ice cream, and other sweets. Their breakfast sandwich has impressive all-day menu options. You can try their toasted, grilled, or pressed sandwiches if you're looking for something else. They also offer plenty of smoothies and frappes as sweet treats.
770 S Gulfview Blvd, Clearwater, FL 33767
You're bound to find something to enjoy at Speggtacular Restaurant. This locally-owned destination is perfect for anyone who loves eggs, pancakes, or waffles.
Kids ages 12 and under eat free every Saturday, making it a great place to start your weekend with the tastiest flavors. The children's menu includes cheese omelets, cereal (or oatmeal), and sweet treats like French toast or pancakes. No matter what your kids want, their choice comes with milk or a small juice.
Parents can get a kick out of Speggtacular's mimosas or share a liter of fresh-squeezed orange juice with their kids. Indulge in their crepes, eggs, yogurt, or French toast. We also recommend their Cobb salad, chicken wings, or grouper sandwich if you stop by for lunch.
10 Bay Esplanade, Clearwater, FL 33767
Palm Pavilion Beachside Grill & Bar is one of the best Clearwater Beach restaurants for families with kids because of its laid-back beachfront setting, sunset views on a deck overlooking the Gulf of Mexico, and tasty seafood menu. They have live music every afternoon and evening, so you have options for entertainment.
Many families enjoy starting with their chips & queso or coconut shrimp. Although they're known for their seafood dinners, Palm Pavilion serves amazing tacos, burgers, sliders, and wraps. They have plenty of gluten-free choices and desserts, including a kid's sundae for younger guests.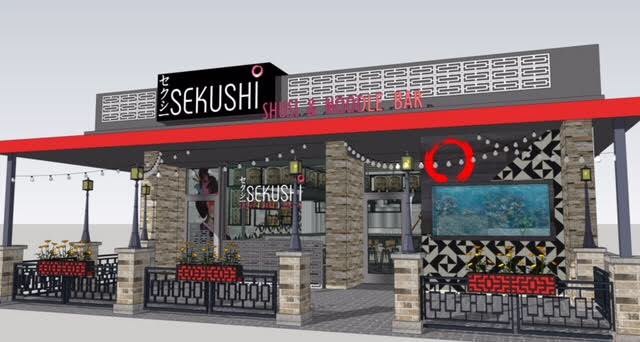 524 Mandalay Ave, Clearwater Beach, FL 33767
Sekushi on the Beach is a laid-back restaurant located south of Mandalay Park. Besides its industrial-style decor and interior, this restaurant is known for its authentic sushi and Japanese dishes.
Their menu offers a wide selection of traditional Japanese tapas, specialty sushi rolls, ramen, and sushi. Several dishes are spicy, vegetarian-friendly, and gluten-free. Kids can enjoy their ramen or fried rice dishes with the protein of their choice. You can also order their dishes for takeout or delivery.
45 Papaya St, Clearwater, FL 33767
If you and your kids are interested in having only the best food while taking in Clearwater Beach's bright, warm sunlight, Pearly's Beach Eats is one place you don't want to skip during your visit.
This Key West-inspired eatery has a casual vibe and has plenty of American, seafood, and Mexican-inspired menu options. In addition, their outdoor seating offers a beautiful view of the beach.
Enjoy a flavorful sensation when ordering their tacos, burritos, or Baja bowls. If you prefer getting a quick bite to eat, try their Gnarly Nachos. They also have grilled cheese, chicken tenders, small quesadillas, and corn dogs on their kid's menu.
During the hottest day, be sure to try their root beer float or Surf Sorbet in a pineapple or coconut shell.
483 Mandalay Ave, Clearwater Beach, FL 33767
Despite its rustic and casual look, The Brown Boxer offers plenty to enjoy for any family's night out. Their menu has dishes parents and kids can enjoy, such as flatbread pizza and grilled cheese. Their BBQ baby back ribs offer some of the finest slow-smoked flavors by the beach.
Parents can play pool by the bar or join their kids at the arcade on the second floor. They also have a spacious, dog-friendly, open-air patio for outdoor dining and live music every day. If you prefer relaxing at the bar, you can watch your favorite sports on their HD TV screens.
Kids have a variety of dishes to consider, including mini burger sliders, cheese flatbread pizza, and mac and cheese. All kids' options are served with fries.
Final Thoughts
Narrowing down your top options for the best Clearwater Beach restaurants for families with kids can be challenging when you're tight on time. However it's not impossible to find engaging, family-friendly settings to enjoy delicious food at any time of the day.
Although Clearwater Beach has plenty of places serving seafood, finding restaurants specializing in other types of cuisine gives you a choice of more meal variety for picky eaters. With this list on hand, you'll have a few ideas of where to stop by to eat with your kids.