There are a lot of different things that make up the perfect vacation, one of which includes exploring different exotic flavors and eating delicious meals.
When at Disney World, you need a good meal to fuel you through the long day ahead, full of fun, adventure, and a little bit of tiredness. In fact, occasional pitstops for snacks and desserts only exhilarate the Disney experience.
While there are plenty of food options inside the park, nothing beats the high-quality food paired with the best dining experience at some Disney World resort hotels. Ditch the plastic $20 pizza slice inside the park for a full rib-eye meal at one of the delectable resort restaurants.
You will find dozens of restaurants offering a never-ending menu of different cuisines, including classic American food, Japanese fusion snacks, exotic African flavors, and Polynesian entrees. The myriad of food might leave you a little confused. That is where we come in!
If you want to indulge in the best flavors offered at the most magical place on earth, we are here to guide you through the best Disney World hotel restaurants you can try.
16 of the Best Disney World Hotel Restaurants
It doesn't matter where you end up living; whether it is near EPCOT, Magic Kingdom, Hollywood Studios, or Animal Kingdom, our list of restaurants is a close walk to each of the Disney parks.
While Disneyworld has a multitude of delectable dining options, our list of favorite picks comprises the best restaurants based on several crucial ranking factors, including quality of food, ambiance, service quality, and overall dining experience. Without further ado, let's dive in!
Restaurant Type and Cost: Signature Dining, Expensive
Cuisine: Mediterranean American Fusion
It is no secret that the Grand Floridian Resort houses some of the most expensive yet simply the best restaurants across Disney World. It is partly because the resort offers extravagant rooms at high prices, targeting those who like to spend without care. If part of your Disney World getaway includes spending relentlessly on food, especially trying different cuisines, Citricos should be the first one on your list.
Citricos offers a blend of Mediterranean and American fusion food, which means you are very likely to find almost everything on their menu.
From exotic lamb shanks and hummus to the standard beef burgers and cheesy pasta, their food has a high standard and has been consistently good throughout the years. We rank their Berkshire Pork Belly as one of their most eye-catching menu items. It should be ordered with their Butter Risotto, followed by Lemon Cheesecake.
Not only this, but the colorful restaurant has a very lively vibe. If you choose to go to this restaurant to satisfy your hunger pangs, we guarantee you will not have a dull moment throughout your day in the world of magic.
Top Menu Items: Berkshire Pork Belly, Beef Short Ribs, Oak-grilled Beef Fillet, Butter poached Mahi Mahi, Arancini, Citrus Cured Hamachi, Lemon Cheesecake, Orange Blossom Flan, and Warm Chocolate Banana Torte.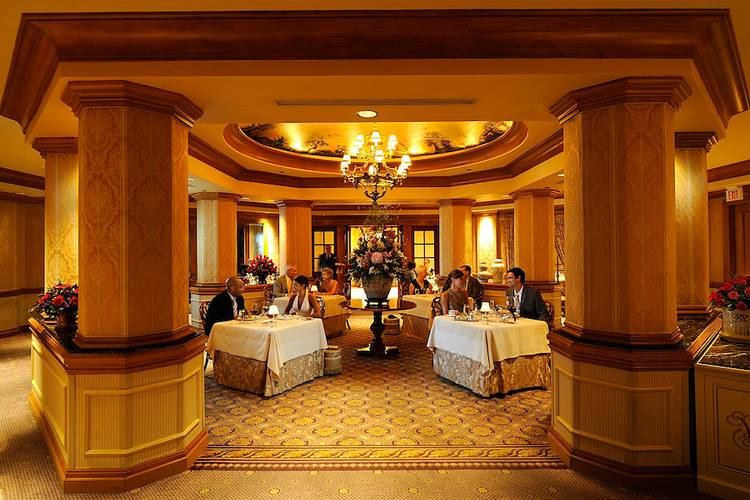 Restaurant Type and Cost: Fine Dining, Expensive
Cuisine: American
Extremely lavish from when you first enter, Victoria and Alberts is one undoubtedly of the best Disney World hotel restaurants. In fact, it is deemed to be one of the best restaurants across all of Central Florida.
Over the years it has been running, the restaurant has won several awards, including the AAA Five Diamond Award, for its excellent atmosphere and high-quality food, giving many fine-dine restaurants in Florida a run for their money. The interior gives us major titanic dining room feels, with high-end accents and dim lights.
Serving some of the best, most exotic dishes in all of Disney World, Victoria and Alberts has set a precedent. Their unbeatable flavor combinations are to die for and, most importantly, something you have surely never had at any other fine-dining restaurant.
While their meals cost an arm and a leg, averaging around 200 USD per person, if you are hoping to celebrate something special like an anniversary, a milestone birthday, or a honeymoon getaway, the experience is worth it.
However, here's the catch! Victoria and Alberts have a dress code. So be sure to come here looking as fancy as the interiors; otherwise, you will be refused entry. That means no casual wear at all, certainly not the kind you wear when touring around Disney World, which is quite ironic if you ask us.
Top Menu Items: International Caviar Tasting, Shaved Truffle, Diver Scallop, and Gulf Shrimp, Australian Kobe-Style Beef, Eggplant Parmigiana, Veal Cheek Ravioli, Daily Buffet Specials, Hawaiian Kona Chocolate Souffle, and Tanzanian Chocolate Truffle.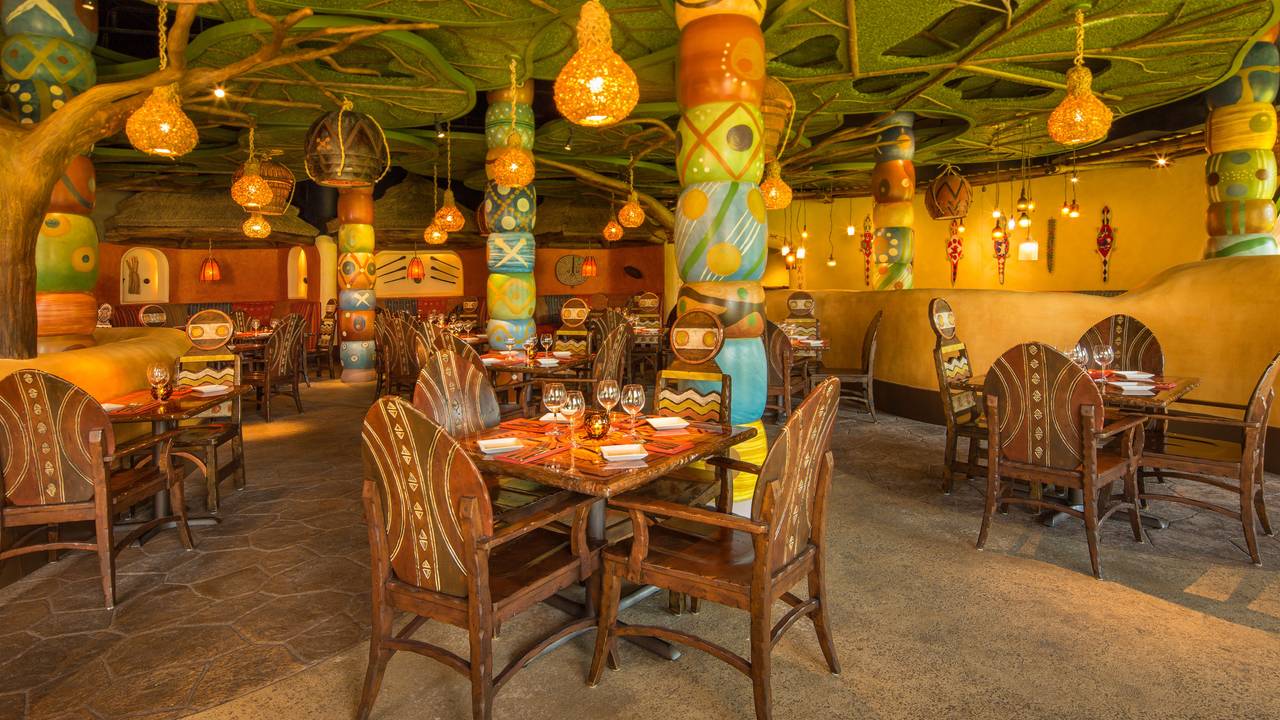 Restaurant Type and Cost: Table Service Restaurant, Affordable
Cuisine: African and Indian
Sanaa is the place to be if you're a fan of well-seasoned food, tender meat, and crafty side offerings. They have some of the best Potjie-inspired bowls, which you can customize. We do recommend spending on their butter chicken bowl, as it's one of their best dishes. Ask for their unbelievably soft garlic naan bread on the side.
A little tip from us to you! Ask them to seat you next to their window table if it is available. This way, you can watch animals as you eat your meal, making it a fun activity on its own.
Located a little further from all the other scrumptious food offerings and Disney fun, Sanaa is nestled in the Kidani Village. However, this doesn't mean you should skip out on the restaurant.
Instead, it is all the more reason to pay a visit and enjoy a mouthwatering meal from the exotic restaurant without the hustle and bustle of the tourist-heavy Disney World. Do not be fooled; the restaurant is quite famous and pretty much always full of guests and food enthusiasts.
Top Menu Items: Butter chicken, Naan bread service, Pork shank, Grilled New York Strip, Cheeseburger, African Star Mojito, Godiva Chocolate Martini, Pumba's Dessert Grub, and African Triple Chocolate Cake.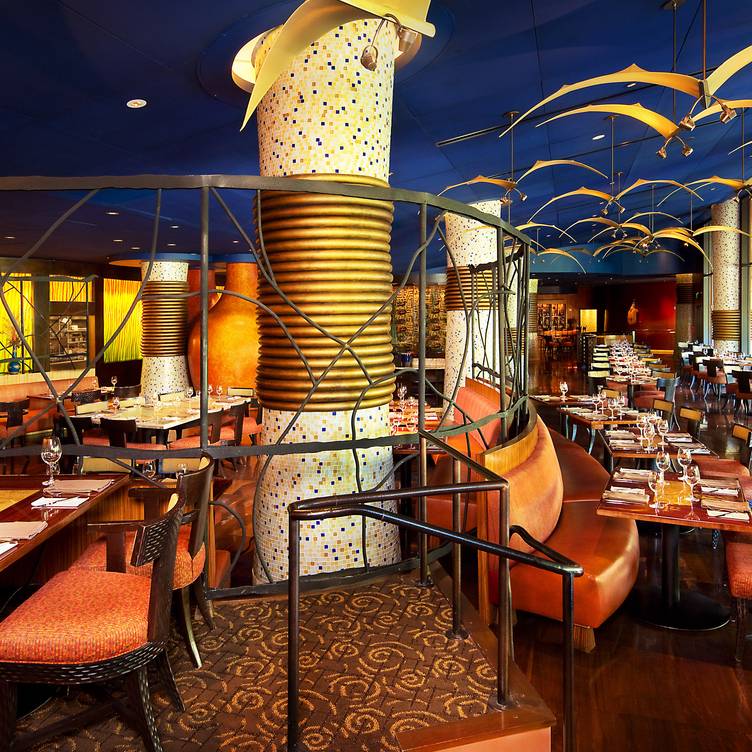 Restaurant Type and Cost: Table Service, Fine Dining, but Affordable
Cuisine: African
Jiko is a fine dining restaurant with an interior simpler than the rest of its competitors, primarily to create a comfortable environment for all ages to enjoy. The ceiling is painted deep blue with beautiful birds hanging from it. The ceiling color changes as the sun goes down, styling to show a typical African savanna.
While Jiko hasn't focused much on installing a lavish interior, it has invested all its energy into hiring some of the best chefs from around the world. The restaurant is ranked top 5 in Disney World for its high-quality food.
The intriguing food of the African cuisine served at Jiko offers exotic tastes, making you crave more. The food served is consistently good, and you will hardly ever come across anyone who has not left as a satisfied customer from the fine dining restaurant. On top of that, the restaurant serves bottles of South African Wines, which are something to get a sip of to further elevate the dining experience.
Start your meal with the Tour of Africa bread service, which is simply a selection of traditional-style bread from Africa. If you're feeling a little extra hungry, the Seared Scallops with Nhopi and Groundnuts make for the perfect appetizer. Be sure to choose the Moroccan Lamb Shank, Botswana Seswaa Short Ribs, or Injera Basket from entrees.
Finish your wholesome meal with some of Jiko's best desserts, including Melktert and Malva Pudding, or their house-special teas, including Thunderbolt Darjeeling and Organic Pear Tree.
Top Menu Items: Grilled Wild Boar Tenderloin, Botswana Seswaa Short Ribs, Seared Scallops with Nhopi and Groundnuts, Organic Pear Tree, and Milktert.
Restaurant Type and Cost: Buffet, All-You-Can-Eat, Mid-Ranged, Affordable
Cuisine: African and Indian
From the minute you enter to the time you finish your food and leave, Boma guarantees a restaurant experience like no other. The classic African interior represents the beauty of the country's roots, while the high ceiling with gorgeous lights makes for an unforgettable and fresh atmosphere.
The experience doesn't just stop there! Known to be one of the best Disney World hotel restaurants offering high-quality delectable all-you-can-eat buffet menus, Boma – Flavors of Africa truly get the exotic flavors across to all its customers. It is in the Jambo House, where you are going to find authentic African buffet specials, including roasted meats, vegetables, and soups.
Some of their must-try include Coconut Chicken Curry Soup, an all-rounded dish that not only fills you up but also excites your tastebuds. Similarly, the Tunisian Couscous Salad is a great addition to have as a side with your entrée.
Top Menu Items: The all-you-can-eat buffet changes daily; however, some of their must-have constant menu items include BBQ Pulled Pork, African Spiced Beef Striploin, Butternut Squash Soup, Sticky Buns, French Toast Pudding, and Chocolate Zebra Domes.
Restaurant Type and Cost: All-You-Can-Eat Buffet, Affordable
Cuisine: American
Cape May Café is a New England-style eatery offering breakfast with Disney icons plus seafood-centric lunch and dinner. The bright and simple interiors showcase a classic everyday food hideaway with tens of tables full of scrumptious all-you-can-eat buffets.
The relaxed atmosphere is much needed after spending a full day at the hustle and bustle of Disney World. On top of that, having a quality all-you-can-eat buffet surely concludes the day with a full stomach and a happy heart.
The best part? Quite often, many Disney characters pour into the café during breakfast hours. You might find yourself having pancakes and scrambled eggs with Minnie Mouse, Goofy, Donald Duck, and Daisy! This is the same reason why the breakfast buffet is almost always full of guests.
If you're positive about paying a visit to Cape May Café, book a month in advance to grab a spot, as it is pretty hard to hold a reservation here.
Top Menu Items: The breakfast, lunch, and dinner all-you-can-eat buffet changes daily; however, some of their must-have constant menu items include Crab Legs, Corn Bread, House Special Parker Rolls, and Roast Beef.
Restaurant Type and Cost: Fine Dining, Expensive
Cuisine: American
Most Walt Disney World Swan and Dolphin Hotels restaurants are underrated for their food. This is mainly because the hotels are not owned by Disney World but are outsourced to accommodate a huge influx of Disney enthusiasts, fans, and tourists.
As a result, many people choose not to explore the hotels as they spend most of their time at the park. However, one of Dolphin Hotel's best secret little spots is Shula's Steak House.
Shula's Steak House is every carnivore's dream. To start your meal, consider ordering their Maryland-style crab cakes; they're worth a shot. Steaks are served using high-end meat cuts with top quality, warranting juicy and tender food at your desired temperature. Given that everyone has their personal preference for meat cuts, we can't recommend any one steak.
However, their Prime Rib is a must-try. While the fine dining restaurant charges quite a lot, each penny spent on the food there is worth the hefty bill. In simpler words, it should be on your to-do list.
Top Menu Items: Tuna tartare, Maryland-style crab cakes, Ribeye steak, Norwegian Salmon, Apple Crisp, and Dark cherry smoked Manhattan cocktail.
Restaurant Type and Cost: Signature Dining, Expensive
Cuisine: Mexican
Toledo hasn't been around for too long; however, that didn't stop the restaurant from creating a stir at Disney World. Don't worry! For all things good. The restaurant has an interior like no other – The ceiling is vividly covered with stained glass, most of which is enveloped by the branches of a natural tree planted in the middle of the restaurant.
The tall windows on both sides of the restaurant help plenty of light come inside the halls, reflecting on the beautiful pink and yellow ceiling. Not only this, but the restaurant offers a jaw-dropping view of Disney World as it is on the top of the Gran Destino Tower. By far, Toledo has the best interior and atmosphere at Disney World.
Their tapas are some of the best available at Disney World, which helped them climb the list of the best Disney World hotel restaurants. Apart from their tapas, be sure to order their Tronchon Cheese Gratinado and Chorizos. For grownups, don't be afraid to indulge in their cocktails, especially their collection of sweet wines.
However, being signature dining, the serving size at the restaurant isn't at par with the prices. Expect to pay more for the food's looks and taste rather than the portion size.
Worried that you're not staying at the Coronado Springs Resort? Luckily, Toledo serves customers that are not guests of the resort too.
Top Menu Items: Tronchon Cheese Gratinado, Garlic Shrimp, Tapas, Pan con Tomate, Red Wine Braised Chicken, Bone in Ribeye, Marinated Hanger Steak, Blistered Shishito Peppers, Crema Catalana, and Chocolate Avocado Mousse.
Restaurant Type and Cost: Quick Service Restaurant, Mid Range, Affordable
Cuisine: American
You name it, serving almost everything, from breakfast to lunch and even dinner, and Primo Piatto's got it! Being a quick-service restaurant, you're guaranteed to find something for everyone's taste buds. The restaurant mainly sells food that umbrellas under the American cuisine, which is quite broad, if you ask us. Most of their dishes will give your palate a quick tour of the local European cuisines.
For breakfast, they have pretty standard offerings such as pancakes, waffles, granola, and eggs, to name a few; however, it's all with a twist! Expect your waffles to come out shaped as Mickey and your pancakes to have an unusually fruity club-house drizzle. If you want to come back for lunch and dinner, grab their delectable burgers. They're Mickey stamped and extremely hard to resist.
Top Menu Items: Croque Madame, Blueberry Pancakes, Beef burger, Spicy chicken crispy sandwich, Croque Monsieur, and Tuna Niçoises Salad.
Restaurant Type and Cost: Character Dining, Mid Range, Affordable
Cuisine: French and Italian
Sometimes character dining focuses too much on the character's experience during the busy food times rather than on the food itself. Luckily, Topolino's Terrace is different than other restaurants. The restaurant focuses on ensuring you are making the most out of what you paid for through delectable food and a memorable introduction to Disney's favorite characters.
Offering breakfast, lunch, and dinner, Topolino's Terrace has quite a menu! Their breakfast is heavily focused on serving some of the best breakfast items from the French and Italian cuisine, including Wild Mushroom Scramble, Quiche Gruyere, and Wood-fire Butcher's Steak.
If you're hooked on their breakfast menu, wait till you see what their dinner offers. Can't choose between their dinner menu? Let us help you out! Be sure to try their Escargot en Gougeres, Lobster Linguine, Rigatoni, and Tortelloni ai Funghi.
Top Menu Items: Sauteed Shrimp and Charred Broccolini, Escargot en Gougeres, Tortelloni ai Funghi, Wood Fire Butcher's Steak, Press Pot Riviera Resort Blend, and Strawberry Cucumber Spritzer Mocktail.
Restaurant Type and Cost: Table Service Restaurant, Mid Range, Affordable
Cuisine: American
Whether you're touring Disney alone, with your friends, or with your family, there's one thing for sure – Disney always hits us with incomparable nostalgia from childhood. More often than naught, some comfort food is all you need to help you cope. For such instances, Olivia's Café is the place to be! It is a small American-style café with décor inspired by traditional cafes of the 80s. The walls are full of little pictures and incredible finds.
Housed at Disney's Old Key West Resort, Olivia's Café racks up several American comfort food dishes; however, to make them even more irresistible, they serve you with an Island twist. That means you are going to come across dishes as simple as Mac n Cheese to some exotic finds like Cayo Hueso Shrimp Pasta. A good try while keeping a low budget.
Top Menu Items: Southernmost Buttermilk Chicken, Cayo Hueso Shrimp Pasta, Mac n Cheese, Crab Cakes, Chicken and Waffles, Seafood Stew, Key Lime Tart, and Banana Bread French Toasts.
Restaurant Type and Cost: Quick Service Restaurant, Low-End, Affordable
Cuisine: American
Housed at one of Disney World's deluxe hotels, Port Orleans Resort, the Scat Cat Club Café is a small hideout for food lovers and explorers alike. It is not advertised as well as the rest of the restaurants; however, it is prominently loved by those who like to explore every corner of Disney World.
When at the café, you need to start by ordering the Mickey Beignets. Doesn't matter if you are hungry for some main course; this dessert has to come first! The Mickey Beignets are a delectable dessert made in seasonal flavors in the shape of Mickey's head.
If you are an adult looking for a quick shot of booze, try their BOOZY Mickey Beignet. In true Disney spirit, this is said to be one of the best food grabs in all of the resort.
Top Menu Items: Mickey Beignets, BOOZY Mickey Beignets, Loaded Potato Puffs, Sazerac Cocktail, Syncopation Shift Cocktail, Grapefruit Spritzer Mocktail, and Watermelon Lemonade.
Restaurant Type and Cost: Table Service, All-You-Can-Eat, Affordable
Cuisine: Polynesian and American
A well-priced table service restaurant that offers all you can eat? Sounds like the best deal to come across with sore legs and a tired body at Disney World after spending the whole day enjoying at the park. No need to look any further, 'Ohana is one of the best Disney World hotel restaurants in the park.
The Polynesian-themed setting is simply gorgeous. The lush greenery, the wonderfully big fire pit, and the small tikis placed around the restaurant bring the atmosphere to life.
While the restaurant serves breakfast and dinner, breakfast is usually everyone's favorite, which is why it is almost always overbooked as well. Expect to meet some of Disney's classic characters at breakfast, including Lilo and Stitch, while you munch on the eggs, potatoes, waffles, and fruits. In contrast, the dinner is quiet as everyone is munching down the delicious offerings.
Top Menu Items: Steak and Shrimp, House Special Noodles, Sweet Wings, Dumpling Bowl, Ohana Bread Pudding, Wasabi Bloody Mary Cocktail, and Polynesian Red Eye Cocktail.
Restaurant Type and Cost: Table Service, Low-End, Affordable
Cuisine: Polynesian and American
Kona Café is another excellent Polynesian resort to explore some exotic flavors. It is casual island-inspired dining at Disney Polynesian Village Resort with an open sushi kitchen. While the café offers extremely affordable food options, the interior helps you get a good feel of dining at a posh restaurant. Sounds quite exciting, right? Wait till you read what is on the menu!
Their Pot Stickers and Pork Belly Noodle Bowl are one of the most loved food items on their menu, which makes them the best Disney World hotel restaurant. Their open sushi bar crafts mouthwatering delicious California Rolls, Rainbow Rolls, and Kids Sushi. Not only this, but they offer a wide range of vegan menus, such as Plant based on Loco Moco and Lapu Lapu, to be more inclusive towards all their customers.
Top Menu Items: Tonga Toast, Macadamia Nut Pancakes, Pot Stickers, Pork Belly Noodle Bowl, Kona Braised Short Ribs, Asian Marinated Airline Chicken, California Rolls, Surf and Turf Sushi Rolls, Ginger Crusted Ribs, and Ham Tonga Toast.
Restaurant Type and Cost: Character Quick Service Dining, Affordable
Cuisine: American
Tucked at the Artist Point, Storybook Dining with Snow White is going to be an experience more than anything. If you are vacationing at Disney World with children, we 100% recommend visiting this restaurant at least once. Grab a small snack or a quick dessert here if you have other dining plans or food options.
Your children are going to be ecstatic when Snow White pops in with her seven little dwarfs, followed by the Evil Queen making a short appearance, all while they enjoy some mouthwatering dishes. We won't judge if you feel just as thrilled as your children would. After all, Disney World is magical for all ages.
The best part? The restaurant offers a kid-friendly menu along with their regular menu so that both adults and children can make the most out of their entrees. For adults, we recommend ordering Royal Prime Rib Roast. For children, it is best to choose between From the Garden and Grilled Chicken.
Top Menu Items: Royal Prime Rib Roast, Grilled Fish of the Day, Magic Mirror's Slow-Braised Pork Shank, Wild Mushroom Bisque, Wicked Shrimp Cocktail, The Antidote Cocktail, and Enhanced Apple Cocktail.
Restaurant Type and Cost: Table Service Restaurant, Mid Range
Cuisine: American
Steakhouse 71 is a family-friendly restaurant, deriving its name from the year the theme park opened in 1971. Perhaps one of the best eateries around Magic Kingdom, the restaurant features some of Walt Disney's finest cuts of meats. Designed with elements from the 1970s but featuring a sense of modernity, the restaurant's dining area is modern and sleek, surrounded by some incredible artwork to gaze at.
Start off by having their French Onion Soup, Lump Crab Cakes, and a signature cocktail for appetizers, and it will not disappoint. For entrees, go big by ordering the moist and juicy 12-oz Roasted Prime Rib, which is sure to leave your belly full.
Just when you feel you have had enough, we suggest ending your meal with their much-hyped signature dessert, the Steakhouse 71 chocolate cake, infused with layers of whiskey, chocolate mousse, and raspberries that help balance out the sweetness of the chocolate.
Top Menu Items: French Onion Soup, Crab Cake Sliders, 6-oz Top Sirloin Steak, 6-oz Filet Mignon, 12-oz Roasted Prime Rib & Classic Yorkshire Pudding, Stack Burger, Gourmet Grilled Cheese, and Steakhouse 71 Chocolate Cake.
Restaurant Type and Cost: Dinner Show All-You-Can-Eat, High-End but Affordable
Cuisine: American
For a Disney dining experience like no other (and we surely do not mean another character dining), visit the Hoop Dee Doo Musical Revue. If you haven't yet figured it out by the name, the restaurant offers a dinner show with an all-you-can-eat buffet. Simply put, you're going to have a lot of fun staying entertained throughout your endless meal. Surely, the fun never stops at Disney World!
The Pioneer Hall Players will have you clapping your hands and stomping your feet while you munch happily on the food in front of you. Not only is the food good, but it is presented quite differently than other all-you-can-eat buffets at Disney World. With table service part of the experience, the food comes in tin buckets. You can keep ordering as much as your heart desires.
Top Menu Items: Fried Chicken, BBQ Pork Ribs, Cornbread Crusted Macaroni and Cheese, Home Style Mashed Potatoes, Ma's Famous Strawberry Shortcake, and Giddy Up Cocktail.
Conclusion
So, there you have it! That was our list of some of the best Disney World hotel restaurants you can head over to for mealtime. While you may be tempted to grab a quick meal from the theme park like most other visitors, we can guarantee that dining at one of these hotel restaurants will be a pleasant experience you will not regret.
If you are wondering how you will do at the hotel restaurants without having a room reservation at the respective hotels, know that it is going to be as simple as walking to any other restaurant on the park's premises.
Yes, you read that right! Anyone can dine in at the hotel restaurants without any restrictions. So, regardless of whether you are staying on-sight or off-sight, you can visit every hotel and explore each restaurant free of charge.
To make your dining experience smooth, download the My Disney Experience official application to book a table at the restaurant of your choice. When the time of reservation is due, use Disney Transportation from any location to the restaurant.
More about our TFVG Author
A seasoned traveller, Dad, and avid sports tourist, James foundered The Family Vacation Guide to share his expert vacation experiences- especially when it comes to being a travelling family man.
Featured in Travel articles such as Travel + Leisure, TripSavvy and SFGate, you know you're reading some of the best vacation tips online.