Everyone needs a getaway from time to time, but leaving beloved pets behind can spoil all the fun, especially when traveling as a family.
Florida Keys is the perfect destination for a relaxing vacation, with a whole host of stunning beaches, resorts and things to do.
But where do you stay if you're wanting to take your pup with you?
Below, you'll find a list of the best dog-friendly hotels in the Florida Keys as well as a brief description of their rooms, amenities, and dining options or if you're still figuring where to head, why not check out our guide on the best Florida Key to visit as a family?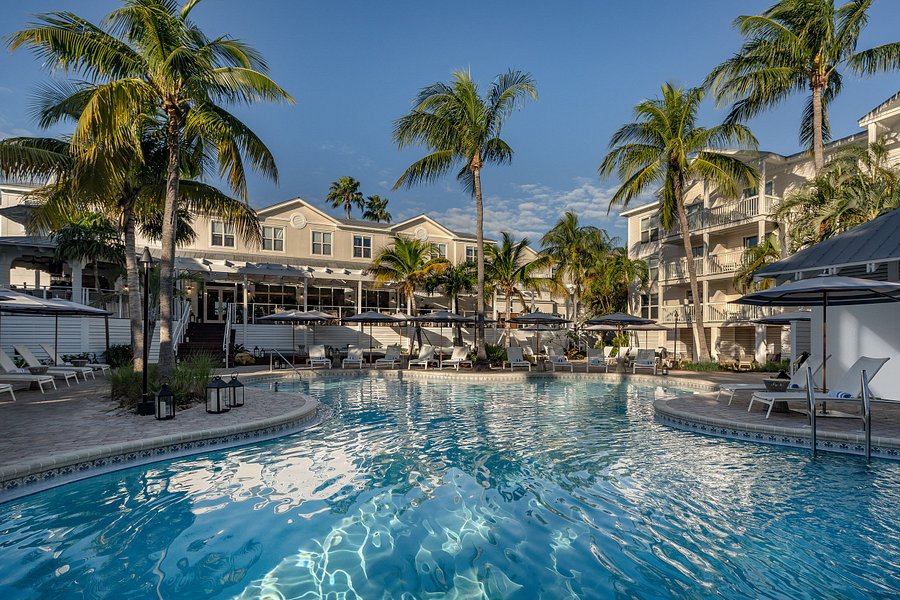 Barbary Beach House, located at 2001 South Roosevelt Boulevard, is a lovely, contemporary-coastal hotel at the tip of the Florida Keys. It offers many amenities, including a pool, convenient access to the beach, and a concierge who can book trip excursions anywhere on the island. The fitness center is open twenty-four hours, but there are also lawn games for those wanting less rigorous activity.
Adult guests receive a complimentary cocktail at check-in. Woo-hoo! The resort has a wonderful selection of rooms, many with king- and queen-sized beds, smart TVs, a view of the pool, and a mini fridge. Solo travelers can also stay in a one-bedroom suite if they'd like. All of the rooms are beautifully designed. They're casual, yet elegant. They pay homage to Key West's history while echoing natural elements.
Barbary Beach House is home to an amazing bar and restaurant. Shipwreckers Bar sits poolside, and it serves up a refreshing medley of Asian fusion and Americana dishes as well as an island twist on classic cocktails. Drifter's Cove Restaurant is open all day long. There's an extensive breakfast buffet in the morning. The lunch and dinner menu features fresh seafood as well as chicken and steak.
Most importantly, the hotel is pet friendly. They're happy to host well behaved dogs that are thirty pounds or less. The hotel charges $75 per dog per night. Guests may have up to two dogs in a suite, but there are some restrictions. Vacationers with pets may not be allowed to stay in certain rooms, and owners are responsible for any damage their pet causes. Certified service dogs are exempt from those restrictions.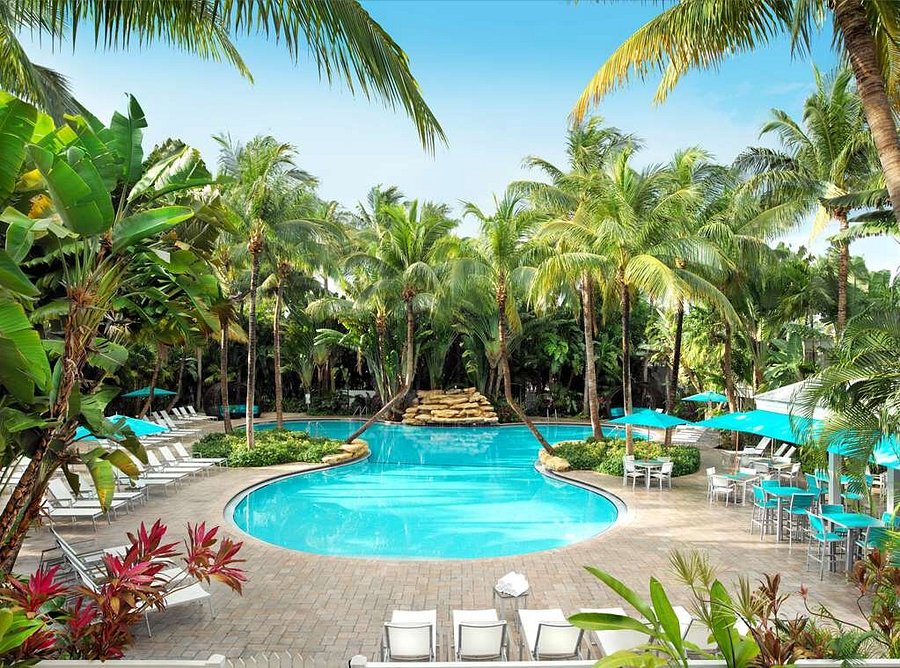 Havana Cabana, at ​3420 N. Roosevelt Blvd, is right smack dab in the heart of Key West. This hotel is unique in that it has a distinct Cuban feel. Guests are immediately greeted with vintage cars and flamenco music, with the aroma of freshly rolled cigars wafting from the lobby. The hotel showcases hand-painted murals all over the property.
Guests have a choice of suites with either one or two beds. Some rooms have a view of the pool, while others look out onto the gulf, but they all offer boutique amenities like an in-suite coffee maker, Wi-Fi, mini fridge, and flat-screen TV. A writing desk offers the guests a place to mix business with pleasure or display trinkets before they depart. Rooms have a safe for precious items. Havana Cabana also has suites that are accessible for those with disabilities.
Unlike most resorts and hotels that have a restaurant, Havana Cabana has an onsite food truck called Floridita (Little Florida). Guests can order Cuban-inspired dishes like Blue Corn Nachos and the "Pepito" Skirt Steak Sandwich. Floridita also offers a healthy selection of vegan dishes like the popular "Impossible" Burger served with roasted beet hummus and arugula on a toasted brioche bun.
Mojitos Pool Bar has an impressive cocktail menu. They offer both crafted and frozen options. We have the Peach Bellini on the crafted side, consisting of white rum, peach puree, sparkling white wine, and cherry juice. And then there's the Spicy Mezcal, with smoked tequila, house sour, lime juice, and orange liqueur.
Popular frozen drinks include the classic Strawberry Daiquiri and Piña Colada, but those with adventurous palates may want to try the Frose, which blends elderflower liqueur, rose, and ginger syrup.
Havana Cabana allows dogs that weigh fifty pounds or less and are well behaved. The hotel charges a nonrefundable fee of $75 per dog per night, and guests may have up to two dogs in a room. Visitors are expected to pay for any damage their pet causes. Certified service dogs are not subject to restrictions such as room limitations or extra fees.
This Hilton hotel boasts thirteen acres of private bayfront. Located at 97000 Overseas Hwy in Key Largo, Baker's Cay Resort has a lot to offer! It features a concierge, fitness center, outdoor pool, spa, and a business center with meeting rooms. It also has four onsite restaurants, so guests don't even have to leave the resort for their meals. There's so much selection, and it's impossible to ever get bored.
One of the restaurants is called Calusa, which offers panoramic views of the bay with indoor and outdoor seating. Dry Rocks is another onsite bar and restaurant. It's a playful space with swings and hideaway nooks. There's also Mangos Restaurant & Tiki Bar and the Pool Bar and food truck.
Two things all these establishments have in common are their designation as a Surfrider Foundation Ocean Friendly Restaurant and their commitment to serve patrons sustainably.
The rooms and suites at Baker's Cay Resort have either two queen-sized beds or a king. The interiors are modern and minimalist, which only highlights the views of the property and ocean. Dark wood accents and pops of green feel tropical and luxurious. En suite amenities include an LCD TV, high-speed internet, balcony, and coffee maker. Bathrooms have convenient hair dryers and electrical outlets.
Baker's Cay Resort is one of the larger ones on this list, so its pet policy is a bit more generous than others. It is willing to accommodate dogs that weigh up to 100 pounds. This makes it one of the most accommodating dog-friendly hotels in the Florida Keys.
The rest of their pet policy is pretty standard: $75 non-refundable fee and no more than two dogs per room. Service animal exemptions aren't mentioned, but guests can always inquire by phone or email before booking their trip.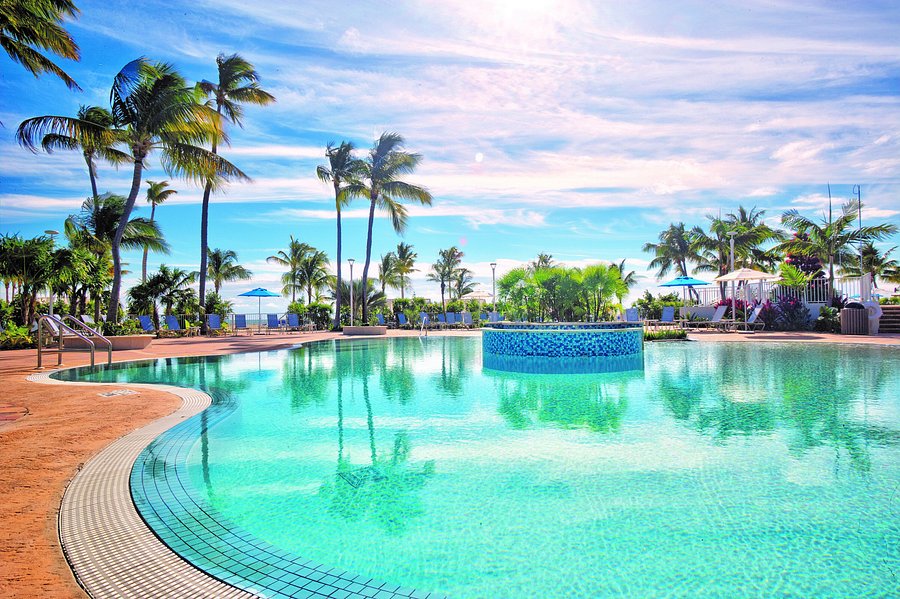 Islander Resort is the perfect place for a getaway with 24 acres of beachfront! The resort is located at 82100 Overseas Highway in Islamorada, Florida. The facility features two salt-water pools, hot tub, and a splash pad. There's also an exercise trail and watersports.
Those who prefer a slower pace will enjoy massage services and a visit to the Florida Keys History & Discovery Center. This resort is hurricane-proof, so nothing is standing in the way of a good time.
There are many different levels of rooms and suites available. There are standard hotel rooms on the budget-friendly end with either a king- or queen-sized bed, mini fridge, microwave, TV, and safe. There are private suites for guests wanting to live it up, which are almost like individual cottages on the beach. They offer everything the oceanside rooms have plus a kitchenette or mini bar. All guest rooms have a lanai or patio.
Onsite dining options include Tides Beachside Bar & Grill and the prestigious Elements Lounge & Restaurant. Both establishments offer a pier-to-plate experience and Caribbean decor. A perk of Tides Beachside Bar and Grill is that they offer grab-and-go meal options for those who can't wait to begin their next adventure. Elements, on the other hand, is perfect for a laid-back supper after an eventful day.
Pets are welcome at Islander Resort. Their pet policy is more specific than others on this list. They emphasize that dogs must always be on a leash, even when they're on the beach or in the dog park. There's also the $75 non-refundable fee. Pet owners are responsible for damage done to their room that the pet causes. Islander Resort reserves the right to issue a fee of up to $100 if deep cleaning is necessary.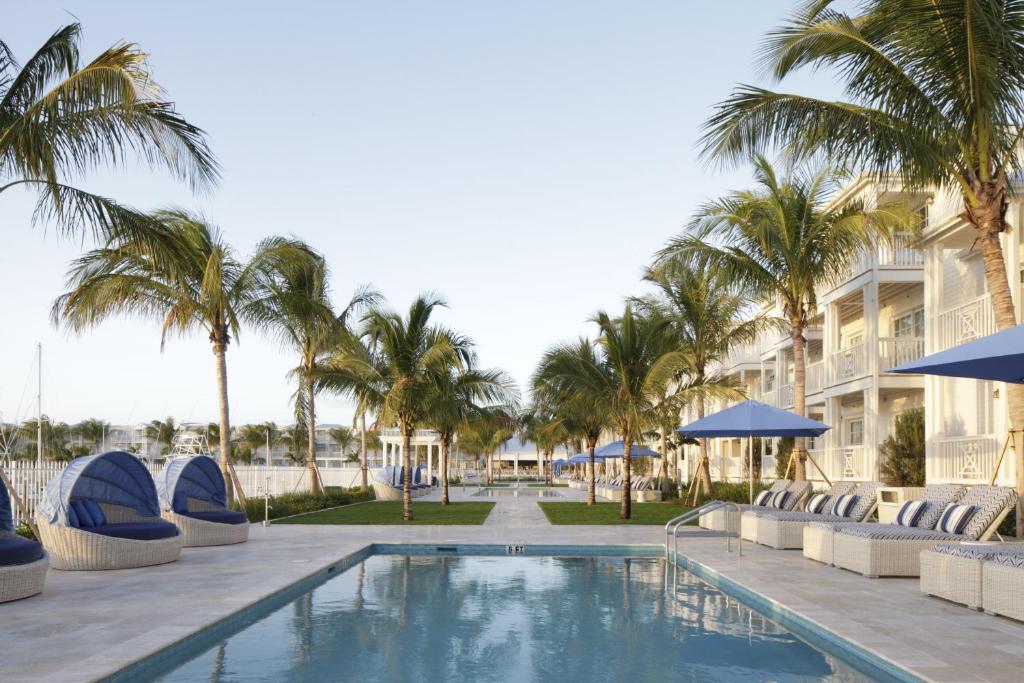 At 5950 Peninsular Avenue in Key West, Florida, Oceans Edge is the premiere vacation spot. All accommodations have an ocean view. The property also has six heated swimming pools and immediate access to a full-service marina. Guests are encouraged to take part in on-site watersports or a tour. Tours come in many varieties including walking, bike, helicopter, and biplane.
Guest suites at Oceans Edge Resort have a king- or queen-sized bed, and some even have a combination of both. All rooms have an HD TV and balcony that overlooks the water. They're decorated in a fresh, clean style that relieves the sense. Select art pieces add a touch of fun and whimsy. The hotel also offers accessible rooms for those with disabilities.
Yellowfin Bar & Kitchen caters to all the guests at Oceans Edge. If a visitor catches a fish in the marina, the staff is willing to cook it up. They also offer locally sourced seafood for those who're less skilled with a fishing rod. For breakfast, they offer standard American fare as well as continental options. Lunch and dinner are a surf and turf smorgasbord.
Oceans Edge Resort welcomes dogs to come and stay. Unfortunately, they're unable to accommodate other types of pets. The hotel charges pet owners $70 per night, but it provides them with a dog park and free collapsible water bowl and treats at check-in.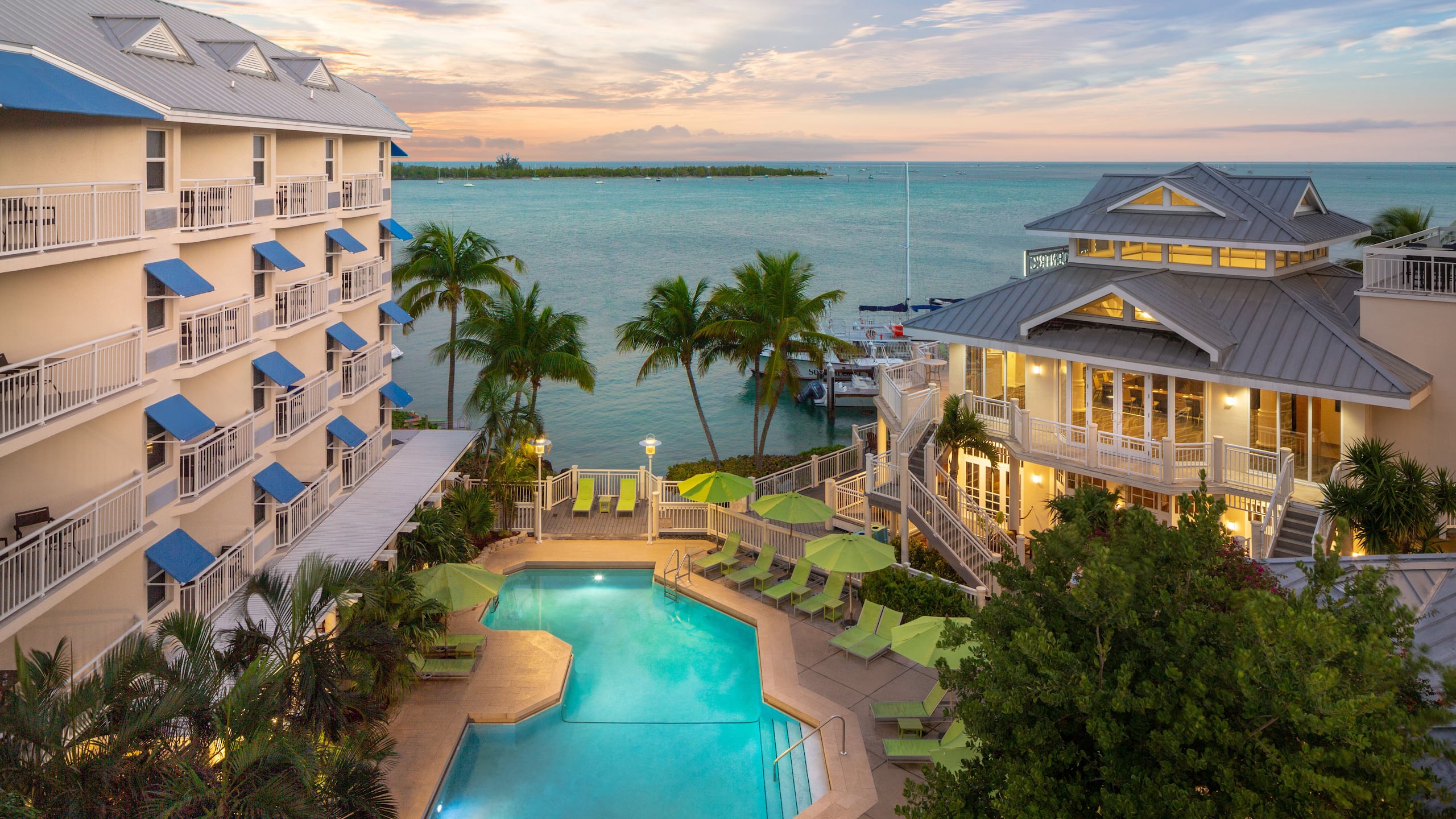 This Hyatt hotel, located at 601 Front Street in Key West, Hyatt Centric Key West Resort and Spa is chock full of decadent amenities. It features a concierge, private dock, jet Ski and jet boat rental, Jala Spa, gym, turtle sanctuary, and meeting rooms. Two on-site dining facilities prepare meals to order.
SHOR American Seafood Grill invites patrons to dine on a breezy veranda overlooking the Gulf. The breakfast menu is hearty with pancakes, french toast, waffles, egg white omelettes, and much more. The lunch and dinner menus hone in on freshly caught fish, with a few chicken and steak dishes for variety. The dessert menu features key lime pie and vanilla panna cotta as well as a chocolate brownie and ice cream.
The rooms and suites at the Hyatt Centric have at least a partial view of the Gulf, and guests may select from rooms with either a queen-sized bed or a king. The interiors draw on inspiration from East Asia to create a relaxing zen environment. Rooms feature BeeKind bath toiletries, robes, and a Keurig coffee maker. The flat screen TVs make for a wonderful entertainment option after an action-packed day.
This resort allows guests to bring one dog of up to 50 pounds or two dogs whose combined weight is 75 pounds or less. Pets aren't allowed in public areas including the pool, beach area, or restaurant. Pet owners are charged based on the length of their stay. Up to six nights costs $150, while more than six nights costs $300.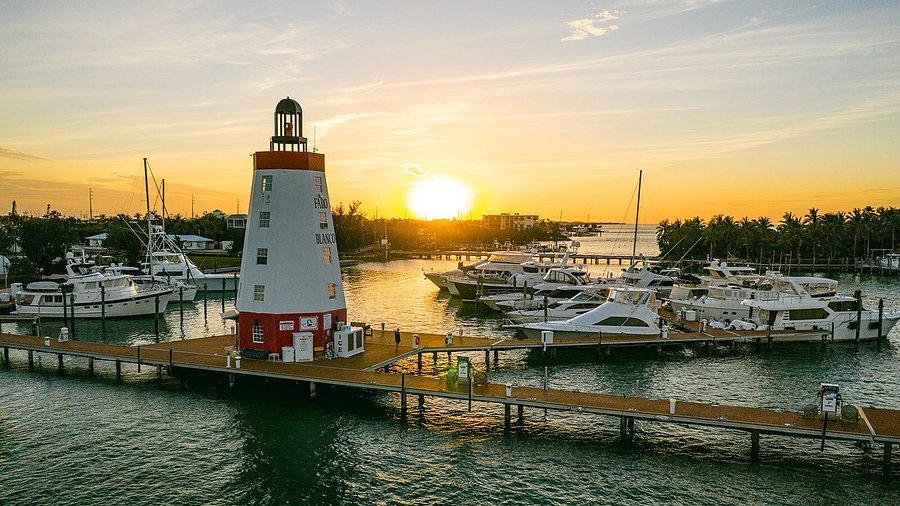 Faro Blanco is one of Marathon, Florida's crown jewels. Located at 1996 Overseas Hwy,
Marathon, FL 33050, this resort sits right on the marina. This vacation hotspot features a lively event schedule as well as bicycle rentals and paddle boarding. There's also a fitness center and fishing charters that guests are encouraged to take advantage of. The grounds have giant chess and connect four, regular-size cornhole, crocquet, and telescopes for stargazing.
The Lighthouse Grill welcomes guests in the late afternoon and into the evening on Wednesdays through Saturdays. Fresh seafood is a staple on the menu. Must-try dishes include the Fresh Catch of the Day, Classic Conch Fritters, and Penne Pasta Alfredo, which can come with grilled chicken or shrimp for an extra fee.
The Faro Blanco has over one hundred guest suites, all with a wide-screen TV, complimentary Wi-Fi, and a mini fridge. Sleeper sofas give guests the option to bring a friend, and there's also a writing desk for those who're on a working vacation. The hotel wants visitors to enjoy their rooms, but they ask that they not smoke while inside. The interior is minimalist and contemporary and is the perfect place to kick your feet up.
The resort's pet policy is fairly simple. They're happy to house just dogs who weigh fifty pounds or less. Guests may have two dogs per room, and there's a fee of $75 per stay. Four-legged family members must be accompanied at all times by their owner.
Hampton Inn Key Largo, located at 102400 Overseas Highway, is a pleasant hotel with its own private beach. It has all the essential amenities like Wi-Fi, daily hot breakfast, a pool, convenient access to John Pennekamp Coral Reef State Park, and a concierge who can assist with a day trip to the Everglades National Park. Hampton Inn Key Largo also features a fitness center, and it has space to host meetings.
The resort has a decent selection of rooms, and guests have the option of a view of the pool, bay, or garden. All guest suites have a mini fridge, microwave, and TV. Some rooms have a king-size bed, while others have two queen beds. The design is clean and calming with warm neutral tones and soft wood accents. Granite countertops and marble tables add a touch of elegance.
Guests have plenty of restaurants they can visit while staying at this Hampton Inn. Hobo's Cafe is right across the street, and it has family favorites like burgers, butterfly shrimp, and lobster mac-n-cheese. The Catch Restaurant and Bar is another popular choice. For dinner, it serves entrees like shrimp scampi, Bayou chicken, and steak au poivre. And it has simpler fare like chicken or fish baskets and tacos.
Hampton Inn Key Largo is a great hotel to bring your pet. The website says that they must weigh 30 pounds or less, but beyond that the policy is vague. Before you book your stay, be sure to clarify if there's a limit to how many pets you can bring and if there are any additional fees or room restrictions.
The Perry Hotel is located at 7001 Shrimp Road in Key West, Florida on a beautiful part of Stock Island. This resort offers a hundred guest rooms with water views all around, dockside restaurants, two pools, two dog parks, and many outdoor fire pits. There're also amenities that gym-rats are sure to love like the weekly yoga, fitness center, and F45 Training bootcamps.
This hotel has three near-by restaurants with a fourth on the way! Matt's Stock Island Kitchen & Bar is the perfect place to grab a bite after taking a dip in the pool. It offers a delectable selection of American coastal fare and will even plate a fish that a guest reeled in.
Salty Oyster Dockside Bar & Grill and Sloppy Joe's are two poolside watering holes with everything guests need to stay refreshed and fed while they're soaking up the sun. Both are expert mixologists and serve fresh seafood.
Everyone who checks in gets a room with an oversized private balcony and water views. Suites showcase local art and have climate control. The bathrooms are stocked with artisanal body essentials guaranteed to revitalize the skin after a day full of swimming. Flat screen TVs and high speed internet keep guests connected to the world outside paradise.
The Perry Hotel doesn't want any family members to be left out of vacation. That's why they're happy to house up to two dogs per room. This makes it one of the most dog-friendly hotels in the Florida Keys. Pet owners are charged $75 for the first dog and $25 for the second. Dogs receive treats upon arrival and are welcome to explore the property's two dog parks or enjoy the outdoor dining areas at Salty Oyster and Matt's.
More about our TFVG Author
A seasoned traveller, Dad, and avid sports tourist, James foundered The Family Vacation Guide to share his expert vacation experiences- especially when it comes to being a travelling family man.
Featured in Travel articles such as Travel + Leisure, TripSavvy and SFGate, you know you're reading some of the best vacation tips online.