Are you traveling to Florida with the family soon? Want to know about the best family hotels in Fort Lauderdale, FL? You're in the right place! Known for its stunning white-sand beaches, Fort Lauderdale promises an unbeatable family vacation where you'll make lots of memories!
If you're looking for world-famous white-sand beaches, eclectic dining options, and plenty of non-beach activities, you and your family will love Fort Lauderdale, FL.
You can also take advantage of the city's fun trollies and water taxis to transport your family around. Alternatively, the walker-friendly Las Olas Boulevard is perfect for a stroll.
The hotels in Fort Lauderdale are also very diverse, offering a fantastic mix of family favorites, large chain resorts, and smaller lodgings, many of which are just steps from one of the best beaches in the state. But with so many accommodation options on offer, which one is best for you?
In this guide, you'll find 12 of the best kid-friendly hotels in Fort Lauderdale. Whether you're looking for a luxury hotel or more affordable accommodation, you're sure to find the perfect hotel that kids and grown-ups will love!
Looking for kid-friendly accommodation close to the airport? We've created a list of the best hotels near Fort Lauderdale-Hollywood International Airport for families to make your vacation planning a whole lot easier.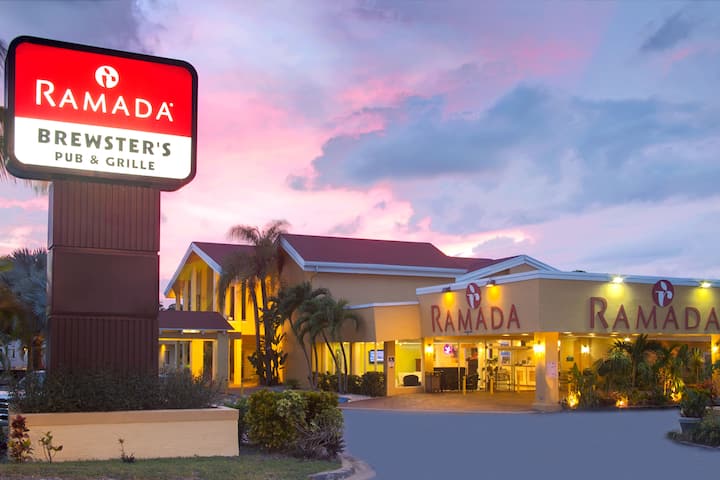 Our first pick of the best family hotels in Fort Lauderdale, FL is the Ramada by Wyndham. Situated just 1.5 miles from Fort Lauderdale International Airport, you'll be able to get to your accommodation in no time once you get off the plane.
Even better, there's a complimentary shuttle service that goes to and from the airport, so transporting tired kids to the hotel will be no problem! This full-service 2-star hotel offers homely amenities such as a free buffet breakfast each morning, complimentary Wi-Fi, and two on-site restaurants as well as a room service option.
Conveniently located, there's plenty to do nearby including fishing and boating tours, exciting restaurants, and vibrant nightlife.
The kids will love the large outdoor pool, which is also complete with sunbeds so parents can bask in the wonderful Florida sun, with a drink from the poolside Tiki Bar! Don't worry about rainy days either, the wide choice of HBO channels will keep the little ones entertained!
Located close to attractions such as South Beach Park and the Bahia Mar Shopping Center, The Westin hotel is packed with kid-friendly amenities. A range of activities and snacks await your little ones to make their arrival even better.
The Westin chain of hotels has an amazing reputation as great family hotels and the Fort Lauderdale, FL Beach Resort is no different. If you have very young children, you'll be pleased to know they offer a fully-supervised pool area and a fun schedule of activity programs.
They also offer activities for older kids and the pool is sure to be a great source of fun for them too. Expect comfortable rooms with Wi-Fi, small kitchens, smart TVs, and room service if you'd like to order in.
The Westin also boasts a 6,500 square foot Heavenly Spa, an outdoor pool that overlooks the ocean, and a bridge that takes you straight to Fort Lauderdale beach. The hotel's location makes it perfect for sun lovers and sightseeing families.
Enjoy home comforts with the wonderful addition of glorious sunshine and beautiful ocean views at the Ocean Sky resort. Offering 225 well-appointed guest rooms, there's a wide range of rates to suit every budget, including oceanfront suites.
The refurbished guest rooms boast private balconies, new carpets and draperies, and LCD flat-screen TVs. All the rooms are kitted out with mini-refrigerators, hair-dryers, safes, and coffee makers, for a home from home feeling.
Situated on the beach, the Ocean Sky hotel is near to many popular attractions, shopping, and restaurants. If you have a baby or a toddler you can request a crib or cot to be put in your room.
There's also an outdoor pool that the kids will love, as well as a fitness room where you can keep up your training regimen. If you want to take the family on a canoeing or kayaking trip, there's a chance to hire equipment out too.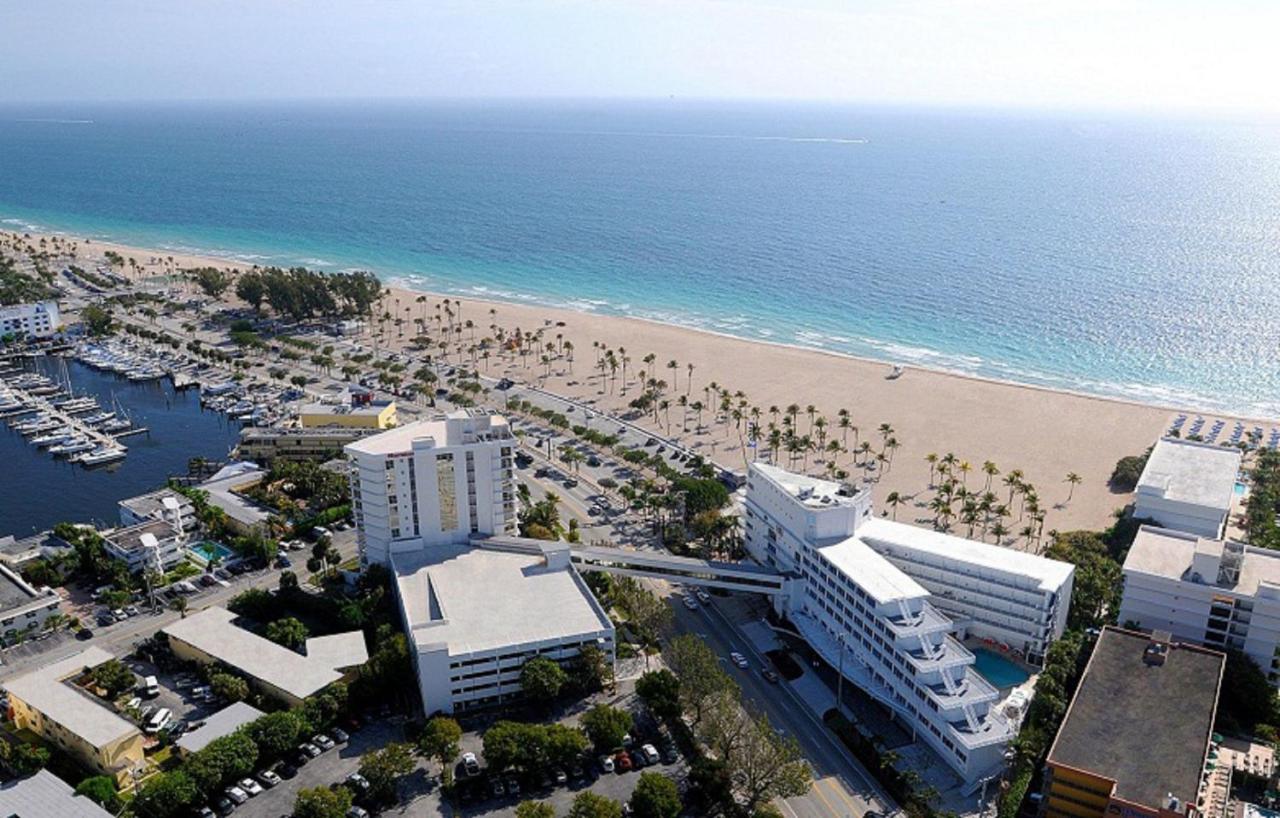 Find your bliss at this stunning beach resort that's located directly on the world-famous Fort Lauderdale, FL beach. It's also just minutes from the Fort Lauderdale International Airport and downtown Las Olas Boulevard.
Originally opened in 1956 and named the Yankee Clipper, the B Ocean Resort has been a go-to hotel for many iconic American names in the past. These include Joe DiMaggio, Robert De Niro, and Marilyn Monroe!
These days, the B Ocean Resort is a contemporary oceanfront hotel, whilst still retaining its historic charm. This ideal beach location makes the B Ocean Resort the number 1 choice for sun-loving guests.
Treat the kids to a day in the sun while you lounge on the private beach and sample the mouthwatering food and drink on offer. You can even visit the famous Wreck Bar to see a one-of-a-kind mermaid performance.
Boasting 481 chic and spacious rooms and suites, you can expect a perfectly luxurious stay that the whole family will enjoy! The hotel's award-winning facilities include two outdoor pools, a 24-hour fitness center, and exciting underwater entertainment.
The only hotel on the prestigious Las Olas Boulevard, you can expect a real treat when you stay at the world-famous Riverside Hotel! Built in 1936 by the Wells family, the Riverside Hotel in Fort Lauderdale combines luxury with a laidback feel, combining old Florida style with Caribbean charm.
The 12-story building boasts 231 rooms, with 6 being suites that feature Old Florida decor, as well as panoramic views of the city's skyline. On-site amenities include 4 bars, 3 restaurant choices, an outdoor pool, free WiFi, and a fitness center.
The kids are sure to love the on-site custom cake shop, perfect for if you're celebrating a birthday whilst on vacation! The Broward Center for Performing Arts is also very close by, offering musicals and various live entertainment that kids and adults will love.
If you'd like to discover the beauty of Fort Lauderdale, FL, then the Hyatt Place hotel will make the perfect base. Boasting a convenient location, the hotel is just a few miles away from the Fort Lauderdale International Airport, making it easy to get the family from the airport to the hotel.
You'll be able to visit trendy restaurants and shops – or why not pay a visit to the Broward Center for the Performing Arts? There, you can catch live ballet performances, Broadway shows, and concerts.
Entertain the kids by taking them for a stroll down the beautiful beaches that Fort Lauderdale has to offer and then jump into a Water Taxi for an adventure on the Intracoastal Waterway!
One of the best things about this hotel is that kids can stay for free, allowing you to have an awesome family vacation for less! At the Hyatt, you can expect a spacious room, kitted out with the hotel's signature Hyatt Grand Bed, as well as a sofa bed and a 42″ HD television.
Bathroom vanities complete with granite countertops await you, as well as complimentary Wi-Fi to keep you connected with loved ones. Don't worry if you've left things at home either, as Odds and Ends is there t0 help with essential items that you can borrow, buy, or enjoy free of charge.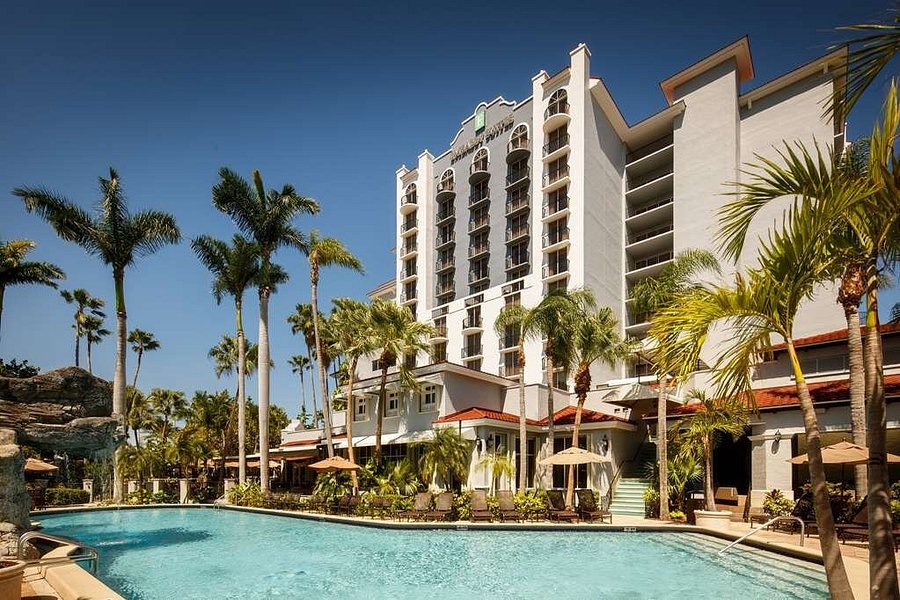 If you're traveling with small children, you're probably looking for a hotel that has enough facilities, without being too busy. It's not easy to find such a hotel, but the Embassy Suites does just that.
This 3-star hotel offers more complimentary extras than many hotels, such as breakfast that is included in your stay, and the large pool is the perfect place to relax with a drink. This and the guest suites with separate living areas are just a few reasons why this hotel is popular with families.
Although the Embassy Suites doesn't provide a kids club, you can take the little ones for a stroll to the Funderdome that's just a few minutes down the road. There, you'll find fun activities that kids will love!
If you don't mind being slightly away from the beach, the Embassy Suites offers an amazing affordable family stay! If you do want a day at the beach, the Fort Lauderdale beach is just two miles away.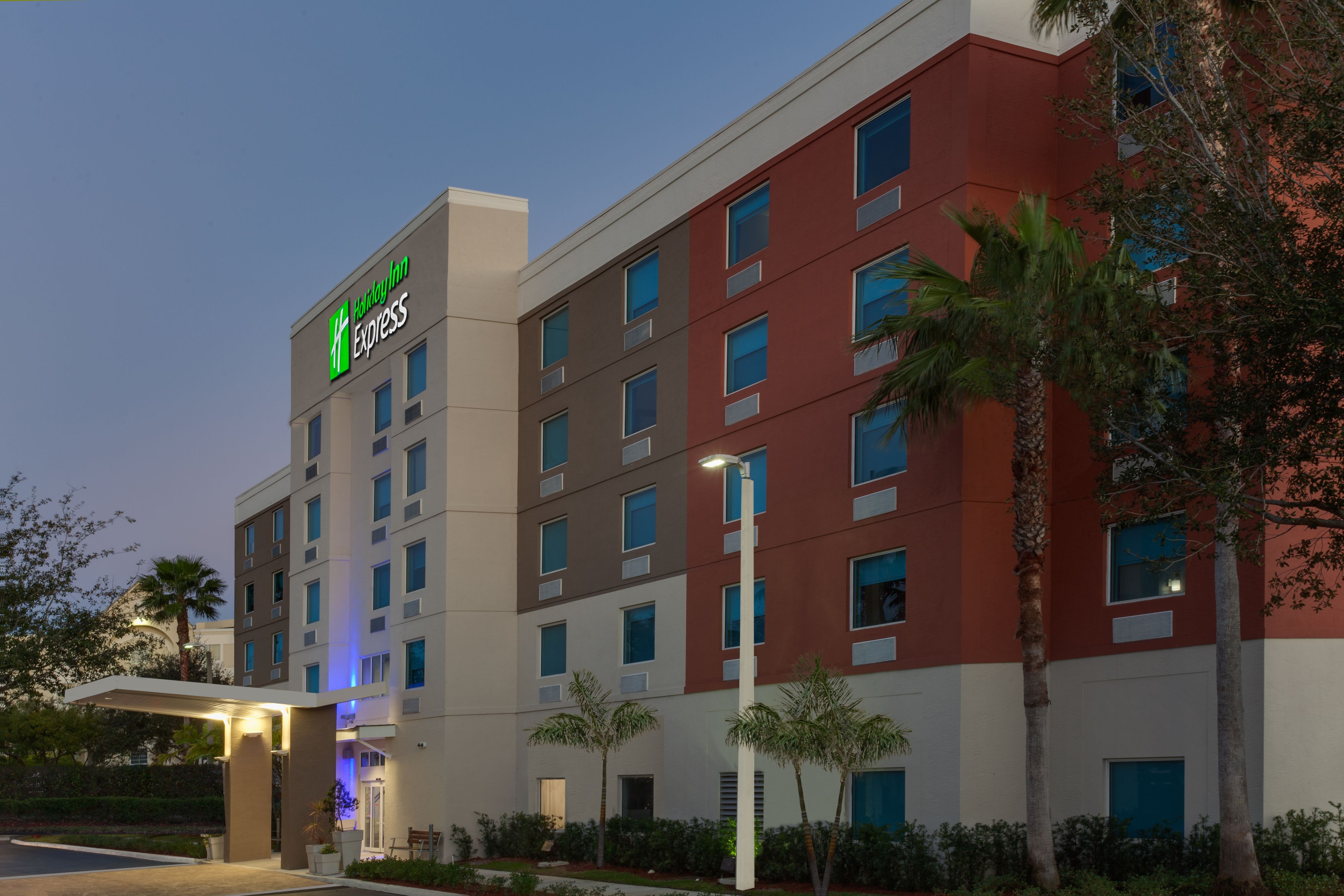 Our next pick of the best family-friendly hotels in Fort Lauderdale, FL is the Holiday Inn Express. If you're looking for a family hotel that won't break the bank, look no further than the Holiday Inn!
The cozy guest rooms are some of the best on offer in Fort Lauderdale. A stay at the Holiday Inn means you'll be able to enjoy free Wi-Fi, and a 32″ flat-screen television with over 70 cable channels that the kids are sure to love.
Additionally, you'll have an in-room refrigerator, microwave, and a workstation where you can make free calls locally. If you're traveling with a baby, you can also request a cot to be put in your room.
Kids will love the hot breakfast buffet each morning, which is included in your stay. Choose from refreshing juices and delicious pastries, cereals, muffins, pancakes, and much more! With a great location and a free 24-hour airport shuttle, it's easy to see why this is one of the best family and kid-friendly hotels in Fort Lauderdale.
This amazing location is also just a couple of blocks from two big shopping malls, so there'll be plenty to keep the kids occupied. There's a bus you can catch to Fort Lauderdale beach for just $1.75 each, giving you easy access to some fun in the sun!
If you're looking for more luxury family hotels in Fort Lauderdale, FL, consider the Renaissance Marina Hotel. Treat the family to a spot of coastal luxury at this 4-star hotel, situated in the center of the vibrant yachting district in the middle of 17th street.
The kids are sure to love the free Sun Trolley that takes you around the city, and even better, you can catch one just a few steps from this premiere hotel. Why not take a ride to the beautiful beaches in Fort Lauderdale, or maybe the high-end Galleria Mall that older kids are sure to enjoy.
Alternatively, if you're looking for a unique way to discover the "Venice of America", then jump into a Water Taxi where you can take a leisurely cruise down the Intracoastal Waterway. Don't forget to sample a cup of locally prepared La Colombe coffee before you leave!
This premiere hotel boasts modern decor with an outdoor pool surrounded by tropical gardens that the kids will have tons of fun in. A 37″ TV and a laptop safe await you in your room, along with luxury Aveda toiletries.
Some of the rooms include access to the club-level lounge, with drinks and snacks that are sure to put a smile on the kid's faces. Maintain your fitness at the fully-equipped fitness center, and then treat yourself to a post-workout dip in the on-site hot tub!
Just because you're on a budget, it doesn't mean you have to miss out on an amazing family vacation to Fort Lauderdale beach resort. The Best Western Plus hotel offers affordable and comfortable accommodation, with great amenities to make you feel at home.
All the rooms feature air conditioning to keep you comfortable as well as free Wi-Fi and complimentary breakfast. This two-story hotel is perfectly located in the center of Fort Lauderdale, just minutes from Interstate 95.
One of the reasons that this is one of the most popular kid-friendly hotels in Fort Lauderdale is because young children can stay for free!
Thanks to its great location, the Hampton Inn provides an awesome base for a great family vacation in Fort Lauderdale. Just two miles from the ocean and next door to the Fort Lauderdale International Airport, the hotel is close to all the amenities and attractions you'll need!
It's perfect if you want easy access to Fort Lauderdale beach, but you still want to be inland where you're close to shops and restaurants. Enjoy free breakfast each morning before you begin your day.
The beautiful king bedrooms have been refurbished to give you a warm welcome and come equipped with walk-in showers, microwaves, and plenty more amenities for a homely feel. If you're driving to the hotel, you'll be pleased to know that there's free parking for the duration of your stay!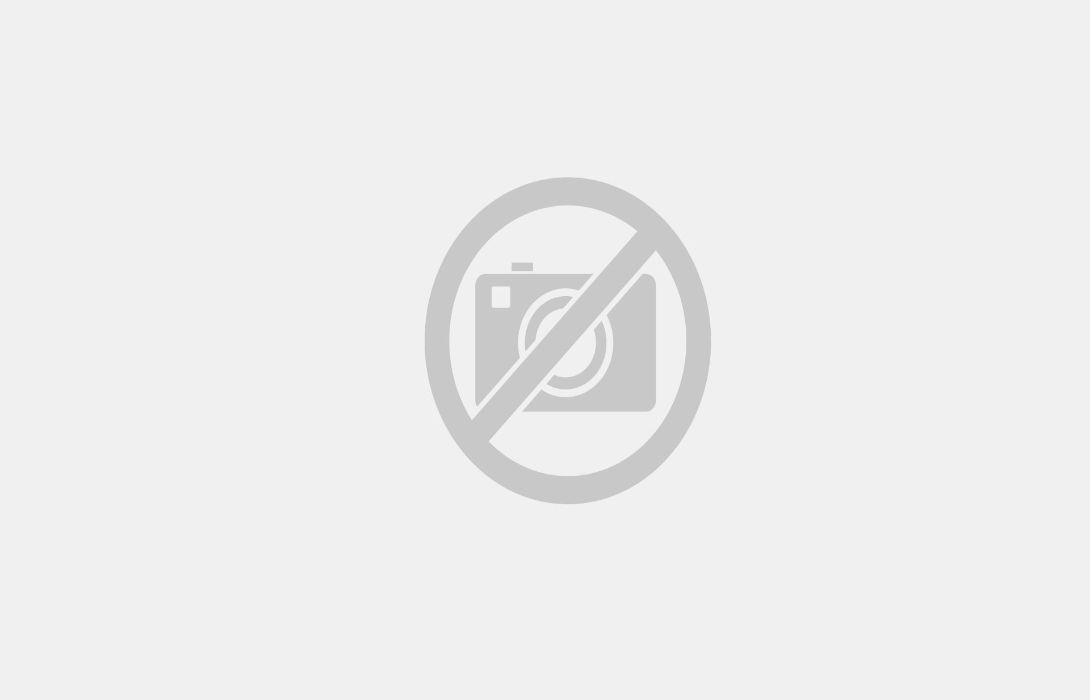 Offering an ideal combination of comfort, value, and convenience, the Ocean Manor Beach Resort provides a family-friendly setting with a range of amenities designed to make life easier for you.
Expect a comfortable room kitted out with an HDTV, a refrigerator, and a kitchenette, to make traveling with children much easier. You can also make use of the free Wi-Fi in case you need to check your emails or your vacation is doubling as a work trip.
This Fort Lauderdale beach resort hotel also features a concierge and room service for even more convenience. Of course, the Ocean Manor hotel also has a great outdoor pool that the children will enjoy, while parents can relax at the poolside bar.
Thanks to the hotel's great location, you can also take the family for a trip to Fort Lauderdale beach. Why not check out the surf club and try your hand at bodyboarding or surfing?
In Summary
As you can see, some of the best family hotels in Fort Lauderdale are perfectly affordable and feature lots of amenities to make traveling with kids much easier! Hopefully, this guide has given you some inspiration and help in choosing the perfect Fort Lauderdale family hotel!
More about our TFVG Author
A seasoned traveller, Dad, and avid sports tourist, James foundered The Family Vacation Guide to share his expert vacation experiences- especially when it comes to being a travelling family man.
Featured in Travel articles such as Travel + Leisure, TripSavvy and SFGate, you know you're reading some of the best vacation tips online.