Are you planning a cheap trip to Miami? There are plenty of exciting activities in Miami for families with kids. Although Miami is an expensive tourist destination, there are countless free activities and places to explore if you know where to search.
Some of the top activities in Miami, Florida include exploring the city's beaches, parks, and museums. We've compiled a list of the best free things to do in Miami with kids to help make the search a little easier for you.
1. Experience Wynwood's Amazing Street Art
There's certainly nothing like Wynwood, which has grown from being a run-down textile manufacturing zone in the 1970s to an iconic and colorful Miami museum district.
The open-air museum features vast, multicolored artworks of some of the most renowned street painters at every corner. In addition to its jaw-dropping street art, Wynwood is home to various trendy cafes, cultural centers, antique shops, and craft breweries.
If you'd rather not walk around Wynwood, there are also kid-friendly bike tours available.
It's not always simple to know a child's interest in art. But even the most cynical art critic will admit that a vibrant mural painted across a whole courtyard is an impressive sight. Since its inception in 2009, street art creations have covered over 80,000 square feet of the wall.
Children will have a great time exploring the area by climbing on rocks and jumping in and out of tires. You can visit Wynwood during the summer, specifically at weekends and lunchtime. Ensure to arrive early as the venue gets crowded in late afternoons.
2. Unwind in South Beach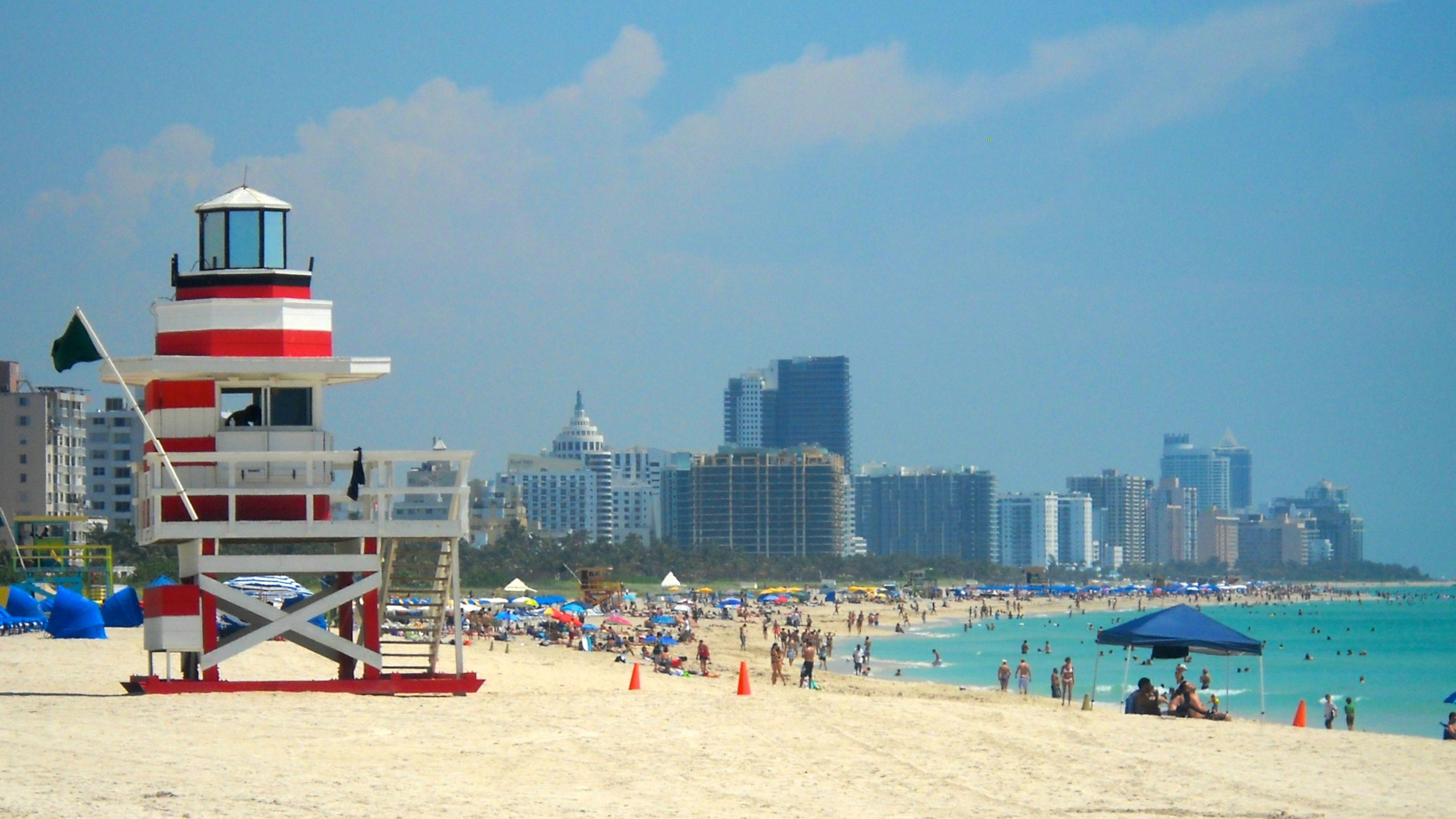 When in Miami, you can't skip out on the city's multiple-award-winning beaches. South Beach is a well-known beach in Miami that stretches 4 miles along the city's coast and offers various activities and attractions.
You can opt to go swimming in the warm sea or unwind and bask in the sun on the beach's white sand. After you've had your fill of swimming and sunning, you may take a walk along Ocean Drive, a magical spot with neon lights and never-ending memorable moments.
If you're seeking free activities in Miami that you can do with your children, then you should go to South Pointe Park, which features a play area and a splashing waterfall. Take a stroll along the waterfront and have the breathtaking sights of the cruise ships departing from the port.
3. Ocean on Watch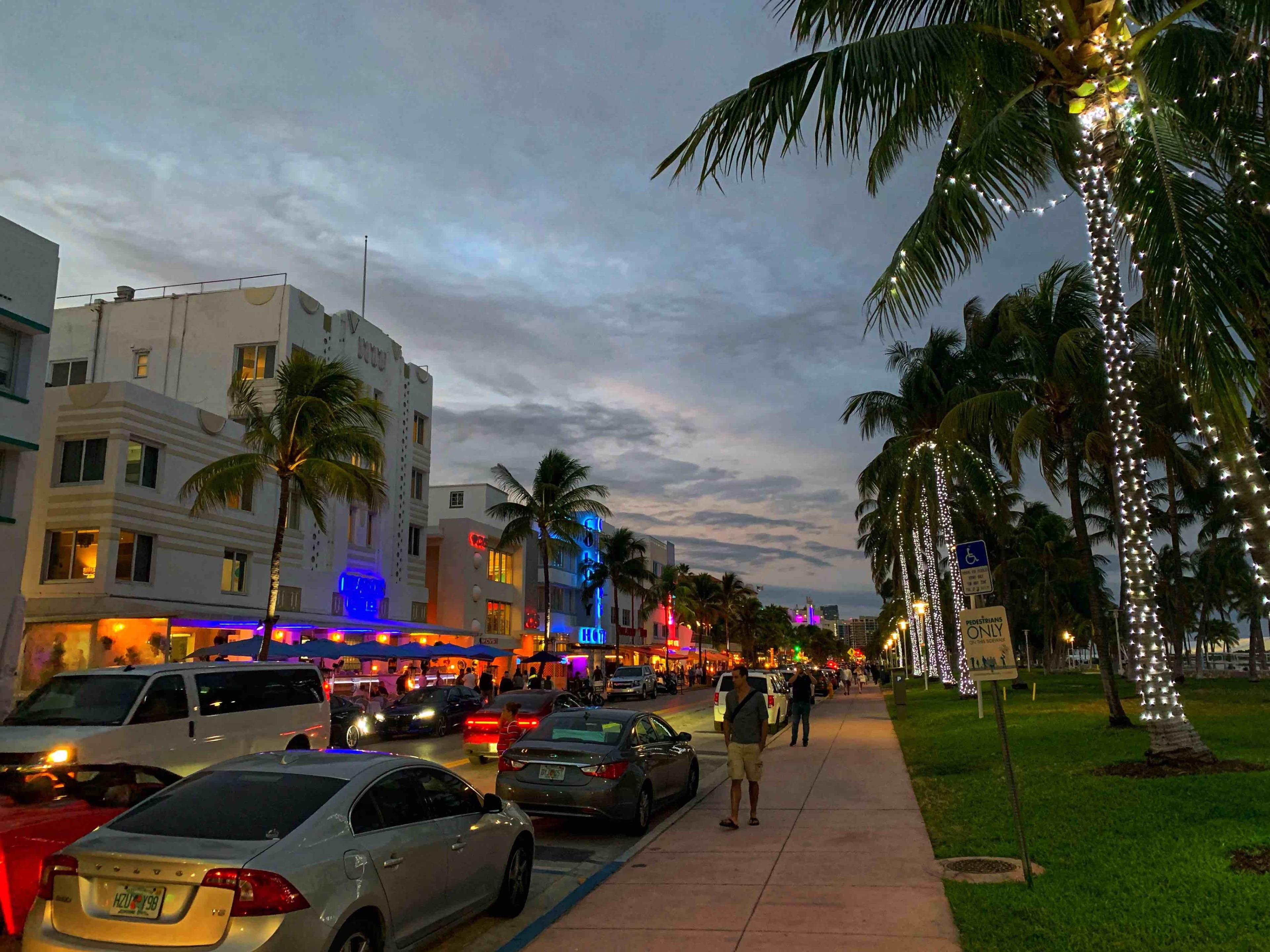 Visitors spend a fortune to visit the Magic City, but you don't need to spend any money to take advantage of the Miami Beach Boardwalk. It's two miles of tourists watching and spectacular ocean views, starting at 21st Street.
You may stroll from the Art Deco District to the condo canyons made famous by Frank Sinatra's hotel appearances in the 1950s. You and the children can wander away from the boardwalk to enjoy ocean fun and sunbathe. Kids will be excited to see Ocean Watch, a massive sailing vessel that stops in Miami every few weeks.
4. Ogle the Art at Wynwood Wall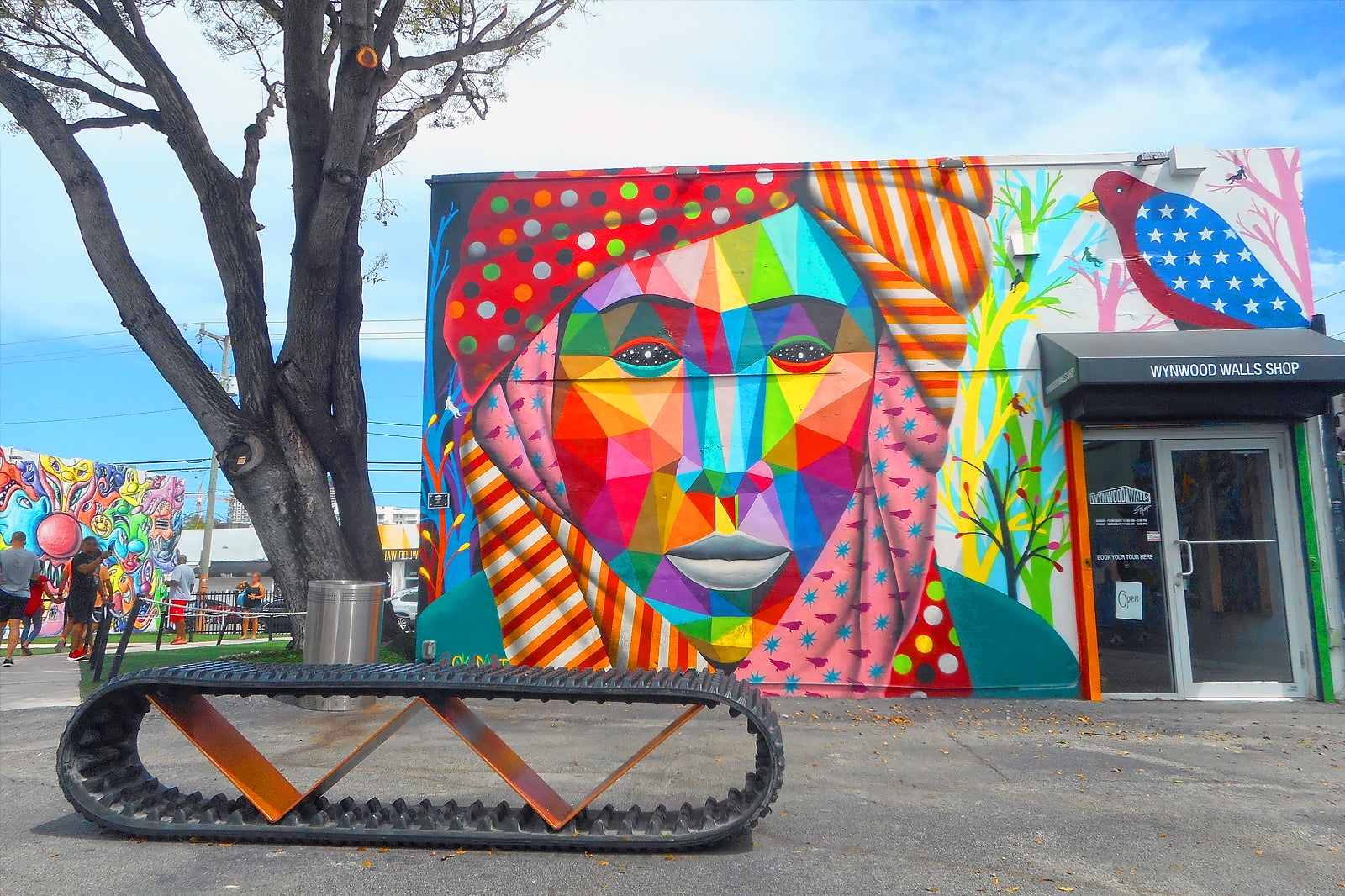 The Wynwood Art Walk is yet another exhibition in Miami that's free to attend. It's a great place to hang out and has a great vibe. You'll see a new piece of graffiti art or a bright mural everywhere you look. Some of the best street artists in the world are responsible for breathtaking street art.
Colors are exciting to children, so an art tour like this may be a lot of fun. The wall paintings and graffiti are consistently being modernized by having the older pieces sprayed over with brand new graffiti. You can take as many photographs as possible for your social media feeds.
You could also visit the 1-800 Lucky open-air food court and Asian market and get your caffeine fix at the renowned Panther Coffee. If you have some spare time on the way back to your house, you might like to stop about ten blocks to the north to visit Frohzen, a fanciful ice cream shop.
5. Enjoy a Movie at Soundscape Park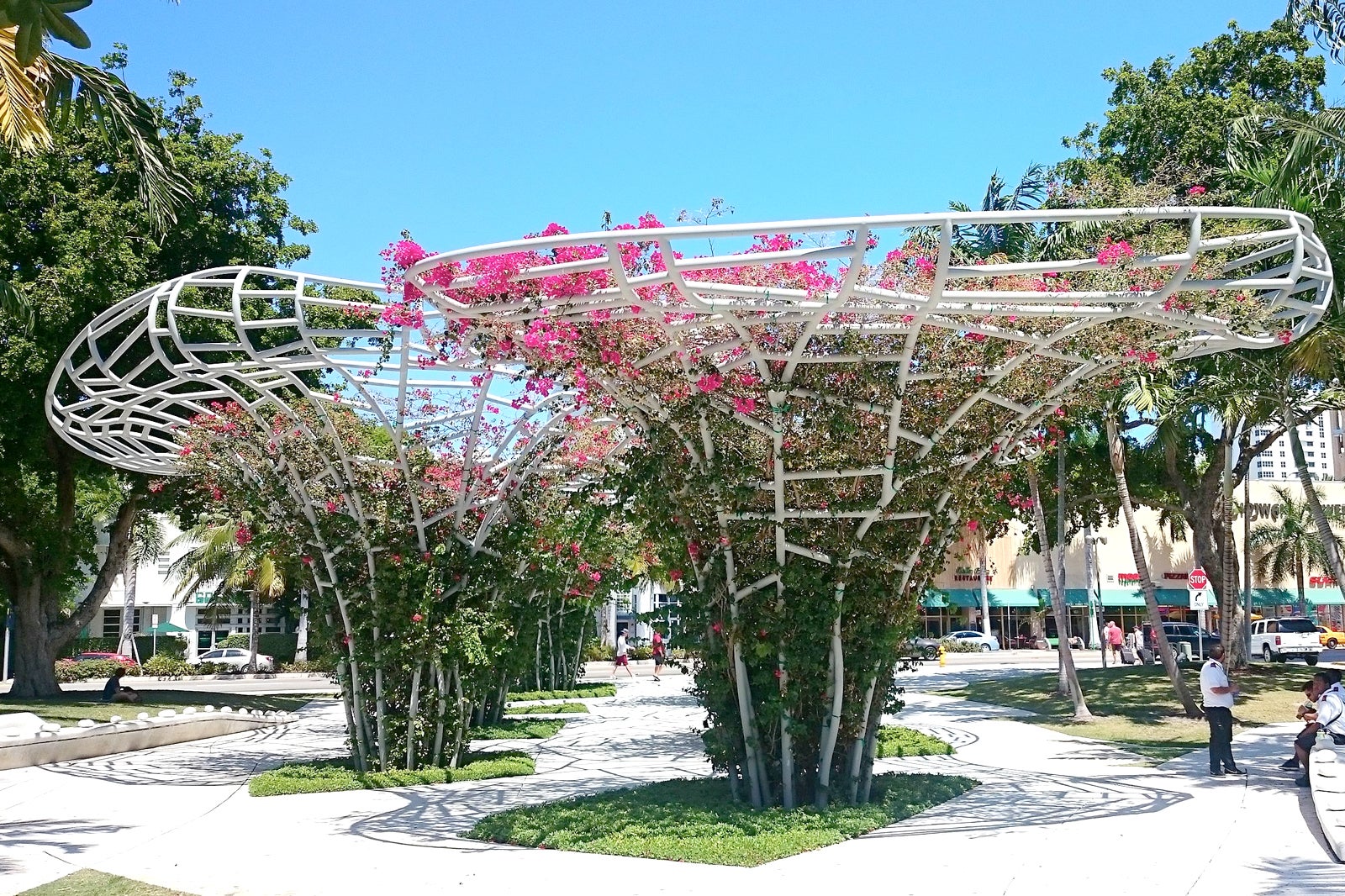 What could be more enjoyable than watching a movie beneath the stars outside with your loved ones? It is, without a doubt, one of the best free things to do in Miami with kids.
Plan a trip to Soundscape Park on Wednesday evening. The ExoStage at 17th Street and Washington Avenue in Miami Beach hosts a film series from October to June at 8 p.m.
Remember to bring along a blanket and some refreshments. Spend time with your loved ones while taking in the sights and sounds of the New World Symphony. Additionally, you can listen to a no-cost multimedia WallCast concert run by Citi.
6. Take a Free Museum Tour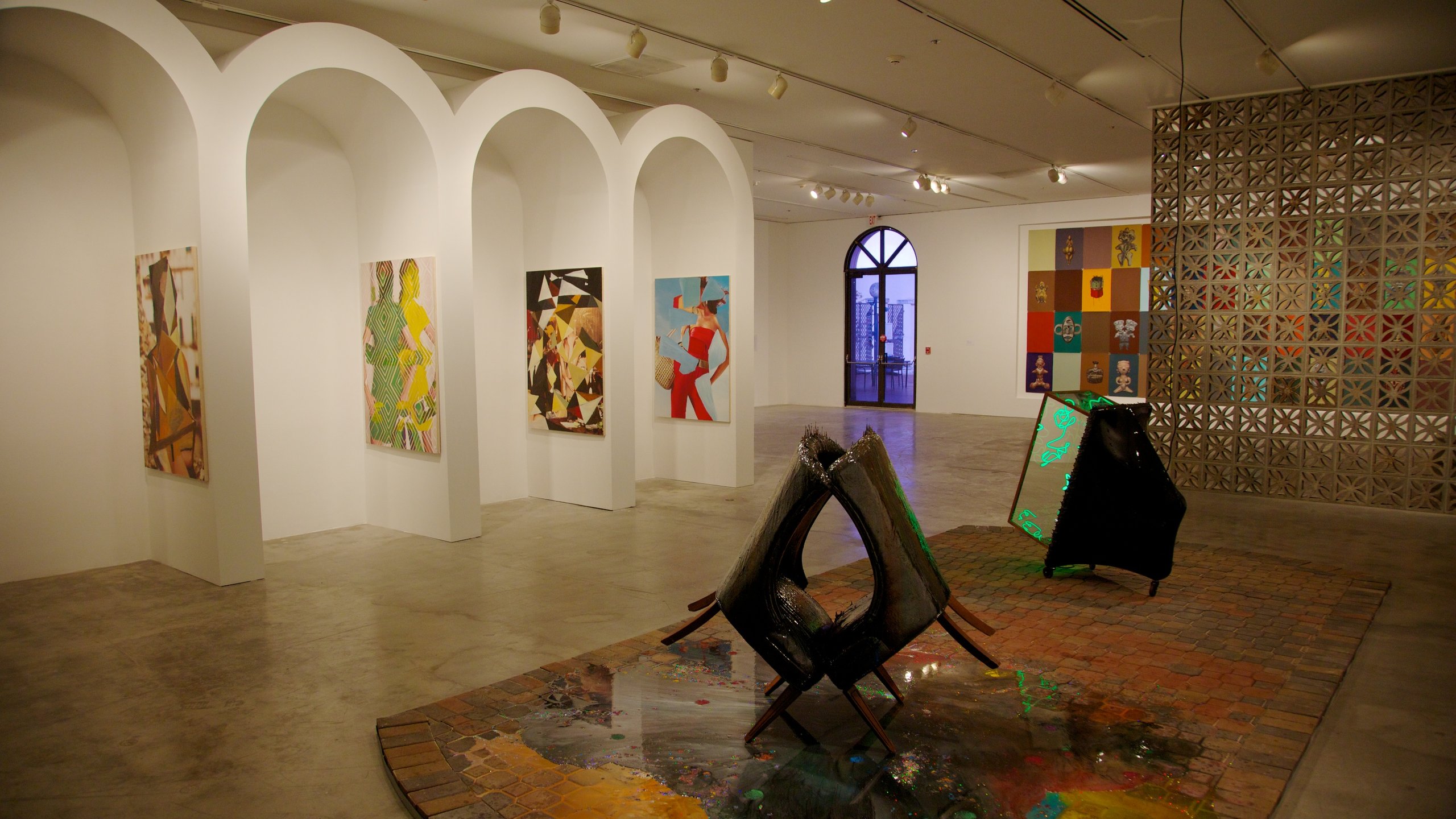 Second Saturdays and first Thursdays of every month are free days at the Perez Art Museum. Over two thousand contemporary and modern artworks items are displayed at the museum. It's a real Miami secret treasure that few visitors know about.
On the second Saturday of every month, from 10 a.m. to 5 p.m., HistoryMiami hosts a free day of family-friendly activities. Explore the fascinating archaeological and historical exhibitions and workshops related to culture and the arts with your children.
Each Friday after 6:00 p.m., the Wolfsonian Museum doesn't charge an entrance fee. The free perk also features film screenings, discussions, and drink treats.
Each third Friday of the month, from 4 to 8 p.m., the Miami Children's Museum offers free entry. Interactive exercises, arts & crafts projects, and games are typically planned for the day.
Your children will enjoy the construction area, where they may expend excess energy by pushing wheelbarrows and controlling cranes and bulldozers. The Multi-Sensory Room is a fantastic spot to wind down for the day because of its soothing atmosphere and dim lighting.
Just a short distance from the museum, The Deck at Islands Gardens has a lovely outdoor patio where you can take in yachts and meze-style tapas.
Additionally, entrance to some museums in Miami is free all days of the week; all you have to do is show up. You might need to donate, but you are free to give whatever amount you feel comfortable with. You might want to check out the Institute of Contemporary Art or the Historic Homestead Town Hall Museum.
7. Visit West Dade Regional Library
The West Dade Regional Library in Westchester, which spans 54,000 square feet at 9445 Coral Way, is most likely not included as a must-see tourism attraction for families, although it ought to be.
It boasts 200,000 volumes, an outdoor play area, an arts center with active exhibitions, a theater, and a big upstairs kid's area.
The library promotes itself as "treats children special" and offers free programs that include story-telling and arts. The library's hours of operation are as follows: Monday, Wednesday, Friday, and Saturday from 10 a.m. to 6 p.m.; Tuesday and Thursday from noon to 8 p.m.
8. Yoga Sessions in Bayfront Park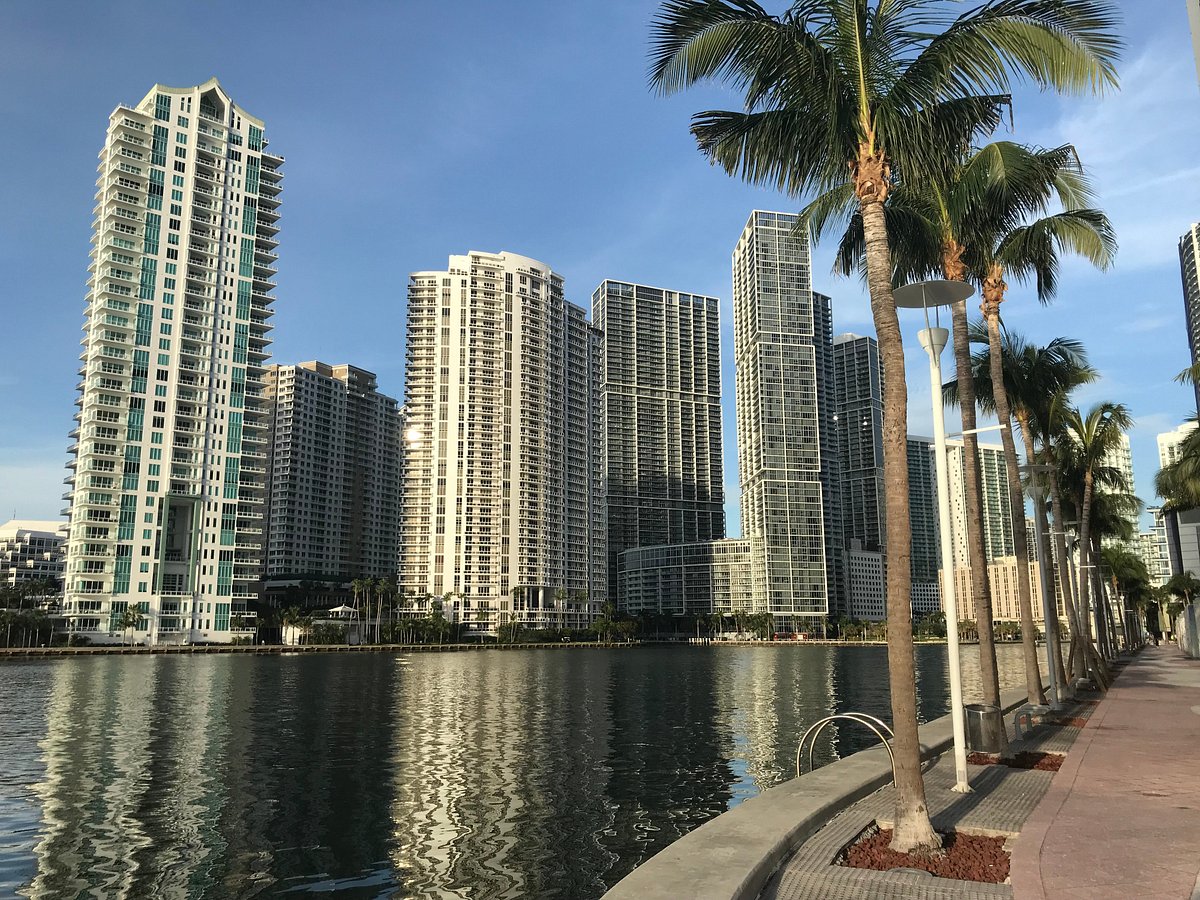 Several wonderful locations in Miami provide free yoga sessions. Although it's not your traditional yoga vacation, you can maintain your fitness level, increase your flexibility, and reduce stress in the relaxing atmosphere of a leafy park with a view of Biscayne Bay.
The Bayfront Park Management Trust offers a free yoga session at the Tina Hills Pavilion every day of the week. In addition, Peacock Park in Coconut Grove also hosts cost-free yoga sessions on Tuesday and Thursday evenings and Saturday mornings. It's an excellent opportunity to offer relaxation and provide a healthier lifestyle to your family on your visit to Miami.
You can take a brief walk through the bayside street market when you're done with your yoga classes and feel like your mind is clearer.
9. Window Shopping on Lincoln Road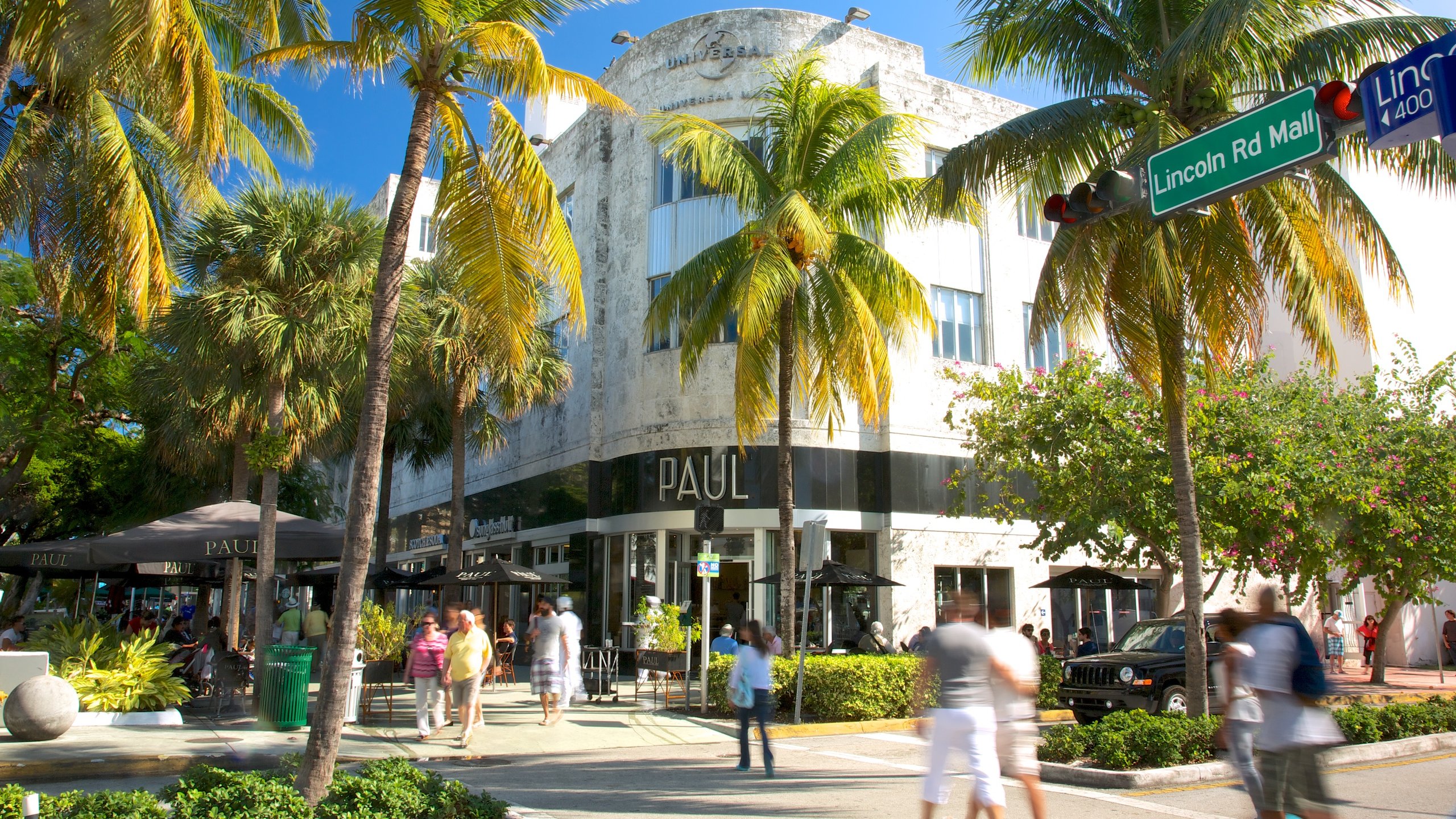 In the center of South Beach sits one of the most famous outdoor shopping districts: Lincoln Road. The 10-block area is perfect for a stroll any time of day or night because of its abundance of high-end shopping, delicious restaurants, and exciting people.
Even though the mall's retailers see a lot of foot traffic during the day, it comes to life at night with special events, outdoor markets, and fantastic culinary selections. You don't have to spend money because you can simply window-shop at the stalls and take in all the sites.
Lincoln Road Mall stores are open daily from 10 a.m. to 11 p.m. You can check the mall's website for details about upcoming events.
10. Take a Trip to Redland Market Village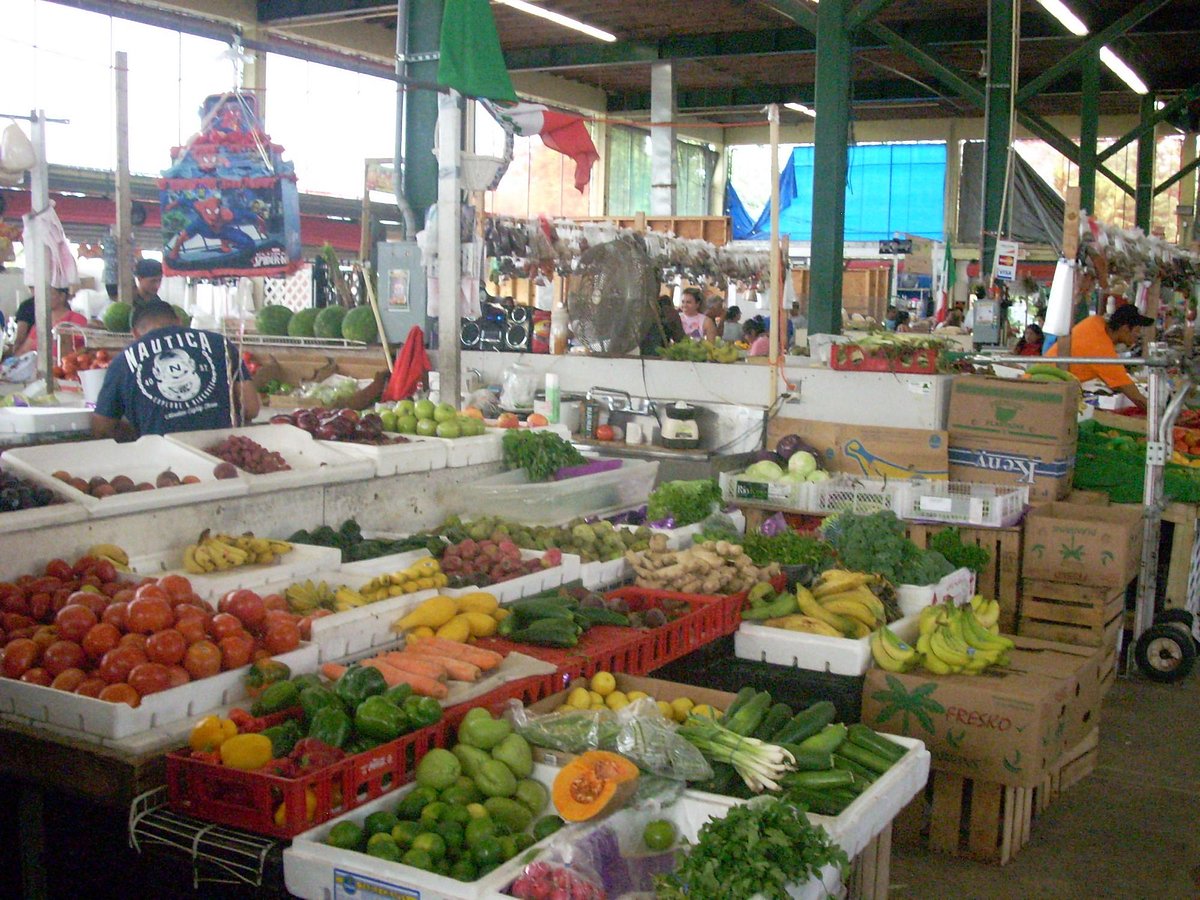 Redland is a neighborhood in west Miami that's relatively unknown to most people. By the time you get to Redland, you might not even remember that you're still in Miami because it has the feel of tranquil farmland.
Visit the Redland Market Village, a family-run flea market where you can spend an entire day shopping for unique treasures, eating delicious food from mobile vendors, and stocking up on fresh produce. The neighborhood has a play area for kids and a pet store.
The market is open on Thursdays and Fridays, 11 a.m. to 6 p.m.; Saturdays and Sundays, 7 a.m. to 6 p.m.
11. Enjoy Viernes Culturales
You can attend a public flea market every Saturday courtesy of the nonprofit organization Viernes Culturales along Calle Ocho, the primary thoroughfare in the Little Havana neighborhood.
The city is filled with restaurants, art galleries, and entertainment venues run by Latino artists and entrepreneurs.
The atmosphere is relaxing, the entertainment is fun, and the cuisine is delicious. Your kids will love it here. You can check their website to see if the fair will be going on during the time you intend to visit.
12. Go Fishing at South Pointe Park Pier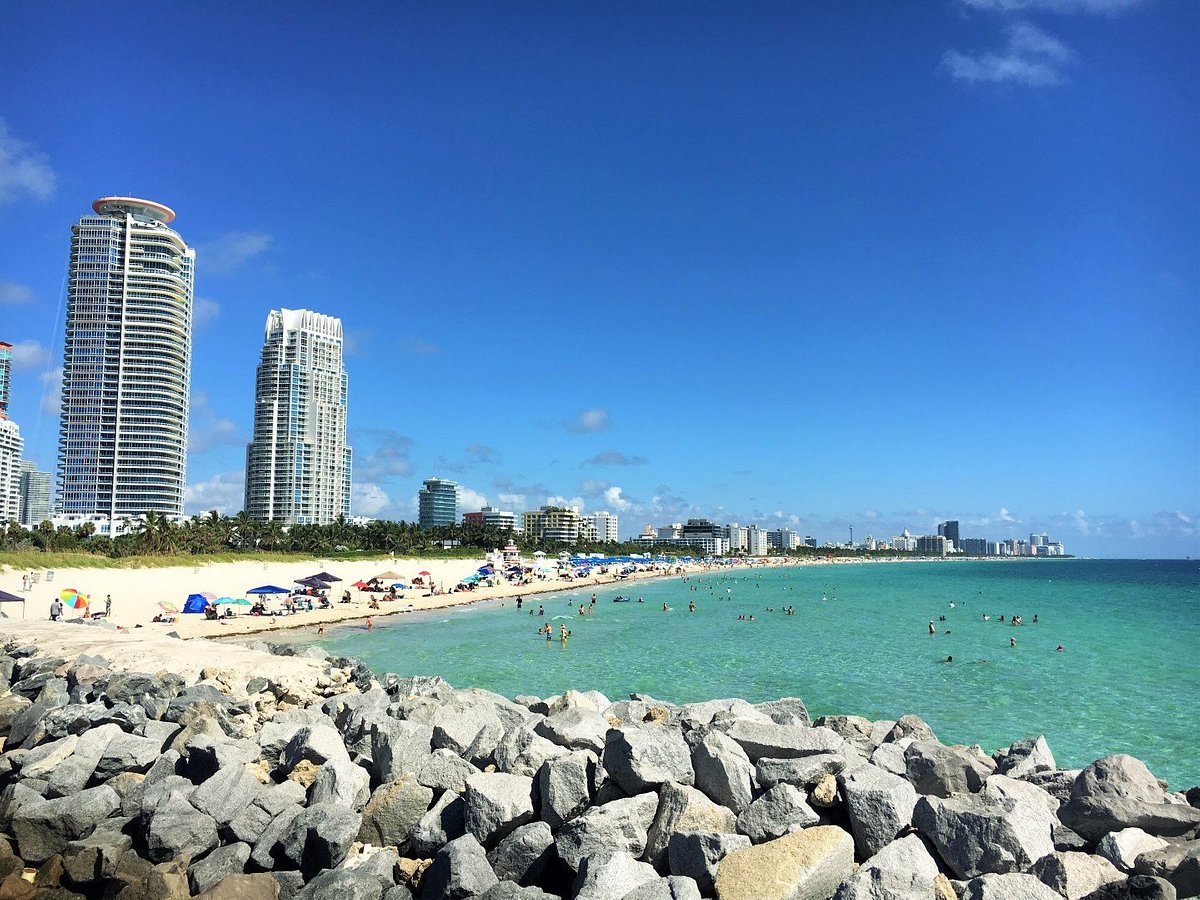 The 450-foot-long park is fully equipped for anglers, bait and fish washing stations, and recycling bins for fishing lines. As you cast your line, take in the breathtaking scenery of the park, the shoreline, and the cityscape of Miami Beach.
Relax with refreshing drinks as you watch cruise liners sail by in the distance and take in a beautiful Florida sunrise from the pier. If you're looking for a quiet day in Miami with vistas, fish, and sea air for your kids to enjoy, head to the South Pointe Pier.
13. Spend a Day in Surfside
Surfside, which lies between Miami Beach and North Beach, draws tourists all year round with its breathtaking stretch of beach and lovely ambiance. The beach has the rare distinction of seeming like a private hideaway where families can spend a day sunbathing, doing water sports, and enjoying the beach's walkways. Your kids can also sail and kayak on the extensive beach.
Take a stroll, ride your bike over the dunes, and listen to the waves lapping against the shore. Enjoy a picnic with your kids while watching surfers, and then head to the nearby art installation. Here, you will learn more about the turtle sculptures on display to promote awareness of the sea turtle nesting season.
14. Visit Marjory Stoneman Douglas Biscayne Nature Center
You can take in the richness and intrigue of Florida's flora and fauna at the Nature Center. You will have the opportunity to tour a museum that features saltwater aquariums home to:
Seahorses
Jellyfish
Tropical fish
There is also a touch tank where you and your children can enjoy holding a sea urchin or feeling the texture of a sea cucumber. Check out the indigenous animal artifacts exhibitions as you traverse the museum.
There's also artwork on display that draws inspiration from the surrounding ecology, ranging from fantastical paintings of coastlines to art installations highlighting the dangers of plastics.
15. Visit Bayside Marketplace for Live Music and More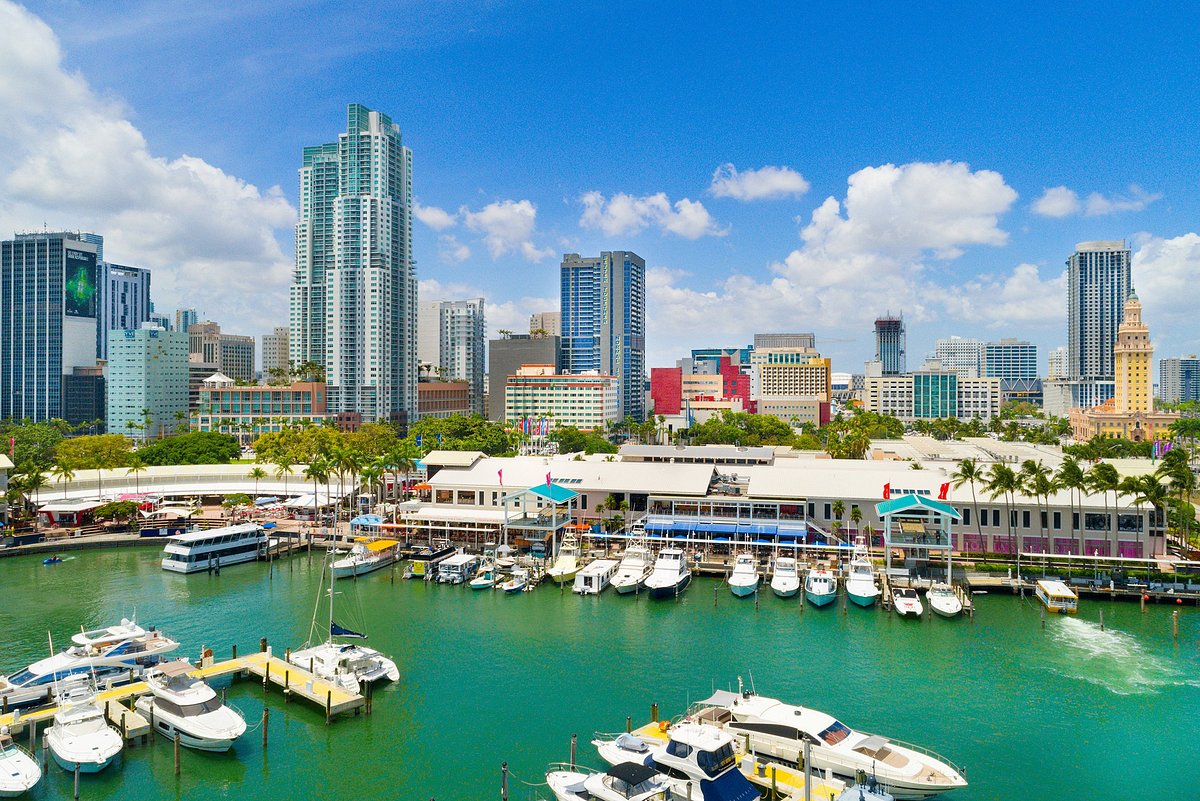 Bayside is along Biscayne Boulevard, hugging the shoreline in the center of downtown Miami, and is the city's most popular tourist destination. Your kids will have a great time watching the boats as they move around in the harbor.
Multiple ice cream parlors are on-site, so you can take a break whenever possible. The Marina Stage regularly hosts live performances. It makes a day or night here feel more like a celebration.
When hunger hits, there's no shortage of places to get a snack, and there are also plenty of restaurants where you can sit down and enjoy a meal.
16. Ride the Miami Beach Trolley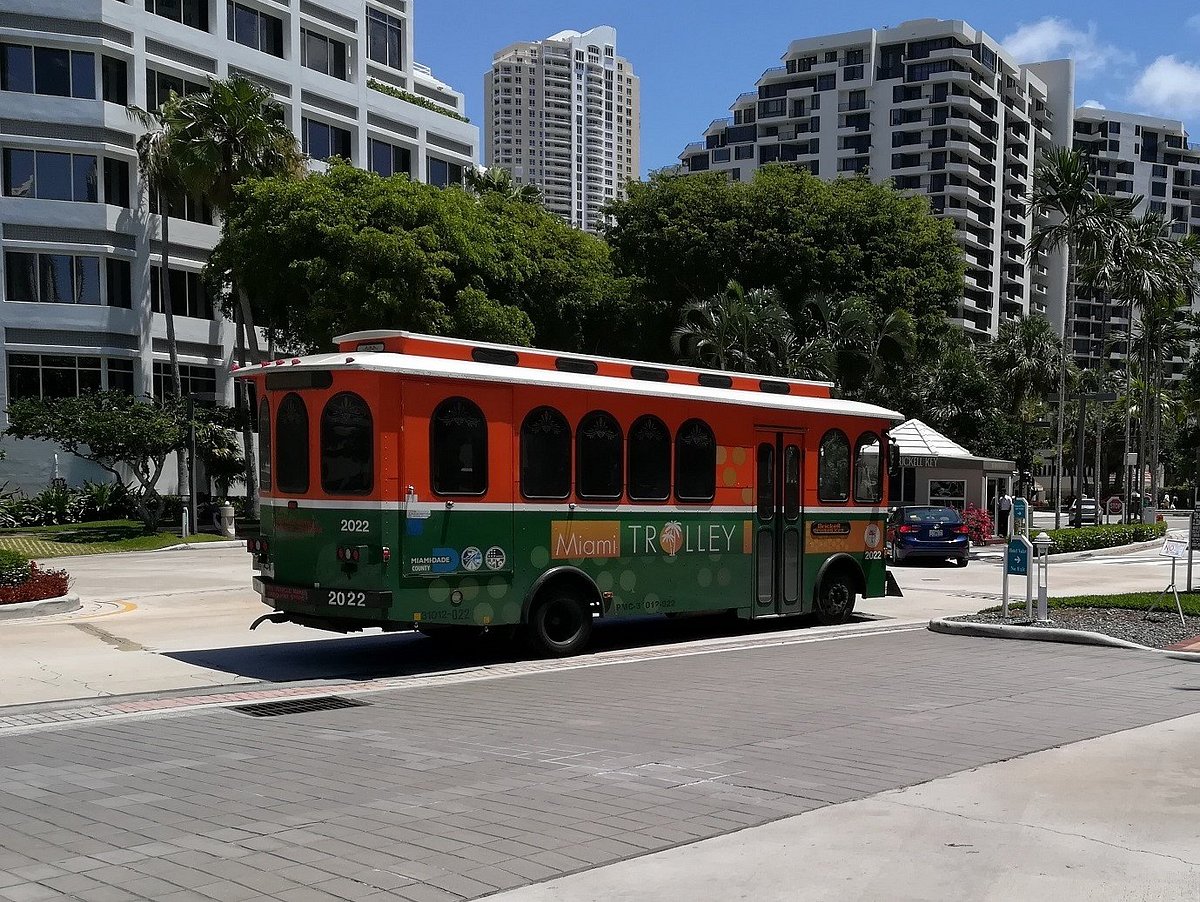 If your kids are used to riding in the backseat of the car while strapped into their car seats, they will enjoy the free ride at Miami Beach.
Every day of the week, the complimentary trolley service operates from early morning hours till midnight. Even if you only ride it for a few blocks, you shouldn't be shocked if it ends up being your child's most memorable experience of their trip to Miami Beach. Consider visiting Miami Beach Trolley in the morning hours and avoid holidays as it gets crowded.
17. Stroll the Miami Beach Boardwalk
When visiting Miami with kids, you should first get outside and stroll down the Miami Beach Boardwalk. Beautiful scenery awaits you on this walk that skirts the edge of the dunes. Walk down the boardwalk and take in the breathtaking views of the Atlantic Ocean.
Brightly colored lifeguards stand to intensify the beach's colorful accents. You also don't want to miss out on Art Deco District historic buildings' breathtaking exteriors. Starting at 500 Ocean Drive, close to Lummus Park in South Beach, the surface is made of wood planks and pavement. It's nearly four miles long and connects South Beach to North Miami and Indian Beach Park.
It may surprise you how far you can go with a stroller because of how easily you can navigate the terrain here, thanks to the abundance of sea grape trees that provide ample shade.
The area north of 21st Street is off-limits to cyclists. You might also come across natives selling coconuts along the beachfront, which you can buy and then crack open for your kids to drink. Tropical fun in Florida doesn't get much better than that!
18. Go To Pretty Maurice A. Ferré Park
The park, originally known as Museum Park, is located on the bay's waterfront and is a fantastic place to watch passing cruise ships. Enjoying the sunset while strolling here is a real treat. The park has a waterfront location and offers picturesque views of the port.
19. Play at Village Green Park
Miami's central business district is just a short causeway ride away from the posh border island community of Key Biscayne. The Village Green Park's playground and splash pad will quickly become your family's favorite spot.
The play area is divided into age-appropriate sections for younger and older kids. That eliminates the fear of your toddlers getting lost in the play fray. Children with an adventurous spirit will have a blast exploring the rope tow, which is set up like a spider web.
You should bring their swimwear with you so that they can enjoy the splash pad in the center of the play area.
After that, you may reward yourself with a sweet treat from La Boulangerie Boul Mich, a small French bakery in the neighborhood that offers a delectable selection of pastries.
20. Visit Little Havana and Experience the Latin Vibe
Little Havana is the epicenter of Miami's Cuban culture. The third Friday of the month is Viernes Culturales or Cultural Fridays, which is the ideal time you should bring the kids to see South Florida's number one attraction.
Around this time, an open-air evening celebration takes place all around Domino Park Plaza on Calle Ocho, Little Havana's main road. The outdoor entertainment consists of:
Taking in live music
Watching people dance
Visiting nearby art galleries
Sampling food and artisan stalls
You can also get a classic American meal here.
21. Get Tacos at Wood Tavern
Every Tuesday from 5 to 8 o'clock, you may get free tacos at Wood Tavern. You must wait in line to sample those delicious chicken, pork, and beef tacos for free. It's a trendy outdoor cafe with many board games, a jukebox, and picnic tables.
The tavern's happy hour deals are incredible. Ladies can also get complimentary drinks from 8 p.m. till midnight. If you can't make it on Tuesday, you can come in any time between Wednesday and Friday and have their affordable wings and delicious margaritas.
Remember to visit Wood Tavern early because the place will likely be very busy on Tuesday evenings, and the line may be lengthy.
22. South Beach's Art Deco Walking Tour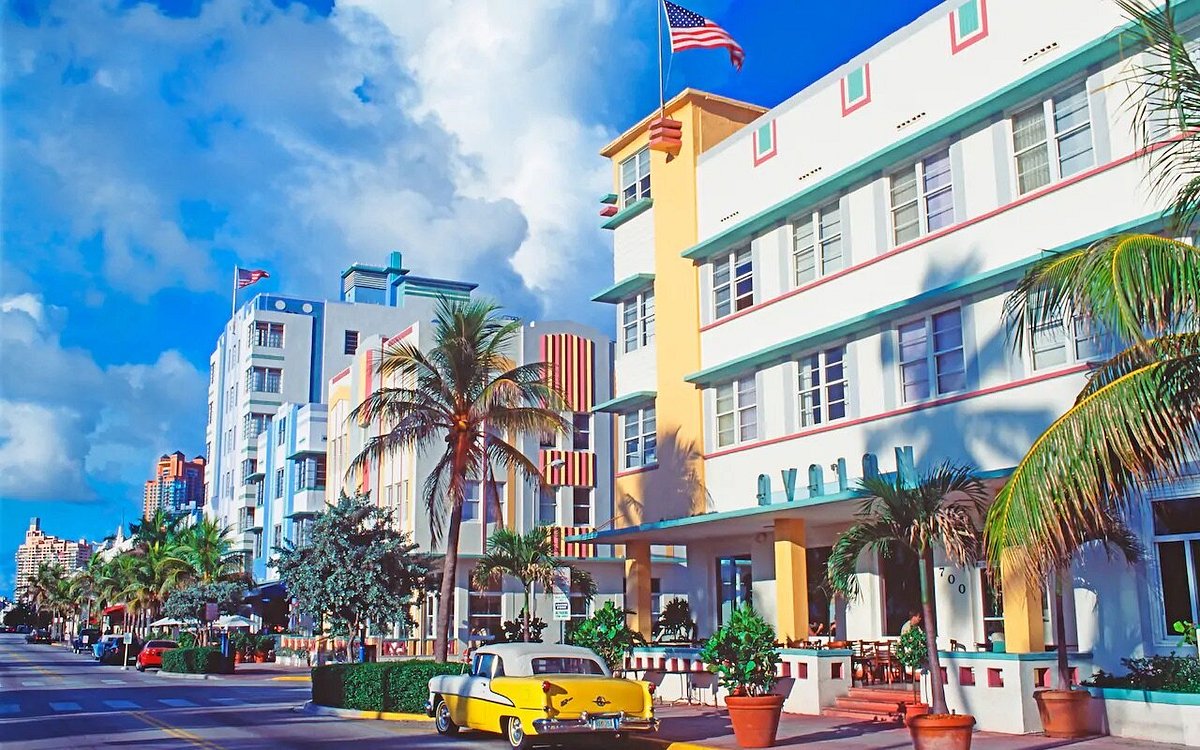 In Miami, there's no shortage of agencies that run paid tours of the Art Deco district. Why bother spending money when going alone with your kids will allow you to have a better time?
The massive Art Deco neighborhood has over 900 historic structures dating back to around 1923. The trip's attractions include:
Beautiful architecture
Unique layout
Brilliant colors
The National Hotel and The Tides are just a few of the fantastic structures and hotels in the area.
Discover the history of the Miami Beach neighborhood and how it came to be, from the shady structure to the bright lights of Hollywood to the contemporary design and intrigue. If you want to find out more about the structures you intend to visit, we suggest asking some locals.
Final Thoughts
Though a trip to Miami would be unforgettable, it can get pricey due to the city's incredible attractions. But if you're seeking a more frugal vacation with your kids in Miami, there are a lot of activities to do throughout the city that won't cost you a dollar, and your kids will have all the fun.
Including our list of the best free things to do in Miami with kids on your itinerary will allow you to experience the city's best offers without breaking the bank. Remember to visit your preferred locations in the morning to avoid crowds. Safe travels!
More about our TFVG Author