The picturesque white sands of Clearwater Beach in Florida, combined with idyllic azure waters, are just a few of the selling points that draw families here year-round. It's here you and your children can indulge in a range of fun-filled land and sea-based activities, like rollerblading, cycling, stand-up paddleboarding, paragliding, jet-skiing, and more.
And that's not all; you'll discover numerous laidback cafes and seafood restaurants dotted along the Clearwater Beach front promenade. When sunset hits, Pier 60 comes alive with craft vendors and street performers in the shape of a must-see nightly festival.
So, let's take a look at some of the best Clearwater Beach hotels for families. Why not also check out our guide to the best things to do with kids in Clearwater Beach to inspire you for your trip?
Awarded the status of Florida's number one place to watch the sunset and one of the best hotels in Clearwater Beach for families, the Hilton Clearwater Beach Resort and Spa has an impressive ten acres of idyllic white sandy beaches, set right on the Gulf of Mexico.
It's here you will discover an assortment of family-friendly activities, all a stone's throw away from this kid-friendly hotel. These include a handful of local dining spots, the iconic Pier 60, shopping malls, water sports, and more.
The Hilton Clearwater Beach resort also boasts a Kids Club program with a calendar of action-packed activities, all of which guarantee to keep your children entertained throughout your stay.
While the children enjoy the kids club and kiddie pool, you can indulge in a little downtime by one of the two pools or in one of the hotel's stunning private cabanas, complete with a beachside beverage and food service on tap.
Looking for kid-friendly hotels with on-site restaurants and bars? You've come to the right place! Guests are invited to enjoy the infamous Floridian sunsets while embracing a refreshing beverage from Coasters Lounge or sampling the mouthwatering seasonal fare at the Clearwater Beach Reflections restaurant.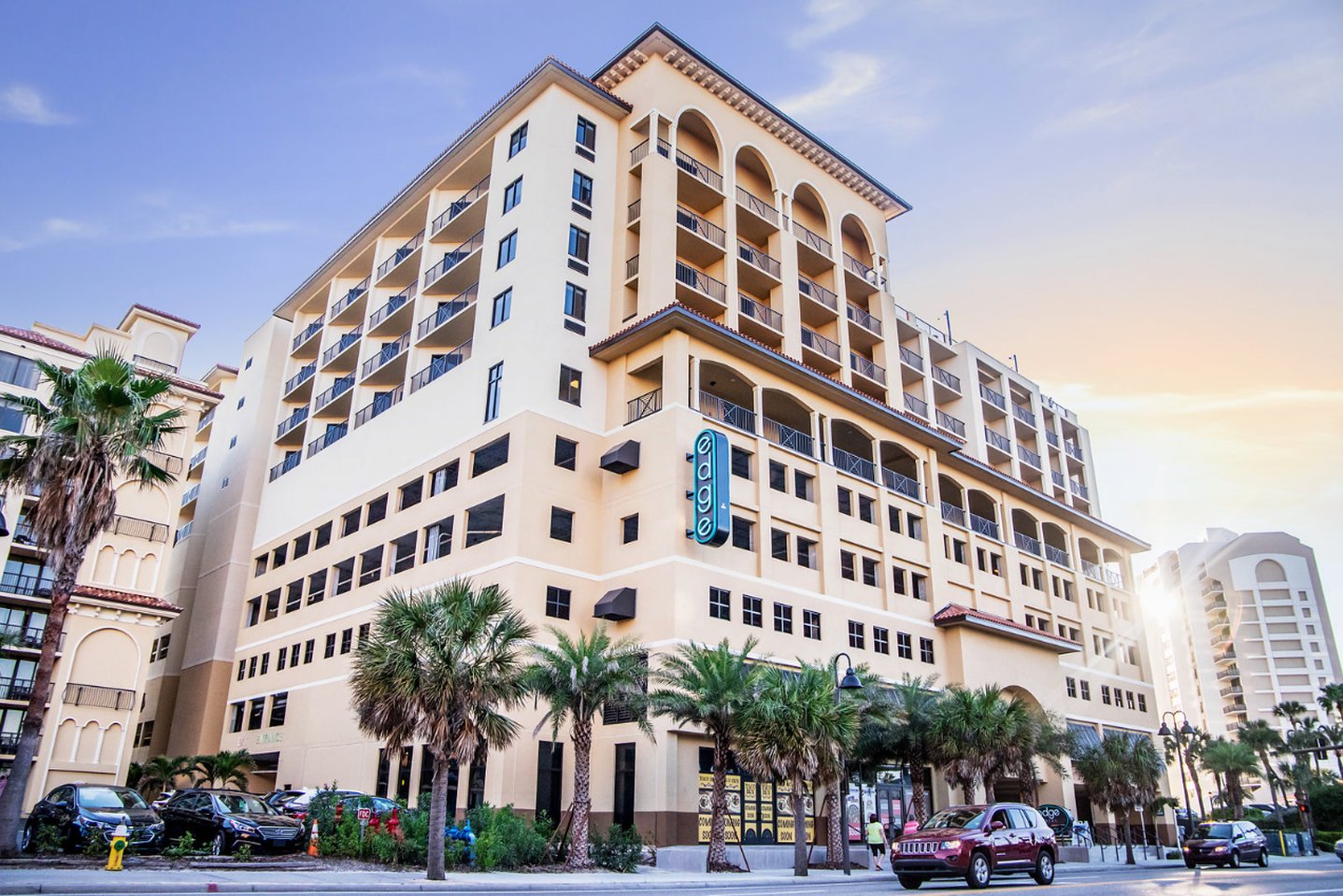 This Key West-inspired boutique hotel invites guests to 'Live Life at The Edge.' If you're searching for the perfect location for a family vacation, the Edge Hotel in Clearwater Beach has something for all.
This elegant yet low-key hotel boasts a handful of contemporary amenities comprising ample-sized rooms and suites brandishing private balconies, in-room microwaves, Keurig Coffee makers, mini-fridges, and a complimentary breakfast served daily.
The accommodation boasts not one but two picture-perfect pools, complete with a spacious pool deck and lounging area. It is here you'll discover the Gift Shop, Poolside Tiki Bar, a gym that is open 24 hours a day, seven days a week, a Business Center, Meeting Rooms, and an exquisite Event Space.
Looking for a special spot to enjoy the sunset? Jimmy's, the hotel's Rooftop Bar and Restaurant is just that. Boasting stunning views of the Gulf of Mexico, you'll find you want to spend every evening here.
The Clearwater Beach Edge Hotel features a unique glass wall infinity pool, which sits on the hotel's sixth floor overlooking the Gulf of Mexico. It's also a short walk from the area's idyllic white sands, as well as an abundance of eateries, shops, and entertainment spots suited to all ages.
Described as one of the top entertainment spots in Clearwater Beach, the Shepard's Beach Resort boasts an array of stylish rooms, complete with contemporary extras and breathtaking views.
Ensconced by a tropical, lush landscape, this hotel boasts an organic, jungle vibe. Notable features include a spa and pool, as well as the chic SOAK Bar. In addition to all of this, the resort has its own private soft white sand beach, which sits on the edge of the Gulf of Mexico. You can even request breakfast to be served on the water's edge in the Ocean Flame.
If you're traveling with older children (or you're young at heart), you will be pleased to hear the iconic two-level Wave Night Club and Tiki Beach Bar are renowned for showcasing a handful of the best national and local acts in Clearwater Beach.
With high-class dining in the on-site restaurant and dance floors galore, this iconic family-friendly hotel has something to suit all tastes.
So whether you're looking for a spot to celebrate a destination wedding or simply somewhere to admire Florida's stunning sunsets, Shepard's Beach Resort could be it!
A total of 25 steps from the shore's edge, situated on the north side of Clearwater Beach, the art-deco style Palm Pavilion Inn boasts everything from single occupancy rooms to family-sized apartments. Extras comprise a heated pool and poolside bar, complimentary WiFi, a beach shop, and the option to rent umbrellas and cabanas.
Located opposite the hotel is the famous Palm Pavilion Beachside Bar & Grill. It's here you'll be able to enjoy live music on tap.
For the health-conscious and those traveling with young children, you'll be pleased to know the Palm Pavilion Inn operates a 100% no-smoking policy. It's also been awarded the Superior Small Lodging approved and White Glove title and is AAA-rated.
Other nearby activities include shopping, fishing, watersports, dinner cruises, the local Clearwater Beach marina and aquarium, tennis courts, a trolley route, and a playground.
The Sheraton Sand Key Resort invites you to make a splash on Florida's renowned Gulf Coast. This family-friendly resort on Clearwater beach boasts an extremely desirable location, set just a stone's throw away from a handful of the local surfer beaches and Sand Key Park's nature trails.
Further afield, you'll discover the famed Pier 60, ocean adventures including the Starlight Majesty Dinner Cruise and Captain Memo's Pirate Cruise, as well as the Clearwater Marine Aquarium.
This Clearwater Beach hotel (which is described as one of the best hotels in Clearwater) is home to a private beach, which means direct beach access, as well as a handful of outdoor pools, tennis courts, and a modern fitness center.
On top of this, you'll discover a total of five on-site restaurants, all of which specialize in the delicious flavors of Florida and the coastal Caribbean.
Looking to book a place to celebrate a specific event or even a wedding? This could be it! The Sheraton Sand Key Resort has an impressive 14 contemporary meeting spaces, including the iconic Beach Venue – a great spot to view the sunset.
Choose from high-end rooms or family suites, complete with secluded patios or balconies, plus numerous innovative amenities, such as speedy WiFi, room service on tap, state-of-the-art flat-panel televisions featuring premium cable, and more.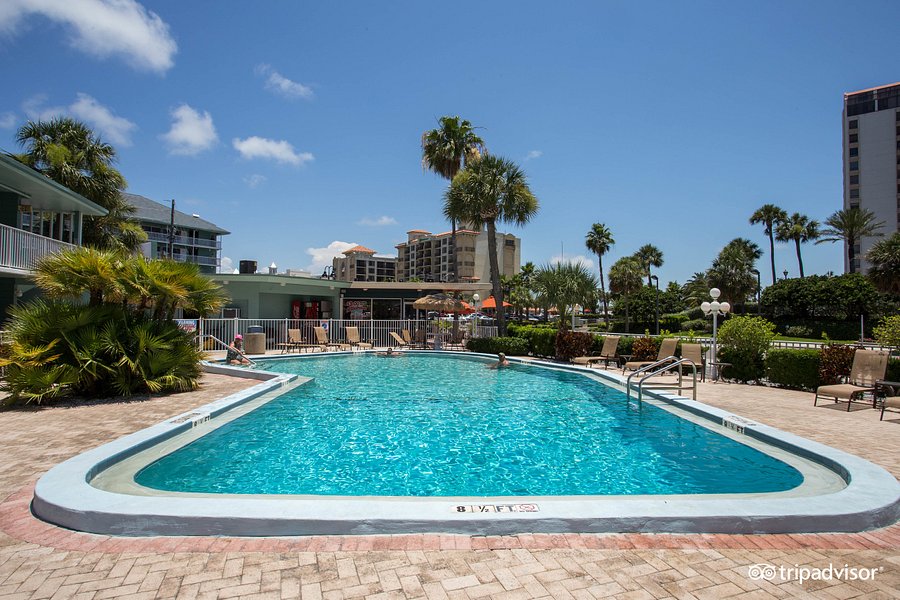 Situated on the southern side of the bay, with a view of the picturesque harbor and the Gulf of Mexico, the Clearwater Beach Hotel boasts an idyllic location.
Just a stone's throw away from the hotel, you'll discover the must-visit sugar sand, stunning sunsets, and the azure waters Clearwater Beach is famed for.
The hotel courtyard is lined with lush flora and is the perfect space to enjoy nature and one that doubles up as an ideal spot for events and smaller wedding receptions.
There's also a heated pool, which boasts picture-perfect harbor views, and hotel rooms that have been recently revamped. These rooms feature all the amenities you could wish for, like free high-speed internet, cable TV, a refrigerator, coffee machine, microwave, and ironing board.
This non-smoking hotel boasts a highly convenient location, just a short walk from many of the attractions Clearwater Beach is famed for, including Pier 60, mini-golf, boat tours, watersports, bike rental spots, and Clearwater Marine Aquarium.
The comfortable and convenient Beachview Inn is an excellent option for guests looking for the best of both worlds – elegance, and value. The family-friendly hotel comes complete with many amenities, including everything from high-speed internet access to a flat-screen TV, air-con, and a kitchenette.
Other on-site amenities include 24-hour reception, a gift shop and sun terrace, a pool, and various breakfast spots.
If you're planning on hiring a car throughout your family vacation in Clearwater Beach, rest assured this hotel features on-site paid public parking. However, there is little need for a car as most of the popular attractions are located within walking distance, such as Island Way Grill, Watercolour Grillhouse, Bob Heilman's Beachcomber, the Citizens Commission on Human Rights, Pier 60, and Beach Walk.
This designer hotel is one of Clearwater's newest additions. Home to 343 stylishly-decorated hotel rooms and suites, many of which feature balconies with dreamy views of the Intracoastal Waterway or the Gulf of Mexico, the Wyndham Grand Clearwater Beach hotel is the perfect place to unwind.
There is also plenty of function and meeting space available, as well as the area's largest ballroom, 'Dunes,' which spans an impressive 10,632 sq. ft.
Nearby attractions are in abundance and include the likes of Pier 60 (famed for the Sunset Festival) and Clearwater Beach Marine Aquarium.
This Florida hotel is located close to an array of Clearwater Beach's famed attractions, including the beach itself, which sits just two blocks from the Fairfield Inn.
Both the rooms and Clearwater Beach Marriott suites are extremely spacious and comfortable, and all have been designed with a Clearwater family vacation in mind.
Inside each room, you'll discover a handful of top-of-the-range technology, including Smart TVs that allow travelers access to all of the top streaming channels, including Netflix, Hulu, and Pandora. The hotel also has speedy free WiFi.
This is one of the best hotels for guests looking to stay at stylish, family-friendly hotels in Clearwater Beach and one that boasts free breakfast, an outdoor pool, and an excellent location. Close by, you'll discover everything from speedboat tours to Pier 60.
The Hyatt Regency Clearwater Beach resort is just a short hop from the famous Pier 60 and the Gulf coast.
Comprising 287 rooms that are as stylish as they are spacious, an outdoor pool deck on the eighth floor (the perfect spot to catch the sunset), the notable Hyatt Regency SHOR restaurant, and Sandava Spa, this is one of the best family hotels in Clearwater Beach you'll find difficult to leave!
Top family resorts and spas like the Hyatt Regency Clearwater are a great alternative to the Holiday Inn Hotel. They are ideal for those looking for Clearwater Beach family hotels with the extra 'wow' factor.
Looking for family hotels in Clearwater Beach that boast an excellent location? Pier House 60 could be it! Adjacent to the beautiful beach, and just a short stroll from this area's many shops, restaurants, and must-see attractions, it's a great option for those looking for easy access to all Clearwater has to offer, from bike rentals to nature walks and coffee shop hotspots.
The aptly named Jimmy's Crow's Nest rooftop bar is the perfect spot to take in Clearwater's famed sunsets. This tenth-floor bar has been awarded the status of the best in the Tampa Bay postcode, boasting epic panoramic views all year round! And when you're not looking at the view, you can watch the impressive TV projection system, which takes over the entire wall.
The spacious rooms at this Clearwater Beach resort are both functional and elegant. They feature an array of amenities, including mini-fridges, microwaves, coffee makers, and stunning views of Clearwater Beach, the Gulf or the Intracoastal Waterway, and the marina.
Other notable amenities include complimentary breakfast, an outdoor swimming pool, a fitness suite, free high-speed WiFi, secure parking, and a business center.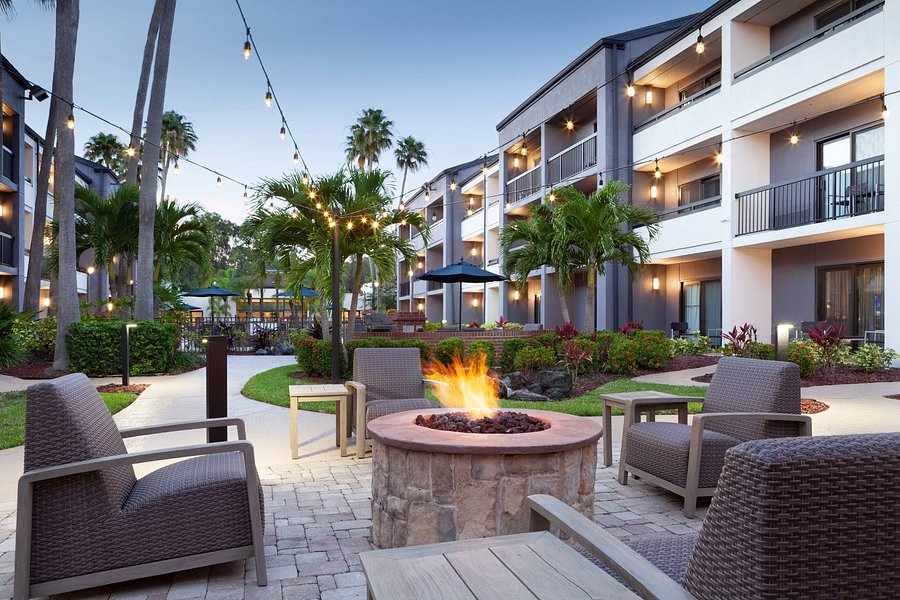 Positioned between Tampa and St. Petersburg, Marriott's Courtyard hotel in Clearwater Beach boasts a great location. They even offer a complimentary shuttle service to and from the International Airport to make your journey that bit easier.
Nearby attractions include Tampa's Busch Gardens and (one for football fans) the Raymond James Stadium.
The rooms and suites have recently been renovated and are extremely spacious, all boasting free WiFi, flat-screen TVs, mini-refrigerators, in-room coffee makers, and well-designed workstations.
Other hotel amenities include a palm-lined heated outdoor pool, which guests have access to 24 hours a day, a well-designed fitness center, The Bistro, and a 24-hour market, should you wish to buy anything from snacks to suncream.
In Summary
Clearwater boasts an array of stunning attractions and plenty of family hotels, from the Hyatt Regency Clearwater beach resort to Clearwater hotels with private balcony suites and free parking.
Whether you're spending a few days in hotels in Clearwater Beach or a few weeks, there is something for all tastes and budgets, especially for those looking for the best hotels in Clearwater Beach for families, as well as those looking for alternatives to Holiday Inn Hotel suites.
More about our TFVG Author
A seasoned traveller, Dad, and avid sports tourist, James foundered The Family Vacation Guide to share his expert vacation experiences- especially when it comes to being a travelling family man.
Featured in Travel articles such as Travel + Leisure, TripSavvy and SFGate, you know you're reading some of the best vacation tips online.