Space Travel.
It's captured our imaginations since man first walked on the moon, and it's still as fascinating today as it was then!
Cape Canaveral is steeped in space history, and you'll be immersed in intergalactic culture no matter where you go on the Space Coast.
This makes Florida's 75-mile-long coast a must-see destination for budding astronauts and spacewalk aficionados all over the world. 
You can meet real astronauts, see the space dust on the wings of the Space Shuttle Atlantis, and check out the Halls of Fame and monuments to the incredible journey of man into space.
If you find yourself finally spaced out, head off to the world-famous Cocoa Beach, hang out with nature at the Merritt Island Wildlife Refuge, or enjoy kayaking on the gorgeous intercoastal waterways that abound in this part of the world. 
The area near the Kennedy Space Center has so many man-made and natural attractions that you might need more time than you anticipated when visiting. 
It might pay to add an extra day to your time here and enjoy the many adventures that await you near the Kennedy Space Center!
In this list, you'll find our recommendations for eleven of the best hotels near the Kennedy Space Center that are perfectly equipped for your family vacation.
We've even found some that will happily house your pet as well!
Let us help you find a hotel that is close to the main attraction, so you know it's going to be just down the road and extremely easy for you and your family to get to each day!
Country Inn & Suites by Radisson, Port Canaveral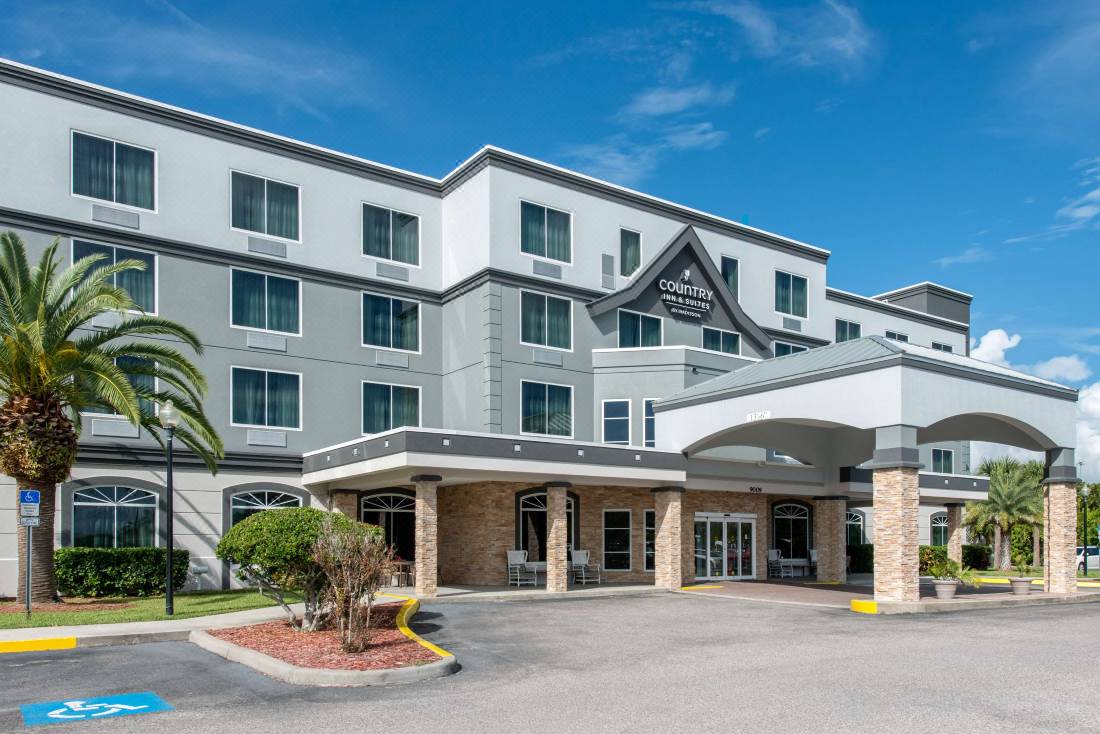 The Country Inn & Suites by Radisson is a great family-friendly hotel right in Cape Canaveral about a mile from the port, and nice and close to the Kennedy Space Center.
In fact, they are one of the closest hotels to the Space Center, if space is what you primarily came here to explore!
The rooms all have spectacular views of the Intracoastal waterways and cruise ships waiting to sail. If you're really lucky, you might even see a Falcon 9 rocket being towed to the port! 
The famous Cocoa Beach is only 15 minutes away, with lots of entertainment options as well as the chance to enjoy beach activities of your own making.
The complimentary cookies and coffee on arrival will recharge you for your adventures, and is free alongside the WiFi so you can check in with those who are still at home.
After checking in, you can get straight to stretching your legs in the pool or fitness room, or simply chill out and relax.
If you're here on business, the onsite business center has all the space and equipment you might need to finish off your presentation and print out any documents.
And if that's not enough, you can start each day with a free hot breakfast that includes their wonderful signature waffles!
Radisson Resort at the Port 
The Radisson Resort at the Port is a short 30-minute stroll from Cherie Down Park and the Manatee Sanctuary Park- both worth a visit for nature lovers while you are in Cape Canaveral.
This Hotel has two great restaurants, two bars, and lounges, boasting an outdoor swimming pool, tennis court, spa tub, kids' swimming pool, and a 24-hour gym for energetic holidaymakers. 
Amenity-packed, indeed!
The business facilities include free WiFi in all public areas and a business center and conference facilities for those who had to come for work and not play (this time). 
This hotel is pet-friendly, smoke-free, has laundry facilities, and serves a buffet breakfast. They also have self-parking and a cruise shuttle if you are heading off into the deep blue sea at any point.
A great three-star hotel for the family!
Hyatt Place Titusville 
For those flying into Titusville, the Hyatt Place in Titusville is ideally located just two miles from Space Coast Regional Airport and only 37 miles from Orlando International Airport.
This hotel is only 7 miles from the rocket launch area, so you can watch a launch without having to leave your room! How cool is that? 
They have 110 rooms to make yourself at home in, and cater to every budget from a cozy corner sofa sleeper to a 500 square foot one-bedroom suite.
It's very centrally located, and the perfect spot to explore the Space Coast's many attractions from!
La Quinta Inn & Suites by Wyndham Cocoa Beach Oceanfront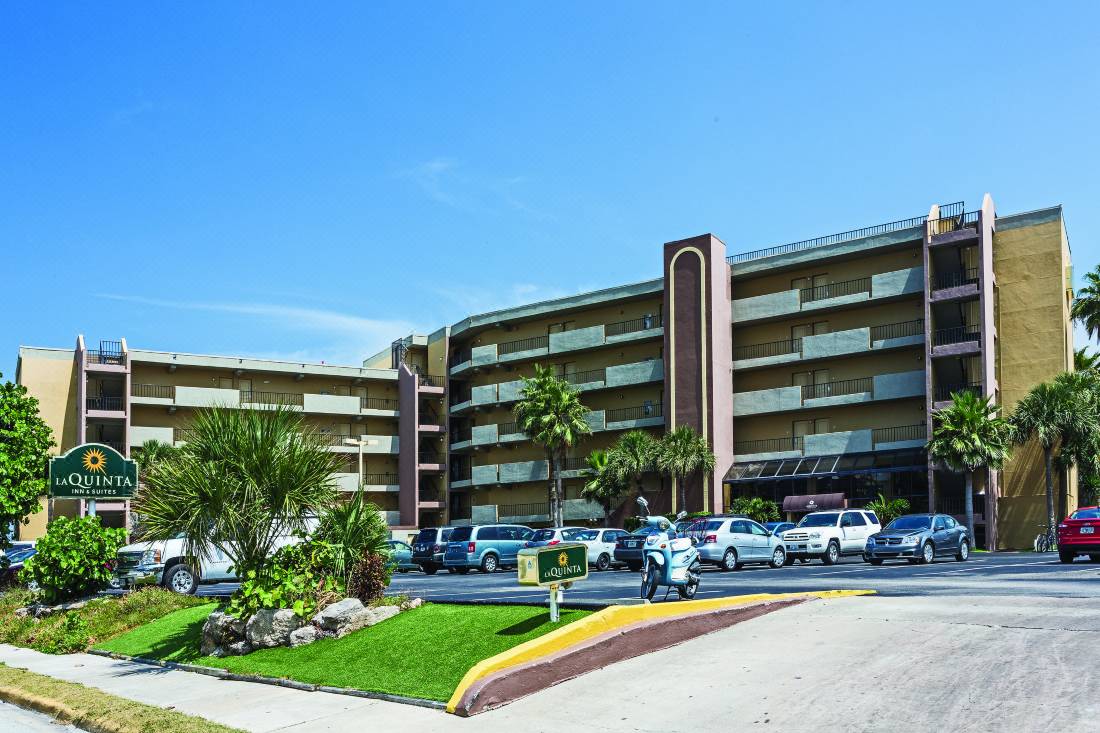 Cocoa Beach is famous for its white sandy beaches and crystal blue waters, and when you book your holiday at the La Quinta Inn & Suites by Wyndham, Cocoa Beach Oceanfront, you'll be able to experience a taste of Paradise!
You can walk through the Cocoa Beach Pier and historic village, go on a fishing excursion, or book a cruise at the port. This is a beach precinct with it all!
If you're at Cape Canaveral, you probably came to visit the Kennedy Space Center. It's only a short drive away from this hotel, allowing you to get there early and be the first in the queue daily. 
When you are not exploring the region's offerings, you can start your day with the free daily breakfast, relax in the well-appointed rooms, and enjoy relaxing in the outdoor pool with a few sips at the poolside bar!
Residence Inn by Marriott Cape Canaveral Cocoa Beach 
If you plan to visit as many local attractions as possible, the Residence Inn by Marriott Cape Canaveral Cocoa Beach is where you should choose to do it from! 
They are one of the closest hotels to the Kennedy Space Center and Port Canaveral, but are also close to other attractions like the Brevard Zoo, the KSC Visitors' Center, Cocoa Beach shopping precinct, SpaceX, Boeing, and Lockheed Martin.
This modern, resort-style hotel offers suites that are 50% bigger than traditional hotel rooms, and have separate areas for sleeping, working, cooking, relaxing, and dining in.
The complimentary hot buffet breakfast is a great way to start your work or play day as well!
Best Western Cocoa Beach Hotel & Suites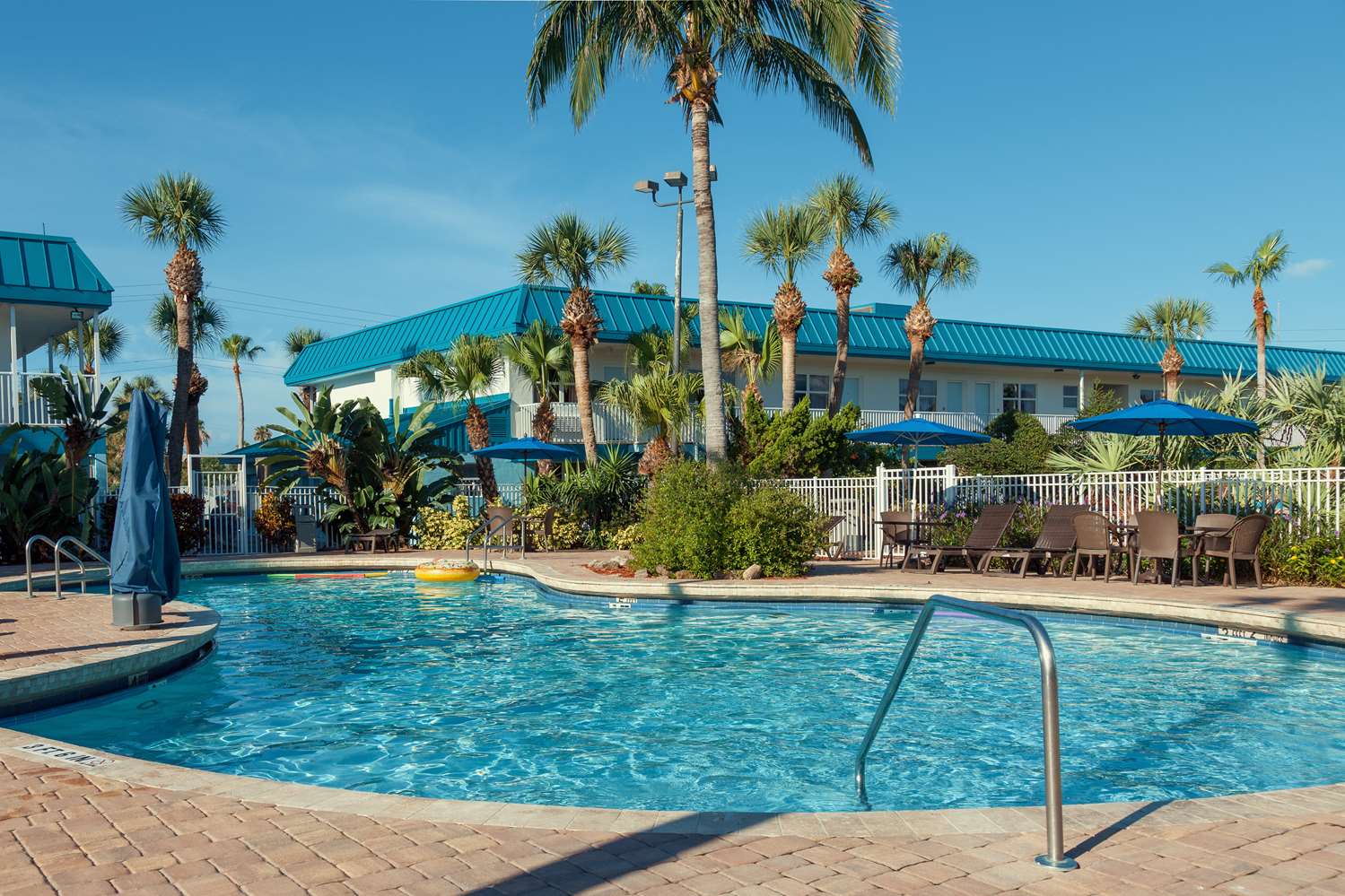 With direct beach access from the hotel, you will find the Best Western Cocoa Beach Hotel & Suites have the perfect blend of comfort and adventure.
You can plan a day around exciting destinations like the Kennedy Space Center, a cruise of the port, or shop in the famous Cocoa Beach shopping area.
Or, relax in one of the two beautiful pools or courtyard terrace gardens with a glass of your favorite beverage!
A view of the Cocoa Beach Pier is available from our beachside tower, where you can look at it from your private balcony any time you feel like. 
Watching the dawn and the sunset from your balcony is a perfect way to start or end your day here at Cocoa beach.
All their suites are family-friendly, and most overlook the two heated pools. They include many family amenities you and your group will enjoy, and are in the same building as the fitness center and the complimentary breakfast buffet. Talk about a one-stop shop! 
Finally, pets are welcome in selected rooms for a non-refundable daily pet fee, making it perfect for the whole family!
The Inn At Cocoa Beach 
With European styling and individually decorated rooms, The Inn at Cocoa Beach has an atmosphere of peace and tranquility.
Their holiday ambiance is enhanced by a freshly baked breakfast every morning and a social wine and cheese every evening- perfect for those wanting to relax!
This is a smoke-free, adults-only hotel where checking out is as easy as leaving the keys on the dresser and calling reception to let them know you're off.
Relaxed, tranquil and unhurried, the Inn at Cocoa Beach is all that and more for those looking for a bit of luxury when visiting Florida's Space Coast!
Days Inn by Wyndham Cocoa Beach Port Canaveral 
If you are looking for a pet-friendly hotel right on the beachfront then the Days Inn by Wyndham Cocoa Beach Port Canaveral might be exactly what you are looking for!
They have a free breakfast with complimentary newspapers, as well as free Wifi so that you can catch up on the day's headlines before heading off to explore Space Coast offerings.
This hotel is only steps away from Cocoa Beach Pier, with its great restaurants, coastline views, and active nightlife.
Check out the casino cruises, Jetty Park fishing, and the famous Ron Jon surf shop for souvenirs of your trip!
If you're looking for in-house amenities, you'll no doubt love the heated outdoor pools, laundry, private balconies, and onsite parking (for a nominal fee) as well!
Holiday Inn Titusville – Kennedy Space Center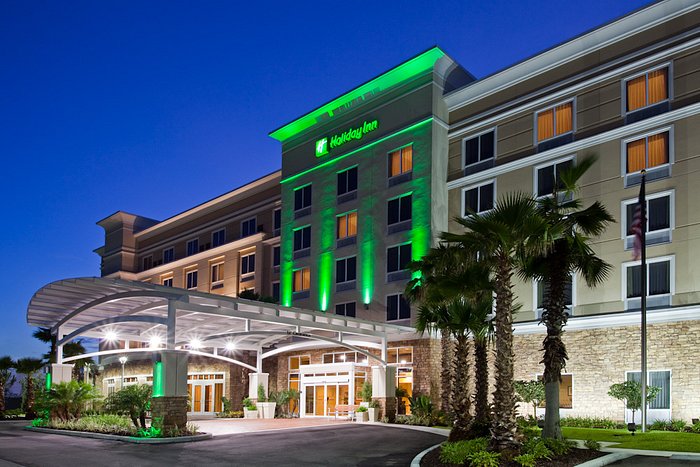 With 72 miles of the Space Coast to explore, the Holiday Inn Titusville- Kennedy Space Center is a convenient choice to base your Eastern shoreline holiday!
Along with beautiful beaches and ecological reserves, many events and man-made attractions will entice the family away from this well-appointed hotel. 
The hotel is conveniently close to the Kennedy Space Center (as its name suggests), Port Canaveral, and the Canaveral Seashore.
The Merritt Island National Wildlife Refuge is also nearby for those looking for outdoor activities.
There are top-notch amenities at this hotel, including an outdoor pool, 24-hour fitness center, and an in-house restaurant serving relaxed American cuisine for both breakfast and dinner.
Both leisure and business travelers are welcome and catered for at this very conveniently-located hotel!
Quality Inn Kennedy Space Center 
Conveniently located near Space View Park where people gather to watch space launches, the Quality Inn, Kennedy Space Center is right in the hub of space-related attractions like the Astronaut Hall of Fame.
The free Grab & Go breakfast is designed with busy travelers in mind who are heading out to explore both the man-made and natural attractions in the area.
These include can't-miss activities like the Enchanted Forest or kayaking on the many stunning waterways in the area.
Kicking back at the hotel is also a great option as you can take advantage of their heated outdoor pool, or maybe just wander a little way to beautiful Cocoa beach just minutes away by foot.
Parking for anything from a bike to a semi-trailer is easy here, and your pets are welcome too!
Best Western Space Shuttle Inn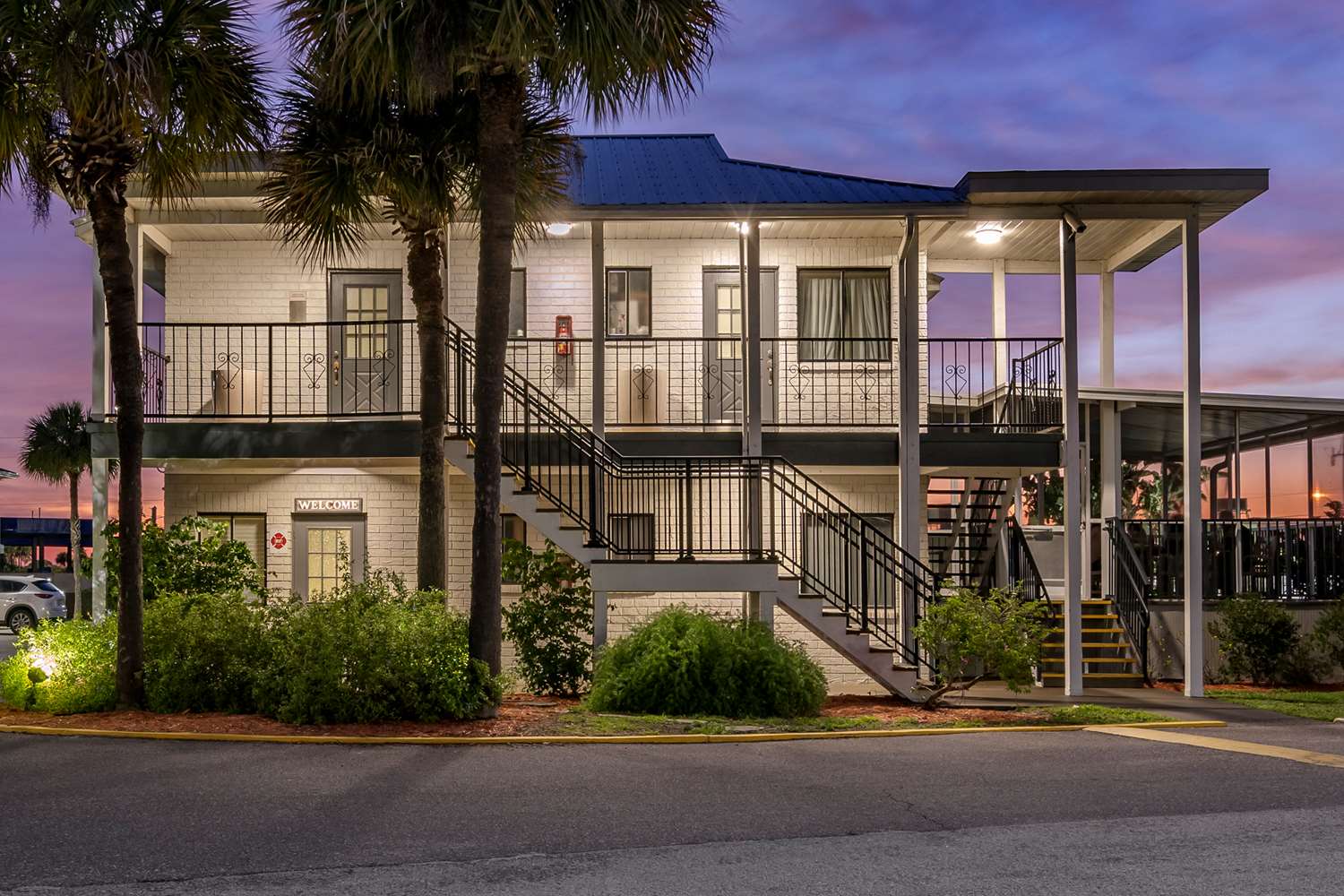 When you are visiting southeast Florida, the Best Western Space Shuttle Inn is just a short drive from Daytona beach, Walt Disney World, Sea World, Universal Studios- and of course, the Kennedy Space Center!
After a day of exploring the exciting Space Coast, you'll find these family-owned and operated hotel rooms are spacious and comfortable lodgings to unwind and relax in.
The complimentary full breakfast, free WiFi, and access to the hotel lobby computer and printer will help make your vacation unforgettable.
There's 24-hour service along with premium amenities to go along with their personalized service. Book online today!
---
Whether you've come to the Kennedy Space Center to work, play, dine, stay, or immerse yourself in nature, you've certainly chosen a holiday destination that really does have it all.
Your days can be spent exploring all these things and more from the comfort of one of these hotel bases listed above. You'll be as close as possible to the world's space exploration capital!
Immerse yourself in America's Space Program's premier region, and remember: Space thrills happen every day on the Space Coast.
Come and visit- you'll have a blast. See you there, real soon!
More about our TFVG Author
A seasoned traveller, Dad, and avid sports tourist, James foundered The Family Vacation Guide to share his expert vacation experiences- especially when it comes to being a travelling family man.
Featured in Travel articles such as Travel + Leisure, TripSavvy and SFGate, you know you're reading some of the best vacation tips online.