Part of the fun of a Walt Disney World vacation is eating delicious food and enjoying meals as a family. There are many excellent restaurants throughout the theme parks, resorts, Disney Springs, and the rest of the property. So many, in fact, that it can be challenging to choose where to chow down.
If you're hoping to start your day with a hearty meal before you hit the parks, there are numerous places to enjoy a tasty breakfast in Disney World. Below, we've compiled a list of the 16 best spots for breakfast in Disney World, organized by location. Read through it, and then make a reservation for your family's trip to Disney World Florida.
Important note: due to the Covid-19 pandemic, Disney may alter some availability at the restaurants listed below. Check Disney's website for hours, character dining at Disney World modifications, and more.
Best Spots for Breakfast in Walt Disney World
We'll go into more detail about these below, but here is the list of our favorite places to eat breakfast throughout all of Walt Disney World:
Best Disney World Breakfasts in the Parks
You don't need to stay at your hotel to enjoy a delicious breakfast; all four theme parks have delectable options. Below, we've listed our favorite table service and quick service restaurants in each of the parks, so whether you're looking to sit down or grab something on the way to your favorite ride, we've got you covered.
Magic Kingdom
Our favorite table service breakfast spot in the Magic Kingdom is The Crystal Palace. Breakfast is served buffet-style, and it's a character breakfast so that you can meet your favorite characters from Winnie the Pooh. They make a very traditional breakfast with eggs, breakfast meats, and of course, Mickey waffles.
If you prefer quick-serve in the Magic Kingdom, head to Sleepy Hollow Refreshments in Liberty Square. Their specialty is waffles, and they have a Fresh Fruit Waffle Sandwich that is to die for. It has fresh strawberries, bananas, blueberries, and hazelnut chocolate spread. You can also get Mickey Waffles served with strawberries, whipped cream, and powdered sugar.
Why not check out our guide to the best breakfast spots at Magic Kingdom for more ideas and inspiration?
EPCOT
EPCOT is known for having excellent food, as the World Showcase features the culture and cuisine of eleven countries. The World Showcase doesn't usually open until 11 AM, but have breakfast at Les Halles Boulangerie and Patisserie if you can wait.
Les Halles will tempt you with unique delicacies and pastries of all kinds. They also have savory items if members of your family prefer. Our favorite menu items to enjoy for breakfast are the Brie au Pommes, a sandwich on multigrain bread with brie, apples, and cranberries, classic Beignets, and croissants. They also have a selection of coffees, espresso, and tea.
If you're looking for something open earlier, try Sunshine Seasons, which is perfect if you have healthy nuts or special diets in your family. They have overnight oats made with chia seeds, almonds, and blueberries, a broccoli and egg-white souffle, a breakfast power wrap with sweet potatoes, avocado, tofu, and wild rice, and more.
Hollywood Studios
If you're making an early visit to Hollywood Studios, you can grab a quick breakfast at Woody's Lunch Box in Toy Story Land. They have a delicious and hearty breakfast bowl with Potato Barrels, eggs, and brisket gravy, as well as a kid-friendly version of the dish that comes with mandarin oranges. It'll keep you full as you make your way through the park.
Make a breakfast reservation at Hollywood and Vine if you prefer table service. Their menu for breakfast includes Hazelnut-Spread Stuffed French Toast, Toasted Open-Face Salmon Bagel, and a Plant-Based Egg Frittata. They also serve Mickey waffles with friendly Disney Junior faces on them, and those same characters meet and greet you during your breakfast.
Animal Kingdom
Our favorite table service breakfast spot in Animal Kingdom is Tusker House. Meals here are served family-style, and some of the dishes include Mickey and Simba Waffles, Durban Chicken, Multigrain Croissants, and more. Donald Duck is waiting to be your host, and his pals are available for photo opportunities and hugs!
Head to Pandora and the Pongu Pongu Lounge if you want something quick. They serve handy French toast sticks, breakfast biscuits, and sweet pineapple lumpia, essentially a pineapple cream cheese spring roll.
You can also get some of their trademark beverages inspired by the Na'vi, such as the Night Blossom, which has apple and pear limeade and passion fruit boba balls.
Best Breakfasts at the Resorts
Many of the hotel resorts throughout the Disney property have amazing restaurants, and many of those restaurants serve breakfast. In fact, you're able to eat breakfast at any of the Disney hotels.
Even if they don't offer a table service breakfast venue, their quick-serve restaurants do. Most resorts' quick-service restaurants open by 7:00 AM. Since parks don't typically open until 8:00 AM, that gives you time to grab something fast and head out. Most table service breakfast venues begin sitting at 7:30 AM.
You don't have to stay at a hotel to have breakfast there. You can make a reservation no matter where you stay. Keep in mind that you're responsible for your own transportation.
Disney does not provide direct resort-to-resort transportation, so you'll either need to take a bus or other vehicle to a theme park or other destination (such as Disney Springs) and then take transportation to the hotel where you're eating. Alternatively, you can take a rideshare service like Uber or Lyft.
Our favorite spot for breakfast at the Disney World resorts is Kona Cafe at the Polynesian Village Resort. If you decide to dine there, you absolutely must try the Tonga Toast. It's banana-stuffed French toast, and it's one of the most sought-after dishes in Disney World.
If bananas aren't your thing, you can enjoy Macademia Nut Pancakes served with pineapple sauce and your choice of meat, or Plant-based Loco Moco, which is a plant-based egg scramble with coconut milk, plant-based sausage, rice, and pico de gallo.
Nearby at the Grand Floridian, you can also get breakfast at the Grand Floridian Cafe. They offer what they call their "blunch" menu, a combination of brunch and lunch selections, perfect for a late morning meal where everyone can leave satisfied.
They have classics such as eggs benedict and avocado toast, as well as signature dishes like the Lobster 'Thermidor' Burger, Buttermilk-fried Chicken and Waffles, and of course, Mickey Waffles.
A newer breakfast option is at Topolino's Terrace–Flavors of the Riviera at the Riviera Resort, which is the newest hotel on the property. It's a character dining opportunity featuring Mickey Mouse, Minnie Mouse, and the other classic cast of characters.
Their best dishes include Quiche Gruyere, Sour Cream Waffle, and Wood-Fired Butcher's Steak. They also have a children's menu, as do most restaurants on Disney property.
The best quick service breakfast at the resorts in Walt Disney World is found at Caribbean Beach Resort. Their Centertown Market quick-service restaurant features dishes from around the islands of the Caribbean Sea. You can get a classic breakfast, but instead, try chorizo tostones benedict, coconut waffles, and a breakfast Cuban.
Best Breakfasts at Disney Springs
Disney Springs is the ultimate shopping and dining destination, so it's no surprise that several of its restaurants offer fantastic breakfast options. Most table service brunches are only offered on Saturdays and Sundays, but sometimes restaurants expand their hours, especially during busy seasons. Check the websites to find out.
If you want something lively, head to the House of Blues for old-fashioned southern fare and live music. On select Sundays, they also offer a one-of-a-kind gospel brunch.
Raglan Road Irish Pub is another great spot on the weekends for live music. Their menu features a full Irish breakfast, Pancakes Diaspora (pancakes with creme fraiche, maple syrup, and berry compote), and Hipsters' Lament, a clever play on avocado toast.
If you want quick-service food in Disney Springs so you can start your day of shopping, you have several breakfast options. We love Amorette Patisserie, a high-end French bakery located in Town Center. Try one of their crepe options for breakfast, either Banana and Hazelnut or Strawberry and Creme.
Seeking something savory? If so, you may want to visit Earl of Sandwich located in the Marketplace. They're known for their lunch and dinner selections, but they have a few breakfast sandwiches that are just as delicious, many of them classic combinations of egg, meat, and cheese.
In addition, some of their other breakfast options are oatmeal with brown sugar and dried cranberries and a selection of bowls or burritos such as ham, bacon, and sausage served with eggs, potatoes, tomatoes, and other delicious accouterments.
Best Disney Character Breakfasts
We've already mentioned a few character breakfasts above, but if your priority is facetime with your favorite Disney characters, then check out one of these.
Part of the magic of a Disney vacation is getting to meet the original star himself, Mickey Mouse. He and his pals Minnie Mouse, Donald Duck, Goofy, and others join diners at several restaurants on property. Usually, they come to your table to interact, sign autographs, and take pictures, but those experiences may be modified during the pandemic.
Above, we discussed Topolino's Terrace–Flavors of the Riviera, Hollywood and Vine at Hollywood Studios, and Tusker House at Animal Kingdom, which both feature the classic characters. Other favorite spots for classic character breakfasts include Chef Mickey's at the Contemporary and 1900 Park Fare at the Grand Floridian.
We recommend heading to either Magic Kingdom for Cinderella's Royal Table or EPCOT and the Akershus Royal Banquet Hall to meet princesses. At Akershus, you'll meet Snow White, Ariel, Cinderella, Belle, and Princess Aurora. In addition to greeting Cinderella in her own castle, join several other princesses in a fairy tale setting.
The Crystal Palace at Magic Kingdom, discussed above, features Winnie the Pooh and his friends from the Hundred Acre Wood.
How to Make a Reservation for Breakfast in Walt Disney World
As any veteran Disney traveler will tell you, snagging dining reservations can be very tricky. You have to know what you're doing and plan carefully.
Dining reservations open precisely 60 days in advance. They open at an odd time, 5:45 AM Eastern Time, so plan accordingly. People on the west coast have to get up in the middle of the night to get dining reservations! We know that's inconvenient, but again, getting the best dining reservations can be difficult.
Another essential thing to know about dining reservations is that if you plan to eat inside one of the four theme parks, you also need a valid park ticket and a reservation for admission to that particular theme park.
A dining reservation by itself will not grant you admission to the park without a separate park reservation, so plan accordingly. Park reservations open months in advance for everyone holding a park ticket. We recommend making your dining and park reservations at the same time.
Eat a Hearty Breakfast to Fuel Your Day in the Parks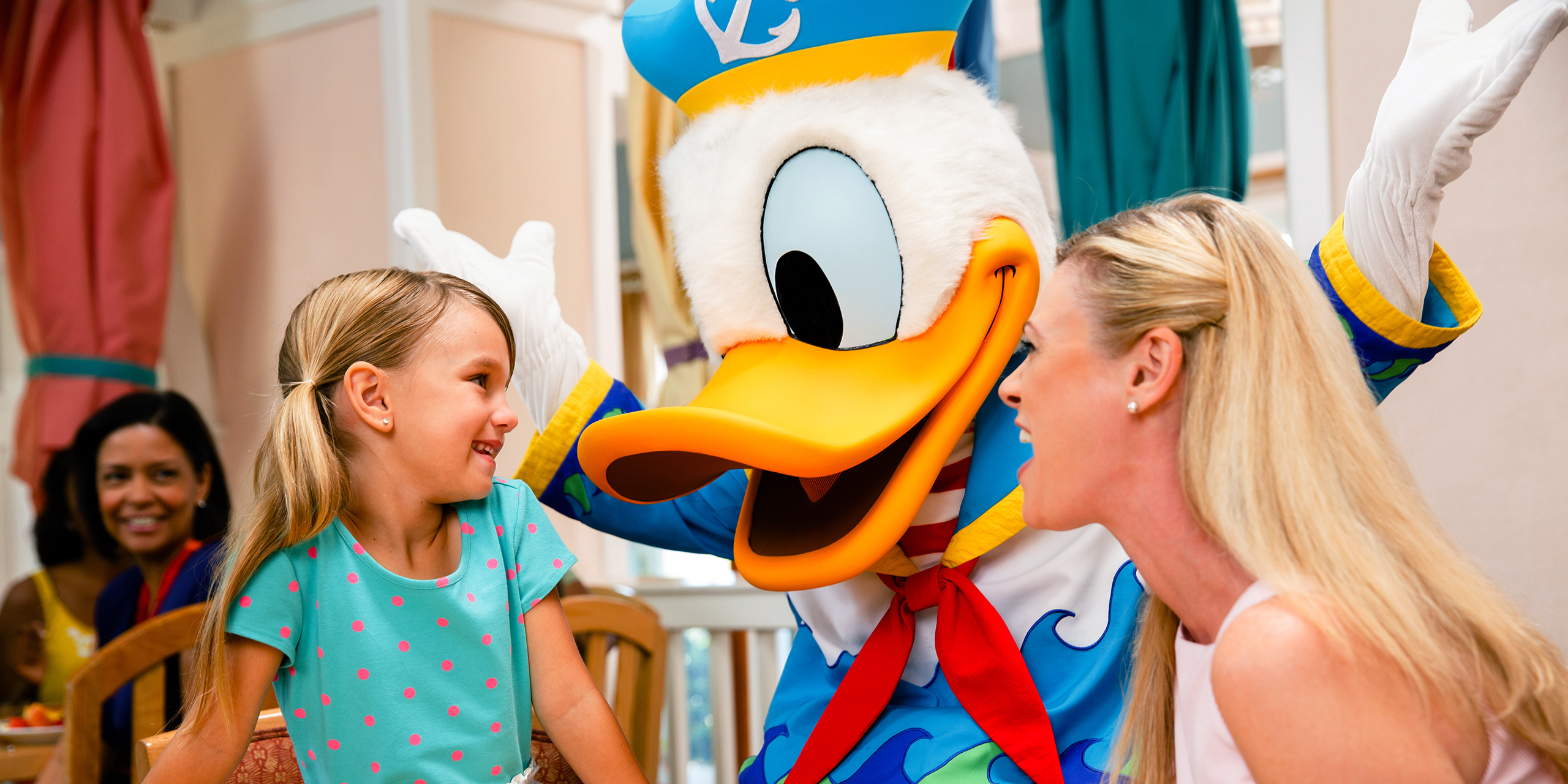 As you can see, there are many incredible choices for breakfast throughout the Disney theme parks, resorts, and shopping areas, even in addition to our favorites on this list. Whether you're craving something sweet or savory, something fun and boisterous or more refined, Disney World has you covered.
What matters more than anything is enjoying every moment of your vacation with your family, even first thing in the morning! Be sure to make your breakfast reservations well in advance, and enjoy your delicious meal as a family.
More about our TFVG Author
Caitlin is one of The Family Vacation Guide's long standing contributors. She enjoys taking vacation to busy, vibrant cities and has stretched her traveling legs out towards Europe in recent months, enjoying new experiences in Barcelona in Spain, and Nice in France.