When visiting Disney's Magic Kingdom, Kissimmee, Florida, you'll be spellbound by the magic of Disney. It's a park where your favourite characters come to life and where the fun is endless.
Long days at the park call for some planning and budgeting when it comes to staying fed and energized. It's worth your time to think about which kiosks to visit and which restaurants to make reservations at. Trust us, you don't want to be standing in line at the park, thinking about which ride to take your child on next, when they start screaming hunger.
This list covers 11 restaurants and quick service kiosks in the Magic Kingdom that will assist you in making the perfect choice for your family. You'll find that Disney offers a wide variety of different options, ranging from quick and fast eats to fine dining, and even a market experience. Each is special in its own way and offers something for every member of the family, making it easy to incorporate them into your exciting days together at Disney World. Whether you're a first-timer or a Disney World expert, we're sure our guide will have something you will want to try! Oh, and whilst you're stuffing your face, see if you can spot a hidden mickey or two!
The Best Quick Service Breakfast at Magic Kingdom
Sleepy Hollow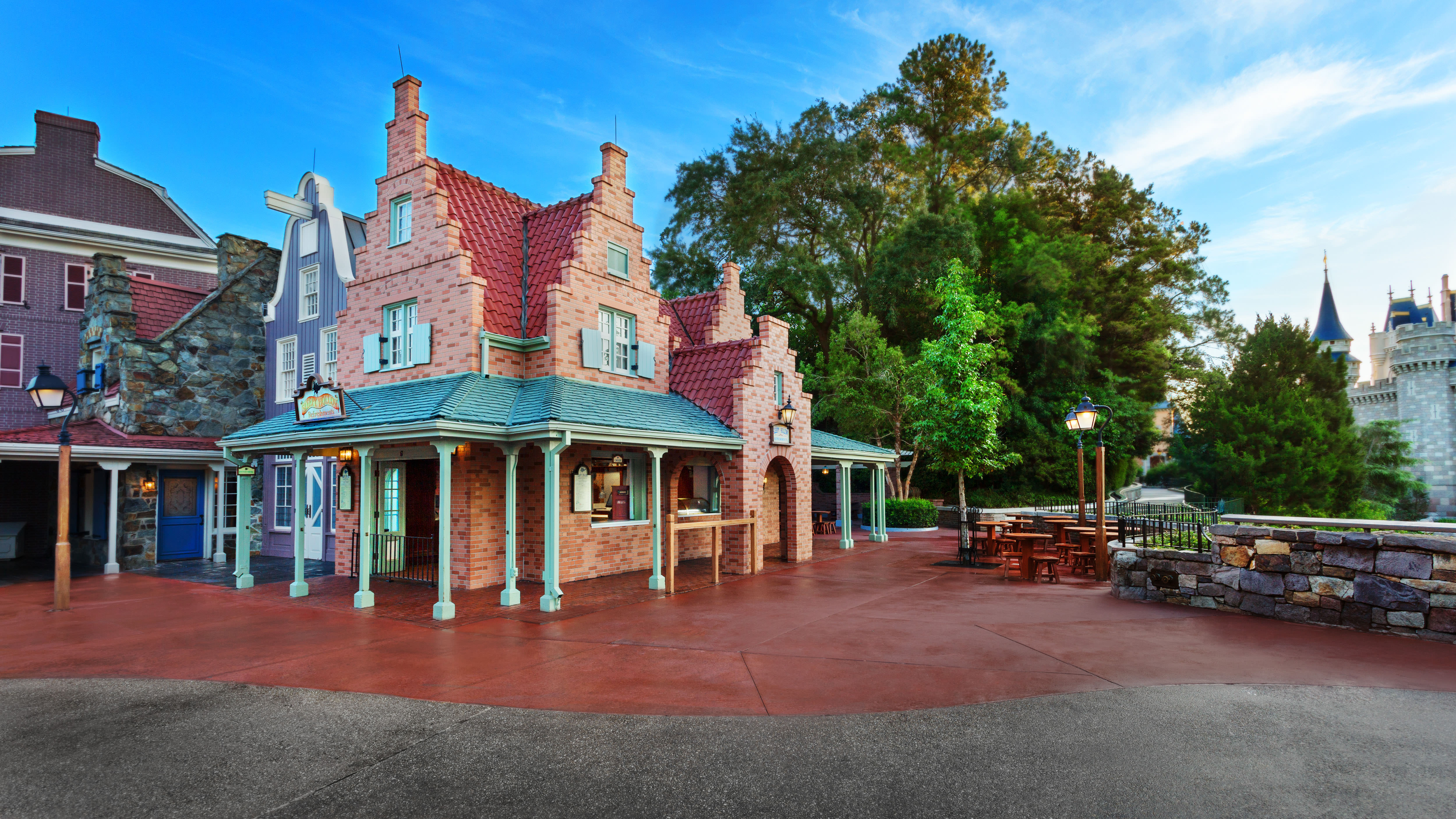 Nothing beats a breakfast with a view before a high-spirited day. Located by the Cinderella Castle overlooking the water, Sleepy Hollow is a quick-service cottage that serves American cuisine and offers visitors shaded outdoor seating to relax.
The kiosk has a variety of refreshing beverages and flavoured Joffrey's iced coffees for your morning caffeine fix. Keep your kids busy with some hot cocoa or chocolate milk to go with their waffle breakfast. Sleepy Hollow is open from 9 a.m. till park closing time.
Type of restaurant: Quick-service kiosk
Cuisine: American (waffles/funnel cakes)
What to try: If waffles filled with strawberries and slathered in hazelnut spread sound good to you, you have to get the fresh fruit waffle sandwich. Kids love the Mickey-shaped waffles that come with strawberries and powdered sugar on top and the funnel cake is another must-try at this kiosk. It's the only place you will find them in the Magic Kingdom.
Westward Ho
Westward Ho is a quick-service kiosk in Frontierland. It's a great place to stop by if you want a traditional breakfast sandwich to fuel your energetic day ahead. Filled with limited but high-quality options and freshly brewed Joffrey's coffee, it's perfect for those looking to meet their caffeine needs with something other than Starbucks. While there is no direct seating at Westward Ho, there are benches nearby that guests are welcome to use.
Type of restaurant: Quick-service kiosk
Cuisine: American (Breakfast sandwiches, sweet treats)
What to try: The breakfast sandwich made with bacon, eggs, cheddar, and pepper jack cheese on a multigrain croissant is a popular, healthy, and filling option here. The doughnut holes and bear claws dipped in chocolate with hazelnuts are both perfect for a sugar fix.
Liberty Square Market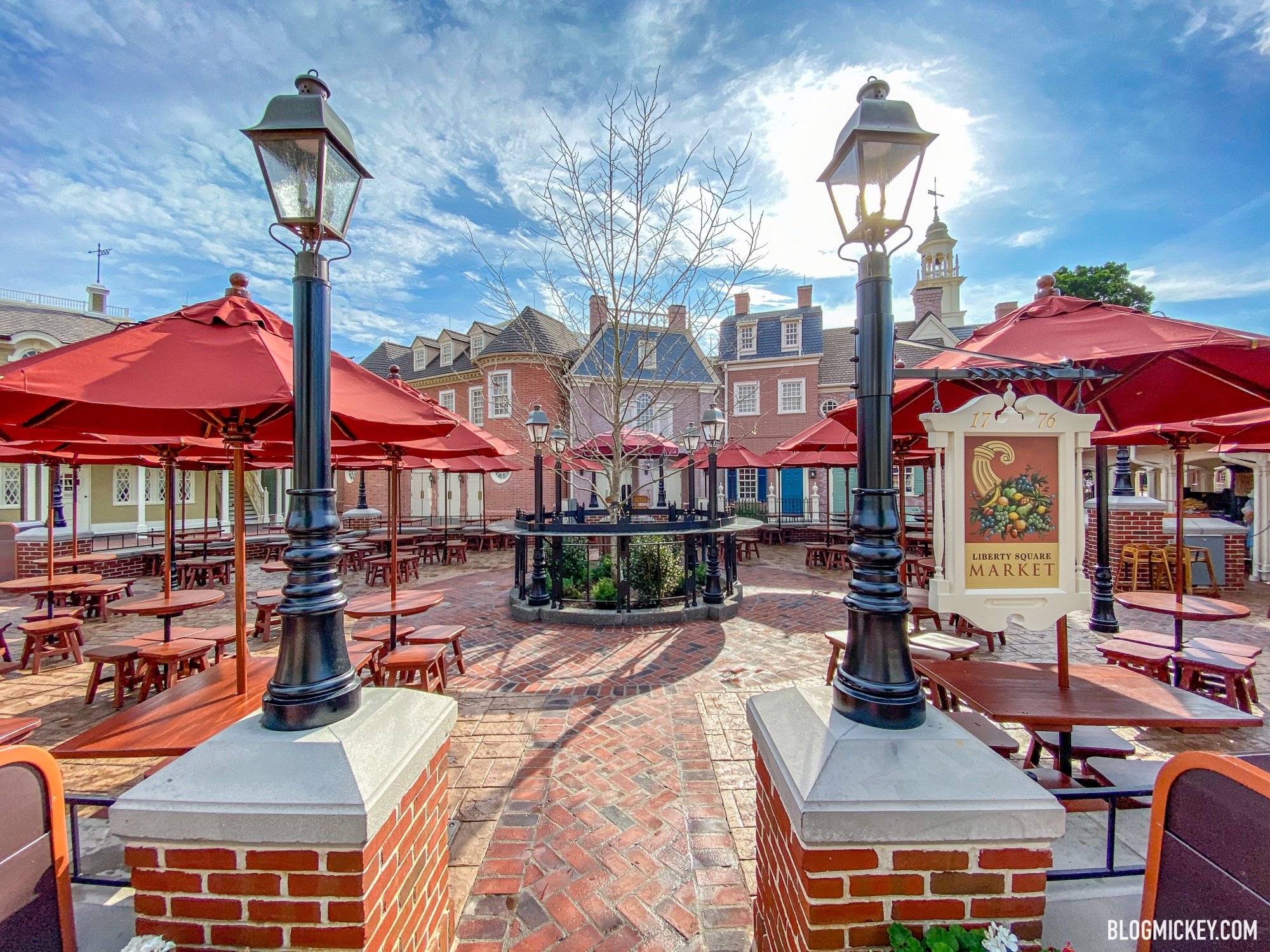 If you're not big on traditional sit-down breakfasts or just happen to be running late, Liberty Square Market is the place for you. Its convenient-to-access location on Main Street makes it easy to stop by and pick up something small before heading to your next ride.
Type of restaurant: mobile carts, market, quick-service
Cuisine: American
What to try: Liberty Square Market offers a wide variety of Disney snacks and quick breakfasts like whole fruit, trail mix, beverages, and Mickey pretzels with cheese. Visit after 11:00 a.m. to try the famous turkey legs.
Main Street Bakery
Main Street Bakery is one of the most popular breakfast locations in Magic Kingdom. It should be your go-to place if you're looking for a signature cup of Starbucks and a breakfast pastry to go with it. Located on Main Street, U.S.A., this quick-service café serves Starbucks desserts like blueberry scones, oat muffins, and other breakfast items.
The bakery opens at 8:30 a.m. which is great for those who want to get an early start at the parks. Grab a quick, wholesome, and affordable breakfast before being on your way. Just keep in mind that the lines here do tend to get long, especially in the mornings. Snag a seat inside the artsy cafe with a view of Cinderella's Castle or just grab & go if the crowds are too much. In either case, Main Street Bakery is sure to impress.
Type of restaurant: Quick-service, bakery
Cuisine: American bakery
What to try: Main Street Bakery offers an array of breakfast sandwiches and Disney snacks like Mickey cinnamon rolls. It's particularly famous for its seasonal offerings so just pop in and see what's available in the month you visit.
Cheshire café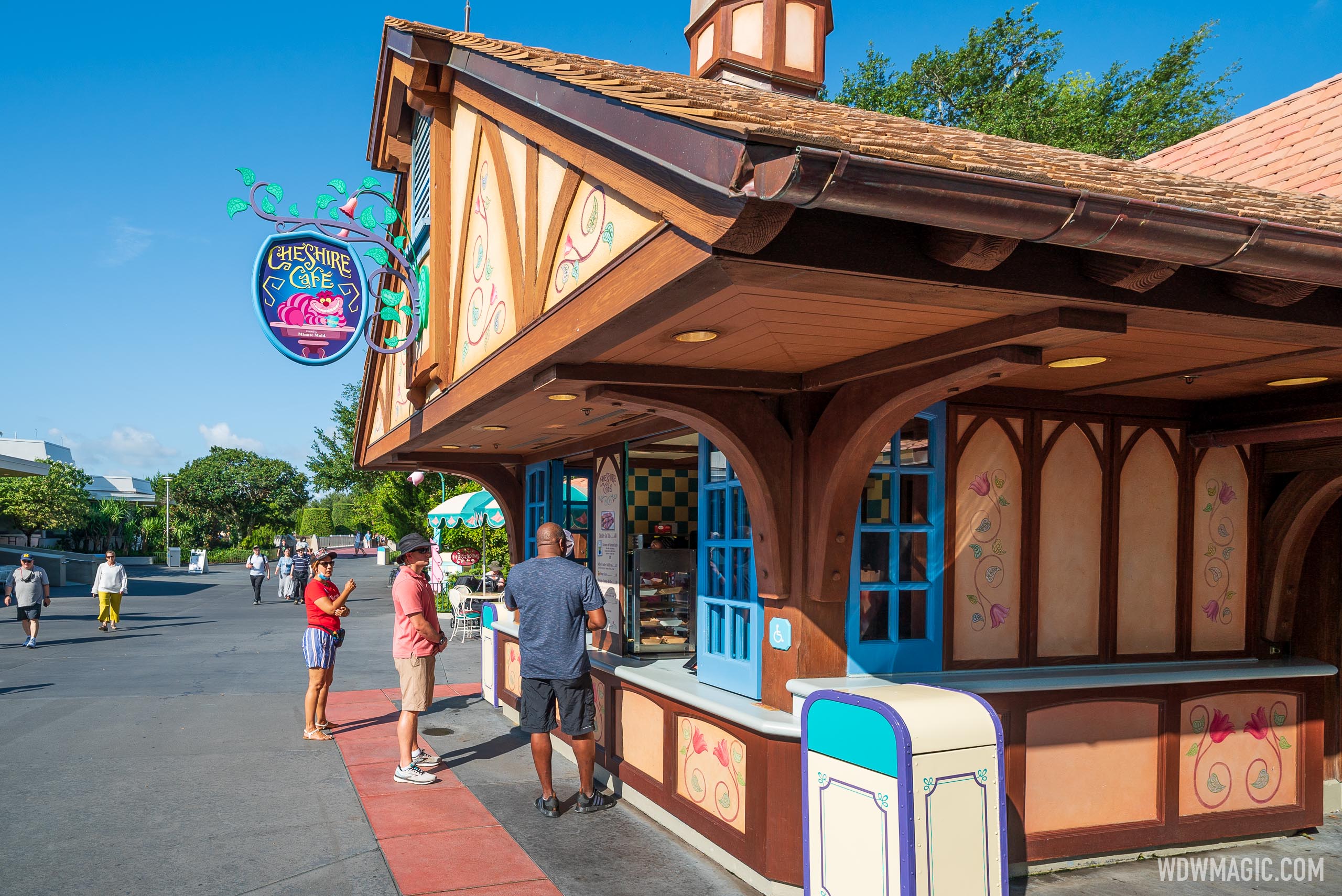 Located right outside the Mad Tea Party ride, the Cheshire café is just the colourful little cottage for all your coffee, beverage, and breakfast needs. The kiosk opens with the park and is a great option for an early breakfast and an even better one if you want to start your journey at Fantasyland. There are seats outside the kiosk where patrons are welcome to sit and enjoy their meals.
Type of restaurant: Quick-service kiosk
Cuisine: American
What to try: Don't skip trying the iconic Cheshire Cat Tail, a flaky croissant-like pastry with a chocolate filling and colourful icing that makes it resemble the Cheshire Cat from Alice in Wonderland. It also has a variety of coffees and tropical flavoured slushies you can choose from. If you're in the mood for something savoury, try the famous Pepper Jack Stuffed Pretzel, and thank us later.
Gaston's Tavern
Gaston's Tavern, a rustic, counter-service eatery, serves as the ideal pitstop for a hearty breakfast. The restaurant offers ample indoor and outdoor seating set in a characteristic ambience that's notable for its rustic décor. It features elements like decorative antlers, a fireplace with a portrait of Gaston, his signature chair with a fleece hanging over it, and wooden seating arrangements.
Outside the eatery is the town square that is complete with a large fountain, just like in the movie. You will see a huge statue of Gaston, and sometimes even Gaston himself who shows up near the tavern occasionally. The spot opens at 9 a.m., making it perfect for ain impromptu family photoshoot along with your filling breakfast.
Type of restaurant: Quick-service counter
Cuisine: American
What to try: Buy yourself a hot cup of Joffrey's coffee and give the legendary cinnamon rolls here a try. The ham and swiss breakfast sandwich is another crowd favourite. Kids, on the other hand, love the tavern's signature drink, LeFou's Brew. It was created by Disney's chefs to be a non-alcoholic ale and is essentially a frozen apple drink with a mango and passionfruit foam.
The Friar's Nook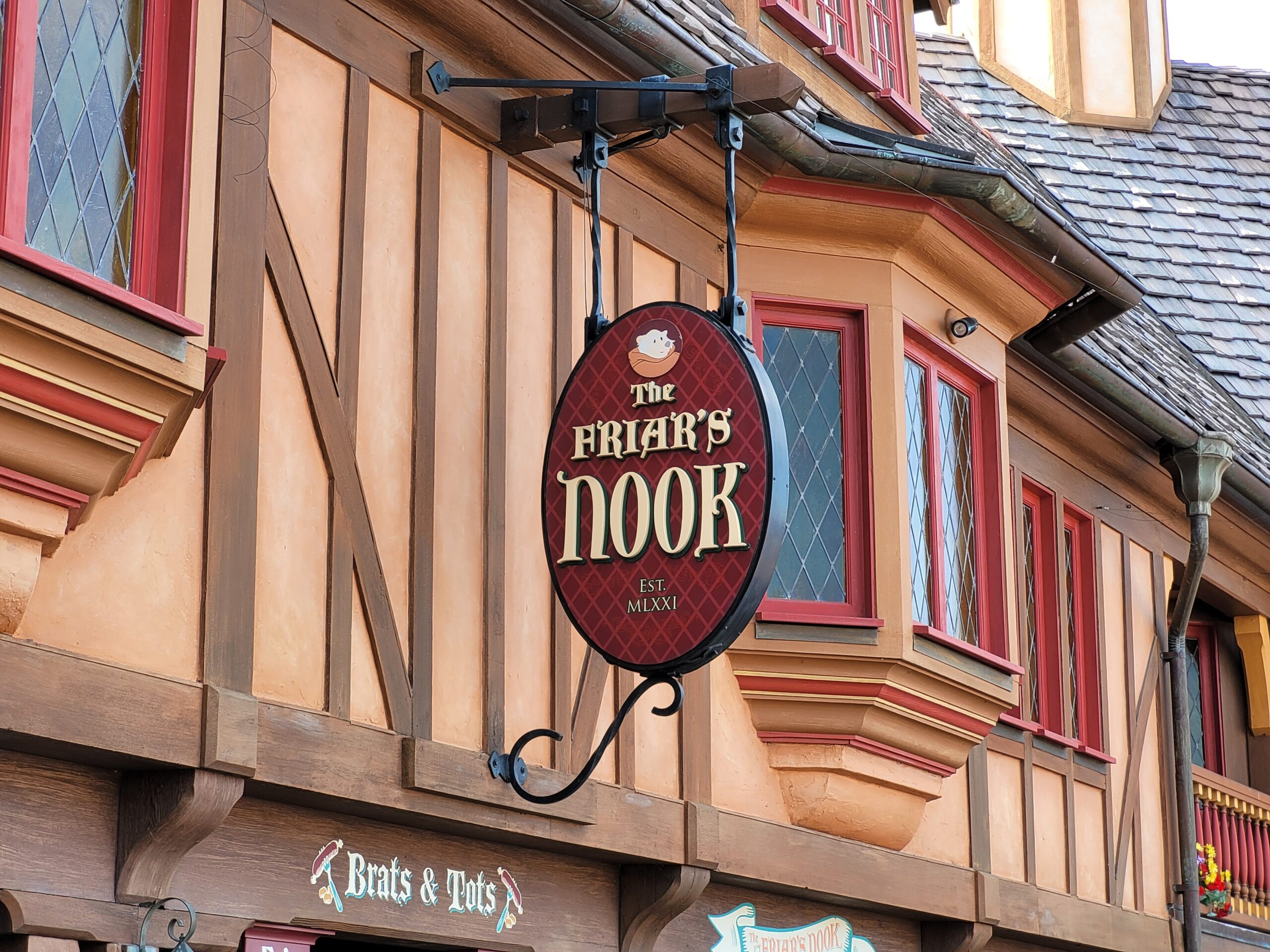 This Robin-Hood-inspired counter service cottage is an excellent option to consider if you're looking for a filling breakfast that is also quick. The Friar's Nook opens with the park making it ideal for an early start. Serving breakfast till 11 a.m., it's a favourite with the kids for the fun way they serve some meals – in a Mickey hat bowl that they get to take home afterwards as a souvenir!
The unique thing about this eatery is that it often changes its menu to keep things interesting for its regular Disney patrons. Its current menu has a speciality dish called Sausage and Gravy Tots, a hearty meal made up of tater tots with sausage gravy. It also offers kids' meals which include two sides and a drink for little ones to enjoy for breakfast and a variety of hot and cold beverages to choose from. Do keep in mind that there is no indoor seating and only limited outdoor seating.
Type of restaurant: Quick-service counter
Cuisine: American (breakfast sandwiches, tater tots)
What to try: Made with ingredients like bacon, egg, and cheddar cheese on a multigrain croissant, their breakfast sandwiches are known for being delicious, filling, and healthy. For a sweet start to your day, they also offer cinnamon sugar doughnut holes. No matter what you order, it is all served in one bowl, making it easy for kids to handle or for you to quickly grab and eat somewhere else.
The Best Table Service Breakfast at Magic Kingdom
Cinderella's Royal Table
This dining experience takes place inside Cinderella's Castle where children get to meet and take pictures with Cinderella and other princesses like Ariel, Jasmine, and Aurora. Truly one of the best character dining experiences in all of the Magic Kingdom! Cinderella's Royal Table is the perfect choice if your goal is to guarantee your kids feel the Disney magic to the fullest. It gives you the chance to sit by the castle's stained-glass windows with your little ones, look out over the expansive Magic Kingdom, and really soak in the Disney dream.
The best part about Cinderella's Royal Table is that it opens at 8 a.m. which means you avail early entry to the park if you manage to book one of the earliest breakfast slots. This is really special and a major advantage on the days that the park opens at 9 a.m. as you get to enter the park before anybody else and see Magic Kingdom with no crowds!
Breakfast here is undoubtedly a coveted experience for families visiting Disney world which is why reservations fill up so fast. It is recommended that you make your reservations 180 days in advance or when the booking slots first open up. Despite being on the pricier side, this experience is well worth the money and sure to satisfy both kids and kids at heart.
Type of restaurant: Dine-in table service
Cuisine: American (3-course meals)
What to try: The breakfast menu at Cinderella's Royal Table has many options both sweet and savoury. Pick from among their royal entrees like the beef tenderloin with egg or the caramel apple stuffed French toast, or choose the "create your own entrée" option. Choose from dishes like scrambled eggs, waffles, and other options to build your own meal and enjoy it with a breakfast cocktail.
The Crystal Palace
The Crystal Palace's buffet is what makes it one of the most popular dining locations in Magic Kingdom. Located on Main Street, U.S.A., with a view of the castle, this restaurant is a Victorian 1800s-glasshouse-inspired building with a peaceful ambience.
Serving food inspired by southern flavours that are good value for money, this restaurant is a great place to relax and lose the crowds for a while without having to worry about scrabbling for a table. Just remember to make reservations a few days before you visit as it is known to get fairly crowded on some days.
While The Crystal Palace has officially stopped serving breakfast, it does open its doors to a lunch buffet at 11:30 a.m., which makes it a solid option for brunch after exploring the park for a few hours.
Type of restaurant: Table service, dine-in
Cuisine: American (buffet)
What to try: The all-you-can-eat buffet provides a wide variety of options for families to indulge in like fried chicken, different kinds of freshly prepared pasta, and peel and eat shrimp. To round out the experience, the buffet offers plenty of sweet treats as well, like warm apple cobbler, butterscotch Brulee, soft-serve ice cream, and strawberry shortcake among many others.
The Plaza Restaurant
You can never go wrong with The Plaza Restaurant and its homely comfort food. Situated on Main Street with views of Cinderella's Castle, it features a retro, early 20th-century style with walls covered in mirrors and windows, that make it befitting of its location. The deli-style dine-in restaurant offers family favourites like sandwiches, burgers, homestyle plates, and a long list of desserts to satisfy every craving.
The two seating areas, the rotunda and the main dining room are big enough to accommodate a lot of hungry patrons, which is a good thing since this restaurant comes highly recommended for its down-to-earth cooking and hospitality. Always full, high chairs for little ones are available on request but are subject to availability.
The Plaza is a regular dining location for many families so make sure you make your reservations a few days in advance. The restaurant opens at 11 a.m. making it a great brunch spot to visit after spending some time at the park.
Type of restaurant: Table service dine-in
Cuisine: American (burgers, sandwiches, homestyle plates)
What to try: With the restaurant's wide range of selections, it's easy to get overwhelmed, but one of the easiest and best options on the menu is the fried chicken sandwich. Newer additions to the menu like the seared crab cakes and chilli, as well as the classics like the pizza and Plaza Loaded Fries, are also all must-tries. The restaurant has many delightful desserts, milkshakes, and sundaes too that all are worth sharing, or eating alone if you're hungry enough!
Be Our Guest
Located at the foot of the Beast's Castle, this restaurant is for anyone who looks forward to an upscale dining experience to begin their day. Be Our Guest is a Beauty and the Beast-themed ballroom venue featuring 3 separate dining rooms straight out of the animated movie itself. The dining rooms are elaborately themed and based on the Beast's Study, which is "The West Wing"; Belle's library, which is The Castle Gallery or "The Grand Ballroom"; and the "Rose Gallery." All of these dining rooms have detailed décor which reflects the movie and adds to the magic of dining here.
The restaurant no longer serves breakfast but does open as early as 10 a.m. for lunch which makes it an ideal brunch option for families who want to get a little exploring done before sitting down to eat. While certainly a little pricey compared to some of the other dining experiences, this one-of-a-kind experience is simply worth it if you want to see your little ones get immersed in the enchanting world of Disney's Beauty and the Beast. It is truly one of the most memorable Disney experiences you can have as a family.
Type of restaurant: Dine-in table service
Cuisine: American, French, Unique-themed dining
What to try: Be Our Guest offers a three-course menu with French-inspired gourmet dishes to choose from. Try the French onion soup, lobster bisque, or a cheeseboard. The main course speciality is the filet mignon but there are many other options as well. The menu features a delectable range of desserts as well, with crowd favourites like the fruit platter with freshly made yoghurt dip. New additions to the menu include a crabmeat omelette and a few refreshing salads.
This restaurant also offers a special kids' menu for kids below 9. Little ones get the opportunity to pick their own three-course meal from a range of options like the iceberg wedge salad, pan-seared chicken breast, fruit and cheese board, house-made peach-apple sauce, and a trio of mini desserts, as well as pick between bottled juice or milk as per their liking.
If none of the above restaurants take your fancy, you can always pack your own lunch.
Want more help planning your Disney adventure? Check out the articles below!
More about our TFVG Author
Karly is a The Family Vacation Guide guest travel contributor.