The problem with visiting Destin, Florida, is not finding something to do but deciding what to do. If you have kids (or are just a kid at heart), there are enough things to do in Destin to prevent boredom.
If you think the only thing to do in Destin, Florida, is to hang out at the beach, eat seafood, and go outlet mall shopping, think again. There are many other things to do in Destin, Florida, with Kids to make lasting memories. 
We've found 14 of the best things to do in Destin, Florida, with kids. This list includes free options that you can enjoy alongside a meal, museums with low entry fees, along with water and land adventures for every budget.
You can choose from adventures on the water or the land, or you can spend time with animals, learn about local history, or just enjoy the scenery.
Big Kahuna's 
Big Kahuna's Water and Adventure Park has been around since the mid-1980s, and it is probably one of the first things you think of when looking for things to do in Destin, Florida, with kids.
If you've heard rumors that Big Kahuna's closed down, never fear. It reopened in 2021 under new owners. Plus, it has over $80,000 in renovations to make it as good as the amusement park you remember from your childhood. 
If you're a "landlubber" or love thrills, you may enjoy one of their outdoor land adventures year-around:
Mini-golf
Skycoaster (100-feet high)
Cyclone (60 mph)
During warm weather, you and your kids can spend an entire day at the water park, which includes features like:
40+ water play areas
Slides
Pools
Giant wave pool
Lazy river
Jumanji (a 5-story water slide)
Maui Pipeline
Honolulu Half Pipe
Buccaneer Cove (for kiddos under 48")
Tickets start at around $10 for a round of mini-golf and go above $50 for a day at the water park. Add-on thrills like the Skycoaster, Cyclone, and Honolulu Pipeline cost between $14 and $17 each.
Spend the Day at Henderson Beach
One thing that you'll notice in Destin is that most beaches are private and reserved for guests of the many hotels and condos along the water's edge. If you don't have access to a private beach, Henderson Beach State Park is one of your best bets for catching rays and waves.
The Gulf Coast is famous for its sugar-white sandy beaches and emerald waters, and Henderson Beach won't disappoint. Henderson Beach is also a preserve for the last coastal scrub area remaining in Destin.
The cost is $6 per vehicle. However, because it's one of the few beaches available to the public in the area, you may experience long lines waiting for space to open up for your family during the summer.
Most people visit the beach during the summer, but I'll let you in on a secret; visiting the beach on an overcast or cooler day can be even better and is less crowded.
Some of the experiences at Henderson Beach include:
Fishing
A nature trail
60 campsites (reserve up to 11 months in advance)
Boardwalk
Bicycling
Geocaching
Hiking
Picnicking
Swimming
Beach
Wildlife Viewing
Gulfarium Marine Adventure Park

If you have animal lovers in your family, they will appreciate spending a few hours at the open-air Gulfarium Marine Adventure Park.
Be sure to time your visit for shows and chats featuring your family's favorite animals:
Dolphin Show
Sea Lion Show
Otter Chat
Penguin Chat
Reptile Chat
Harbor Seal Chat
Living Sea Chat
Shark Chat
General admission is a little more than $15 for kids and a little more than $23 for adults.
However, the park also offers up-close encounters with your child's favorite animal at an additional cost, ranging from $15 for 15 minutes with stingrays to $169 for playing with dolphins in the water. These immersive encounters include various encounters with:
Dolphins
Reptiles
Stingrays
Alligators
Turtles
Penguins
Harbor seals
Sealions
If you're really serious about sea animals, for around $380, you could spend 4 hours behind the scenes as a VIP trainer. Or, for $500, you and your family could dine and have the aquarium to yourself after hours.
Walk Destin Harbor Boardwalk
Sometimes, a family destination isn't about what you can do; it's about taking the time to enjoy where you are. Destin Harbor Boardwalk is exactly that type of place. Go there for sunrise, sunset, or any time of day.
Stand or sit on the boardwalk to indulge your senses. Smell the fresh scents of the gulf as you take the air deep into your lungs, taste the salt in the air, listen to the seagulls and the crashing waves, feel the sun and the sea breezes on your skin, and watch everything around you.
The boardwalk provides you with access to various water activities, such as pontoon and fishing charter boat rentals. It's also the future home of Captain Royal Melvin Heritage Park.
The boardwalk is also near restaurants that serve wonderous meals featuring fresh seafood from the Gulf of Mexico. Just beware that you might create a monster foodie. Your kids might start demanding crab claws and oysters when you suggest fast food in the future.
Sea Blaster Dolphin
If a day out on the open Gulf and Bay water looking for dolphins sounds like fun, book a cruise on The Original Sea Blaster. Cruises are available every month except November and December. You'll want to book ahead because most trips fill up fast. 
Each boat is 73 feet long and can carry more than 100 passengers. There's free water, soda, beer, and wine for all.
Some of the available adventures from which you can choose include:
Snorkeling and dolphins combo cruise
Beach dolphin cruise
Sunset dolphin cruise
Destin harbor fireworks cruise
Dolphin cruises start at $4 for toddlers, $15-$26 for kids up to 15, and $30-$40 for passengers over 16. Fireworks cruises are $10 for kids under 15 and $20 for passengers over 16. However, for the 4th of July, everyone pays $20.
The Track Family Recreation Center
Go-karts are the biggest attraction at The Track Family Fun Parks. However, The Track also features various rides and an arcade. 
Start out adding points to your card, and use the points to choose which adventure rides you want to enjoy:
Slick Track: short, slippery go-kart track
Family Track: single and double go-karts on a traditional figure-8 track with an overpass
Rookie Track: easy-to-control go-karts for older children
Kiddie Karts: go-karts for smaller children between 3'6" and 4'0"
Blaster Boats: mini-boats with blaster water cannons
Bumper Cars: individual cars that bump into each other for fun
The Skyflyer: Simulated skydiving in harnessed suits
Hurricane 360: spin 360° with other riders about 40 feet in the air
Mini-Golf: jungle-animal-themed putt-putt golf course
The Carousel: animal-themed merry-go-round
Ferris Wheel: mini Ferris wheel for kids
Amusement park rides: planes, swings, spin tops, jungle jumper, and beach cruisers for small children
Cards start at $50 for 55 points and go up to $150 for 500 points. Golf and most rides are 9-12 points. Some rides for smaller kids cost 4 points, while the Skyflyer costs 20 points.
Watch an Alligator Show at Gator Beach at Fudpucker's
Fudpucker's has been around since the early 1980s and is famous for its food and drinks. This restaurant with the almost-naughty name is more than just a beach bar. It gives parents a place to relax while the kids have fun. 
Eat together and then set your kids loose to spend time in the arcade, play on the playground, and write their names on the walls while you relax with a cold drink.
Fudpucker's also boasts that it has the "world's greatest alligator park." There's no extra admission cost to enter Gator Beach. The park has hundreds of alligators. You and your kids can feed the alligators, and you can buy a Gator Photo of your kid holding a live alligator.
Check out their Gator Shows, baby alligators, and a Crocodilia Discovery Zone to see and learn more about Florida's most famous resident reptile.
And don't leave without getting a souvenir Fudpucker's t-shirt, hat, spices, or hot sauce.
Destin History and Fishing Museum
Learn more about the history of Destin and fishing at the Destin History & Fishing Museum. You can do a self-guided tour or ask for a tour from staff. There are also scavenger hunts available for added enjoyment.
Museum exhibits include:
Main building history exhibit: covers the history from Native Americans through early village settlement in Destin
Outdoor Museum History Park Complex: historic boats, reel, post office, and a memorial walkway
Local fish specimens: 75+ mounted fish
Mike Long Memorial Fish Wall: mounted fish and a mural about the science of local fishing
Early Destin fishing industry artifacts: photographs, artifacts, equipment, and documents
Why Destin Is So White: science explanation about Destin beach sand
Destin Fishing Rodeo Gallery: videos, photos, and artifacts of the fishing rodeo
Children older than age 6 pay $3, while older children and adults only pay $5 to get in. Don't forget to swing by the gift shop for museum shirts and history books about the area.
Indian Mound Museum
The Indian Temple Mound Museum is just a smidge down the road from Destin in Fort Walton Beach. Native Americans occupied the area for 12,000 years before white settlers arrived in Florida. 
All museums are within a one-minute walk around the base of the temple mound. Exhibits available at the museums include:
Native American artifacts
European explorer artifacts
Local pirate artifacts
Early settler artifacts
Prehistoric ceramics
Kids over age four can get in for $3, and adults only need to pay $5 for admission.
The museum gift shop offers replicas of display artifacts for sale. So, if you see something pretty in the museum, there's a chance you could come home with a similar item.
Wild Willy's Adventure Zone
Wild Willy's Adventure Zone is located just out of Destin on Okaloosa Island in Fort Walton Beach. It's northwest Florida's largest entertainment center. 
No matter the weather, Wild Willy's has something to enjoy.
If Florida's heat and humidity are getting to you, enjoy cool, air-conditioned indoor activities such as:
Redemption Arcade: latest high tech games, flight simulator, and other arcade games
4D movies: 3D movies with added immersive effects
Urban Assault Laser Tag: laser tag in an urban maze
Salvati's Pizza Factory: pizza
YogoMogo's Creamy Cool Creations: frozen yogurt, ice cream, shakes, and smoothies
For fun in the sun, step outdoors for:
Mini-golf: animatronic dinosaurs, animatronic pirates, or hatchling dinosaur kiddie golf
Go-karts: fast and classic tracks
Ropes course: 5 levels with views of the gulf, park, and bay from 60 feet up
Bungee trampoline: reverse bungees for safer trampoline fun
Bumper boat pool: have bumper wars with water cannons
Mini go-karts falcons: circular track for 3'4" to 4'2" kids
110-foot slide: their newest attraction
Each activity is $6-$20 each, with combo packages available for popular activities.
Maximum Magic Show
Harborwalk Village offers various restaurants, shopping, boating activities, live music, and entertainment options to enjoy. You can find something there for the whole family.
Their Harborwalk Theater offers a variety of magic, comedy, and hypnosis shows. If you have 90 minutes to spare and enjoy hilarious audience-involved entertainment, why not try the Maximum Magic Show? Tickets start at $30.
Noah and Heather's award-winning show features classic illusion, mind reading, and special effects.
Even though you'll be sitting close to the stage, you'll have no idea how they managed to pull off their tricks. Don't be surprised if they call you or your kid up on stage to help with a magic trick.
Buccaneer Pirate Cruise
Another activity to enjoy while you're at Harborwalk Village is a Buccaneer Pirate Cruise. This pirate-themed cruise on a pirate ship isn't your average two-hour cruise, though.
If you left your pirate costume at home, that's just fine. There will be plenty of pirates already on board to offer amusement and pirate-themed activities for the whole family.
Some activities for willing participants of all ages include:
Pirate training to become an honorary Buccaneer Crewmember
Sword fights
Water gun battles
Treasure hunts
Authentic cannon fire
Plundering
Swabbing decks
Singing
Dancing
If you'd rather leave the pirating to the youngsters, just sit back and enjoy the show and the ride.
The cruise is $23 for kids and $40 for adults.
Fat Daddy's Arcade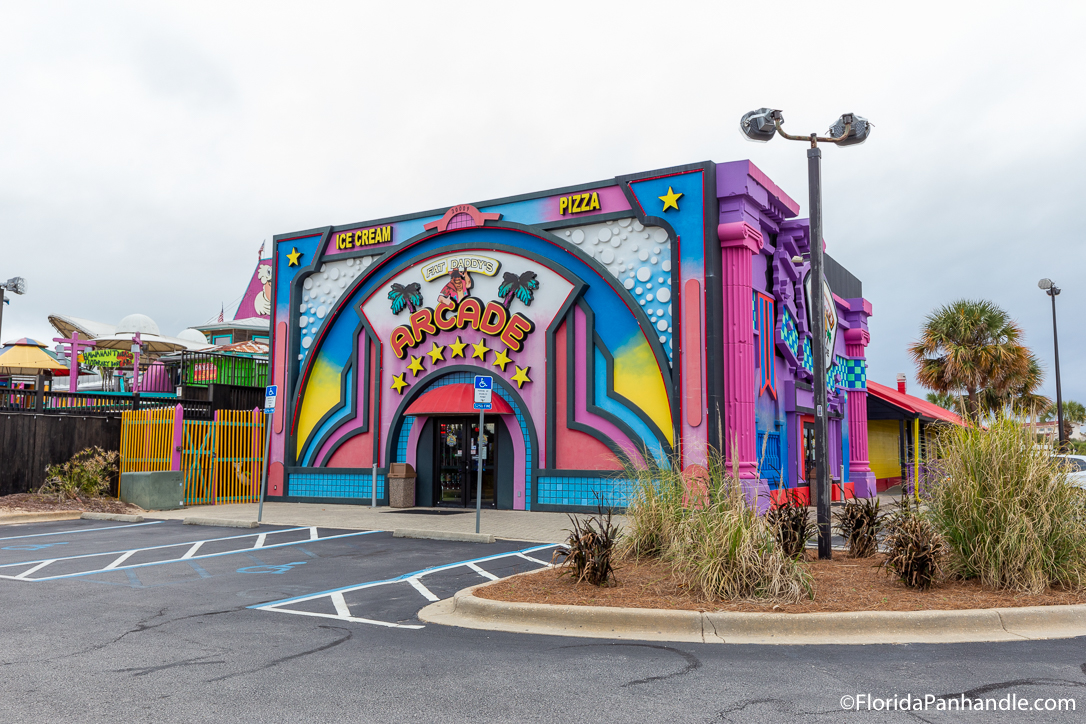 Fat Daddy's Arcade is located next to Fudpucker's and across the street from Henderson Beach State Park. 
It's also a part of The Track Family Fun Parks, so you can use any points you have leftover from The Track (about a mile away) at Fat Daddy's Arcade.
The arcade features 120+ new and classic arcade games. Some favorites include:
Tower of Tickets
Claw games
Iceball
Air hockey
Hoops
Terminator Salvation
Wizard of Oz
Big Bass Wheel
Big Buck Open Season
Jurassic Park
The Walking Dead
Pac-Man Smash Line
Fruit Ninja
Jumping Jackpot
The Fast and the Furious
Kids love redeeming their winning game tickets for prizes.
You can start with a 55-point card for $50, but if your family members are arcade enthusiasts, you can get a 500-point mega card for $350. Luckily, you can use any points you have leftover at any of their six other locations.
Crab Island Adventure Tour
Crab Island Adventure Tours are available near the Destin Harbor Boardwalk. There's so much water fun available at Crab Island that you could easily enjoy several hours there. 2.5- to 5-hour adventures are available.
The Crab Island Adventure Tour includes:
Guided catamaran boat excursion 
Large inflatable water slide
Inflatable trampoline with slide and log roll
Floating Adventure Park
Kayaks
Paddleboards
Snorkeling (includes gear)
Shell hunting
Crab Island adventures 
While you're on your adventures, you'll have access to life jackets and free parking during your stay.
Prices start at $45 for kids under age six. Ages 7 and up pay $65 per person for the cheapest 2-5-hour package without spending time at Crab Island. Packages that include Crab Island are $75 per person for 3 hours or $85 per person for 4 hours.
Final Thoughts on Things to Do With Kids in Destin, Florida
Well, we did say that it wouldn't be easy to decide what to do while you're in Destin. You might have to vote or draw favorites out of a hat because there are so many things to do in Destin, Florida, with kids.
We've listed many things to do in Destin, Florida, with kids. However, what you ultimately choose to do may depend on your mood:
For a day on the water: choose Big Kahuna's, Henderson Beach, a Sea Blaster dolphin cruise, a Buccaneer Pirate Cruise, or a Crab Island Adventure Tour
For experiences with animals: choose the Gulfarium, Henderson Beach, a Sea Blaster dolphin cruise, or a visit to Gator Beach a Fudpucker's
To enjoy the scenery: head down to Destin Harbor Boardwalk or Henderson Beach
For land-based adventures: go to Big Kahuna, the Track Family Recreation Center, Wild Willy's Adventure Zone, the Maximum Magic Show, or Fat Daddy's Arcade
To learn about local history: try out the Destin History and Fishing Museum or Indian Mound Museum
Where will you go?
More about our TFVG Author
A seasoned traveller, Dad, and avid sports tourist, James foundered The Family Vacation Guide to share his expert vacation experiences- especially when it comes to being a travelling family man.
Featured in Travel articles such as Travel + Leisure, TripSavvy and SFGate, you know you're reading some of the best vacation tips online.