Jacksonville is Florida's largest city, and it sits on the Atlantic Coast. Not only is it the largest city by population in the state, but it's also the biggest by area too. This expansive city is filled with beaches, parks, museums, and other fun things for you and your kids to do when you visit.
No matter what interests you and your children have, you'll find something to occupy your time here. Before you load up the kids and head out, explore the following 15 best things to do in Jacksonville, FL, with kids.
Wander the Jacksonville Zoo and Gardens
The Jacksonville Zoo and Gardens sits on the mouth of the Trout River and spans about 122 acres. You and your children will be able to see over 2,000 animals and 1,000 species of plants as you walk around.
This zoo is one of only seven in the country that has an animal wellness team on staff, so you can rest assured they treat all their animals with the best care. They have animals from almost every corner of the world for you to see and learn about.
Some of their most popular exhibits are their African Lions, elephants, bald eagles, alligators, zebras, and otters. They have dozens of birds, frogs, and other fascinating creatures to see. Some, you probably won't ever see again.
If you get hungry as you're walking around the zoo, they have a few dining options. A popular one is their restaurant on the river. Every dining option offers kid-friendly menu items and beer and wine for the adults.
Before you head out, back to your hotel, or another activity, why not pop into their gift shop. You can get yourself and your kids something to remember the trip by. Kids love their stuffed animals based on animals within the zoo, but they have shirts, cups, and other souvenirs too.
Spend a Day on Atlantic Beach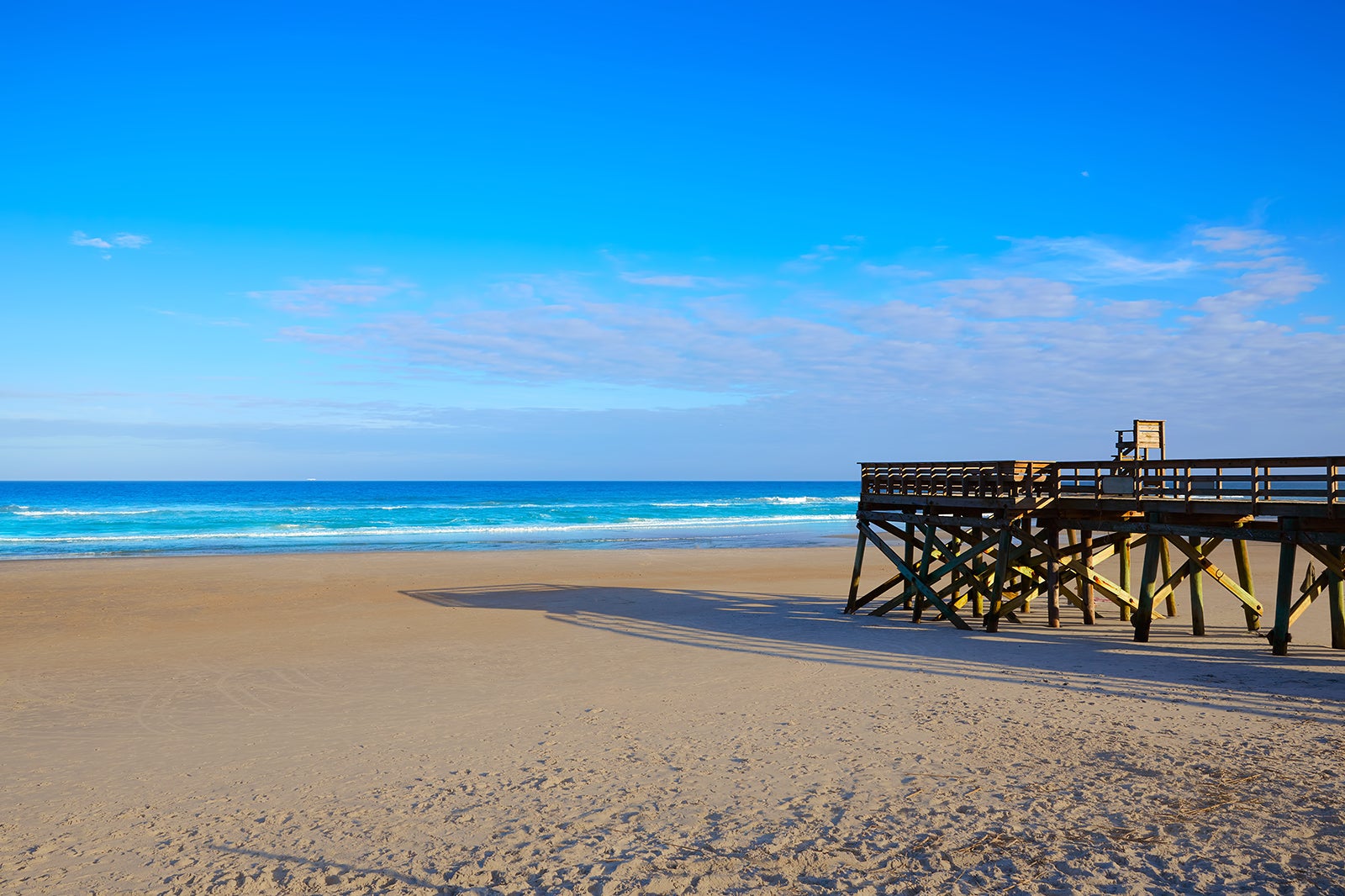 Atlantic Beach is part of the Jacksonville Beach community and one of the most popular for tourists and locals alike. This beach is relatively calm, and you and your kids will both enjoy soaking up the Florida sun.
This beach area has several shops where you can pick up sandcastle building tools, chairs, towels, or anything else you may need if you didn't bring it yourself. Once you make your way to the sand, you can pick a spot and post up for the day.
The Atlantic Coast of Florida tends to have higher surf than the Gulf Coast, but that doesn't mean your kids can get in the water. Of course, use caution, but there are always lifeguards on duty at Atlantic Beach.
It's not uncommon to see people bodyboarding, surfing, and playing in the water here. Some people rent jet skis, while others prefer to relax in the sand all day. Regardless of how you like to spend your beach days, you'll love Atlantic Beach.
Since this is a beach area, you'll find delicious restaurants you may want to stop at for some delicious seafood as you leave the sand.
Shop at the Jacksonville Farmers Market
The Jacksonville Farmers Market first opened in 1938 and has been going strong ever since. Many markets like this are only open on weekends, but something we love about this one is that they're open every day of the week, except on major holidays.
On a typical day, there are around 100 vendors at this market for you to explore. Many of them have fresh fruits and veggies for you to sample and purchase. Even if you're travelling, grabbing some fresh fruit is the perfect snack for you and your kids.
Other vendors sell local honey, speciality cheeses, seafood, and more. Even if you don't plan on buying anything, walking around the Jacksonville Farmers Market is a great way to spend a few hours and burn off some energy.
Most people enjoy wandering around and finding vendors on their own, but if you like to know where everything is, you can find a vendor map on their website.
Tour the Kingsley Plantation
If you head to Fort George Island, you'll find the Kingsley Plantation. In the 18th and 19th centuries, many people flocked to Florida, including Zephaniah Kingsley. The plantation was named after him, and you and your kids can walk through the property while visiting Jacksonville.
You and your kids can walk through the property without a tour guide, or you can opt for an audio tour that will tell you more about the plantation's history at each stage. The property has the owner's house, slave quarters, a barn, the kitchen house, and it's along the waterfront.
Much of the original buildings are preserved as much as possible. Preservation efforts are happening so you and other visitors can see as many of the original buildings as you can. One of the best things about visiting the Kingsley Plantation is that it doesn't cost anything to visit.
Visit the Museum of Science and History (MOSH)
The most visited museum in Jacksonville is the Museum of Science and History, affectionately referred to as MOSH. The exhibits here focus on science and Jacksonville and Florida history. They have several core exhibits and various travelling ones.
A popular core exhibit is one where your kids can learn all about the human body and the different organ systems. It's interactive, so while it's educational, it's still fun. Other exhibits showcase the natural wildlife in Florida and marine life on the East Coast.
An exhibit that most kids really love is their space exploration one. Here they'll learn all about our solar system and other facts about space.
When you and the kids need a break from being inside, you can wander to their native plant courtyard. It's a beautiful space with several plants that are native to Florida.
Something to keep in mind if you're planning to visit this museum is that they don't have a cafe or restaurant on the property. You're welcome to bring snacks with you, but if your kids will get hungry when you're here, you may want to plan around meal times or step out for lunch and then come back.
See the Animals at the Catty Shack Ranch Wildlife Sanctuary
Even if you make going to the Jacksonville Zoo a priority when in the city, you won't want to miss another chance to see beautiful animals. The Catty Shack Ranch Wildlife Sanctuary is a space for rescued exotic big cats to live a safe and healthy life.
Many of the animals housed here are endangered, so their preservation is a goal of the sanctuary. You'll be able to see lions, tigers, pumas, and other big cats. You can go on a self-guided tour of the property or choose to have a guide.
Having a guide is popular because they talk to you about the species and the cats individually to get to know more about them. If you want to see something truly memorable, you can book a feeding tour where you'll get to see staff feed these majestic creatures a meal.
They have a thrift store near the entrance and exit to buy souvenirs. Every purchase, including your tickets, goes to the animals' conservation and medical care. So, while you're getting something to remember your trip, you're also helping this non-profit.
Kayak Through Downtown
Going on a kayaking excursion through downtown Jacksonville is an excellent way for the adventurous family to spend time in the city. You'll have a guided tour to help you navigate through the St. Johns River. You'll have unparalleled views of the Jacksonville Riverwalk and other large buildings that make up downtown.
They'll talk to you about various buildings and other fascinating things to learn about Jacksonville. You may even get lucky enough to see dolphins swimming in the river.
When you book a kayaking tour with Kayak Jacksonville, you get life vests, paddles, and the kayak for the price of your ticket. If you and your family have been kayaking before or consider yourselves intermediate paddlers, you'll have little to no trouble with this excursion.
For beginner paddlers, this may not be the best. But don't worry. They offer a War Canoe tour, a large vessel that can carry up to ten people and allows you the same views s you would traditionally paddling through the river.
Tour the Museum of Contemporary Art
The Museum of Contemporary Art is in downtown Jacksonville and offers several permanent and temporary exhibits for you and your kids to view. The museum is a non-profit that strives to educate and showcase artwork from no further back than the 1960s.
Inside the Museum of Contemporary Art, you'll find six galleries with beautiful artwork. In addition to viewing the various art pieces, you'll be able to learn more about the artists who created them and what inspired them to do so.
The University of North Florida partners with the art museum regularly. The college has a specific gallery on the fifth floor where they showcase a student artist and their works. It's a great way to see new talent emerging before your eyes.
While art museums may not be the most exciting thing for every kid, this contemporary art museum has a children's area that they can play in while you explore. They even offer tours catered more towards families with kids to encourage them to learn more about art and how it impacts people.
Spend Time at Fort Clinch State Park
To escape the bustling city for a little bit, you can head to Fort Clinch State Park. The park is the perfect combination of nature and history so you and your kids can enjoy the fresh air while learning about the area's past.
The park encompasses 1,100 acres, with a large 19th-century fort on the premises. The park gets its name from the fort, Fort Clinch. This fort was a pivotal spot during the Civil War. You'll see old cannons pointing across the river into Georgia and large brick buildings.
If you happen to be in Jacksonville on the first weekend of a month, you can head to the park to watch reenactments of the cannons firing and other battlefield acts.
Besides touring the fort, there are miles of trails for you to explore. Some people love to head to the beach, while others are more secluded in the woods. Many families love walking to the beach and hunting for shark teeth in the sand since you can find them here easily.
We recommend bringing a picnic to enjoy while you're here. There are several grassy areas and picnic tables for you to choose from. You can also enjoy other activities like birding, fishing, biking, and more while at the park.
Shop Around St. Johns Town Center
An easy activity to do with your kids in Jacksonville is to walk around St. Johns Town Center. It's an open-air mall that opened back in 2005. It's a beautiful mall with over 150 stores for you and your kids to explore.
The outdoor mall features fountains, a food court, and plenty of places to sit and relax throughout your time there. Even if you're not planning on buying a lot of stuff, it's a fun and easy thing to do with your kids in the city.
There are also several dining options to choose from. You can hit the quick service places or choose a place where you can sit down and enjoy a meal as a family. They have everything from Italian to Chinese and everything in between. You won't want to miss stopping at the chocolate store for the kids, and yourself, before you leave.
Walk Along the Riverwalk
One of the best free activities to do with your kids in Jacksonville is to walk along the Riverwalk. They have a network of paths along the river within the city, all starting at different points. There is the Southbank Riverwalk, Northbank Riverwalk, and the Riverwalk Brooklyn Jacksonville. The Northbank Riverwalk begins in the town, and the Riverwalk Brooklyn Jacksonville is at a park just west of downtown.
Each entrance or riverwalk is a paved path where people can bike, walk, jog, or rollerblade. The Southbank Riverwalk is the most popular and the perfect spot if you want some of the city's best views. This path offers the best views, and several pieces of artwork line the route.
It's not uncommon for these areas to be heavily crowded on lovely days and weekends. You and your kids can come for a walk to take photos of your trip or rent bikes and pedals along the route. You may get to see some marine life in the St. Johns River and the riverboats that sail along it.
The riverwalk is open 24 hours a day, so you can wake up early to see the sunrise if you want, go at night after dinner, or in the middle of the day when you just need to burn off some energy.
Learn and Play at the Hands-On Children's Museum
A museum that your kids will surely love is the Hands-On Children's Museum. It's a museum dedicated to children and getting them to participate in various activities. They'll love playing, and you'll love watching them have the time of their lives.
They have all sorts of exhibits for your kids to play in. With over 20 different displays, your kid will find something they love.
Some popular interactive exhibits include their radio station, fire station, grocery store, and castle where they can be kings and queens. The grocery store mimics a real-life version with products on the shelves that they can purchase or practice working at one.
The fire station allows the kids to pretend to be firefighters. They can slide down the pole, wear fire hats, and pretend to drive the truck. They even have an exhibit where your kids can be veterinarians and take care of animals.
One of the best things about this museum is that it encourages learning and play and provides an environment where your kids can meet other kids and practice socializing.
Enjoy Family Time at the Batt Family Fun Center
For a family day of fun, there's no better place in Jacksonville than the Batt Family Fun Center. This center caters to families with almost any age of children. If you're looking for a way to beat the Florida heat or avoid the rain, this is the perfect place because it's entirely indoors. There are several things for you and the kids to do here that will last the entire day or as long as you want.
One of the main reasons people head to the Batt Family Fun Center is to bowl. For children and families, this can be exciting. You can bowl your hearts out while eating pizza and drinking soda. It's a simple yet fun thing to do with the kids.
The center has more than just bowling, though. They have an arcade that your kids will love and billiards for you to play while they try to win tickets in the arcade. You're more than welcome to join them in the arcade, though, to win as many tickets as it takes to get the prize they want.
You can also go mini-golfing or play laser tag in the building. The mini-golf course is entirely inside, so you can still play even when it's raining, unlike other miniature golf courses. These holes feature castles, robots, and more.
Last but not least, you can't forget about laser tag. It's better for older kids, but you can battle it out to see who the last one standing is.
Watch a Jaguars Game at TIAA Bank Field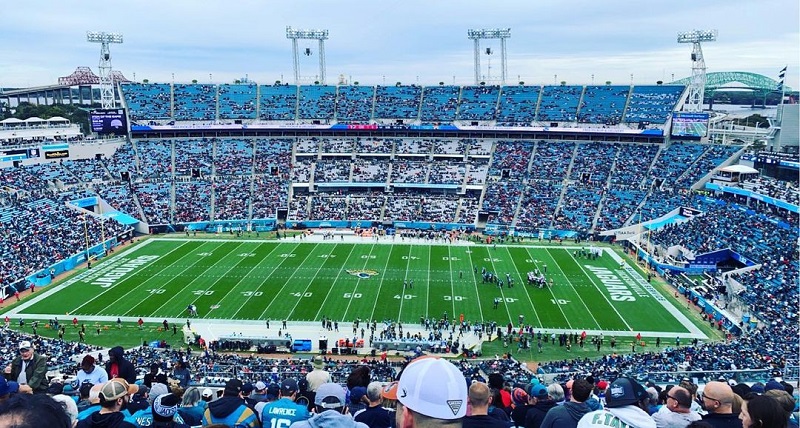 If you happen to be in Jacksonville during football season, checking the Jaguars' schedule and seeing them play a game is a fun thing for you and the kids to do. Even if you're not a Jaguars fan, the stadium and seeing the game is a great experience to share with your family.
The stadium is right in downtown Jacksonville so you can walk around the city before or after the game with ease. TIAA Bank Field has plenty of food and drink options for you and the kids to enjoy while you watch the game. 
Even if you're not in town during football season or when the team plays at home, you can take a tour of the field. It's a unique experience that you can't get anywhere else. The stadium hosts events throughout the year too. You can check online to see if anything's going on that intrigues you as well as the football schedule.
Visit the Beaches Museum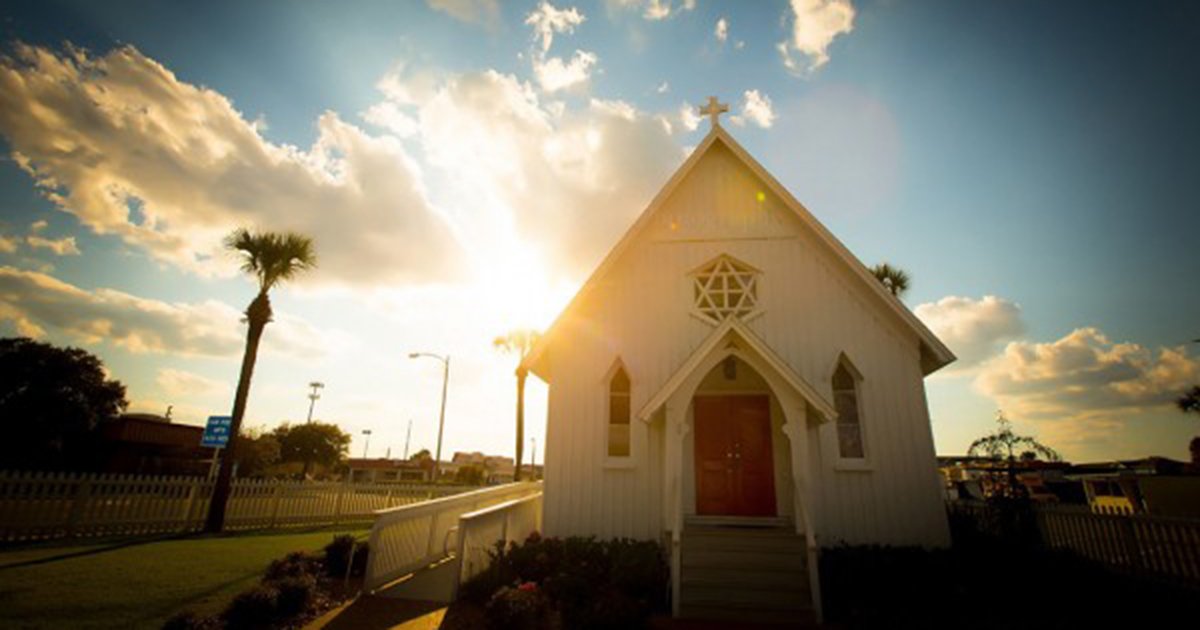 Another great museum to visit while in Jacksonville is the Beaches Museum, housed in a beautiful pale yellow beach house. Florida is home to hundreds of beaches, and several are near the Jacksonville area, so this museum is the perfect place to learn about the local area.
The museum showcases exhibits about the region's past, the beaches, and other things of historical importance from the beach area of Jacksonville. Many of the exhibits are permanent, but they include a few temporary ones here and there.
The Coastal Forest exhibit is one of their most popular. It's relatively new to the museum and showcases the beautiful artwork by Kristin Cronic and how the coastal regions are so important to Florida.
Another famous exhibit features the progress women have made when it comes to sunbathing on beaches. From not being allowed to the attire they once wore, it shows women's empowerment and their relationship to the beaches. 
Final Thoughts
Jacksonville is a beautiful city with many parks, museums, and memories to be made with your kids. You can find educational and fun things to do around every corner.
Whether you want to spend time at one of the beaches, playing in the park, or touring the several museums in the area, you won't be disappointed in your getaway here. 
Check out these other articles about vacationing in Florida:
More about our TFVG Author
Karly is a The Family Vacation Guide guest travel contributor.