Planning a trip to Vero Beach, Florida, can be pretty time-consuming, so you'll need to consider the best places to visit if you're interested in the city's beaches and resorts. If you're on vacation with your family and kids, knowing the best places to eat is essential if you're interested in treating them to dinner after a long day.
Fortunately, you can find plenty of places to eat around the city that offer family-friendly settings and tasty food for your youngest family members.
Check out our list of the best Vero Beach restaurants for families with kids if you don't know where to start narrowing down your search.
1025 Beachland Blvd, Vero Beach, FL 32963
One of the best Vero Beach restaurants offering a lovely oceanside view is Mulligan's Beach House, located inside Holiday Inn & Suites. It has a casual, airy atmosphere, perfect for enjoying breakfast or a seafood dinner. They also have outdoor seating and live music throughout most of the week. Kids can eat for free every Thursday when ordering an adult meal and a kid's drink.
Enjoy their burgers, steaks, beach house bowls, pasta, flatbreads, seafood, Reubens, and beach house BBQ dishes with a refreshing beach house cocktail or wine. They also offer a wide selection of creative bloody marys to pair with their breakfast dishes.
917 Azalea Ln, Vero Beach, FL 32963
One of the best Vero Beach restaurants offering outdoor dining for families is Casey's Place, across the street from Sea Turtle Inn. You can find plenty of tables on their patio at this casual and retro destination. It's also a short distance from the beach, so you can pick up a breakfast sandwich or burger and be on your way.
They serve quality burgers, hot dogs, cold and hot deli sandwiches, salads, and customizable grilled chicken sandwiches. They also offer hot dogs, corn dogs, grilled cheese, PB&J, and chicken tenders for kids. Don't forget to order a side of Cajun or chili cheese fries with your meal.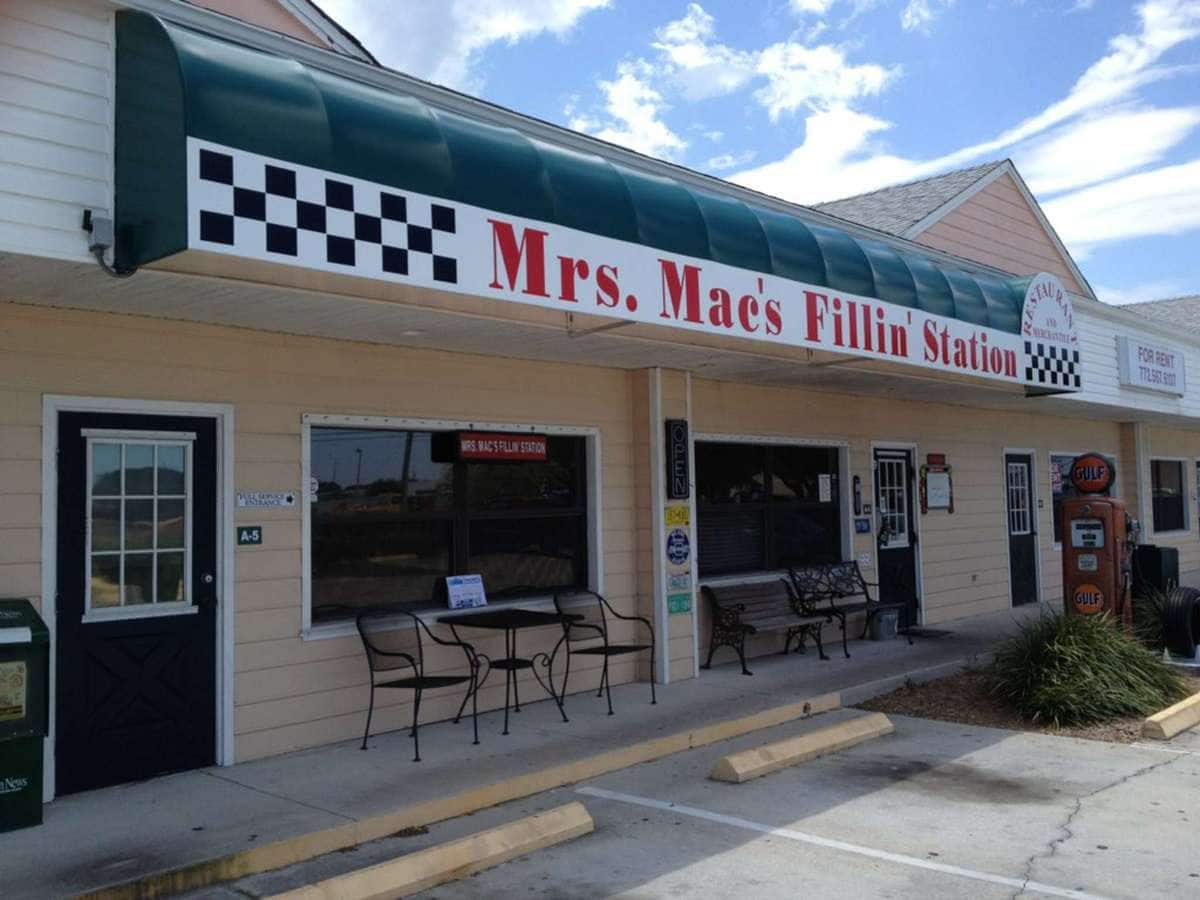 951 Old Dixie Hwy, Vero Beach, FL 32960
If you're in the mood for enjoying breakfast in a vibrant, old-school setting, Mrs. Mac's Fillin Station is your best option for the quality food to start your morning or afternoon in style. The checkered pattern tablecloths and gas station aesthetic give the restaurant a creative touch.
If you prefer something lighter for breakfast, you can try their oatmeal, cream cheese bagel, or biscuits & sausage gravy. We also recommend their Philadelphia steak sandwiches, hot dogs, burgers, pita sandwiches, or homemade chilli for lunch. You and your kids can enjoy these dishes with a refreshing juice, soda, iced tea, or chocolate milk.
3414 Cherokee Dr, Vero Beach, FL 32960
Located inside Vero Beach Regional Airport, C.J. Cannon's is your best option for enjoying tasty American and Southern-style dishes. Its casual, homey atmosphere is perfect for lovely runway views as planes take off or land. They also have a lounge with TV screens for watching local sports and a banquet room for private gatherings.
Their lunch menu has an extensive selection of salads and sandwiches. You can also sample their signature steaks, seafood, Southern, BBQ, poultry, and Italian cuisine for dinner. If you're dining with your family, be sure to start with their chicken wings, onion rings, or chicken nachos.
89 Royal Palm Pointe, Vero Beach, FL 32960
Surprise your kids with a tasty seafood dinner by the water by taking them to Crab Stop of Vero Beach, a casual and humble dining establishment near Royal Palm Jewel. Their Maryland-style garlic crab and crawfish offer some of the best flavors on this side of the city.
If your kid loves seafood, let them order Crab Stop's fish and shrimp combo. They serve amazing crab cakes, king crab legs, lobster, and fried shrimp. They also offer fried fish sandwiches and wings with the sauce of your liking. If you're stopping by the bar for their house martinis, get your kid a Shirley Temple to wash down their dinner.
1006 Easter Lily Ln, Vero Beach, FL 32963
If you're having trouble finding beachfront Vero Beach restaurants for families with kids, Nino's Cafe is the best place to consider visiting. This casual pizzeria embraces its beach-themed atmosphere by serving quality Italian cuisine and NY-style pizza to anyone looking for something hot to eat. Their patio offers a nice view of the ocean and Humiston Beach Park.
You can create a custom pizza with your family's favorite toppings or choose one of their gourmet pies. Try their ravioli, manicotti, shrimp parm, or rigatoni if you're extra hungry. Ask your server for a pizza with cauliflower crust if you prefer gluten-free dishes.
1932 14th Ave, Vero Beach, FL 32960
Enjoy the best Southern cuisine in Vero Beach's downtown district by booking a family dinner reservation at Southern Social, a rustic-chic destination for fine dining with great hospitality. They also offer a wide selection of cocktails at their bar to make any night out more engaging.
Their veal meatloaf, shrimp & grits, chargrilled rack of lamb, and short rib pot roast are some of their most popular menu options. They also offer vegan supper dishes and lighter options for lunch. Enhance your meal's flavors with their tasty Wicked Walnut or Spring Thyme handcrafted cocktail. Don't forget to order their fried Oreos or banana pudding for dessert.
3149 Ocean Drive, Vero Beach, FL 32963
If you're having trouble finding somewhere to grab a quick bite to eat during your time at the beach, Cravings might have what you're looking for. This casual care offers tasty sandwiches, but their primary specialty is fresh baked goods. You can also enjoy their ice cream in their outdoor dining area.
Their kid's menu offers plenty of sandwich options, from turkey and cheese to peanut butter and honey. Treat yourself to their sweet breads, cookies, or cake if you aren't in the mood for a croissant, egg sandwich, or salad. Beat the heat with their ice cream sandwiches, shakes, or a scoop of one of their 24 premium flavors.
1327 21st St, Vero Beach, FL 32960
One of the best Vero Beach restaurants for sampling the city's best burgers is The Edgewood Eatery, west of the Altona Heights neighborhood. Its casual atmosphere is ideal for enjoying tasty local and global menu options, especially after spending a day at the park, beach, or shopping centers.
Consider starting with their Korean-style chicken wings to share with your kids. Their best burgers are their French, Smokehouse, Diablo, and Cobia variants. They taste great with a cup of coffee or a serving of draft beer. If you're looking for something else to eat, they also serve several trademark house specials, like Pad Thai.
1802 Old Dixie Hwy, Vero Beach, FL 32960
You can find Station 49 in the heart of Vero Beach's downtown district, just north of McKee Botanical Gardens. This casual, family-friendly pizzeria offers wood-fired Neapolitan pizzas and other Italian specialties for anyone craving cheesy goodness. They're also open all week for lunch and dinner.
Their best pizza options are their BBQ Smoked Chicken, Sweet + Spicy, NY Classic, and Arugula Salad pies. They also have plenty of pasta dishes for dinner and sandwiches for lunch, like their grilled cheese and chicken griddle.
Once you're done with your meal, consider having their gelato, sorbet, cannoli, or cinnamon-toasted ice cream sandwich for dessert.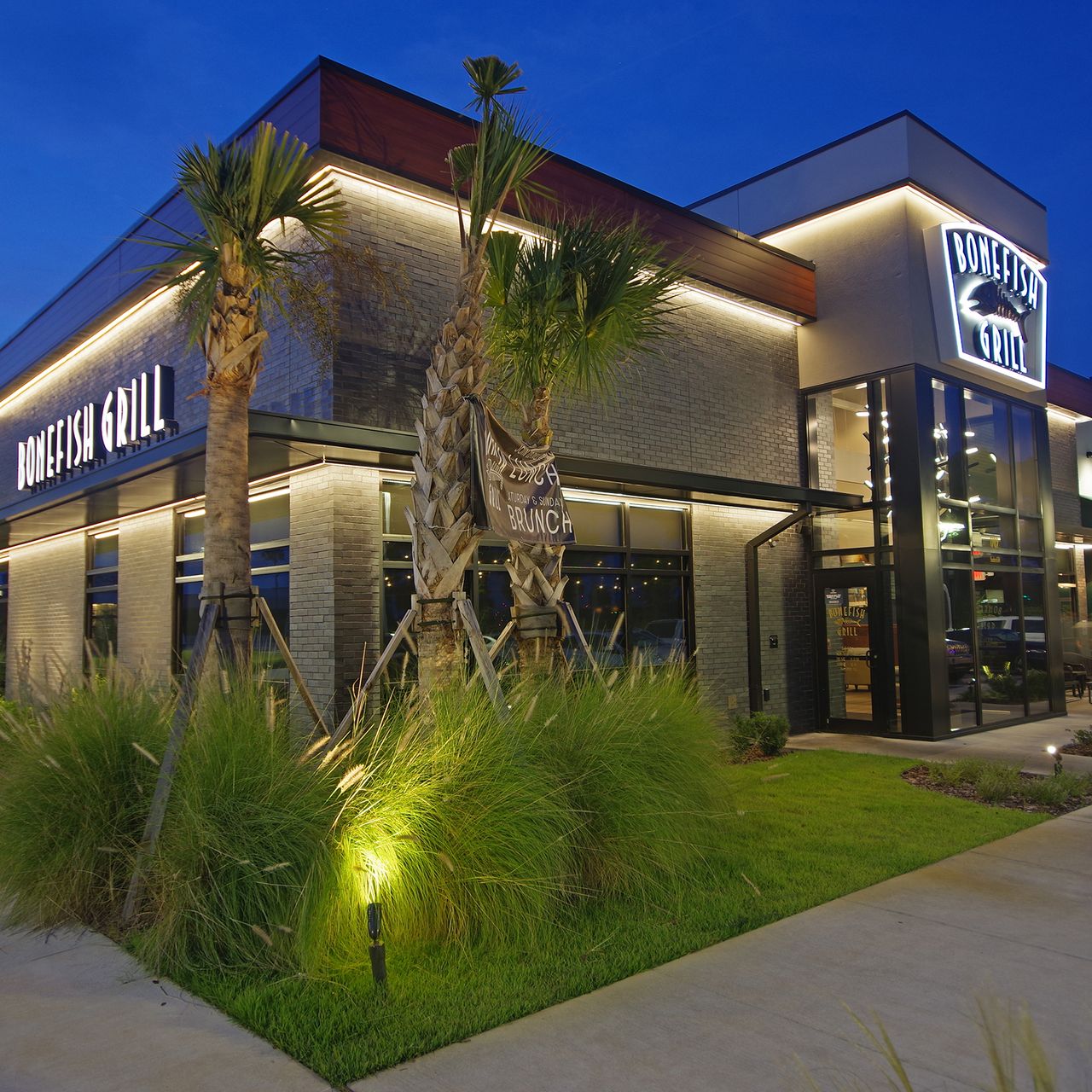 2075 Indian River Blvd, Vero Beach, FL 32960
We consider Bonefish Grill one of the best Vero Beach restaurants for families with kids because of its modern yet warm vibes and flavorful seafood menu. You can find it in the 3 Avenues Shopping Center.
If you're in the mood for seafood, your best dinner options are their grilled rainbow trout, crispy fried shrimp, cold water lobster tails, or Atlantic salmon. But, of course, they also have steak and chicken dishes. Don't forget to browse their drink list for a martini or cocktail to pair with your entree. Their best kid's menu items are popcorn shrimp and chicken tenders.
1415 16th St, Vero Beach, FL 32960
Within walking distance from Citrus Bowl Stadium, Heavenly Wings is your best casual eatery for enjoying the best wings in the neighborhood. It's a go-to destination for Super Bowl Sunday, but it's great for families looking for a menu with variety.
Their buffalo wings are always fresh, never breaded or frozen, and are available in different sauces. They also offer fried fish, breaded butterfly shrimp, and hot or cold subs for anyone looking for something else to eat.

If you prefer taking your boneless or buffalo wings to go, Heavenly Wings offers family packs with a wide selection of sides.
713 17th St, Vero Beach, FL 32960
Consider treating your family to authentic Japanese and Thai food by booking a reservation at Sumo House if they want to try something new. It has a warm and colorful ambiance, perfect for ending any night with the city's best flavors.
Sumo House offers plenty of dining options, including traditional tapas and sushi. Enjoy their Teriyaki Salmon, Volcano Shrimp, Pad Thai, or Salmon Chu Chee for a night of bold flavors. You can also sample their wide selection of sushi rolls. Their kid's menu features a few tempura and teriyaki entrees. Finally, enjoy their vanilla, green tea, or red bean ice cream for dessert.
29 Royal Palm Pointe #1, Vero Beach, FL 32960
La Tabla | Food + Juicery is one of the healthier options on our list of the best Vero Beach restaurants for families. It's small and has a relaxed vibe. They incorporate several international flavors into their dishes to ensure authentic flavors and promote healthier nutrition. Guests also have a lovely view of the riverside.
You can count on La Tabla's menu for your Vero Beach breakfast and lunch cravings. Their protein shakes are gluten-free and vegan-friendly and taste great with La Tabla's acai bowls, sandwiches, salads, and paninis. You and your family might also enjoy their organic coffee or fresh juice blends.
2263 14th Ave, Vero Beach, FL 32960
Beach Bum Bagel Cafe is an excellent dining destination when you're in the mood for gourmet bagels for breakfast or lunch. It has a relaxed atmosphere, contrasted by its colorful interior. You can also order their bagels in bulk if you prefer to bring extra ones home.
Their bagels come in several flavors, but your kid might love the chocolate chip and asiago ones the most. Enjoy their bagels with butter or cream cheese if you're not interested in their open-face bagel and lox. They also offer eggs, omelets, burgers, cheesesteaks, or salads if you're looking for something else to enjoy.
6070 20th St, Vero Beach, FL 32966
Immerse yourself in a casual, country setting when taking your family to Bob Evans for a meal at any time of the day. You can find this restaurant nestled within Indian River Mall. You can expect farm-fresh entrees, excellent service, and a warm, welcoming vibe whenever you visit.
Bob Evans has one of the most extensive menus in Vero Beach, from steak and seafood to hotcakes and turkey. Their kid's menu also has plenty to offer, especially when they're in the mood for country-style hotcakes. If you're craving dessert, try their cherry, chocolate peanut butter, triple berry, or double-crust apple pie.
Conclusion
A trip to Vero Beach isn't complete without enjoying something tasty to eat after spending a day in the sun or visiting the city's top attractions. You can find plenty of places suitable for a fun night out with your kids for any occasion. From casual eateries in the heart of the city to restaurants with views of the Atlantic, you're bound to find unique places to enjoy the best flavors in town.
We hope our list of the best Vero Beach restaurants can help you narrow down your top options if you're interested in finding somewhere new to eat.
More about our TFVG Author
A seasoned traveller, Dad, and avid sports tourist, James foundered The Family Vacation Guide to share his expert vacation experiences- especially when it comes to being a travelling family man.
Featured in Travel articles such as Travel + Leisure, TripSavvy and SFGate, you know you're reading some of the best vacation tips online.