Volcano Bay is an exciting and innovative water theme park. It's one of Universal Orlando's three parks, and it's a wildly popular Florida attraction.   
Are you planning to visit Volcano Bay? Like any other park, it has its own rules. While Volcano Bay has plenty of restaurants and concession stands, you may be wondering whether you can bring your food. Is bringing in outside food and drink permitted at Volcano Bay?
Yes, You Can Bring Food Items into Volcano Bay
You'll be pleased to learn that you can bring food items into Volcano Bay. Let's find out about all the outside foods and drinks you can bring into this water theme park.
List of Foods You're Allowed to Bring Into Volcano Bay
Here are the foods and drinks Volcano Bay permits you to bring into the park.
Snacks (as long as you don't have to heat them)
Bottles of water (up to 2 liters)
Foods you need because of special dietary requirements
Foods and supplements you need for medical reasons
Baby formula
Baby food
If you need a carrier for your food and drinks, use insulated bags made of soft materials. They shouldn't exceed 8.5 inches in width, 6 inches in height, and 6 inches in depth.
Can You Bring Sandwiches Into Volcano Bay?
Yes, you can bring small sandwiches into the park. There's one caveat, though: they must not need refrigeration.
So make your sandwich with ingredients that don't need refrigeration. It gets hot in Orlando during the summer. Some sandwiches are likely to go bad when out of the fridge for too long.
If you think the contents of your sandwich will be fine in a cooler, though, you can bring it in. Just make sure you have a small, soft-sided cooler. Hard-sided coolers aren't allowed.
Should You Bring Food Into Volcano Bay?
So, now you know that you can bring food into Volcano Bay but there are certain limitations. But now you're wondering whether it's worth your while to bring food to this theme park. In other words, should you pack your own food or buy your food at the park?
This is a matter of personal preference. Many visitors like to buy their snacks and meals at the park, to get the full Volcano Bay experience. But there's nothing wrong with packing some snacks, as long as you follow the rules we talked about earlier.
How about getting the best of both worlds: bring a snack and enjoy a meal at one of the restaurants at this popular theme park!
Related Items Not Allowed Into Volcano Bay
Be aware that there are certain things you cannot bring into Volcano Bay. Here they are below:
No Glass Containers Permitted
You cannot carry your food or drinks in glass containers of any kind.
No Food You Have to Heat or Refrigerate
This rule is related to food safety. As Volcano Bay doesn't provide facilities to refrigerate or heat food visitors bring in, they cannot let you eat food that needs that kind of treatment. After all, you could end up with food poisoning and it would happen on their property.
No Alcohol Allowed
This is an obvious one. As a family theme park, Volcano Park doesn't want people drinking alcohol on its property. This is especially vital in a water park, where drowning may be a risk.
No Hard Shell Carriers
You won't be able to bring a carrier or cooler box with a hard shell into Volcano Bay.
No Picnic Lunches
Volcano Bay focuses on water-based adventures. There isn't the space to accommodate picnic spreads.
Other Things You Can't Bring Into Volcano Bay
As well as the few items related to food and drink we talked about earlier, there are other items Volcano Bay doesn't permit you to bring onto the property. These include:
Party decorations (unless you have a cabana rental)
Glass objects
Water guns 
Life vests
Inflatable pool noodles or rafts
Can You Buy Food at Volcano Bay?
Absolutely, yes! Volcano Bay has plenty of places to buy food and drinks. The park encourages this, and they prefer it for you to bring in outside food and drinks.
Let's explore some of the exciting places to buy delicious food and refreshing beverages in the Orlando water park, Volcano Bay.
Volcano Bay Restaurants
Here are the four Volcano Bay restaurants where you can order and enjoy meals.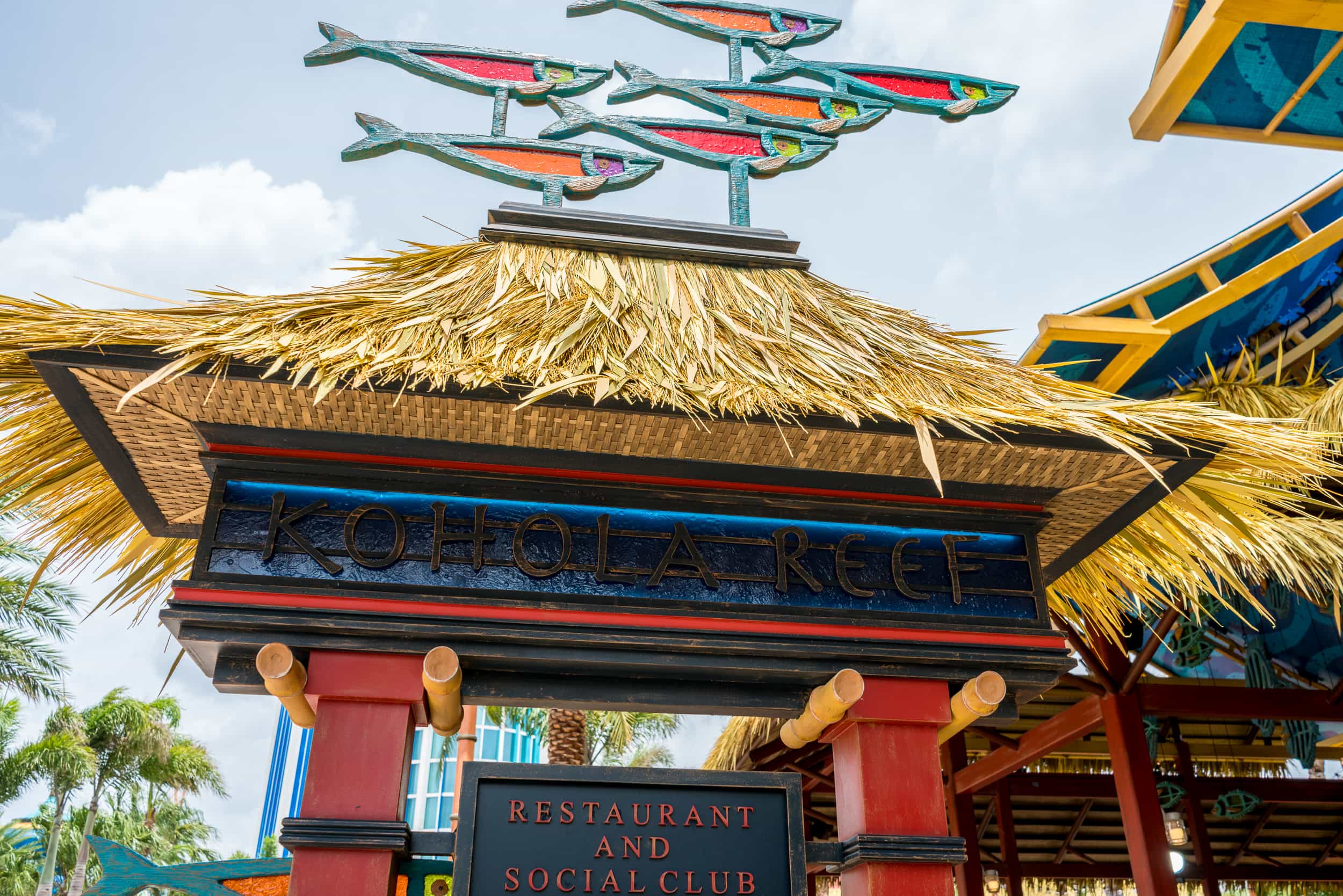 Kohola Reef Restaurant and Social Club
This restaurant is found in The Wave Village. Kohola is all about a tropical atmosphere, and it's located beside the legendary Krakatau "volcano"! Some popular options are Coconut Crusted Fried Chicken and the Mango BBQ Pulled Pork Sandwich.
The Feasting Frog
If you crave tacos in Volcano Bay, The Feasting Frog is the place to go. You'll find this restaurant in Rainforest Village. The Feasting Frog has patio seating. One of the most popular dishes here is the Poke Poke Bowl. Of course, chicken tacos are always a hit.
Whakawaiwai Eats
For a place to eat beside the river in Volcano Bay, head to Whakawaiwai Eats. This eatery focuses on tropical flavors and comfort food. This restaurant is located in River Village.
Volcano Bay Food Carts and Stands
For something more casual, pick up some tasty eats at the park's food carts and stands.
The Fish Tail
The Fish Tail is a food stand in Wave Village. It focuses on frozen beverages, churros, and pretzels.
Koka Poroka Ice Cream Kona
Craving a luscious ice cream during your adventures in Volcano Bay? Check out Koka Poroka Ice Cream Kona. This ice cream stand is situated in Wave Village.
Final Thoughts
While it's generally fine to bring food into Volcano Bay, there are restrictions. If you're like most people, you'll decide it's easier just to buy food at the park's food stands and restaurants. Enjoy your time at this exciting water park!
More about our TFVG Author
A seasoned traveller, Dad, and avid sports tourist, James foundered The Family Vacation Guide to share his expert vacation experiences- especially when it comes to being a travelling family man.
Featured in Travel articles such as Travel + Leisure, TripSavvy and SFGate, you know you're reading some of the best vacation tips online.