Anyone who has been to Walt Disney World recently knows how essential it is to have your phone on you. Not only will you want to take pictures of your family at the many photo spots, but you also need access to Disney's smartphone app.
Luckily, there are several options for charging a phone across Walt Disney World in Florida. Below, read how to catch an easy charge, all about phone chargers at the resorts, and more. That way, you can stop worrying about staying powered up, and relax with your loved ones.
Do I Need My Phone All Day in Disney World?
Some of us may fondly remember disconnecting from the real world while in a Disney park. Now, you need to use your phone all day at Disney World. For many, that means finding a way to charge your device.
My Disney Experience App
As you move through the planning process, you'll learn a lot about the My Disney Experience app. Disney has made it an indispensable tool for your visit. It is also free to download.
Disney houses all of your tickets and reservations in this app. This includes your park admission, keys to your hotel room, dining plans, park reservations, special events, and more.
The app organizes your days for you. It sends reminders and suggestions for fun things to include in your plans. It's also where you'll access Genie+ and Lightning Lane.
Genie+ and Lightning Lanes
Genie is Disney's park concierge and reservation system. If you purchase the Genie+ service, you can make ride reservations throughout your day in the park, but you'll need your phone.
With Genie+, you can make your first Lightning Lane ride reservation in the morning. As soon as you ride, or precisely two hours later, you can make your next one.
You can keep making reservations in this manner until the park closes. But you'll have a much more difficult time if your phone dies. It's the main reason why charging throughout the day is so critical.
Capturing Memories
Most people use their smartphones to take pictures and videos, so you'll need a full charge to capture your family's day.
Disney is very social media savvy and recognizes how crucial it is to have a presence of its own and reach even more people through visitors' posts. That's why many seemingly perfect photo opportunities exist throughout the parks.
Communicating
Even if you plan to remain together throughout your day, there are many reasons why families split up, even temporarily. One parent may need to take a child to the bathroom, or perhaps your older kids want to ride a thrill ride alone.
Even these tiny interruptions to your day can be significantly less stressful if you can shoot your loved ones a text when it's time to meet up again. What's more, it might become crucial if you get separated unintentionally.
Note: Many guests are under the false notion that their MagicBands contain GPS trackers or movement trackers. Disney's official stance is that they do not, and the bands cannot help locate a lost individual.
How To Charge Your Phone in the Parks and On the Go
If you've stumbled on this page while you're in the parks and need to charge, not to worry. We've got several great ways to get you to charge your phone so you can get on with your day.
Use the Phone Charger Kiosks
Other than using your power bank, the best way to charge your phone in the parks in Walt Disney World is to use their portable phone charging system.
You can visit these kiosks and purchase a charging system for $30 plus tax (as of July 2022). The kit comes with a fully-powered charger and three cords, which you may or may not need depending on your devices. You can also use your cord.
Buy the charger in the park when you need it, and then you can recharge it at night and use it daily. Alternatively, you can swap it at any of the kiosks for a new, fully charged battery, which is one of the best parts of this service.
In Walt Disney World, the kiosks are located at the following:
Magic Kingdom
Adventureland/Frontierland Breezeway
Big Top Souvenirs
Curtain Call Collectibles
Pecos Bill Tall Tale Inn and Cafe
EPCOT
Disney Traders
Gateway Gifts
Imagination
International Gateway
Mission: Space
Test Track
The Land
The Living Seas
Celebrity 5 & 10
PizzeRizzo
Rock Around the Shop
Toy Story
Tower of Terror
Vacation Fun shop
Dino Institute Shop
Island Mercantile
Disney PhotoPass Services
Singapore Sal's
Sundries
Welcome Center
You can also find kiosks at ESPN's Wide World of Sports complex and many resort hotels in the lobby or gift shop.
Find an Outlet
You can always try to find an outlet in the parks. Here are some of our favorite spots.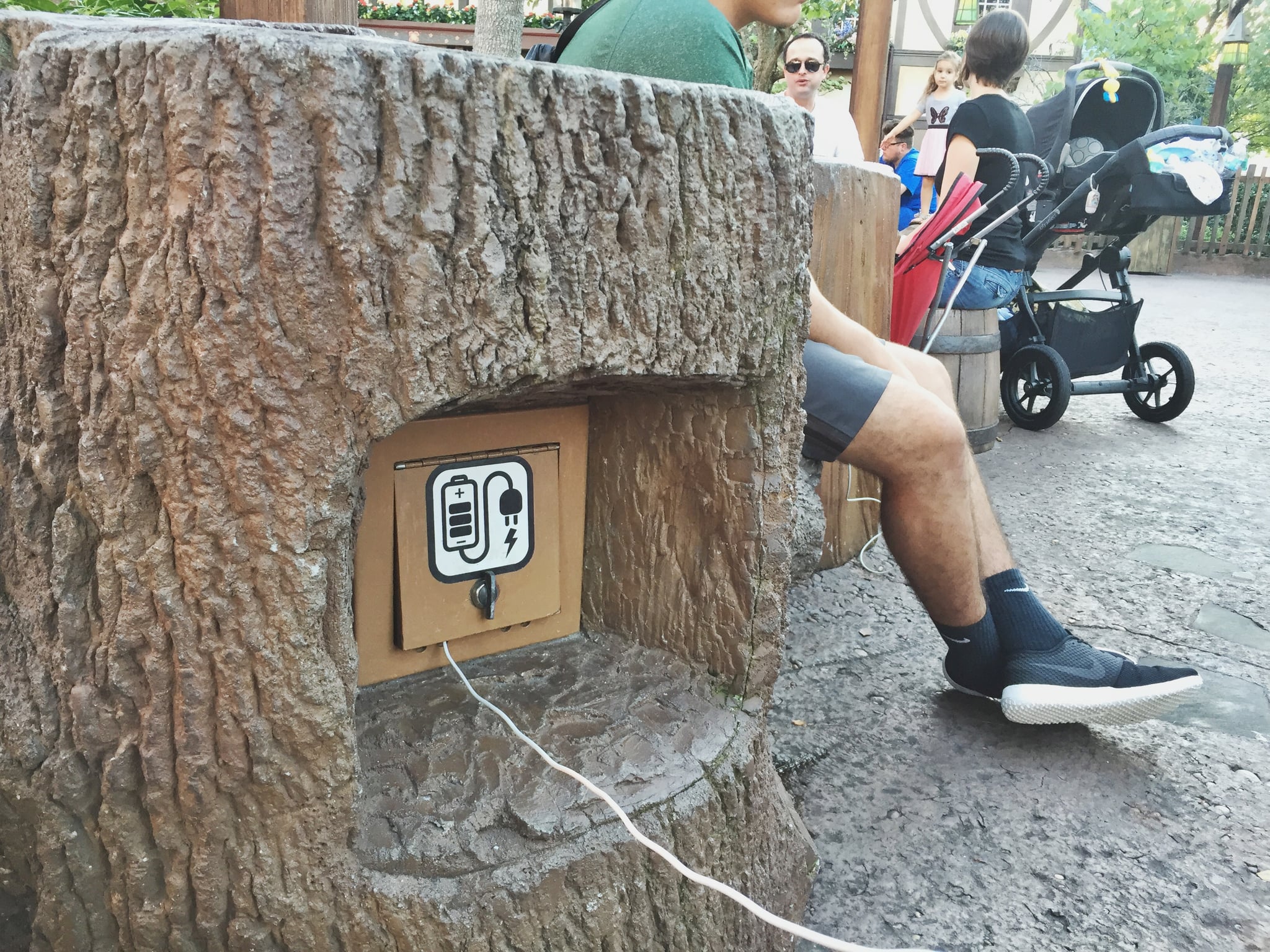 Magic Kingdom
Dumbo Tent at the back of Storybook Circus in Fantasyland: USB and regular outlets
Between Fantasyland and Liberty Square, there are hidden outlets in fake tree stumps across from the Tangled restrooms. They take regular and USB chargers
Space Mountain arcade area: regular outlets
EPCOT
The Living Seas, near the women's restrooms
The Land on the second floor
Both the Morocco and Norway pavilion have them outside
Hollywood Studios
Animation Courtyard at the Magic of Disney Animation
The ABC Commissary has one table next to an outlet
Animal Kingdom
Several tables at PizzaFari are next to or close to an outlet
Disney Outfitters: there is a single outlet on the wall outside the building
Take a Seat at a Bar or Restaurant
Many restaurants and bars have outlets available, especially if you're sitting by the wall. Ask your host if there's a table near an electrical outlet that you can have before they seat you. Check the area under the bar for outlets or chargers if you're at the bar.
If not, you can ask the server to plug your phone in for you while you eat. They're usually happy to do so, especially if you boost their tip slightly.
Leave It at Guest Relations
Guest relations will take your phone and charge it if you can part with it for a little while. You must provide the charger, but it's an entirely free service. It might be your only option if all else fails and you don't want to spend $30.
Other Ways To Snag a Charge
There are several other ways to find a charge in Disney parks. If you're a Disney Vacation Club member, you can access their special lounges, which have USB ports for guest use. You may need to be there on a DVC reservation. Similarly, members of other Disney programs may have similar benefits.
You can try asking a cast member to help you. Disney rigorously trains them to be as helpful as possible, though they may point you to the kit kiosks.
Finally, if you have a special tour or another program, the guides and facilities have been known to carry chargers or provide access.
Charging at the Resorts
If you're staying at a Disney resort, you have many options for charging. If your battery is drained by the time you arrive, don't fret. You can buy one of the charging kits at most resorts (check the lobby or gift shop).
Many resort lobbies have outlets near seating areas. There are also bars and restaurants with outlets, and most indoor guest areas have outlets.
Disney resort hotel rooms have multiple outlets and USB ports in every room. If your room has a desk, that will have a charging station. There may also be a lamp, alarm clock, or both with charging ports.
It's a good idea to bring a standard 2-prong charging converter compatible with your devices. That way, you can charge no matter what the circumstances.
Plan Ahead Alternatives
If you plan carefully enough, you can avoid finding a way to charge your phone in the parks.
Bring Your Own Power Bank
Perhaps bringing one is the best alternative when you're already in the parks. You can get a very nice power bank—cheaper than the ones the parks sell—that can charge multiple devices.
For many families, this is a better solution. What's more, you can use it on other adventures in the future.
Start With a Full Charge and Ration Throughout the Day
Another option is to begin your day with 100% battery life and ration it throughout the day. Be aware of how much battery you use and how many hours you have left.
Use Multiple Devices
Another option is to use multiple devices. Use yours for photos and the app in the morning, and switch to your spouse's in the afternoon. The other phone remains off or in airplane mode.
Charge Up for Your Day of Fun
Just as you need fuel for your day in the parks, so does your phone. However you decide to power your phone for the day, the important thing is that you utilize it to enjoy your time with your family.
More about our TFVG Author
A seasoned traveller, Dad, and avid sports tourist, James foundered The Family Vacation Guide to share his expert vacation experiences- especially when it comes to being a travelling family man.
Featured in Travel articles such as Travel + Leisure, TripSavvy and SFGate, you know you're reading some of the best vacation tips online.