With a name like the "Sunshine State," snow is probably the last thing that comes to mind when you think about Florida. This state has a reputation for its scorching climate and warm weather year-round. 
If you're making a trip to Florida for the holidays, you and your kids may be wondering, does it snow in Florida during the winter? Or should you expect a green Christmas on your winter getaway?
Here's everything you need to know about Floridian snowfall and how you can make the most of your winter vacation here in this tropical state.
Does It Snow in Florida?
In short, the answer to this question is "usually not." While snow is not entirely impossible in Florida, the chances of it happening are incredibly slim. So if you're making a trip to the Sunshine State in the winter, you should expect green, temperate weather.
Why Snow Is So Rare in Florida
Are you wondering why snow is so rare in Florida? The answer to that mainly comes down to its climate and location.
Florida is close to the equator–closer than any other U.S. mainland state. As a result, it tends to stay relatively warm year-round. Even on the coldest days of winter, the weather doesn't tend to dip below forty degrees Fahrenheit.
Snow can't fall in temperatures higher than 32 degrees Fahrenheit, so you'll have a hard time seeing a snowy day when you're in Florida.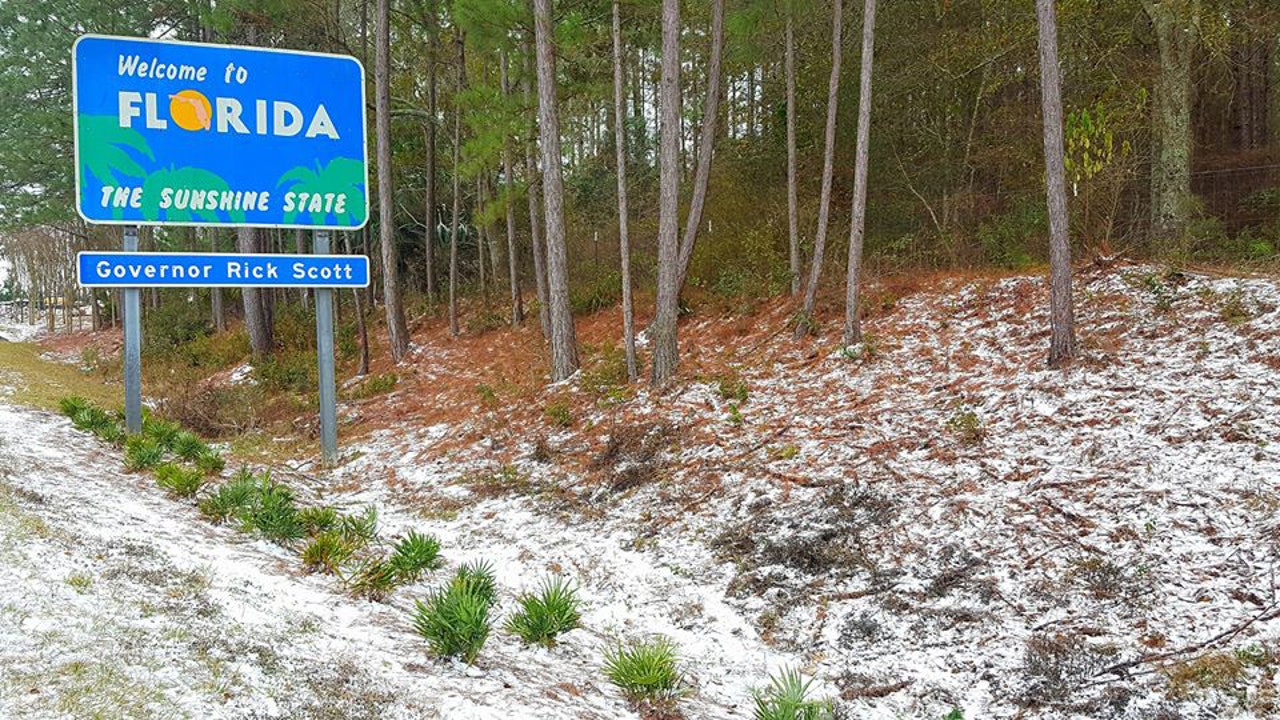 Has It Ever Snowed in Florida?
While snow in Florida is pretty rare, it would be incorrect to say that it's never happened. Believe it or not, there have been a few recorded instances of snow falling in this state, most recently in 2018.
For the best chance of witnessing snowfall in Florida, you'll want to visit Jacksonville. This city is in the northern panhandle of Florida, so it can get much colder than the southern half of this state.
Their most recent snowfall was in 2018, where they received 0.8 inches of snow! That may not seem like much, but any amount of snow in this tropical region is pretty impressive. 
The first recorded Floridian snowfall was in 1774. Unsurprisingly, this also took place in Jacksonville. People living in this area weren't familiar with snow at the time, so they referred to it as "extraordinary white rain."
The most significant Floridian snowfall in history accumulated 1.9 inches of snow. This record-breaking occurred in–you guessed it–Jacksonville.
So if you're itching for a chance to see snowfall in Florida, your best bet is to visit the panhandle.
What Is Winter Like in Florida?
Winter tends to be pretty warm in Florida. Most people who live in this state or visit during the winter won't need to pack a heavy winter coat. A light jacket should be enough to keep you warm even on the coldest days.
On the other hand, the warmest temperatures in Florida winters can be around 80 degrees! So if you'd like to go to the beach on Christmas day, Florida is the place you want to be. These scorching mid-winter temperatures are most common in the southern half of Florida, while northern Florida tends to get the aforementioned breezy temperatures.
Because of this, it's probably no surprise that so many people come to Florida during the winter. Those who are not fond of cold weather will want to spend their holiday season here–and those hoping to build some snowmen may want to look elsewhere.
How Should I Prepare for Winter in Florida?
Because Florida has some very mild winters, you don't have to worry too much about preparation. It may be wise to have some warm sweaters and light jackets on hand, however. Some scarves and other winter apparel may also come in handy.
There is also occasional sleet and frost in Florida during the winter. While it's not a common occurrence, it is much more likely to happen than a snowfall, especially if you're in the northern half of Florida.
So you may want to have a windshield scraper on hand if your car frosts over, as well as some thick rain boots and a raincoat, to keep yourself warm and dry during sleet storms.
Can I Still Experience Snow in Florida?
It's safe to say the chances of it snowing in Florida are pretty slim. However, if you've lived your whole life in this tropical state, or you simply don't want to miss out on a white Christmas during your winter vacation in Florida, don't fret! There are a few different ways you can experience the beauty of snow in the Sunshine State.
Snowcat Ridge Alpine Snow Park 
This wintery theme park is in Dade City, Florida. If you're looking for the whole winter wonderland experience without any of the hassles that come with snow, this is the theme park for you.
When you visit Snowcat Ridge, you can enjoy a variety of exciting snow-based activities. The snow may be artificial, but it's just as chilly, so be sure to bundle up and wear some mittens.
Kids will love the Arctic Igloo at Snowcat Ridge! Families can build snowmen, make snow angels, and even have snowball fights. There is also a bunny slope for your youngest children to enjoy.
Other activities include:
Snow tubing
Ice skating
Private igloo rentals
It's a great place to host a birthday party or a family get-together. After a long day of fun in the snow, you can relax at the Alpine Village food court and enjoy a hot meal. There are also fire pits where you can warm up and toast some s'mores.
Snow Machines
Are you planning to host a winter event? Good news: you can liven things up with a snow machine rental. This activity is perfect for outdoor parties that could benefit from a snowy atmosphere.
You may be wondering, though, how do snow machines work? In a nutshell, these machines crush up solid ice until it has the same texture as snow. Then, they shoot the "snow" out of a spout, allowing it to fall through the air and coat the ground below.
Rest assured that these machines are super safe. Their designs help ensure that the ice has a snow-like texture before leaving the spout, so you don't have to worry about any sharp or solid pieces of ice on the ground.
Magic Kingdom "Snoap" 
If you're traveling to Disney World this winter, you are in for a treat. You can experience a wonderful winter wonderland at the Magic Kingdom.
During the holiday season, you can expect to see plenty of festive decorations, including Christmas trees and colorful garland hanging from the street lights–and most of all, snow!
You may have heard some people refer to this fake snow as "snoap." This nickname was given to fake snow because the "snow" you will see at the Magic Kingdom is actually tiny particles of soap! So unlike real snow, you probably don't want to try eating it. However, it's just as beautiful as the real thing.
The Florida Aquarium
Are you planning on taking a visit to the Florida Aquarium? After a long day of admiring the beautiful marine life they have to offer, consider staying for their annual Snow Day.
At this unique event, you can enjoy plenty of snow-based activities. If you have a good aim, consider joining their snowball battle with terrifying pollution monsters as your target. If you're in the mood to dance, you'll want to attend their Winter Wonderland dance party.
How Can I Enjoy the Holidays in Florida Without Snow?
If artificial or manufactured snow just isn't your thing, don't fret–there are still plenty of ways to have a wonderful holiday season in Florida, even without the snow. While it may not be the picture-perfect holiday image that comes to mind, a green Christmas can be just as fun as a white Christmas.
If your kids feel sad that they won't get a snowy Christmas, there are ways to keep their holiday spirits high. For example, it may help to decorate your space with plenty of festive decors. Whether you're staying at a family's house or a theme park resort, hanging up a wreath and some holiday knick-knacks can genuinely bring out some Christmas cheer.
There are also plenty of fun holiday events that happen in Florida every year. From ice sculpture displays to gingerbread house fundraisers, there are plenty of festive activities to keep you super busy. You won't miss the snow at all.
Conclusion: Does It Snow in Florida?
Snow is so rare in Florida that anyone visiting this state should not expect a white Christmas. You can usually expect a warm winter in southern Florida and a slightly breezy yet ultimately green winter in the north.
Even with that in mind, there are still ways to experience snow when you're in this beautiful state. Whether you make a visit to a theme park or rent a snow-making machine, you and your family can have a snow day you'll never forget.
More about our TFVG Author
A seasoned traveller, Dad, and avid sports tourist, James foundered The Family Vacation Guide to share his expert vacation experiences- especially when it comes to being a travelling family man.
Featured in Travel articles such as Travel + Leisure, TripSavvy and SFGate, you know you're reading some of the best vacation tips online.