One of the first questions your kids may ask when in line at Disney World is, "Does Space Mountain go upside down?"
A roller coaster that goes upside down offers a different type of excitement than one that doesn't, so if you like to know what exactly you're getting into, this is an important question.
Here, you will learn everything you need to visit one of Disney World's top classic rides, Space Mountain.
What Is Space Mountain?
Space Mountain is a Walt Disney World attraction located inside of Magic Kingdom in Florida. You'll find Space Mountain in the Tomorrowland section of the park. Tomorrowland is one of Disney World's theme lands. Tomorrowland focuses on the concept of the future, which was one of the main inspirations behind Space Mountain.
You can easily find Space Mountain as you enter Magic Kingdom because of its giant futuristic design and dome roof. It's likely the first attraction you'll notice when you enter the park. Otherwise, you can find it between Tomorrowland Speedway and Astro Orbiter.
Does Space Mountain Go Upside Down?
Space Mountain does not go upside down. However, it does have minor drops, with its maximum slope being 39 degrees.
Space Mountain is an indoor ride with a series of drops. It tops out at 28 mph, and while it's often referred to as a roller coaster, it isn't one. However, the full extent of the ride is indoors and in the dark, which makes it just as exciting as any "real" roller coaster.
Instead, designers list Space Mountain as a "roller coaster-type" ride. That means it's technically a thrill ride that gives you a feeling similar to a roller coaster. But, no, Space Mountain does not go upside down.
Space Mountain features two tracks: Alpha and Omega. The Alpha track is approximately 10 feet longer than the Omega track.
Who Can Ride Space Mountain?
Before getting into line for Space Mountain, you'll want to ensure that you meet the ride's requirements and that it's the correct ride for your family. For example, Disney World requires all riders to be at least 44 inches tall.
The official rules state a guest of at least 14 years old must accompany anyone under seven. For safety purposes, this ride is not for riders with high blood pressure, heart, neck, or back problems.
While its drops may not be as big as some other rides, they may still be too much for younger children or those who don't enjoy that type of ride.
It's also not recommended for pregnant or expecting guests or those with motion sickness. There are also steps required to get onto Space Mountain, which may be difficult for some. If you're not sure, be sure to talk with your physician before riding.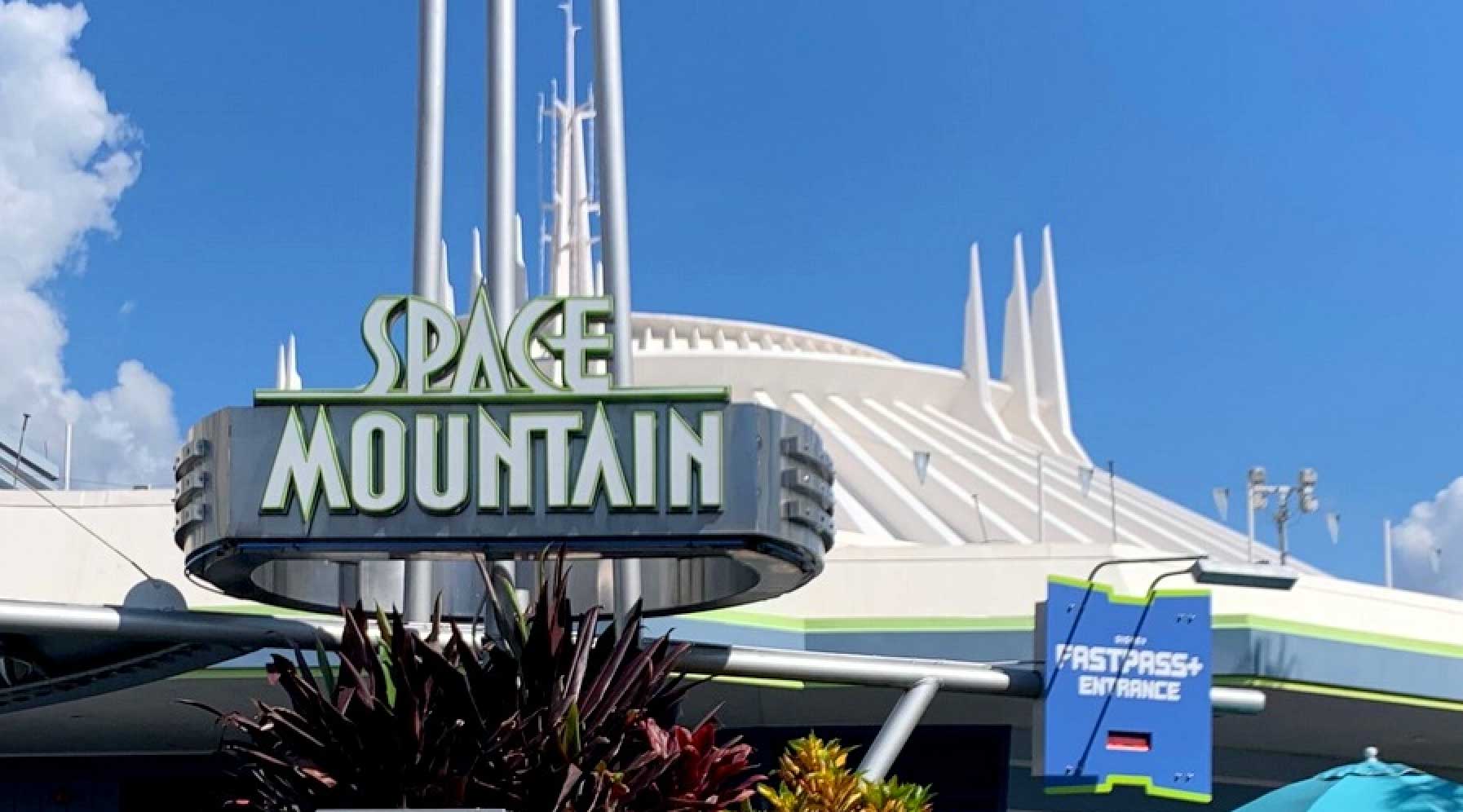 How To Ride Space Mountain
After waiting in line at one of the Disney parks, you can ride Space Mountain. Once aboard, you sit next to one person in a series of rows. Your legs tuck into the tube-like setting at the bottom of the cart. You and the person next to you will pull together on the handlebar, securing you.
The bar is the only method of securement. However, this is enough since the ride doesn't go upside down.
You must pay admission to Disney World's Magic Kingdom to ride Space Mountain. Disney World tickets start at $109 per person per day.
History of Space Mountain
Space Mountain has been one of the top attractions at Disney World since its debut in 1975, just four years after Magic Kingdom opened. Despite being one of the oldest rides in the park today, Space Mountain is still one of the most popular.
Space Mountain, including the attached building, cost Disney World more to build than the entire Disneyland theme park in California. Disneyland cost $17 million to construct, and Space Mountain cost over $18 million.
Many of the technology components of Space Mountain hadn't yet existed when designers came up with the idea. So they paused the build until they had the technology to complete their design. The inspiration behind Space Mountain came after the success of Disney's Matterhorn.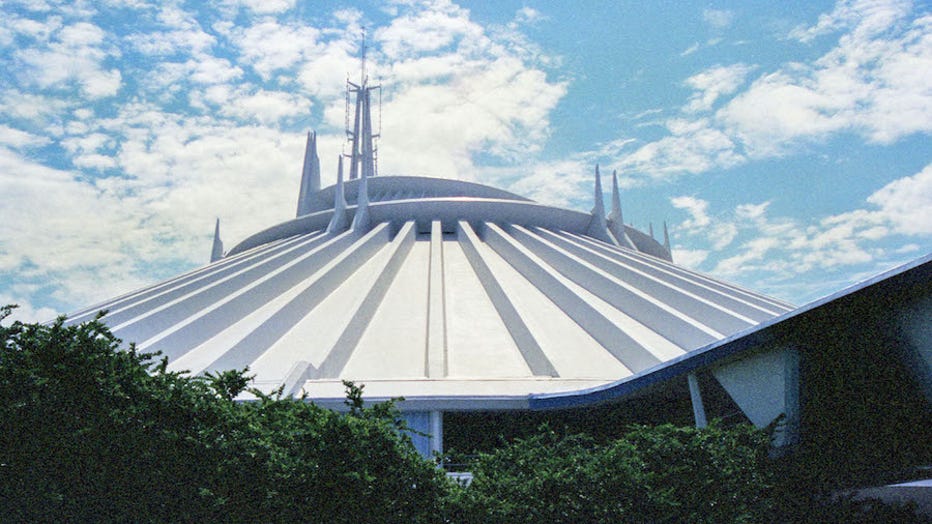 What Should I Expect From Space Mountain?
Because Space Mountain is a famous ride, it often has long wait times. It's uncommon to wait less than one hour in line for Space Mountain. The longer wait times make it even more crucial that you know what you're getting into before you get to the front of the line, including the answer to, "Does Space Mountain go upside down?"
Space Mountain is eligible for guests to skip the line with Disney Genie+. Disney no longer has FastPass, but guests can use Disney Genie+ to reserve line times. Space Mountain is one of the most popular attractions at Disney World, which means making reservations with Lightning Lane does have an additional fee.
If you stay at a Disney Resort, you can often get Lightning Lane passes for a discounted rate, sometimes as cheap as $20 per person per day. However, even with a Lightning pass and Disney Genie+ skip the line pass, availability is still subject to the time of day and demand.
You may need to reserve your spot on Space Mountain early in the morning before the parks open to ensure you get a reservation.
Space Mountain at Other Theme Parks
Space Mountain was so successful at Disney World that they also put it into other Disney parks worldwide. For example, you can find Space Mountain in the back of Tomorrowland at Disneyland in Anaheim, California.
There's also a Space Mountain in Disneyland Paris. Because the Paris park doesn't have a Tomorrowland, you'll find Space Mountain in Discoveryland. Disney in Tokyo has both a Tomorrowland and a Space Mountain.
If you find yourself in Hong Kong, you can check out Space Mountain, also in Tomorrowland.
Space Mountain was one of the first rides of its kind. Today, it's still one of the most popular rides at Disney World and lives on in many guests' memories.
More about our TFVG Author
A seasoned traveller, Dad, and avid sports tourist, James foundered The Family Vacation Guide to share his expert vacation experiences- especially when it comes to being a travelling family man.
Featured in Travel articles such as Travel + Leisure, TripSavvy and SFGate, you know you're reading some of the best vacation tips online.