A December vacation may bring thoughts of snow, sweaters, and chilly temperatures. While this is the case for plenty of American vacation destinations, the Sunshine State provides a warm getaway even amid winter.
Whether you desire to spend your days on the beach, go to theme parks, or visit with family during the holiday season, knowing what to expect with the weather for your next trip to Florida in December will be crucial for maximum relaxation and fun. 
Temperature
Florida is known for its warm temperatures and winter is certainly no exception to this stereotype. Florida is a popular winter destination for people interested in a warm-climate trip but may not be suited for the higher temperatures of summertime.
Florida weather in December has a monthly average temperature of 61 degrees Fahrenheit with an average high of 72 and an average low of 50. This range of temperatures is comfortable for the majority of people. It will especially suit vacationers that wish to escape the harsh cold of their home climate.
These warm temperatures are not exclusive to the air but extend to the ocean water. You can take a swim and spend a day at the beach even in December. While winter temperatures often limit activities available in more northern states, it only adds to the enjoyment in Florida.
The temperature of any given day depends on the humidity. If the humidity is high, even cooler days can feel warm. It's best to pack for a variety of weather conditions. Bring shorts as well as pants, and pack a sweatshirt or two just in case the nights are chilly.
Cloud Cover
Even in December, you won't have to fight for your daily Vitamin D in Florida; the average sunshine at moderate UV levels is 7 hours. This is a positive of spending your winter vacation in the Sunshine State but should be taken seriously when it comes to preparations to protect yourself such as sunscreen, hats, and sunglasses.
Depending on the activity, you may want to plan outdoor activities for the clearest parts of the day, while doing most indoor activities while the sky is full of clouds. This is because clouds will decrease the temperature just enough to where you may prefer spending your time indoors or at least bringing along a light jacket if you are going to venture outside.
Precipitation
December is one of Florida's driest months of the whole year. On average, expect only seven wet days for the entire month. A "wet" day has at least 0.04 inches of liquid or liquid-equivalent precipitation. This is ideal for vacationers who are looking forward to enjoying the warmth of Florida without the humidity and rain that are common in the region in warmer months.
The difference in precipitation from the beginning of the month to the end is negligible and can be expected to stay constant throughout no matter if you are visiting in early December, late December, or staying all month long.
Given Florida's reputation for afternoon storms and rain, it would be best to pack a raincoat or poncho, or plan on purchasing one once you arrive just in case rain is in the forecast.
Ideal Activities for Florida Climate in December
Florida is known worldwide for its beaches is no mistake. Whether you plan to visit the panhandle, South Florida, the gulf coast, or the Atlantic-side beaches, you will not be disappointed in beauty and enjoyment.
Lounging in the sun, taking a dip in the water, or walking along the sand are all lovely options for a December day well-spent.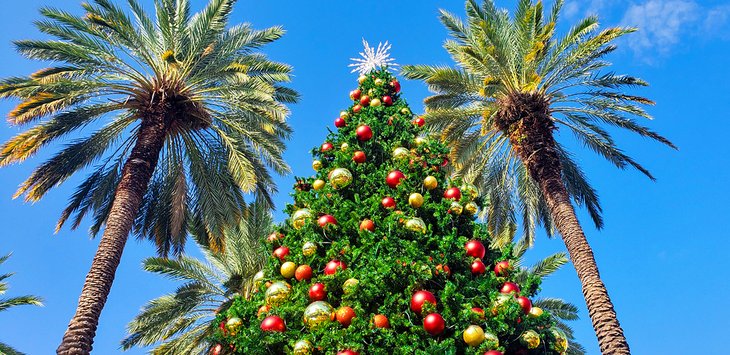 Holiday Themed Activities
December being the Holiday season means there are many Holiday oriented attractions to enjoy on your vacation with your family or as a solo traveler. The mild weather promotes maximum enjoyment while indulging in Holiday cheer. Some notable examples are:
With the Holidays also comes Holiday shopping. Florida is a perfect destination for this purpose as well. Florida is home to the third-largest mall in the country and outdoor shopping experiences and outlet malls where you can get great deals on high-end goods.
Whether you are shopping for yourself, others, or for items to return to your home, you are sure to find a shopping experience that will fit your desires.
Theme Parks
Florida also has many majority-outdoor theme parks that are open throughout December. These parks are known worldwide for the joy that they bring visitors and the Holiday season and mild December weather only add to the experience. Of course, the holiday decor makes spirits bright, too!
Some of the most popular and widely-loved include:
While amusement parks are perfect for thrill-seekers and those ready for an active day, others may be looking for a slower-paced experience that is still full of fun for everyone.
December and holiday travel is very popular among the theme parks, so be sure you're booking well in advance if you plan on traveling at this time. You can also expect bigger crowds.
Indoor Activities
Thankfully, Florida has plenty of these attractions, including fascinating museums, animal exhibits, and art displays. These cultural experiences will highlight your vacation and leave you with lasting memories. Both indoor and outdoor activities are enjoyable in the pleasant climate throughout December. A few of the most memorable cultural experiences include:
While traveling in December, be sure you check the hours and availability of the attractions you want to visit. Some locations may have holiday hours, or may even have special holiday themed events you can partake in.
Preparing for Your December Trip
When packing for your trip, it is vital to keep in mind the warm and inviting climate of Florida in December. While we can often be tempted to pack a typical winter wardrobe of boots and scarves due to the time of year, this is very far from what you should pack for this trip.
While a light jacket is encouraged for nighttime, the majority of your clothes should be appropriate for warm weather. A swimsuit may also be desired for the beach or other water attractions.
Apart from clothing, other items should be considered such as sunscreen for outdoor activities, beach items such as towels and sun umbrellas, and Holiday-related items for the festive season. Thankfully, Florida does have an array of accessibility to necessary items if you forget something.
Lastly, because there is an abundance of things to do in Florida during December, an itinerary can aid the flow of your trip and erase the stress of planning last minute. Even a weekend trip can benefit from the help of a well-thought-out schedule.
It's always a good idea to bring just a little more money than you budgeted in case of an emergency.
Final Thoughts
December is prime time for a family or solo trip to Florida; the weather is comfortable for most visitors and there is an abundance of activities to enjoy. Whether you are visiting for a weekend, a week, or an entire month, you are sure to have a vacation to remember forever. 
Or if you're looking for another month to visit the Sunshine State, take a look at our blog exploring the best time of year to visit Florida.
More about our TFVG Author
Caitlin is one of The Family Vacation Guide's long standing contributors. She enjoys taking vacation to busy, vibrant cities and has stretched her traveling legs out towards Europe in recent months, enjoying new experiences in Barcelona in Spain, and Nice in France.