So, you've picked south Florida for your family beach vacation. Congrats! It's a fantastic area filled with a tropical vibe, delicious seafood, and, of course, stunning beaches.
But when you're traveling with kids, comparing the differences between Fort Lauderdale vs. Miami Beach is extra important. A quieter atmosphere is likely essential to you, along with a safe beach for swimming and an array of non-beach activities to keep your children engaged.
We'll help you understand the differences between Fort Lauderdale vs. Miami Beach so you can pick the best vacation experience for your family. We won't give all our secrets away just yet, but here's a hint: We have a favorite, and we'll reveal it at the end of this article.
Fort Lauderdale vs. Miami Beach: The Best Beaches
When most people think of Miami Beach, they picture spring breakers, parties, and nightlife overflowing into waking hours. We won't beat around the truth—there's a lot of truth to that.
It's not to say that Fort Lauderdale's beaches offer a perfectly family-friendly getaway, though—you still might need to steer your kids away from beach parties. However, as a whole, you'll encounter a greater number of families taking their kids to the beach in Fort Lauderdale than Miami Beach.
We recommend starting your beach adventure at the boardwalk that runs between The Palms apartment complex and Fort Lauderdale Beach Park. Earl Lifshey Ocean Park is another excellent place for families, as this beach offers a more laid-back and (mostly) party-free vibe.
That said, Miami Beach isn't entirely out of the realm of possibilities for families. If you decide to head to Miami Beach with your kids, your best bet is to arrive in the morning.
Then, once the adults start waking up from their hangovers, you can head away from the ocean to do one of the family-friendly activities we'll talk about shortly. As a bonus, this is a great time to get your kids out of Florida's strong midday sun, preventing complaints about dreaded sunburn.
Swimming Potential
It's rare for Fort Lauderdale and Miami Beach to get the kind of massive waves that surfers love. Nevertheless, depending on your child's age and swimming skills, you may or may not want them swimming in Fort Lauderdale or Miami Beach.
Most public beaches in Fort Lauderdale and Miami Beach have flags indicating the water's suitability for swimming that day. For example, if the flag is green, it means that the water is calm and rip tide potential is next to none.
In contrast, yellow flags signify that only experienced swimmers should enter the water, while a red flag indicates you shouldn't enter the water at all.
For the most part, your children will likely be able to swim under supervision at both Fort Lauderdale's beaches and Miami Beach. Nevertheless, if you know your kids love to swim, try booking accommodation with a pool.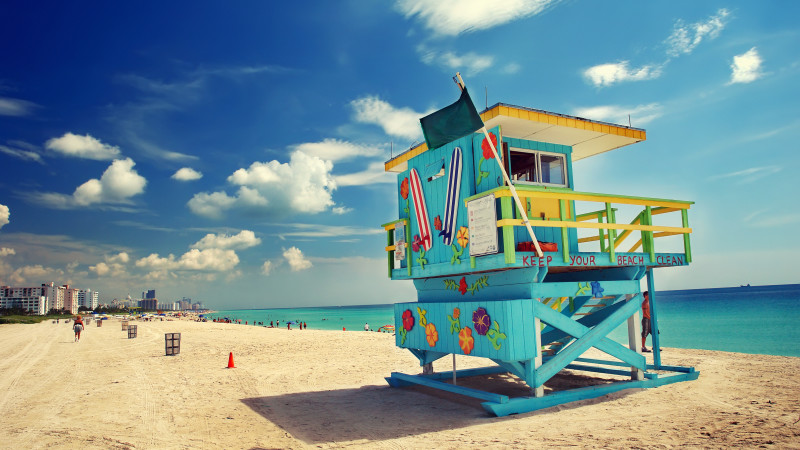 Activities To Do with Kids
When you're weighing Fort Lauderdale vs. Miami Beach, knowing that you have an array of activities to choose from is essential to keep your little ones occupied.
While both Fort Lauderdale and Miami Beach are large enough cities to offer kid-friendly activities, rain or shine, we think Fort Lauderdale takes the cake.
Family-based activities to do in Fort Lauderdale include the following.
Bluefoot Pirate Adventures: A pirate ship cruise that offers an interactive treasure hunt on the Intracoastal waterway.
Flippo's: This activity is a perfect option for a rainy Florida day. Your kids can explore a laser maze, play in a jungle gym, and practice their balance on balance beams.
Buehler Planetarium: The Buehler Planetarium sits on Broward College's campus and is a great opportunity to bring an educational experience to your children's beach vacation.
Museum of Discovery & Science: This is the most visited museum in Flordia, and for a good reason—its IMAX theater, simulated rides to Mars, and local wildlife make it a favorite among children and adults alike.
Butterfly World: A 30-minute drive inland from Fort Lauderdale will take you to a tropical getaway where your children can walk among 20,000 brilliant-colored butterflies and birds.
Everglades Holiday Park: This park offers airboat rides through the Everglades with the potential to spot alligators and other local wildlife.
That said, Miami Beach isn't devoid of activities to do with kids. There, you'll find family-friendly entertainment, including:
Furthermore, because Miami Beach and Fort Lauderdale are so close, anything you can do in Fort Lauderdale you can technically do in Miami Beach—you just might need to prepare your kids for a long car ride.
City Vibes
Although Miami Beach and Fort Lauderdale are both large cities, Miami Beach has a more urban, non-stop feel to it compared to Fort Lauderdale.
You'll find restaurants and shops open at all hours of the day and night in Miami Beach. The art and cultural scene are also impressive for people who appreciate these aspects of a city, given its famous Art Deco architecture.
In contrast, Fort Lauderdale has a more laid-back vibe centered almost entirely around the water. Compared to Miami Beach, it has a considerable boat culture, with classy restaurants and bars lining many docks.
In fact, many people lovingly call Fort Lauderdale the Venice of America, given that it has an extensive canal system in the Intracoastal waterway. It can be a fun experience walking with your kids along the docks and having everyone in your family choose their favorite yacht name!
Your kids will also likely appreciate that you can get around the coastal parts of Fort Lauderdale via a water taxi. In contrast, you'll need to walk or take a car to see many sites in Miami Beach, though jet skis are available for water exploration.
Nevertheless, Miami Beach is a more walkable city than Fort Lauderdale. Therefore, unless you're staying right on the beach in the heart of it all, you'll likely need a car to get around inland Fort Lauderdale.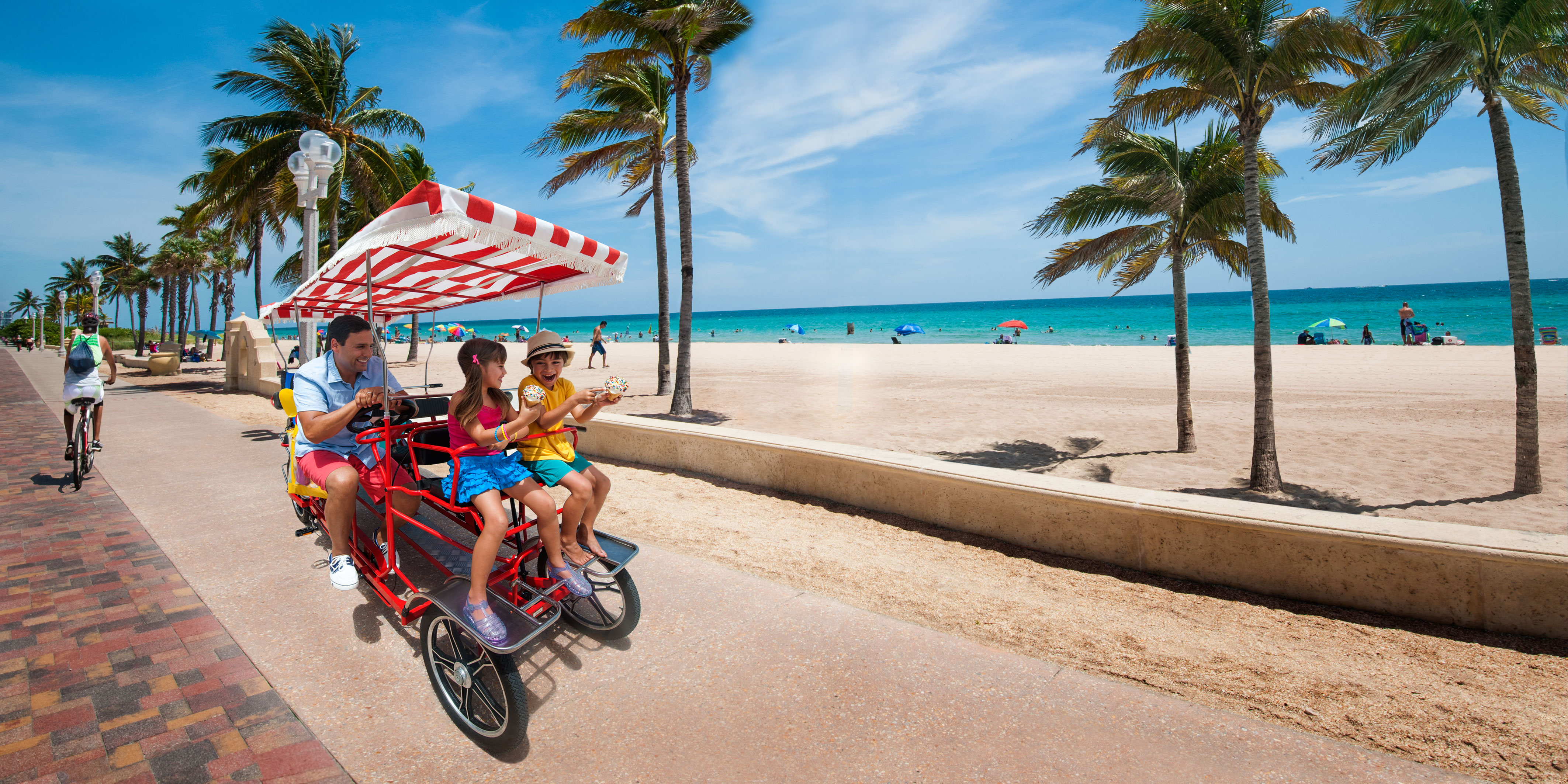 Considering Your Budget
Traveling with a family is expensive. So, if you're on a budget, when comparing Fort Lauderdale vs. Miami Beach, Fort Lauderdale is hands-down the better choice for your wallet.
Yes, you can undoubtedly find expensive housing in Fort Lauderdale, especially if you choose a luxury boutique hotel along the water. However, many mid to low-priced hotels and Airbnb rentals are available not too far from the beach.
In contrast, Miami Beach is expensive both along the water and inland since people value the Art Deco scene just as much as ocean views. That said, you may be able to save money on a car rental by choosing Miami Beach over Fort Lauderdale, given that it's easier to get away with not having a car in Miami Beach.
Furthermore, you could try booking accommodation in North Beach where prices are relatively lower.
Alternatively, some budget-seekers stay in Midtown or Edgewater. These are more affordable districts in the greater Miami area. So, they're not ideal since your kids will have to spend more time in the car to travel back and forth to the beach, but they're an option all the same.
Regardless of whether you decide to stay in Fort Lauderdale or Miami Beach, before booking a great accommodation deal that you found, check the neighborhood's safety. We'll talk more about safety shortly.
Flying Into Fort Lauderdale or Miami Beach
The closest airport to Miami Beach is the Miami Airport (MIA), whereas the closest airport to Fort Lauderdale is the Fort Lauderdale-Hollywood International Airport (FLL).
Therefore, on the surface, it makes sense time-wise to book your family's flight according to the beach you'll be staying at since it'll cut down on travel time from the airport upon your arrival. But this can be misleading, as you should consider these other factors too:
What's the total flight duration? (If you have layovers)
Is there a significant difference in price by flying into one airport over the other?
Are there better flight times at one airport?
The bottom line is that because Miami Beach and Fort Lauderdale are so close to each other, it's common for people to fly into the opposite airport and drive to their destination from there.
We encourage you to assess your options and consider doing the same. From experience traveling with kids, we can say that it's far more comfortable catching a direct flight or one that doesn't require a 3:00 am wake-up call!
Flying to FLL and looking for accommodation nearby? Our guide will come in handy, exploring the best hotels near Fort Lauderdale-Hollywood International Airport for families.
Or maybe you're looking for accommodation near MIA? Our guide to the best hotels near Miami Airport for families will take the weight off your shoulders when booking your trip.
Fort Lauderdale vs. Miami Beach: Which Is Safer?
Safety is undoubtedly a top priority for you when choosing a beach destination for your family.
According to Crime Grade, Fort Lauderdale's crime rate averages 240.86 per 1,000 residents per year. As you can imagine, this isn't ideal. However, by staying in the southwest part of the city and along certain beaches, you'll get to enjoy an A+ safety rating.
In contrast, Miami Beach has a crime rate of 70.62 per 1,000 residents, with the northern part of the city being the safest.
Nevertheless, there are a few things to keep in mind here. For starters, we're only talking about Miami Beach, not the entire city of Miami. Whereas Miami is only about 25 square miles, Fort Lauderdale is about 58 square miles.
As a result, there's much more space for Fort Lauderdale to have a variety of districts, both good and bad.
The bottom line is that although Miami Beach is statistically safer than Fort Lauderdale, your family will have access to extremely safe districts if you do a little research upfront and only explore those areas.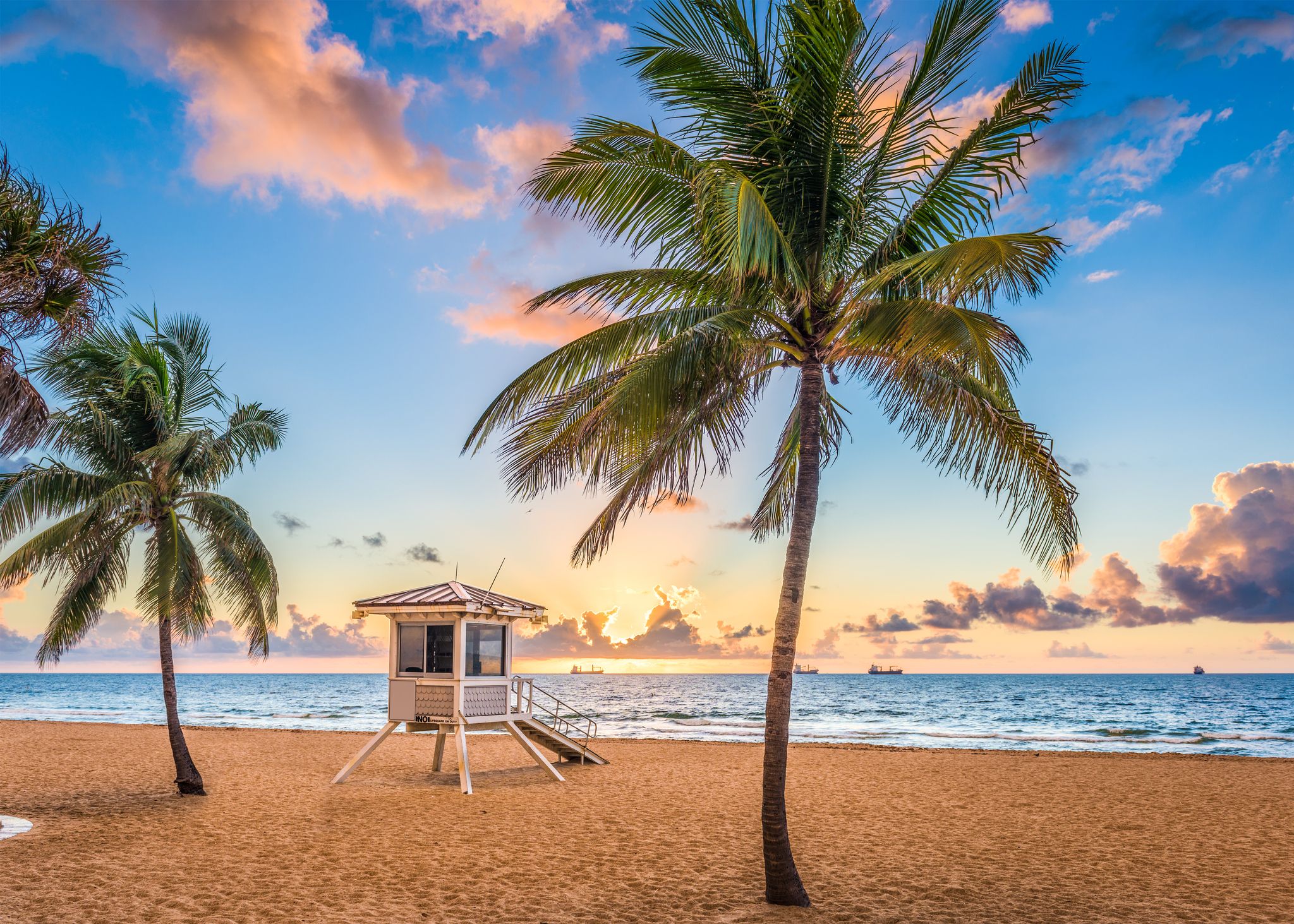 Choosing the Best Time to Travel
Miami Beach and Fort Lauderdale are less than an hour's drive from each other along the Atlantic Coast. So, there's a negligible difference in their weather patterns.
However, regardless of the beach destination you end up choosing for your family, it's important to know what their weather patterns are like.
Let's start with the elephant in the room—hurricane season.
According to the National Oceanic and Atmospheric Administration, hurricane season runs from June 1st – November 30th. We know you might be groaning, given that this lands smack-dab during your kids' summer break.
But here's the good news: The largest concentration of hurricanes happens in August and September. So, if you plan your family trip to Miami Beach or Fort Lauderdale earlier in the summer, there's a relatively good chance that you'll avoid a hurricane.
Temperature-wise, you can expect the upper 80s for highs in the summer and the upper 70s for lows. In the winter, temperatures "drop" into the mid-70s for highs and low 60s for lows.
The summer months receive the most rain in Fort Lauderdale and Miami Beach. So, we recommend having some indoor activities planned for your kids if you travel during the summer. That said, even winter months average rain four days of the month.
Low vs. High Season
An advantage of traveling during the summer is that the low season for tourism in both destinations is from May to September.
That said, you might be better off taking your kids to south Florida from January to April, the peak of vacation travel, given that you might encounter more snowbird retirees than college students partying it up.
If you want to visit during a shoulder month when there's a moderate number of tourists and the temperatures aren't extremely hot or cold (if you ever consider these areas to get cold), October to December is a great option.
The Verdict: Fort Lauderdale vs. Miami Beach for Families
So, is Fort Lauderdale or Miami Beach better for families?
Without hesitation, our answer is Fort Lauderdale.
We love how Fort Lauderdale has a quieter, more laid-back vibe than Miami Beach. That's not to say you won't find partiers in Fort Lauderdale, but there's a significantly higher concentration of families in this area, along with many kid-friendly activities to do aside from the beach.
Regardless of the beach destination you choose, south Florida is a beautiful area. So, you and your family will undoubtedly have a fantastic time.
More about our TFVG Author
A seasoned traveller, Dad, and avid sports tourist, James foundered The Family Vacation Guide to share his expert vacation experiences- especially when it comes to being a travelling family man.
Featured in Travel articles such as Travel + Leisure, TripSavvy and SFGate, you know you're reading some of the best vacation tips online.