Planning to journey from beautiful, vibrant Miami to exciting Disney World in Orlando? To help you get there safely and quickly, we have all the information you need on the trip from Miami to Orlando. There are numerous ways to get from one city to the other, and they all take a varying amount of time and fall into different price ranges.
So that you can educate yourself on the available options and make an informed decision, we've explained the five best ways to get from point A to point B and some of the estimated costs.
Choosing the right transportation method comes down to more than just the duration of the journey and the cost, so read until the end for important factors to consider when planning this trip. 
How Far Is Disney World From Miami?
The distance between Miami and Disney World in Orlando is 230 miles. When driving, this distance takes roughly three hours and 20 minutes.
If you are considering doing a day trip from Miami to Disney World, this is definitely possible but will likely not be the most enjoyable experience. Seven hours in a car doesn't leave much time for fun at the park, and long car rides take a significant toll on kids, and adults, honestly.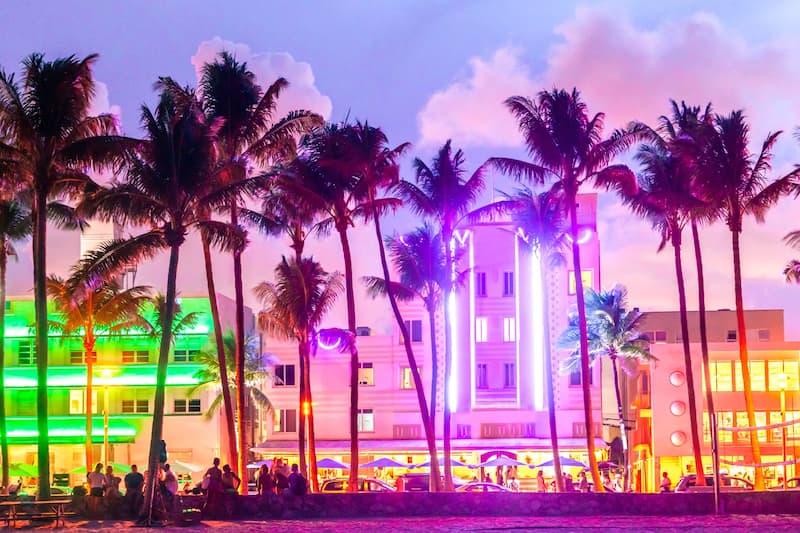 Where Are Disney and Miami Located?
For starters, Miami and Disney World are both in Florida, so they are not too far from one another. Orlando is in the center of Florida, closer to the east side of the state. Miami is all the way at the bottom of the state, right on the coast. 
5 Best Ways to Get There
To help you plan your trip, this is a quick rundown of the five best ways to get from Miami to Orlando so you can enjoy the theme parks Disney has to offer. 
1. Drive I-95 North
Taking the Florida Turnpike and I-95 North is the fastest way to drive from Miami to Florida. If you take this route, the trip should take you around three and a half hours and the route is 230 miles. While this is the most popular route, people sometimes avoid it because of the traffic.
2. Drive FL-60 West
If you don't mind a slightly longer drive that is likely to have less traffic, you can take the Florida Turnpike and FL-60 West.
Taking this route, you'll have to drive for about four hours—243 miles. But there is a possibility this route could save you time if I-95 is packed with traffic. Consider taking this slightly longer route if you go to Disney during the height of tourist season in the summer.
3. Train
If you don't want to drive or don't have access to a car, taking an Amtrak train from Miami to Disney is an easy option. You can board an Amtrak train going to Orlando from Miami at Lakeland Amtrak Station, Kissimmee Amtrak Station, Lynx Kissimmee Intermodal Station, or the Walt Disney World Transportation and Ticket Center.
The cost to take an Amtrak train for this distance is about $75, depending on which train station you buy your ticket at. The length of this trip is around seven and a half hours, which is almost double the time it takes to drive yourself. If you plan to take a train, you should expect to stay in Orlando overnight, so plan accordingly.
4. Bus
There are a handful of buses that will get you from Miami to Orlando. A Greyhound bus travels from Miami to Orlando and back not once, but twice a day, giving you two opportunities to make it to Disney this way.
Greyhound bus tickets can cost between $30 and $50 for a one-way, depending on the type of ticket you purchase. Greyhound offers flexible tickets that you can reschedule with ease. It takes these buses around six and a half hours to get from Miami to Orlando.
5. Fly
If Disney World is going to be the focus of your Florida trip, it may be easier to fly directly into Orlando. The airport closest to Disney World is the Orlando International Airport (MCO). If, for some reason, you must fly into Miami, it is possible to take a flight from Miami International Airport right to Orlando International Airport.
The flight will be around an hour or less, so you'll likely spend as much time in security and at your gate as you will on the plane. If you hate airports and the effort of boarding a plane and deplaning, this is not the best option for you. The price of these flights is hard to say, as it varies wildly depending on the time of year and many other factors.
The other issue with flying from Miami to Orlando is that there are not always a plethora of these small flights available, since driving is such an available option for most. If you plan to fly, make sure you book your flight ahead of time and plan accordingly around those flights. 
Considerations
There are some aspects of your trip to keep in mind when deciding the best way to get from Miami to Florida. Since there are a variety of options, consider these factors to help you figure out the best transportation method for your vacation.
Traffic
As mentioned, the I-95 driving route is technically shorter but can take longer, depending on traffic. You can check apps like Waze the day of to get an idea of what traffic will be like and decide that way.
The time of year you go plays a huge role in this as Disney around summer and spring vacation will be packed with tourists. But if you go in October instead or around a big holiday, you may be able to avoid the I-95 traffic and make it there in a tight three hours and 20 minutes.
Parking
Keep in mind that if you drive to Disney, you also have to park at Disney. Parking at Disney can be a true nightmare and can take significant time out of your theme park day. If you don't want to deal with the hassle of parking, which also costs money, then it's best you don't drive to Orlando.
Pitstops
If your trip from Miami to Orlando is about more than just Disney, there may be pitstops along the way you and your family want to check out. If this is the case, consider which pitstops you want to see and what highway they run along so you can pick the best route to take to see all the attractions.
Another reason for pitstops is if you have little kids, they'll likely need the bathroom at least once throughout the almost four-hour drive. If you know your group will want to make frequent stops to use the restroom, get food, or sightsee, a train or bus will not be the right transportation method.
Budget
Of course, you should choose the transportation method that fits your budget. It's hard to say what the cheapest option will be, but it is likely one of the Greyhound buses unless you have your own car. But even with your car, gas and parking fees can add up quickly.
As mentioned, the flight prices can't be discussed for certain as they change often, but ins some situations this could be the cheapest option, especially if you don't have significant luggage. Driving gives you more freedom but renting a car can be expensive, especially in Florida, and if you are under 25 it could cost you thousands in insurance just for a day rental.
Group Size
Flying or taking the train with a large group of five or more people can be a major hassle. But if you are just traveling in a couple, these things are easier.
On the other hand, a group of four adults can switch off driving shifts, but a solo vacationer will have to drive the entire way by themselves. Consider how the size of your group will fit into these transportation methods and if your choice is practical for the number of people you are with.
Demographic
Just as important as group size is group dynamic. Are you a family of four with small kids? Are you a newlywed couple? Are you a group of five adults? A small baby will likely struggle more on a bus than they would in a car. Newlyweds will likely have no problem taking this short flight, as if this is a honeymoon, it will have been planned ahead.
For this consideration, it comes down to your own judgment call. Some babies love planes, some hate them, some adults hate driving, some prefer it to a bus, so you need to account for you and your group's preferences.
Bottom Line
There is no one correct way to travel from Miami to Orlando, so you can choose any of the options discussed and likely have a wonderful time on your vacation. Make sure you plan enough time to actually enjoy the theme parks, and if you think you will need overnight accommodations, plan these before going to be safe.
More about our TFVG Author
A seasoned traveller, Dad, and avid sports tourist, James foundered The Family Vacation Guide to share his expert vacation experiences- especially when it comes to being a travelling family man.
Featured in Travel articles such as Travel + Leisure, TripSavvy and SFGate, you know you're reading some of the best vacation tips online.