Planning a trip to Walt Disney World in Florida isn't all fun and games. In addition to the fun stuff, like dreaming about the attractions you'll ride and shows you'll see, you also need to deal with a lot of logistics, especially regarding the cost of the trip.
Park tickets are often one of the most expensive components of a family vacation to Walt Disney World, so you want to do it right. But figuring out how much they cost, why they cost that much, what they include, and most of all, which ticket is right for your family is a confusing process.
In fact, one of the most common questions families ask when planning their trip is "How much are Disney World tickets?"
Luckily, we're here to help! In this guide, we'll tell you everything you need to know about Disney World ticket prices, including all the options and add-ons. We'll also cover basic and in-depth information and answer FAQs; you'll be an expert yourself by the time you're done. Let's get started.
What Is the Base Ticket Price?
The base ticket price for Walt Disney World admission is $109 per day for adults and $104 for children under 10.
Of course, the base ticket is just the starting point. Rarely will you ever pay just that amount, but it's still essential for understanding overall pricing. Certain factors drive the Disney ticket prices up. On the other hand, the more days you buy, the cheaper each day becomes.
What Is Included in a Park Ticket?
The base ticket grants the ticket holder admission to one park of their choosing (subject to availability) on the date selected at the time of purchase. There's also a lot of fine print attached to the ticket (non-transferable, non-refundable, Disney has the right to refuse admission, and so on).
Park admission includes access to most of the attractions inside that park, including rides, shows, parades, fireworks, character encounters, and more. It does not include any special ticketed events (such as Boo Bash), tours, or anything else for which Disney charges extra.
What Factors Impact the Cost of a Walt Disney World Ticket?
Like we said above, you'll rarely just pay the base price for your ticket. Let's look at the main factors that impact that cost.
When You Plan to Go
As you may have anticipated, you can expect to pay more if you plan to visit Disney World during peak seasons; it's the simple law of supply and demand.
Typically, peak season includes:
Early January (New Year's)
The week of President's Day (February)
Easter week
Memorial Day weekend
Thanksgiving weekend
The holiday season (usually mid-December until the end of the year)
Marathon weekends (check the schedule for dates)
In contrast, you may save money by visiting during the off-season, which usually falls:
January, excluding marathon weekends and MLK Day, and early February
Late August through mid-September, excluding Labor Day
Early November
When You Buy Your Ticket and Make Your Park Reservation
When you go online to purchase your tickets, you'll notice that you need to select the first day of your visit after choosing your type of ticket and the number of days. You'll also see those different days carry different price tags.
Unlike in the past, it is now more expensive to visit a Walt Disney World park on a day in higher demand. In addition, you might save money by purchasing tickets well in advance.
Although some dates will always be more expensive, it appears that others are less expensive if you buy six months or more ahead of your visit. The catch is that you can't make any changes to your ticket or park reservation, or you might have to pay a difference.
Park Ticket Prices
Now that we have a firm grasp on all the things that can impact your ticket price, let's learn more about what those prices are and how to navigate ticket purchases.
Base Ticket Price
As stated above, the base ticket price for a one-day, one-park ticket is $109 for adults and $104 for children under 10. Everything builds from there.
Multi-Day Tickets
The base ticket price changes depending on how many days you purchase. Disney charges for tickets on a sliding scale, meaning that the more days you buy, the less each day costs. For example, a 3-day ticket starts at $106 per day (adults), a 7-day adult ticket starts at $68 per day, and a 10-day adult ticket–the most days you can purchase on a single ticket–starts at $54 per day.
Thus, even though more days in the parks costs more money, you pay less per day. In this way, Disney attempts to offset some of the costs of a more extended vacation to accommodate better people traveling from far away.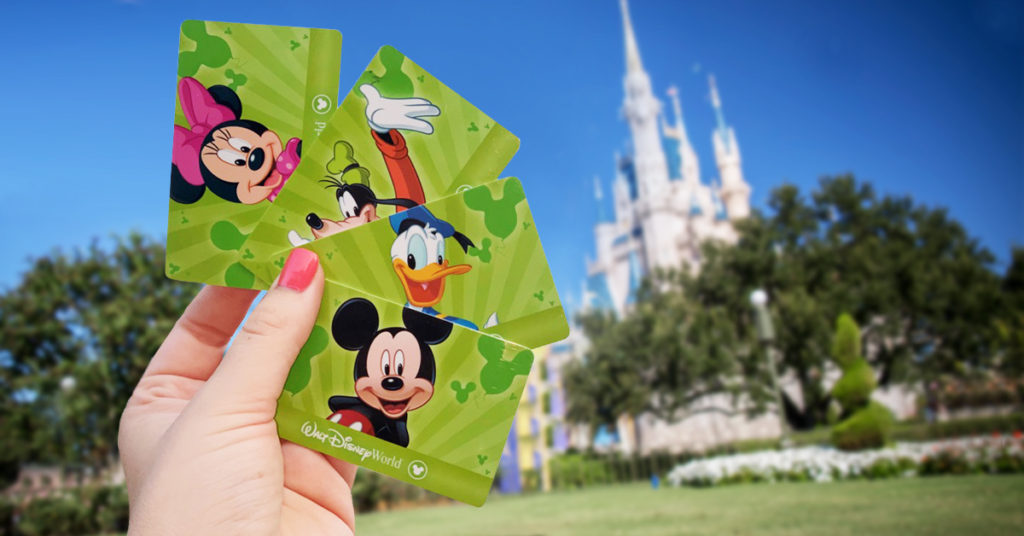 Park Ticket Add-Ons
In addition to your base ticket price, there are a few add-ons to these base tickets that drive the price even higher. The two main ones are the Park Hopper option and the new Genie+ system.
Park Hopper
Adding the Park Hopper Option to your ticket means that you have the option of visiting more than one park per day. It's more restrictive than it used to be, however.
With the regular Park Hopper, you can only visit one other theme park in a single day. You can also visit only after 2 PM, and you have to visit your reserved park first. Admission to a second park is also subject to availability, and you can't make a second reservation for a single day.
Let's look at an example. On day three of your vacation, you have a park reservation at Hollywood Studios, but you loved the food options at Epcot and want to return there for dinner. You must first visit Hollywood Studios at some point during the day. After you visit Hollywood Studios, you can "hop" over to Epcot, as long as it is later than 2 PM, and as long as Epcot hasn't sold out reservations for the day.
A couple of quick facts about the Park Hopper:
The Park Hopper operates on a sliding scale like the base ticket price itself. The more days you purchase, the less you pay for Park Hopper per day.
You can't add the Park Hopper to select days on your ticket. It's all or nothing: you either pay for it on all of the days on the ticket or none at all.
You don't need to decide about adding the Park Hopper (or Park Hopper Plus) Option when you purchase your tickets. You can always upgrade to the service later on.
There's one more option when it comes to Park Hoppers. Instead of the regular Park Hopper, you can opt for the Park Hopper Plus Option. You can "hop" to more than one additional park with this add-on each day. In our example above, after you finished dinner at Epcot, you could then head to the Magic Kingdom to see fireworks there.
In addition, you can visit other locations with Park Hopper Plus. For each day of your ticket, you can also visit one of the water parks (Typhoon Lagoon or Blizzard Beach), ESPN Wide World of Sports Complex, Oak Trail Golf Course for FootGolf, or one of the miniature golf courses (Winter Summerland or Fantasia Gardens). For example, if you have a 5-day ticket, you can visit these locations five times.
Genie+
Another relatively new add-on is Genie+. Genie+ allows you to make Lightning Lane reservations while you're in the park, thereby bypassing the standby wait times. It replaces the old Fastpass+ system that you might be familiar with if you visited the parks in recent years.
With Genie+, you can hold one reservation at a time or make a new reservation every two hours. You can reserve each attraction only once per day. Without Genie+, you'll have no other option but to wait in the standby lines.
You don't have to decide on adding Genie+ until the day of your park visit. You can add it day by day as an in-app purchase if you wait. If you want to buy it ahead of time, you have to buy it for every day of your ticket.
Regardless, the cost of Genie+ is $15 per day per ticket. Everyone in your party must upgrade to Genie+ to use the benefits. So, for a family of four, that means that your tickets just got $60 more expensive every single day.
Annual Passes
Another option for tickets is annual passes. Depending on the type of pass, these allow the ticket holder to enter the parks almost every day for an entire year. If you plan to visit for more than ten days, or if you plan to visit Disney World more than once throughout a year, then an annual pass might make sense.
There are four types of annual passes, although not all are available for everyone. In addition, Disney may pause sales of yearly passes from time to time, so don't wait to purchase if you know you want one and they're available.
Disney Incredi-Pass
This is the most common annual pass, and it is the only option for many park-goers. The Incredi-Pass currently costs $1,299 (plus tax) per person. It comes with a lot of perks, including:
Admission to all four Walt Disney World theme parks with no blackout dates
Ability to make park reservations for up to 5 days or the entire length of stay at a Disney resort
Free theme park parking
20% discount on select merchandise
Saving on select dining
This pass is valid for 365 days, with day one being the first time it is used for admission to a park.
Disney Sorceror Pass
This pass is available only to Florida residents and Disney Vacation Club members. It costs $899 (plus tax) per person. It has a lot of the same perks and benefits listed above. However, it offers fewer discount opportunities (it should be noted that DVC members already have a robust discount program available to them).
One other significant difference: this pass is subject to blackout days, and Disney doesn't have to list those up-front. That means that they can announce a blackout day with little or no notice, potentially derailing your plans.
Disney Pixie Dust Pass and Disney Pirate Pass
Both of these passes are open only to Florida residents, which is why we aren't going into a lot of detail about them. They cost $399 (Pixie) or $699 (Pirate). Like the Sorceror Pass, they're subject to blackout days. Passholders can also only hold up to three (Pixie) or four (Pirate) park reservations at a time.
Water Parks and More
We already mentioned water parks when we talked about the Park Hopper Plus Option above, but in some cases, it makes more sense to purchase water park tickets separately for only the day of your visit.
Unlike park tickets, water park tickets don't fluctuate depending on the day. You also do not need to make park reservations to visit.
Water park admission is $69 per day per adult and $63 per child under 10. You can save $5 per ticket if you buy tickets subject to blackout dates, but you're taking a risk, especially if you aren't sure when you want to visit.
That cost is likely less than adding the Park Hopper Plus option onto your standard park tickets, but it might not be, depending on how many days you're visiting. Also, if you're already planning to add the Park Hopper Option, the Park Hopper Plus might not be that much more (prices vary depending on the number of days, when you visit, and so on).
If you plan to visit a water park during your vacation, definitely do the math to see which admission is the least expensive. Also, think about whether you might want to do any of the other activities included in the Park Hopper Plus option.
Note that Disney's Blizzard Beach water park remains closed at the time of writing. It has not re-opened from the Covid-19 pandemic closures.
Florida Residents
Except for annual passes, we haven't yet discussed tickets for Florida residents. In an effort to encourage "locals" to visit more often, Disney offers rather generous discounts and specially-priced park tickets for people living in the Sunshine State.
As with most pricing with Disney, things are constantly in flux. However, at the time of writing, Florida residents can save 30% on 3-day tickets and 40% on 4-day tickets compared to regular pricing.
You must possess a valid Florida driver's license or state-issued ID to access these discounts. There are some exceptions to this rule, but there are hoops to jump through to get an exception. Disney is pretty strict about ensuring that only actual state residents can access these tickets. You can not purchase more than one adult ticket without showing a valid ID.
Other Discount Programs
There's no way around it; theme park tickets to Walt Disney World are expensive, and "cheap" Disney tickets simply do not exist. In fact, if anyone offers you cheap Disney tickets, it's probably a scam.
That being said, there are some discount programs and other ways to save money on your Disney tickets. Take a look and see if any of these apply to you.
Vacation Packages
One of the best ways to save money on park tickets is to buy a vacation package. With these, Disney typically offers a bundle that includes a resort stay, park tickets, and a dining plan at a total reduced cost.
The catch is that there isn't much flexibility in these packages, other than to sometimes upgrade them. You cannot make swaps or changes, and you're locked into the terms of the package.
For example, you might purchase a 5-night, 4-day package for a family of four that includes 4-day park tickets at a savings of 30%. However, you must stay in the available hotel, pay for five days of the dining plan, and not adjust the tickets.
Despite the lack of flexibility, vacation packages are still a great way to save money if you plan on doing Disney and being in the parks for the majority of your vacation.
Military Discounts
Disney offers discounted park tickets to active-duty military members and their families. Discount rates on park tickets fluctuate, though they are sometimes offered at around 50% off the regular price. You can buy these tickets ahead of time, but to activate and use them, you must show a valid military ID at guest relations before entering and using them.
Buyer Beware
A word of caution: be very wary about buying discounted Disney tickets, especially from third parties not affiliated with the Disney company. At times, companies may offer tickets at modest discounts, but anything over 10% is likely to be a scam.
FAQs
Even though we've covered a lot of information about Walt Disney World park tickets, you may still have some questions. We'll try to tackle the most frequently asked questions about Disney tickets here.
Does everyone in my family need a ticket?
Surprisingly, not necessarily. It does not cost money for babies and very young children to enter the parks. Guests under three years of age do not need a ticket to visit Walt Disney World.
Does Disney do age checks?
Which leads us to our next question: what if your child has just turned three and looks young? Or, can you get away with buying your 10-year-old a children's ticket? The answer is that Disney can and might age check your borderline kids before letting them use their ticket. They have the right to ask for a birth certificate or other proof of age.
Our advice? Be honest. It isn't worth it to try and get away with sneaking kids into the parks. If you're caught, the best-case scenario is that Disney makes you pay the difference before allowing admission. But the worst case is that Disney voids your adult tickets and doesn't let you into the parks at all. That would indeed be a nightmare.
Do tickets expire?
Yes, park tickets expire no more than 14 days after the selected start date. Expiration dates depend on the number of days on the ticket. For example, a 3-day ticket expires five days after the selected start date, while a 7-day ticket expires ten days later. Only a 10-day ticket has a 14-day expiration window.
If your plans change and you need to alter the start date of your ticket, call Disney customer service for existing tickets at 407-934-7639.
Can you upgrade or downgrade a ticket once it's purchased?
Yes, you can upgrade, but no, you cannot downgrade. Disney theme park tickets are non-refundable and non-transferable.
If you wish to add more days to your ticket or add on the park hopper option or other extras, you can do that at any time, even after you've begun using the ticket. Just be aware that you'll have to pay to add extras for all the days, not just the ones remaining.
Does Disney offer payment plans for tickets?
Disney offers a monthly payment plan for annual passes only. If you do not make your monthly payment as scheduled, Disney revokes the ticket.
If you need a payment plan for regular tickets, your best bet is to use a credit card and schedule the payments on your own.
Can I give the unused days on my ticket to someone else?
No. Walt Disney World theme park tickets are non-transferable, so they cannot be given to anyone else.
How do I actually use my ticket?
To use your park ticket, you can use either the ticket itself (which looks like a credit or gift card) or link it to a MagicBand that you wear around your wrist. You scan either one at the park entrance and use your fingerprint as identification.
Which Ticket Is Right for Your Family?
Theme park tickets are one of the most expensive components of your Walt Disney World dream vacation. They can also make or break your family's experience, and they help determine what you can and cannot do while on your trip.
For those reasons, it's essential to weigh all the facts and make the best choice for you and your family's plans and needs. Use all of the information in this guide to make the right decision. That way, you can relax and enjoy your time in Walt Disney World as a family!
More about our TFVG Author
A seasoned traveller, Dad, and avid sports tourist, James foundered The Family Vacation Guide to share his expert vacation experiences- especially when it comes to being a travelling family man.
Featured in Travel articles such as Travel + Leisure, TripSavvy and SFGate, you know you're reading some of the best vacation tips online.