You've got your plane tickets.
The hotel is booked, too.
And now, you're finally planning your trip to the most magical realm in the Disney universe- the Magic Kingdom at Walt Disney World in Florida.
If you're looking for classic Disney, you've come to the right place.
The Magic Kingdom is home to many of the most beloved rides and attractions, with FIVE of them being roller coasters!
The Magic Kingdom has a range of coaster rides that will fit the bill for every member of your family.
The smallest ones will love The Barnstormer, and the whole family will love traveling through the Seven Dwarfs' Diamond Mine for some slower-paced fun.
Big Thunder Mountain is another Disney Classic you shouldn't miss when you visit.
With its kid-engaging activities starting in the queue, it's a long three-minute ride with moderate-yet-exciting twists and turns. No wonder it's the most popular ride in the park!
For those who are here for the extreme thrills, Space Mountain will exhilarate with its totally indoor, mainly in-the-dark ride.
Finally, the TRON Lightcycle / Run that's just about to open is also looking like it'll shape up to being THE Coaster ride for those who are truly scared of nothing.
If you're head over heels for roller coasters, you've come to the right place!
How Many Roller Coasters are there in the Magic Kingdom?
Magic Kingdom has five of Disney World's nine exciting roller coasters. Epcot has only one while Hollywood Studios has two, and Animal Kingdom has the last remaining.
The roller coaster rides in the Magic Kingdom are:
Big Thunder Mountain
Seven Dwarfs Mine Ride
Space Mountain
The Barnstormer
Tron Lightcycle / Run (Coming Soon!)
Ranked: Magic Kingdom's Roller Coasters
The Magic Kingdom has at least one roller coaster ride that will thrill any wannabe coaster rider in your group, from the smallest to the most fearless.
Before you commit to a queue and get excited about buckling up for a ride, check out our reviews and rankings below.
Hopefully, it will help you find the one that will fit what you are looking for in the Magic Kingdom!
Big Thunder Mountain Railroad
Minimum rider height: 40 inches / 102 cm
Located in Frontierland
Average wait time: 60 minutes
Ride Height: 104 feet
Ride Speed: 35 mph
Ride Time: 3 and a half minutes
You'll find the Big Thunder Mountain ride located to the left of Cinderella's castle in Frontierland!
Prepare to enter the ride through the mining shaft of the legendary Big Thunder Mining Company for the privilege of boarding the haunted train on the rickety tracks…
This themed coaster-style ride races through a haunted gold mine aboard a speeding train.
Some say it's the wildest family ride in the West, with your train dodging falling boulders, dynamite explosions, and dropping into caverns and canyons- sometimes even in the dark!
Here's the backstory to this ride: Ater gold was discovered on the land in the 1850s, bizarre occurrences such as trains taking off by themselves started to take place. The cavern and mine seemed to be haunted… or maybe even cursed!
You'll travel through Tumbleweed town, a ghost town through canyons and mine shafts, and have an absolute blast dodging dynamite.
So, just how scary is it?
It's intended as a family ride for kids over 40inches/102cm. However, it is bumpy in places and parts of it rides through the dark, which can make it unsuitable for kids who aren't yet good with sudden surprises.
Generally, kids love it- but you know your child best, especially when it comes to what they can handle!
This ride is touted as fun rather than scary, and with its three-minute length it's worth the wait if you have kids with you.
Big Thunder Mountain is an old-fashioned real Disney experience with beautiful views over the Magic Kingdom.
It's not the most comfortable ride to sit in, and it doesn't have the incredible thrills of the more modern rides, but it's sure to create family memories that last a lifetime.
Many people start their day at Fantasyland or Tomorrowland, so the queues first thing in the morning here are shorter- making it a great time to visit!
Seven Dwarfs Mine Train
Minimum rider height: 38 inches / 97 centimeters
Located in Fantasyland on the right side, behind Cinderella Castle Courtyard
Average wait time: Usually over an hour
Height: 39 feet
Speed: 34 mph
Time: 3 minutes
This is Disney's other mine-based ride! The adventure with the Seven Dwarfs takes you deep inside an ancient diamond mountain and around the countryside to the hard-working dwarves' home village.
A family ride that goes inside the mine where you'll spot the dwarves singing and working, it soon zooms outside with hairpin curves and dips.
Diving in and out of canyons adds an extra thrill for those newer to coaster rides!
Be sure to check out the view of Fantasyland from the summit, and admire a very different view of Cinderella's castle from this unique angle.
You'll feel the breeze from the top of the mountain, right before the big descent into darkness. Hold on tight!
We bet you'll end up singing to well-known, catchy tunes that you hear along the three-minute ride- full of creaking, swaying mining carts, and family fun!
This ride has really long queues- like really long queues– but it does have the advantage of activities to keep you occupied while you wait. The kids can sort gems and wash them under taps that simultaneously play tunes everyone will know.
You'll encounter a collection of wooden barrels that are filled with colorful gems, too. When you spot them, get the kids to turn them over and see what happens on the ceiling!
This is a smooth and very entertaining ride. It doesn't have the heights, big drops, or speeds of the larger ones, but it's a family-friendly ride that's quite frankly the cornerstone coaster of the Magic Kingdom!
(If you've paid for Lightning Lane Access, this is the ride to use it on. The wait times really are that long!)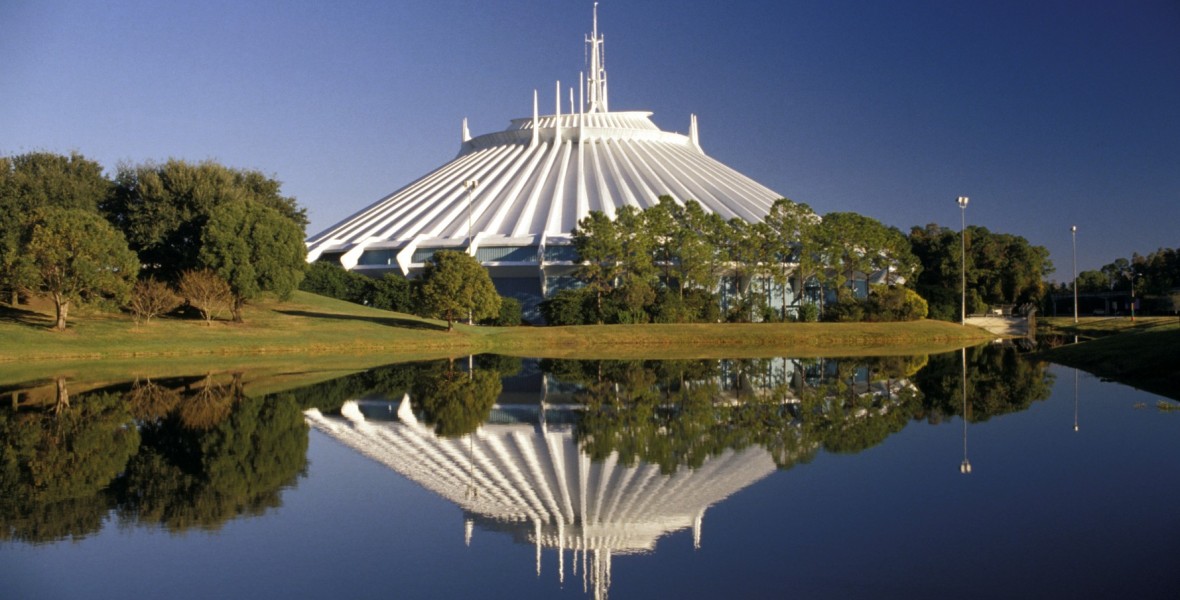 Space Mountain
Minimum rider height: 44 inches / 112 centimeters
Located in Tomorrowland
Average wait time: 70 minutes
Ride Height: 65 feet
Ride Speed: 27mph
Ride Time: 3 minutes
The Space Mountain roller coaster is a legendary must-do for those in the know. It runs no matter the weather, as it's entirely indoors- and it's completely in the dark!
You'll recognize it from its conical-shaped roof structure that dominates Tomorrowland.
Getting onto the ride is almost as much fun as the ride itself, with activities and displays along the queuing area that include video games available on the Disney app.
Once you get to the 'Loading' area, Starport Seven Five, you have the choice between the Alpha or Omega rides in your rocket ship-shaped car. They're identical mirror images of each other, and 3196 feet of flying fun!
Based on a rocketship trip through the inky black galaxy, the soundtrack of futuristic music and screams of other passengers add to the spaced-out atmosphere you'll experience on this attraction.
You'll fly past shooting stars, planets, satellites, comets, and meteors. Watch out for astronauts and the space shuttle as you twist and turn in the complete darkness- only to be surprised by the sudden changes in track direction!
The pull of gravity is inevitable as you descend into the swirling wormhole, and the twists will both shock and delight you. If there's a coaster you're most likely to scream on, this one will be it!
Due to its popularity with older kids and adults alike, the queues can be a long wait. Visiting first thing or late afternoon will help keep the delay as short as possible for you and the family!
The main advantage to waiting in this queue is that it's indoors. As such, you're out of the sun and in the cool air-conditioned space, giving you a chance to relax before getting onto this heart-stoppingly fast ride.
There are plenty of things to look at while you wait, with both the entry and exit lanes filled with dioramas, animations, and displays all related to space and Tomorrowland. Look out for threats just around the corner!
The Barnstormer
Minimum rider height: 35 inches / 89 centimeters
Located in the Storybook Circus in Fantasyland
Average wait time: 20 minutes
Ride Height: 30 feet
Ride Speed: 25 mph
Ride Time: 1 minute
The Barnstormer is the perfect introduction for first-time roller coaster riders!
Hop inside the Great Goofini's homemade plane, and join him for a crazy ride in his Goofy World-famous aerial stunt show.
The ride starts with a long, daunting climb up to the top of the wooden tower. Then, you'll need to brace yourself for a swoop into the barnyard, followed by more darting and twisting that makes for quite the thrilling ride for younger children.
For many older kids (and adults), the Barnstormer will be the first roller coaster that they ever rode on. It's a classic Disney attraction with all the fun of being on a plane in a barnyard, driven by Goofy himself!
If you brought kids with you, this is a great starter ride to whet their appetites for the bigger rides in years to come.
You'll love making memories on this ride with your kids- and then perhaps even their kids in the future!
The Barnstormer has excellent views of Fantasyland, and it usually has short wait times as well- which spares both the kids and the adults queuing with them!
Coming Soon: TRON Lightcycle / Run
Expected Tron Lightcycle Run Ride details based on the Shanghai ride.
Minimum rider height: 48 inches / 122cm
Located next to Space Mountain in Tomorrowland
Average wait time: ?
Ride Height: 72 feet
Ride Speed: 60mph
Ride Time: 1 minute
The Disney sci-fi film TRON: Legacy comes to life on this brand new ride, which is tentatively scheduled to open in late 2022 or early 2023. An actual opening date for this ride is yet to be announced.
The Magic Kingdom's Tron Lightcycle / Run is widely believed to be a replica of Shanghai Disneyland's ride of the same name.
It's a semi-enclosed roller coaster where each rider is on an individual motorcycle, leaning forward and gripping the handlebars.
A pad is then lowered behind you, securing you to the ride. If you've ridden the Avatar Flight of passage at the Animal Kingdom, you've got the right idea!
Guests will enter "the Grid", and board their individual lightcycle in a phalanx of ten units per "train."
Much of the ride is inside the enclosed part of the building with a light show straight out of the movie, but the climax involves a rapid loop through the color-changing canopy that's a part of the building that surrounds the attraction.
It's assumed to be another fast-launch roller coaster, where the bulk of the ride takes place in a darkened building with minimal props. This ride is about the speed, light, and thrills rather than the backstory!
A lot of the queue is likely to be indoors, and rumor has it that there'll be lots to amuse you while you wait for your turn to board the lightcycles. We can't wait; make sure you check back here for an update!
*****
Roller coasters are a classic staple of the theme park experience- and luckily for those that love to ride them, the Magic Kingdom has five fantastic options!
Some of these rides are older, but they're still so beloved by guests who come back year after year to ride them.
For instance, can you believe that Space Mountain was first opened in 1975? This roller coaster is older than a lot of the people who ride it!
The Barnstormer is the perfect ride for youngsters to cut their roller coaster teeth on. It's safe, plenty of fun, and just thrilling enough to give your child a taste of what's to come in their roller coasting future!
For the whole family, the Seven Dwarfs Mine Ride and the Big Thunder Mountain Railroad are absolutely perfect with the longer, more immersive experiences that they offer.
And finally: Who isn't waiting for Tron Lightcycle Run to open?
It's a whole new tier of rapid-paced fun, for those who like their thrills fast and their twists tight (not to mention in the dark!). We'll see you there!
More about our TFVG Author
A seasoned traveller, Dad, and avid sports tourist, James foundered The Family Vacation Guide to share his expert vacation experiences- especially when it comes to being a travelling family man.
Featured in Travel articles such as Travel + Leisure, TripSavvy and SFGate, you know you're reading some of the best vacation tips online.