You're going to the Happiest Place on Earth and looking forward to meeting Mickey Mouse and all of his friends! The four-park Walt Disney World Resort is a mecca to thousands of Disney fans, along with Star Wars and Marvel fans and anyone who loves princesses.
You'll need to consider extra costs as you plan your Disney trip, including parking your vehicle at the theme parks. Whether you stay on Disney property in one of their resort hotels, in a nearby rental home, or with that random friend or relative who happens to live in Orlando, you'll need to consider how you're getting to the park and how much it will cost to park.
This guide explores everything you need to know about parking at Disney World, Florida.
How Much Does Parking at Disney World Cost
Walt Disney World has four theme parks, two water parks, more than 25 Disney Resort hotels, and Disney Springs – a one-of-a-kind location with retail stores, entertainment venues, and various restaurants from grab-and-go to five-course meals.
There is also the 220-acre ESPN Wide World of Sports Complex. Thousands of athletes and fans visit each year to watch or participate in one of the many tournaments and sporting events.
Parking costs at each of these locations vary and are subject to change. Currently, it costs $25 per day for standard vehicles such as cars, trucks, and motorcycles to park at one of the theme parks (Magic Kingdom, Animal Kingdom, Epcot, and Hollywood Studios).
If you're driving an oversized vehicle, such as a camper trailer, RV, or limo, the parking cost is $30 per day.
There is no parking fee for all guests at Disney Springs, ESPN Wide World of Sports, and both water parks: Typhoon Lagoon and Blizzard Beach.
At the theme parks, standard parking is included for select Annual Passholders and Disney Resort hotel guests. These park visitors may also choose preferred parking and can pay the difference for this opportunity.
What Is Preferred Parking at Disney World, and How Much Does it Cost?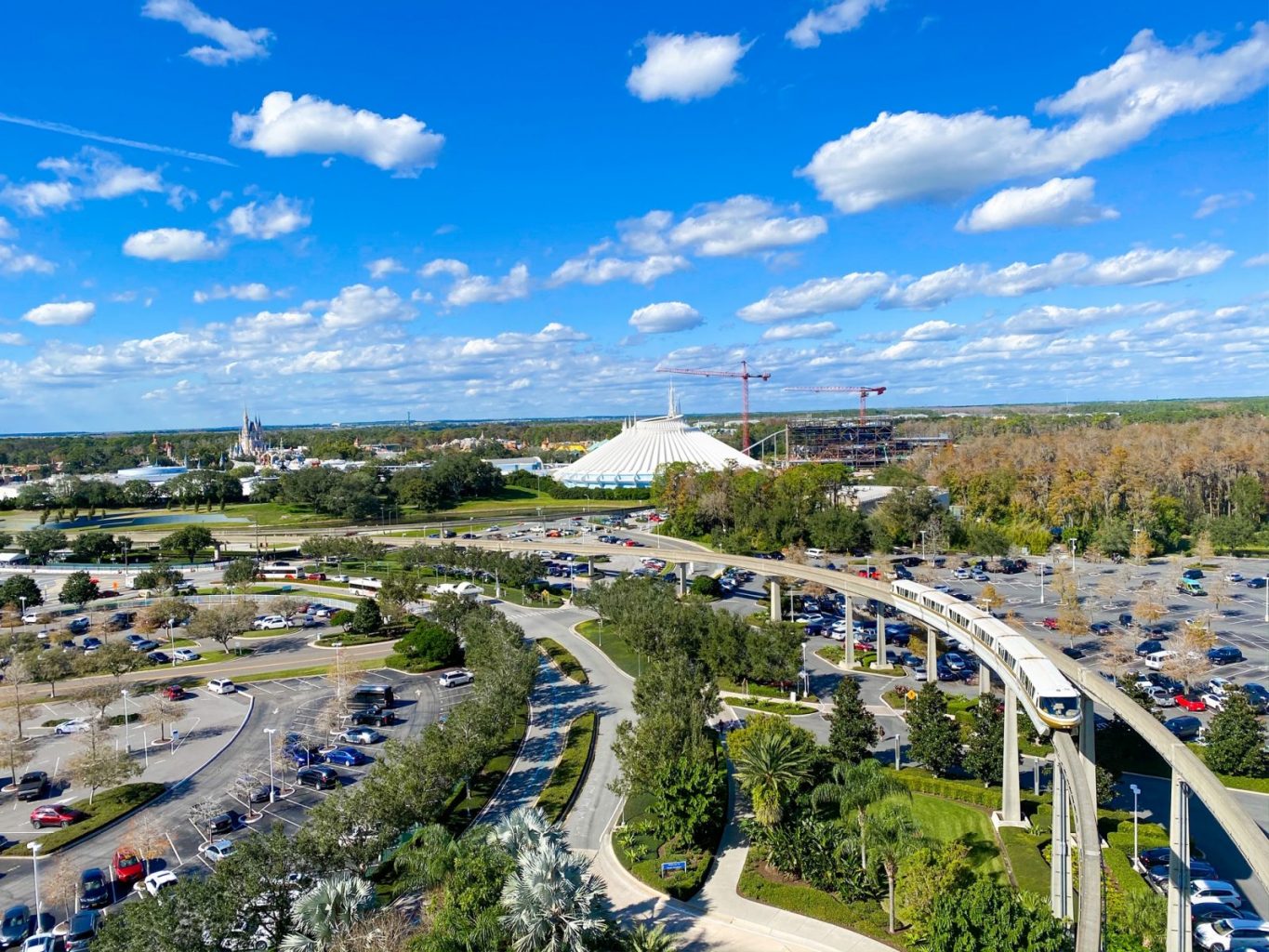 In 2016 Walt Disney World Resorts started offering preferred parking to all of its theme park guests. This service allows for guests to park closer to the theme park's entrance than standard parking.
The current cost of preferred parking is $45-50 per day for cars and motorcycles. The price varies per season and is subject to change. There are no preferred parking options for oversized vehicles.
Keep in mind, guests with mobility disabilities who use wheelchairs or electric scooters can park in a disability parking lot at the theme parks. These lots are typically located a short distance from each park's main entrance. Standard parking fees and a valid disability parking permit are required. Also, courtesy trams do not stop at these locations.
Courtesy trams with pick-up and drop-off locations throughout the parking will transport guests who choose standard parking to the main entrance.
How Much Does Parking at Disney World Onsite Resort Hotels Cost?
There are over 25 resort hotels on Disney property for visitors to reserve lodging during their stay. Each hotel falls into one of three categories: Value Resorts, Moderate Resorts, and Deluxe/Deluxe Villa Resorts.
Parking at Value Resorts
Disney's Value Resorts are more cost-friendly than any other resort on property. And although the room sizes are smaller, they're clean, and the staff is friendly. It is Disney, after all.
Value Resort hotels include All-Star Resorts (Movies, Music, Sports), Art of Animation, and Pop Century. Parking at these hotels adds $15 per night to your hotel bill.
Parking at Moderate Resorts
Staying at a Disney Moderate Resort may cost $100 to $150 more per night than a Value Resort room (depending on the accommodations). But these hotels are closer to the theme parks, have larger rooms, and have better dining options.
Disney Moderate Resorts include Coronado Springs, Caribbean Beach, and the two Port Orleans Resorts (French and Riverside). Parking at a Disney Moderate Resort costs $20 per night.
Parking at Deluxe Resorts and Villas
Some families that fly into Orlando prefer staying at a Disney Deluxe Resort. Deluxe Resorts offer complimentary transportation to and from the airport. These hotels also have larger room sizes and are much closer to the theme parks.
For example, some villas at the Animal Kingdom Lodge overlook animal habitats, while others have unprecedented views of the theme parks.
Deluxe Resort hotels include the Grand Floridian, Beach Club, Yacht Club, Animal Kingdom Lodge, Wilderness Lodge, and more. Parking your vehicle at one of these hotels costs $25 per night.
Do Guests Staying in Onsite Hotels & Resorts Have to Pay for Parking at the Parks?
No matter which Disney Resort hotel you book a room with, standard parking is included in the cost of your stay. You can also choose to upgrade to preferred parking if you're willing to pay the difference (usually an additional $25).
Hotel guests must present valid Disney Resort hotel identification to enter a theme park's parking lot.
You can also take advantage of the hotel's complimentary transportation services to get to the theme park. Depending on which hotel you're staying at and which theme park you're visiting, this may include the Disney bus, the monorail, or a boat.
Do You Need to Pay for Parking at Each Park if You Are Park Hopping on the Same Day?
Park-hopping is one of the best things about visiting Walt Disney World. If your family purchases park hopping tickets, you can enjoy multiple Disney parks in one day. You can start your day with a safari ride at Animal Kingdom, eat lunch around the world in Epcot, have dinner at the movies in Hollywood Studios, and finish off with rides and fireworks at the Magic Kingdom.
And the best part is, you only have to pay for parking once.
After you pay the parking fee at the first theme park, take your parking stub to the next theme park's parking lot and show the attendant.
Or your family can park at one theme park and utilize Disney's complimentary park-to-park transportation to make your rounds. If you opt for this strategy, we recommend that you park at Epcot and take the monorail to the Magic Kingdom.
You can also ride the monorail to the Ticket and Transportation Center. Take a bus from there to the other parks throughout the day.
Parking at Magic Kingdom
Every year, millions of guests visit Walt Disney World's Magic Kingdom theme park. Since opening in 1971, the park has become the crown jewel of Central Florida attractions.
And even though the Magic Kingdom welcomes guests from around the world and transports you to your favorite Disney adventure, your journey starts in the parking lot. After learning from California's Disneyland theme park, Walt Disney made sure that Disney World had more land and an exceptional entrance.
Visitors don't technically park near the Magic Kingdom's main entrance. You'll park at the Ticket and Transportation Center, a hub for all Disney buses, the monorail, and the ferry boat that crosses a lake to and from the Magic Kingdom.
It's important to note that all Disney World theme parks are large. They have themed sections to help you remember where you parked.
There are two sections at the Ticket and Transportation Center: Heroes and Villains. The "Heroes" lots include Aladdin, Mulan, Peter Pan, Rapunzel, Simba, and Woody. The "Villains'' are Cruella, Hook, Jafar, Scar, Ursula, and Zurg. Be sure to remember your section and row to find your vehicle after a long day at the park.
After you park your vehicle, make your way to the Ticket and Transportation Center to purchase your theme park tickets (if you don't already have them). Then decide if you want to take the monorail or the ferry to the Magic Kingdom.
The monorail is an elevated railway that connects to the Magic Kingdom, Epcot, and select Resort hotels. It's free to ride the monorail, and it typically takes less than 10 minutes from the Ticket and Transportation Center to the park's entrance.
Keep in mind, the monorail does not run to Hollywood Studios or Animal Kingdom, but you can take a bus from the Ticket and Transportation Center to these parks (and it's also free).
If you decide to ride the ferry to the park's entrance, it's also about a ten-minute ride (and free). And depending on the weather (perfect in the cooler Florida months) it's an excellent choice as you approach the park.
Parking at Epcot
Eleven years later, in 1982, Epcot opened with the iconic Spaceship Earth (that attraction located at the park's entrance that looks like a giant golf ball). EPCOT stands for Experimental Prototype Community of Tomorrow and was Walt's dream park since the mid-1960s.
Throughout the year, EPCOT hosts events such as the International Flower & Garden Festival and the International Food & Wine Festival.
Guests can also explore the World Showcase, which features nine different countries. In Norway, you can visit Little Mermaid and Frozen characters. Or choose the United Kingdom to see Alice in Wonderland. Mexico often features Donald Duck in a sombrero, and there's so much more to see.
EPCOT is our favorite Disney theme park to leave the car because most people overlook this incredible park. There are days you can park at Epcot and walk to the main entrance without any trouble at all. They also have complimentary trams running, so you can always choose this option as well.
And because the monorail makes a stop at Epcot, it's also a really easy way to make your way to the Magic Kingdom from here. The buses also connect Epcot to other Disney World parks and resorts.
EPCOT themed lots include Amaze, Create, Imagine, Journey, and Wonder.
Parking at Animal Kingdom
Animal Kingdom is Walt Disney World's newest park, even though it opened more than two decades ago. In an effort to focus on animals and conservation efforts, it's like a zoo with roller coasters. And with the addition of the Everest roller coaster in 2006 and Pandora – The World of Avatar opening in 2017, Animal Kingdom has become a favorite Disney park for visitors.
If you're park hopping, we recommend starting with Animal Kingdom so that you can ride the safari ride early in the morning. Mornings are usually the best time to see the most animals in the exhibit.
Parking at Animal Kingdom is also the easiest among all the Walt Disney World Resort theme parks, in our opinion. If your family is only doing one park, Animal Kingdom parking is pretty straightforward. Take Interstate-4 to Osceola Parkway (exit 64) and follow the signs to the park. Then take the complimentary trams to the entrance.
Animal Kingdom lot sections include Butterfly, Dinosaur, Giraffe, Peacock, and Unicorn. This park also has one of the larger disability parking lots among the Disney theme parks.
Parking at Hollywood Studios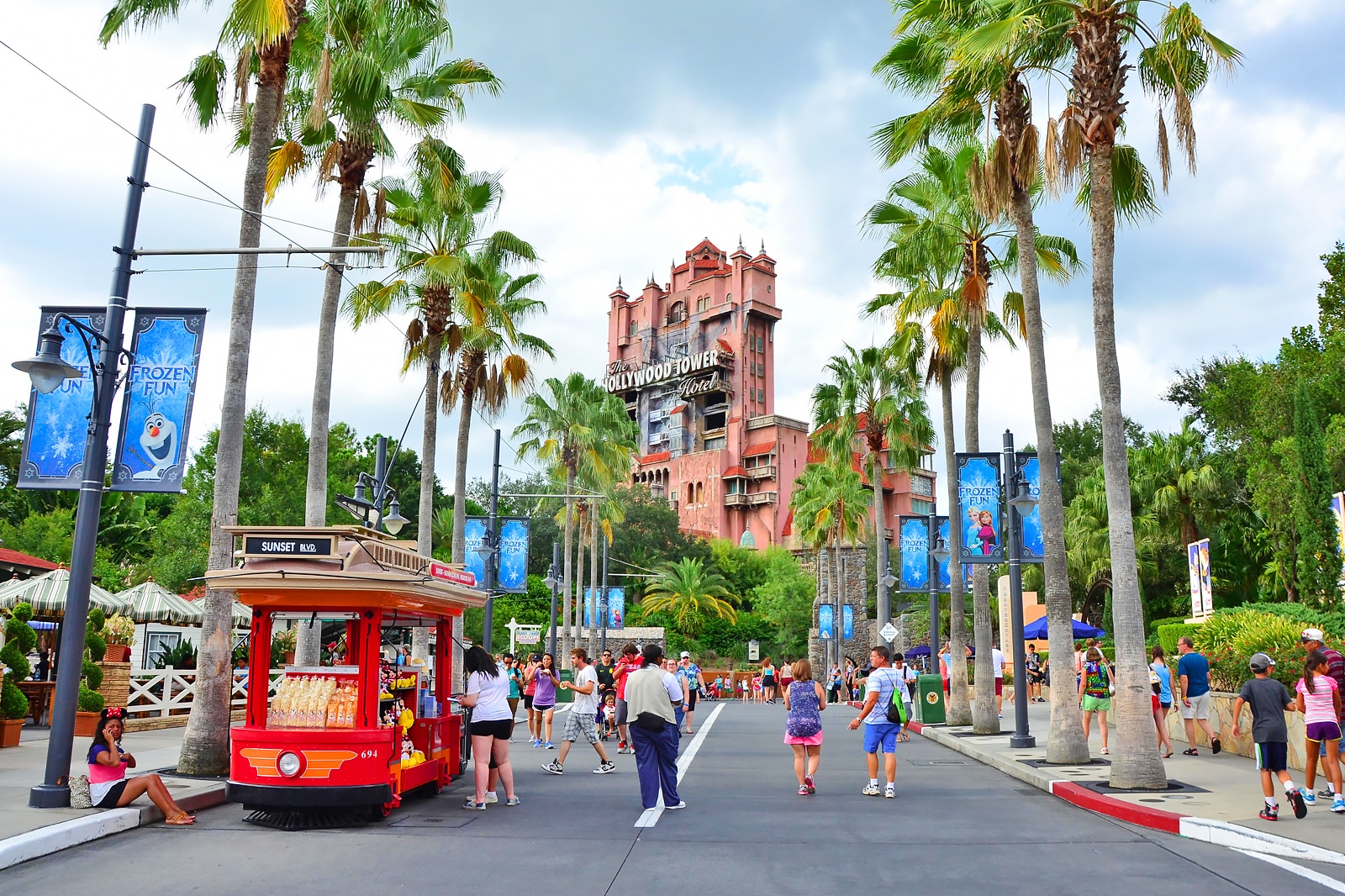 Opened in 1989, Disney's Hollywood Studios was originally called Disney-MGM Studios. At the time, this third park hosted live audiences for "The Mickey Mouse Club" filmings with some familiar names like Justin Timberlake, Britney Spears, Ryan Gosling, and more.
Today, guests enjoy the new Slinky Dog Dash roller coaster and Star Wars land along with older favorites such as Tower of Terror, Muppets 3D, and the Rock 'N' Roller Coaster (featuring Aerosmith).
Parking at Hollywood Studios is similar to Animal Kingdom. Guests can choose standard or preferred parking. Courtesy trams transport visitors from designated pick-up spots to the park's main entrance.
Although Hollywood Studios is one of our favorite parks, the parking lot can be a poor experience. There seems to be more traffic here than at other theme parks. Some guests even choose to park their vehicle at nearby hotels (Swan or Dolphin) and then walk the .5 miles to the Hollywood Studios main entrance.
One thing to keep in mind when visiting Hollywood Studios: the monorail does not make a stop here. However, you can get to other parks by bus if you're park hopping for the day.
Hollywood Studios' lot themes are Film, Music, Stage, and Television.
Parking at Typhoon Lagoon
1989 saw the opening of Disney-MGM Studios (now Hollywood Studios) and Disney World's second water park, Typhoon Lagoon. (The first, River Country, was closed in 2001).
Typhoon Lagoon tells the legend of a typhoon that wrecked a once-tropical paradise.
Guests will see sunken ships, fishing gear, and broken surfboards as decorations throughout the park. Visitors enjoy the largest outdoor wave pool, water rides, and pools at the park.
All guests enjoy parking at Typhoon Lagoon at no cost. However, there are no courtesy trams available at the water parks. Visitors leave their vehicles, load up their towels, sunscreen, and coolers, and walk to the park's main entrance.
Before 2019, guests who wanted to arrive at Typhoon Lagoon by bus first had to stop at Disney Springs. From there, they took a bus to the park. Now there are new bus routes that transport guests from certain resorts right to the park.
It's also important to note that since March 2020 (and COVID-19), Typhoon Lagoon is closed with no word yet on reopening.
Parking at Blizzard Beach
Similar to Typhoon Lagoon, Blizzard Beach is a water park that opened in 1995. Millions visit each year. Unlike most water parks, the themes are snow and skiing.
Mount Gushmore is the central focus of the park and has nine rides with varying thrill levels (labeled Green, Red, and Purple) to help guests choose their adventure.
Also, similar to Typhoon Lagoon, guests receive complimentary parking while visiting Blizzard Beach, and there are no trams in the parking lot. During peak season (those hot, summer Florida months), the parking lot can fill up quickly. We recommend arriving early.
Guests can bring in outside food and nonalcoholic beverages, but there´s a size limit on coolers, and you cannot bring glass containers. Or you can purchase food at one of the restaurants: Avalunch, Lottawatta Lodge, or Polar Pub.
In true Disney fashion, the restaurants fit the snowy theme of the park's decor.
Blizzard Beach is extremely easy to find, located just off Osceola Parkway and down the road from the Disney All-Star Sports Resort. It's also near Animal Kingdom. You could go to the theme park early, ride the safari, enjoy the Everest roller coaster, then stop by Blizzard Beach afterward and continue to enjoy the "cold" theme of the day while riding the water rides.
Parking at Disney Springs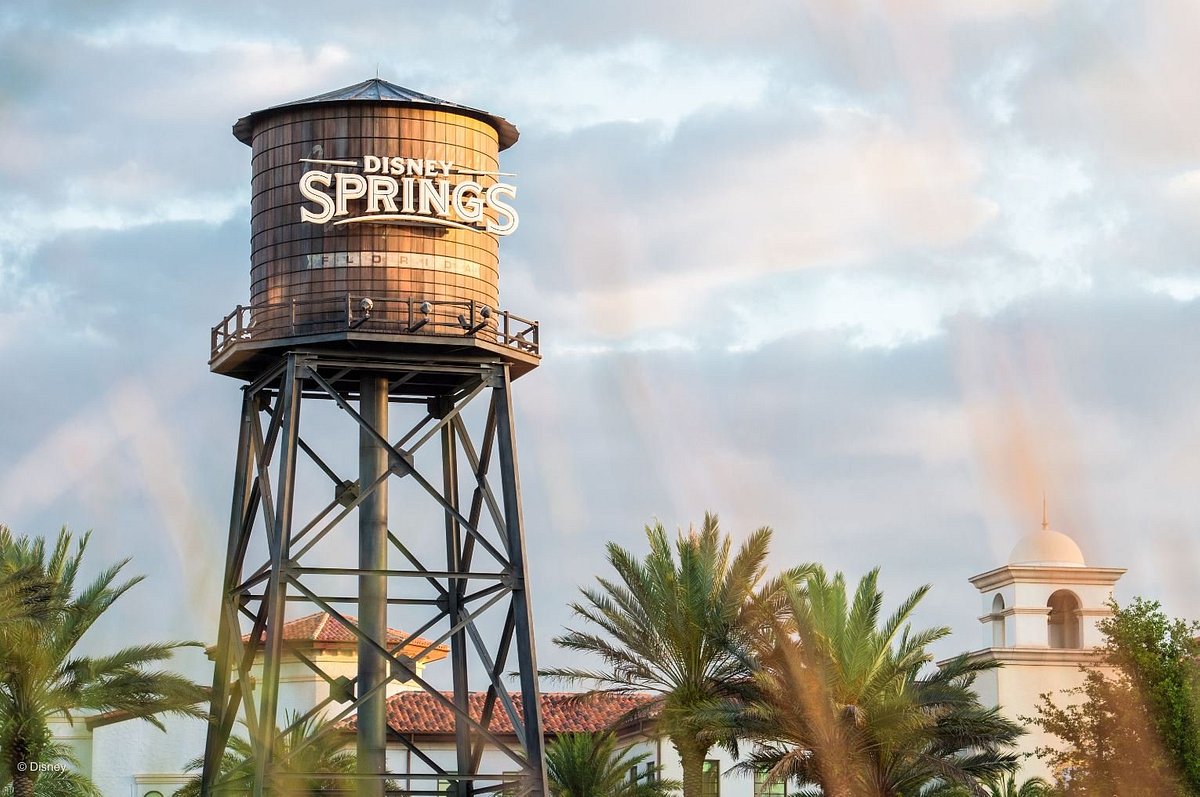 Disney Springs has seen a lot of changes since it first opened in 1975. It was first called Lake Buena Vista Shopping Village and was a nice place to get your Disney souvenirs.
From 1977 to 1997, it changed names three times. In 1997, then "Downtown Disney" homed Pleasure Island, a place with nighttime venues for concerts and dancing. (Pleasure Island closed in 2008).
Over the past several decades, this little shopping village has grown and expanded to more than souvenirs. Now visitors to Disney Springs can enjoy fine dining, luxury shopping, and entertainment such as movies, bowling, and concerts.
Parking is free at Disney Springs, but you have a lot of choices. You can choose to park in front of Disney Springs in either Lemon or Orange parking garages. Or you can park behind Disney Springs in a traditional surface parking lot, known as the Strawberry lot. Or you can park across Buena Vista Drive in the Grapefruit parking garage and walk the bridge over to Disney Springs.
If you park in one of the garages, plan to be amazed by the technology that Disney World uses. Trust us when we say these parking garages are unlike anything you've seen before. There are electronic signs at each row indicating how many open spots are in each row. And as you drive down a row, there are red or green lights that indicate if a spot is available or not.
And that's just the parking lot! Overall, Disney Springs is a fun place to visit, even if you only walk around and window shop. Or go ahead and grab those souvenirs. You can never have too many Mickey items!
Parking at ESPN Wide World of Sports
Millions of guests visit the ESPN Wide World of Sports either as a player or a fan. Sometimes both. Throughout the year, the sports complex hosts tournaments. You could watch baseball, basketball, soccer, cheerleading, volleyball, track & field, and field hockey. This complex has also hosted the Atlanta Braves every year since 1998 for the spring training season.
General parking at ESPN Wide World of Sports is free, although guests can select premium parking for an extra cost during certain events. This premium parking gets you closer to the entrance of the complex for the day.
Disney buses go to the sports complex, but usually only from certain Disney Resort hotels and on a limited schedule.
Can You Charge Your Electrical Vehicle When Parking at Disney World?
If you drive an electric vehicle and need to charge your car during your Disney World vacation, you're in luck! Disney has created several ChargePoint charging stations at Magic Kingdom, EPCOT, Animal Kingdom, and Disney Springs. Simply ask a Cast Member for directions to the spots upon entry.
There are also ChargePoint charging stations at Coronado Springs (6 spaces), Riviera Resort (2 spaces), and Wilderness Lodge (2 spaces).
Keep in mind that these spots are first-come, first-serve. You´ll need a credit card or pre-ordered ChargePoint card to use the station.
Top Tips to Avoid Parking Fees at Disney World
We have already mentioned a few ways to get free parking at Disney World. You can either be an Annual Passholder or stay on property at one of Disney's Resort hotels. But there are a few other ways to avoid parking fees at Disney World.
Purchase a Tables in Wonderland pass and park at any Disney theme park for free after 5 pm.
Have dinner at a hotel and quickly stop by a nearby theme park (guests have a 3-hour window of free parking for any hotel dinner reservation).
Utilize Disney's transportation system and ride the bus or monorail to your destination.
Stay at a nearby hotel (off Disney property) that offers shuttle service to the theme parks.
More about our TFVG Author