No visit to Disney World is complete without indulging in a delicious churro! These sweet, fried treats dusted with cinnamon are a staple at the happiest place on Earth, and you can find them in almost every park.
If you want to make your search a bit easier, keep reading for where you can grab one of these tasty treats.
Magic Kingdom
As one of the most popular parks in Disney World, you know you can find a churro in Magic Kingdom. We've listed the prime spots to find one to ease your search.
Pecos Bill Tall Tale Inn and Café
Located in the iconic Frontierland of Disney World, Pecos Bill Tall Tale Inn and Café romanticize the mythic feel of the wild west. You'll find an absolute stand-out in the churros as you rest your feet for lunch or dinner and peruse the menu.
These bite-sized churro nuggets served with a classic chocolate dipping sauce are the ideal sweet treat. They're also convenient if you want to eat on the go.
Frontierland Churro Cart
The Frontierland Churro Cart is a popular attraction at Disneyland, offering traditional churros from mighty Mexico in mere minutes. Although deep-fried churros have been around for centuries, these hit the spot due to their delicious cinnamon-sugar coating and consistently fluffy dough.
Whether you are looking for a quick snack while waiting in line or in need of something more substantial to give your day a sweet boost, the Frontierland Churro Cart can provide it. Plus, the cart's convenient location and moderate pricing make it an ideal choice for all ages.
The Cool Ship
Cool Ship's churros have become a must-have treat for any Disney World visitor in Tomorrowland. Their freshly-made full-size churros are served hot and crispy on the outside with a hint of cinnamon.
Perfectly paired with their indulgent chocolate dipping sauce, it is no surprise that long lines form during peak hours to get a taste of this delicious combination. Grab one and be transported with every bite into a world beyond imagination.
The Lunching Pad
The churros at The Lunching Pad in Tomorrowland at Disney World are a delicious treat. Their regular full-sized churro is a perfect size, not too small but not too large. It's light and crispy on the outside with the right amount of sugar coating, while the inside remains tender and fluffy.
To top it off, the Lunching Pad offers a warm chocolate dipping sauce that adds an extra layer of tasty decadence. If you're ever looking for a mid-day snack to hold you over until dinner time, this is the place to go.
Cinderella's Castle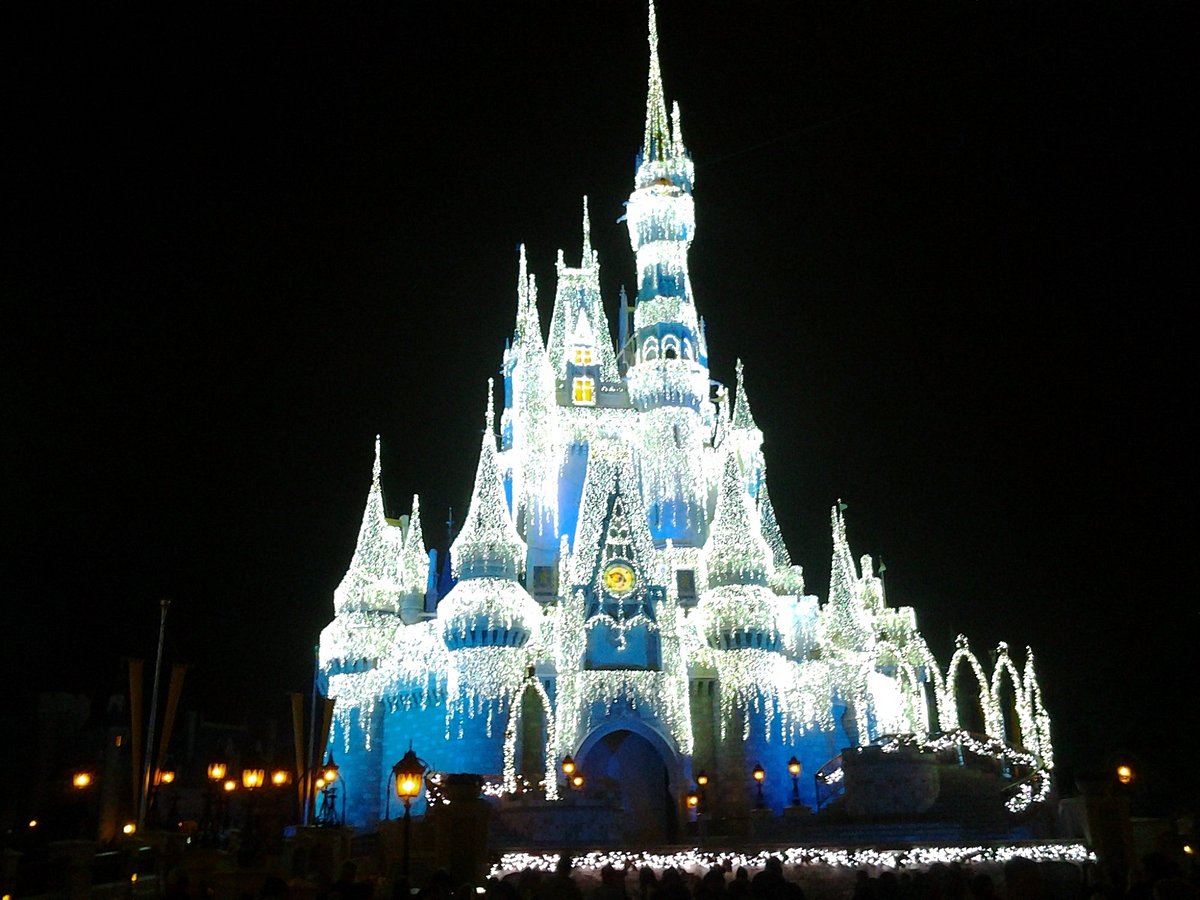 Just outside of Cinderella's castle, you'll find another of Disney World's food carts for quick-service eats while you explore the park.
The only difference? This cart serves churros and not just any churros. In celebration of Disney World's 50th anniversary, you can find celebratory churros:
Dipped in chocolate
Rolled-in pretzel pieces
Drizzled with caramel sauce
Don't worry though. If you don't want your churro decked out with all the fixings, you can always ask for a simple churro dipped in the signature chocolate sauce instead. However you get it, you're in for a really sweet treat.
Animal Kingdom
Magic Kingdom isn't the only park in Disney that offers the oh-so-coveted churros. You'll also find these treats in Animal Kingdom at a couple of different spots, such as the Nomad Lounge and the World of Avatar exit.
Nomad Lounge
When it comes to delicious treats at Disney World, it's hard to beat the decadent churros from Nomad Lounge in Animal Kingdom. Within seconds of biting into these delectable treats, your taste buds will be delighted by their cinnamon-sugar flavor.
The churros themselves are freshly made for each order and have the perfect crunchy exterior. The light and fluffy inside melts in the mouth. If you're looking for a culinary treat that perfectly encapsulates all that is magical about a visit to Disney World, then make sure to grab some churros from Nomad Lounge during your next visit.
World of Avatar
There is no better way to end a long day of thrill rides and experience the beauty of Pandora at Disney World's Animal Kingdom than at this charming churro stand. The stand is located conveniently at the park's exit.
Here, visitors can treat themselves to delicious and freshly-made churros dusted with sweet cinnamon spice, all while listening to exceptional music from the Avatar soundtrack. Not only are these tasty treats simply irresistible, but it's also a great moment of relaxation after an exciting day discovering the wonders of Avatar in Animal Kingdom.
Epcot
Since churros originated in Spain, you know you can expect to find them in the Disney World park that celebrates various countries. And while Epcot doesn't have Spain as a registered country in the park, you'll still find churros in the Mexico section and at the park's Refreshment Port.
Cantina de San Angel
If you've never had the pleasure of trying churros from the Cantina de San Angel in Disney World's Epcot, you are truly missing out. These delicious morsels of sweet and crunchy delight have a history that dates back centuries; they originated as a traditional Spanish snack, but they have become beloved worldwide.
At the Cantina de San Angel, these delightful treats are made with fresh dough and come dusted with cinnamon-sugar goodness. Whether you're looking for a special snack or just something to tide you over until your next meal, these churros are sure to make your visit to Epcot even more memorable.
The Refreshment Port
Just as Cinderella's Castle and The World of Avatar have food carts outside of them serving churros, Epcot has the Refreshment Port to offer these cinnamon delicacies. You won't experience anything as fancy or fresh as you might from the Cantina de San Angel or other Disney World restaurants, but the Refreshment Port's churros are just as delicious.
Here, you'll find a traditional churro with chocolate dipping sauce as the perfect snack to begin or end your trip to Epcot.
Disney's Hollywood Studios
If you find yourself craving something sweet after you ride on The Tower of Terror, you can head over to this diner for an unforgettable churro experience.
Min and Bill's Dockside Diner
Min and Bill's Dockside Diner in Disney World's Hollywood Studios is the place to be for an unforgettable milkshake and churro experience.
The diner's signature churro milkshake blends the sweet, cinnamon-sugar crunch of a classic churro with creamy ice cream and other indulgent ingredients to create a truly unique and delicious treat.
Topped with whipped cream and a perfectly-cooked churro, this shake is the perfect pick-me-up on a hot day in the park. Even better, it's delicious enough to pass for an indulgent dessert after lunch or dinner at the nearby restaurants.
Trolley Car Cafe
The Trolley Car Cafe isn't a full sit-down restaurant, but it isn't a pit stop food cart either. It's the best of both worlds. You can pop into the cafe for:
Refreshments
Pastries
Light bites
Churros
The churros are perfect for a midday snack, and you can smell the warm cinnamon as you approach the popular cafe.
Disney Springs
Just because Disney Springs doesn't have the rides or entrance fees that the rest of the Disney World parks have doesn't mean you can't grab a churro here too. You can find some of the best churros at Paradiso 37 and Sunshine Churros in the Disney Springs Marketplace.
Sunshine Churros at Disney Springs Marketplace
A trip to Disney Springs Marketplace is not complete without a delicious snack from Sunshine Churros. Their churros are made fresh with love and come in various flavors, including classic cinnamon, watermelon, oreo, Fruity Pebbles, and other nostalgic favorites.
This spot gets very busy during peak hours, so be sure to come early to beat the long lines and avoid disappointment. But if you get your hands on one of these churros, you'll know that it can reinvigorate your shopping spirit in the Springs.
Paradiso 37
Paradiso 37 at Disney Springs is an excellent spot for a delicious Mexican meal but even better for sweet treats. Their churros are made fresh to order and taste as if you stepped right into the streets of Mexico.
Whether you're dying for something sweet after dinner or in need of a pick-me-up snack on an afternoon spent exploring Disney Springs, Paradiso's churros won't let you down. Lightly fried and crisp on the outside, yet warm and fluffy on the inside, they are simply heavenly. And don't forget the thick chocolate and caramel sauce they come served with.
Final Thoughts
Churros are a must-have when visiting Disney World, but with so many places to get them, it can be tough to decide where to go. So, next time you're in the parks, be sure to check out one of these spots for some of the best churros around. These delicious treats will complete your Disney trip.
More about our TFVG Author