Planning a family vacation to the Walt Disney World resort in Bay Lake near Orlando, Florida, is almost as much fun as taking it. But it can also be a stressful process, mainly if you'll be limited on time and need to fit a lot of activity into a single day.
Luckily, Disney World is the kind of place where it's possible to both take your time and do all the essentials in a shorter visit. You can feasibly tackle all four theme parks–Magic Kingdom, Epcot, Hollywood Studios, and Animal Kingdom–with one day devoted to each.
Below, we'll cover everything you need to know about Magic Kingdom before you go, including navigating the park, what to bring with you, and more essential information. Then, we'll explain in detail how to tackle the flagship theme park in Disney World in a single day, including expert tips and tricks.
Everything You Need to Know Before You Go
Planning is key to getting the most out of your magical day, especially if you want to experience as much of what the park offers in a single day. Let's get the essentials out of the way first.
Magic Kingdom 101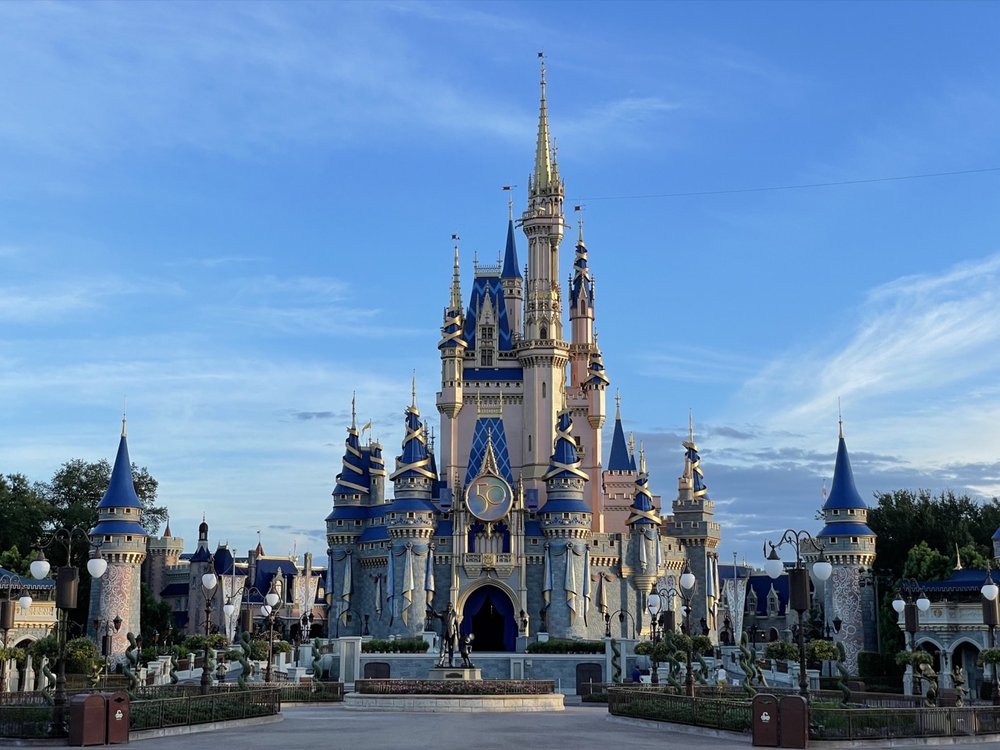 The Magic Kingdom in Walt Disney World was the Disney Company's first Florida theme park and second overall. It opened in October 1971, just a few years after Walt Disney's death.
Walt Disney conceived the project because he didn't have the space he wanted to expand in California's Disneyland. He posited that he could buy all the land he needed cheaply in Florida. Today's visitors can see how his dream came true.
Magic Kingdom in Florida resembles Disneyland, though it is not a carbon copy. It is separated into six distinct lands: Main Street, U.S.A., Fantasyland, Adventureland, Frontierland, Tomorrowland, and Liberty Square.
If you include character meet-and-greets, fireworks displays, and parades, there are about 35 attractions in the park. The park almost always opens by 9 AM (often earlier) and closes after dark on most days. Some nights it stays open close to midnight, though sometimes it closes early for special events.
While it is not the largest in acreage, Magic Kingdom has the highest attendance of any of the Florida theme parks. Because it is also the Florida flagship, everyone likes to visit, and many people make day trips.
Tickets and Park Reservations
One of the most critical things to know when planning a visit to Magic Kingdom is that you and all members of your party must have a prior reservation to gain entry to the parks. This is true even if you have a valid park ticket.
We mention this now so that you don't forget to make yours as soon as possible! This system is relatively new, and even some pre-pandemic Disney experts don't know how to use it well. Currently, reservations are open for more than a year. While there can be last-minute availability, you don't want to risk it, especially if you're traveling during peak times.
Another thing to pay attention to when choosing your dates is special events. The last few months of the year are fabulous times to visit since the parks come alive with decorations, limited edition treats, and more. But Magic Kingdom also closes early on select nights from September-December. You don't want to be forced out of the park earlier than planned.
Navigating Magic Kingdom
Even before you go, it's helpful to understand how the park is laid out. There is only one main entrance, after which guests proceed down Main Street, U.S.A., toward the iconic Cinderella Castle.
The other five lands are arranged around the castle in a spoke-like design. Clockwise from the end of Main Street are Adventureland, Frontierland, Liberty Square, Fantasyland (which is directly behind the castle), and Tomorrowland.
The best tool for navigating the parks is your My Disney Experience app, which we'll discuss in greater detail below.
Planning Your Day
While you can certainly buy your park tickets, make your reservation, and show up at the park without any other planning, you'll have a much better experience if you put some time into it. What's more, some of the memorable experiences require advanced booking.
Choose Your Must-Do's
More than likely, you won't be able to do everything you want to in one day. That's why it's so critical to choose your must-do's ahead of time.
Below, you can read descriptions of all the major attractions at Magic Kingdom, which can help you decide which are the most appealing for your family. There are also scores of YouTube videos, and Disney has tons of social media content where you can watch videos of the rides to see if they're a good fit for your family.
Genie and Genie+
You'll read about Genie and Genie+ a lot in your planning process. Using some of these services is unavoidable during your visit, but Genie+ is a paid service that allows you to reserve times for some of the parks' top attractions.
If you only have one day in Magic Kingdom, paying for the Genie+ service is a good idea. While it costs $15 per person, you'll get much more mileage out of your tickets and your day. We recommend adding it ahead of time and educating yourself on how to use it.
Read a comprehensive overview of the service, download the app onto your own phone, and familiarize yourself with how to navigate it before you arrive.
If you decide to buy Genie+ or use the Lightning Lane service, be sure to sign on at 7 AM to make your first selections on the morning of your visit. Be sure to buy the Genie+ service for everyone in your party.
Decide on Extras and Make Reservations
There are tons of extras that you can add to your day to make it even more magical for your family, but those things take up time. You'll need to factor them into your plan for the day.
The most popular is dining. Dining reservations open 60 days before your visit. But Disney has worked hard to add Enchanting Extras at each of the parks that are worth checking out.
One of our favorites is the Fireworks Dessert Party. Not only do you get prime viewing for the spectacular fireworks display, but you get to eat all the sweets you can stomach. There's also Bibbiddi Bobbiti Boutique if your child wants to transform into a favorite character or Harmony Barber Shop if it's time for a trim.
Planning Timeline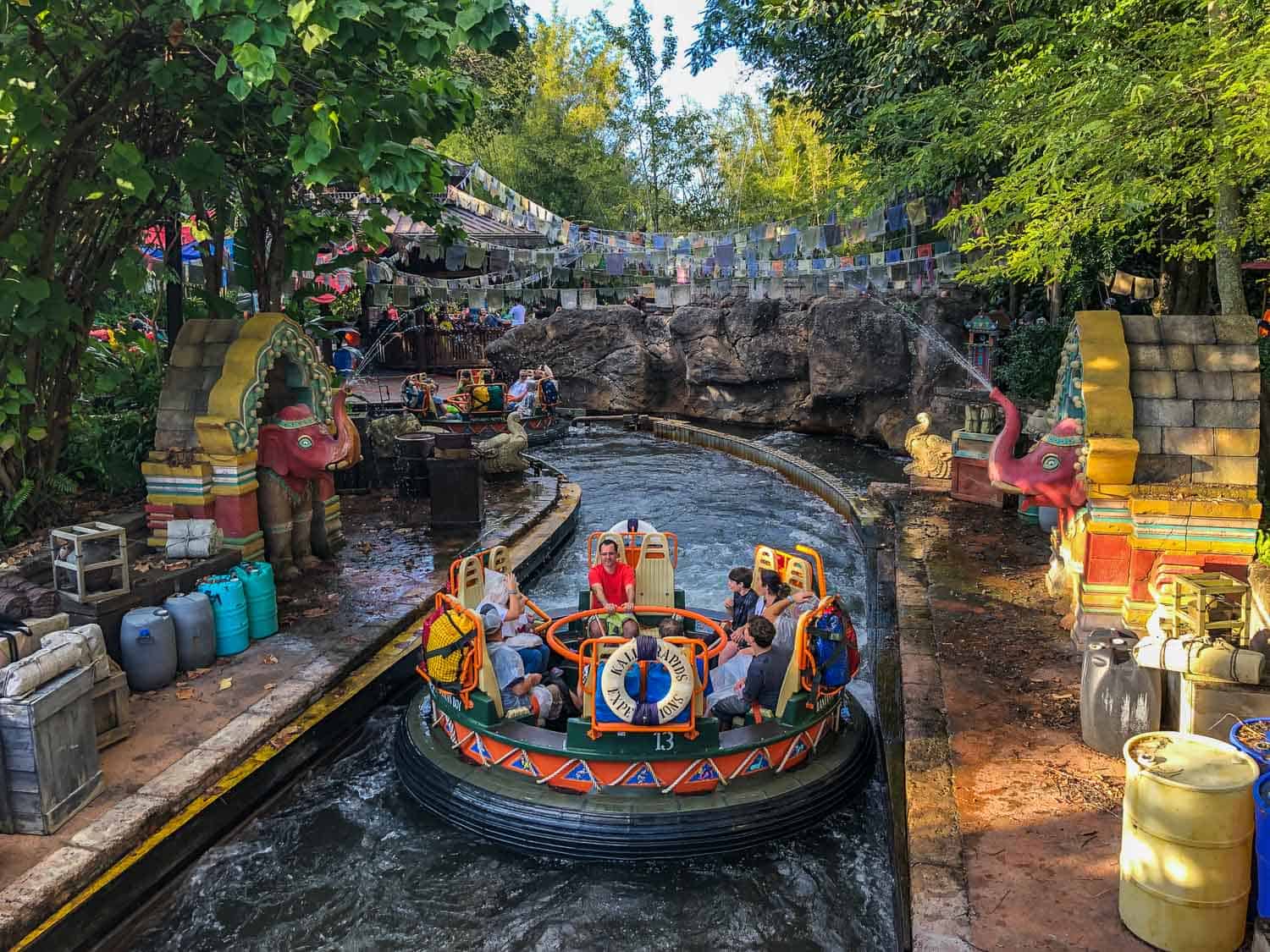 How far ahead do you have to make reservations for your trip to Magic Kingdom? Use this easy timeline to ensure you don't miss anything.
As soon as you know when you'll visit, make your park reservation and buy your tickets. This is especially true if you plan to visit during peak season. Currently, tickets can be transferred to another date if you need to change.
You'll want to book your hotel no less than six months before your trip, especially if you're staying at a Disney resort. If you have to fly, set up a flight tracker or use an app to keep an eye on prices.
You can make dining reservations 60 days before your visit. If you're a resort guest, you can reserve dining for the length of your stay. This is when reservations for most Enchanting Extras open, so you can also book these.
Leave Room for the Magic
As crucial as planning is, and as much as you must know what you're doing, it's equally as important to leave some flexibility in your plan.
If you have little ones, you already know that going with the flow is a must. It's even more of a requirement at Magic Kingdom. Despite all the excitement and fun, you'll be asking a lot from their little bodies and brains.
More than likely, their sleep schedules will be off, they won't be eating the healthy foods you ordinarily prepare for them, and they'll be overstimulated. Even older kiddos sometimes have a hard time with the pace and structure of the day. Be patient with them and open to changing plans if the need arises.
Magic Kingdom Attractions
There are about 35 attractions in the Magic Kingdom, including shows and other extras. While we won't go into detail about all of them here, you should be able to choose what sounds most appealing to you and your family.
We've separated the list of rides into several categories to help you understand who they're appropriate for, but Disney rides rarely fit easy definitions. If something sounds intriguing, but you're unsure, do some more research and add it to your maybes.
Read through these descriptions and make your list of must-dos. It's a critical part of the planning process.
Family Rides
When we say family rides, we mean rides that kids of most ages can enjoy with their grandparents and everyone in between. For the most part, these rides don't have any warnings about who should or should not ride (although you should use caution at all times).
You'll notice that the bulk of the rides at Magic Kingdom is in this category, and that's intentional. While all Disney's parks are meant for families, that's most true for Magic Kingdom. If you've got a big group or mixed ages, there's something for everyone here.
In a single day, you likely won't be able to do all of the family rides available at Magic Kingdom. That's why it's so critical to read about them ahead of time. The top family rides tend to be:
The Haunted Mansion (Liberty Square)
"it's a small world" (Fantasyland)
The Jungle Cruise (Adventureland)
Peter Pan's Flight (Fantasyland)
Pirates of the Caribbean (Adventureland)
These are the rides in this category that you should either try to use your Genie+ service for or plan to wait in line. The Jungle Cruise and Peter Pan's Flight tend to have the longest wait times.
There are lots of rides to try in the interim. In Adventureland, the Magic Carpets of Aladdin are similar to Dumbo or the Astro Orbiter. You control how high your carpet flies as you move around and around. Liberty Square has a slower vibe, too. You can take a quiet ride on the Liberty Square Riverboat.
In Tomorrowland, check out the Astro Orbiter and Buzz Lightyear's Space Ranger Spin, which is interactive. You get a score at the end so your family can compete.
The Tomorrowland Speedway is a classic, and kids who are tall enough can drive their own gas-powered cars. If you need to get off your feet, the Tomorrowland Transit Authority People Mover gives you a calm ride through this park section.
The most family-friendly rides are located in Fantasyland, where families spend most of their time. In addition to "it's a small world" and Peter Pan's Flight, you'll find the following attractions:
The Barnstormer
Dumbo the Flying Elephant
Enchanted Tales with Belle
Mad Tea Party (some people may consider this too adventurous, but you don't have to spin fast, and there's no height requirement!)
The Many Adventures of Winnie the Pooh
Prince Charming's Regal Carousel
Under the Sea: Journey of the Little Mermaid
Finally, the Walt Disney World Railroad has a few stops, including Main Street, U.S.A., and Frontierland. You can hop on and off. It's a great way to get off your feet, and lots of little kids love trains.
Thrill Rides
If you have kids a little older or if parents are thrill seekers, then all of the attractions on this list will be must-do's. The three mountains are the classics: Big Thunder Mountain Railroad, Space Mountain, and Splash Mountain.
Big Thunder Mountain Railroad is in Frontierland. It's a runaway mine train adventure with sharp turns, small drops, speed, and other thrills. It's next door to Splash Mountain, a flume ride with several smaller drops before the big one.
Space Mountain is perhaps the most thrilling ride in Magic Kingdom (until Tron Lightcycle Power Run opens in the upcoming years!). It's entirely in the dark, so you can't see what the track holds up ahead. There are twists, drops, and other heart-stopping moments. It's not for the faint of heart.
The Seven Dwarfs Mine Train is Magic Kingdom's newest coaster, and it's extremely popular. You can buy a Lightning Lane pass for this ride on the day of your visit, beginning at 7 AM, which is the only way to guarantee you'll get on it.
The Seven Dwarfs Mine Train isn't too intense, so it's okay for younger kids. Some families make it their kids' first roller coaster experience. That doesn't mean it isn't without thrills, though–there's a significant drop and other experiences to enjoy along the way.
Shows
There are several shows throughout the park, and they're lovely for getting off your feet and sitting in the air conditioning. Not to mention, they're guaranteed to be good since you're in Disney World. One classic is Walt Disney's Enchanted Tiki Room, where you can watch a room of birds come to life and sing for you. It's in Adventureland.
In Fantasyland, Mickey's Philharmagic is a 3D show that features new twists on some of your favorite Disney tunes and scenes. Stop by and see the Hall of Presidents in Liberty Square, the Country Bear Jamboree in Frontierland, or Walt Disney's Carousel of Progress in Tomorrowland.
For Little Ones Specifically
There are a couple more attractions to check out if you have toddlers and little kids. If it's hot, pack your swimsuits or a change of clothes for the Casey, Jr. Splash and Soak Station. It can be a lifesaver on sweltering summer days.
The Monster's, Inc. Laugh Floor is an interactive attraction designed especially for little ones. That being said, older kids and parents will enjoy it and get some giggles from the jokes.
Parades, Fireworks, and More
No matter when you visit, it always feels like Disney World is putting on its finest show for you. There are performers and other remarkable sights and events daily.
At the beginning of every day, Disney puts on a welcome show in front of Cinderella's Castle. The name, music, characters, and other elements change from time to time, so it's fun to see if it's been updated each time you go.
The front of the castle is the scene for several shows throughout the day. Favorite classic characters like Mickey and friends, as well as princesses, villains, and other beloveds, perform. It's a great place to catch the parades as well. There are usually at least two parades each day.
Another unique park feature is character meet-and-greets. Various characters pose and interact with guests at specific places throughout the parks. The characters change periodically, but there's usually Mickey, Minnie, other classic characters, and various princes, princesses, pals, and villains.
The crown jewel for many park-goers is the fireworks at the night's end. The Magic Kingdom fireworks are so popular that during the summer of 2022, Disney added a second show on select nights. Many visitors remain in the parks long after bedtime to see the incredible fireworks show.
The best place to see the fireworks is on Main Street, and you'll notice people staking claim to spots pretty early. Beacons of Magic also happens at night, when Cinderella Castle lights up, releases pixie dust, and looks even more magical than usual.
In addition to all of the above, there are also a few other attractions that are difficult to categorize. The Frontierland Shooting Arcade allows your family to test your aim. Your kids can run free and wild at the Swiss Family Treehouse and Tom Sawyer Island, both excellent for letting off steam.
What To Bring To the Magic Kingdom
If you plan to see as much of the Magic Kingdom as possible in one day, then what you choose to pack or wear matters a great deal. Don't worry; we've got you covered.
As parents and caregivers, you know what your kids need. Diapers, clothes, fidgets, and so on–don't skip them, and pack extra for your day in Magic Kingdom. Pro tip: pack an extra bag full of backup essentials and leave it in a locker in the front of the park. The locker rentals are a nominal fee, and it's more than worth it if you need something.
Even though there are tons of tasty treats to try at Magic Kingdom, pack lots of munchies, water bottles, and juice. Try to include things your kids like that they can munch on in line or while waiting for parades, like Goldfish, Cheerios, and other snacks. They'll need a ton of extra energy to power them throughout the day.
In addition, if your kids have comfort items, don't skip those. Sometimes they need to sit in the shade, play a game, or cuddle something familiar to calm down when overstimulated. You should also plan to have some time in lines, so if your kids aren't good at standing still, bring something to keep them entertained.
Many families who have graduated from the stroller stage opt to rent a stroller during their visit. Your kids don't have to ride the entire time, but it gives you somewhere to store extra stuff and a place to relax and lay down if needed. On the other hand, it makes it harder to navigate through crowds.
What To Wear to Magic Kingdom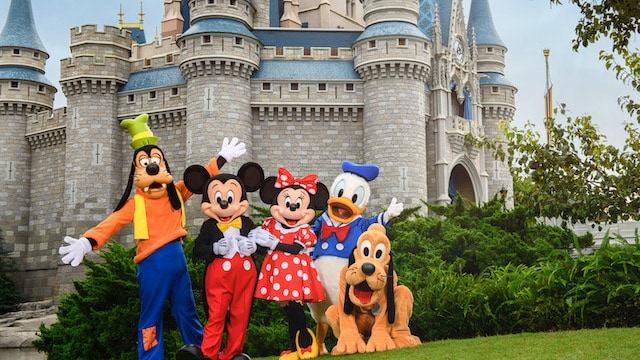 The absolute most essential thing to wear for your day at Magic Kingdom is comfortable shoes! Some people swear by sneakers, while for others, it's Crocs, a particular pair of sandals, or something else. It doesn't matter–as long as you can stand and walk all day, clocking ten or more miles, those are the shoes for you.
Never wear new shoes to Magic Kingdom, even if it's a brand and size you've owned before. Wear shoes that are comfortable and thoroughly worn in. Bring backup accessories such as socks, laces, and band-aids. You must keep your feet happy!
The rest of your outfit depends on the time of year you visit. If it's summer, dress cool. Wear loose, moisture-wicking clothing. You're going to sweat, so be prepared and do what you need to be more comfortable.
If you're coming during the winter, you might be surprised by how cold it can get, especially after the sun goes down. You can see pictures of guests in hats and gloves around the holidays especially. Dress in layers that you can shed and then add back on. Try to make them light, so they're easy to carry.
When it comes to backpacks, we use the one-to-two rule for adults and the one-to-three rule for kids. That way, you can rotate who has to carry it, and no one is stuck with the backpack all day. And you can always return to locker storage and rent one if you change your mind.
Building Your Itinerary for Exploring Magic Kingdom in One Day
Now that you've reviewed all the essentials and know what you want to do, it's time to build your itinerary. Start with the non-negotiables; if you've reserved dining or other special events, you'll need to be there at a particular time. You also certainly have no control over park hours.
Next, if you plan to watch shows, parades, fireworks, or other scheduled events in the park, write those into your itinerary. Next comes the attractions.
We recommend separating attractions into lists of five. Rank your five or so must-do's, and make those your top priority early in the day. If you're paying for Genie+, remember that you can make a new ride reservation at least every two hours, so book those first and foremost.
Once you have ranked your must-do's and want-to-do's, look over your list and see if you have any "filler" rides. These attractions typically have little or no wait times that you can do in between more prominent attractions. Some common fillers usually include:
Carousel of Progress (Tomorrowland)
Country Bear Jamboree (Frontierland)
"it's a small world" (Fantasyland)
Liberty Square Riverboat
Mad Tea Party (Fantasyland)
Magic Carpets of Aladdin (Adventureland)
Magic Kingdom Railroad
Many Adventures of Winnie the Pooh (Fantasyland)
Mickey's Philharmagic (Fantasyland)
Monster's, Inc. Laugh Floor (Tomorrowland)
Prince Charming's Regal Carousel (Fantasyland)
Walt Disney's Enchanted Tiki Room (Adventureland)
Even if you don't, there's a good chance that some of the attractions on your list won't have long waits at some point during the day. It's one of the perks of using the Genie service and telling it what you want to ride ahead of time. It will alert you when the wait times for those rides get low, and you should head in that direction.
As you do your planning, decide ahead of time where you want to dine. You can always change your mind on the day when it's time to eat, but you want to avoid debating your options in the middle of the park when everyone is hungry. In addition, explore the other fun extras in the park, including the shops you want to explore.
Pro tip: The morning of your visit, double-check all your reservation times, parades, fireworks, and everything else. These times are subject to change.
Benefits of Doing Magic Kingdom in One Day
Why would you want to do Magic Kingdom in one day? There are some significant benefits to tackling this theme park all at once. Some of them are practical, while others are less tangible but nonetheless important.
In a practical sense, you'll save time and money. The cost of park admission varies depending on when you visit, but a single-day pass is less expensive than a multi-day or park hopper. Even if you're planning a more extended trip, if you can conquer a park in a single day, you'll save money.
In terms of time, don't discount the time it takes to travel from park to resort or park to park. Making that trip only once might mean extra time to relax by the pool or hang out as a family.
The less tangible benefit of doing Magic Kingdom in one day is that you can make it a fully immersive experience. Start your day with the rope drop ceremony and opening, watch the parades, and stay for fireworks. In between, ride all the rides, eat all the snacks, and do all the things.
You can also plan extras to make it even more special or indulgent. Nothing makes a frameable picture better than coordinating outfits, shirts, Mickey ears, or other accessories. You can't replicate that kind of experience.
The Cons
The biggest con to spending only one day in Magic Kingdom is that you may not be able to see and do everything. In fact, on any given day, it's almost a guarantee that at least one or two attractions won't even be running.
If your visit is tied to a particular day, you also run the risk of there being inclement weather or other conditions that detract from your enjoyment. If you can, try to make your visit flexible. If you can't, be prepared to make the best of a less-than-ideal situation.
Finally, there's also a chance that your clan might not make it all day, especially if you arrive right at opening. Consider your family's typical activity level and whether going all day in the park is realistic. There's no more disappointing way to end your day than missing the fireworks because everyone is too tired to stay.
Wrapping It Up
As you can see, it's more than possible to conquer Magic Kingdom–the first and main theme park in Walt Disney World–in a single day. While you may not get to see everything, there is to experience that just gives you a reason to return.
It doesn't matter whether you have one day or ten to spend in the Magic Kingdom. The most important thing is that you enjoy your time with your family in the most magical place on earth!
More about our TFVG Author
A seasoned traveller, Dad, and avid sports tourist, James foundered The Family Vacation Guide to share his expert vacation experiences- especially when it comes to being a travelling family man.
Featured in Travel articles such as Travel + Leisure, TripSavvy and SFGate, you know you're reading some of the best vacation tips online.