Disney World is the most enviable vacation of any child's dreams, and their parents too, to be honest. Meeting favorite characters and riding the iconic rides are just a few incredible experiences to be had here. There are also unbelievable stage shows and live performances to see during your stay.
If you want to catch some of the best shows at Disney World, keep reading.
Festival of the Lion King
For families that love to live on the wild side, the Festival of the Lion King, located in Disney's Animal Kingdom Theme Park, is a sure hit. Forty minutes of puppetry, music, and lavish celebrations commemorate the beloved movie, The Lion King. Children and adults will find these colorful costumes, upbeat tunes, and exciting dances enchanting.
Families need to remember that seating isn't guaranteed with admission. Parents can ask a staff member or check the My Disney Experience app for information about availability.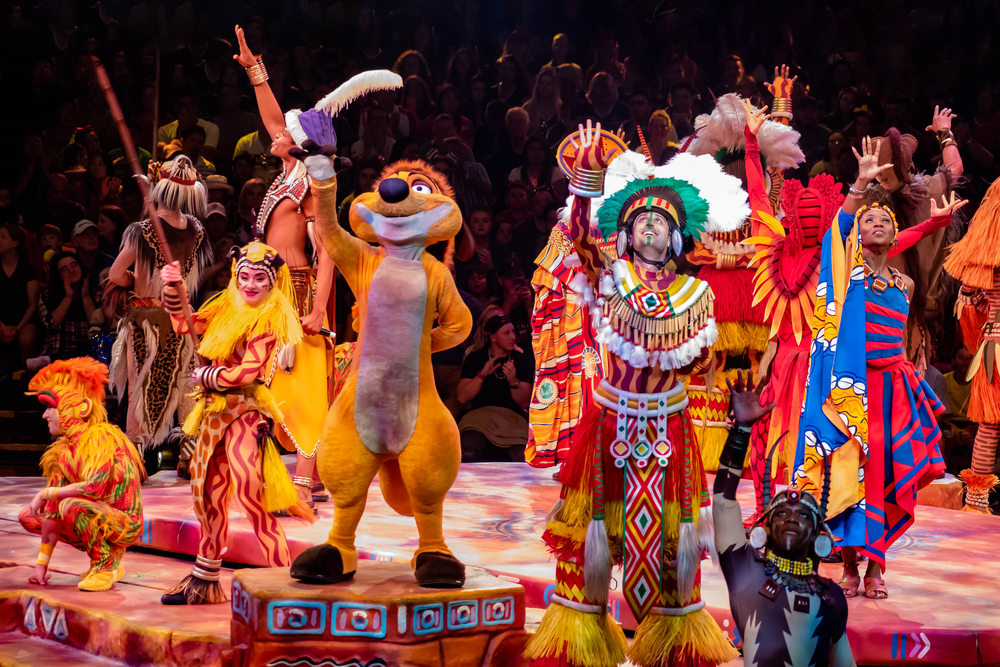 Disney KiteTails
Who doesn't delight in seeing magic in the sky? In DinoLand U.S.A., you'll experience some of your favorite characters taking flight at Disney KiteTails. Watch Simba, Zazu, and Baloo dance on air while you enjoy classic Disney musical numbers. All of this takes place above the gorgeous Disney River Lagoon.
This option is a 15-minute outdoor event, so families should prepare with backup plans in case of inclement weather. Fortunately, there's plenty to do and see at indoor and outdoor venues around the park.
Beauty & the Beast Live on Stage
A Broadway-style performance of the beloved Beauty and the Beast is essential entertainment for the whole family. The 30-minute re-telling of this charming favorite will sweep you away to a world where anything is possible. The entire family will find something to rave about after this show.
This event is an outdoor show found on Sunset Boulevard. Parents should prepare for scheduling changes due to the weather. Don't forget to check the showtimes on the My Disney Experience app, Entertainment Schedule, or Times Guide before arrival.
Indiana Jones Epic Stunt Spectacular
Explosions, special effects, and extravagant stunts are all guaranteed at Indiana Jones Epic Stunt Spectacular. This outdoor show is so action-packed that you'll get an entire hour of cheering on everyone's favorite archaeologist. Clap and cheer as he and Marion attempt daring escapes and go head to head with some of the toughest villains in the industry.
This event is great for kids and adults alike. Not only will you get to see a once-in-a-lifetime show, but you'll also learn how to do stunts on the silver screen. This outdoor show is subject to cancellation, so parents should check the schedule before arrival.
It's Tough To Be a Bug
This live, educational experience is perfect for the whole family. Learn about what it's like to spend a day in the shoes of Earth's tiniest inhabitants. A 3D movie and live show hosted by some of the most famous cast of A Bug's Life. This spectacular entertainment will engage all of your senses.
You can find this show on Discovery Island at Disney's Animal Kingdom Theme Park. Families can travel from here to other educational entertainment, such as live animal exhibits and the Discovery Island Trails.
Disney Enchantment
Everyone's favorite firework celebration brings Cinderella Castle and Main Street U.S.A. to life in this spectacular display. You can experience fantastic music and favorite childhood characters beneath the stars. This gorgeous outdoor show is the perfect way to engage your imagination and cool off after a day spent playing in the sunshine.
Although the show starts in the evening, parents will be glad to hear it's only 15 minutes long so they can get their kiddos to bed for a full day of fun in the morning.
Monsters Inc. Laugh Floor
For a family that loves to participate, Monsters Inc Laugh Floor is the perfect place to become part of the show. This comedy-club-style performance brings the audience in on the joke and allows everyone to show off their best quips and cracks.
If you've got a one-liner you think might bring the house down, you'll be able to text it to the cast before the show, and you just might hear it onstage. This indoor show is perfect for the entire family and is located in Tomorrowland at Magic Kingdom Park.
Harmonious
There are so many opportunities to catch an evening performance or event, and Harmonious should definitely make the list of best shows at Disney World. This spectacular display of lights, fireworks, and water effects is set to music from some of Disney's most inspiring films. This presentation aims to bring the world together and celebrate the beautiful balance of diversity.
This outdoor show is 20 minutes long and subject to cancellation, so parents should check the app before arrival.
Matsuriza
Taiko is a Japanese word that translates to "drum" in English and is an ancient art form of rhythmic drumming. From celebrations to battles, this art form is deeply ingrained in Japanese culture and has been brought to Disney World by the Matsuriza drum troupe.
This powerful performance will transport you to new environments and deepen your understanding of the wider world. Because of the loud, intense atmosphere, this show is recommended for older children, teens, and adults.
Minnie's Wonderful Christmastime Fireworks at Mickey's Very Merry Christmas Party
What better place to spend the most wonderful time of the year than at the most magical place on earth? Between November 8th and December 22nd, your family can get into the spirit with all of their favorite characters. Watch the sky light up with holiday cheer while singing along to all of the best Christmas classics.
You can enjoy this event throughout Magic Kingdom park. If your family is looking for a magical holiday experience, finding something more enchanting than this performance will be difficult.
Finding Nemo: The Big Blue. . . and Beyond
Is your family curious to see what's lurking in the depths below the surface of the ocean? Join Nemo and the gang to discover the fantastic adventures waiting for you in the sea. This live performance includes animated scenery, atmospheric lighting, and all your favorite musical hits.
This indoor performance is perfect for people of all ages and is located in DinoLand U.S.A. in Disney's Animal Kingdom Theme Park. Check out the show after an afternoon catching the Disney KiteTails just across the way.
Muppet*Vision 3D
Based on the original adored TV series The Muppet Show, this onscreen and live performance is a charming collaboration between Jim Henson Productions and Walt Disney Imagineering. Sing along with Kermit and The Muppets as your family is dazzled by special effects and the final released film, directed by Jim Henson.
Explore Disney Hollywood Studios to get an eye-full of this legendary entertainment. Each showing is indoors and suitable for the whole family.
Mickey's PhilharMagic
This 3D opera is perfect if your family loves all of the sing-along-worthy musical numbers that accompany your favorite movies. An animated showing of the most cherished numbers, such as "Be Our Guest" and "You Can Fly," will have you humming the tunes all day. An immersive experience tantalizes all of the senses in this 12-minute spectacle.
All ages are welcome to this indoor entertainment that will undoubtedly leave you with all the best tunes stuck in your head. Find this show in Fantasyland at Magic Kingdom Park.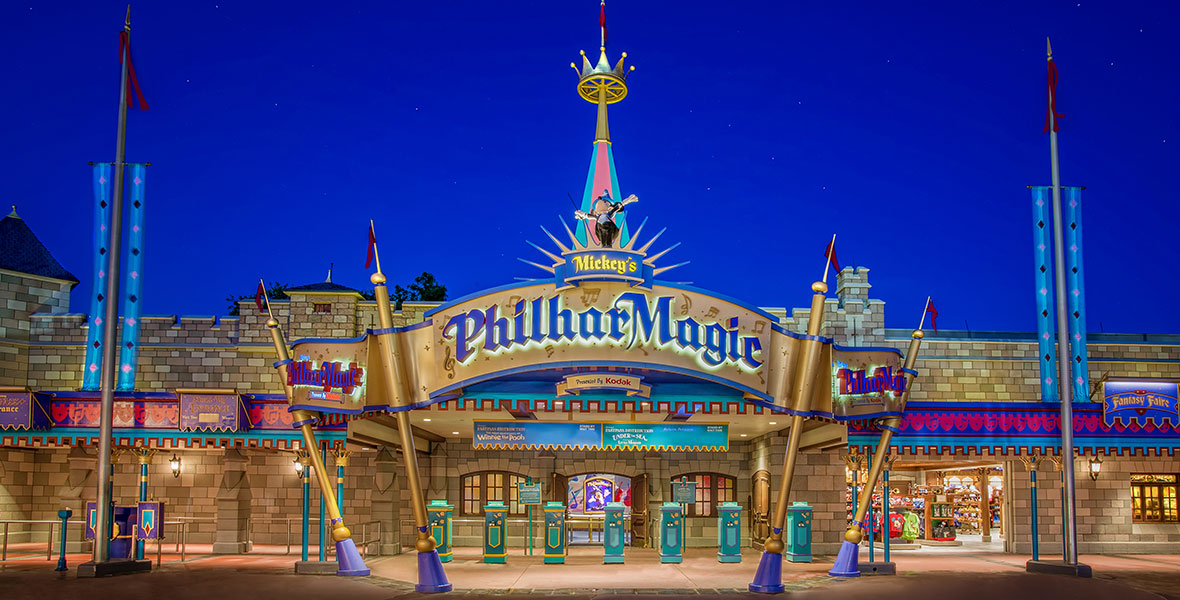 Wonderful World of Animation
This projection show is loaded with magical moments and exciting new features. Get to know the fantastic animation that makes Disney films so iconic. From Mickey to Coco, your family will have the chance to enjoy a demonstration of over 90 years of movie magic.
This 12-minute performance is located in Disney's Hollywood Studios. Your entire family can enjoy new and old animated films.
Country Bear Jamboree
The Country Bear Jamboree has been around for ages, long enough that your own parents may remember singing along with this furry cast. This show is one of the original attractions in the park. It has remained so popular throughout the ages that the 18 animatronic bears have been performing at the Magic Kingdom since 1971.
Dance, clap, and sing along to some of the wildest tunes in the country. This entertainment is suited for all ages. This event is one of the last attractions that Walt Disney himself helped create. Your family can take part in the history by settling in for the show at Grizzly Hall.
Mickey's Magical Friendship Faire
Witness the entire magical ensemble from Mickey to Rapunzel in this outdoor extravaganza as they come together to put on one of the biggest performances in the kingdom. Disney lovers, young and old, will get the chance to find all of their most treasured characters in the crowd. Sing, dance, and get in on the excitement during this magnificent show.
Parents should be aware that this outdoor showing is subject to change depending on the weather. You can check the times on the app or ask a staff member for details. Don't miss your chance to see Disney's most renowned personalities in one place.
Tips for Visiting Disney World
Fortunately for anyone visiting Disney World, there isn't much planning needed since there are endless activities to enjoy. Preparation for the trip, however, can help things run smoothly and ensure that everyone in your group gets the most out of the experience. Here are a few tips for visiting Disney World.
Pack for Florida Weather
Disney World and the surrounding area will have everything you need to get through your vacation, but if you want to save time and money, it's critical to pack for Florida weather.
Generally, the weather throughout the state is balmy and pleasant. Parents should always be prepared, however, especially during thunderstorm season.
No matter when you travel, here's a short list of things to bring:
Sandals and walking shoes
Light poncho or rain jacket
Variety of outfits with layers
Sunscreen
Wide brim hat or cap
Patience is Key
Disney World is one of the most popular tourist destinations in America. That means that no matter when you choose to travel, patience is imperative to a good time. Being polite and maintaining proper decorum helps ensure safe, happy travels for everyone enjoying the park.
If you have little ones, scheduling frequent breaks for shows, dining, and bathroom runs can be especially helpful. This strategy will help break up time spent in long lines and waiting to see their favorite characters.
Practice Safety
Extra caution is always recommended in theme parks and not just because of the heavy equipment. It's terrible to lose a personal belonging and petrifying to lose a child, so it's wise to take steps to prevent these occurrences. It's helpful to start by reading the park's rules and protocols in case of an emergency.
If you still feel concerned, check out these tips for practicing safety so that your family only leaves with good memories and smiles:
Help kids memorize your phone number
Teach your kids proper theme park safety
Keep personal belongings close
Don't carry all of your cash at once
Stay within regulated areas
Follow the guidelines for every ride
Don't be afraid to ask the staff for help
Try To Give Yourself as Much Time as Possible
If you can, try to give yourself as much time as possible at the park. It's huge, and it's easy to get caught up trying to do everything quickly. Having plenty of time can take the pressure off you and your family.
If additional time isn't an option, consider picking your most preferred sights and entertainment, and remember that you can always return. Spending quality time at a few attractions is better than rushing through as many as possible.
Catch The Best Shows at Disney World
No trip to Disney World would be complete without stopping to catch a spectacular show. Whether your family prefers song and dance, educational adventures, or jaw-dropping firework displays, these are the best shows at Disney World.
Don't miss your chance to be blown away by the production of a lifetime!
More about our TFVG Author
A seasoned traveller, Dad, and avid sports tourist, James foundered The Family Vacation Guide to share his expert vacation experiences- especially when it comes to being a travelling family man.
Featured in Travel articles such as Travel + Leisure, TripSavvy and SFGate, you know you're reading some of the best vacation tips online.