The Hidden Mickey isn't the only secret that Walt Disney World Resort holds! If you've heard of Walt Disney World's 'Purple Wall' then I am afraid to tell you that you have successfully fallen down the rabbit hole (pardon the pun)! You are officially a Disney Parks fanatic!
Concealed within a little-used walkway in Disney's Magic Kingdom, you are unlikely to pass the Purple Wall by chance. Even families who have spent weeks at the theme park haven't found themselves coming across the Magic Kingdom's Purple Wall. So, if you find yourself on a purposeful quest to discover this infamous photoshoot location, you must know and thing or two about Disney Parks trivia!
With its own registered address, the Purple Wall has become somewhat of an emblematic location within the Disney Parks. You won't be the only park visitor on a mission to find this mysterious location.
So, 'meet me at the Purple Wall' with your cheesy grins, fabulous outfits, and Instagram poses at the ready for your very own photoshoot in front of one of the most sought out and iconic locations in all of Walt Disney World Resort, Florida, USA.
What is Disney World's Purple Wall?
So, what exactly is Walt Disney World's Purple Wall? Originally, the Purple Wall existed as a plain, lilac purple wall, sitting comfortably between Tomorrowland and Main Street USA in Walt Disney World's Magic Kingdom Park. The original purple wall provided a plain backdrop for visitors to take photos whilst visiting the theme park. With the incredible aesthetic surrounding you whilst visiting Walt Disney World you simply must document your trip with a million photos, must you not?
Quickly catching on to this increasing trend, Walt Disney World Resort went with the craze- they upgraded the wall! Keeping with the lilac purple theme, Disney has enhanced the wall's photogenic qualities. Now, the wall is decorated in a geometric design and a multitude of shades of purple and lilac, now seemingly even more so perfect for taking photos and having fun with your friends and family! So, pop on your Walt Disney World Resort merchandise and get ready to grin from Mickey ear to Minnie ear in front of Disney's Purple Wall!
Where is the Purple Wall Located?
Want to know a secret? I know the exact location of Disney's Purple Wall! It may still take you a minute or two to discover this hidden gem with no signposts and rarely overwhelming crowds, but here is where to start.
The Purple Wall is located right by the entrance to Tomorrowland in Disney's Magic Kingdom. Specifically, it is tucked around a corner on a little walkway connecting to the Magic Kingdom's infamous 'Main Street USA', sandwiched between the 'Monsters Inc Laugh Floor' and the 'Tomorrowland Terrace Restaurant'. So, that explains why most visitors do not find the wall by chance. It is stuck between a rock and a hard place…I mean a laugh floor and a terrace restaurant!
Even though Walt Disney World Resort is very much aware of the Purple Wall and its popularity amongst visitors, the location is not pointed out on any of the theme park maps or held within any of the official Disney information provided at the theme park. So, it is best to have a look at some of the fan-made maps that directly point to the location of this iconic wall. These can be found super easily with a quick google search. You'll come to know rather quickly that many people look for the Purple Wall during their Walt Disney World vacation!
You Can Even Buy Purple Wall Merchandise…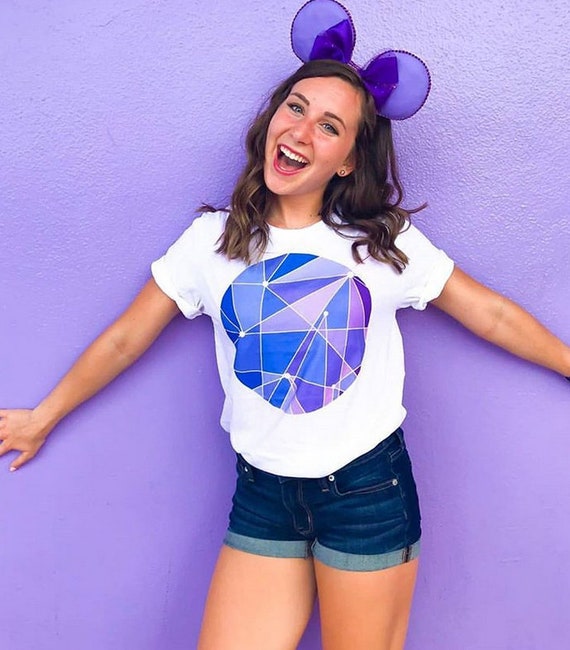 The Purple Wall has become so famous that it even boasts its own merchandise! That's right, you can wear the Purple Wall with pride on your own body. Perhaps a Purple Wall T-Shirt, or a Purple Wall hat, or beautiful pair of Purple Wall Mickey or Minnie ears? Let everyone know that you know the secret location in which this iconic wall resides!
This new merchandise is not fan-made as you may assume, oh no! In fact, Purple Wall merchandise has been created by the Walt Disney Company themselves and is now sold throughout the Magic Kingdom, specifically in Tomorrowland. Now, you will finally understand what those 'meet me at the Purple Wall' baseball caps were referring to!
Which Hashtags Should You Use When Posting Photos at Disney's Purple Wall on Instagram?
So, you've found the Purple Wall, and you've taken a bunch of fantastic Instagram photos for your Instagram account or Facebook account, now what? How can you make sure your friends are as green as Mike Wazowski with envy?
Well, there are some specific hashtags you can use to boost the popularity of your post. Why not check out one of the most popular Instagram Accounts for Walt Disney World's Purple Wall? That is, 'purplewallphotos'. Currently possessing over fifteen thousand followers, the purplewallphotos account provides both photo inspiration and tips for fantastic hashtags.
Still need some tips to start? Let's go with #thepurplewall, or #magickingdom, or #purplewallphotos. Or, embrace your creativity and come up with your own hashtag?
There is even an official Instagram Account location for the Purple Wall! When you're getting ready to post, simply type in 'The Purple Wall' in the location bar, and now your beautiful photo will appear amongst all the other fan photos!
There Are More 'Walls of Disney' For You to Selfie In Front Of, Too…
Though not as famous as the Purple Wall, there are a multitude of other walls located in Walt Disney World Resort that boast fantastic photo opportunities. Let's explore a few of your other options…
The Bubble Gum Wall
Next time you're touring through Epcot, make sure to keep a lookout for the Bubble Gum Wall!
Located on either side of 'Spaceship Earth', the Bubble Gum Wall provides another opportunity to take a fantastic photo.
Toothpaste Wall
Another Epcot wall: get ready to show off your pearly whites in front of the Toothpaste Wall!
Located just outside of 'The Seas with Nemo and Friends' attraction, the Toothpaste Wall is waiting at your ready for you to take a beautifully blue photo.
Fichwa Fellow Wall
The Fichwa Fellow Wall is a little different than the ones previously described. This one details an adorable drawing of Mickey Mouse himself.
Located in Harambe Market in Animal Kingdom, make sure to embrace your wild side for this photo!
The Popsicle Stick Wall
A personal favourite of mine! The Popsicle Stick Wall boasts beautiful pastel colours and is designed to resemble popsicle sticks (I'm sure you couldn't have worked that out from the name)!
Located in Disney's Hollywood Studios, this wall is very popular amongst visitors so make sure to take your chance and snap a photo.
But Wait, There's More…
If I haven't provided you with enough options already, there are even more! Try these out for size, do any of them take your fancy?
The Blueberry Wall – Epcot
You Are Most Beautiful Wall – Animal Kingdom
Tangled Wall – Magic Kingdom
Moss Wall – Animal Kingdom
Muppets Wall – Hollywood Studios
Anandapur Indian Food Truck – Animal Kingdom
Rose Gold Wall – Epcot
Have a look at the articles linked below to learn more about the happiest place on earth!
More about our TFVG Author
Karly is a The Family Vacation Guide guest travel contributor.