Although all theme parks are a destination that families and children would enjoy, some theme parks do a better job of catering to younger children than others.
Think rides without a mandatory height requirement, play areas where they can slide, climb and run around to their heart's content. What about popular children's movies and T.V. characters live and in-person for your children to see?
Some theme parks are specifically for children under eight years old. As you can imagine, such parks will be full of age-appropriate rides and themes. These parks in the USA aren't just a section of a more extensive playground for toddlers; these amusement parks are designed exclusively for younger children.
16 Theme Parks for Toddlers
Here are amusement parks geared towards keeping the little ones entertained with a day full of adventures! Check out any of these enormous amusement parks with kid-sized thrills on your next family vacation!
1. Cedar Point (Sandusky, OH)
Cedar Point is an amusement park world-renowned for its 17 exhilarating roller coasters. However, were you aware that Cedar Point not only boasts the best coasters around but that they have some of the most kid-friendly attractions and rides as well? There are four major play areas designed for the little ones in this massive theme park.
For example, Kiddy Kingdom is the ideal playing area for preschoolers alike. All of the rides are the perfect size for the little tikes—they can quickly board and steer these rides by themselves, such as airplane and car rides. This next area is ideal for children of early elementary age; Camp Snoopy draws all the little ones in with attractions such as their exciting submarine and giant school bus.
As the day wanes and stomachs begin to growl, rest assured knowing that you'll have many familiar choices at your disposal from the likes of Dairy Queen and Chick-Fil-A. What's more, when there's a changing emergency, the children's amusement park has two convenient Family Care Centers.
Each care center features private nursing and baby changing stations in addition to a Kid Track safety system with a Parent Swap option. The latter feature allows parents to take turns enjoying the bigger theme rides without waiting as long.
2. Disneyland (Anaheim, CA)
Disneyland is Walt Disney's first and original theme park in Anaheim, California. As an unintended result of this park being smaller in scope and size than Disney World, families and small children have a much easier time navigating the park.
Preschoolers can look forward to classic rides such as King Arthur Carrousel, Dumbo the Flying Elephant, The Many Adventures of Winnie the Pooh, and Peter Pan's Flight. If you're looking at bringing your baby along, check out our guide that explores which rides babies can ride at Disneyland.
The children are sure to have a blast when you take them to the Enchanted Tiki Room in Adventureland and Mickey and Minnie's homes in Toontown! There's a Baby Center right on that Main Street, U.S.A., which has feeding and changing areas.
Our top tips to help you plan your ultimate family trip to Disneyland California should come in handy!
3. LEGOLAND (Winter Haven, FL)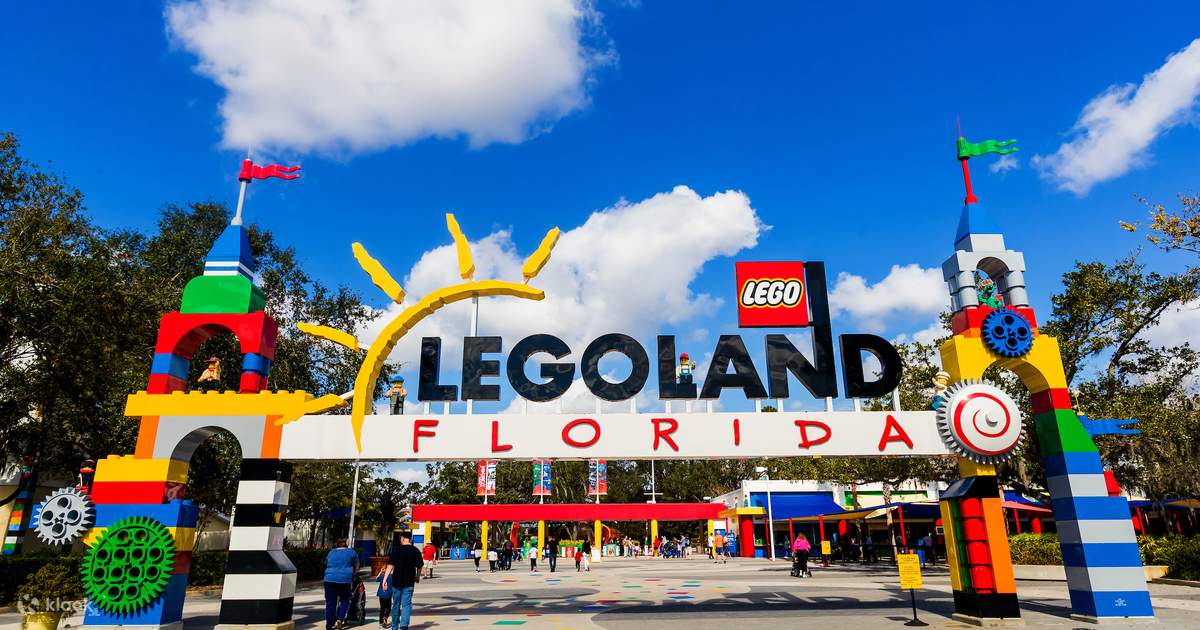 LEGOLAND is a place abundant in fun and thrills for children. And you don't have to like Legos in the slightest to have a blast at LEGOLAND Florida. All attractions are suitable for children from as early as two to as old as 12 years old. There are various attractions and rides to accommodate preschool and elementary-age kids.
Toddlers can take a trip to DUPLO Valley and build, play, and have some splashing fun in a legitimately safe and kid-friendly environment. Moreover, children aged three to five and six to 13 can have an unforgettable time earning their official LEGOLAND driver's license. This is possible at both the junior and senior driving schools.
In the Land of Adventure and Fun Town, the lot of the family has the opportunity to make their own mini-figures, ride scaled-to-size dinosaur-themed coasters, watch an exciting 4D movie and explore hidden tombs.
Visitors have the choice of a full day at the theme park in conjunction with LEGOLAND Water Park admission for an additional fee. LEGOLAND Water Park offers a whole lot of splashing fun for both toddlers and school-aged children alike.
4. Santa's Village (Jefferson, NH)
Santa's Village is distinguished for being perhaps the best theme park in the U.S.A. for toddlers, and you can find it in Jefferson, New Hampshire! As you can glean from the name alone, this theme park is Christmas-themed and encompasses everything we've come to love about the holiday.
This park is only open for a few months of the year; it's even open on the weekends until the day of Christmas. This place has all the bells and whistles and masterfully brings all the major elements of Christmas together.
There are attractions, rides, and endless entertainment, but apart from that, there's even a water park with an option to have a thematic dining experience.
This park boasts over 20 Christmas-themed rides, including fun-filled rides like The Little Drummer Boy, Little Elf Flying School, and The Great Humbug Adventure.
A popular destination for children is Elf University, a scavenger hunt that is the scope of the entire park, and they collect stamps from all of the letters in the Elfabet. With it culminating in feeding Santa's reindeer.
The main attraction is, of course, Santa Clause himself. Santa's Village is a thrill waiting to be enjoyed by a whole lot of your family, especially the pint-sized ones.
5. Sesame Place (Langhorne, PA)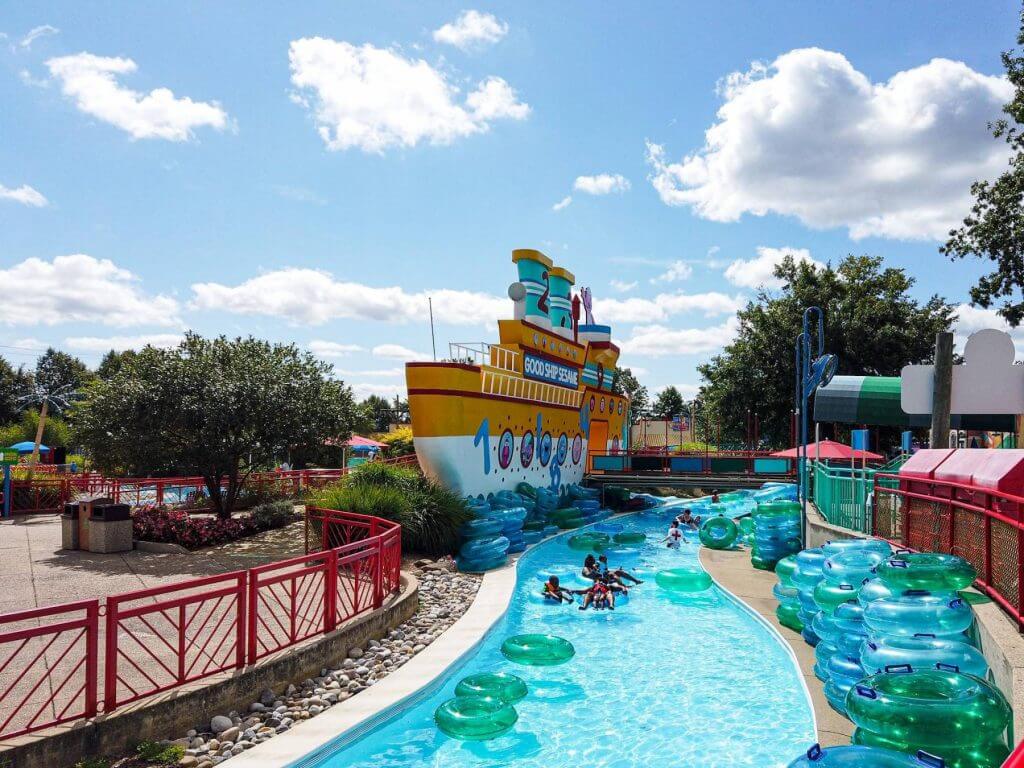 Sesame Place is exactly what you would think would be a theme park for everyone who loves Sesame Street! At this park, all of your toddler's favorite characters are brought to life right before their eyes. The characters are exciting and playful, and there are also tasty treats for the kids.
You and the children can enjoy a welcome combo theme park with character-themed rides and a much-needed water park for those days where cooling down is essential.
Let your kids enjoy the Sunny Day carousel or the exhilarating roller coaster, Oscar the Grouch. This particular area is full of adventure for your toddlers to play unencumbered by any restrictions whatsoever.
Furthermore, the waterpark has plenty of water attractions designed for pint-size people. There's the Count's Splash Castle, the fun tidal wave pool. The entire can take part in most of these rides; however, small kids will need to be accompanied in this area.
Sesame Place features both parades and shows that you and the family won't want to miss. The shows to choose from are The Magic of Art, Let's Play Together, and Elmo the Musical Live! Enjoy a festive event at the parade, which is always a massive hit with the children with all floats and characters everywhere.
There are many food options and snacks sprinkled at various places in the park. You can go to Elmo's Eatery if you're looking for a kid-friendly buffet. Before living, make sure to visit the gift shops to take home a fitting souvenir.
6. Diggerland (West Berlin, NJ)
Diggerland is a distinguished theme park that not only has your typical amusement rides it also grants guests the option to play with actual machinery!
Diggerland embodies a construction site, theme park, waterpark, and climbing zone all rolled into one. This combination makes for an awesome theme park.
The younger children of the group can have fun with many kinds of construction equipment such as backhoes, diggers, ATVs, and tractors. Older children can take part in construction rides with a construction theme and even drive a backhoe and more.
Some of the known favorites include digging in the stones with a backhoe and knocking over bowling pins. There's even a theme park for adults where you can get in on the fun by smashing cars and driving actual-sized construction vehicles.
7. Seuss Landing (Orlando, FL)
The Universal Islands of Adventure at Universal Orlando Resort is a destination that is more suitable for older children. Toddlers are unable to ride an overwhelming majority of the available rides in the park. However, the Seuss Landing is specifically for toddlers, to give them a paradise all to themselves.
This section of the park has themes all over, and the kids can run around without the risk of being run over or trampled by older kids and even adults. All rides in the Seuss Landing area for children, such as The Cat in the Hat Blue Fish, Caro-Seuss-el, The High in the Sky Seuss Trolley Train Ride, and One Fish, Two Fish, Red Fish. Each ride has something unique about it that the children will love.
There's also a live show that you can see. A very excited woman reads a story while Dr. Seuss's characters, the Lorax and the Grinch, act out the reading. Lastly, the children can meet the characters after the show to take unforgettable photos.
8. Gilroy Gardens Family Theme Park (Gilroy, CA)
Gilroy Gardens is amongst the most well-known attractions in San Francisco Bay. Toddlers will love this amusement park for its garden theme, which includes rides that have names such as the Garlic Twirl, the Apple and Worm, the Artichoke Dip, and so on.
It's a smaller park, with 15 rides total, 11 of which are perfect for toddlers. Gilroy Gardens also has two separate areas for water play, a favorite amongst the little ones. Additionally, this amusement park has six distinguished garden spaces, which include a conservatory.
Some of the garden areas are visible from the rides, and others are suitable for taking your tots on a stroll through the garden. The greenery and shade at this park are perfect for those hot summer days.
Gilroy Gardens has many interactive exhibits where children can learn more about gardening and agriculture in general. These shows are for children of all ages, and there is also the California Redwoods exhibit, monarch butterflies, and their unique lab that allows children to roam and explore. Gilroy also hosts a few special events that the whole family can enjoy during the year.
These events cater to young children, with holiday specials like the celebration of winter holidays, which showcases bright lights and an ice rink for toddlers. They also have a fantastic show called the Not So Scary Halloween, perfect for young children and to experience the holiday without getting overwhelmed.
Lastly, there are plenty of spaces for everyone to relax and take a break after traveling from ride to ride throughout the day.
9. Hershey Park (Hershey, PA)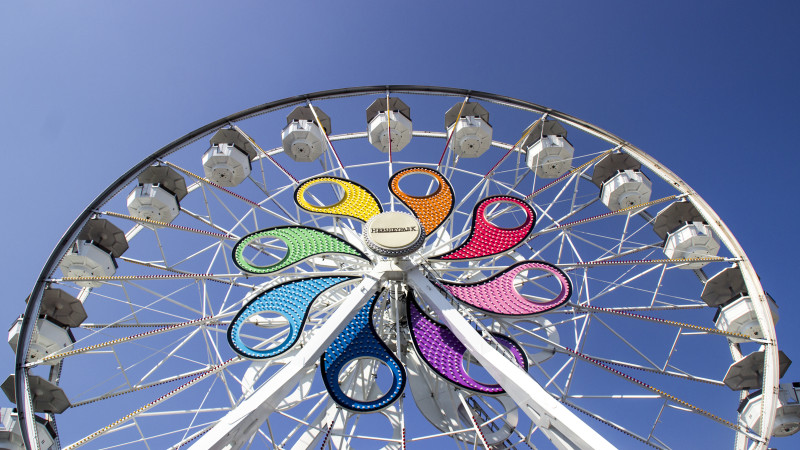 Hershey Park is a must for parents with small children. The chocolate theme is especially intriguing to the youngsters. And to be quite honest, the older children and adults love it as well!
This park features over 20 small rides for preschoolers, with the unique classification of rides that have a candy bar theme. For example, any tots under 36 inches qualify for the Hershey's Miniature rides, while those kids that are between 36 and 42 inches can get on the Hershey's Kisses.
Toddlers under 36 inches can enjoy the Ferris wheel, a train ride, the carousel, and more. Those taller can take on adventurous rides like the roller coaster, swings, and other rides tailored to their height and age.
Once the children have finished with the rides, head over to the Boardwalk, a fun water park at Hershey Park with a wave pool, slides, and a splash area for small children. You also get free admission to ZooAmerica with your ticket purchase to Hershey Park.
The zoo features animals from North America, and it's not so big that it's tiring to travel around with young kids. Once the day has come to a close, don't forget to stop and enjoy the specialty food items and Hershey's chocolates before you go.
10. Magic Kingdom (Orlando, FL)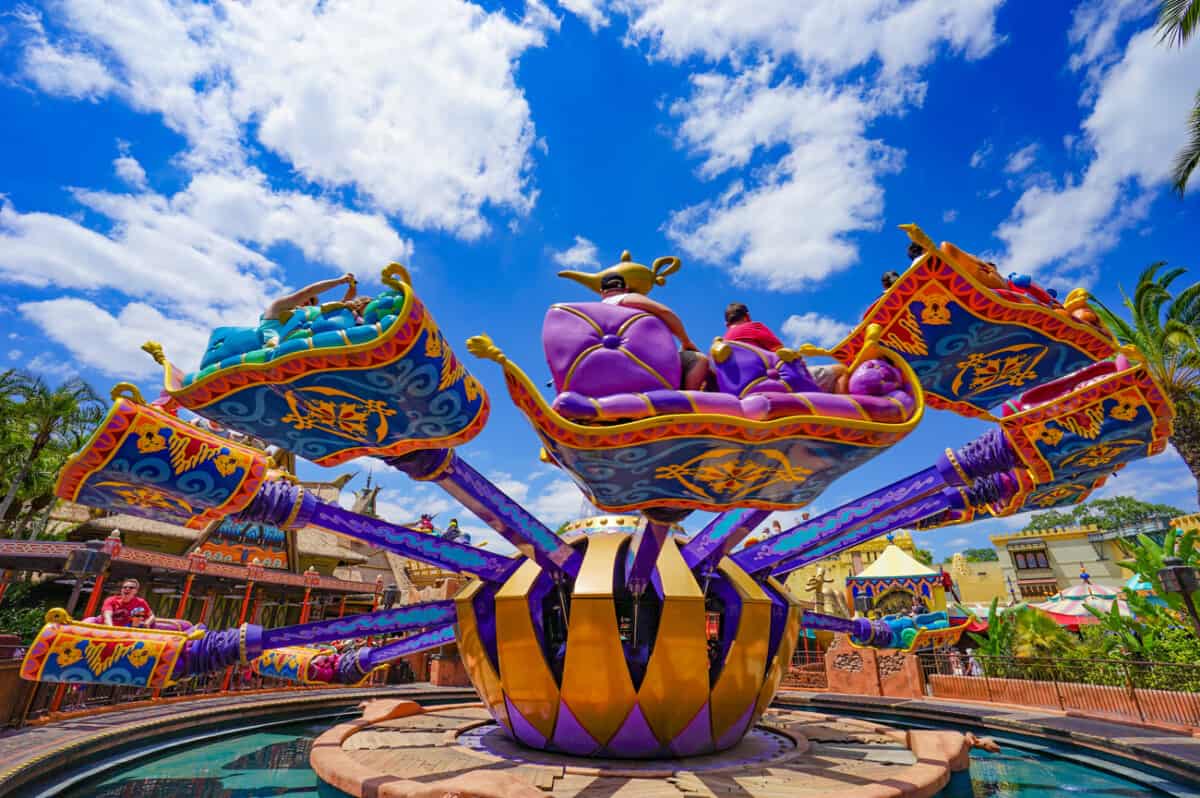 The possibilities for fun are endless at Disney World's Magic Kingdom. Toddlers can experience all the wonders of dining with Cinderella, going undersea with the Little Mermaid, meeting Mickey Mouse, and flying with Dumbo. Over 25 captivating attractions and rides don't have height requirements, making them perfect for enjoying as a family.
Parents can also find play areas where they can let the kids roam free if they've been on the stroller for a while. Other notable attractions include the Swiss Family Robinson Treehouse, the Tom Sawyer Island, and the Casey Jr. Splash n Soak Station.
A unique feature of Magic Kingdom is also the dining experience with a particular character. Be aware that you should make reservations for these events well in advance because spots go fast!
If you're planning a trip to Disney World, our guide to the best Disney World rides for toddlers and top tips for visiting Disney World with toddlers should come in handy!
11. Nickelodeon Universe (Multiple locations)
The Nickelodeon Universe theme park has multiple locations in East Rutherford, New Jersey (American Dream entertainment complex) and Minneapolis, Minnesota (Mall of America).
The Nickelodeon-themed rides are especially intriguing to toddlers, with all of the characters from the front and center of their favorite show. Certain Nick Jr. attractions like the Paw Patrol Adventure Bay playground area or Blue's Skidoo are crowd favorites.
Each location offers an aquarium and miniature golf, and the New Jersey location also has the largest indoor water park in all of North America. It's also essential to note that the Nickelodeon Universe theme parks are indoors so that toddlers can enjoy them all year round.
The parks also have fantastic food choices that are easy to eat and kid-friendly. The kid's menus feature burgers, hot dogs, ice cream, pizza, and more. Your toddler will never want to leave!
12. Idlewild & SoakZone (Ligonier, PA)
Just one short hour away from Pittsburgh, parents can find Idlewild & SoakZone. There are over ten rides dedicated to tikes that want to experience a little thrill in a safe space like Raccoon Lagoon. The older kids won't have to worry about being bored, as some rides and attractions pack a punch for the over 12 crowds.
Some of the best activities for young children are the Jumpin' Jungle play area and the SoakZone, which has wet and dry places. Kids can engage in multiple hands-on and interactive exhibits. They can also take a trip to the Story Book Forest, where characters come alive or hop on the trolley to ride through Daniel Tiger's Neighborhood.
If you buy the Fun Day meal passes, it includes one meal ticket for a salad, hot dog, or sandwich, and chips plus a beverage at select restaurants on the premises. Parents can also rent a stroller online ahead of the scheduled visit to make getting around even more accessible.
13. Story Land (Glen, NH)
Serving as one of the best value amusement parks, Story Land is perfect for preschoolers. Many of the attractions and rides are for children aged seven or younger, like Whirling Whales and Alice's Tea Cup. The whole family can enjoy certain rides together, like the Roar-o-Saurus, perfect for kids under 12.
Parents generally appreciate the available baby changing and nursing rooms, stroller rental, free parking, and pet kennels. This truly is a location for everyone in the family. If you arrive during the final three hours before the park closes, you get free admission for the next day. The schedule changes each season, so it's essential to check before you go.
They also have a few kid-friendly places to eat that are wonderful for parents to take a break from the fun while the little ones enjoy a bite.
14. Edaville Family Theme Park (Carver, MA)
If any of you grew up with Thomas the Tank Engine, and you want to pass that on to your children, head up to Edaville Family Theme Park for a taste of nostalgia and fun for the toddlers. In a vibrant New England landscape, the Island of Side comes to life. There are 11 rides with Thomas as the theme and fan favorites such as Tidmouth Sheds and Knapford Station.
For dinosaur lovers, check our Dino Park, which isn't too scary for kids but filled with exciting attractions for sure. Also, Cran Central is the original park with many activities and rides, like hopping aboard the Diesel Excursion Train to visit cranberry bogs. This park also hosts themed events during the year, like the sensory-friendly awareness weekend.
15. Dutch Wonderland (Lancaster, PA)
Nestled into Amish Country, Dutch Wonderland is the ultimate experience for toddlers. The park has over 30 attractions, games, water play areas, and even live shows for their entertainment. You can also grab yummy treats along the way, which every toddler loves.
Nearly every attraction is for the under eight crowd. This park sits on 43 acres and has plenty of space for the kids to run around and play without being so large that it will tire everyone out.
If your kids like trains, the Wonderland Special Train is an excellent opportunity to tour the park, and it's also another chance to get off your feet while still having fun. The dive show or storytelling are two additional activities that kids love.
Duke's Lagoon is a fantastic place for toddlers to cool off with age-appropriate water play, or they can take a trip to Exploration Island to catch some dinosaurs.
Dole Whip Junction has ice cream, or the Potato Patch is an excellent place to get snacks for the youngsters. If you brought your lunch, even better, as it makes for great family bonding and the picnic tables on-site!
16. Enchanted Forest (Salem, OR)
In Salem, Oregon, the Enchanted Forest awaits all children under eight years old to come and experience the magic at this delightful theme park. Though everyone in the family can enjoy themselves, most of the attractions, activities, and rides are for preschool through first grade.
Storybook Town, which features Alice's Rabbit Hole, captures the minds of preschoolers and kids in their early elementary years with The Frog Hopper, the Tiny Tune Train, Kiddy Bumper Boats, and the Kiddy Ferris Wheel.
There are a few attractions that they'd like for older kids, such as the Haunted House, but for the most part, this park caters to the littles. Between the rides and the kid-friendly restaurants, your children will never want to leave the Enchanted Forest!
Final Thoughts
These are the best amusement parks for toddlers in the United States. From Chocolate World in Hershey, Pennsylvania to the Magic Kingdom in Orlando, Florida, all the way to The Enchanted Forest in Salem, Oregon, there are so many ways to give your toddler a day to remember (and probably enjoy yourself more than you imagine).
Hopefully, you have a few parks near you, or maybe you are ready to make a road trip out of it – there are plenty of memorable experiences waiting for you and your toddler in these amusement parks.
More about our TFVG Author
Caitlin is one of The Family Vacation Guide's long standing contributors. She enjoys taking vacation to busy, vibrant cities and has stretched her traveling legs out towards Europe in recent months, enjoying new experiences in Barcelona in Spain, and Nice in France.