VelociCoaster is one of the newest attractions to hit the theme park scene in Universal Orlando's long list of stunning coasters. This one is unlike anything else the theme park has ever done and has been operating since April of 2021, receiving good feedback from guests since opening.
Construction began in 2019, and this coaster took years of planning to take form and launch. VelociCoaster was built by Intamin, a roller coaster construction company responsible for some of the best roller coasters in the world.
VelociCoaster is a fast roller coaster that zooms up to 70 miles per hour. This coaster is based on the incredible story Jurassic Park by Michael Crichton and the movie series of the same name. VelociCoaster weaves together the vibrant world of reanimated dinosaurs with today's technology.
This roller coaster boasts two high-speed launches and a stunning, artful queue that takes guests on an adventure of a lifetime.
Where Is VelociCoaster Located?
VelociCoaster is hard to miss. The moment you walk into the Jurassic Park area of Islands of Adventure, you'll see the towering steel structure looming over the rest of the world. A simple look skyward will make you know exactly where you are. This roller coaster may not be the tallest in the theme park, but it is obvious when looking around.
Fortunately, there are signs everywhere inside Islands of Adventure. You'll never get lost if you continue to follow the signs and keep a look out for that towering coaster.
Who Can Ride VelociCoaster?
Guests must be 51 inches tall to ride VelociCoaster. Although this is a stringent rule, there may be some exemptions for those who use a wheelchair or need special accommodations. Always seek a VelociCoaster employee or supervisor to discuss your required accommodations to see if they can assist your ride-going experience.
Most children may be too small to ride VelociCoaster, but young adults, teenagers, and older children may be able to ride VelociCoaster.
What Makes VelociCoaster Special?
VelociCoaster is unique because it has many rolls and flips with two high-speed launches. This roller coaster is 155 feet tall and has an 80-degree drop, making it a perfect companion for roller coaster enthusiasts.
This roller coaster is hailed as Orlando's fastest and tallest launch coaster and adds to Universal's stunning lineup of exciting rides. The theming of this ride also makes it one of the best coasters in the area. Not only is it extensive and manicured, but this ride is maintained with meticulous checks and safety evaluations.
The Queue
VelociCoaster – and every other attraction at Universal – is masterfully built and furnished with stunning thematic effects. Universal Orlando is famous for these elaborate and immersive queues. These queues usually tell a story that guests can experience as they get in line and wait to be seated on their ride.
VelociCoaster is no different. Before you even step onto the loading platform, you see animatronics, foliage, and special effects that will take your breath away.
Entrance
Tourists looking for a reprieve from the intense Florida heat can rest easy – the whole VelociCoaster queue is indoors only. This queue starts with neon lights that add an environmental flare to your new VelociCoaster quest. Red, blue, and purple lighting will spearhead your adventure forward.
These lights accompany plenty of auditory stimulation. These noises help set the atmosphere and can assist you in getting immersed in the story and adventure.
Raptor Room
The next part of the queue shows how the raptors receive training. There are fake books on the walls with very real-looking jackets and covers. These books are meant to help amateur velociraptor trainers become like their in-movie heroes.
There are also television screens that play back some safety information and details that riders must need to know before embarking on their adventure. For example, guests should keep their hands and feet within the cart and ensure they are securely buckled into the train.
Stables
One of the best parts of the VelociCoaster queue is the velociraptor stable. This area has robotic velociraptors with muzzles to prevent them from hurting others. Here, guests can get an up-close look at the creatures the whole ride centers around.
The room is characterized by other details and stunning visuals that set the mood. The velociraptor stables set the stage for the rest of the adventure and show how important it is to be careful among these stunning creatures.
Lockers
Any guests with loose objects, bags, or hats may want to pause to place their items in a locker. Nothing is more frustrating than losing your personal belongings while vacationing. Consider taking a quick pit stop here to lock everything up and ensure you have your keys and other items.
Screening
In the final area of the VelociCoaster queue, you can understand the ride and what is to come. Here, six large screens piece together a mini-movie to show you some of the in-movie actors who have come together for another performance for your amusement.
Here, you'll get a sense of the threat the velociraptors are posing in the park and how the rest of the adventure will progress.
Loading
The loading station is the next step when you finish your adventure through the queue. This room is where the ride awaits. A Universal employee will seat you in one of the VelociCoaster trains and you'll be only moments away from launching into one of the tallest, fastest rides in Central Florida. Time to sit back and enjoy!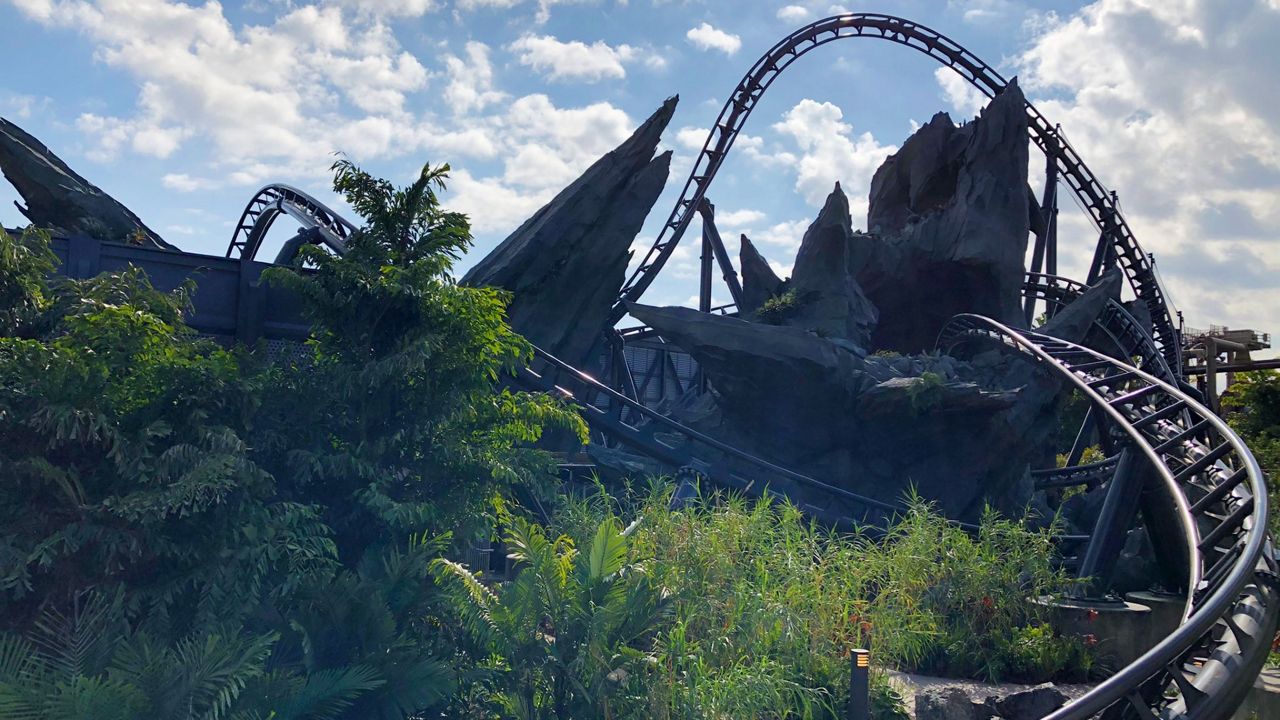 Is VelociCoaster Scary?
VelociCoaster can be scary for younger children or those not familiar with fast coasters. VelociCoaster may also be frightening for those prone to motion sickness or dizziness.
VelociCoaster is not recommended for anyone with serious medical conditions. Anyone with the following conditions should consider forgoing the ride:
Heart Conditions
Pregnancy
Motion Sickness
VelociCoaster is a fun and thrilling adventure, but it may leave you feeling shaken and winded after getting off the ride. Allow yourself a few moments to relax after enjoying your adventure.
Tips for Your Adventure
There are some things you can do to make your adventure a little easier to embark on. Whether you're a local looking to take advantage of the downtime, or a tourist trying to explore every nook and cranny that this location has to offer, some tips can help.
Be sure to look carefully at your surroundings to find the small ways you can help make things easier for yourself. Use our tips below to make your trip even easier.
Use Lockers
Lockers are a great way to make sure your items stay secure while you enjoy your day at the theme park. Using a locker is necessary when getting ready to get onto VelociCoaster. This ride goes fast and loose items can quickly become lost items.
Things like wallets, hats, phones, and sunglasses should be stored in a locker to prevent anything from getting lost.
Give Yourself Plenty of Time To Wait
Many tourists may enjoy going on vacation with a strict itinerary. However, lines and queues don't often mesh well with itineraries. Instead, you may need to be flexible with your expectations. You may not have a lot of time during your vacation to do every little thing you want to do. Instead, you may have to provide plenty of wiggle room in your day so that you and your family can enjoy the park.
VelociCoaster is brand new and may be plagued with long lines that can be unyielding.
Enjoy the Queue
One of the best things that you can do while waiting for your trip into the loading station at VelociCoaster is to enjoy the queue. Universal Orlando takes theming and the environment seriously. This company is quick to ensure that their queues are just as engaging as their rides are.
Take your time to soak in all the little details that the VelociCoaster has to offer. From the dual velociraptors standing guard above the building to the stunning green foliage all around, there is always something to look at.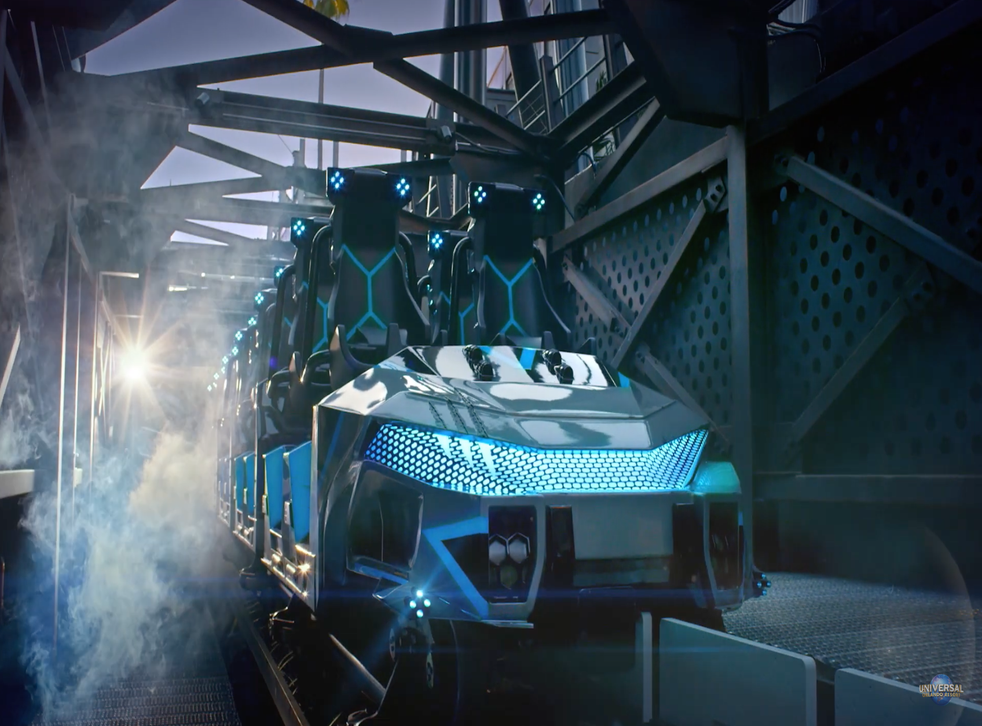 Final Thoughts
VelociCoaster is one of the fastest roller coasters to open up in the most recent years. This ride is 155 feet high and has one of the highest drops at 140 feet. This roller coaster runs around 4,700 feet and speeds up to 70 miles per hour. As a launch coaster, VelociCoaster has two launches, one taking you from zero to 50 miles per hour and another that takes you to 70 miles per hour.
VelociCoaster runs quickly and usually, the queue empties fast since there are four trains in rotation at any given time. Don't be too quick to leave the queue, however. This ride has a stunning and elaborate queue, a setting that tells you a story before you load onto the ride.
There are dozens of fun and exciting things to do when getting onto VelociCoaster. Be sure to take your time and enjoy the queue, take advantage of the lockers, and value every moment.