A family vacation in Florida is one you will never forget. With so much to see and do, there is something for everyone. But, sometimes, that can make it more challenging to prepare. Taking the time to explore the best options will help you create an itinerary to suit everyone.
One great option for people visiting Florida is Wekiwa Springs State Park, thanks to its great attractions and accommodation. Planning ahead will help you save money and avoid missing out on something you really want to see or do.
If you are planning a trip to Florida with kids, this guide to Wekiwa Springs should help you with all the information you need to know.
How Much Does it Cost to Visit Wekiwa Springs?
One of the most significant factors that will determine what kind of holiday you have, where you stay, and what you do is your budget. With options available for all budgets, you will be able to plan in advance to ensure there are no nasty surprises or hidden costs.
Park admission costs just $6 per vehicle with a limit of eight occupants. Motorcycles and scooters cost $4, and pedestrians cost $2.
Camping costs $24 per night, and there is a non-refundable reservation fee of $6.70. An additional utility fee of $7 will be charged for bungalows, boats, yurts, cabins, and RVs.
Primitive camping costs just $5 per night, and organized youth camping costs $1 per night for youths and $5 for adult chaperones.
So, visiting Wekiwa Springs is a lot cheaper than most central Florida attractions!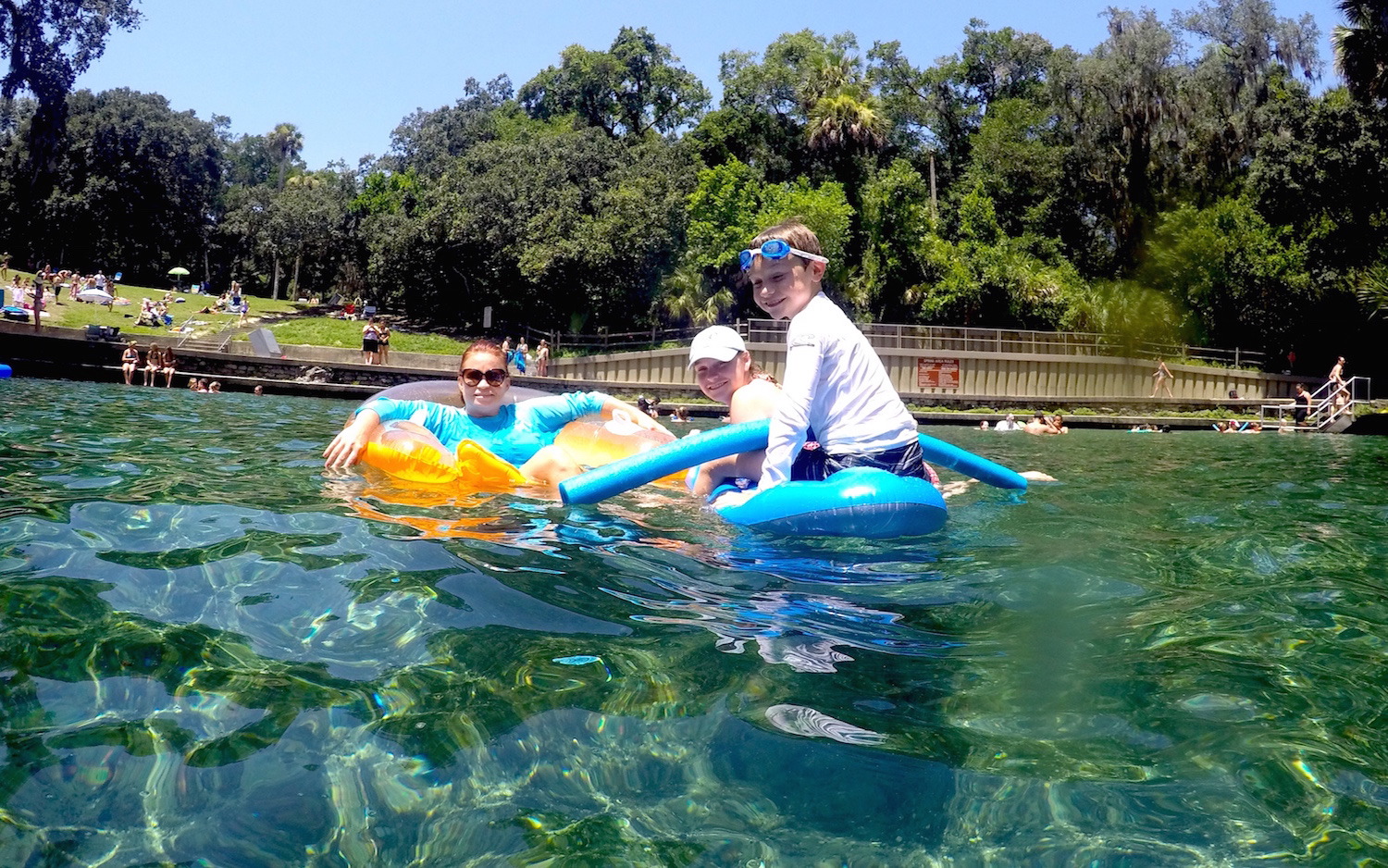 Things to Do at Wekiwa Springs
We always advise anyone planning a trip to Wekiwa Springs to give serious thought to the things that they want to do so they don't miss out. There's lots to see and do, so planning in advance is a must.
Camping
Camping at Wekiwa State Springs Park is a wonderful option for families looking to spend time together, enjoy nature, and enjoy an inexpensive trip.
Full Facility Campground
Camping at Wekiwa Springs State Park is available for visitors with vehicles up to 50 ft in length, and pets are allowed as long as rules are followed.
There are 60 campsites available that come with water and electrical hook-ups, fire rings, grills, and picnic tables. Some sites have sewer hook-ups as well.
There are toilets and showers available for campers and accessible showers and toilets for visitors with mobility issues. You won't have to bathe in the Wekiva River and Rock Springs Run!
Camping Equestrian
Camping is available near the horse trail that can accommodate up to ten people. There is no running water, so you will have to bring your own, as well as a map and compass as the site is located in the wilderness area. This is the ideal option for those that like to combine their love of horseback riding with getting out into the wild.
Camping Primitive
Primitive camping areas are equipped with fire pits and grills, benches, and picnic tables and can accommodate up to ten people. Sites have no vehicle access, and there are two sites that are only accessible by water for anyone looking to enjoy a canoe or kayaking holiday.
Camping Group
There is a youth cabin area for organized groups that can accommodate up to 160 people. There are thirteen, ten people youth cabins and six leader cabins that can accommodate up to 30. As well as the cabins, there is a pavilion, rec hall, dining hall, and kitchen.
Camping Primitive Group
The three primitive group sites accommodate as many as twenty people each and include ground grills, picnic tables, toilets, and open-air showers.
Swimming & Snorkeling
Wekiwa Springs is great for swimming and snorkeling, thanks to the crystal-clear water and year-round 72 degree temperatures. The average depth of four feet makes it an ideal location for safe swimming, but it is worth noting that there are no lifeguards on duty.
Inflatables are allowed, making it popular during the summer, and swimming is permitted from 8 am until the park closes. There are certain rules in place, like children or non-swimmers being accompanied by adults at all times and the prohibition of diving due to the shallow waters.
Trails
If you and your family are looking for an opportunity to enjoy getting out and about, the great selection of hiking trails at Wekiwa Springs will be ideal.
There are a number of trails from under a mile for a gentle stroll to over 13 miles for people that are more serious about their hiking.
You will get to explore hills, rivers, swamps, and forests and enjoy the incredible and diverse wildlife that includes tortoises, deer, turkeys, bobcats, and the famous Florida black bear (visit the ranger station for bear safety advice and a park map).
Some trails are ideal for horses or bikes as well as walkers and joggers, making them great for anyone looking to explore.
Canoeing & Kayaking
Canoeing and kayaking are great options for active families, and you will even be able to explore areas accessible only by water. Either bring your own or explore the canoe and kayak rentals that are available for your convenience.
There are a number of Wekiva River runs ranging from 1 to 10 miles, but you will have to transport your canoe or kayak at specific points.
Picnicking
If you like your meals al fresco, the picnicking options available at Wekiwa Springs will suit you down to the ground. There are picnic tables and grills and a playground, horseshoe pit, and volleyball court nearby.
Other Activities Include
You will find a wide range of activities available at Wekiwa Springs to suit the whole family. Other activities to explore include:
Birding & Wildlife Viewing
With such a great range of wildlife and birds, this is the ideal opportunity to spot some of Florida's more rare species.
Fishing
Sand Lake on the Wekiva River offers excellent fishing opportunities. Always check to see what permits and regulations are in force prior to fishing.
Geo-Seeking
Geocaching is a relatively new activity that sees people using GPS devices to locate areas where caches are hidden. Like a modern-day treasure hunt, geocaching is the perfect way to explore areas and learn the geography of the land.
Wekiwa Springs Opening and Closing Times
The park is open all year round from 8 am until sundown. If you are camping but can't reach the park until after sunset, you will be able to get in touch for instructions and the combination for the gate at the park entrance so you can gain entry.
When Is the Best Time to Visit Wekiwa Springs?
Because Wekiwa Springs State Park is so easily accessible from central Florida and Orlando, it can get busy when the weather is nice. Quieter times of the year tend to be between March and May and October to December when you can still expect good weather without the crowds.
There are other benefits to visiting during off-peak times, such as better rates for nearby attractions and fewer crowds all over Florida.
Types of Rentals Offered at Wekiwa Springs
Many people will have their own canoes, kayaks, and paddleboards, but it can be a lot more convenient to rent when you get to Wekiwa Springs State Park. You will be able to enjoy paddleboard, canoe, and kayak rentals from opening time until 6:30 pm during June, July, August, and September. Rentals stop at 3:30 pm for the remaining months of the year.
During June, July, August, and September, Rentals must be returned by 8 pm. Rentals made during the rest of the year have to be returned by 5 pm. A charge of $1 per minute beyond closing time will be applied, so don't be late!
Canoe
Rental costs: $35 (plus tax) per two hours
Kayaks
Rental costs: $35 (plus tax) per two hours
Rental costs for double and triple kayaks: $40 (plus tax) per two hours
Standup Paddleboards
Rental costs: $40 per two hours, $45 per 4 hours, $75 per day
Overnight Rentals
Rental costs: $90 first night, $45 each additional night
Amenities
To ensure visitors enjoy their visit to Wekiwa Springs State Park, there are a number of other amenities available.
Swim Lift
Visitors that have mobility issues or may struggle with the steps that lead into the water can use the swim lift. The swim lift is suitable for people up to 400 lb in weight.
If assistance is required, you will be able to notify staff when you enter the park so they can prepare it for use.
Canoe Kayak Launch
Launch sites along the Wekiva River and Rock Springs Run make it easy for you to enter the water with your paddleboard, canoe, or kayak.
Gift shop & Food Cart
Treat your kids to a gift or get something for someone back home at the gift shop. Thanks to the handy food cart, you will also have options if you don't want to take a picnic.
Parking
Parking is available for day visitors, as well as RV and trailer parking for those camping.
Restroom Facilities
There are a number of restrooms based around the park with flushing toilets.
Other Amenities include
Playground
Picnic Pavilion
Equestrian Trail
Hiking Trails
Nature Trails
Mountain Biking.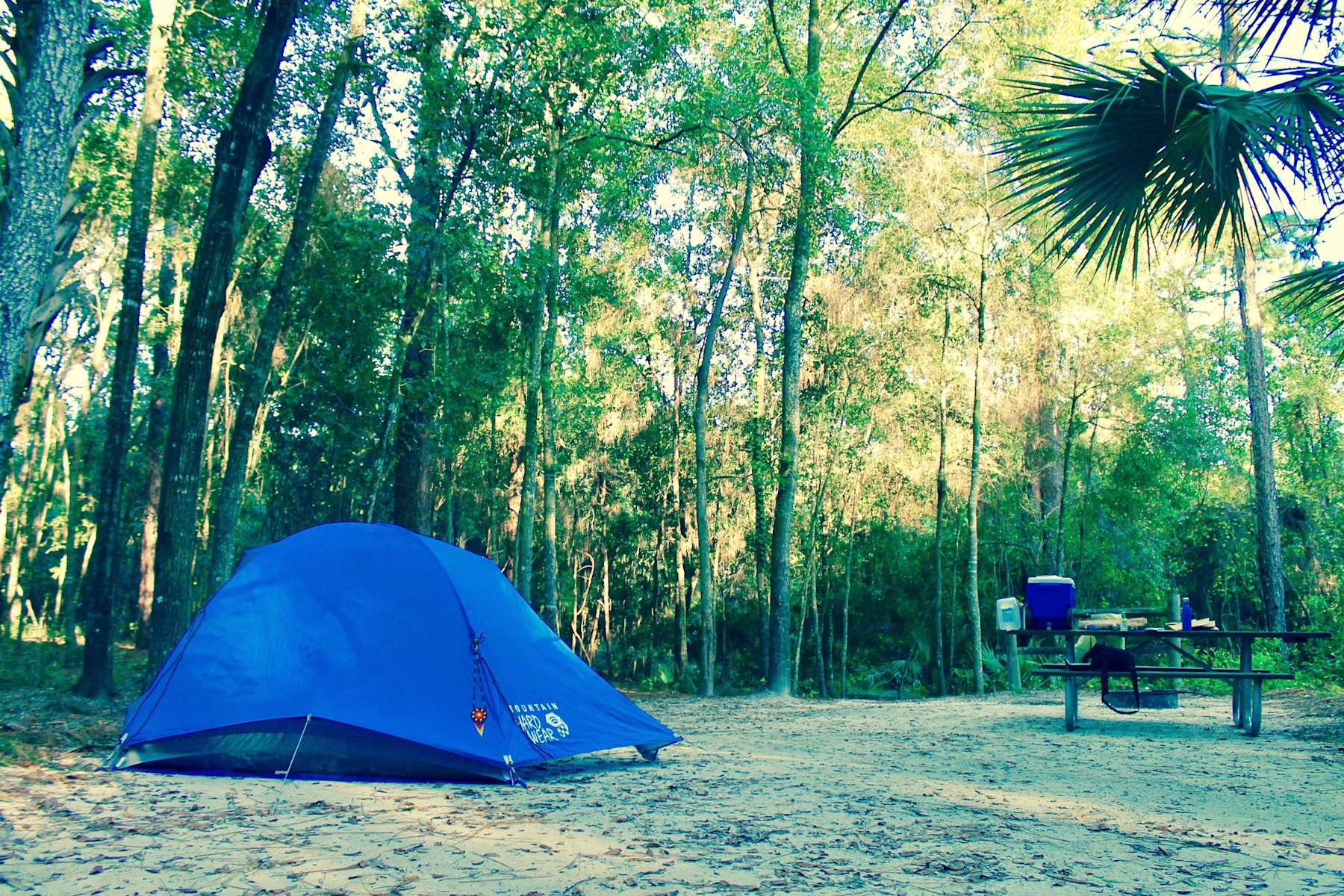 Tips for Wekiwa Springs
If you are heading to central Florida and Wekiwa Springs is on your to-do list, here are some top tips to ensure you enjoy your visit:
Get there early
Carry sunscreen & insect repellent
Don't forget your camera
Pack rain gear and waterproof bags
First aid kit
Picnic necessities
Camping equipment.
FAQs
Can you buy alcohol at Wekiwa Springs?
The concession stands at Wekiwa Springs State Park now sell beer and wine.
Are pets allowed at Wekiwa Springs?
Dogs are allowed at Wekiwa Springs State Park in specific areas such as the hiking trails. However, they are prohibited from sunbathing and swimming areas. Dogs must be kept on a leash at all times, and the leash cannot exceed 6 ft in length.
How far in advance can I make a campsite reservation at Wekiwa Springs?
You will need to make a reservation for the campsite, and the earliest you can do this is 60 days before your planned date.
How deep is the water at Wekiwa Springs?
The water depth at Wekiwa Springs is generally between one and five feet. There is a deeper section at the source that goes down to a depth of twenty feet.
Can you bring a cooler to Wekiwa Springs State Park?
You can bring coolers to Wekiwa Springs. You should adhere to park rules as to where you are able to drink and eat. This is clearly signposted for visitors.
Final Thoughts
Wekiwa Springs State Park is perfect for family vacations thanks to its excellent variety of activities and convenient location that is an easy drive from most central Florida attractions.
Wekiwa Springs offers visitors incredible natural beauty that they can camp in, swim, canoe, hike, enjoy horseback riding, biking, or just relax in. Whether you want to explore the Wekiva River or Rock Springs Run by kayak, or simply want to soak up the sun, Wekiwa Springs offers visitors plenty of opportunities!