Visiting the fun world of Disney is a dream that most families eagerly wait to strike off their bucket list.
This magical world is home to several theme parks, water parks, restaurants, resorts, and shopping complexes. We have everything you need to know about the best times to visit Disney World in order to make the most out of your experience there.
The trick is to plan well in advance. You should know what and how many theme parks you want to visit, the number of days each of them will need, and at what times your favorite rides are the least crowded. It's also a good idea to make reservations at the restaurants you wish to dine at beforehand rather than walking in on the same day.
Disney sees significant changes every few months and this year is no exception. With "Star Wars: Galactic Starcruiser" having recently opened and "Guardians of the Galaxy: Cosmic Rewind" to open during Summer 2022, you can expect Disney World to draw just as many bustling crowds as it always does, if not more.
If this is your family's first trip to Disney World, Florida, you can expect to be able to finish exploring all the parks in about 6 to 7 days. But be warned that there's a lot to see and do, and many families can easily spend 10 to 14 days at the resort. Magic Kingdom and Epcot alone will take a little over 2 days if you want to have a relaxing vacation and enjoy as many rides and attractions as possible, including character meets.
To make sure every second with your family at Disney World is well spent, you'll want to keep reading and we'll help you to figure out when the best time is to go to the happiest place on earth.
Why not also check out our guides to the best hotels near Disney World, the best Disney World resort hotels for families and the best Disney resort hotel pools for accommodation inspiration?
When Does Disney World Have the Biggest Crowds?
In order to plan the best Disney vacation for your family, you need to understand how crowded different seasons of the year will be. Thankfully, crowd calendars on websites like Magic Guides can help you get an idea of what to expect. Remember to factor in holidays and the weather of each season because those can affect how busy it gets too.
January
January sees mixed periods of greater and lesser crowds throughout the month which makes it a difficult one to place.
New Year's weekend and Martin Luther King Jr. Day are definitely the most crowded, followed closely by the Walt Disney World Marathon weekend with its swarm of participants. The Epcot International Festival of the Arts held in mid-January is another crowd favorite that features many fun art activities that visitors love to take part in.
For the least crowds, plan your visit for the week after the Walt Disney World Marathon. Your trip during this time will also ensure cool weather, shorter queues, and off-season rates.
April
Disney World wouldn't be as crowded in April if it wasn't for Easter and Spring Break. It is a result of these holidays that it gets more packed after the second week of the month.
The RunDisney Springtime Surprise Weekend, athletic events hosted by ESPN Wide World of Sports, and Epcot International Flower & Garden Festival are all held during this month. It's no surprise then that April is easily one of the most expensive months, surpassed only by December.
Keep in mind that it will be difficult to find resorts in and around Disney World during this time without prior planning and booking. On-site resorts like All Star Movies, Port Orleans Riverside, Wilderness Club, and Yacht Club range from $142 to $915 with All Star Movies being on the cheaper side and Yacht Club being more expensive.
On the brighter side of things, temperatures in April range from 83℉ to 60℉, which makes the weather ideal for a Disney vacation.
May
The last month of the Epcot International Flower & Garden Festival coincides with the ESPN Wide World of Sports, and owing to this, you will see crowds of people trying to see the last few days of these events before the end of May. Despite this, May usually has relatively low crowds because there are no major holidays, serving as a bit of a breather between the rush of Spring Break and the heat of summer.
Memorial week is usually the busiest week of May, and resort prices aren't too different from April. You should keep an eye out for spring discounts of around 10% to 25% to save a bit on your rooms.
During the month of May, temperatures tend to rise, but it isn't unbearably hot. With a few precautionary measures, it's not really anything to worry about.
June
June is one of the busiest months of the year with summer vacation starting. As the crowds begin to swell, the park generally offers extended hours and more activities, which is perfect for energetic little ones. It's a great time for families who want to plan longer trips without having to rush back from school.
If you want to book an on-site resort, the prices range from $188 to $622, which is an average price bracket. Barring the crowds, this is a good time for you to go to Disney World with your kids.
While a couple of rainy days are to be expected, the temperatures are generally much higher in June at around 91℉ to 71℉. Just don't forget to pack sunscreen and stay hydrated.
It is advisable to avoid visiting Disney World when the forecasts predict rain as fireworks and shows will most likely be canceled. After all, there's nothing worse than looks of disappointment on kids' faces when at Disney World!
July
Due to summer vacations extending into July, this month has slightly more distributed crowds throughout all its weeks.
July 4th is unquestionably the busiest day of the month, and the week that leads up to it, the most packed. Opt for Lightning Lane, Genie+, fast passes, and other such options that will help you skip long lines and save time during this week. You and your family can witness the special fireworks that light up Disney World's skies on the 3rd and 4th if you are visiting during this time.
The afternoons are almost unbearable, with temperatures soaring as high as 92℉ to 73℉. Along with this, you can also expect rainy days, making long days of rides and exhibits difficult. In case this happens to be the most convenient month for your family vacation, wear the right apparel, pack all the necessary refreshments you will need for your kids, and take breaks to beat the sweltering heat in air-conditioned exhibits.
October
With the whole park decorated for the autumn season, October draws in huge crowds for its seasonal events at the Magical Kingdom and Epcot.
Columbus Day weekend and Halloween are the busiest days of the month. If you plan a visit during Halloween, don't miss Mickey's Not So Scary Halloween Party or an After Hours Boo Bash that's popular with visitors. The Epcot International Food & Wine Festival which features bustling food stalls, live music, and scavenger hunts for kids is also something to look forward to.
The resort prices range from $177 to $664 depending on which one you choose. With October's cool weather, you and your family will be able to make the most of your time here. Keep in mind that the beginning of the month is very hot and it's best to stay out of the afternoon in early October.
November
November kicks off the holiday season, and the upside is the number of enjoyable events to look forward to. The downside, however, is the large crowds.
Disney resorts and theme parks will gradually start to be adorned with Christmas decorations. Very Merriest After Hours or Mickey's Very Merry Christmas Party is organized a week into the month and lasts until December.
Holidays like Veterans Day and Thanksgiving week tend to see a tremendous amount of footfall. It is also possible to see lesser crowds during the first half of the month on account of November being pretty unpredictable.
As resort prices range from $166 to $659, you will have to plan strategically to both avoid the peak days in November as well as avail discounts and possible free dining. The weather is quite pleasant and ranges from 79℉ to 59℉. Remember to pack some extra layers just in case the weather gets too cold.
If you want to experience a Disney Christmas at a lower cost, this is the right month to book your tickets.
December
Christmas in Disney World, just imagine that! The most wonderful time of year in the most magical of places.
It's no wonder why the crowds increase during this month along with the prices, making it one of the busiest and costliest months. Options like Genie+ and Rope Drop won't be as useful, and some rides might even have hours and hours of waiting time.
But if you can make your way through the crowds, the exciting experience is worth all the trouble. There are holiday-themed events, dinners, parades, fireworks, and stage shows during this month that bring a spirited cheer to the crowds gathered here.
The popular parks during this month are Magic Kingdom and Epcot, and the prices for these attractions peak at around $255 to $888. Temperatures dip during this month to 73℉-53℉, so pack clothes that are warm enough for Florida's winters.
When Is Disney World the Least Crowded?
February
If you're searching for off-season months, then nothing beats February.
After New Year, not only do the prices dip but the crowds lessen as well. The one week you might want to avoid in order to skip the long lines is Presidents Day week. Apart from that, the rides are cheaper and the lines are shorter, so you can enjoy your visit just the way you like it.
Take into account that the Epcot International Festival of the Arts ends in February, while the RunDisney Princess Weekend begins at around the same time. This makes the second half of the month considerably more packed.
Resort prices range between $180 to $673 and you might even be able to snag some off-season rates. As the weather in February ranges between 74℉ to 51℉, it'll do you well to pack your sweaters for the chilly early mornings and cool evenings.
March
Traditionally, March has been considered less congested than other months, but this cannot be taken for granted due to Spring Break dates varying across schools.
March sees the beginning of the Epcot International Flower & Garden Festival. While this surely invites the masses, you shouldn't let it divert you from the event. The Topiary Displays, Exhibits & Gardens at this attraction will leave your children awestruck.
March has the best weather. Ranging between 79℉ and 56℉, it's neither too hot nor too cold; just perfect for a day of family fun!
August
August is a great month to visit Disney World if you're looking to beat the crowds. It is one of the cheapest and most uncrowded months of the year.
Hurricane predictions are the only thing to keep an eye out for during this month, as August is typically known to be hurricane season in Florida. Many people also tend to avoid a trip during this month because of the heat, so be prepared for that. When it comes to holidays in August, Labor Day is the only significant one.
The resort prices can be as low as $123 and the rooms usually come with a 20% discount.
Pro tip: Check to see if there are restrooms near the queues you stand in to avoid losing your spot in the sweltering heat.
September
When the kids go back to school in September, the family crowds at Disney World go down. The hot and humid days of this month are also major contributing factors to keeping crowds at bay. If you can brave the heat, September is worth considering for your trip.
There are many free dining offers as well as room discounts that are available in September due to the Epcot International Food and Wine Festival starting that month. September also brings with it higher chances of rain, so keep an eye on the weather forecasts. Carry an umbrella and a liner for your stroller if you're traveling with a toddler.
Visiting Disney World: Season by Season
Spring
Spring is the perfect time to SPRING into a world of fun, sun, and memorable experiences at Disney World. Since Easter is usually celebrated in April, spring break tends to be longer, inviting more crowds to Disney World.
The popular EPCOT International Flower and Garden Festival happens from March to July, and the grandeur is something you won't want to miss. You will enjoy a number of seasonal exhibits like the topiary of Lady and the Tramp in the Italy pavilion and the topiary of Woody in the American pavilion. Catch the Peter Pan topiary in the butterfly house which is a kid favorite or the garden retreat which is great for adults.
There are outdoor kitchens, fresh festival merchandise, and scavenger hunts that children look forward to. Also, move to the beat of the Garden Rocks Concert Series and sip on some fine wine at the EPCOT International Food & Wine Festival.
Weather: 83℉ to 60℉
Summer
With the right precautions, you can introduce your kids to their best summer yet, even despite the relentless Florida heat.
The first thing to do for a Disney World Summer is buy a pair of sunglasses, sunscreen, and a fan with a spray bottle. Use Genie+ to skip the long queues at rides and avoid waiting in the sun.
On a more exciting note, you will definitely want to take your kids to visit the Guardians of the Galaxy: Cosmic Rewind at Epcot which is set to open in Summer 2022. It'll be the ride of a lifetime!
The prices and crowds are usually lower in summer, but this depends on when you visit. Remember to dress your children in weather-appropriate attire and pack snacks and drinks for them throughout the day.
Weather: 91℉ to 71℉
Fall
Aside from the occasional rainy spell, fall offers beautiful weather for visiting Disney World. Just stay updated on the weather forecast and pack jackets in case you or your kids get chilly at night.
The prices at the resorts are relatively lower than usual during the early months of this season. Plus, Minnie's Halloween Dine will be a feast to look forward to during the fall.
Weather: 79℉ to 59℉
Winter
Even with the large crowds, Disney World is still the best place to celebrate Christmas.
Embrace the spirit of the season with holiday-themed events at Magic Kingdom that provide a host of family-friendly experiences. Epcot also launches the Epcot International Festival of Holidays and the International Festival of Arts during these months, and they are a must-visit. You can also catch the fireworks and projections in the Chinese theater, as well as a projection show on the Twilight Zone Tower of Terror.
Besides this, you'll also want to pay a visit to Disney's delightful aquatic themes and beautifully designed parks with heated indoor and outdoor pools.
When visiting during the holidays, be prepared to spend a little extra on winter and Christmas merchandise.
Weather: 74℉ to 51℉

When Is the Cheapest Time to Go to Disney World?
When budgeting for a Disney World trip, deciding on the right time and month for your family in advance can save you a lot of money. Typically, the months of September, late August, and the week before President's week are the cheapest. There are also a few days in the peak season of October, November, and December when you can find some discounts and offers.
While certainly cheaper, these periods are also least favored by visitors for different reasons like the heat or because of school timings for families. The solution is to plan early. This is also a good idea on account of the prices increasing every year. The hotels continue to offer discounts all year round, so be on the lookout for those in the special offer section.
Most importantly, plan your budget. Decide beforehand where you want to spend and where you want to save as a family. There are budget-friendly resorts around Disney World that are as good as the ones on the site. If you want to stay on-site, look for the cheapest month and book your hotel accordingly. The longer you stay, the cheaper the tickets are. For example, if you stay for 7 days as compared to a single day, you can save up to $20 a day.
Why not check out our guide to how much it costs to go to Disney World to learn more?
Seasonal Events at Disney World
Disney World has numerous festivals, events, and shows that further liven up the park during various seasons. Irrespective of when you visit, you are bound to see some special event or show taking place at Disney World.
Magic Kingdom
Easter Parade: During Easter, the Magic Kingdom is decorated. Disney characters make your Easter special with ballet-dancing hippos, Azalea Trail Maids, and Easter Bunny riding in a motorcade.
Disney After Hours Boo Bash: In the month of October, Magic Kingdom gets all decked out for Halloween. Visitors enjoy activities like trick or treating, ghoulish character sightings, and even lesser wait times at attractions.
Mickey's Very Merry Christmas Party: Come December, you will see Magic Kingdom in all its pomp and glory. Discover the Disney holiday spirit with exciting parades, fireworks, and lots of holiday-themed entertainment.
Epcot
Epcot International Festival of the Arts: January kicks off with artists performing Disney Broadway concert series, guests savoring global culinary delights, and more. There is also interactive guest art where you get the chance to help the artist. You will need to plan out the live entertainment because the artists' sets are quite short and don't happen throughout the day.
Epcot Flower & Garden Festival: This exhibit is a must-visit because it does not involve any additional charges. The 90-day Flower and Garden Festival starts in March and includes Character Topiaries, Concerts, Beacons of Magic on Spaceship Earth, Special Gardens & Exhibits, Goodness Garden Butterfly House, and Outdoor Kitchens.
Epcot International Food and Wine Festival: Parents, this one's for you! Held in November, this festival brings together fine wines, delectable food, and live entertainment.
Other Seasonal Events
Disney's Princess Half Marathon Weekend, held in January, will give your children a chance to participate in challenges and walk with princesses.
Earth Day is celebrated with a party called Party for the Planet.
Disney Wine & Dine Half Marathon includes races for adults and kids alike and an after-hours party at Epcot.
There is a Candlelight Processional at Epcot that narrates the Christmas story musically with a choir, orchestra, and a celebrity guest narrator.
Disney Very Merriest After Hours takes place at Magic Kingdom after park timings for 3 hours on select days. During this time, a very limited number of guests get easy access to most attractions and it is hard ticketed.
Final Thoughts
To answer your question, there is no single best time to visit Disney World. It all depends on your budget, timings, and preferences.
If you want a quieter holiday with your favorite Disney characters, then February, March, August, and September are the months to consider for fewer crowds. Avoiding school breaks and major holidays will save you time and money because that's when prices are at their peak.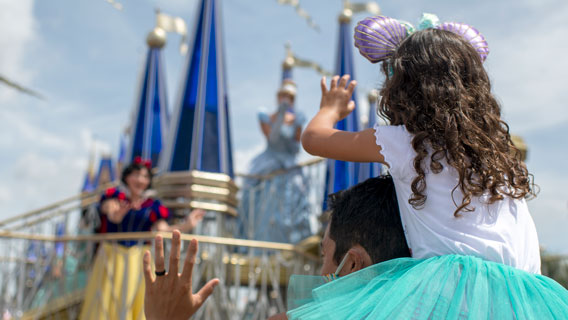 June and October are typically more crowded than usual, but if you plan ahead, wait times can be shortened to make your visit much more enjoyable.
We hope that you have all the information you need to plan your Disney World family trip. Above all else, it's always best to make an informed decision based on your kids' individual interests and pace. Truth be told, Disney World is a magical place no matter when you choose to visit.
More about our TFVG Author
A seasoned traveller, Dad, and avid sports tourist, James foundered The Family Vacation Guide to share his expert vacation experiences- especially when it comes to being a travelling family man.
Featured in Travel articles such as Travel + Leisure, TripSavvy and SFGate, you know you're reading some of the best vacation tips online.