If you've ever been to a Disney Park, you know how expensive Disney merchandise is. A Disney vacation by itself can be a huge bank breaker, so it's good to know places where you can get authentic merchandise on the cheap. That's where the Disney Character Warehouse outlets come in handy. 
What Is the Disney Character Warehouse?
The Disney Character Warehouse is an Orlando outlet store that sells overstock merchandise from the Disney Parks at discount prices.
We should make it clear that the Disney Character Warehouse is different from the Disney Store. While both sell authentic Disney merchandise, the Disney Character Warehouse only carries merchandise from stores around the Disney Parks.
That means you'll find authentic Disney Park merchandise from all Disney-owned franchises, including Mickey and Friends, Star Wars, Marvel, and so on. We're talking clothes, toys, Mickey Ears, bubble wands, action figures, mugs, glassware, Disney pins, and all other sorts of fun items.
In a nutshell, these stores are extensions of the Disney Parks stores and have all the same buying policies, including the ability to use Disney gift cards, rewards cards, Chase Disney Visa redemption cards, and so on.
The only downside is that you'll sometimes find off-season merchandise, like Christmas items in early spring. You likely won't find the hottest things to hit the Disney Parks, either. At best, you're likely to find some cool T-shirts, toys, and action figures, while other times, you're getting the items that did not sell the best at the Parks.
Where Are Orlando's Disney Character Warehouses?
As you can see below, you'll find both Orlando's Disney Character Warehouses in outlet malls, where you can easily do some Disney shopping.
How Popular Are Disney Character Warehouses?
These stores tend to be pretty popular, especially on the weekends. You might expect to wait in line for a while. However, with the new virtual queue installed in 2020, you can give your phone number to the cast member at the door, and they'll text you when it's your turn to visit the store.
Such convenience allows you to do extra shopping around the mall while you wait. Note that you only do this in person at the store. You cannot get a spot in line online or through an app.
You don't have a limited time to spend in the store. So if you get in line for the store and a cast member gives you an estimated 2 to 3 hour waiting time, you could be waiting a little longer. It usually takes around an hour for 50 people to shop at the store, so you might be better off leaving the mall altogether until your turn begins.
Keep in mind that you'll only have 15 to 20 minutes to get to the store when a cast member texts you. If you don't get to the store in time, you'll get bumped out of line.
Even with only 50 shoppers in the store, it can still feel a little claustrophobic. If you don't enjoy shopping in close quarters with people eager to find the next best deal from the Parks, you might not enjoy the experience.
However, if you enjoy the thrill of the hunt and searching through every square inch for a possible buy, you may enjoy yourself.
You're also not allowed to bring food and drink into the stores. At this time, the store requires you to wear a mask to enter.
Both these outlets are close to the Disney Parks, luckily. Which one you go to depends on where you're staying in or around the Parks.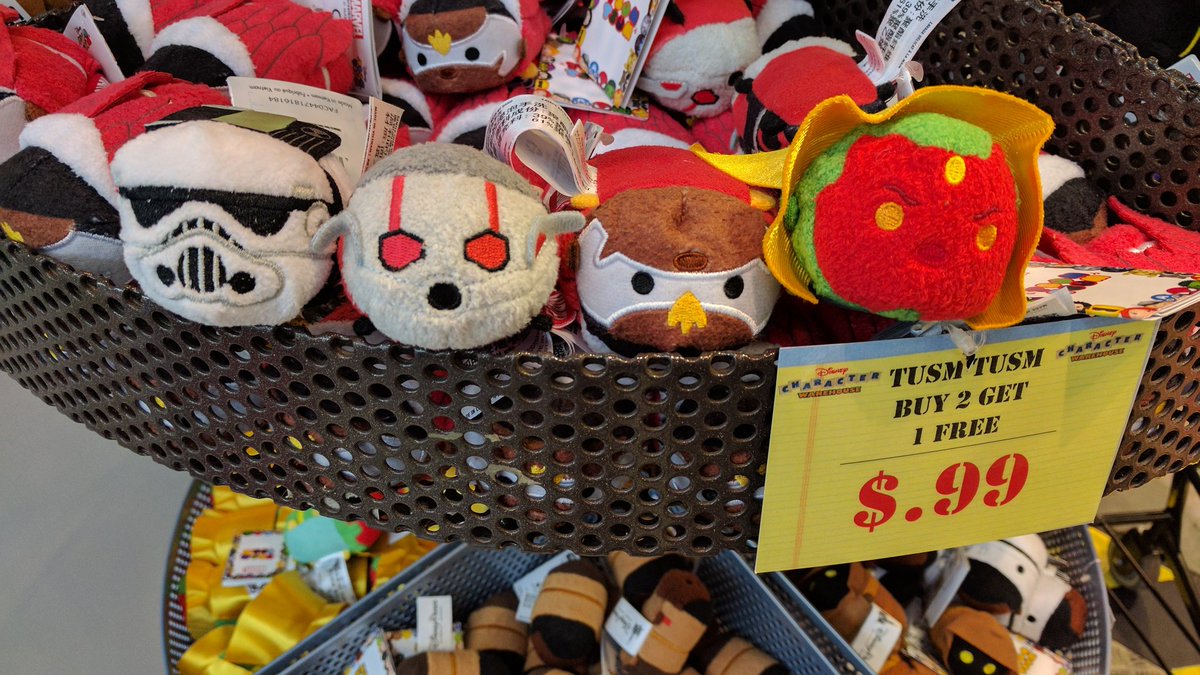 What Merchandise Will You Find at a Disney Character Warehouse?
One other cool thing is that you won't just find merchandise from Walt Disney World. You'll find merchandise that Disneyland Shanghai, Disneyland Paris, the Disney Cruise Line, and other Disney properties have shipped to Florida. 
At first glance, you might not be able to see what's available at each store. That's why you have to take advantage of your unlimited time in the store and sift through the racks. Look through all the T-shirts, mugs, Christmas ornaments, and specialty items to find the best deals. Again, you just never know what you're going to find.
We also suggest getting to the outlets early (as in, right when the mall opens) because Disney tourists looking for deals aren't anything to mess with. You might even run into people who buy items just to pawn them off on eBay or their own Disney merchandise websites for a larger price. If they buy the maximum of every item available, you might get stuck with not only a smaller stock of cool items but a slow checkout experience. 
While lots of merchandise is already heavily marked down, you will still find some undiscounted items, such as a selection of Disney-themed food. Disney Parks food is already pretty expensive (a snack bag of pretzels is almost $4), but it might be among some of the safest foods to consume in the Orlando Premium Outlets. That's because several food outlets in the mall have ranked up a few health violations). 
While it's not a very popular place to do so, you can purchase Walt Disney World park tickets on top of a Disney PhotoPass Service.
Keep in mind that the turnover rate for items sold at the Disney Character Warehouse is roughly 4 to 6 weeks. You genuinely do not know if you'll find something unique or a bunch of "junk" throughout the store.
Orlando International Premium Outlets
Address: 4969 International Dr, Orlando, FL 32819
This Disney Character Warehouse location is closest to the main Walt Disney World gate. It is not quite as large as the one on Vineland, but it does tend to have a more extensive selection of items. That could be because fewer Disney World guests go to this particular location. 
This brings us to one tip for shopping at these stores. It's a good idea to pick them over before you do any merchandise shopping in the actual Disney Parks. You never know if you'll find a particular item for a low price. Plus, the stores also have autograph books and sets of authentic Disney pins for low costs. If you love to trade Disney pins, this could be a goldmine for you.
That also means that sometimes you'll find misused or broken items on display. That's why you need to check every item thoroughly before buying because all sales are final.
If you're worried about items getting broken in transit (when you're flying back home, for instance), the Disney Character Warehouses are excellent at packing delicate items for you.
That said, you cannot find these items online. There is also no option to have items shipped to your home or hotel room, like at the Parks. There is also no Annual Pass discount or other Disney Parks discounts available since everything is already marked down pretty heavily.
Orlando Vineland Premium Outlets
Address: 8200 Vineland Ave #1252, Orlando, FL 32821
If you're close to Disney Springs, the Orlando Vineland Premium Outlets are the most convenient location for you. However, we should warn you that the parking situation varies from day to day. Depending on how full the parking lot is, you could get stuck with a paid spot. 
This location is usually a little more crowded, so some items sell a lot faster here than the other location. Fortunately, it is slightly larger, but that does not always mean you'll have a greater selection of items.
However, this particular store seems to always have a backstock of unique T-shirts. Sometimes you might walk into the store and see a T-shirt from Up that might have been in the parks when the movie was released. You might also see T-shirts from park events, like Mickey's Not-So-Scary Halloween Party, Epcot's Festival of the Arts, Mickey's Very Merry Christmas Party, and more.
If you'd rather not take chances on paying for parking (which is $10, by the way), you can always take a rideshare like Uber or Lyft to the store.
We suggest taking Disney World transportation to Disney Springs. From there, you can call an Uber or Lyft to pick you up and save a little money.
On the other hand, if you're staying at participating hotels around the Lake Buena Vista area, you'll be able to take a free shuttle to the store.
The markdowns on some items can be phenomenal at this store. Sometimes you'll see items marked as low as 75 to 80% off, but you won't get that lucky with every item you find.
Which Character Warehouse Is Closest to Disney World Resort?
The Vineland outlet location is the closest to the Disney World Resort. While both stores are a short car ride away, the International location is a lot closer to the Universal Orlando park.
More about our TFVG Author
A seasoned traveller, Dad, and avid sports tourist, James foundered The Family Vacation Guide to share his expert vacation experiences- especially when it comes to being a travelling family man.
Featured in Travel articles such as Travel + Leisure, TripSavvy and SFGate, you know you're reading some of the best vacation tips online.