Here's everything you need to know about where you can meet Chewbacca at Disney World, Florida.
Are you a fan of Star Wars? If so, you'll love your family's next vacation to Walt Disney World outside Orlando, Florida. Not only is there a dedicated Star Wars land to explore, but you will can also meet some of your favorite characters, including Chewbacca.
But where can you meet Chewbacca at Disney World?
If meeting Chewbacca (or Chewie) is on your must-do list, keep reading. We've compiled all the necessary information to ensure you get a picture and hug with your favorite Wookie.
In addition, find answers to common questions guests ask about character encounters in Disney's theme parks. That way, you can have the best experience when you visit.
Where To Meet Chewbacca in Walt Disney World
Where can you meet Chewbacca at Disney World? The best place to meet Chewbacca in Walt Disney World is Star Wars Launch Bay in Animation Courtyard at Disney's Hollywood Studios theme park.
Be sure to take note of that location. Many guests are surprised that this encounter isn't found in Galaxy's Edge (more about that below). You'll find the Animation Courtyard near Mickey and Minnie's Runaway Railway near the center of the park.
Chewbacca isn't the only character greeting guests at Star Wars Launch Bay. Both BB-8 and Darth Vader also have stations at this Imperial garrison base.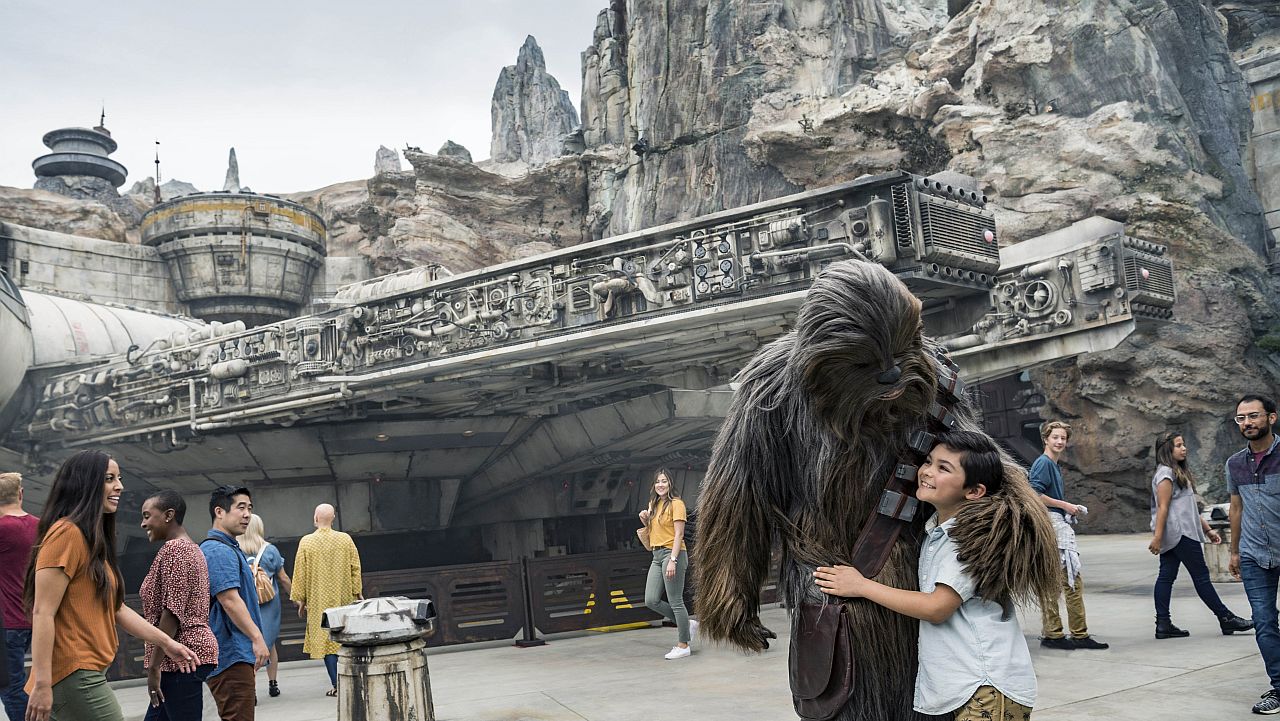 How To Meet Chewbacca at Star Wars Launch Bay
To meet Chewbacca in Walt Disney World, you can either stand in the queue or make a Lightning Lane reservation to skip the wait.
To utilize Lightning Lane, everyone in your party will need to upgrade their park admission with Genie+. This service provides you with a return time. Look for Lightning Lane signage, and you'll find yourself up close with Chewie momentarily.
Many guests prefer to use Lightning Lane for more popular attractions (like Rock 'n Roller Coaster and Tower of Terror). In between, they wait for experiences like character meet-and-greets. 
Luckily, the standby line isn't usually too long. On an average day, you can expect to wait between 15 and 35 minutes. On busy days, it can stretch to an hour. Darth Vader draws the most guests, but many want their pictures with Chewbacca, too.
Be aware that Chewbacca's hours might end before the park's closing (often by 5 PM). Ask guest relations or check your My Disney Experience app to find out when he heads home for the evening.
Outside of some special events, Star Wars Launch Bay is the only guaranteed place in Walt Disney World to meet Chewbacca in person.
Finding Chewbacca in Walt Disney World
Just because you can't shake Chewie's hand outside Star Wars Launch Bay doesn't mean you won't see him elsewhere.
If you're a Star Wars fan, you're probably already planning on visiting Galaxy's Edge, the Star Wars land in Hollywood Studios. You'll feel Chewie's presence and see his likeness on merchandise and more throughout this land.
Millennium Falcon: Smuggler's Run is one of the best attractions for Chewbacca's fans. After all, Chewie was Han Solo's trusty co-pilot on the Falcon in the films.
As one of the franchise's most endearing characters, there's no shortage of Chewbacca merchandise throughout Walt Disney World. The Black Spire Outpost marketplace shops in Galaxy's Edge are the most obvious ones. But you'll find Star Wars swag everywhere, from resort gift shops to the LEGO store in Disney Springs.
Finally, Star Wars fans should consider booking a "voyage" on the Galactic Starcruiser. More than a hotel, guests at this remarkable resort get to live their own Star Wars story for 48 blissful hours. Each two-night stay includes a trip to Galaxy's Edge. 
Frequently Asked Questions
Let's answer some common questions guests pose about meeting Chewbacca and other characters at Disney World.
Does Chewbacca talk to guests?
Technically, Chewbacca doesn't speak in the Star Wars film so you won't have a conversation with him. You may hear his characteristic Wookie sounds, though.
Non-face characters at Disney theme parks receive training about communicating with guests using non-verbal cues while in costume. You'll have genuine interactions with him.
Do other characters ever make surprise appearances?
It happens, but rarely. If you're recalling fond memories of running into Mickey Mouse while strolling through the park, that's a thing of the past.
Don't count on chance encounters. Plan when and where to see your favorite characters on your vacation.
What other Star Wars characters can you meet?
You can meet BB-8, Chewbacca, and Darth Vader at Star Wars Launch Bay. Sometimes, you can also meet Kylo-Ren and Bobo Fett.
Kylo-Ren also roams with Rey. You can ask a cast member about meeting times for the day of your visit. Sometimes, other characters might make appearances, particularly for special events.
Are little kids scared of Chewie?
Chewbacca can be a bit intimidating, even for kids familiar with the series. For one thing, he's very tall. And by design, he looks scary, which belies his soft, loving interior.
To prepare your kids for meeting Chewie and other characters, try to show them pictures and videos before your arrival. Before trying to get close, use parades and other attractions to catch glimpses of live costumed characters.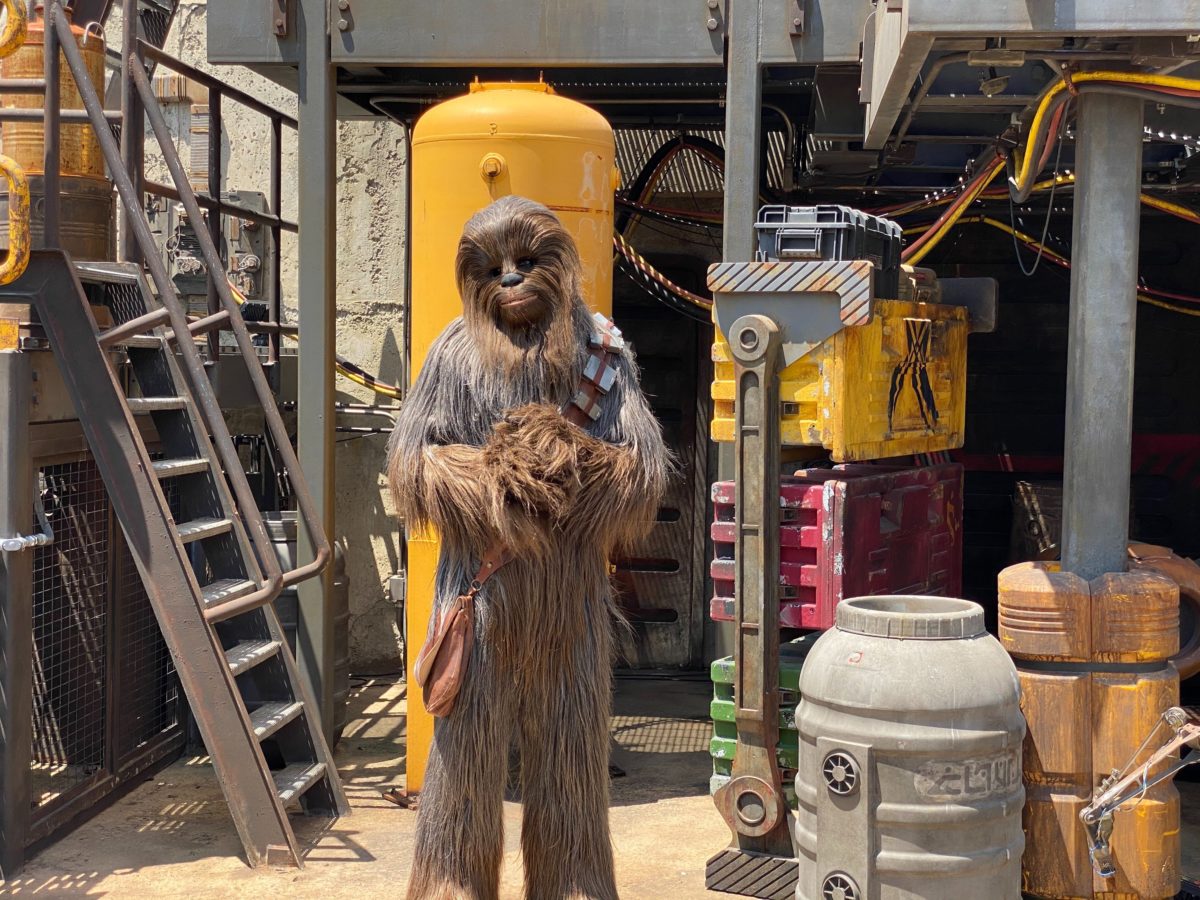 Meet Chewie in a Galaxy Far, Far Away
Chewbacca may not be a main character in the Star Wars saga, but he's certainly popular and loveable. That's one of the reasons you can meet him almost every day in Disney's Hollywood Studios.
Where can you meet Chewbacca at Disney World? The best place is Star Wars Launch Bay. Use the information above to prioritize your date with Chewie on your next family vacation!
More about our TFVG Author
A seasoned traveller, Dad, and avid sports tourist, James foundered The Family Vacation Guide to share his expert vacation experiences- especially when it comes to being a travelling family man.
Featured in Travel articles such as Travel + Leisure, TripSavvy and SFGate, you know you're reading some of the best vacation tips online.