Meeting your favorite Disney characters face-to-face is part of the fun of taking a family vacation to Walt Disney World in central Florida. 
If you dig Donald Duck, you're in luck! There are several places where Donald greets guests throughout Disney World. Sometimes he's on his own, and other times he has some of his pals–including Mickey, Minnie, and Daisy–with him.
So, where can you meet Donald Duck at Disney World? Below, learn all the places in Walt Disney World where Donald Duck interacts with guests. We've also included a list of attractions and places to see if you're a die-hard Donald fan. That way, you can get your fill before you head home!
Where Can You Meet Donald Duck in Disney World?
So, where can you meet Donald Duck at Disney World? As one of Walt Disney's classic characters, there are many places to meet Donald.
Magic Kingdom
In the Magic Kingdom, head to Pete's Silly Sideshow in Fantasyland to meet Donald Duck. He'll be under the Big Top and dressed in circus finery as the Astounding Donaldo. You'll also be able to meet Goofy while you're there!
EPCOT
You may not expect to see Donald here. But he appears regularly in the Mexico Pavilion next to the pre-Columbian pyramid in EPCOT (on the side closest to the Norway Pavilion). He'll be wearing the sombrero he donned in Walt Disney's short animated film, The Three Caballeros. 
Disney's Hollywood Studios
There aren't currently any official meet-and-greets with Donald at Hollywood Studios. However, you may be able to meet Donald Duck at Hollywood Studios at the entrance. Primarily during peak hours early in the day, he and other classic characters assemble to welcome guests.
Disney's Animal Kingdom
Disney's Animal Kingdom has one of the best places to meet Donald since he's surrounded by so many of his friends. You'll find them at Donald's Dino-Bash in Dinoland, U.S.A. 
Daisy, Pluto, and sometimes Chip and Dale also join him.
Character Dining
Character dining is one of the only guaranteed ways to meet Donald at Walt Disney World, and you may get to spend more one-on-one time with him.
In the parks, you can enjoy your meal with Donald at Tusker House in Animal Kingdom. This buffet-style restaurant offers African-inspired dishes along with traditional (kid-friendly) fare. 
Or, head to Hollywood and Vine in Hollywood Studios. He appears at Minnie's Seasonal Dining for lunch and dinner only. Breakfast is reserved for the little ones with Disney Junior characters.
There are also three resort restaurants where Donald appears for breakfast. The character breakfast has long been a Disney Parks tradition!
At Cape May Cafe in Disney's Beach Club, Donald dresses in his best swimwear for Minnie's Beach Bash Breakfast, a breakfast buffet. 
A short Skyliner ride away, he zips over to Topolino's Terrace in Disney's Riviera, the newest Disney Vacation Club resort in Walt Disney World. Join Mickey, Minnie, Donald, and Daisy for Breakfast à la Art. Located at the top of the hotel, it offers breathtaking views of the surrounding area.
Finally, Chef Mickey's at Disney's Contemporary Resort offers a character breakfast and dinner. This restaurant serves breakfast buffet-style and provides a price-fixed menu at dinner. The location is perfect if you have a kid who loves trains since the monorail runs right past. 
You'll get to meet not only Donald but also:
Mickey
Minnie
Goofy
Pluto
They'll wear chef's attire, ready to prepare your meal!
At the Resorts
In addition to character dining, Disney sometimes has signature characters meet guests at their resorts. Guests have spotted them at all tiers of hotels (value, moderate, deluxe, and DVC deluxe) in the lobbies and courtyard areas.
You can ask your concierge at check-in about these opportunities. However, it's not something you can always plan on.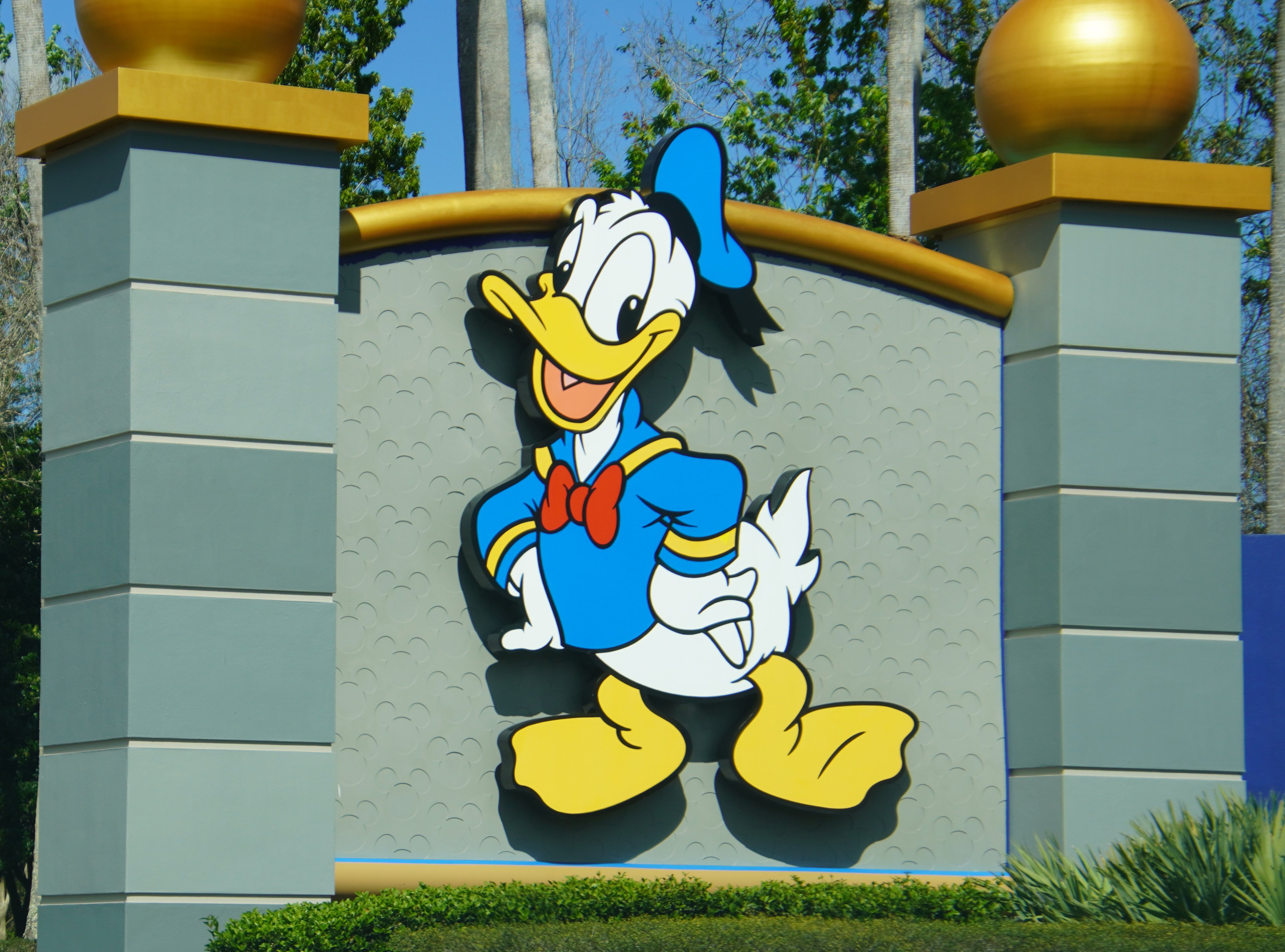 Where Else Can You See Donald Duck in Disney World?
As one of Walt Disney's original characters, Donald has a vital role to play throughout Walt Disney World.
You'll see him all over, especially on merchandise. There are a few attractions and experiences you don't want to miss if you're a fan:
Finally, Donald Duck is almost always an essential feature of Disney parades, especially those in the Magic Kingdom. He and Daisy sometimes have their own giant float or may accompany Mickey, Minnie, Goofy, or Pluto.
Remember to point out the characters on the parade floats before your younger kids meet them face-to-face. That way, they'll be more prepared for how the live characters look.
Frequently Asked Questions
Let us answer some of your questions about meeting Donald Duck.
How much time will I get with Donald?
It depends. If you join a queue and meet him in the parks, it will be just a few minutes. A non-costumed cast member accompanies Donald and quickly moves people through the line, so have your camera and autograph books ready!
Will Donald talk to me?
Classic characters do not speak to guests but are good at non-verbal communication. If you want a laugh, ask Donald where his pants are or if he's seen Mickey Mouse today.
Hug Donald for Us!
So, where can you meet Donald Duck at Disney World? There are various locations to meet this Disney star at EPCOT, Magic Kingdom, Hollywood Studios, and more!
Wherever you meet him and whatever he's wearing, meeting Donald Duck is an unforgettable experience. Give him a big hug from us on your next family vacation to Walt Disney World!
More about our TFVG Author
A seasoned traveller, Dad, and avid sports tourist, James foundered The Family Vacation Guide to share his expert vacation experiences- especially when it comes to being a travelling family man.
Featured in Travel articles such as Travel + Leisure, TripSavvy and SFGate, you know you're reading some of the best vacation tips online.