Meeting your favorite characters is a memorable aspect of a family vacation to Disney World in Florida. While you can find characters throughout the theme parks and resorts, it can get a little more challenging when you have a particular character in mind. 
Gaston is arguably one of the most trying characters to meet in Disney World. Villains, in general, are always more elusive to find, and since Gaston only appears in one Disney property, there are fewer relevant spaces for him within the parks.
If coming face to face with this lovable macho man is a big part of your vision for a Disney vacation, this guide will help you achieve your dream.
Where To Find Gaston at Disney World
Gaston only does meet-and-greets at one Disney Park: Magic Kingdom. However, what the character lacks in meeting quantity, he makes up for in quality.
Magic Kingdom
Gaston makes regular appearances at Gaston's Tavern in Fantasyland. Gaston's Tavern is a quick-service restaurant based on the bar shown in Beauty and the Beast, most notably featured during the song "Gaston."
Where Is Gaston's Tavern in Magic Kingdom?
To get to Gaston's Tavern, you go past the Fantasyland carousel, towards the Beast's castle, where the Be Our Guest restaurant is located. Past the palace and formal restaurant, you'll find Gaston's Tavern.
The Gaston Meet-and-Greet Experience
Sometimes you'll see Gaston outside the tavern, near the fountain that features a statue of him and LeFou. Most of the time, Gaston will be inside the tavern in a designated meet-and-greet area.
The interior of Gaston's Tavern is filled with all things Gaston, including rustic furniture and his many hunting trophies. When he's there, Gaston is usually staring at his reflection, showing off his muscles, and bragging about himself to anyone who listens.
Gaston tends to be at the tavern for most of the day, usually showing up around 10 am and staying until the late afternoon. Since he offers such a unique and funny character experience and only appears at one location, you'll want to get to the tavern early to avoid long lines.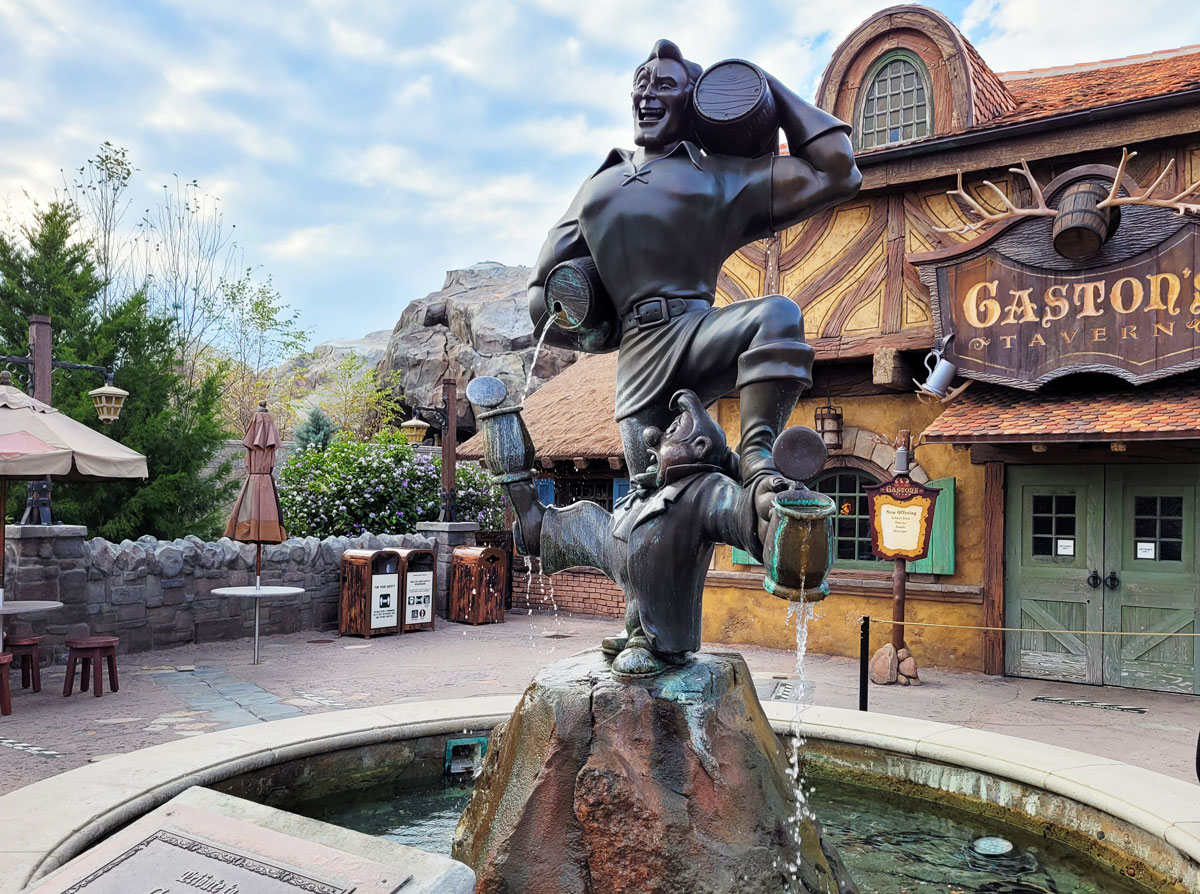 Food at Gaston's Tavern
If you don't have time to wait in line to speak with Gaston directly, you can still enjoy his performance from afar as you munch on some tasty tavern treats. Some items on the menu include a massive cinnamon roll and a ham and cheese sandwich.
Despite the restaurant's name, Gaston's Tavern does not serve alcohol. Instead, the restaurant offers a specialty beverage for drinkers of all ages: LeFou's Brew. LeFou's Brew is a yummy frozen apple juice topped with foam, perfect for cooling off in the hot Florida sun.
Hollywood Studios
Although Magic Kingdom is the only Disney World park where you can personally meet Gaston, you can get a good, long look at him over at Hollywood Studios when you attend Beauty and the Beast Live On Stage.
Beauty and the Beast Live On Stage is a live retelling of the Beauty and Beast story, similar to a Broadway show. Naturally, Gaston is featured heavily throughout the show. This outdoor show is located on Sunset Boulevard, runs for a half hour, and usually has multiple showtimes every day.
Frequently Asked Questions
Here are the answers to some of the most frequently asked questions about meeting Gaston and other characters at Disney World.
Is Gaston nice to guests at Disney World?
Yes, Gaston is nice to the guests that he meets. He does, however, maintain the classic Gaston character traits and will likely tease you and your family members, especially the adult men he views as rivals.
Gaston is also vain, narcissistic, dismissive of intellectuals, and often makes sexist comments about Belle. All his jokes are appropriate and humorous, staying in line with Disney's standards for a positive guest experience.
Does Gaston appear at character dining events?
No, Gaston does not appear at any of the character dining events at Disney World. If you want to enjoy some food while chatting with Gaston, you'll need to head over to Gaston's Tavern and buy a cinnamon roll.
Are character meet-and-greets back at Disney World?
Disney World has been gradually bringing back character meet-and-greets since the spring of 2022. Due to the onset of the pandemic in 2020, Disney had to limit character interactions to allow for social distancing, but most of the characters returned in 2022. Disney World continues to update its health and safety procedures based on the current conditions.
As of right now, you can meet with characters, hug them, get autographs, and take pictures. Some of the previous meet-and-greet locations are still closed, but Disney expects many will reopen shortly, barring any unexpected changes with the pandemic. 
Final Thoughts
No one is quite like Gaston, so it's valid to prioritize meeting during your visit to the happiest place on Earth. Despite having only one meet-and-greet location, Gaston appears at Gaston's Tavern almost every day and always has time to get to know his adoring fans.
More about our TFVG Author
A seasoned traveller, Dad, and avid sports tourist, James foundered The Family Vacation Guide to share his expert vacation experiences- especially when it comes to being a travelling family man.
Featured in Travel articles such as Travel + Leisure, TripSavvy and SFGate, you know you're reading some of the best vacation tips online.