Winnie the Pooh is the beloved bear in the red shirt and a character everyone wants to meet at Disney World. Kids and adults alike love him.
Winnie the Pooh became famous in the books of A.A. Milne. Disney acquired the rights to the property in 1961 and started making cartoons and merchandise featuring a Disney-fied version of the bear and his friends.
If you're dying to meet Winnie the Pooh during your trip to Disney World in Florida, you're in luck. There are several places to meet him and his friends. We'll help you figure out where you can meet Pooh and give you some tips for making the most out of your meet-and-greet.
Character Meeting Spots
Disney makes it easy to meet characters by designating spots and times during the day when you can meet specific characters. That's not to say you won't ever see one wandering around, but you'll be able to meet Winnie the Pooh in the spots below.
The Thotful Spot (Magic Kingdom)
One of the easiest places to meet Pooh bear is at The Thotful Spot, a designated meeting space. It's located in Fantasyland near The Many Adventures of Winnie the Pooh. You'll walk around the outside of the ride toward the Mad Tea Party.
The Thotful Spot is a shaded area where guests can meet Winnie the Pooh and Tigger. There are designated times each day when you can meet them. There are usually several times to meet, so if you miss one, you can make the next one.
The Crystal Palace (Magic Kingdom)
The Crystal Palace is a character dining experience. Along with Winnie the Pooh, you can also meet Piglet, Tigger, and Eeyore. While the restaurant serves breakfast, lunch, and dinner, it's important to note that the characters are currently only at breakfast.
During character dining, the characters will come by your table. You can interact with them, take photos, and get their autographs.
If you want to meet Winnie the Pooh at Crystal Palace, it's highly recommended that you make reservations.
Epcot
You can also meet Winnie the Pooh in Epcot. You can catch him from time to time between the Imagination Pavilion and the Canada Pavilion. However, you won't be able to do a meet-and-greet at this time. 
Pooh is usually behind a fence. He has a butterfly net and is playing. You can wave at him and take a picture, but you won't be able to get an autograph or take a selfie with him.
You can also sometimes find Winnie the Pooh in the United Kingdom Pavilion, as the story is set in England. It's probably the rarest place to see him. He's in the back, near the garden. He'll pop up from time to time.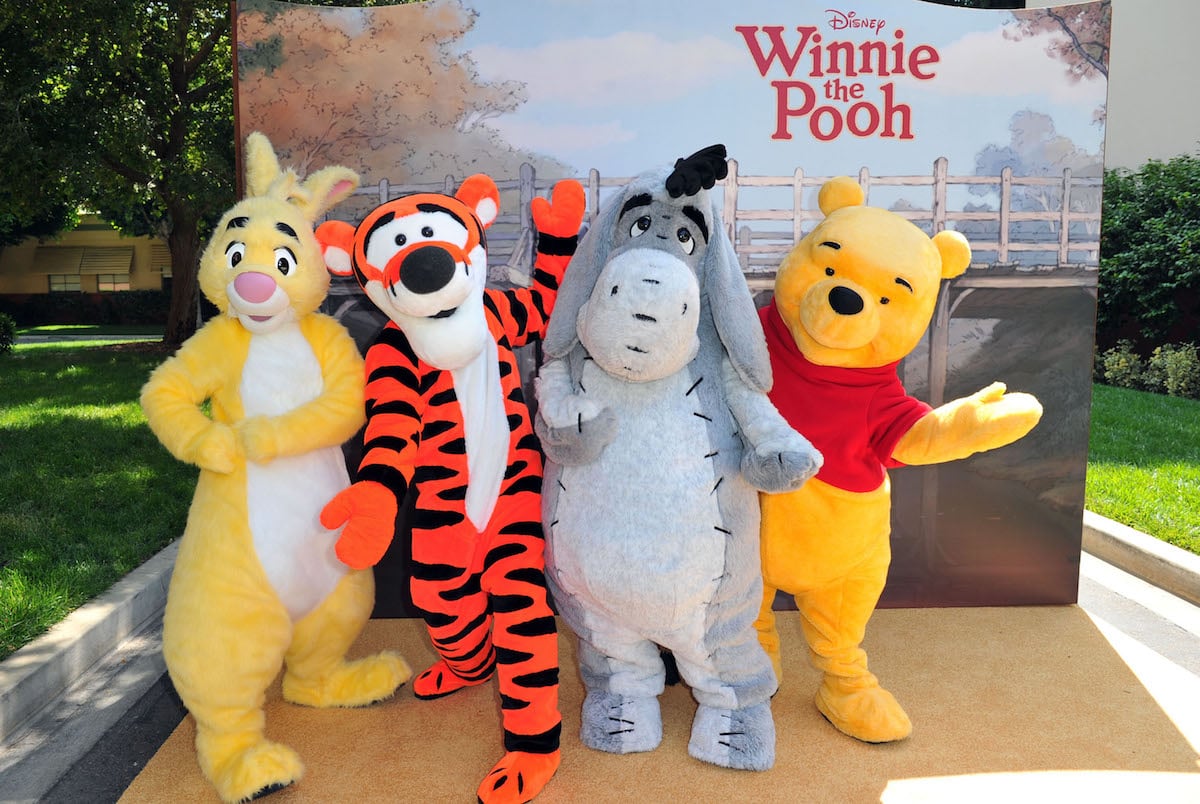 Other Places to See Winnie the Pooh
If you just can't get enough of Winnie the Pooh, there are a few more ways to see him and enjoy Pooh-based experiences.
The Many Adventures of Winnie the Pooh
The Many Adventures of Winnie the Pooh is a dark ride in Fantasyland. You'll climb aboard a honey pot and enter the Hundred Acre Wood. You'll accompany Winnie the Pooh as he enters a trippy dream world, bouncing and spinning as you go.
The ride is fun for all ages and there are plenty of chances to see Winnie the Pooh and his friends. There's even a neat digital Pooh that you'll experience.
When you exit the ride, you'll enter Hundred Acre Goods. It's a store that sells all things Winnie the Pooh.
Special Events
Disney World has a couple of special events where you may be able to meet Winnie the Pooh. At Mickey's Not-So-Scary Halloween Party, you can meet Winnie the Pooh and his friends in their Halloween costumes. Pooh is usually dressed up as a honeybee. You can find them at The Thotful Spot.
You can also meet Pooh at Disney's Very Merry Christmas Party. He and his friends are at The Thotful Spot. Winnie the Pooh wears a festive scarf. Pooh and friends are often in the holiday parade too.
Tips for Meeting Winnie the Pooh
Below are a few tips for meeting Winnie the Pooh.
Use the My Disney Experience (MDE) App
The MDE app can give you invaluable information on meeting characters. You'll be able to see what times Pooh will be available for meets. You'll also be able to see the wait times so you can potentially avoid long lines.
Get Memory Maker
Memory Maker is a paid service that helps you get plenty of photos of your family. Disney photographers will take your picture at certain locations, including character meets. It's linked to your Magic Band. The photos are all uploaded to your app so you can print them.
How To Get Good Autographs
Characters like Winnie the Pooh have their hands covered, so it's difficult for them to hold a pen. Bring a regular-sized Sharpie for autographs. It's easier for Pooh to hold.
You can buy an autograph book in many of the gift shops around Disney. If you want something more unique, consider bringing the white matting of a picture frame or a white t-shirt or hat. It'll make a great keepsake.
What Not to Do
Waiting in line can be frustrating. It's even more frustrating when the character goes on break just as you're getting near the front. However, try not to complain to the characters. Breaks are mandated, especially for masked characters. It can get hot inside the costumes and can pose a safety risk.
Don't get aggravated if you see a character walking and they don't stop to meet with you. Characters are only allowed to do meet-and-greets in their designated spots at the designated times.
Questions To Ask Winnie the Pooh
Many of the Disney characters will have funny reactions if you ask them specific questions. You can try asking Winnie the Pooh these questions. Just note that not all cast members will give the same responses.
Where is the honey?
Have you seen Tigger?
What's your favorite treat?
Parting Thoughts
Winnie the Pooh is one of Disney's most popular characters. He's a great meet-and-greet for little ones, as his lovable face is familiar. Adults enjoy meeting him for nostalgia.
By following these tips, you'll be sure to meet Winnie the Pooh and get your perfect photo op!