There is something so refreshing about a cold treat after a long day of walking or being in the sun. Because of this, Dole Whip has gained popularity for being this tasty iconic snack when visiting Disney World in Florida. Therefore, some people will plan their route at Disney World, where they will be able to find Dole Whip.
There is quite a following around Dole Whip as groups have formed online supporting the delicious treat. However, finding Dole Whip in the amusement park is like a scavenger hunt.
There are no clear indicators of where they would be but instead, you have to use your sleuthing skills to find the tucked-away vendors. Rest assured, we will help you scope out the areas where this can be found so you can be sure to get your fix on your next adventure to Disney World.
What Is Dole Whip?
Before we get too far in our list of locations for finding Dole Whip, you may be wondering what that is exactly. Dole Whip is a frozen on-the-go dessert option available at Disney World with the texture of frozen yogurt initially produced by the Dole company.
The Dole company is most widely recognized for the fruit products they mass produce. Besides the yummy flavor, people are drawn to this snack because it is a dairy-free choice.
While often compared to ice cream, this is not ice cream as it does not contain all the same base ingredients.
This is primarily available in pineapple flavor but comes in a few other fruit flavors such as mango, orange, strawberry, watermelon, lime, lemon, cherry, and raspberry. If you want a twist on how to consume this popular snack, try ordering a Dole Whip float, a soft serve in a beverage form similar to a root beer float. You can also choose to have alcohol added to your Dole Whip to create a more adult treat if that is what you are looking for.
Where To Find Dole Whip at Disney World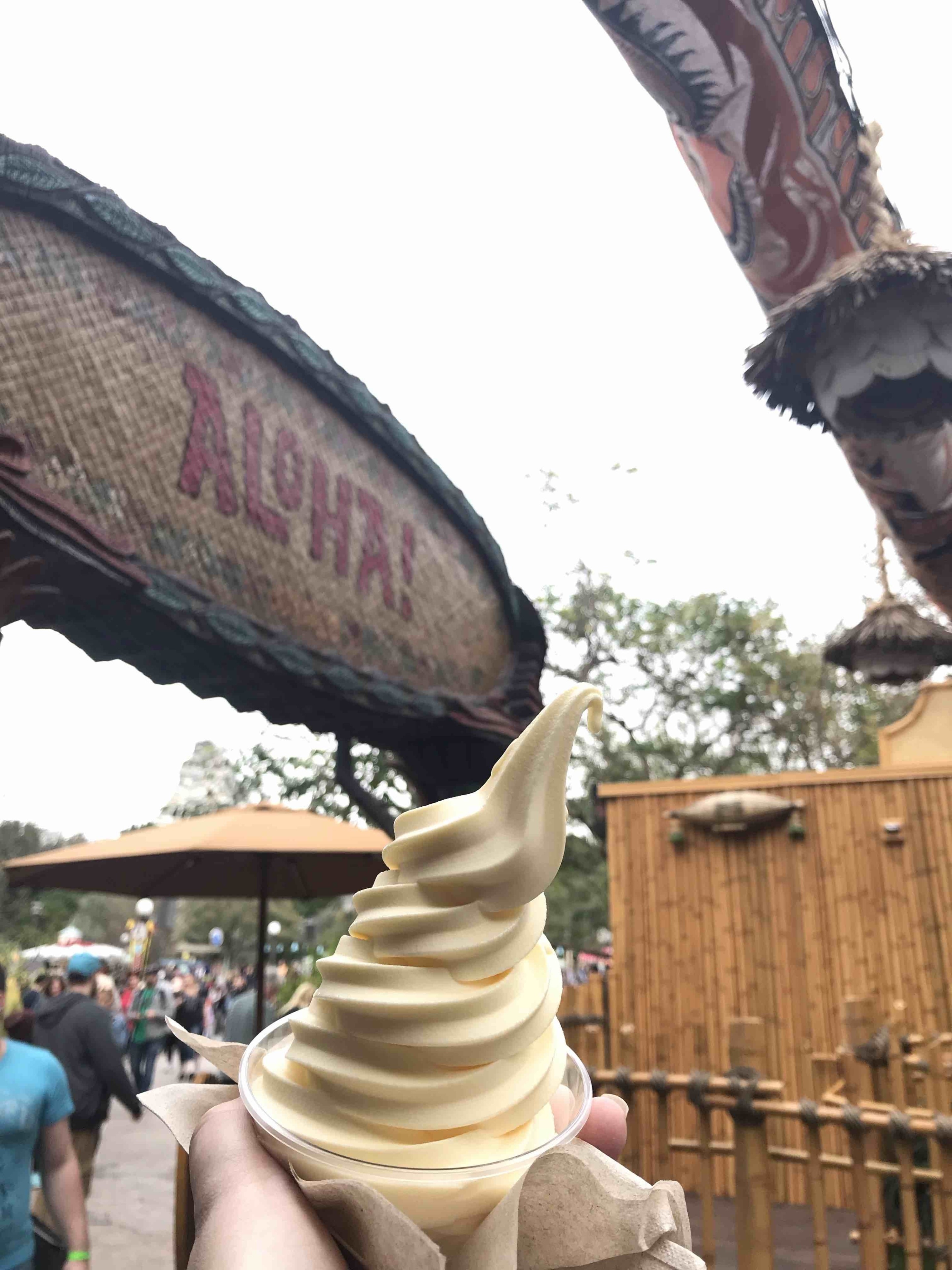 Disney World is massive, with an expansive acreage that will take you hours to personally explore. Dole Whip has gained a loyal following over the 15 years it has been offered on Disney World property. You could quickly end up in a lengthy line waiting because you simply do not know of other locations where the sweet whip is offered within the park. You want to have a plan in place to help you ensure that you can accent your Disney trip with some delicious Dole Whip.
Disney World is divided into seven distinct sections: Magic Kingdom, Hollywood Studios, Typhoon Lagoon, EPCOT, Blizzard Beach, Animal Kingdom, and Disney Springs. We will go over locations to find Dole Whip in each area so you will have a list of where to look, no matter which region of the park you are in.
Magic Kingdom
We will start with the northernmost section of Disney World. Magic Kingdom is divided into sections: Frontierland, Adventureland, Liberty Square, Fantasyland, Tomorrowland, and Main Street, USA.
Aloha Isle
Our first location within the Magic Kingdom park of Disney World to find Dole Whip is Aloha Isle. Aloha Isle is located in Adventureland, on the southwestern side of Magic Kingdom. This snack hut has a delectable frozen treat on its quick service menu. To make your service even quicker, you can place a mobile order to completely bypass the line, freeing you up to explore more of the park.
When you are in Adventureland, Aloha Isle is near the Tiki Tiki Room and Aladdin's Magic Carpets. The area for the line has shading, so if you arrive at the location at a good time, you will not have to worry about standing in the sun to be served. This location will offer some flavors not typically found at every site, including a taste that is an ode to Moana.
Sunshine Tree Terrace
The next location to find Dole Whip in Magic Kingdom is Sunshine Tree Terrace which is also part of the Adventureland section. This location is famous for the Citrus Swirl flavor but should also be recognized for a flavor called Orange Cream Dole Whip. Orange Cream combines soft-serve vanilla ice cream and Orange Dole Whip into a perfectly swirled cup.
Storybook Treats
This food and drink station can be found near the Seven Dwarves Mine Train. Storybook Treats, like other snack locations, tries to offer its own unique flavors that you may not find in other Dole Whip locations. Consider it a reward for happening to be around that area. Some of the special flavors include lemon and lime.
Disney Springs
This theme park inside Disney World can be found on the southeastern side of Disney World. It stands adjacent to EPCOT and Interstate 4.
Swirls on the Water
While there were more offerings in the past, Swirls on the Water is where you need to go to Disney Springs if you want to find Dole Whip – this is part of the Marketplace with many food vendors to choose from.
Marketplace Snacks
This is considered the epitome of snacks at Disney World if you are in Disney Springs. They have a wide selection of tourist favorites, including the highly sought-after Dole Whip. Unfortunately, in recent years, they have not always had this treat, so I would check ahead if that is something you are after.
Typhoon Lagoon
Typhoon Lagoon is a waterpark within the Disney World theme park. It is located between EPCOT and Disney Springs near Interstate 4. Finding Dole Whip here would be a perfect way to be refreshed after hours in the sun and water.
Snack Shack
If you are in the Typhoon Lagoon area and need a pick-me-up, go to the Snack Shack. Here you will find an assortment of goodies, including Dole Whip.
They even put their own spin on the Dole Whip offered here, with some selections available with tequila or rum for visitors over 21 years of age. If you want a slightly spicy kick, there is a habanero swirl Dole Whip that features habanero lime flavoring.
EPCOT
EPCOT is a unique region of Disney world as they have designated sections for different countries worldwide. It is found between Hollywood Studios and Typhoon Lagoon. It is most easily recognized by the large, ridged silver sphere that greets guests at the main entrance.
Refreshment Outpost
This snack store is a go-to while exploring the EPCOT region of Disney World. Refreshment Outpost has Dole Whip in the original pineapple or a swirl.
Festivals
EPCOT will host different festivals throughout the year. Typically they are to highlight a certain country's culture is promoted within the park. During these festivals, they will have various snack carts positioned around the area to allow the guests an opportunity to have treats to consume.
They usually make a point to include Dole Whip in their menus and will even create limited edition flavors to coincide with the event.
Animal Kingdom
Disney World's Animal Kingdom is similar to a zoo as they are home to many different species of animals in exhibits for guests to meander through. If you have ever been to the zoo, you can recall how tiring and hot the day becomes as it progresses. Finding a Dole Whip location inside the Animal Kingdom will help you stay cool amid the long day.
Tamu Tamu Refreshments
Tamu Tamu Refreshments is the place to go within the Animal Kingdom if you find you need some sustenance through your travels. At this location, they also have specialty flavors offered at different times of the year for a short time. One example of this is called a Simba Sunset. This Dole Whip treat features coconut, watermelon, and strawberry syrups.
Blizzard Beach
This is the other waterpark at Disney World that guests have the option of visiting. Blizzard Beach is located between Animal Kingdom and Hollywood Studios. Blizzard Beach features a lazy river and several waterslides that you can enjoy aboard an inflatable tube. If you are looking for Dole Whip while at this park, you are in luck.
Frostbite Freddy's
This location will require you to know what to order as they do not explicitly call the item Dole Whip on the menu. What they offer is a dish called Orange Swirl cone, which is orange Dole Whip and vanilla ice cream swirled together.
Hotels
If you decide to lodge on the premises at Disney World, you may also be close to Dole Whip there. The Polynesian Resort offers the traditional pineapple flavor along with other fruity options. You can also decide to get the treat with rum if you are over 21 years of age.
Conclusion
Disney World has Dole Whip locations spread out throughout the massive property, so no matter where you are in the theme park, you should be able to find some. Take note of these locations so you can be ahead of the crowd on your next trip to Disney World.
More about our TFVG Author