A Florida vacation is often rife with excitement and adventure. However, knowing which locations and activities are the best for you and your family on vacation can be challenging. Dozens of sites are available to visit and explore, and some of the best vacation experiences include ziplining in Florida.
Ziplines and aerial adventures are only one of the many activities that the State has to offer.
Whether you are looking for a vacation that offers you spectacular views of the Everglades, theme parks in Orlando, or the massive lakes of Tampa Bay, a vacation in Florida can give you everything you need – and ziplining can add a much-needed adrenaline rush!
Empower Adventure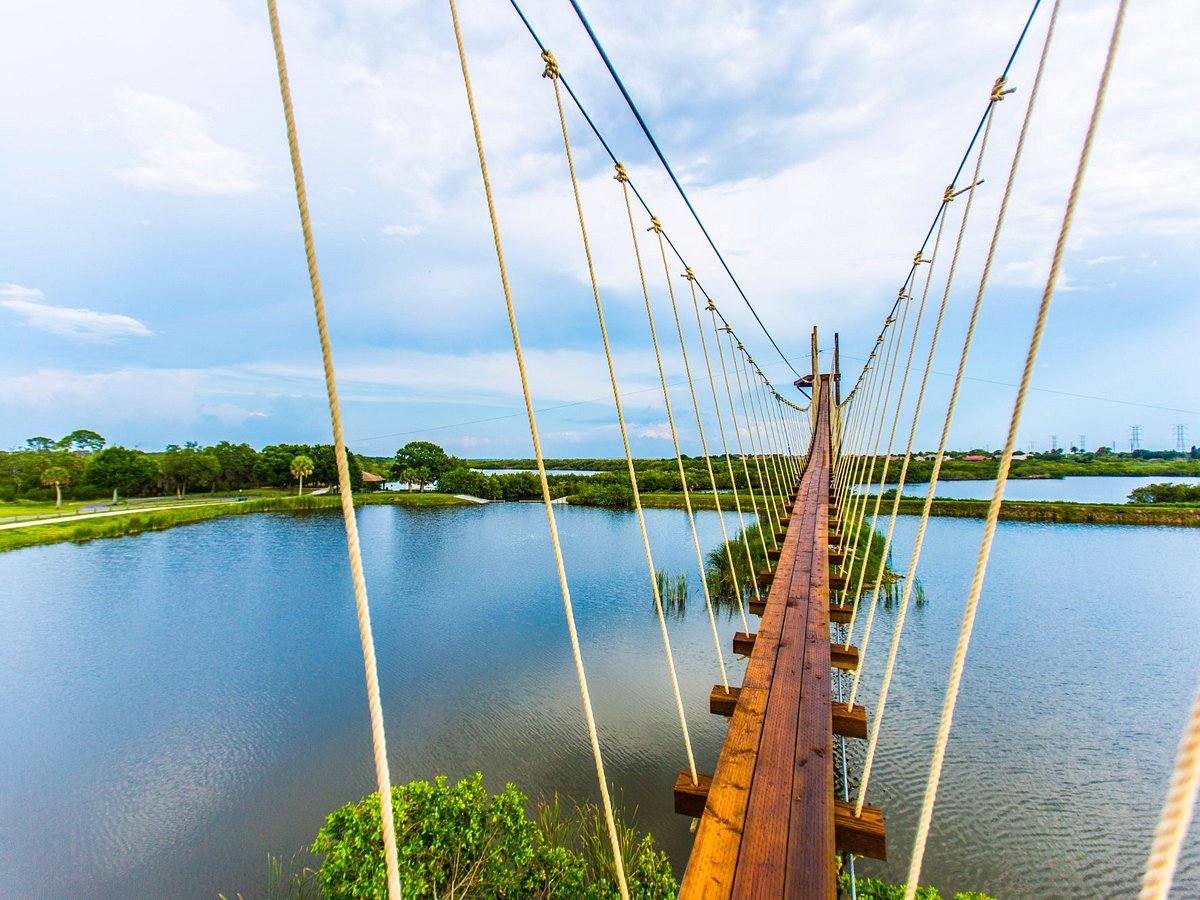 Not only does Empower Adventure offer a zip line, but there are also wooden bridges to walk across and obstacle courses to be completed at your leisure. The unforgettable views over water preserves and the natural world make this location one of the best zip-lining places in Florida. Two-hour tours are available by reservation.
On your trip, you'll cross over 3,000 feet of zip line coverage and walk 200 feet on a suspended bridge, where you can get the best view of Tampa Bay water. You may also be interested in an additional Leap of Faith, a jump off a 30-foot pillar in which you carefully glide back to the ground.
Gatorland Ziplining
A unique experience in Florida is the iconic theme park for gators: Gatorland. Within Gatorland, you can find dozens of exhibits and information that can give you a firsthand look at habitats, diets, and other gator-related information. Although Gatorland is small, it is rife with fun and exciting details about Florida, the Everglades, and gators.
Additionally, Gatorland offers an exciting zipline experience for only $69.99 per person. For this amount, you can strap into a zip line harness and get an aerial view of the gators, habitats, and all exhibits in the park.
Forever Florida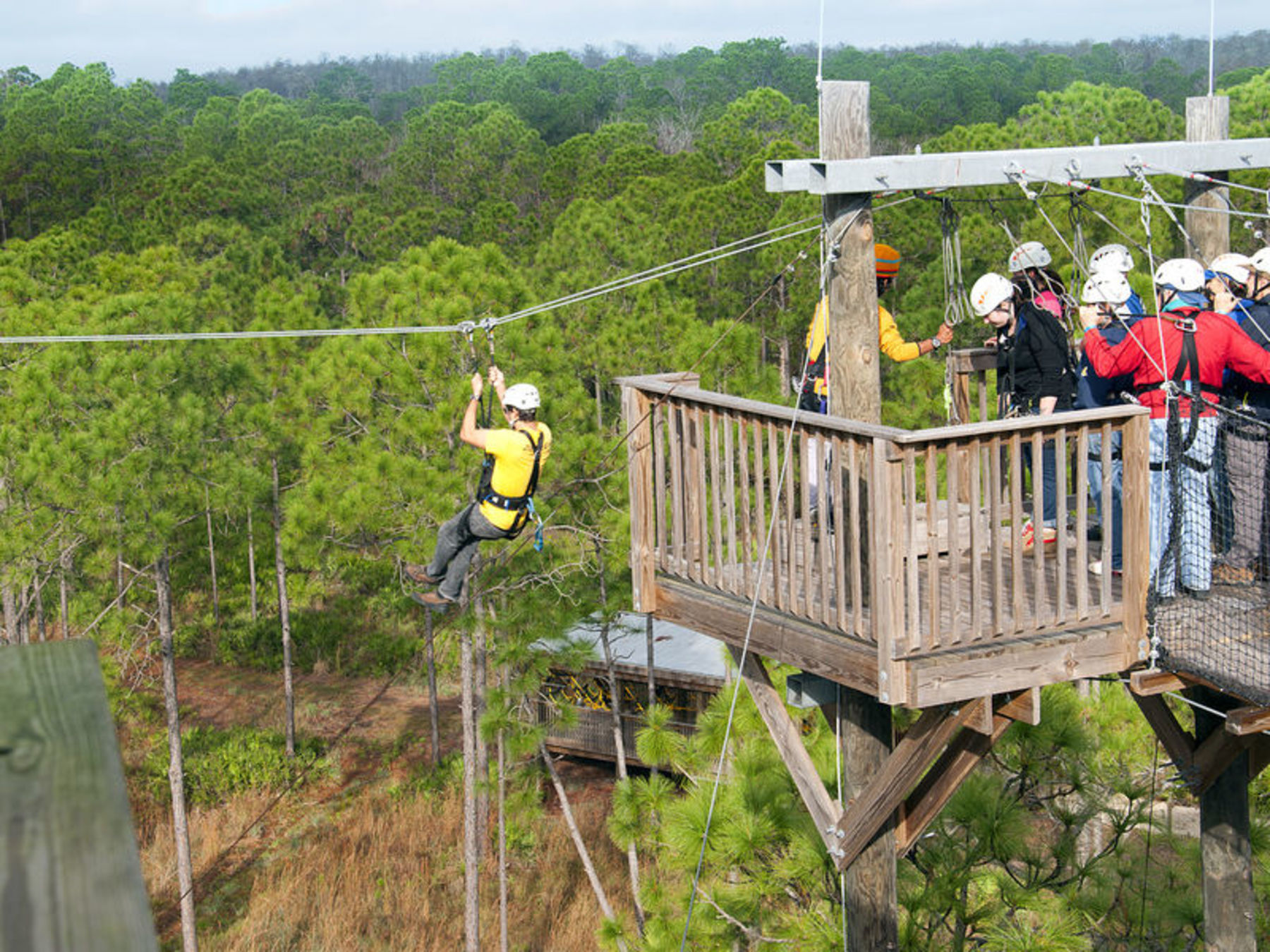 Forever Florida is a zip lining location in Saint Cloud, Florida, that offers guests and tourists the opportunity to explore the natural world Florida offers through a zip lining and aerial adventure. Located on nearly 5,000 acres of land, this company seeks to keep Florida's natural resources protected and refrains from imposing on the natural world.
Instead of building into the Florida forest, Forever Florida is careful to create zip lines that can give you a bird's eye view of the natural world without hurting the trees, plants, and animals.
Andretti Orlando Ropes Course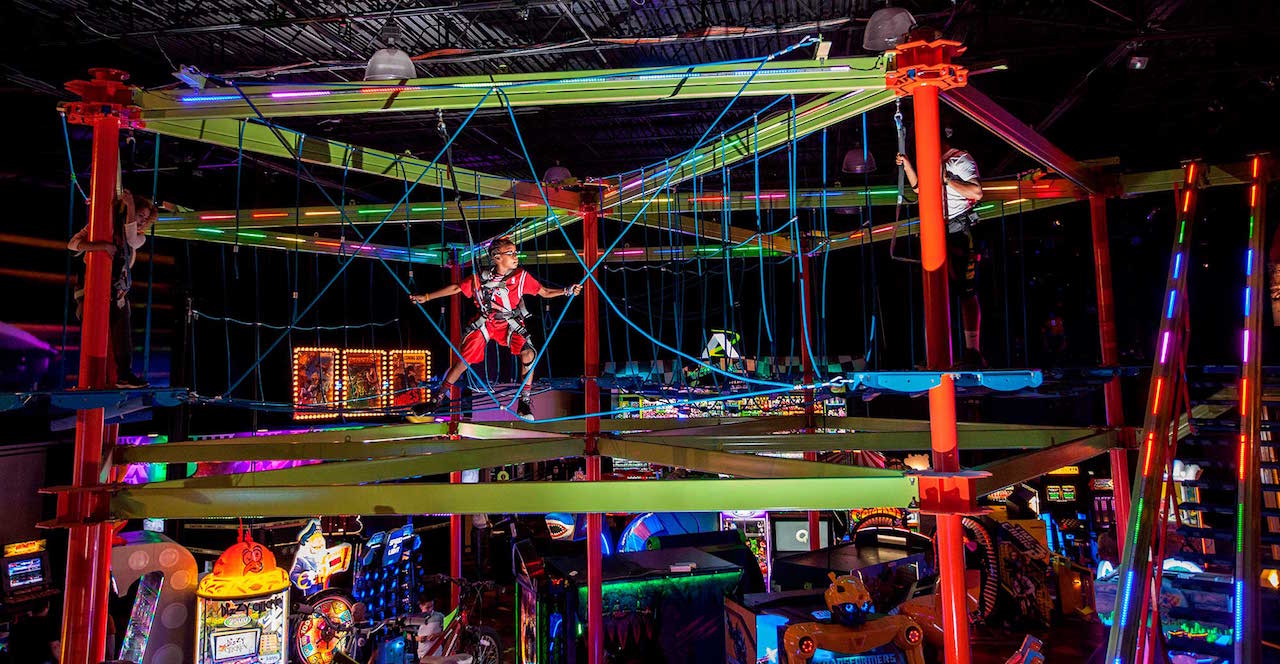 This multi-use facility is unlike many of the other Florida zip lining companies because the zip line and the Andretti Orlando ropes course are indoors. Andretti Karting also offers indoor kart racing and a variety of other adventurous activities like rock climbing and a thrilling motion theater.
Andretti Karting is free to enter, but each activity has additional costs. As such, the price may add up quickly. However, with plenty to do, Andretti Karting can be one of the best locations to experience zip lining, rock climbing, and an aerial obstacle course – all with the comfort of air conditioning, under supervision, and with other like-minded guests.
Orlando Tree Trek Adventure Park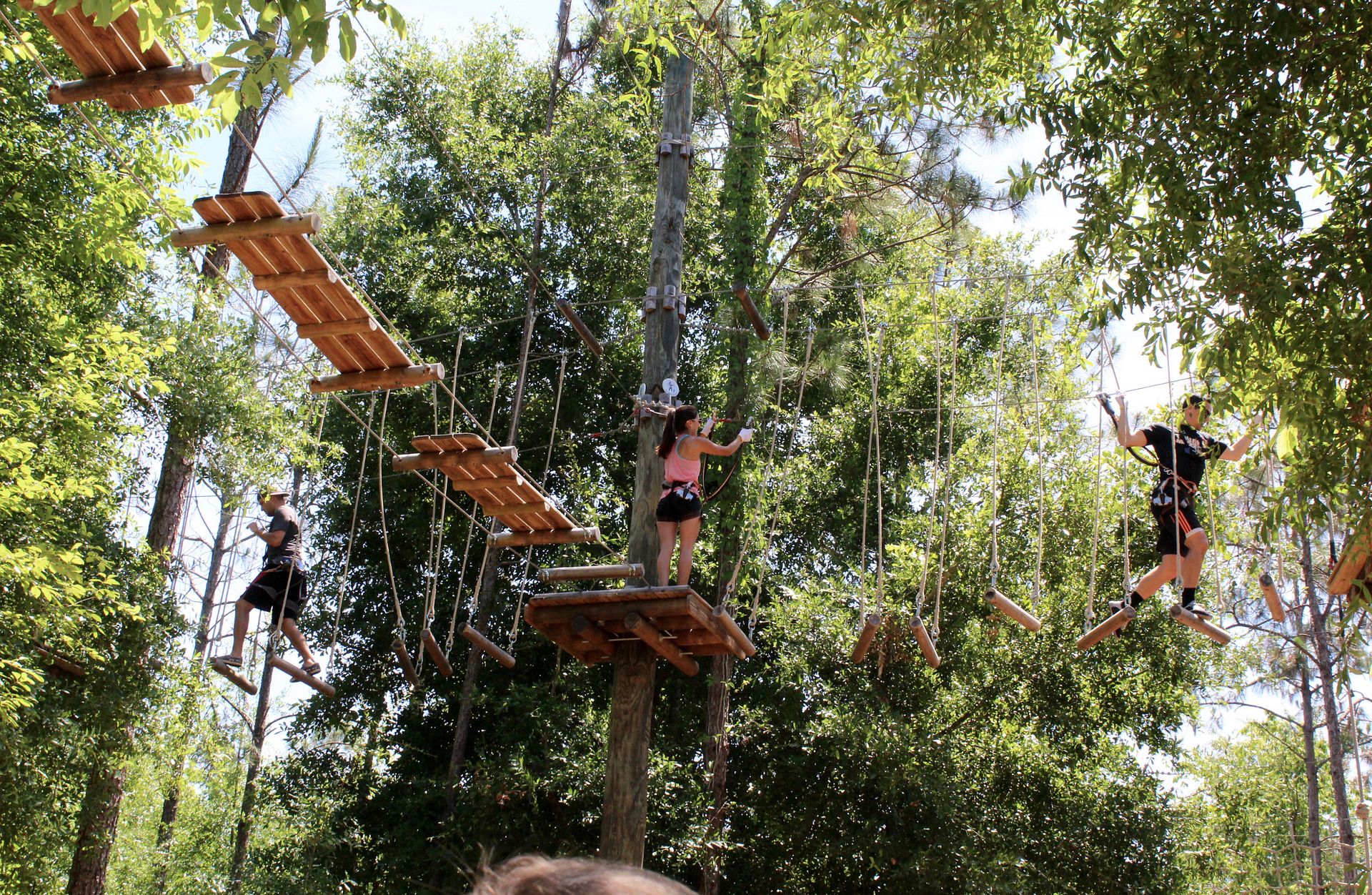 Set on the outskirts of Orlando, Tree Trek Adventure Park is an inexpensive and beautiful option for the zip line and aerial adventures. Tree Trek costs $57 per adult and $39 for children. However, all tours must be reserved before access. All guests are also encouraged to wear masks during the briefing.
Additionally, the zip lining course is under the supervision of a trained professional. However, there are parts of Orlando Tree Trek Adventure Park that can be done at your leisure and without the supervision of a tour guide. These dynamic options can help you and your family experience the natural beauty of Florida's wildlife without sticking to strict timetables or rushing.
Treetop Express Zip Line Tour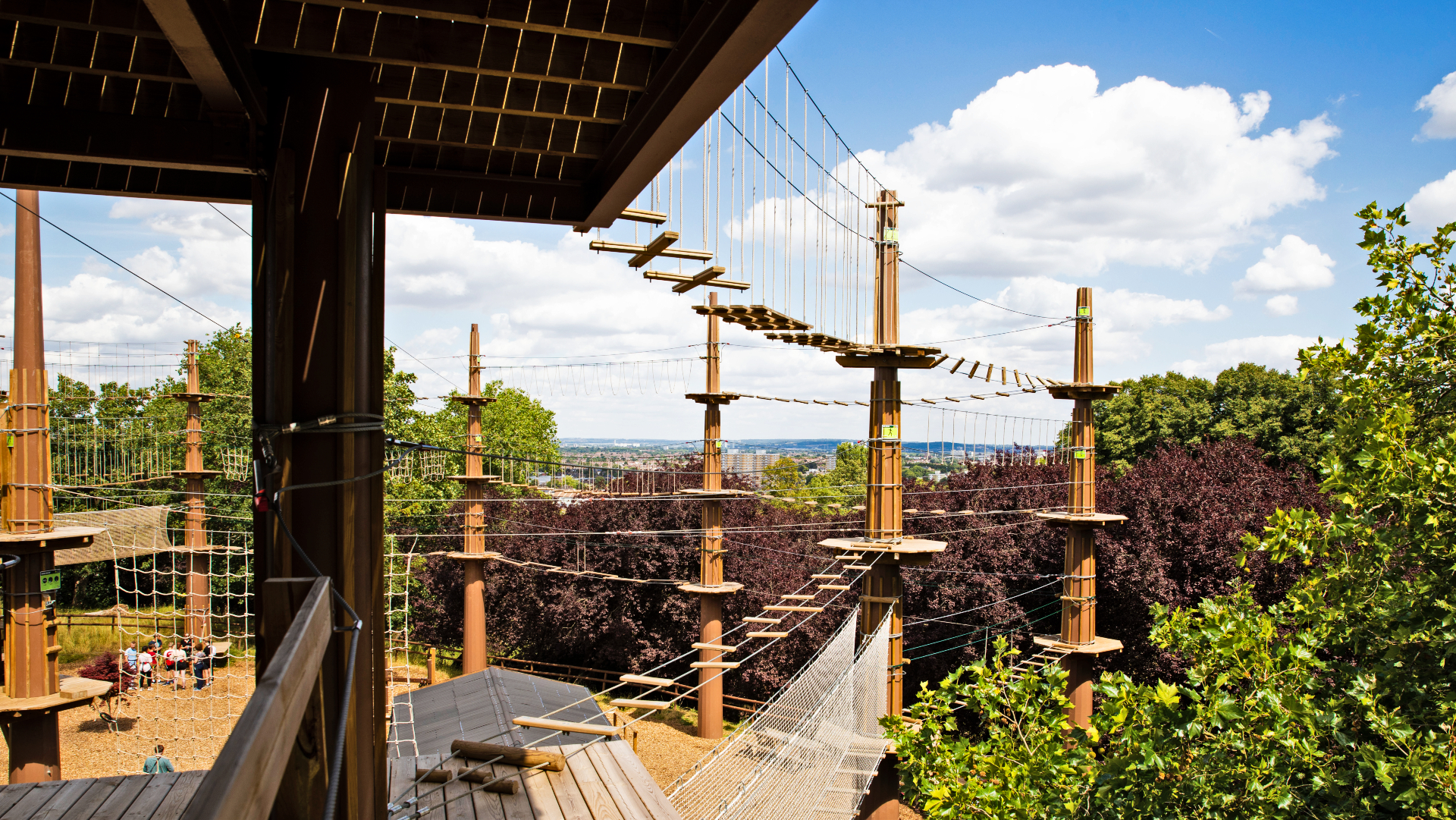 This nearly two-hour guided tour from Treetop Express will take you over five zip lines, and two sky bridges go through Sky High Canyon. This tour uses some natural Florida canyons to showcase Florida's natural habitats, foliage, and other unique aspects. 
This tour is by reservation only and will be guided by someone familiar with the terrain, equipment, and area. This zip line course and sky bridge combination are slightly more expensive than other attractions in the area because it covers more ground than other zip lining locations. The base price for this tour is $79.99, and additional purchases are available for photo packages and GoPro rentals.
Treetop Trek: Brevard Zoo Ziplining
This zip line is in Brevard Zoo but requires a separate admission ticket. This zip line is available from Thursday through Monday from 9 a.m. to 2 p.m. and stands 20 feet in the air. This zip line goes over the tree line and gives every visitor a unique aerial view of the forest and the zoo. With two entirely different zip lines and a course that visits 21 separate elements, this zip line is a perfect opportunity to learn more about Florida's environment.
Additionally, Brevard Zoo offers a canopy walk for only $25.
Canyons Zip Line & Canopy Tours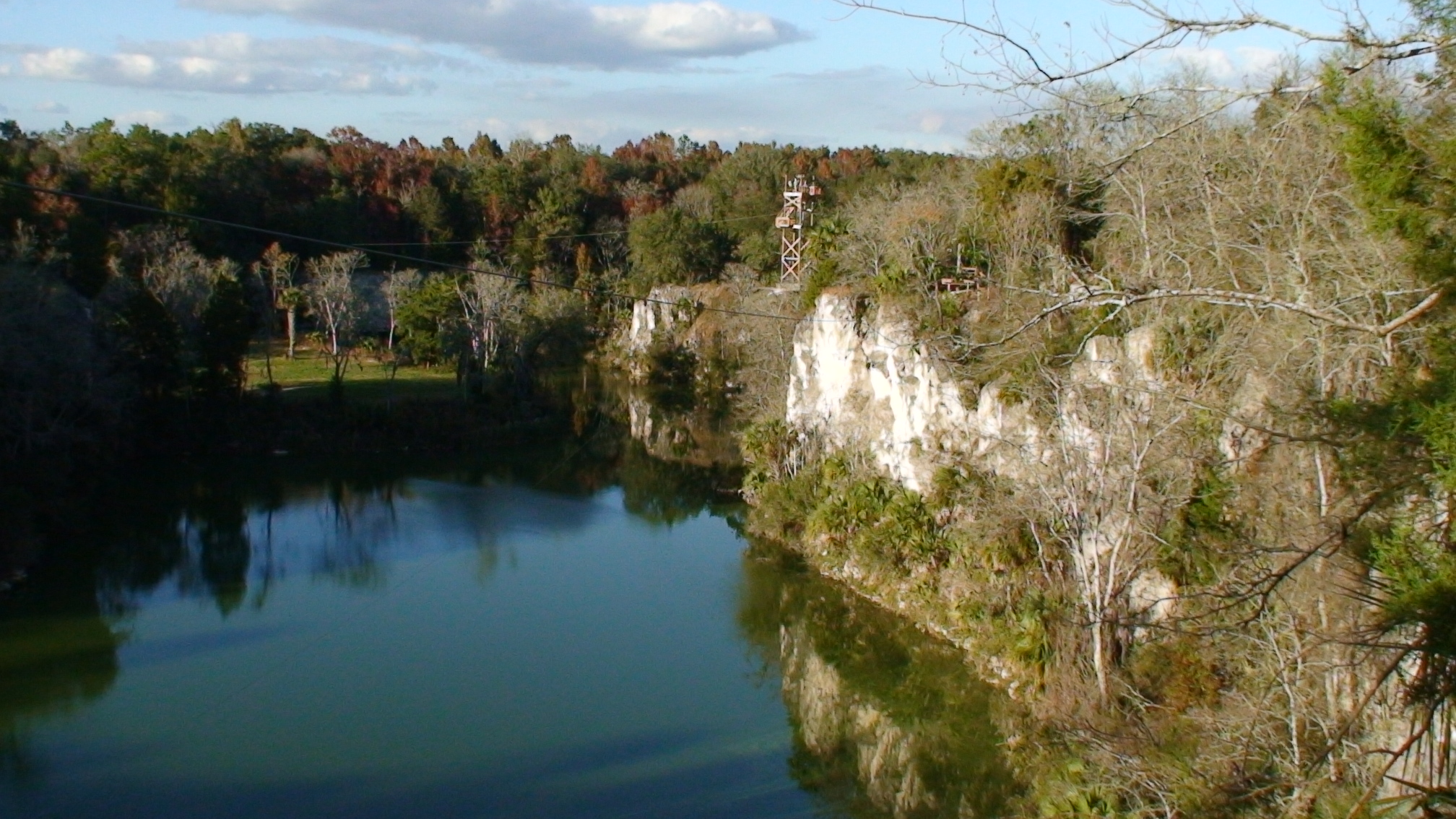 Canyons Zip Line & Canopy Tours offers more than just a few zip line courses. Instead, this location is a multi-activity attraction. Several zipline courses offer guests multiple options for unique aerial views and attractions suitable for families with small children.
The following list shows how many zipline courses are available at Canyons Zip Line & Canopy Tours:
Blog Cliff Canyon – 9 Zip Tour
Treetop Express – 5 Zip Tour
Sky High – 3 Zip Tour
Full Moon (Night) Zip Tour
Canyons Zip & Canopy Tours also offers horseback riding, kayaking, gem mining, and group tours that give a broader range of information and experience.
Daytona Beach Zipline Adventure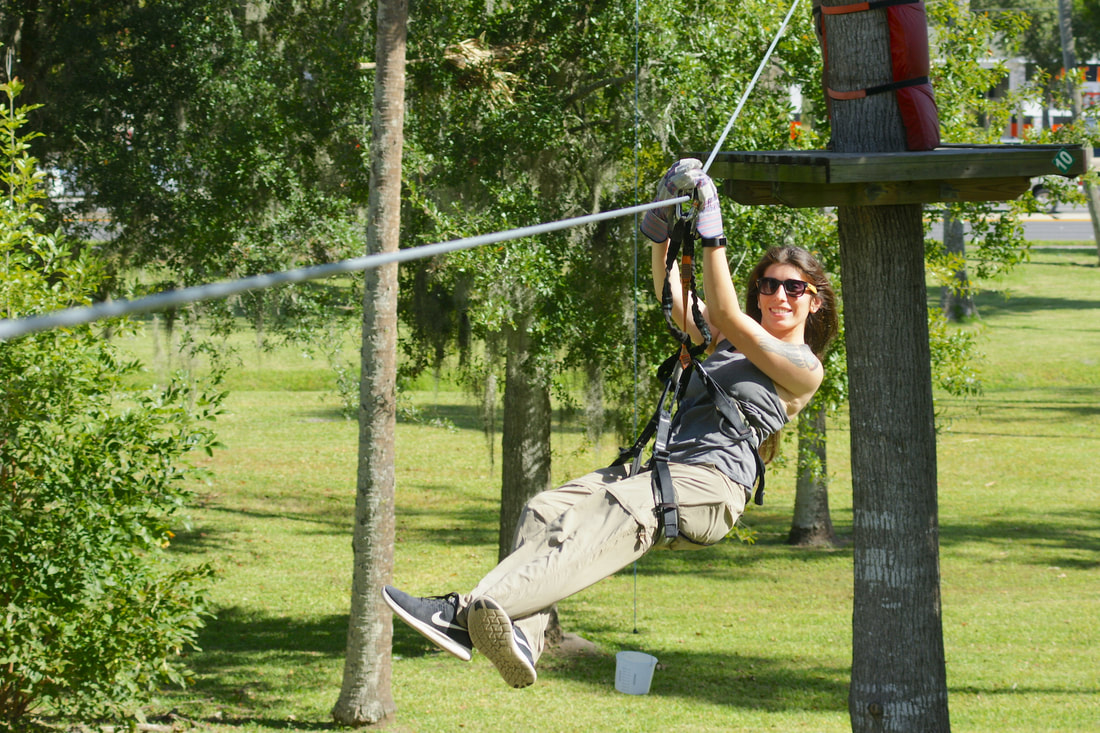 Daytona Beach Zipline Adventure has a less expensive offer than many other zipline courses and experiences within the state. Starting at around $53, you can experience an aerial view of Daytona Beach on safe and reliable equipment. Daytona Beach Zipline Adventure also has more than 40 aerial games and ten zip lines, making it one of the most comprehensive zip line parks.
This park is in Tuscawilla park – so close to the beach, you can smell the saltwater!
Cocoa Beach Aerial Adventures
Unlike many zip line parks and attractions, Cocoa Beach Aerial Adventures offers seven trails and three levels for guests to choose their difficulty. This difficulty ranges from easy to moderate and challenging. Beginners will be directed to the easiest challenge, as will guests and families with young children.
This park uses poles to bring guests 45 feet in the air as they travel through 49 different challenges, obstacles, and exciting adventures. The tickets for general admission begin at $47.99 for adults, but children's tickets can cost as little as $27.99. This family-friendly experience allows families and guests to move at their own pace and go slowly, as needed.
Seminole Aerial Adventures
Located in Central Florida, Seminole Aerial Adventures is situated in the Seminole Zoo. Before heading out for their zip line thrill, guests and tourists can visit the various animal habitats like amphibians, invertebrates, birds, and mammals.
Those who hold an annual pass for the Central Florida Zoo & Botanical Gardens can get a steep discount for the Seminole Aerial Adventure park. However, additional tickets are required to gain access to the aerial adventure portion of the park.
All guests are encouraged to purchase tickets in advance and make reservations. Guests should arrive 15 minutes before their scheduled tour to receive the best from their aerial adventure.
A Fun Pass is about $99.00 for a 6-month pass to this park and allows entrance. A Kids Course Fun Pass costs $75.00 and covers six months.
TreeHoppers Aerial Adventure Park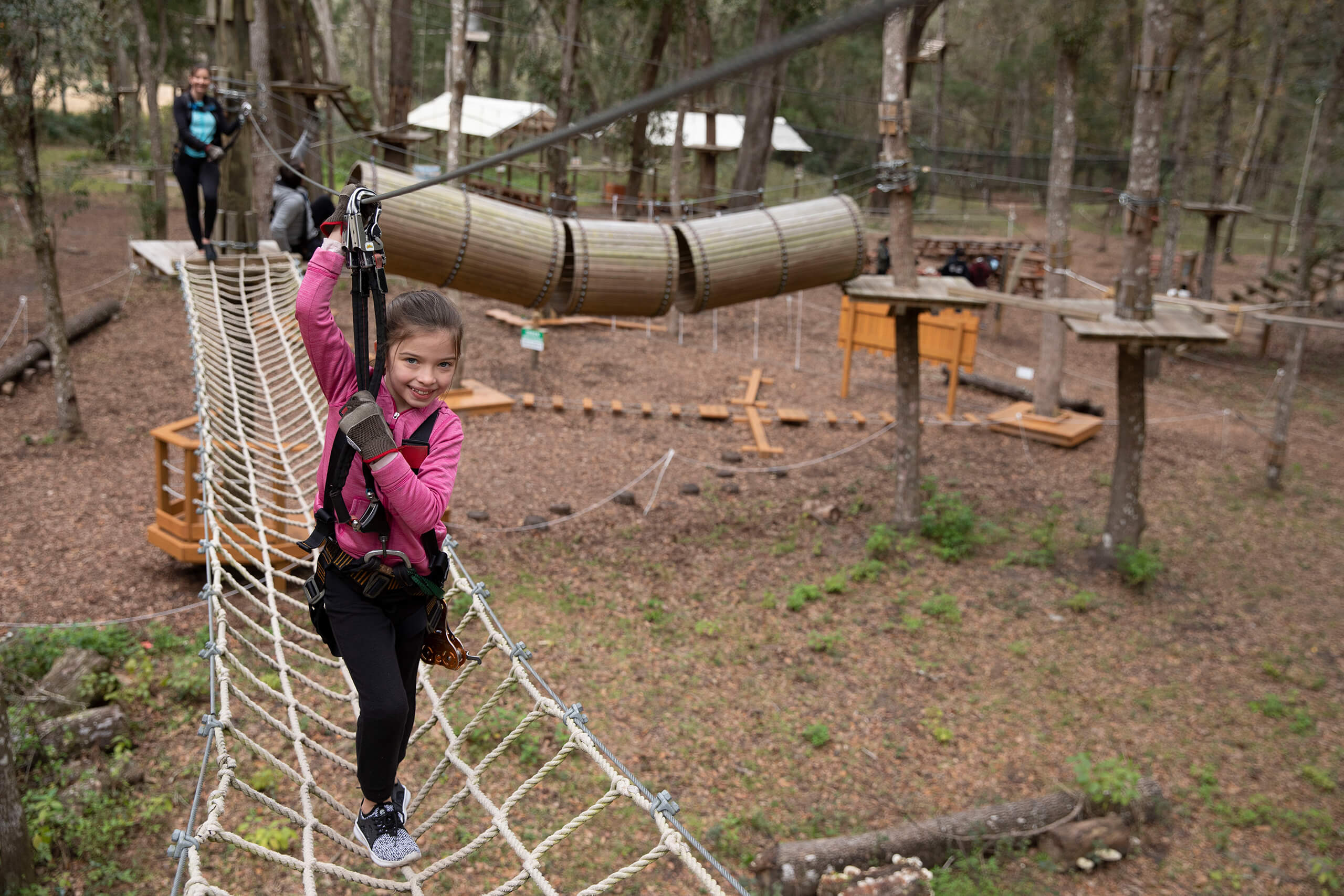 The Treehoppers Aerial Adenture Park location is the largest in Central Florida and is available for nighttime zip lining above LED-light-covered landscapes. There are ten trails available, and many of them intersect and weave in between each other to create a dazzling experience for guests and tourists.
Additionally, guests can take their time to leisurely explore the area and enjoy the park as much as they desire. There are trails available for all ages, even children as young as one-year-old. Safety harnesses and other safety equipment are available for all guests to experience the outdoor fun and challenge themselves to tackle more challenging and more experienced trails.
Faith Haven CRC's Florida Tree Top Adventure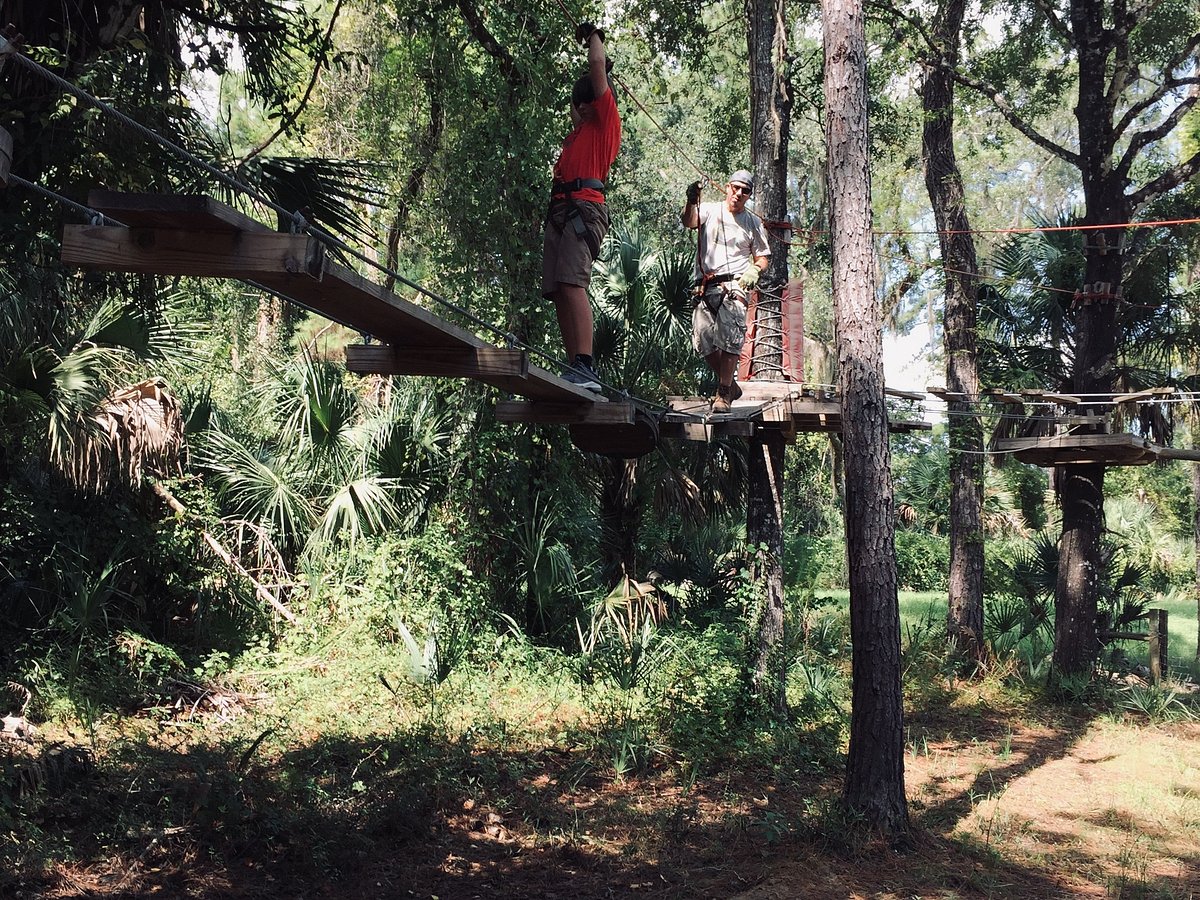 Located in Crystal River, Faith Haven CRC's Florida Tree Top Adventure is part of a Christian Retreat Center and may be ideal for those in a practicing Christian faith. This company can be reached through Facebook. Reservations are encouraged, and this course includes horse stables, challenging zip lines, and other activities.
Additionally, there are 24 unique and engaging obstacles and seven complete zip lines. There are plenty of discounts for those who wish to reserve ahead of time, those with children, or those buying in bulk for a large party of people.
Final Thoughts
Most zip line locations and companies prioritize safety, but that does not mean that zip line injuries are not uncommon.
As ziplining becomes more common on vacations, injuries have added concern. However, many locations have taken extra precautions to check the equipment and ensure all guests strap into their harnesses correctly.
Ziplining in Florida remains a fun and exciting experience for tourists and locals to enjoy on their trip through the state's natural scenery. It offers unforgettable views, enabling guests to experience something entirely new – like being several feet above the ground and flying through the air.
Whether you want to zip line over the waters of Tampa Boy or get an aerial view of gators in Florida's iconic Gatorland theme park, zip lining can be the best way to get your adrenaline fix.
More about our TFVG Author
A seasoned traveller, Dad, and avid sports tourist, James foundered The Family Vacation Guide to share his expert vacation experiences- especially when it comes to being a travelling family man.
Featured in Travel articles such as Travel + Leisure, TripSavvy and SFGate, you know you're reading some of the best vacation tips online.