Shimmering, cerulean water and golden sand between your toes, and plenty of sunshine overhead; yes, please! Hawaii is a marquee destination to visit if you enjoy gorgeous views and warm weather throughout the year.
With so much biodiversity, like the unique marine animals and plants surrounding the natural environments, Hawaii is one of the best states to go on a snorkeling adventure.
The visibility is insane, and you can find beaches that work for every experience level. There's nothing quite like swimming with fish, standing feet away from a seal, or viewing sharks, whales, and dolphins in the ocean.
Several popular islands make up the Aloha State, and we've broken these beaches up into the main islands that locals and visitors frequent.
Check out our list of the 25 best places to go snorkeling in Hawaii or check out our guide on where to swim and snorkel with turtles on the Islands if you're looking for this.
The Best Snorkeling Beaches on Oahu
If Oahu is a place you're considering as a snorkeling destination, buckle up because there's much in store for you.
Honolulu, Oahu's capital city, features coastal waters with an average temperature that stays between 76°F and 81°F for the entire year!
As if this wasn't enough, Oahu has the uncanny ability to draw more visitors than any other island in Hawaii; this is thanks to its metropolitan conveniences and its stunning and scenic beauty!
Kuilima Cove
Talk about a destination fit for snorkeling, and Kuilima Cove fits the bill! This destination is one of the best places for beginner snorkeling on the islands.
It boasts gorgeous, white, sandy beaches, all nestled beside the eastern edge of the Turtle Bay Resort- located on the North Shore.
Visibility is no problem when it comes to snorkeling in Kuilima because the water has amazing clarity, and the average depth of the water is up to your neck. At the bottom, the floor consists of large rocks and coral flats.
Moreover, fish are abundant, and the waters are so calm and transparent that you might think that it was an artificial creation made for snorkeling!
Hanauma Bay
One major component to having a memorable snorkeling experience apart from calm waters and beautiful sand is the marine life! Luckily, Hanauma Bay does disappoint in this regard.
This destination is renowned for its abundance of marine life, shallow and gentle waters, and warm sand. Moreover, the fish are docile for the most part, which makes for fun interactions.
Hanauma Bay is one of the most popular destinations for snorkeling in Hawaii, with a 3,000 visitors a day limit.
So if you're someone who likes to swim around pristine reefs, or you just want to enjoy your vacation instead of planning, you should embark on a snorkeling tour! This place is exceptional for both novice and seasoned snorkelers.
Sans Souci Beach
Maybe you're in search of something a little more serene. Or perhaps a place more suitable for kids. Sans Souci has the reputation of being one of the quietest sections of Waikiki beach.
Coupled with its ambiance, it makes it an excellent place to take your children to snorkel. Sans Souci features a wide sandy entry zone with soft sand and refreshing water that gradually gets deeper.
As you head out on your snorkeling adventure about 50 yards into the ocean, you'll come across a flat bar of the reef with tons of marine life to explore.
Furthermore, when you're not snorkeling, there's a peaceful park nearby with picnic tables and lots of shade to shield you from the sun while you enjoy your refreshments.
Kahe Point Beach Park
Kahe Point Beach Park scores high marks for its clear open blue water and its abundant marine life!
The water clarity is impressive, ranking amongst the best of all the Hawaiian islands. Interestingly enough, on an excellent day of visibility, this place may have the best visibility in all of Hawaii.
Kahe Point Beach Park carries a more than memorable name—Electric Beach! It earned this title because of the power plant located nearby. This destination is ideal for knowledgeable and more advanced snorkelers as there is some swimming along the way.
It begins shallow near the shore and gradually increases in-depth as you head out. Here is some marine life you'll be sure to see here on Electric Beach: butterflyfish, parrotfish, damselfish, and the surgeonfish, just to name a few.
Shark's Cove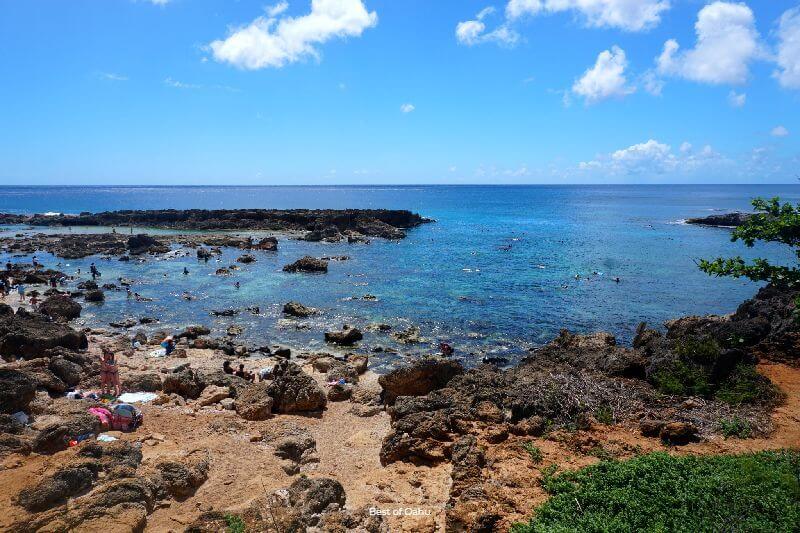 Shark's Cove is perhaps a snorkeling gem as far as destinations go. It is one of the most famous snorkeling and diving beaches worldwide.
Once you're on the beach and you make your way to the south side of Shark's Cove, you'll run into the Pupukea tide pools; this is an ideal place to wade and explore.
However, be mindful that Shark's Cove is very popular, and the shore can get a bit crowded occasionally. This beach is best for skilled snorkelers; don't take small children to Shark's Cove unless they're wading in the more manageable tide pools.
The Best Snorkeling Beaches on Maui
Unsurprisingly, Maui's beaches are some of the best snorkeling destinations in the whole of Hawaii. Maui has a series of protected bays, which keep the winds away and the larger waves out.
These beaches offer a new underwater world for snorkelers to investigate, where they can get bombarded by schools of tropical fish.
Honolua Bay
Honolua Bay is unique in that it's a Marine Life Conservation District. Honolua Bay is on the western end of Maui. Because there's no fishing allowed in this area, the sea life diversity and density rank first on the Valley Isle.
The beach is positioned directly across from the Pailolo Channel at the eastern shores of the Island of Molokai. The water can be a bit murky near the coast. However, if you swim out, the sand becomes whiter, and the water becomes clearer.
Here are a few examples of the marine life that you can plan on encountering at Honolua Bay: peacock bass, hawkfish, jacks, mullet, turtles, eels, and more.
Mokuleia Bay
Mokuleia Bay is a wonderful place to snorkel during the summer months when the ocean tends to be calm. You may hear this area called the Slaughterhouse from time to time. That is because an actual slaughterhouse used to operate in the area.
It's interesting to note that this bay is adjacent to Honolua Bay, and on days when the sea is especially tamed, you can snorkel from bay to bay seamlessly. Keep in mind that in the winter months, the ocean can be a bit much.
During this time, it's best to leave the ocean to experienced surfers and swimmers. However, during calm seas, you can expect to see schools of silverfish, zebra moray eels, plenty of turtles, and massive parrotfish as you snorkel.
DT Fleming Beach
DT Fleming Beach is ideal for intermediate to advanced snorkelers; we recommend not bringing any small children here.
When snorkeling here, you can expect the entry to be easy; however, there will be a lot of rocks. Therefore, make sure you wear your swimming shoes.
In this bay, you can snorkel anywhere that you please, but the currents grow stronger the further out you go, so be careful. When inclement weather occurs, it's best to stay closer to the shore.
There are a few fish to see the further out you go. However, remember that the waters become more choppy as well. Additionally, this bay has no sand with a very rocky bottom as well.
Kapalua Bay
Kapalua Bay hosts tranquil waters, making it a perfect place for beginner snorkelers to get their feet wet. And by extension, this is a great place to take your kids to learn the ins and outs of snorkeling.
Moreover, the Kapalua Bay Hotel conveniently overlooks the water and the soft, sandy beach. Even though Kapalua Bay is relatively popular, you should have ample room to lay it out with your beach towel.
Here are some marine animals you can expect to see in Kapalua Bay: Moorish idol, parrotfish, surgeonfish, damselfish, butterflyfish, and more!
Napili Bay
If snorkeling is your number one priority, then head straight for Napili Bay! Napili beach is world-famous and has received recognition as one of the most prized possessions of the Maui beaches.
At the far right of the beach is the best spot for snorkeling. Almost immediately upon seeing the water, you'll be surprised to see a beautiful gathering of silver needlefish with some Maui reef fish sprinkled in as well.
On another note, if you're a very good swimmer and enjoy the thrill of adventure, head to the left side of the bay. However, you must be careful not to injure yourself as a result of rocks and choppy waters.
The Best Snorkeling Beaches on The Big Island
The Big Island is the youngest in the Hawaiian chain. It has deep underwater lava flats, dynamic weather, and more. It's a sight to behold onshore in the beginning stages of producing new reefs.
The Big Island boasts 266 miles of coastline, excellent for those looking for a snorkeling adventure.
Kealakekua Bay
At the Kealakekua Bay, the fish are abundant, and while there, you can witness a colorful school of them swim over a beautiful reef. This bay is one of the best places to snorkel on The Big Island!
If you visit the Nāpō'opo'o area, which is the place where you will most likely park, you'll notice that it's shallow with coral here and there.
However, as you move south about 100 feet or so, the snorkeling begins to improve exponentially. In this area are caves, crevices, ledges, encrusted coral, and more!
Up north, there's a space where you can snorkel in relaxing waters. Thanks to the plentiful growth of coral, and the wide range of marine life, you can see them in waters only five feet deep.
Honaunau Bay
Honaunau Bay has exceptional visibility and calm waters, which makes it perfect for snorkelers alike. Honaunau Bay, also called the City of Refuge, so don't be caught off guard if you hear someone refer to it as such.
The City of Refuge has the fortune of being rich in coral since the average depth is 10 feet, and the sunlight can reach the coral, causing them to thrive.
And since fish seem to love coral, you can expect to see plenty of marine life as you snorkel underwater. Here are just a few marine animals you can expect to see: Parrotfish, tang, surgeonfish, jacks, turtles, and more!
Mauna Kea Beach, Kauna'oa Bay
Mauna Kea Beach, thought to be the most relaxing and beautiful beach on all of Big Island, is stunning! One interesting fact is that Mauna Kea Beach is on The Travel Channel's "World's All-Time Best Beaches" list, and for good reason!
The beauty of this bay is astounding, and while the calm waters are great for beginners and children, you'll most likely spend just as much time out of the water soaking in the beauty, and you spend in the water enjoying the beauty of the ocean!
Kahalu'u Beach Park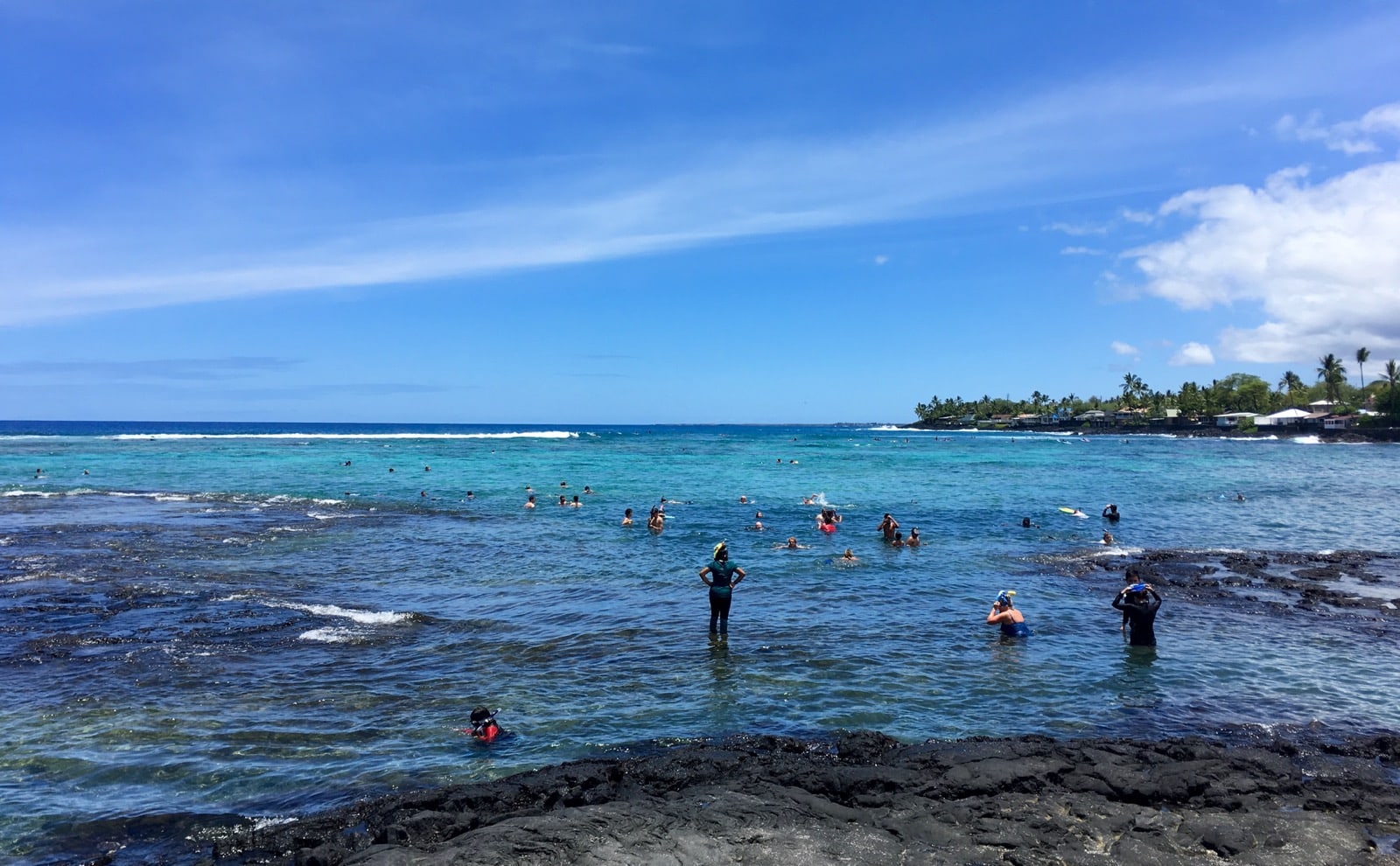 Kahalu'u Beach is a great place for your first snorkeling experience. Beginners will love how calm and conveniently located this beach on the Big Island is.
The water is remarkably clear, and there's much marine life like surgeonfish, parrotfish, squirrelfish, and more! Luckily, the fish have become very comfortable amongst snorkelers, and they'll even swim right beside you as you enter the water.
The larger waves aren't much of a problem here since this cove is shielded by a rock wall that's partially submerged. The gentle waves are still welcomed, and the water is typically very calm and shallow.
That makes your interaction with marine life that much cooler. Make sure you get plenty of pictures when you swim near the center, where the water is clear and barely ten feet deep!
Hapuna Beach
Hapuna Beach welcomes snorkelers that are experienced and can withstand waters that aren't always calm. The beach is beautiful, but the best snorkeling happens at either the north or south end.
You can easily walk directly into the water at either end and put your fins on afterward. Note that even if you have experience, you shouldn't go snorkeling if the surf's up.
The visibility is low at these parts of the beach because of all the sand. However, there are still a lot of sea urchins and fish to see while you're out!
The Best Snorkeling Beaches Spots on Kauai
There are around 50 miles of gorgeous white sandy coastline waiting for you at Kauai Island.
That makes it easy for you to get into the ocean, and this location is also very family-friendly. With so many great options to choose from, we've grouped them and listed the standout features and experience needed for each. Enjoy!
Lydgate Park, Keiki Pond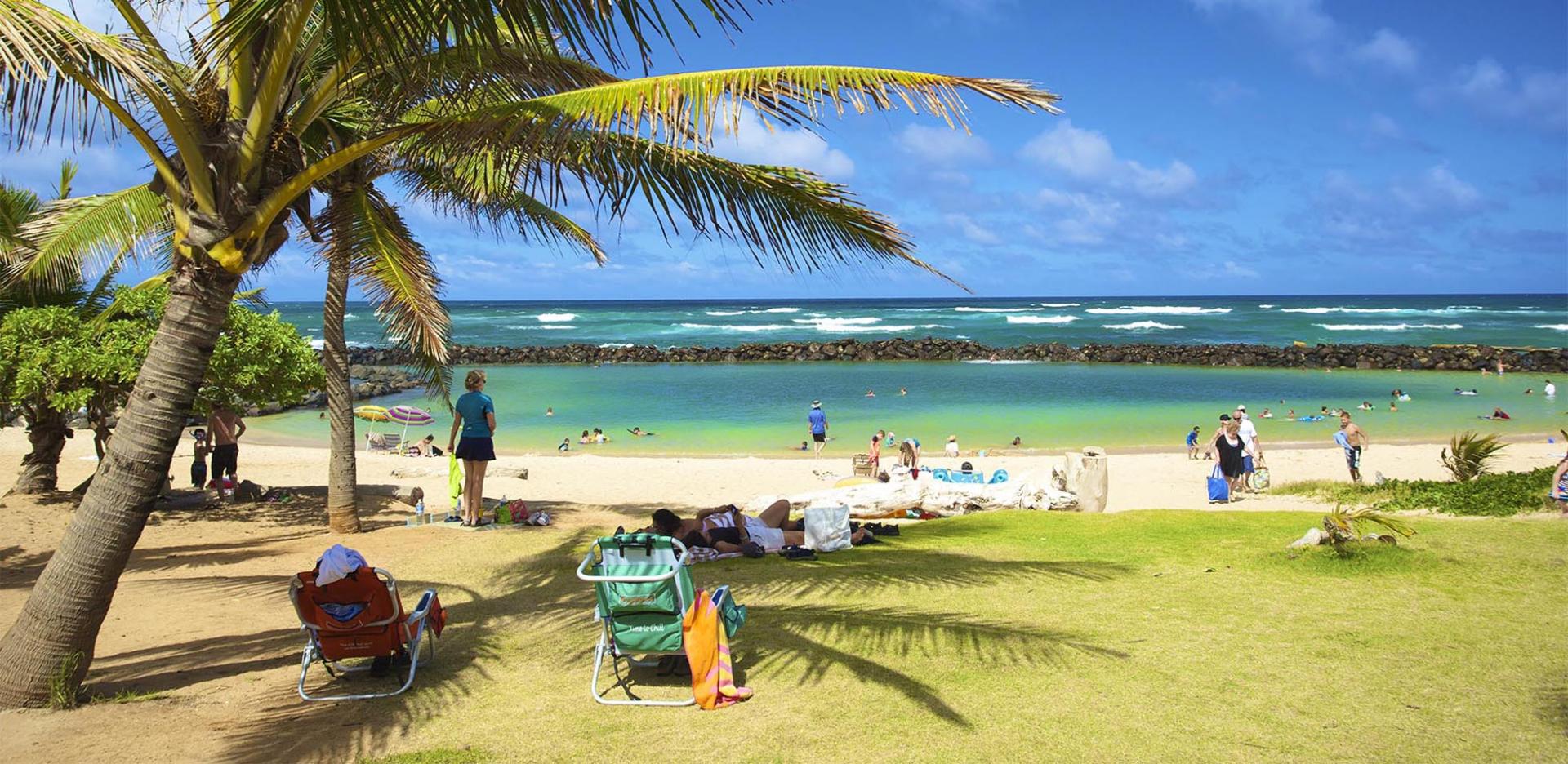 Keiki Pond is an excellent location for the whole family, both beginners and veteran snorkelers alike. The water visibility is great, so you have an excellent opportunity to explore the area.
There's a rock wall in place to protect the water, and you don't have to worry about it being too deep because it's no more than ten feet in most places. Throw your mask and fins on with no worries about the currents or waves crashing.
Additionally, you can use the public restrooms, the playground, outdoor showers, and lifeguards on-duty.
There's no coral here to view but plenty of exotic fish! Enjoy the views of the butterflyfish, jacks, pufferfish, and the vast array of other colorful aquatic creatures.
Poipu Beach Park
There are so many colorful creatures swimming around this medium-sized cove. In an effort to keep those on the beach safe, lifeguards are stationed to assist swimmers and snorkelers in the water.
You'll enjoy the tide pools with all kinds of tiny creatures to discover. What's even better is the sea turtles that frequent the shore; try to allow them around 30 ft if you can, though it's tempting to walk right up and introduce yourself!
There are also many unicornfish, needlefish, and (you'll need to take a deep breath for this one), humuhumunukunukuapua'a; the Hawaiian state fish! You can enter the water where it's sandy on the far left.
Most of this area has algae everywhere and is pretty rocky, so you should never go snorkeling without your fins. Remember that the best snorkeling is actually down to the far right. You can swim around, but don't go too far, or you'll end up near stronger currents.
Nualolo Kai
If you get a chance to visit the reef, you won't be disappointed! Nualolo Kai has a wide range of robust coral.
The water visibility is perfect in the early morning, so you should hop onto a boat before the winds pick up so that you can sail along the coast until you reach Nualolo Kai.
You're sure to see Hawaiian sea turtles, manta rays, and maybe even some exotic birds. Don't miss the Monk seals that you might see lying around on the shore sunbathing!
This little pocket of wonders is decorated with narrow valleys, sea cliffs, and beautiful waterfalls. This is a fantastic spot for snorkelers with some trails under their belt and who can swim moderately.
Ke'e Beach
You can venture out to Ke'e Beach during the summer months for an unforgettable snorkeling adventure!
You need to be a bit more advanced as a snorkeler, but if you have the skills, you won't regret coming to visit the barrier reef.
There are always opportunities to snap photos of the sea turtles while swimming, and you'll likely see the locals doing a little spearfishing as well. Another plus is that it doesn't get very crowded here!
The water is crystal clear, the sand is a golden brown, and if you're lucky, you may catch a white-tipped reef shark lurking nearby.
There are tons of food options near the beach for when you want to stop and take a break. Additionally, there are resorts for those who wish to stay for a while.
Tunnels Beach
You'd be surprised by how big Tunnels Beach is; it has a horseshoe shape, making it seem a little smaller.
However, advanced snorkelers love going to the outer reef to view the coral formations and the diverse marine life. The best way to enter the water is on the far right, and then you swim toward the inside of the reef.
As you swim, the current works against you a bit, so be prepared. But along the way, you'll experience sections of various depths from 3 ft to 40 ft.
Beginners will be happy to know that there are small caves with shallow water that they can enjoy, located near Haena Beach Park on the left.
Tunnels Beach also has many shops nearby to purchase souvenirs and rent different equipment for water activities.
The Best Snorkeling Beaches on Molokai
Due to the harsh weather that sometimes blows through, many people don't think of Molokai as a popular snorkeling destination.
Aside from the huge sea cliffs, awe-inspiring waterfalls, and rich coral formations, Molokai has much to offer in the way of exploration!
It is the fifth-largest island in Hawaii, and there are many diverse species that you can get a glimpse of if you come to visit.
Kumimi Beach Park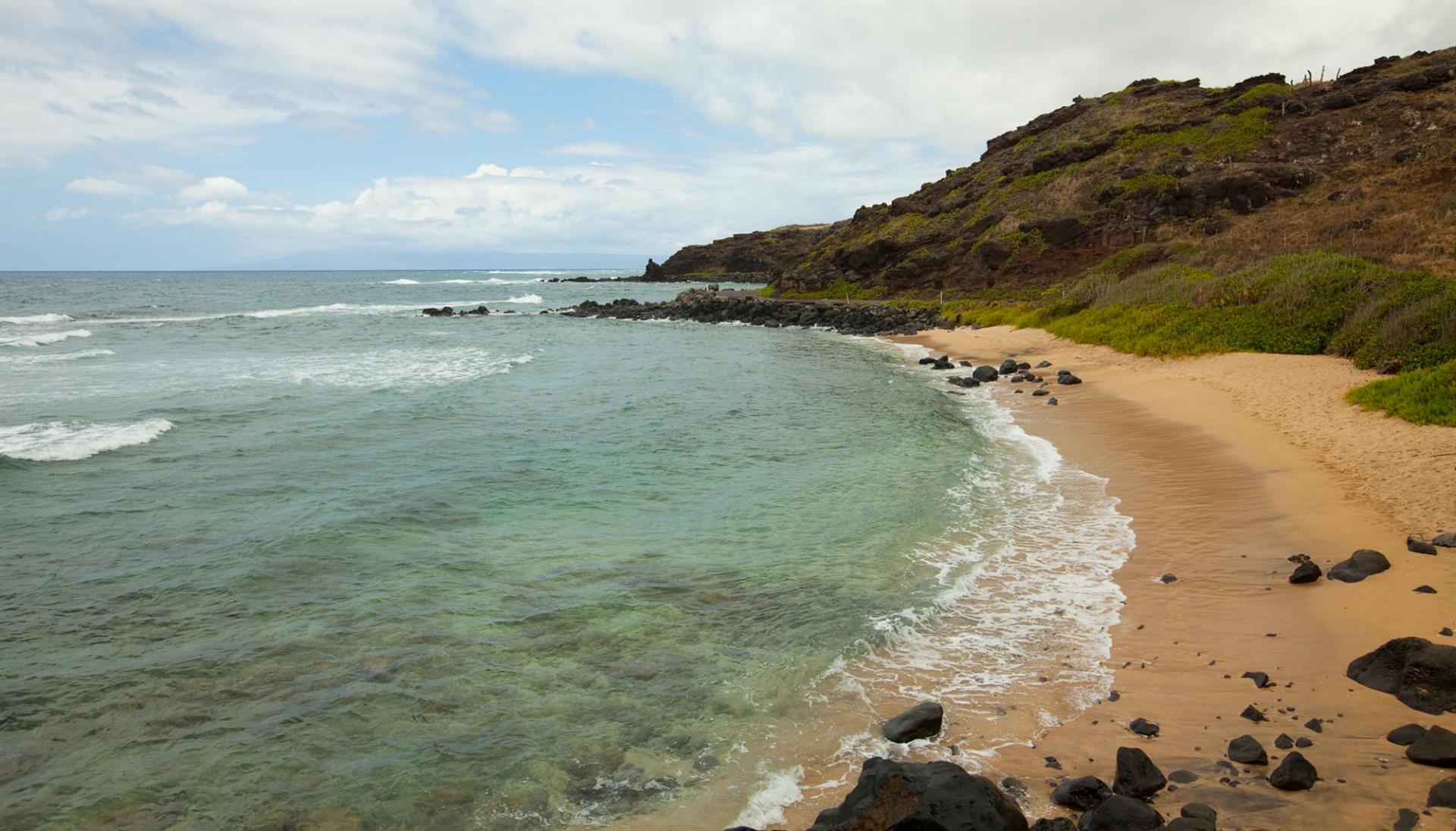 Kumimi Beach delivers some of the best snorkeling you can find on the island. It's such a good destination because it's calm year-round, and you can do various water activities for all ages.
The sandy beach is at your disposal; you won't get overwhelmed by bodacious waves. You can also take time to appreciate the different fish that congregate in the shallow blue waters, up close and personal.
You'll have the best experience if you go during high tide. The low tide comes with rocky terrain that adds to potential injuries while out. Remember to stay on the inside of the reef to avoid large waves!
Waialua Beach
Try Waialua if you want to try a less busy beach that isn't necessarily known for snorkeling but still gives a quality view. You reach it right before Kumini, and it's also protected by a reef that's offshore.
Additionally, the water is warm, the sand feels like silk, and the breeze is heavenly! That gives you calmer waters to look around, with a decent amount of fish species lurking. There are also a few small coral heads that you'll see in the crystal-clear waters.
While there aren't any amenities near this beach, you can set up shop for a nice picnic thanks to the trees that offer nice shade.
Halawa Beach Park
Halawa Park features two beaches, Kama'alaea and Kawili, both of which are pretty good spots to snorkel when the weather permits. It's more recognized for surfing, but you get lovely serene waters when the waves aren't boisterous.
You can survey the area a bit when you swim around to the small reef located in the center of Kama'alaea beach.
If you have to wait for things to relax a bit, Halawa Park is still an excellent place to lay out in the sun and observe the environment. Many locals like to visit this beach because it is usually quiet and not too far from amenities.
Kapukahehu Beach
Find Kapukahehu near the shore (western), in a remote location off of Pohakuloa Road. This cove is crescent-shaped, and it's another beach protected by a reef. Take a break away from the big waves during the summer months and enjoy the fish swimming near the shore.
There aren't any lifeguards around this beach, so it may not be the best idea for new snorkelers, but as always, never go in alone. The locals are always willing to help or make recommendations if you're a little lost on where to enter and now to get the best experience.
Overall, if you want a relaxing time spent out in the sun, this is a suitable option to keep in mind.
Moku Ho'oniki
Elephant Rock, or Moku Ho'oniki, not only has an incredible variety of fish to see, but it also has low wind speeds when the weather is nice, vibrant blue-green waters, and it's low-key!
The healthy corals are a pleasant sight to see, and you never know which marine animals you may run into when you're out! For this reason, the snorkeling tours are worthwhile if you want to experience the best the beach has to offer.
The reef has multi-colored fish like trumpetfish, triggerfish, parrotfish, and more. You might also see turtles, humpback whales, And even our smart friends, the dolphins!
The water visibility is amazing, down to around 75ft to 140ft on a good day. There's also snorkeling gear nearby to rent if you forgot yours. Don't hesitate to visit!
More about our TFVG Author
A seasoned traveller, Dad, and avid sports tourist, James foundered The Family Vacation Guide to share his expert vacation experiences- especially when it comes to being a travelling family man.
Featured in Travel articles such as Travel + Leisure, TripSavvy and SFGate, you know you're reading some of the best vacation tips online.