With your kids off of school for the holidays, taking a family trip to Hawaii might be on your mind. But is December a good time to go to Hawaii?
December can be a good time to go to Hawaii, depending on your budget, the experience you want, and the flexibility of your travel dates. That's because there are two different versions of Hawaii in December, with the first half being quieter and more economical.
In either case, December is an excellent time of year for witnessing Hawaii's famous waves, trying out its cuisine, and exploring volcanoes beneath a mix of rain and sunshine.
An Overview of Tourist Seasons in Hawaii
The high season in Hawaii is from mid-December to March, which falls during the winter months. That means your travel dates in December will significantly impact the type of experience you have.
When December 15th rolls around, people begin flooding Hawaii for the holidays. Until then, you can expect more beach space to yourself and next-to-no lines waiting for yet another poke bowl (they're just so good!).
What we're about to share might surprise you: December is one of the rainiest months in Hawaii. The other high-season months also experience relatively large amounts of rain, with January being the month with the most rainfall.
So, why would the rainy season make December a great time to visit Hawaii?
Rain doesn't last long in Hawaii. So, having a washout day where you have to stay indoors because of rainfall is rare, and breaks with lots of sunshine are common.
In contrast, summer is the low season in Hawaii, as the temperatures are hotter and the waves aren't as big for surfing.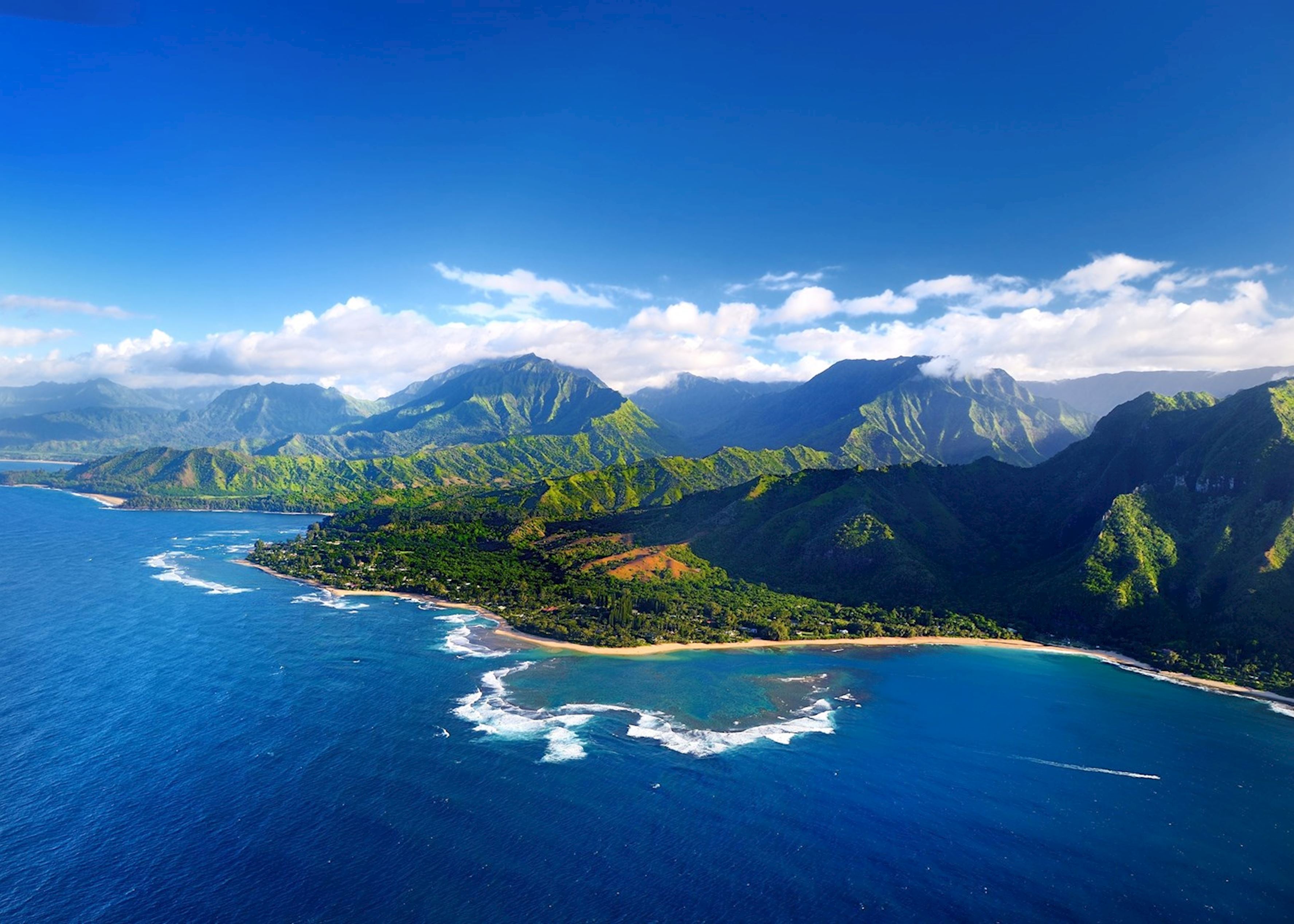 The Holiday Conundrum
Christmas and New Year's draw thousands of tourists to Hawaii's shores.
It's an exciting time to visit, and Hawaii fills with traditions that you'd find in many mainland parts of the United States; people singing Christmas carols, decorated stores, and houses adorned with Christmas lights are some of the many sights you'll see.
Plus, poinsettias grow in Hawaii, so you'll be able to see these flowers in bloom when meandering around the islands.
New Year's is equally exciting in Hawaii, as people switch gears from Christmas to party mode.
However, the issue for some families looking to travel to Hawaii in December is that their kids have time off of school right when holiday prices kick into gear. As a result, hotels raise their prices significantly, with some hotels costing $100+ what you'd pay during the off-season.
That's frustrating for the hardworking parent on a budget, given that the off-season encompasses early December.
So, before you book your trip to Hawaii in December, it's essential to weigh the experience you're after (crowds versus fewer people) and how much money you're willing to spend.
Breakdown of Hawaii's Weather in December
Winter is a favorite time of year for tourists visiting Hawaii because they can do outdoor activities under milder temperatures. Since there are 137 islands in Hawaii, seven of which are inhabited, weather conditions can vary from island to island.
So, the information we'll be sharing below is a general overview of what you can expect. In some cases, the side of the island you're on can affect the rain and wind patterns.
Temperature
Hawaii has temperatures averaging around 81 ​​°F for highs, and the lowest highs usually don't drop under 77 °F. In comparison, August is the hottest month in Hawaii, and its average temperature can be as high as 87 °F.
As for lows in December, they can range from 69 °F to 72 °F. So, many people find that wearing a jacket helps keep them comfortable in the evening.
Another factor to consider is the elevation you're located in. If you're exploring the volcanoes on Big Island, the temperature will be significantly cooler than if you're at sea level.
Water Temperature
As with all times of the year in Hawaii, December is a great time to swim in the ocean. The temperature averages 78 °F, although it typically drops a couple of degrees between December 1st to 31st.
Nevertheless, wearing a wetsuit for the cold in Hawaii isn't necessary. But some people choose to wear one to protect their bodies from debris or from rubbing against the board when they're learning to surf.
Humidity
Hawaii is humid throughout December, although the mugginess levels fall as much as 14% between December 1st and 31st.
It's uncommon for there to be a day that meteorologists label as "comfortable" humidity-wise. But the good news is that oppressively humid days aren't standard either. Nevertheless, you might be better off skipping the hair straightener and embracing Hawaii's beautiful tropical weather.
Amount of Sunshine
You can expect a nice tan if you travel to Hawaii in December.
The chances of clear, mostly clear, and partly cloudy days average in the 70% range. Those are impressive numbers, given that this is also the time of year when rain is relatively frequent.
That's not to say that overcast days don't happen, though; on average, about 23% to 33% of days in December are either mostly cloudy or completely cloudy. The chance of these clouds is higher at the beginning of the month than at the end of it, though.
Precipitation
The amount of potential rain Hawaii gets increases between December 1st and 31st. That makes sense, given that January 11th is the day with the historically highest chance of rainfall.
When analyzing the 31-day moving average of rainfall in Hawaii, you can see that the total amounts are relatively low. For example, on December 1st, the 31-day moving average is 1.9 inches of rain, and that increases to a moving average of 2.6 inches on December 31st.
Rain in Hawaii commonly comes in short cycles. Furthermore, since many islands are so big and have unique microclimates, it will often rain in one part and dry in another.
An excellent example of this is Maui, where the northern part of the island experiences more rain than the west.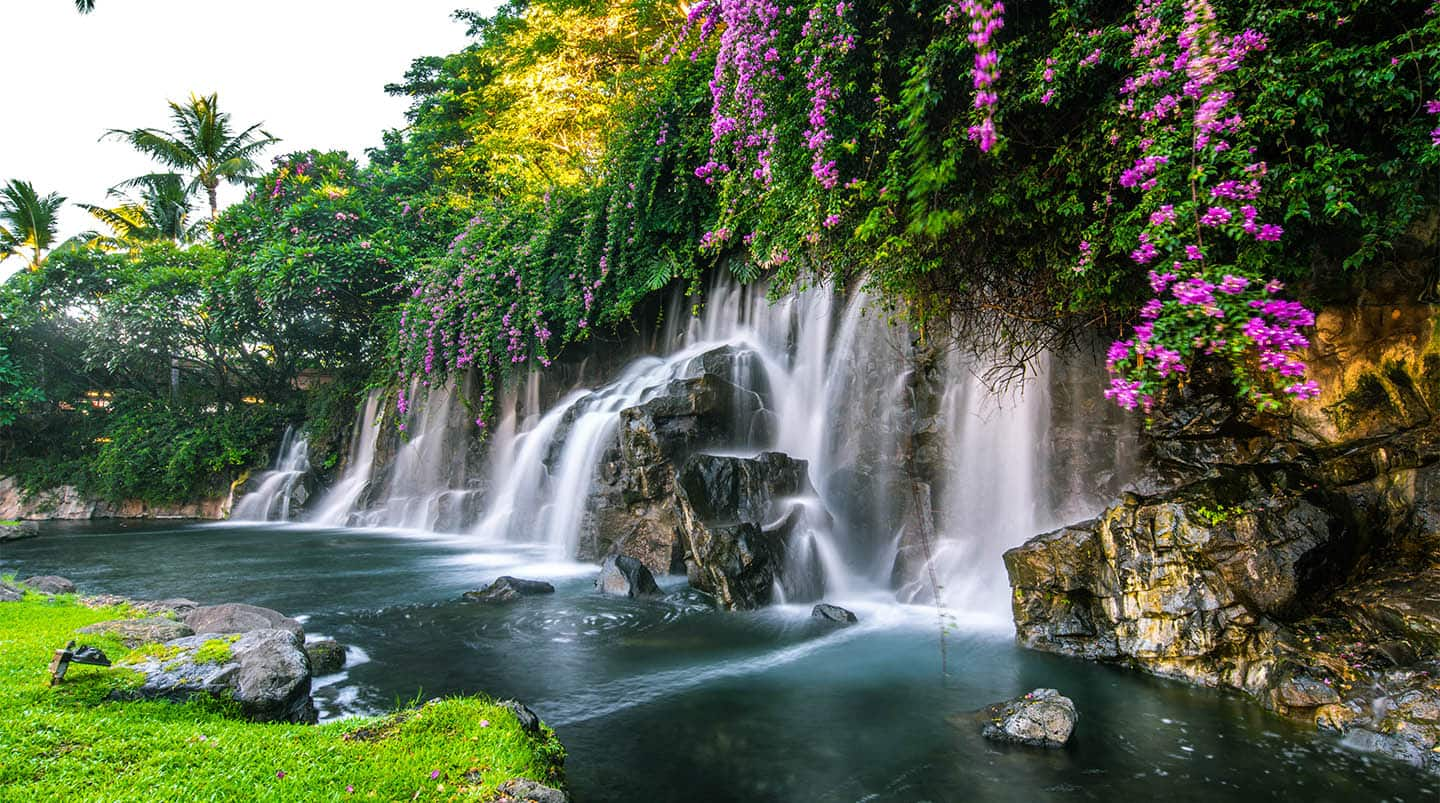 Wind
Trade winds are stronger in Hawaii in December than in many other parts of the year. Onshore, you can expect the daily winds to average approximately 12.5 to 14.5 miles per hour, with the lower end of the spectrum happening towards the end of December.
If you're interested in watching or participating in surfing, monitoring the wind is crucial, as its direction impacts wave quality. So, having offshore wind is best, given that it creates clean surf breaks.
How Much Daylight Does Hawaii Get in December?
The winter solstice happens on December 21st, meaning it's the shortest day of the year in Hawaii. You'll have approximately 10 hours and 50 minutes of daylight at that time.
While this is notably less daylight than during the summer because of its proximity to the equator, Hawaii doesn't experience extreme daylight changes like destinations significantly north and south of the equator.
Do Cyclones Happen in Hawaii in December?
No, cyclones don't happen in Hawaii in December.
The cyclone season is from June 1st to November 30th. So, while it's always wise to purchase travel insurance to protect you from any trip interruptions, cyclones are a natural disaster you won't have to worry about.
Surfing in December
Surfing in Hawaii is excellent in December if you're an experienced surfer chasing large swells. But if you're looking for surf spots for kids and beginners in Hawaii, few places offer respite from the pummeling waves this time of year.
For many tourists traveling with their families, that's good news—watching pros navigate massive ways is part of the attraction of visiting Hawaii.
The north and west beaches are best for observing experienced surfers, and surfing competitions frequently happen at North Shore.
Sea Turtle Sightings
You can technically see Green Sea Turtles in Hawaii any time of year. However, the turtles prefer to lay in the sand when the waves are calmer.
So, if your kids have their hearts set on seeing Green Sea Turtles, the summer months are the best time to see them. The turtles are a bit fussy when they arrive on the shore; late morning, early afternoon, and shortly before sunset are usually the best times to see them.
Are There Mosquitos in Hawaii in December?
Mosquitos are present in Hawaii in December, but there aren't as many as during the summer. That's because mosquitos prefer warmer weather, so Hawaii's cool evenings turn them into blissfully lethargic insects.
Regardless, we recommend packing bug spray. There are always a few pesky mosquitoes around in December, especially if you'll be hiking around dense vegetation.
December Events in Hawaii
Are you wondering, "Is December a good time to go to Hawaii for events?" The answer is yes.
Below are a sample of the events you can experience during a family trip to Hawaii in December.
Vans Triple Crown of Surfing
The Vans Triple Crown of Surfing is a famous surfing competition on North Shore, Oahu. Since 1983, surfing fans and tourists alike have flocked North Shore to watch professionals navigate what are often 50-foot waves.
The dates of this surfing competition vary, but they're in December and sometimes run into January.
Festival of Lights
Most islands in Hawaii celebrate Christmas by having their personalized version of the Festival of Lights. For example, locals in Oahu light up ancient trees by Honolulu Hale.
Going Christmas light hunting in Hawaii adds an extra layer of excitement compared to doing it at home—you'll get to see new places while admiring the lights. So, just as you would at home, a quick Google search for "festival of lights" will bring up many Christmas light viewing options wherever you're staying in Hawaii.
Sugar Cane Train
During Christmas week, the island of Maui puts together a fun Sugar Cane Train for kids. The train starts in Pu'ukolii in the evening and involves eating lots of Christmas baked goods, music, and an art fair.
They even have Santa giving out "free" gifts for the kids on the train. You'll need to pay for your kids to participate in the train ride, however.
New Year's Fireworks
It doesn't get much better than watching fireworks over a beach in Hawaii. And luckily, regardless of what island you're on come December 31st, there'll be no shortage of choices of where to watch them.
If you're in Maui, the fireworks off the Grand Wailea Resort are among the most famous. Alternatively, Waikiki Beach is a perfect firework spot if you're kicking it in Honolulu.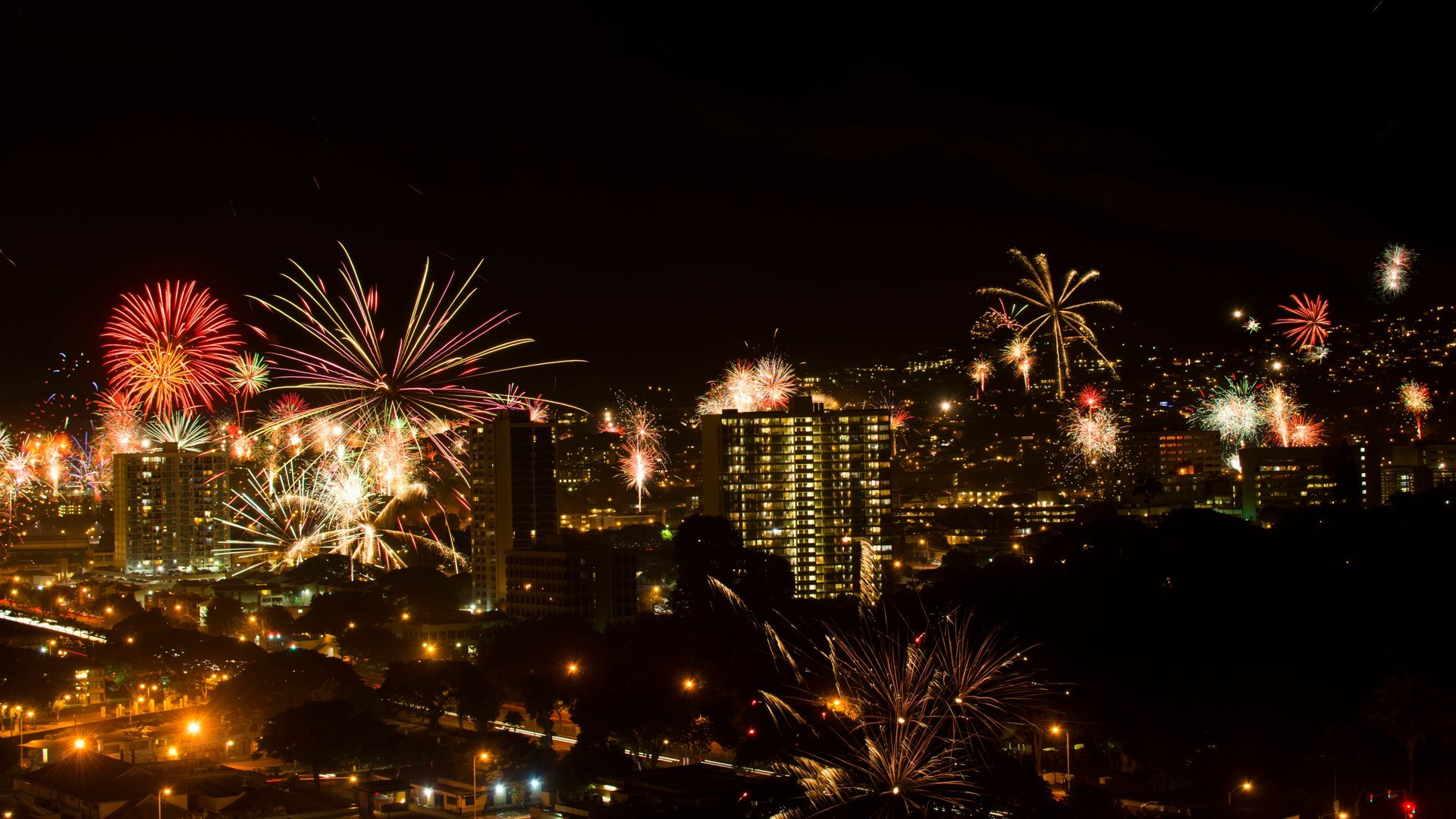 Best Time of Year to Visit Hawaii
You might be wondering—is December a good time to go to Hawaii, or is there a better time of year?
The reality is that every month is a good time to visit Hawaii. However, if you'd like to encounter fewer crowds, take advantage of lower hotel prices, and don't mind warmer weather, the summer months are an excellent choice.
Plus, your kids will be off school for longer in the summer compared to their winter break. So, if you're able to request some extra time off at work, you might be able to squeeze some additional days into your Hawaii trip.
And given that visiting Hawaii involves a significant time change for people traveling from anywhere in the United States, especially those living on the east coast, having some buffer time may help your family have a more stress-free start to your trip.
Are You Ready for Hawaii?
Hawaii is a great place to visit any time of year as a family. But understanding the differences in prices and crowds between the first and second half of the month is essential to choosing the best-fit trip for you.
Regardless of the specific time you travel in December, don't let the rainy season deter you. The rain showers are usually brief, allowing you plenty of time to enjoy dry and sunny weather as you explore Hawaii's gems.
If you're still considering other months to visit the Aloha state, then discover our blog exploring the best time to go to Hawaii.
More about our TFVG Author
Caitlin is one of The Family Vacation Guide's long standing contributors. She enjoys taking vacation to busy, vibrant cities and has stretched her traveling legs out towards Europe in recent months, enjoying new experiences in Barcelona in Spain, and Nice in France.