October is a favorite month for many people. The days are getting shorter, the air is cooler, and if you happen to live in a place where the leaves change color, you're treated to a lovely display of foliage. Still, for some, the chillier days aren't appealing. They want to make their summer last a little longer by taking a tropical vacation.
If this is you and your destination of choice is Hawaii, you may wonder if October is a good time to visit the Aloha State. There are many factors to consider when deciding when to travel to Hawaii. Read on to get a detailed breakdown of what an October Hawaiian getaway looks like in terms of fares, weather, events, and more.
Getting There: Costs of Airfare and Lodging in October in Hawaii
In travel jargon, the "shoulder season" is the season between the peak months and the off-season. The peak season in Hawaii is mid-December through March. During this time, Hawaii is full of people fleeing harsh cold weather for a warm getaway.; some even choose to spend the winter holidays there. The second peak season comes in summer. This is when kids are out of school, and many families take the opportunity to travel. Both these times are busy and pricey times to visit Hawaii.
February, March, September, and October are in the shoulder season in Hawaii. That means that these months tend to be cheaper to travel in than other months.
A simple Google search shows that an October 10th-17th trip from Houston to Honolulu is about 300 dollars cheaper than a trip for the exact dates in July. Of course, many variables come into when making individual bookings, but overall, traveling in a month like October will generally save you money.
You can save even more money by doing a little research and following some simple tricks.
Book Ahead
Booking well in advance usually helps you get the best deals for your trip to Hawaii. If you're traveling in October, you might want to look early in the year, at least six months in advance. For many families, booking an October Hawaii trip is beneficial when they get their tax refund. If you file early, this is usually some time around March. This gives you more than six months to plan your vacation and to book far enough in advance to get a great deal.
Alternatively, people with freer schedules can sign up to receive notifications telling them when reduced-price flights are coming up. This often requires the ability to change plans quickly, something many people cannot do, especially when it's a significant vacation. However, if it's something you can do, it might be worth a try.
Book With the Right Airline
Search travel sites, Google, and the airlines' sites to discover who offers the best rates, and lock it in while it's good! Hawaiian Airlines, Alaska Airlines, and Frontier Airlines often have the best deals for Hawaiian flights. That's not to say that other airlines don't have good values.
Consider Your Airport
If you live on the West Coast of the U.S., it's easy to find affordable flights to Hawaii, and many direct flights are available. However, if you live farther east or are flying out of a smaller airport, flying to Hawaii is likely to be a long and expensive venture, requiring multiple stops in one flight.
Sometimes, it may be cheaper and easier, in the long run, to travel to a larger city first and take your direct Hawaii flight from there. Find out if this trick can work for your particular situation.
Bundle for Savings
When traveling to Hawaii in October, as with any time of year, you can save money by choosing a vacation package or bundle. These package deals include your flight and hotel and sometimes even include a specific number of meals. This can be great, especially if you're traveling as a couple or a family.
Hotels and Resorts
Staying at a hotel in Hawaii can be pricey. As one of the world's top vacation destinations, the Islands offer amazing resort experiences, and the cost of staying there reflects that. Even the smaller, less desirable hotels and motels capitalize on the popularity of Hawaii by keeping their prices relatively high.
Luckily, October boasts some of the least expensive lodging costs of any month. For example, a mid-tier resort hotel in Hawaii will cost you an average of $249 per night in October. Compare that with the $332 average in December.
Whether you're looking for a high-end, all-inclusive resort or budget lodgings, it's a great time of year to take advantage of less expensive, less crowded hotels.
October Weather
Weather is a big issue that travelers often worry about when making an excursion during the off-seasons. After all, it is the off-season for a reason, and sometimes one of the reasons is inclement weather. Is this the case for Hawaii in October?
Many tourists to Hawaii enjoy the combination of warm oceans and cooler daytime highs as summer turns to winter. One notable thing is that Hawaii's waters are the warmest in September and October. This is because the previous hot summer months have affected the water temperatures.
Winter? In October?
Hawaii is considered to have only two seasons: summer and winter. Summer runs from May to October, while winter is from October until May. Usually, October offers warm, pleasant weather that is slightly cooler than the sweltering days of summer.
How much cooler? In Honolulu, the average October high temperature is around 84 degrees, and the average low is 75 degrees. Still, these are ideal temperatures for beach days and evening walks to the local restaurants and bars.
On Kauai, one of the cooler islands, you can expect daily temperatures averaging around 76 degrees and lows around 60. This weather is quite different from Honolulu, showing how other islands offer slightly diverging climates.
You'll see these climate differences between the islands come up a lot when discussing Hawaiian weather. They can be important points to consider when planning your October trip.
Rainfall
Nobody wants their vacation to be rained out. Luckily, you're unlikely to encounter this in October in Hawaii. The rainiest months don't begin until November; rainfall usually occurs at night, so it's easy to work around it. There's also the matter of climate difference between the regions. Some islands experience more rainfall than others, but you can usually find sun right around the corner.
All this sounds great, but what are the actual numbers? Let's have a look at the four major islands and get an idea of what the average rainfall is like there in October.
Big Island: The Big Island of Hawaii is the driest island in October, averaging only 0.88 inches of rain for the month.
Maui: Coming in as the second driest island in October is Maui, with 1.2 inches of rain for the month. To put this into perspective, Salt Lake City, Utah, a reasonably dry western city, averages 1.3 inches of rain in October.
Oahu: The rainy season starts relatively early on Oahu, with average rainfall accumulating 2.33 inches for October.
Kauai: Kauai may not be the best island to visit in October if you're betting on a warm sunny vacation. The island averages 3.82 inches for the month of October, similar to what you could expect in Chicago, Illinois.
Because the rainy season begins in November, you can lessen your chances of dealing with a lot of rain by traveling earlier in the month of October rather than later. If you do encounter some rainy periods, don't worry. As mention ever earlier, rain in Hawaii usually doesn't last all day, and it tends to be very localized.
What To Do on Rainy Hawaii October Day
Still, you can do plenty of things in Hawaii in October if the weather isn't the best for going outside.
On Kauai: Visit the Kilohana Plantation and learn more about the island's farming history. This former plantation sits on 110 acres and features a railway, a restaurant, shops, and of course, the historical plantation home itself.
On the Big Island: The University of Hilo's 40,000 square-foot Imiloa Astronomy Center offers daily educational experiences and opportunities for relaxing stargazing in the evening.
On Oahu – Want to learn more about the history of Hawaii and Pacific Islander culture in general? Then a trip to the Bishop Museum is a great place to start. Spend time in this beautiful structure, built-in 1889, where you'll find 24 million items, most of which document the history of the Pacific Islands in some way.
On Maui – Sometimes, you just need a spa day. When you do, the Spa Grande at the Grand Wailea Resort is THE place to have one. This gorgeous spa offers massages, facials, fitness training, and poolside pampering for a truly luxurious experience.
What About Hurricanes?
October is part of Hawaii's hurricane season, which may give some travelers pause. However, before you back out of your plans, you must know a few things. First off, Hawaii doesn't get many hurricanes that make landfall.
Unlike places on the U.S. East Coast- namely Florida – where hurricane season produces frequent intense storms, Hawaii has only had four storms hit the Islands directly in the last 60 years. While it's impossible to guarantee that you won't encounter a hurricane on your trip to Hawaii in October, it is considered a safe time to travel. In the event of a storm, hotels and resorts have safety measures in place.
Trade Winds
Trade winds are winds that blow steadily east to west. Trade winds make Hawaii a breezy vacation spot for most of the year. While it still can be windy in the fall, October is one of the months when the trade winds tend to be milder.
Crowds
As an off-peak month, October is a great time to visit Hawaii if you want to avoid crowds of other tourists.
October isn't a popular time of year for travel. School vacation is over, the holidays are approaching, and people are turning their thoughts to settling in and preparing for the end of the year activities. Many people don't have the time or money to take any major trips in October, but if it fits into your schedule and budget, it can be an excellent time to see Hawaii.
Some Tips for Avoiding Crowds
Even though October is usually a slow month in Hawaii, it is still a busy vacation spot that welcomes hundreds of thousands of tourists each month. There are some extra steps you can take to have a more relaxed trip away from the hustle-bustle:
Visit Less Crowded Beaches – Some areas of the Hawaiian Islands are less busy than others. Very popular, well-known sites like Waikiki are likely to be packed regardless of what time of year you visit. Instead of these places, try quieter, lesser-known spots, like the secluded beach areas near Chinamen's Hat.
Go To Museums, Exhibitions, and Cultural Events – Many people who visit Hawaii are there for the beaches, food, and nightlife. It's no wonder; the Islands offer wonderful opportunities for all of these. However, if you prefer quieter, more culture-based activities, you will likely find these places more conducive to peaceful, unhurried enjoyment.
Pursue Laidback Outdoor Activities – Hiking, trail walking, biking, and camping in out-of-the-way places are great ways to enjoy the splendor of the Hawaiian outdoors.
Choose Lodgings Wisely – While large, all-inclusive resorts are fine if that's what you're after, they can be crowded. Overcrowded pools, lines at restaurants, and loud courtyards aren't unusual in these places. Even though you'll find less of this chaos in October, you may want to further your pursuit of a peaceful vacation by choosing an alternative lodging arrangement. Air B&B and other sites that enable people to host their homes have expanded the lodging market and offered many more opportunities for travelers seeking a quieter, more individualized experience.
October Events in Hawaii
Here are a few of the standout events that are traditionally held in Hawaii in October.
Hawaii Food and Wine Festival
Breathtaking views, tropical weather, and gourmet food…what could be better? The Hawaii Food and Wine Festival is a star-studded event that brings the best of the culinary world together in paradise.
Hawaii International Film Festival
Creative minds from the Asia-Pacific region and around the world gather in Oahu for cultural exchange and networking.
Eo E Emalani I Alakai Festival
Also known as the Queen Emma Festival, celebrates Emma, the Victorian-era queen of Hawaii. The event includes a grand procession, hula dancers, music, food, and more.
Ironman World Championship
Since 1978, the strongest, bravest athletes in the world have gathered in Hawaii to participate in one of the toughest triathlons on earth. The competition is held annually in October in Kailua-Kona.
Lilikoi Festival
Lilikoi is a fruit that grows abundantly in Hawaii. This festival celebrates the fruit through cooking demos, sample tasting opportunities, and much more.
Halloween Events
Have you considered spending Halloween in Hawaii? While it might be a departure from your normal spooky time activities, the Islands have their own unique ways of celebrating the holiday, and plenty of things to do! Halloween events change every year, so check the events calendar for the area where you'll be staying. If you are a hotel or resort, they might have their own Halloween activities as well.
These are just a few of the events that you can find around the Hawaiian islands in October. There are so many more occurring on the local level throughout the month, Google searches, local news, your hotel or AirBnB, and other resources can all be valuable ways to find events that appeal to you.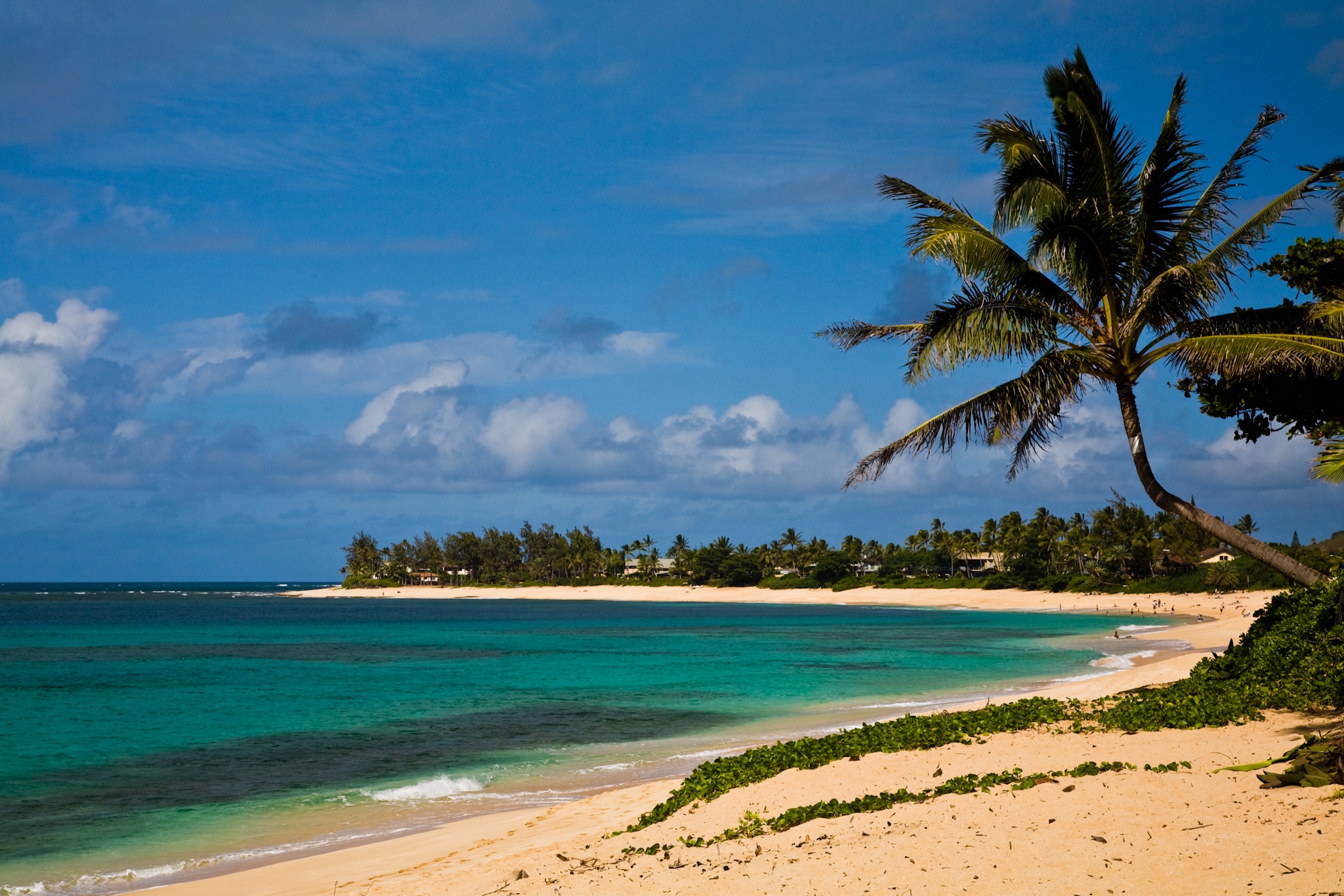 What To Wear in Hawaii in October
Traveling during the fall can be tricky wherever you go. Weather can go from bright and sunny to wet and chilly in a snap. Thankfully, Hawaii weather isn't extreme in October, so you should be able to get by with relatively light luggage.
It will still be warm in Hawaii in October, so you can pack for a tropical vacation. Swimsuits, t-shirts, polos, shorts, sun hats, and long dresses will get you through most days. If you plan to do any hiking or other outdoor activities, you'll want to pack appropriate shoes and maybe a rain poncho just in case. Be prepared for cooler nights by packing a pair of long pants and a sweater. Zip hoodies make more sense than pullovers in Hawaii since the weather can go from cool to warm and back again pretty quickly.
Closing Thoughts
For many people, Hawaii is a dream getaway. If you happen to get the chance to make this dream a reality, you can plan ahead to make it the best vacation possible! Traveling to Hawaii in October can be a great choice for many reasons. Milder weather, sparser crowds, warmer ocean water, and fun events for every interest and budget.
It's a nice time for older travelers to visit because there will be fewer youngsters at the resorts and on the beach, making for a quieter vacation. On the other hand, homeschoolers and other families on an alternative schedule can enjoy some real-life learning and hands-on experience to add to their curriculum.
There's so much to learn and do in Hawaii. When you come back from your trip, you can face the coming holidays and winter season having made beautiful memories of the Islands.
More about our TFVG Author
A seasoned traveller, Dad, and avid sports tourist, James foundered The Family Vacation Guide to share his expert vacation experiences- especially when it comes to being a travelling family man.
Featured in Travel articles such as Travel + Leisure, TripSavvy and SFGate, you know you're reading some of the best vacation tips online.