Everyone needs a little vacation once in a while. While there's nothing wrong with escaping with your partner or by yourself, there's nothing quite as comforting as a family vacation. The best thing about getting away with the family is that you don't need to take long trips to make wonderful memories that will last a lifetime.
Sometimes all you and your family need is a weekend getaway. If you live in the Midwest, Illinois, or are interested in visiting Illinois, there's plenty of destinations to choose from. The best thing about Illinois is that there are many choices between large cities, remote destinations, and plenty of parks to visit.
If you're stuck on choosing where to take your family for the weekend, we can help. Check out these best family weekend getaways in Illinois before you load up the car or head to the airport.
12 Top Family Weekend Getaways in Illinois
Are you not too sure about where to start with planning your next family adventure to Illinois? No need to worry! Check out this list of our top choices for family weekend getaways in Illinois.
Chicago
When discussing the perfect weekend getaway in Illinois, we can't leave Chicago off the list. Nestled on the vast Lake Michigan, Chicago is the most populated city in the state. With such a large population and more than enough to do, it's no wonder people choose this as a weekend destination.
Chicago is one of the largest cities in the United States and is known for its stunning architecture. Even spending hours wandering around the city and looking at all the buildings will be exciting for you and the family.
If you're not scared of heights, visiting the Willis Tower (formerly the Sears Tower) is a fun experience. You'll ride an elevator up to the 108th floor, where you can see the city from a new perspective. If you're feeling adventurous, you can step onto their glass floors, where you'll be able to see the ground over 1,000 feet below you.
You can't leave Chicago without seeing The Bean. This massive metallic structure is commonly known as the Chicago Bean, but the real name is Cloud Gate. It's a beautiful art piece in the middle of a park. It's the perfect photo spot, and you'll have some great views of the city from here.
Two other fantastic things you may want to do with your family are to visit Navy Pier and the Shedd Aquarium. The pier is flooded with rides, games, and restaurants to eat at during the summer.
If you're looking for places to stay in the city, Palmer House A Hilton is right near Cloud Gate in the city. Another option we love is the Best Western at Grant Park. For more recommendations, why not check out our guide to the best family hotels in Chicago?
Gurnee
Approximately 40 miles north of Chicago is the smaller city of Gurnee, Illinois. Gurnee is a popular weekend destination for those living in Chicago or for a day trip while visiting the major city. Even though this is a smaller area of the state, there's still plenty to do.
One of the main reasons families love visiting Gurnee is to check out the Six Flags amusement park. The best part about Six Flags is that they have rides and attractions for everyone. They have thrill rides for the adrenaline junkies, family rides, and even rides for the youngest visitors.
If you're planning on heading to Gurnee for Six Flags, keep in mind that they're only open on Saturday and Sunday. If you're going to be in town for a long weekend, you'll want to find other activities to do.
One of the best activities for families is to visit the Great Wolf Lodge Waterpark in Gurnee during the summer. You can choose to spend a day at the waterpark only, or you can stay at the resort for the entire weekend. If you stay at the resort, you'll love the game rooms, family-friendly activities, and fantastic staff that will make your getaway memorable.
If you don't want to stay at the Great Wolf Lodge, there's plenty of other lodging options for you. One that we recommend is the Baymont by Wyndham, which is close to Six Flags and the waterpark.
Springfield
In central Illinois, you'll find the state capital, Springfield. Springfield is another excellent destination for a weekend getaway. There's plenty of history in this city that you and your family will love learning about.
You and your family can explore downtown, where you'll see the Illinois capitol building. Another historical site you'll want to try and see is the Lincoln Home. This building is the restored site where our 16th president used to live. There's also a museum and library in the city showcasing his life and significance in the nation's history.
If you want, you can head to Oak Ridge Cemetery to see where the 16th president is resting. For even more history, more specifically about Illinois, the Illinois State Museum is a must-see. The museum was founded in 1877 as a natural history museum and has been open ever since.
For something more relaxing and outdoors, spending time at Southwind Park may be a great idea. The park is situated near Lake Springfield and is 80-acres in size. There's plenty of grassy fields for you and your family to play games, playgrounds, and picnic areas so you can enjoy a meal outside when the weather is nice.
We love the trampoline park in the city. It's a great way for everyone to burn some energy and have a great time. Plus, this adventurous activity helps break up all the museums and history you'll spend time seeing.
For places to stay for the weekend, you should check out the Crowne Plaza Springfield. It's at the convention center. The Drury Inn and Suites are other terrific options for families.
Quincy
Along the Mississippi River is the town of Quincy. This adorable little town makes for the perfect and quiet family getaway for the weekend. Also known as The Gem City, Quincy was once famous for riverboats transporting people across the Mississippi.
If you and your family are museum buffs, you'll love Quincy. There's a handful of unique and fascinating museums where you can spend your time. The first one worth mentioning is the All Wars Museum. As you walk through this museum, you and your family can see over 5,000 artifacts from the wars the nation participated in since the Revolutionary War.
This next activity isn't exactly a museum, but it showcases some exciting parts of our nation's history. The Lincoln-Era Log Cabin Village is a near place to see. They offer self-guided tours where you can walk around four log cabins, a log corn crib, a log church, and a stone smokehouse.
Right near the Log Cabin Village, there's Lincoln Park. This little waterfront park has a beautiful walking trail. It's perfect for people of all ages too, so everyone in the family can enjoy it. There's also a nice playground that the little ones will love playing on while you read a book, play games, or eventually enjoy a picnic with everyone.
The Microtel Inn and Suites by Wyndham are popular lodging choices for families visiting Quincy. That's because it's right on the Mississippi River. Another great option is the Stoney Creek Inn, which is closer to the town center.
Shawnee National Forest
Are you looking for the perfect nature getaway for your family? Shawnee National Forest in southern Illinois is a great location, and it is near the town of Herod. The forest is nestled between the Mississippi and Ohio Rivers, creating some beautiful landscapes for your family to explore.
There are lakes, hills, waterfalls, and sandstone cliffs throughout that make this a beautiful forest for people of all ages. If you're ready to go on a long hike, there's the River to River trail. It spans 160 miles and takes you from the Ohio River to the Mississippi or vice versa.
That trail length can seem daunting and not suitable for all families. Don't worry, though. There are plenty of other beautiful trails in the forest. The Rim Rock Recreational Trail is very popular with families of hikers of all skill levels. The trail is less than a mile long, making it an easy day hike.
There are also plenty of places to go fishing in the forest. There are 11 lakes and over 50 ponds for you to cast and land some fish. There are other water activities you can participate in when the weather is warm, like boating, swimming, tubing, and water skiing.
The obvious place to stay if you're going to be spending time at Shawnee National Forest is to stay at one of their several campsites. It's a great way to bond and enjoy as much of the great outdoors as possible. If you want to stay in a hotel, there's a Quality Inn in Herod.
Galena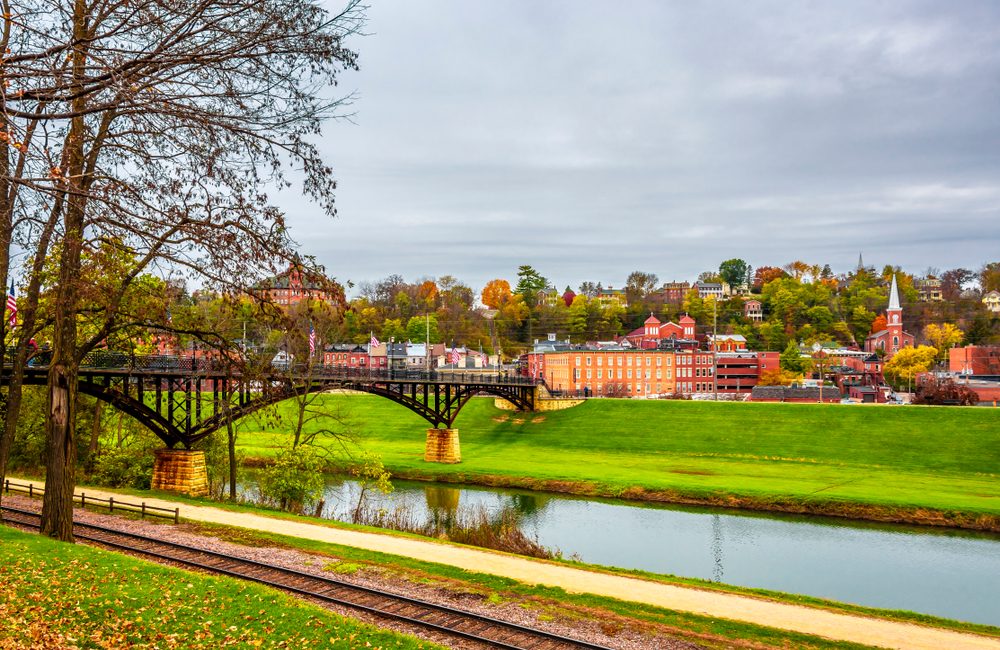 Galena is a small town in northwestern Illinois. This town is charming and perfect for a quiet getaway with the entire family. Galena is known for having plenty of well-preserved 19th-century buildings. One of the most famous of these buildings is the 1826 Dowling House.
The Dowling House is the oldest residential property in Galena. Restorations to the property mimic what the original house looked like, and every effort goes into ensuring it stays that way. It's now a museum that you and your family can tour while visiting Galena.
Something you may or may not know about Galena is that it was the former home of the 18th president, Ulysses S. Grant. Just like you can visit Lincoln's home in Springfield, you can visit Grant's home. It's a beautiful 18th century home that's now a small museum showcasing Grant's life.
If you're planning a winter weekend getaway, the Chestnut Mountain Ski Resort is where you need to go. It's about nine and a half miles south of Galena's city center but well worth visiting. During the winter, you'll have access to various ski slopes, ski lessons, and more. You can even stay here during the summer too.
You can take river cruises, ride the alpine slide, and even go ziplining in the mountains during the summer. Chestnut Mountain Ski Resort is the best in the area, but if you want to stay closer to the city, Cloran Mansion Bed and Breakfast is perfect.
Decatur
Forty miles to the east of Springfield is Decatur. It is the largest city in Macon County, Illinois, making it a great city getaway when you don't want to venture into the even larger city of Chicago. It has plenty of considerable city charm as well as parks and a lake where you can enjoy the outdoors.
One of the most popular things to do in Decatur with the whole family is to visit the Scovill Zoo. It originally was a small farm on Lake Decatur that has since turned into a wonderful zoo. This small-scale zoo holds around 95 species of animals from six continents, totaling approximately 500 animals.
Even if your kids aren't huge fans of museums, they'll love it if you take them to the Children's Museum in the city. The museum features several exhibits based on science, art and some interactive ones where they can touch and feel some of the exhibits. The adults will love the museum, especially watching the kids have a blast.
You have to stop at the Chevrolet Hall of Fame Museum for the car enthusiasts. The museum showcases classic cars. It's a truly unique experience, even if you aren't a fan of classic cars. They have a selection of cars, trucks, and vans that are all in pristine condition.
If you and your family want to spend a day or the whole weekend on the water, you can try Lake Decatur, the Kaufman Lakeside Conservation Area. You can launch a boat, water ski, swim, go tubing, and lounge on the shores of the lake.
There are also several golf courses for you and your family if you like to spend some time on the fairways. The Hampton Inn and the Country Inn and Suites are two of the top places in the city where families enjoy staying.
Rockford
Rockford is a beautiful city in northern Illinois. It's about 94 miles from the bustling city of Chicago and 130 from Davenport, Iowa. The Rock River runs through downtown and offers some beautiful waterfront spots in the city.
If you're looking for a fun activity that you can do anytime during the year, you should take your family to the Discovery Center Museum. It's a children's museum that even adults of all ages will enjoy spending time at. There are interactive exhibits on electricity, space, a planetarium, and much more.
Rockford is known for its beautiful botanical gardens. There are three in the city, and even if you can't or don't want to make it to all three, you should try and make it to at least one of these breathtaking gardens. The most famous is the Anderson Japanese Gardens, a stunning 12-acre space with flowers and a small waterfall. The other two are Klehm Arboretum and Botanic Garden and the Nicholas Conservatory and Gardens.
If you and your family are interested in horseback riding, you'll want to check out Lockwood Park and Trailside Equestrian Center. When you make reservations, you'll be able to choose from two trails that the guide will take you and your family on. It's a fun way to spend some time outdoors.
Volcano Falls Adventure Park is a spot that everyone in the family will love. It's an indoor and outdoor facility with mini-golf, go-karts, laser tag, a gaming arcade, and plenty of snacks to keep everyone full throughout the day.
The Hilton Garden Inn Rockford is a great and affordable option and the Alpine Inn. They're in great locations and are easy to get to whatever activities are in town.
Peoria

In central Illinois is the beautiful little town of Peoria. This charming little town is situated on the Illinois River and has some stunning architecture that you and your family will love admiring as you walk around.
One of the best attractions in Peoria is the Riverfront Museum. Some of the exhibits you and your family can walk through showcase musicians, artists, and even dinosaurs. Your kids will especially love the information about the giants that once roamed our Earth. A Holocaust Memorial is also located on the museum's grounds and worth seeing.
After or before visiting the Riverfront Museum, you and your family can walk along the Illinois River. It's a beautiful way to explore the city and get some fresh air. Plus, you'll love the opportunity for photos with your family with some stunning backdrops.
The Caterpillar Visitors Center and Museum are right across from the Riverfront Museum. Caterpillar Inc. is a world leader in manufacturing mining and construction equipment. It's a neat experience to see how this company works and some of the larger machines they produce.
Several parks throughout the city are great spaces to spend time outdoors and let the kids run around and play. One of our favorites for families is the one right next to the zoo, Glen Oak Park. It's a great little spot to hang out before or after visiting the Peoria Zoo.
If you're looking for recommendations on places to stay while in Peoria, the Baymont by Wyndham and the Peoria Marriott on the river are two of the best.
Ottawa
If you travel about 85 miles west of Chicago, you'll reach the small town of Ottawa, Illinois. This small town makes a great weekend getaway if you're trying to escape the big city, connect with nature, and tour some fascinating museums.
While in Ottawa, you and your family should definitely try to tour the Ottawa Historical and Scouting Heritage Museum. This museum showcases the history of the boy scouts and girl scouts, plus campfire history. Even if your kids aren't scouts, it's an exciting place to visit and learn more about the organizations. Plus, the gift shop is always a hit with the young ones.
If you're looking for something low-key to do for a few hours, you should head to Heritage Harbor. This harbor is on the Illinois River and makes for a great place to walk. There's a small park in the area that has picnic benches and several relaxing spots. There's a great restaurant on the harbor, Red Dog Grill, to grab a bite of some local food.
The Reddick Mansion and Gardens is an attraction you'll want to see if you're a history buff. This beautifully restored home sits in Washington Square and is the site of the first Lincoln-Douglas Debate. This beautiful mansion will have you and your family in awe as you tour the building, which was built in 1855.
Guided tours are excellent for families because it takes a lot of the guesswork out of what to see. Awesome Ottawa Tours is the best in town, and you can go on guide bikes or walking tours to see the hidden history of Ottawa. They offer eight different times, so you'll want to look into those before heading there for the weekend.
Our favorite places to stay in Ottawa are the Quality Inn and Heron's Landing over on Heritage Harbor.
Starved Rock State Park
Down the road from Ottawa in Oglesby, Illinois, is Starved Rock State Park. The park is on the Illinois River, and steep sandstone canyons, waterfalls, and plenty of hiking trails characterize this gem.
One of the most popular areas of the park to visit is St. Louis Canyon Falls. It's relatively easy to get to, so most people shouldn't have a difficult time. Once you arrive at the canyon, you'll get to see the only spring-fed waterfall in the entire park. You'll be mesmerized by the vastness of the canyon.
Bluff Trail is an excellent trail for the whole family. It runs along the park's north side and stretches from St. Louis Canyon back to the visitor center. It's the perfect trail to take after you've visited the canyon to get yourself back to your starting point.
On the east side of the park, you'll want to check out French Canyon and Pontiac Canyon. From there, you can't miss out on going to at least one of the multiple cliff-overlooks along the Illinois River. Three of these popular lookouts are Lovers Leap Overlook, Eagle Cliff Overlook, and Beehive Cliff Overlook. The Beehive Cliff also has a small beach you can walk along.
There's also plenty of fishing, kayaking, biking, and other outdoor activities for you and the whole family to enjoy while you're here. The best place to stay near Starved Rock State Park is one of their campsites or the Starved Rock Lodge, near the visitor center.
If you plan to take a weekend trip to Starved Rock State Park, you'll want to check their website first. The website will show you any trails that aren't open during your trip and what the conditions are like within the park so you can plan a safe getaway.
Mount Vernon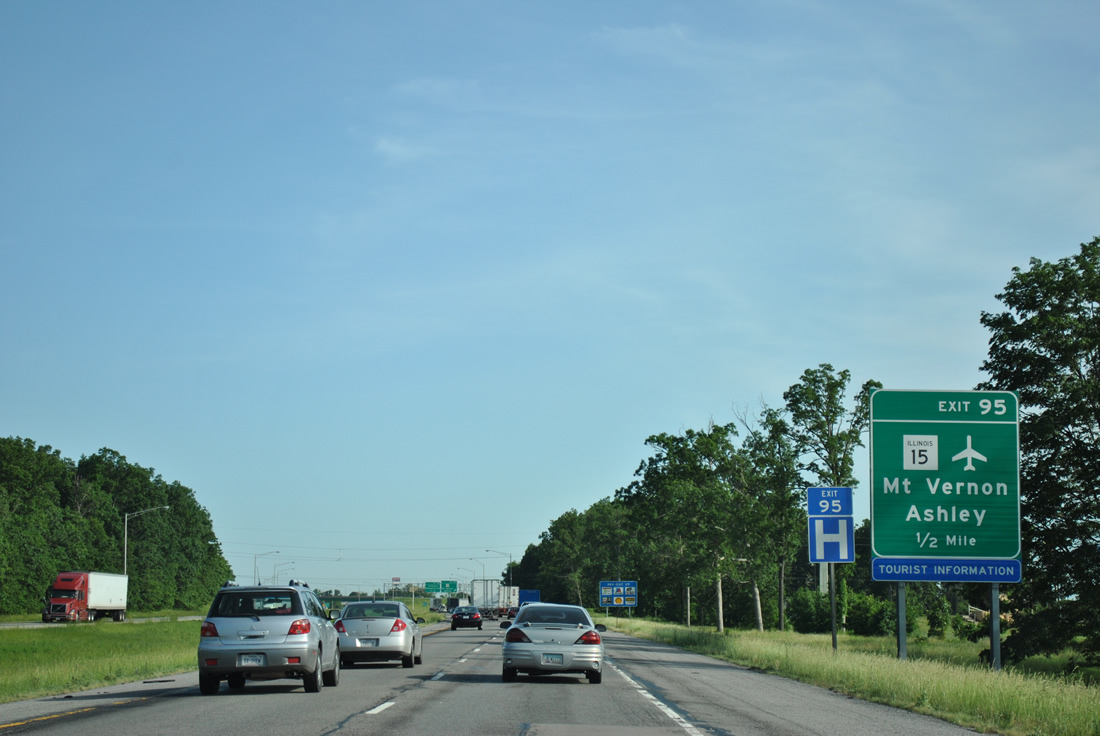 A little less than 80 miles from St. Louis, Missouri, is Mount Vernon. This quaint little town has a population of less than 20,000 and makes for a quiet weekend getaway for the whole family.
When you visit Mount Vernon, you may want to take your family to the Aquatic Zoo. While the name suggests it's a zoo with animals to view, it's actually a waterpark. You and your family can spend a few hours or the whole day swimming, riding slides, and enjoying the beautiful weather Illinois gets during the summer.
If you want to learn more about the history of Jefferson County, the county that Mount Vernon is in, the Jefferson County Historical Village is the place to be. While it's called a village, it's a history museum. The village depicts a 1920s farmland development. It's a great idea of what life was like in Mount Vernon back in the early 1900s. The structures and artifacts are fascinating to people of all ages.
The Hall of Honor and Military Museum is another stop you'll want to add to your itinerary for the weekend. The Hall of Honor acknowledges men and women who served their country and made the nation proud. The rest of the museum showcases artifacts from various conflicts that the nation has been a part of throughout history. It's a neat museum to experience with your family.
There are a few lodging options in town. There are some very affordable options in town that are perfect for families. The Royal Inn, DoubleTree by Hilton, and the Comfort Suites are some of our top choices.
Are You Ready for These Family Weekend Getaways in Illinois?
For the perfect family getaway, the Midwestern state of Illinois has something for everyone. Whether you prefer the big city or one of the beautiful state parks, your ideal weekend getaway awaits.
Regardless of which area of Illinois you choose to take your family on your next vacation, you'll be able to make memories that will last a lifetime.  
Other places to consider for your family weekend getaway
If you're considering other destinations for your weekend away with the kids, take inspiration from our other handy guides below!
More about our TFVG Author
A seasoned traveller, Dad, and avid sports tourist, James foundered The Family Vacation Guide to share his expert vacation experiences- especially when it comes to being a travelling family man.
Featured in Travel articles such as Travel + Leisure, TripSavvy and SFGate, you know you're reading some of the best vacation tips online.