Are you looking to get away from it all for a little while? Looking to set off somewhere with gorgeous beaches and fun for everyone, no matter what everyone wants to do? Puerto Vallarta could be your answer.
Located on Mexico's Pacific coast, Puerto Vallarta is a gorgeous place bordered by jungles and white sand beaches. It's really no wonder it's become a resort hot spot. 
Since many of these resorts are destination spots, they offer all sorts of amenities—anything you could want on your vacation really. Kids clubs abound, as well as family activities, adult-only spaces, amazing dining options, and one-of-a-kind experiences unique to each resort.
If you want to do some exploring on your own, though, some are even close to town where you can experience the local life! And better yet, several of them are just a stone's throw away from the airport to make the last leg of your journey that much easier.
Do you have your heart set on Puerto Vallarta, but are having trouble picking out the best option for your family's vacation? Hopefully, this list can help you out. 
Grand Park Royal Luxury Resort Puerto Vallarta
The Grand Park Royal Luxury Resort in Puerto Vallarta is a gorgeous destination resort situated mere feet from a long stretch of private white sand beach and looks out over a pristine turquoise sea. If you're looking for a fun and relaxing place to spend your vacation with your family, the Grand Park Royal is a great choice.
The Grand Park Royal offers an all-inclusive package, which allows you to sit back and enjoy yourself instead of having to worry about picking and choosing activities for the little ones and worrying about mealtimes.
The all-inclusive package includes access to a wide variety of restaurants and bars, thrilling tours, water sports, and whale watching. If you need a little time away from the kids, there's even a spa and wellness center, as well as a sauna and gym if you feel like hitting the treadmill.
For kids, the Grand Park Royal boasts a kid's water park complete with water games and sports amongst its many pools. Within the hotel, there are playrooms and other activities to keep your kids engaged and having fun.
The Grand Park Royal is accessible to disabled individuals to make sure that everyone is included.
Garza Blanca Preserve Resort and Spa
If you and your family love the outdoors, the Garza Blanca Preserve Resort is worth checking out. Situated on 85 acres of untouched jungle and white sand beaches, the Garza Blanca Preserve Resort and Spa offers a stunning nature experience for all who visit.
If you're into hiking, you can sign up for a guided hike through the Sierra Madre mountains, and if you love to be out on the water, you can book a few kayaks for you and your family to take in the sights from the water.
If you're looking for something a little closer to home, the Garza Blanca offers an outdoor tennis court to burn off some energy. When you feel like resting, you'll have full access to the beautiful beach that borders the resort that is primed for an afternoon of lounging or playing in the water with the kids.
Three gourmet restaurants are on-site and offer a variety of meal options that's sure to please even the pickiest of eaters, and there's even a kid's club where your children can have fun with friends while you and your partner sneak off to the spa to unwind.
Fiesta Americana Puerto Vallarta
If you have both little ones and teens, the Fiesta Americana at Puerto Vallarta could be your all-inclusive solution to making everyone happy during your vacation.
Located on the pacific coast of Mexico, the Fiesta Americana is situated on a gorgeous strip of coastline awash with palm trees and white sand. If you're interested in experiencing the area as well instead of staying within the resort's bounds, you can do that too. Puerto Vallarta is just a short way away and ready to be explored.
Many resorts have kid's clubs, but Fiesta Americana is one of those special resorts that also have a teen club.
Everyone can have fun together on the beach and at the pool, but if your teens want to venture out on their own, they can head on down to the teen club.
If your little ones want to keep going all day but you're feeling tapped, they can go to the kid's club for supervised pool and beach games, crafts, and sports competitions while you head on over to the Nakawè Spa for a little rest and relaxation.
When your family comes together again at the end of the day to grab a bite to eat, you can have dinner at the VIP Chef's table, and watch dinner being prepared just feet from your dinner plate.
To make things even easier, the Fiesta Americana also offers free shuttle rides to and from the airport when you book your stay for at least four nights.
Velas Vallarta Suite Resort
Velas Vallarta Suite Resort is situated on ten sprawling acres of gorgeous land not too far from the Fiesta Americana, and you and your family's stay here is sure to be a breeze.
Traveling with kids can be complicated sometimes, but Velas Vallarta brings some of the comforts of home to your vacation getaway.
The Velas Vallarta offers unique services like laundry and drycleaning if your kids wind up having a little too much fun and get a bit messy, and there's even a mini supermarket on site where you can find their favorite snacks if they're having a hard time finding something they like at the various restaurants on site.
Babysitting and childcare are also available if you and your partner want to steal away for a date night, and for the kids who are a little older, there's a kid's club with a plethora of activities available to keep them entertained and engaged. They might even make some new friends!
Outside, there are three tennis courts and three swimming pools, one especially for the kids with daily activities to keep them occupied, and of course, there's plenty of beach access for lounging and playing.
In your room, there's 24-hour gourmet in-suite dining as well as a minibar that's restocked every day to make sure that you're properly supplied with drinks and snacks when you and your family are hanging out in your room.
If your teens are older, you can sign up for scuba diving lessons and various tours from Vallarta Tours to make sure that your vacation is brimming with adventure. You can even rent a car so you and your family can set out on your own and explore until your hearts' content.
Sunset Plaza Beach Resort and Spa
If you need a little extra help getting your family vacation going, Sunset Plaza Beach Resort is your answer.
Sunset Plaza Beach Resort's all-inclusive plan starts off with its 24-hour butler service. If you've had a rough flight with your little ones and need a hand getting settled, the butler can help you unpack, get you something to eat, and even make arrangements for you like reserving chairs on the beach for whenever you're ready.
If your kids are looking for something fun to do, look no further than the kid's club. At the kid's club, your children can play video games, mini-golf, play at the pool or at the playground, and even hang out at a restaurant tailored for kids.
There's even a heated family pool for you all to hang out at, and a poolside bar offering specialty drinks for you to enjoy.
For the adults, you'll enjoy 24-hour food and drinks at Sunset Plaza's various bars and restaurants, as well as 24-hour room service if you feel like staying in.
To make your trip truly unique and luxurious, you can indulge in a personal reception, a selection of pillows from the pillow menu to make sure that you get the best rest possible, and even an aroma menu to keep your room smelling fresh with the scent of your choice.
To get some exercise, there are tennis courts and a gym, and an adults-only pool for you to lounge at whenever you'd like. There's also the Solarium Deck where you can relax in a jacuzzi and take in the beautiful view of the turquoise ocean beyond.
Hard Rock Hotel Vallarta
The Hard Rock Hotel Vallarta is one of the many resorts in the Hard Rock Hotel family, and it's sure to make your family getaway a memorable one.
The Hard Rock Hotel Vallarta offers deluxe family suites so that everyone gets plenty of room to spread out—you won't have to worry about cramming into a small room. The deluxe family suites feature a two-bedroom layout with one king and two double beds, ensuring that everyone gets a great night's sleep.
While many resorts tend to separate the kids from the adults, the Hard Rock Hotel Vallarta is unique in that they offer spaces and activities specifically to bring families together.
There is of course the Roxity Kids Club for children ages 4-12 to keep younger kids entertained and safe while you and your partner set off for date night or a quick soak in the pool, but there are a plethora of activities your whole family can do together.
There are three pools on-site—two massive pools stretch across the hotel's property, with a kid's pool nearby complete with water slides and games—and daily activities for the whole family are held nearby.
The Cavern Club is a sprawling game room complete with air hockey, foosball, pool, arcade games, and many other activities for you and your family to enjoy together. You can even watch TV or listen to music! As this is a family space, children under 12 must be supervised by their parents or guardians.
Also included in your all-inclusive stay is dining at five amazing restaurants with a wide range of cuisines, 24-hour room service, unlimited top-shelf drinks and snacks, and daily entertainment ranging from shows to parties to contests in the amphitheater.
Plaza Pelícanos Grand Beach Resort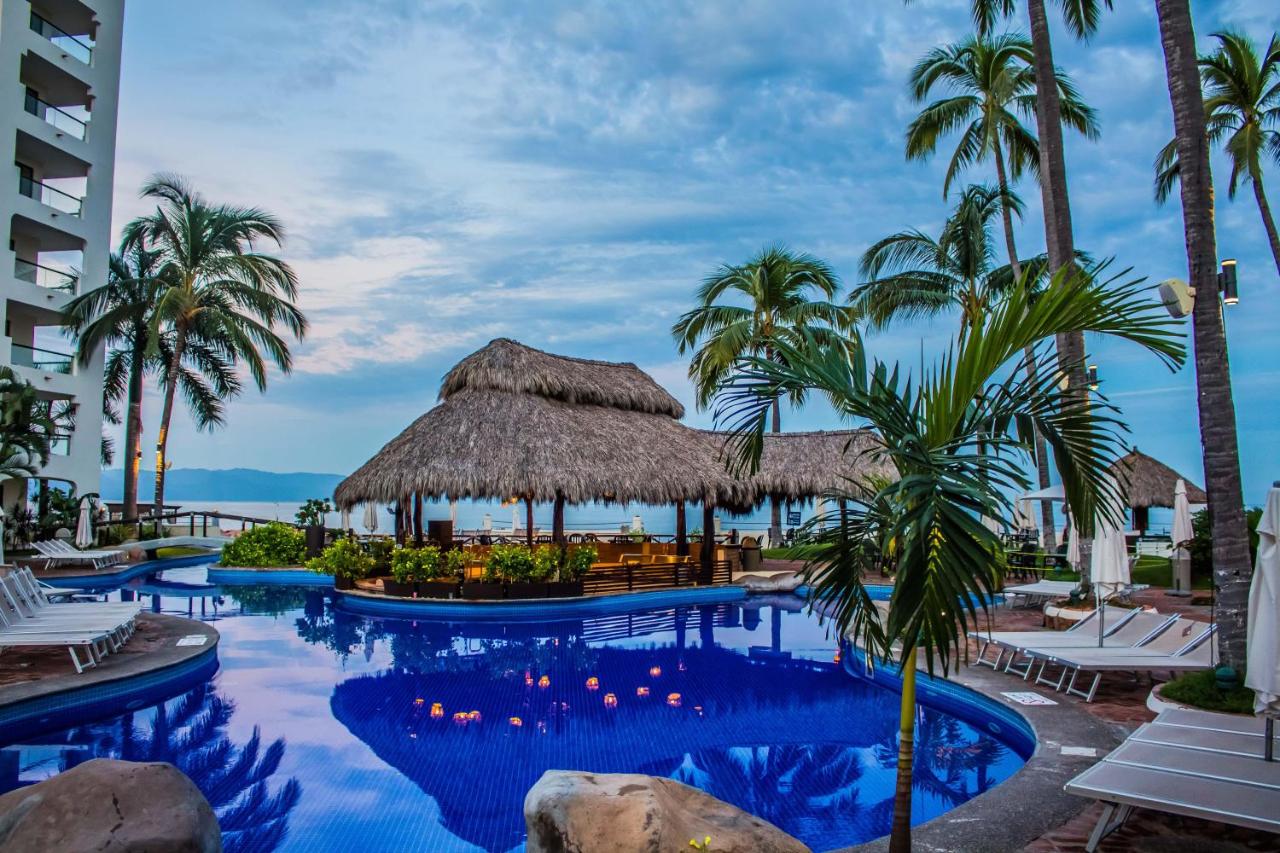 If you're looking for a resort with a little bit of everything, The Plaza Pelícanos Grand Beach Resort is an amazing option. With the Plaza Pelícanos all-inclusive plan, you and your family will be treated to a truly staggering selection of entertainment and activities for all to enjoy.
Want to start your morning off with some yoga and then some exercise later on? They've got you covered. The Plaza Pelícanos offers yoga classes and various sports such as beach and pool volleyball, kayaking, and water aerobics, as well as a fully-furnished gym.
Outside, there is a gorgeous heated infinity with complimentary towel service for you and your family to relax and play in.
Looking for something for the whole family? Table games and arts and crafts are available, and for older kids interested in cooking, there are even cooking classes. For the adults, there are special cocktail classes.
At the Kids Club, there are video games, arts and crafts, and a playground for your kids to enjoy, staffed by a team of childcare experts to keep your kids safe and supervised as they have fun.
For teens and adults, there's a game area complete with card tables, pool, and foosball, attended by staff who can get you anything you might want while you're having fun. Want a drink or some snacks? They'll take care of you.
While your kids are at the kids club or the game area, indulge in the Kupuri Wellness center for a full spa treatment by trained professionals.
If you want to have a date night or just a drink with your partner while your kids are having fun, check out the Sky Bar Lounge. Soaring nine stories over the resort and looking over the water, this is your go-to place for specialty cocktails and appetizers.
For the family, there is an amazing pizzeria on-site, as well as the Pergolas restaurant that serves classic Mexican fare, and the La Flor de Calabaza, a slightly more formal dining spot for special nights.
Hungry while you're at the pool? Try the Aqua Bar Calandria for cocktails, snacks, and ceviche.
Other services your all-inclusive stay includes are gorgeous rooms, 24-hour room service (there is an additional fee between 6 pm and 7 am), complimentary concierge, free wi-fi in the lobby, safety boxes, laundry services, and babysitting services.
Hyatt Ziva Puerto Vallarta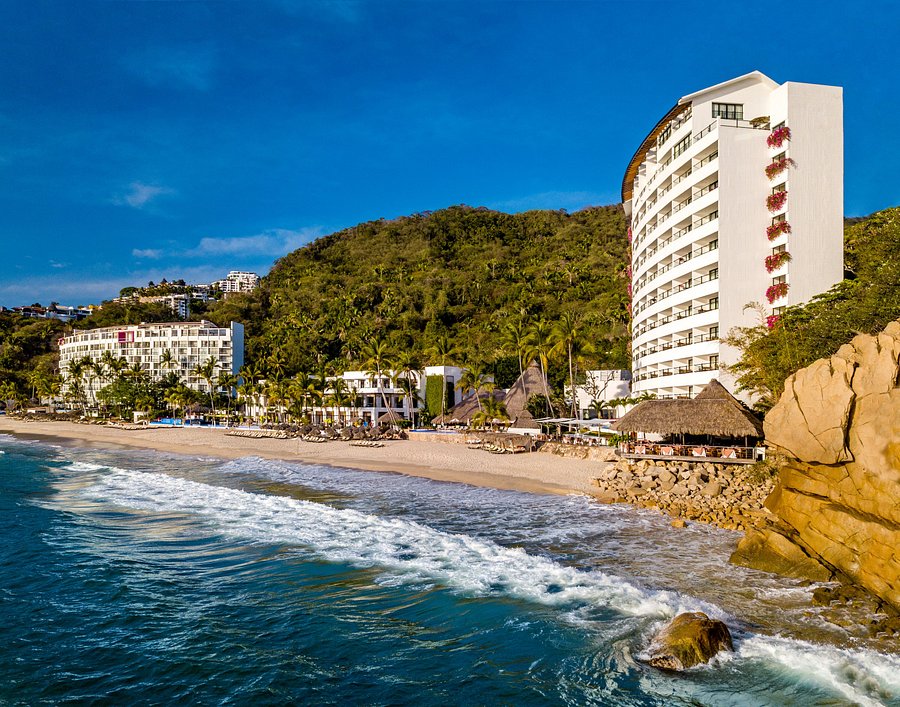 The Hyatt Ziva Resort in Puerto Vallarta is a gorgeous little resort tucked away in a corner bordered by lush jungle cliffs and beautiful beaches. If you're looking for something a little less massive and overwhelming but still offers a comprehensive list of amenities, then you've come to the right place.
The Hyatt Ziva is a beautiful, secluded gem of a place with no shortage of luxuries on hand—and the best part is that it's only a half-hour from the Puerto Vallarta International Airport. Flying with little ones can be a challenge, so a short ride to your hotel after a long flight can be its own kind of saving grace.
Ten amazing restaurants are located within the resort, with cuisine spanning from Italian, Mexican, deli favorites and baked goods, bar fare, and even private dining. There are no less than four waterfront bars, one of which you can even watch dolphins and whales from the comfort of your seat.
There is even a food and drink cart located near the pool with family-friendly drinks and snacks to keep you comfortable throughout your day lounging by the pool as your kids play.
Speaking of pools, the Hyatt Ziva has five gorgeous infinity pools and two kiddie pools for the little ones. An adult-only pool is available, as is an infinity jacuzzi where you and your partner can relax after a long day of beachcombing.
Daily activities are sure to excite those who like to explore. Jungle hikes and kayaking are included, and if you like to cook, there are cooking courses available too!
For the kids, there's the KidZ Club where they can have fun playing games, making crafts, and participating in swimming and nature activities. There's even a sea turtle release program, depending on what time of year you visit.
The great thing about the KidZ Club is its flexibility—they can stay for just one activity or the whole day, depending on what you and your child want.
Special events are always happening, so be sure to check out what will be going on at the Hyatt Ziva during your stay!
Sunscape Puerto Vallarta Resort & Spa
Travelling isn't always the best thing for the environment, but the Sunscape Puerto Vallarta Resort and Spa helps to make your vacation's carbon footprint just a little bit smaller. If the environment is an important issue for you, this resort could be your family's perfect vacation spot.
The Sunscape Puerto Vallarta Resort & Spa is located on a Clean Beach, meaning that, per the Ministry of the Environment and Natural Resources of Mexico, the Sunscape's beach adheres to a strict set of regulations that keeps the beach, the water, and the local wildlife clean and protected.
The quality of the water beyond the Sunscape's beach is closely monitored for the safety of both the wildlife and their guests, and every effort is made to adhere to sustainability.
When it comes to your journey to the Sunscape, it couldn't be easier—especially with kids. The Sunscape Puerto Vallarta Resort & Spa is only ten minutes from the Puerto Vallarta Internation Aiport.
When you get to the resort, you'll find comfortable rooms with beautiful views and when you upgrade to the Sun Club, you get a whole slew of exclusive amenities. These amenities include a complimentary newspaper, cookies and other snacks, drinks and appetizers in the private Sun Club lounge, and even a private stretch of beach among many other perks.
Sunscape's new family water park is sure to thrill, with several water slides and even a water playground. Aqua Aerobics, water polo, and pool and beach volleyball are also available whenever you'd like!
For the kids, there's the exciting Explorer's Club! Designed for kids ages 3-12, the Explorer's Club offers an array of supervised activities for your kids. Programs based on nature and science help to educate your kids about the world around them while they're having fun!
Movie nights are part of the Explorer's Club along with sandcastle building competitions, campouts on the beach complete with bonfires. For your peace of mind, all Explorer's Club staff members are certified in CPR by the Red Cross.
For your teens aged 13-17, there's the Core Zone where they can run off and make friends while staying safe with the Sunscape's Entertainment Team there to keep an eye on things. All sorts of games are available for them to play, as well as music and movies, and various friendly competitions.
For families, board games, mini-golf, horseshoes, and the Euro bungee are all great ways for you and your family to have fun together!
Conclusion
All in all, there really is an incredible array of resorts for you to choose from when it comes to your family vacation in Puerto Vallarta.
Whether you're looking for something more nature and environment-oriented, a place where your kids can have fun while you and your partner have a romantic night together, or if you want to spend your whole vacation together with your family, there's a resort that can make it happen for you.
All of these amazing resorts have wonderful rooms, complimentary room service, and impressively diverse food choices to ensure that everyone is comfortable and satisfied throughout your whole stay.
Puerto Vallarta is truly a gorgeous place to visit. We hope we've helped you narrow down your search for the perfect resort for your dream family vacation!
More about our TFVG Author
A seasoned traveller, Dad, and avid sports tourist, James foundered The Family Vacation Guide to share his expert vacation experiences- especially when it comes to being a travelling family man.
Featured in Travel articles such as Travel + Leisure, TripSavvy and SFGate, you know you're reading some of the best vacation tips online.