Congratulations! You have narrowed down your choices for your next getaway with your family and have chosen Mexico.
But choosing between Cozumel and Cancun is no easy feat, and you're probably wondering which of the two is a better choice for you and your kids.
If you have spent time in both tourist spots, the decision may be easier to make. But if not, worry no more. To help you decide the best destination for a trip you won't forget, we've compiled what you need to know about both spots.
Before we get into the details of Cozumel vs. Cancun, we first have to lay out some facts about the two destinations. Both destinations have an international airport. The main difference is that Cozumel is an island, whereas Cancun is not.
Considering this tidbit alone, you may already know what the significant difference between Cozumel and Cancun is. Because of its location, Cozumel is quieter and more laidback, whereas Cancun is more accessible and has more establishments.
Now that you have an idea about what to expect about these places, it's time to get into the nitty-gritty details of your next vacation.
Cozumel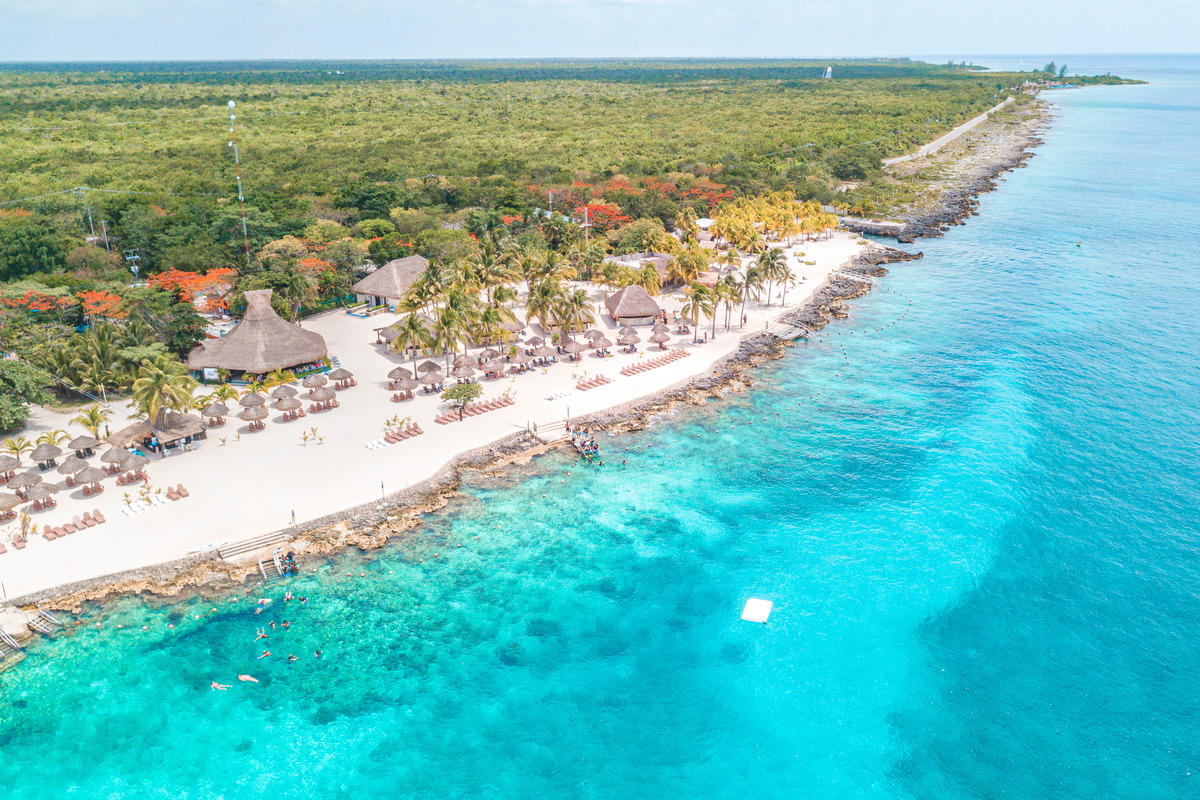 Located on the eastern coast of Mexico's Yucatan Peninsula is the beautiful island of Cozumel. This vibrant island's view alone will make your trip worth it.
With its natural underwater features that are perfect for parents, quiet beaches for kids, and Mayan ruins to explore for the entire family, Cozumel will make you understand what island life is really about.
The main thing about this island is it is not as hyped as Cancun. However, it has a more laid-back atmosphere compared to the mainland. Here are a few things to consider if you want to have a vacation here.
Does Your Family Love Diving?
The island of Cozumel is not hard to miss considering it's the biggest island in the Mexican Caribbean. It lies along the Mesoamerican Barrier Reef, the second-largest reef system in the world. There are undoubtedly a bunch of things you can explore here.
What makes Cozumel so unique is its snorkeling and diving scene, which can be a big plus if you have older kids that are up for an adventure. The island's underwater world is a favorite among expert and newbie divers. So if you plan on exploring the depths of the ocean, Cozumel is a fantastic choice.
With more than 40 dive zones as deep as 30 meters and reef walls that are deeper than that, both parents and older kids will surely love this island.
Its reefs are also rich in limestone caves and tunnels home to healthy marine life such as fish, turtles, giant anemones, hermit crabs, and even sharks. Your kids will have the time of their life bragging to their peers about swimming with sharks at such a young age.
For History Lovers
Another selling point of this island is the Ruins of San Gervasio. You can find the temple of Mayan goddess Ixchel here, located in the former San Gervasio ranch.
The ruins used to be one of the major pilgrimage centers of the Mayan people, where they made their offerings to the goddess of weaving, medicine, and fertility. Ancient Mayan people, primarily women, used to take boats to make their journey to these ruins.
The ruins will give everyone in your family an insight into the great Mayan Civilization. Although usually dwarfed by Chichen Itza in Cancun, it can still be an educational experience for your kids. You can take the opportunity to show them how civilizations lived and thrived before, particularly when it comes to politics and religion.
Beaches in Cozumel
Cozumel may be small compared to Cancun, but your family will be able to have an incredible time at its beach parks. One of the major draws of this island is it protects its beaches well, mainly because its beautiful reefs just lie along its shore.
The island offers beach parks that will entertain you and your kids, and more than that, it can be an opportunity for you to teach your kids about protecting nature.
For example, the Chankanaab Adventure Beach Park is an amazing eco-archaeological park by the beach, perfect for adventurous families who want to see the underwater statues and participate in Seatrek activities.
Children under three years old are free to enter the beach park, while the helmet diving activity is for children ages eight and up.
Exploring the Island with Your Family
Cozumel is not a huge island. The island has a loop road that covers two-thirds of the island. While you can join a tour for your family, you can also rent out a car if you want to drive around the area. Chances are, your resort can help you set this up.
There are also vehicles for rent in San Miguel de Cozumel, and you can simply start exploring the island starting from there.
Even if you don't have a guide and want to DIY your island exploration, you are bound to see amazing places on your trip, especially on the beaches. Exploring Cozumel is truly an experience to remember for everyone in the family.
Of course, you can always go off the beaten path and explore underrated gems on the island without any guide.
Cancun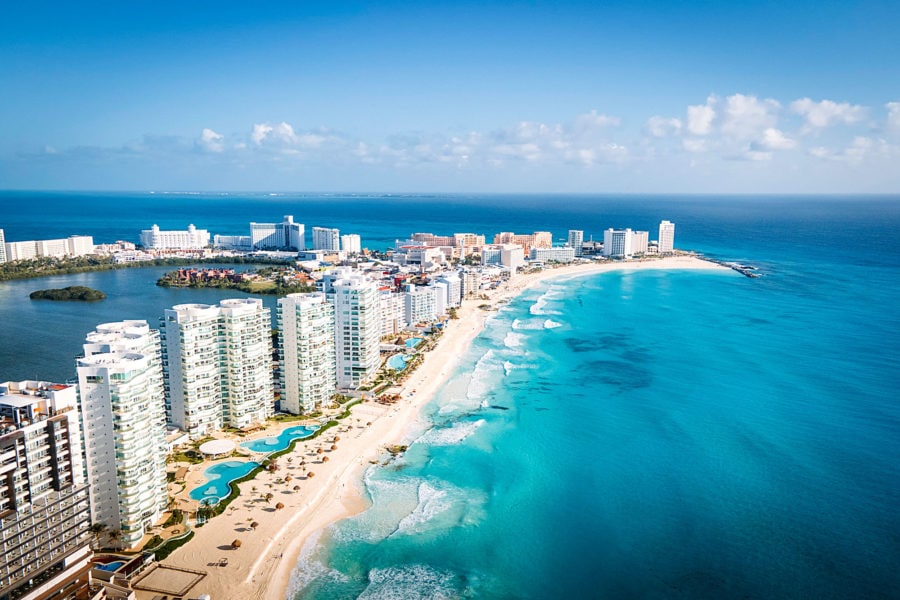 When you think about Mexico, the first thing on your mind may be big destinations such as Mexico City, Cabo, and of course Cancun. Just by saying the name of this tourist spot already speaks a lot for itself.
This spot is one of the most prominent tourist destinations in the country, and it won't be as popular as it is if it doesn't live up to the hype.
There are many things that Cancun boasts – beautiful and expansive beaches, ancient and cultural wonders, upscale resorts and hotels, and many more. Cancun is truly the center of fun in the country's eastern seaboard.
However, it can also be a spot for loud parties and a rowdy crowd, which can negatively affect traveling families. Here are some things to consider if you choose to have your vacation in Cancun.
Teach Your Kids About History
You can think of Cancun and its heritage as Mexico's version of the wonders of Ancient Egypt. The ancient city of Chichen Itza is a must-visit for families who want to teach their kids about the importance of history.
This spot will show them that the ancient Mayan Civilization is full of many curiosities of the ancient world.
Although this part of history is not entirely shrouded by mystery, there is still a lot to learn about it, and this can be extremely interesting for adults and children alike. UNESCO even hailed the man-made wonder of Chichen Itza as a Heritage Site.
Explore the Beach, Inland, and Underwater Sights
From its wide 14-mile beach to the stunning reef from the Mesoamerican Barrier reef, and even cenotes and inland caves, Cancun will surely not disappoint you or your children.
Despite being filled with cosmopolitan sights, it is also very gifted in natural wonders. Its diverse sights and features can be a great entry point to teach your kids about nature and history.
The beaches of Cancun are also world-class and complete with white powder sand and vibrant turquoise waters that don't need an Instagram filter. After all, Cancun is not considered the second most popular Mexican tourist destination for nothing.
Aside from its beaches, the Yucatan is also known for its cenotes or water-filled sinkholes. These are great to explore for children who love to swim and have a strong sense of adventure.
As if all the natural wonders we've told you are not enough, Cancun also offers scuba diving opportunities for parents like you. For the kids, you can book them a snorkel session in different dive zones so they can enjoy marine life.
Luxury at its Finest
Stop worrying about where to stay in this paradise because Cancun is home to almost 200 hotels that cater to different types of travelers, including families.
Whether you are on a budget or want your family to experience nothing but the best, you can surely find accommodation to suit your needs here.
Cancun has a hotel zone which is a central location in the waterfront area. The site is 13 miles long and has a myriad of restaurants, boutique resorts, high-rise hotels, shops, and nightclubs.
Cozumel vs. Cancun: Other Points to Consider
By now, you may already have a picture of both tourist spots. To help you decide where to plan your family vacation, here are other points to consider.
Safety
Although the media do not portray Mexico as the safest place you can visit, both Cozumel and Cancun are safe. However, it's worth noting that between the two options, Cozumel is safer and boasts a lower crime rate.
However, that's not to say Cancun is a dangerous place to go to. The tourist destination still boasts safety. Most of the violence in Mexico doesn't involve tourists at all.
The most common crime in these areas that involve tourists is theft which is more common in Cancun because of the number of tourists it receives.
Meanwhile, the risks involved when you visit Cozumel are not related to any crimes, but usually on the island's northern coast, where there are rugged and rocky beaches.
In these areas, swimming can be dangerous even for experienced swimmers. As such, it's best to avoid this spot, especially if you're visiting with your children. Aside from that, the winds are also strong, and there are more rocks than beach strips in this area.
Weather
Whether you choose to visit Cozumel or Cancun, you'll be able to enjoy fantastic weather, especially during the winter and shoulder seasons, since the weather can be a little bit dry.
During the summer, rain may spoil your family vacation, especially when hurricanes can lead to safety concerns for tourists and locals alike. Since the two destinations are in the same region, you can expect mostly the same weather.
Beaches
When it comes to beaches, Cancun is the place to be. It is famous worldwide for its long strips of fine white sand beaches and azure-hued waters.
When you're here with your family, it won't be hard to find a spot where you can take a picture. However, it's important to note that resorts have beaches limited to guests only. Therefore, you can't enjoy these restricted areas.
Some of the beautiful beaches you can explore include Playa Langosta, Playa Gaviota Azul, and Playa Delfines, as well as other parts of the Hotel Zone.
On the other hand, Cozumel is not as popular among beach bums because its beaches are quite different from Cancun. The island offers underdeveloped small beaches that are sometimes off the beaten path and only in small fishing villages.
It is also not a commercial area, but it's still worth exploring.
Day Trips
Taking day trips is a must for any vacation. You can take a boat trip from Cancun if you want to go to Isla Mujeres, which has tons of great beaches.
Whether staying in Cozumel or Cancun, you can also easily visit the Riviera Maya area, namely Tulum, Puerto Morelos, and Akumal, which also has striking beaches. However, expect the accommodations to be pricier.
Around Cozumel and Cancun, there are also Mayan ruins you can take a trip to if you want to see the ancient culture. There are also adventure parks dotted around the coast.
If you're staying in Cozumel, you can also take a short ferry to get to Playa Del Carmen, which has numerous all-inclusive resorts for the whole family. There are also shopping areas here.
As expected, you can also head to Cancun if you're staying in Cozumel to shop, sightsee, and dine for the day. You can also visit the hotel zone to experience its hustle and bustle.
Getting There
Cancun Airport is the primary hub in Quintana Roo and the entire Yucatan Peninsula. Many international flights, especially coming from North America and Latin American countries, will fly directly to this airport.
The airport sees millions of passengers per year. Despite the decrease due to the pandemic, it still hosts flights to more than 20 Mexican destinations and 30 countries in Europe, South, Central, and North America.
On the other hand, the international airport in Cozumel is smaller in size and flight number. However, it still serves both domestic and international flights, making entry to this location more convenient. It hosts flights to 22 destinations in North America.
Family Vibe
Both Cancun and Cozumel are great destinations for the whole family, but although they are close to each other, they offer very different vibes.
Cancun is a crowded city with tons of top-tier restaurants and hotels, so you can expect a busy crowd. With its vibrant nightlife and beaches, it's an excellent destination for families who want to have a vacation somewhere lively.
Cozumel is the opposite of Cancun's vibe. It is a great destination if you want to escape the hustle and bustle of the city, and its rugged feel is what makes the island more enticing.
In contrast to Cancun's commercialized metropolis, Cozumel will give you and your family a more authentic taste of local culture and nature.
Budget
When deciding to visit Cozumel vs. Cancun, you have to keep your budget in mind since it can help you narrow down your choice even more.
Cancun is more expensive than Cozumel, so expect to pay more for your vacation, especially if you plan to stay in a central location or a nicer resort. Food and public transportation are also more expensive here compared to Cozumel.
All-inclusive resorts in Cozumel and Cancun are cheaper, making them great for families. Both locations even have resorts that offer discounted rates for kids.
Family-Friendly Activities
Both areas offer superb beaches, although with a different appeal. Hands down, Cancun's beaches are more beautiful than Cozumel because of their powdery sand and vibrant water. It's the main reason why tourists flock here. Meanwhile, Cozumel is known for rocky yet still charming beaches.
Remember that you should always watch your kids while swimming at both destinations. Keep in mind that almost every beach in Cancun has lifeguards.
Cancun offers other activities for the entire family, such as jungle boat tours, riding ATVs, doing a Captain Hook pirate dinner cruise, flyboarding, surfing, scuba diving, and snorkeling.
Your kids can also go swimming with dolphins in numerous locations such as Punta Cancun and Playa Mujeres. They will surely treasure this once-in-a-lifetime experience.
If you're with your family in Cancun, you can easily find upscale resorts that offer private beaches. However, most beaches in Cancun have rough waters that are not ideal for little kids.
Fortunately, you can head over to Playa Langosta and Playa Caracol, which have calm and shallow waters for your little ones.
For Cozumel, head to Playa Chen Rio and Playa Mia Grand Beach Park if you want to enjoy a family-friendly beach. These beaches are more relaxing than Cancun and will make you and your kids feel more in touch with nature.
While in Cozumel with your family, make sure not to miss taking private jeep trips and visiting lesser-known cenotes.
Cozumel vs. Cancun: Disadvantages of Going to Cancun
You cannot deny the beauty of Cancun. However, unless you book an all-inclusive resort for your family, you are bound to encounter tourist traps where you must pay as high as major US cities. Even finding an affordable Mexican restaurant can be a challenge.
It's also worth noting that many people see this as a place to get drunk and rowdy, which affects its charm for families who want to relax. Because of these reasons, many families don't like going to this spot despite its affordability and convenience.
More than that, Cancun is also an urban spot, especially when compared to Cozumel. Upon getting there, you'll notice that all resorts and hotels are built densely along the beach.
This means you'll be dealing with a vast number of crowds, usually American tourists, with only a little bit of nature left in the Cancun center.
Air-conditioned malls have also taken over charming small local shops in the resort area. Although its beaches are beautiful, they can also get super crowded, especially because of the younger people who are there to party.
Aside from that, the beaches in the area are also on a narrow stretch of land. If your young ones want to swim, you have to watch them at all times because the riptides can be strong, and there can also be waves that may sweep them up.
Getting around Cancun at night is also not recommended if you have a lot of things because theft is rampant.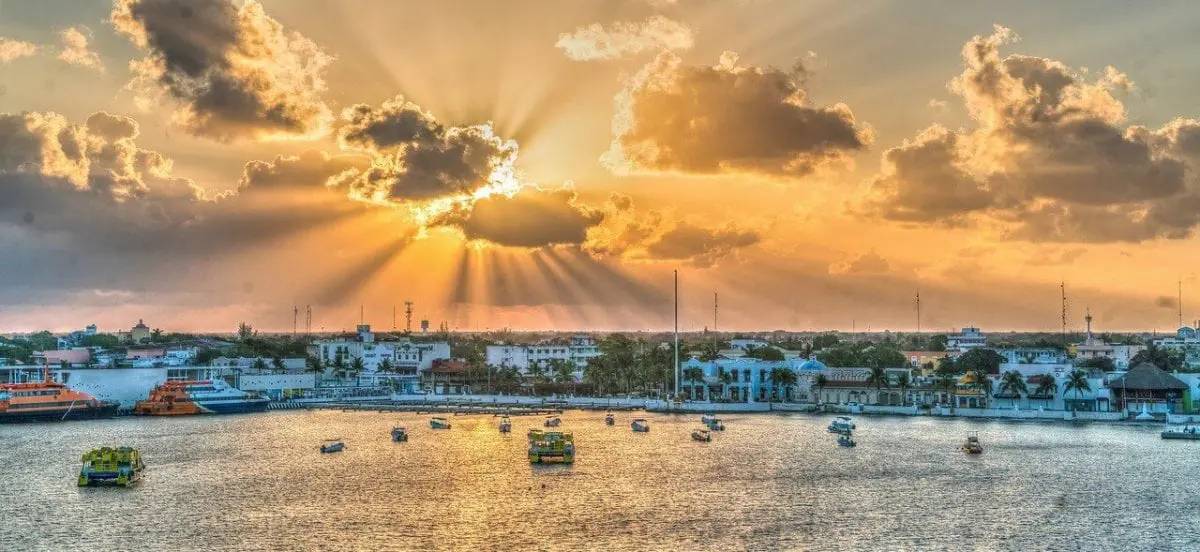 Cozumel vs. Cancun: Disadvantages of Going to Cozumel
If your family chooses to stay in Cozumel, you need to take the ferry to explore the mainland. So if your purpose is to sightsee, there are more things to see in Cancun.
If you have younger children who have no interest in diving or snorkeling, you may also feel that there is not much to do on this island, aside from spending all day in your resort or on the beach.
Without question, Cancun has more activities for the entire family, although you'd have to deal with a non-local and touristy vibe.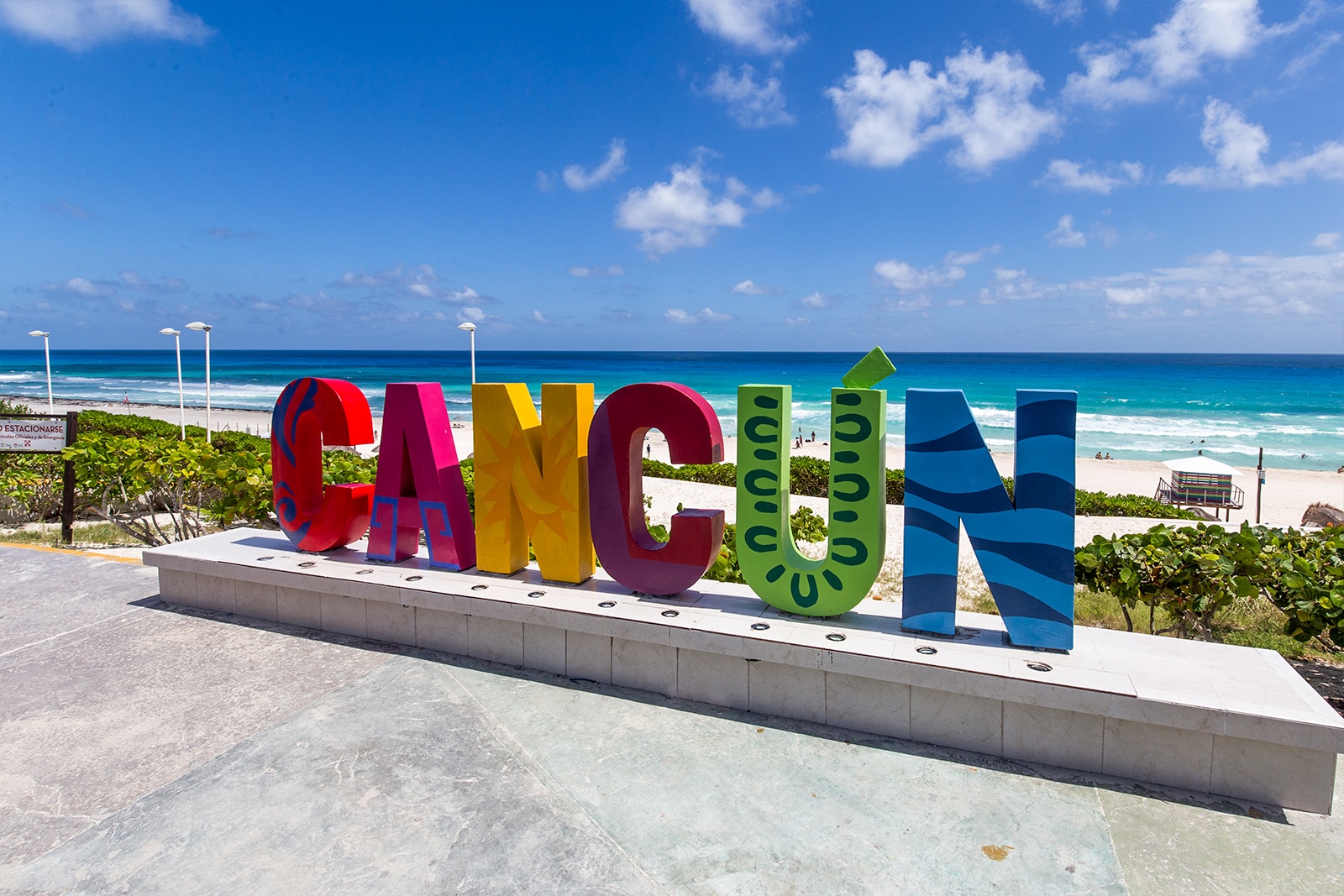 Cozumel vs. Cancun: Which Is Better?
The long beach strips of Cancun, as well as its abundance of family-friendly resorts and facilities, make it a fantastic choice for families wanting to enjoy a tropical getaway. This spot is truly the best place for families with small children.
On the other hand, Cozumel is an awesome choice for families with young adult explorers who want to enjoy a quieter and laid-back vibe.
Although Cozumel is not the smartest option for young families, it's worth noting that the island still has plenty to offer for kids of all ages if you know where to look.
The main tip we can give is to stay on the west side where the resorts usually are. In this area, the waves are calmer, and there are more beach strips.
When it comes to choosing between Cozumel vs. Cancun for your next family vacation, the answer depends on your family's unique needs.
More about our TFVG Author
A seasoned traveller, Dad, and avid sports tourist, James foundered The Family Vacation Guide to share his expert vacation experiences- especially when it comes to being a travelling family man.
Featured in Travel articles such as Travel + Leisure, TripSavvy and SFGate, you know you're reading some of the best vacation tips online.