Cancun is a quintessential Mexican getaway. Palm trees lining white sand beaches, turquoise blue water, and mouthwatering tacos await vacationers regardless of the time of year they travel.
That said, there are better times of the year than others to travel there. So, is September a good time to go to Cancun?
September can be a good time to go to Cancun if you're looking for a more budget-friendly vacation with fewer crowds and don't mind some rain. The bottom line is that a "good" time for some families may not be the best time for others and vice versa.
So, we'll help you sort through the positives and negatives of visiting Cancun in September so that you can determine whether it's the right time for your family to visit.
September in Cancun: The Low Season
September is the low season in Cancun. Although this might make you shy away from visiting Cancun at first, there are benefits to traveling there at that time of the year.
By visiting Cancun in September, you'll get to take advantage of items such as:
Fewer tourist crowds
Cheaper accommodation
Better availability
Of course, there are downsides to traveling during Cancun's low season, too; there's a reason why fewer people want to travel there. Most of the reasoning comes down to the weather.
September falls during some of the hottest months in Cancun. There's also a lot of rain, and September is prime hurricane season.
The Low-Down on Cancun's Weather in September
We won't beat around the bush—September isn't an ideal time to visit Cancun weather-wise. It's hot, humid, and rainy. The potential for a hurricane to sweep through and interrupt your trip is also possible.
Nevertheless, September in Cancun will make you feel like you're truly in the tropics. So, some families are happy to take the rain in exchange for enjoying a tropical climate.
Temperature
The high temperature in Cancun ranges from around 90°F at the beginning of the month, dropping to an average of 88°F towards the end of September. It's unlikely you'll notice this two-degree difference, though.
As for lows, the evenings cool off to around 75°F, making it more comfortable for an evening stroll on the beach. That said, the lows can sometimes drop to 72°F or stay as high as 79°F.
For reference, August 1st is Cancun's hottest day of the year. So, the later in September you travel, the higher the chance you have of encountering relatively lower highs and lows.
Water Temperature
When speaking about temperature alone, September is an excellent time to swim in the ocean in Cancun. The water temperature averages 84°F, so your kids won't come out from their swim shivering.
That said, if your kids enjoy swimming, we encourage you to book a hotel with a pool. As you'll soon learn, September is prime time for seaweed to flood Cancun's shores, making it uncomfortable to swim in the ocean.
Humidity
Bringing a hair straightener to Cancun in September is essentially pointless if you plan on spending most of your time outdoors; the humidity level is at 100% practically the entire month.
The humidity levels in September often fall under the "miserable" or "oppressive" category, with few days simply being "muggy." But for lovers of warm, tropical weather, such humidity levels are a welcome sensation.
Amount of Sunshine
September brings a lot of clouds to the Cancun region, which makes sense, given that it's a rainier month. You can expect to encounter primarily cloudy or overcast days approximately 75% of the time you're in Cancun.
Nevertheless, it's still common for the sun to break through. So, although it's unlikely you'll experience blue, cloudless skies during your time in Cancun in September, there's still a decent chance that you'll have opportunities to work on your tan.
Precipitation
Historically, September averages the highest chance of rain in Cancun, with September 28th being the wettest day of the year, with a 52% chance of precipitation.
If you're trying to avoid rain, it's best to travel to Cancun in early September, where the chances of a rainy day are 39%. By the time the end of September rolls around, the chance of rain on any given day is at 50%.
Of course, hurricanes are another situation to factor. Even if a hurricane doesn't directly hit Cancun during your vacation (and we hope it doesn't), if a hurricane system moves through the Caribbean region, there's a good chance you could end up experiencing unprecedented amounts of rain.
The good news is that Cancun is a large city with many opportunities for indoor activities. So, you should be able to keep your kids entertained when the inevitable rain shower or thunderstorm moves through.
Wind
September isn't a windy time in Cancun, with the highest amounts of wind averaging 6.8 to 7.2 miles per hour. That's in great part because you won't be far off from August, which is the month that receives the least amount of wind.
Trust us—you'll want to feel every bit of wind that Cancun offers during your time in September to help cool you down. Luckily, you can usually feel the most wind at the beach.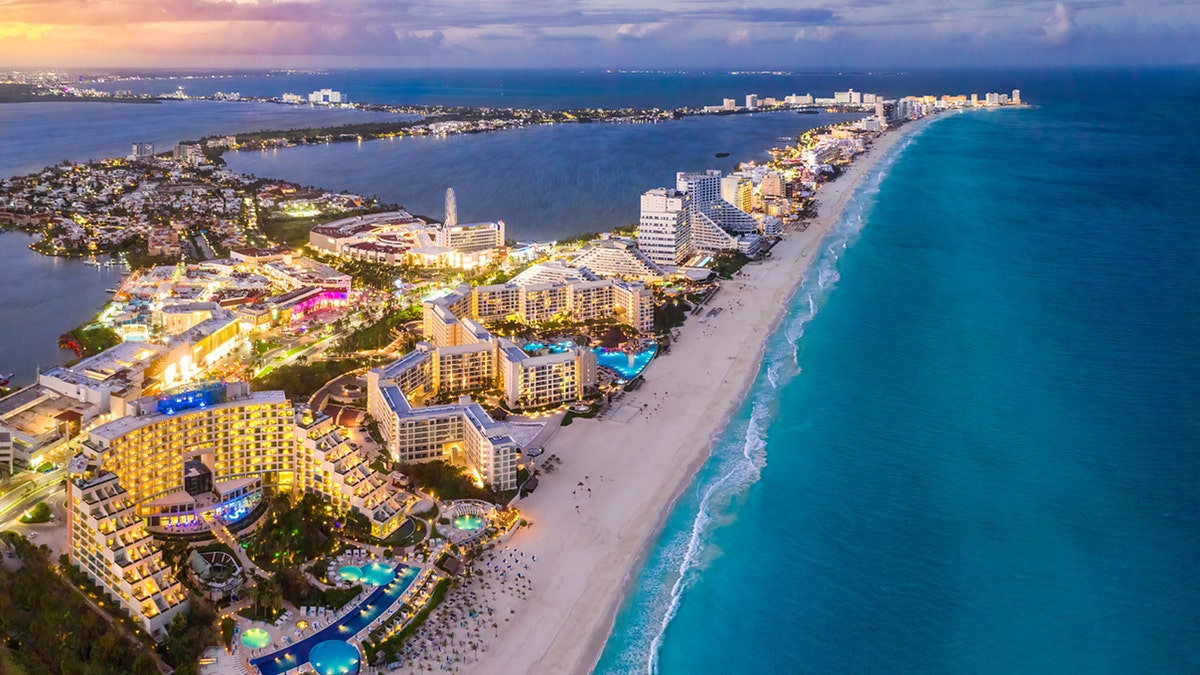 Amount of Daylight
Are you wondering, "Is September a good time to go to Cancun for longer daylight hours?"
Daylight will get shorter as you move from September 1st to 30th. However, since Cancun is relatively close to the equator, there isn't as dramatic a change in daylight hours compared to more northern destinations.
For example, on September 1st, sunrise is at 6:30 am, and sunset is at 7:03 pm. On September 30th, sunrise inches back seven minutes to 6:38 am. However, sunset is a more notable change, with a 27-minute earlier arrival at 6:35 pm.
We don't recommend changing your travel dates for daylight hours, though. June 21st is the longest day of the year, but the sun still sets at the early hour of 7:31 pm.
Does Cancun Get Hurricanes in September?
Yes, September is prime time for hurricane season in Cancun. Hurricane season is from June 1st to November 30th.
By the time September arrives, the ocean will have had time to heat up from hot summer days, and humid air is at its peak. These conditions combined are what increase the chances of a hurricane forming.
The good news is that hurricanes directly hitting Cancun's coast aren't typical. Instead, it's more common for Cancun to experience rain and wind from the effects of nearby hurricanes.
Such situations can still damper your trip and may cause flight delays or cancellations. For this reason, we encourage you to purchase travel insurance to protect you if you need to change your plans due to a hurricane.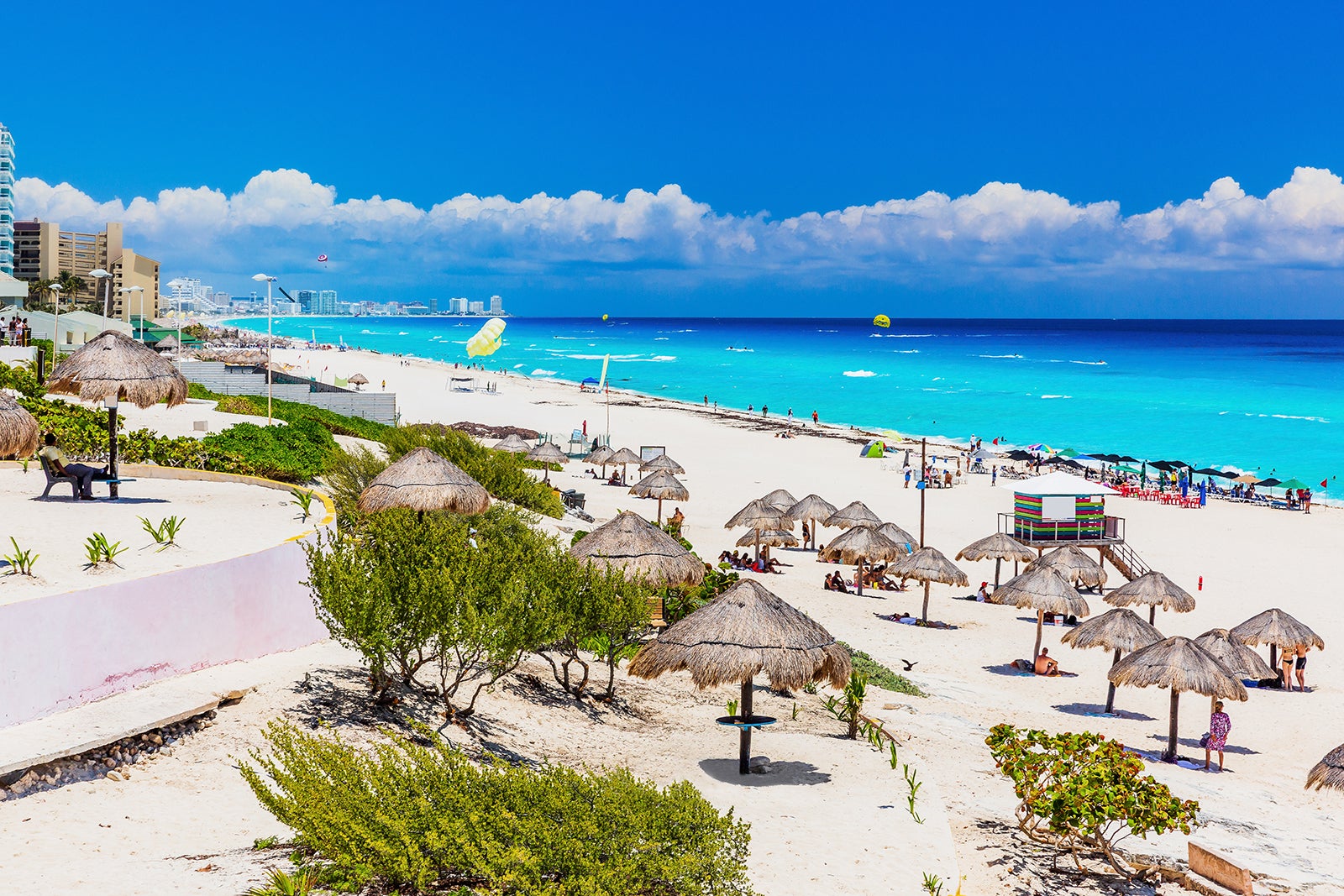 Are There Mosquitos in Cancun in September?
Yes, there are mosquitoes in Cancun in September, and they can be relentless little pests. Mosquitos love Cancun's warm climate, and they're particularly active in the early hours of the morning and evenings, avoiding direct sunlight.
That said, if you take day trips to visit cenotes (sinkholes), Chichen Itza, or other destinations with lush vegetation and shade, you'll likely get mosquito bites regardless of the time of day.
So, make sure insect repellent is at the top of your list. If you want to swim in a cenote, just make sure to hold off on the bug spray (and sunscreen, for that matter), as the chemicals can have damaging, lasting effects on the water.
Understanding Sargassum Season
Sargassum is a microalga that looks anything but "micro" when you see it—this brown seaweed can pile up multiple feet high on Cancun's shores.
Luckily, most beachfront hotels in Cancun work hard to manage the sargassum problem, which starts taking place in May. It isn't until October when the sargassum moves out, leaving the beaches yet again in a pristine state, just in time for Cancun's high season.
Nevertheless, despite the wheelbarrows or bulldozers that the hotels use to get the sargassum off the beach, it doesn't change the fact that sargassum floats in a thick blanket in the ocean. So, it's unlikely you'll want to swim in the water.
But if you do, know that sargassum isn't dangerous. That said, some marine creatures can live in it, so it's best to walk around it when you're exploring the beach to avoid any scrapes.
You should also prepare for a sulfur scent radiating from the beach. The rotten egg-like smell happens when the seaweed produces hydrogen sulfide as it decomposes. It's far from pleasant, but this smell isn't harmful either.
Things To Do in Cancun in September
The weather often plays a significant factor when considering the question, "Is September a good time to go to Cancun?" However, the types of activities your family will have access to are important too.
So, below are a couple of activities you'll be able to participate in if you choose to visit Cancun in September.
Sea Turtle Nesting
Four of the eight sea turtle species grace Cancun's shores to lay their eggs from May to September. So, September is an excellent opportunity to walk the beach looking for turtle tracks from either female turtles laying their eggs or babies making their way to the ocean.
Most sea turtles lay their eggs at night, and the baby turtles hatch in the dark to avoid predators like birds on the beach. Therefore, while it isn't common to spot sea turtles on the beach, searching for the tracks they leave behind is a fun family activity.
Swimming With Whale Sharks
The ability to swim with whale sharks in September is a bit of a stretch—whale sharks leave Cancun by around mid-September. So, if your kids have their hearts set on snorkeling with these gentle giants, it's best to visit Cancun in August when there's a better chance they'll still be around.
Whale sharks are the largest fish in the ocean, and since they're filter feeders, they're entirely harmless to humans. Swimming with these migratory creatures involves signing up for a boat tour and then jumping in the water with snorkel gear when your guide spots one.
Theme Parks
The Cancun region is like the Disney of Orlando, given that you can take day trips to many family-friendly theme parks. Some of the most popular parks include:
Xcaret Park
Xplor Park
Xel-Ha Park
While every theme park varies in its offerings, many have fun activities like zip-lining, lazy river rafting, underground rivers, snorkeling, and more. Most of the theme parks sit on the ocean, so they incorporate both natural and artificially made activities.
September is a great time to visit theme parks in the Cancun region because even if it rains, you'll likely be so hot from walking around and already wet from doing water-based activities that you won't even mind it.
Swim in Cenotes
Cenotes are sinkholes that naturally fill with fresh water, making them a great place to swim. You can book a tour that'll take you on the Route of Cenotes so you can visit many cenotes in one day.
Alternatively, renting a car and driving to see the cenotes that interest you most is another excellent option. Signing up for a Chichen Itza tour is another great opportunity for seeing a cenote, given that most tours stop at one near the ruins.
September Events in Cancun
In addition to the kid-friendly things to do we discussed above, below are some events that take place in September in Cancun.
Independence Day
Mexico's Independence Day from Spain is officially on September 16th, although celebrations typically occur on September 15th and 16th. However, even before these dates, you'll know something special is about to happen, for many venues decorate with Mexico's colors (red, white, and green).
Heading to downtown Cancun, away from the water, is best for experiencing Independence Day the local way. You'll encounter festivals, lots of traditional food stalls, music, and games for the kids. In the evening, you can watch fireworks from practically any place in Cancun.
Autumn Equinox in Chichen Itza
The autumn equinox isn't a big deal in most places in Mexico. But at Chichen Itza, which are pre-Hispanic ruins with a nearly 1,000-year history, people flock there to watch an exciting phenomenon on September 22nd.
In the late afternoon, the serpent god Kukulkan shines on the El Castillo pyramid. If your travel dates don't work for the 22nd, though, consider visiting on September 20th instead. There, you'll get to see the god Kukulkan 2 from the sun's position.
Of course, seeing either of these spectacles is only possible if it's a sunny day. And since the sun is hit-or-miss during September, you'll want to keep your fingers crossed.
When Is the Best Time To Travel to Cancun?
If you're reading this thinking that September is hands down the best option for visiting Cancun with your family, great! Head down to the next section. Otherwise, if you're curious about the best time to visit Cancun, most people would say it's from December to April.
These months fall during Cancun's high season, meaning you'll encounter many more crowds on the beaches, hotel prices will be higher, and availability can become limited, particularly around the holidays.
However, the trade-off is that you'll have a greater potential for sunny days, the beach will be free of sargasso, you won't have to worry about hurricanes, and the weather will be milder.
If you'd prefer a happy medium between the high and low seasons in Cancun, then we recommend traveling either in April, May, October, or November.
These are the shoulder season months in Cancun, and they often strike the right balance for people between decent enough weather and a moderate amount of crowds.
Packing List for Your Cancun Trip
Below are some must-have items as you prepare for your trip to Cancun:
Passports
Sunscreen
Rain gear
Bug spray
Sandals
Sneakers (if you plan on taking non-beach day trips)
Shorts
T-shirts
Sweater (optional)
If you are the type of person who gets cold easily, we recommend packing a sweater. They crank the air conditioning up high at restaurants, making for a chilly experience for some.
It's also wise to purchase travel insurance. We know firsthand how expensive traveling as a family can be, so knowing that you've protected your trip offers peace of mind before and during your vacation.
Cancun Awaits Your Family
Cancun offers some of the best beaches in Mexico while also providing the opportunity for your kids to have a cultural experience.
Although September isn't the best time of year to visit Cancun weather-wise, you'll benefit from lower prices and having more space to mark your spot on the beach. And, of course, anyone who loves hot and humid weather won't be disappointed.
Regardless of the time of year you travel, we believe you and your family will have a wonderful trip. People visit Cancun year-round; it's hard to go wrong when visiting paradise!
More about our TFVG Author
A seasoned traveller, Dad, and avid sports tourist, James foundered The Family Vacation Guide to share his expert vacation experiences- especially when it comes to being a travelling family man.
Featured in Travel articles such as Travel + Leisure, TripSavvy and SFGate, you know you're reading some of the best vacation tips online.