Are you planning a trip to Mexico this summer? Well, then, this article is perfect for you! We're going to discuss some of the best beaches in Mexico that have the clearest (aka most picturesque) water so you can form some memories that you'll never forget in a tropical paradise. 
With about 5,800 miles of coastline, Mexico has numerous beaches to satisfy your craving for beautiful turquoise waves and white sand. Keep reading to discover the first beach with some of the clearest water in Mexico.
Playa Norte
The first beach on the list, Playa Norte, has clear waters and shining white sand. Families with kids will love the calm waters to swim and splash. Restaurants and beach bars are available alongside other accommodation during your long days on the beach. The only downside is that this location gets crowded on the weekends because of its beauty.
Otherwise, Playa Norte is only an hour by boat from Cancun and is one of the best vacation destinations. Offshore, you can snorkel or scuba dive amongst lush coral reefs. Playa Norte is good for a day trip, or you can stay at one of the island resorts, complete with restaurants and shops.
Playa Maroma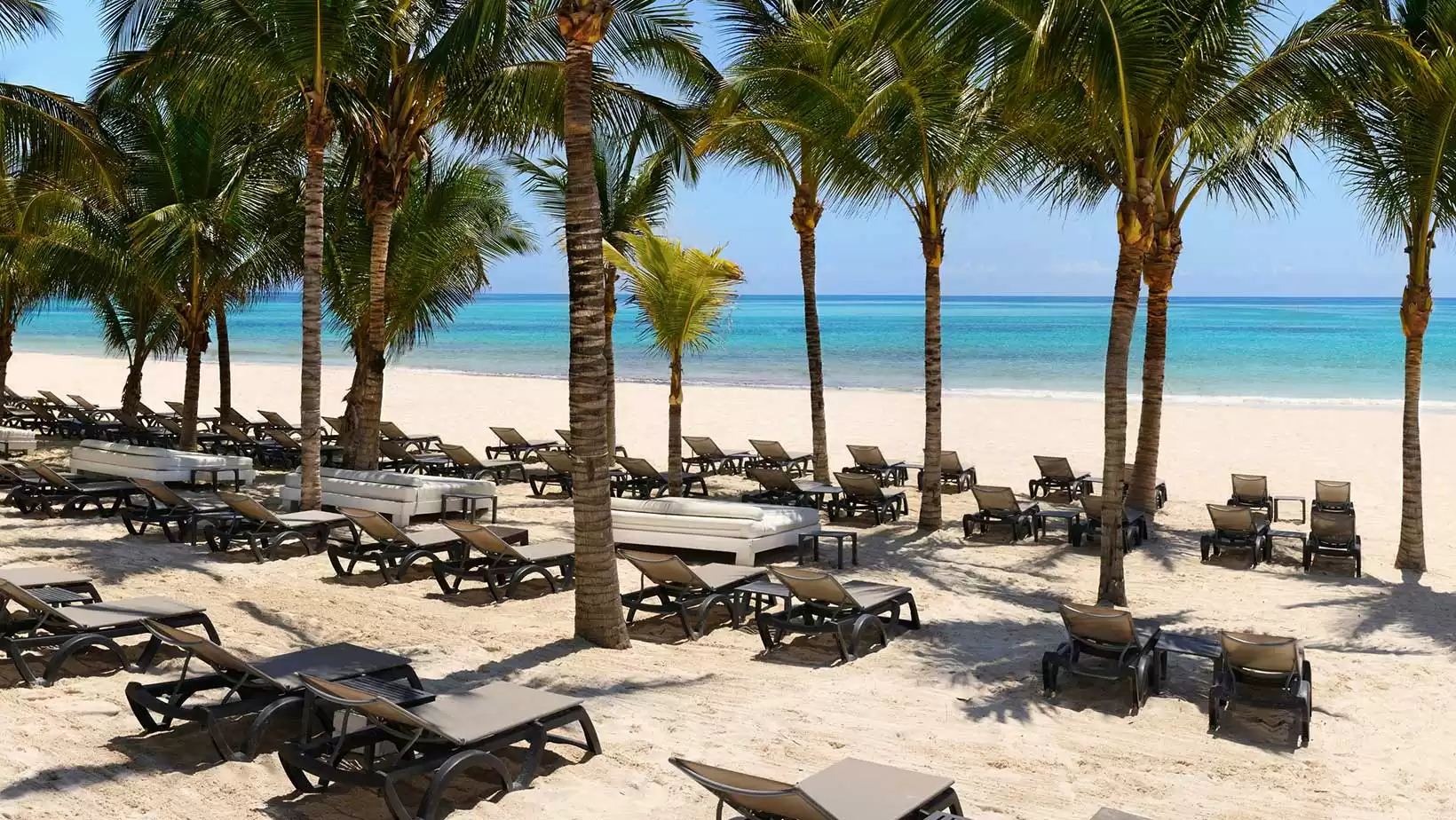 Playa Maroma is one of the best beaches in Riviera Maya, which we'll address later on in this article as well. The two-mile-long strip of land is an inclusive resort with gentle waters and soft sand. Playa Maroma is great for swimming and taking pictures.
There are luxurious villas and boutique hotels to rent out for your stay. Playa Maroma has the typical coastline conditions, with powder-soft sand and crystal clear waters that give a sense of peace and tranquility.
Puerto Morelos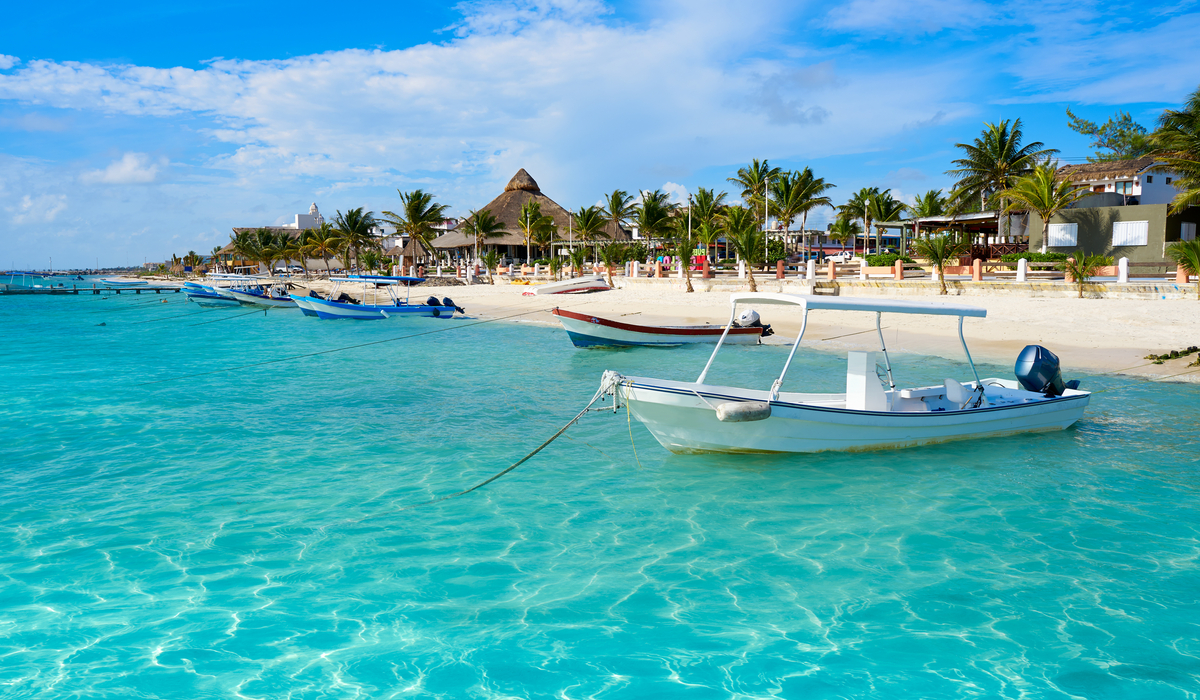 Puerto Morelos ranks number three due to its charming fine white sand and gentle waves. It's home to an authentic fishing village, and all the beaches are family-friendly. So you can choose to walk on the shore, relax and enjoy the scenery, or opt for more adventure by sailing or kayaking. You can also paddleboard, sailboat, or snorkel and dive.
There are multiple colorful reefs and marine life to look out for. Beach clubs are there to serve fresh seafood dishes in a chill atmosphere. Other fun water activities are available for the whole family, so children can enjoy the clear waters and shallow depths, searching for sea life.
Playa Akumal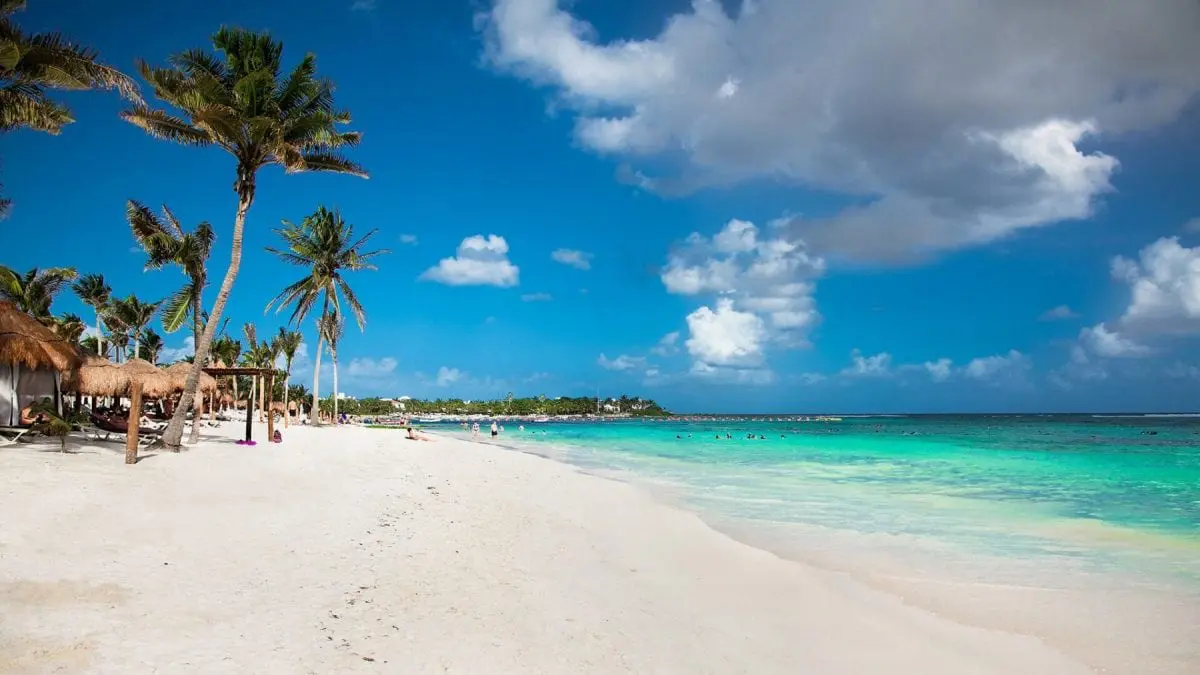 Playa Akumal attracts tourists and locals and is one of the most famous beaches. You can snorkel and scuba dive to explore the coral beds and spot fish life. There are five different bays to check out, and several bars, hotels, and restaurants line the area.
Any age can enjoy clear and calm Playa Akumal by swimming in a secluded area that remains pretty empty, even on weekends. It's less touristy, and you will enjoy the white sand beaches that often house sea turtles that use this beach to lay eggs.
Playa Playacar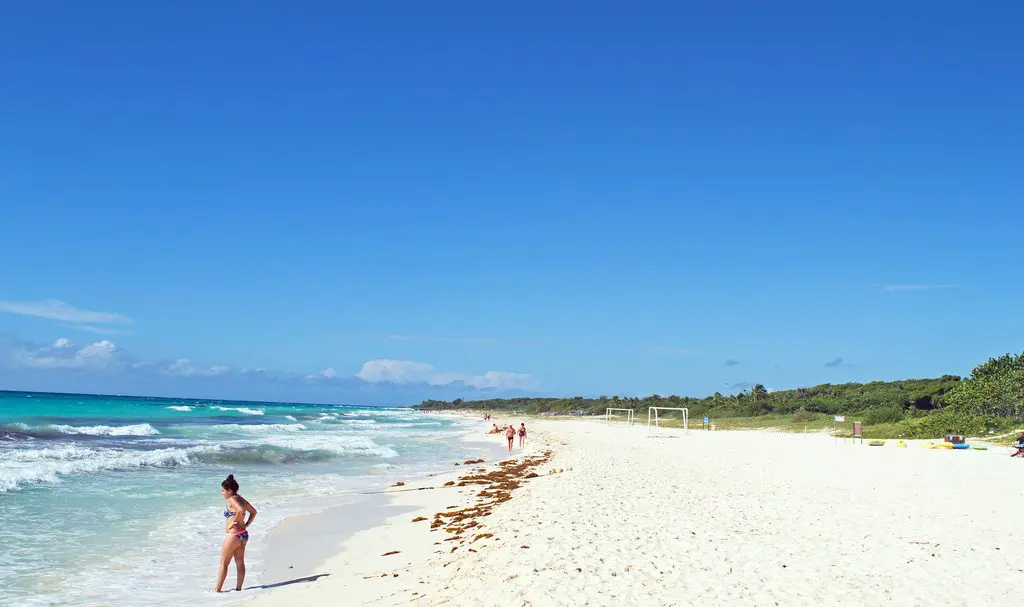 Playa Playacar has a gated resort community south of the ferry dock. It's residential and inclusive, meaning the beach is available for resort guests and visitors vacationing. The wide, sandy beach runs the length of the neighborhood, accompanied by warm waters.
Playa Playacar has more privacy with fewer interruptions, seeing that it's reserved for guests staying at the resorts or living in the condos. Despite that, this beach is vibrant and cosmopolitan. Its isolated, secluded beaches with large rocks are prime for swimming and snorkeling. Sometimes, waves can grow large, but overall, the water is calm and perfect for beachcombing and wading.
Paamul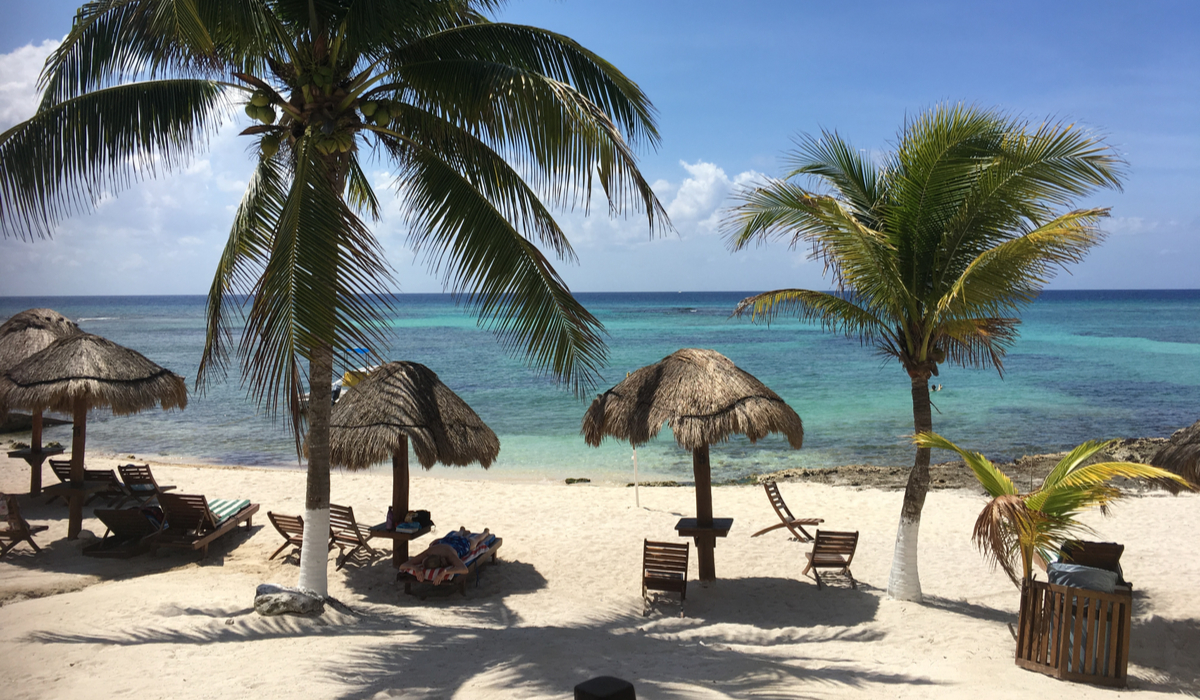 Paamul is a beach mixed with sand and limestone. Therefore, it is less comfortable to walk on unless you have proper footwear. However, it's less crowded and has a fantastic coral garden that makes scuba diving an ideal hobby. You can spot tropical fish and other marine life in the clear water.
Additionally, several bars, shops, and restaurants are located there for your convenience. If you don't like swimming in saltwater or getting sand in your swimsuit, there's a pool.
Soliman Bay
There isn't a more romantic beach than Soliman Bay, hosting a residential community that can see the gorgeous sunrise every morning. Quaint bungalows to luxury villas are housing options for this peaceful paradise. The bay is shaped like a crescent and is an excellent location for snorkeling and kayaking.
To avoid the mainstream crowd, you can enjoy the sun, sea, and sand without the pressure. Other than lounging in a hammock, Soliman Bay is perfect for beach walks, sunbathing, bird watching, and diving. You can eat at the small restaurants that all have great views of the crystalline sea.
Cozumel
Cozumel is located on the East side with hotels and clubs. You can order food from the remote beach bars and lounges. Another appeal of Cozumel is the natural quietude and emptiness of the beach. You can scuba dive and explore coral reefs and sea life in sparkling turquoise waters.
The beaches are picturesque, and clubs have pools, restaurants, and more for your pleasure. You can choose from various water activities, such as fishing, swimming, shopping, or touring the nature preserve.
Riviera Maya
Another popular beach, Riviera Maya has fine white sand accompanied by turquoise waters and coconut palms. Entertaining activities like exploring diverse underwater caverns and lagoons are available to get the full Caribbean experience.
The clear waters of Riviera Maya also include natural parks and authentic cuisine. Riviera Maya is home to over 6,000 cenotes and is one of the biggest attractions to explore the Mayan underworld in caves. For adventurous nature enthusiasts, Riviera Maya is the pick for you.
Tulum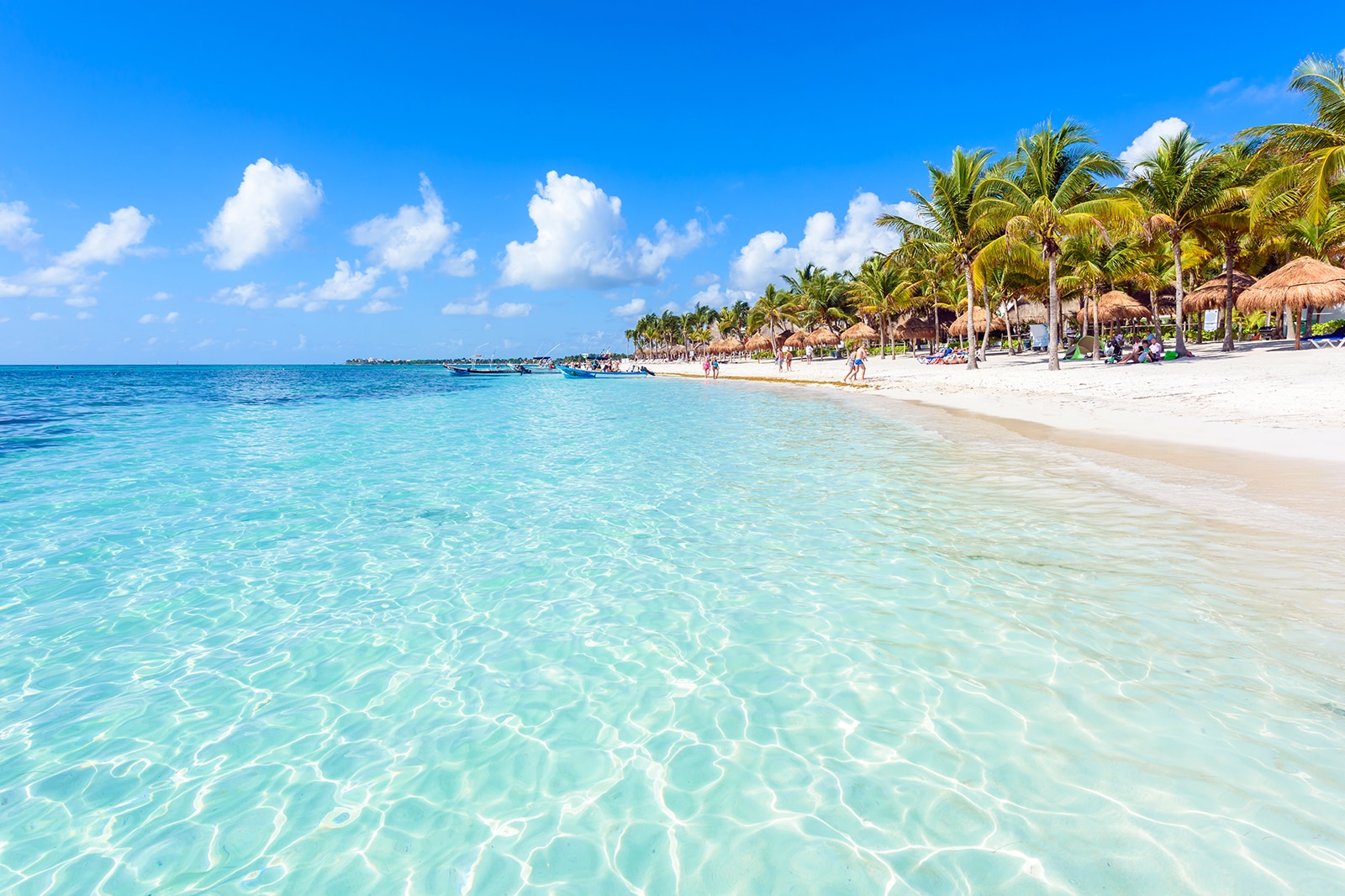 Tulum houses Mayan ruins dating back to the 13th century, making this beach an awesome destination for history buffs. Tulum is located at the southern end of Riviera Maya, which is about a two-hour drive from Cancun. Its clear waters, palm trees, white sand, and limestone pools are great to swim and get away from the bustling other beaches.
Tulum's beach hotels should be on your list while visiting Mexico because of their rich history and picture-perfect turquoise waters. Its cliffs give direct views of the ruins and sea. People enjoy surfing and other water sports while staying at high-end resorts.
Playa Las Gatas
Playa Las Gatas has a white sand beach that can be accessed by boat or path. It's a perfect place for snorkeling and features rocky coves. There are countless restaurants once you work up an appetite after a long day of water-based fun.
These places specialize in seafood, and a lighthouse provides spectacular views of the coast. Furthermore, Playa Las Gatas is protected by wind and currents, making a calm environment that's safe for little ones.
Cancun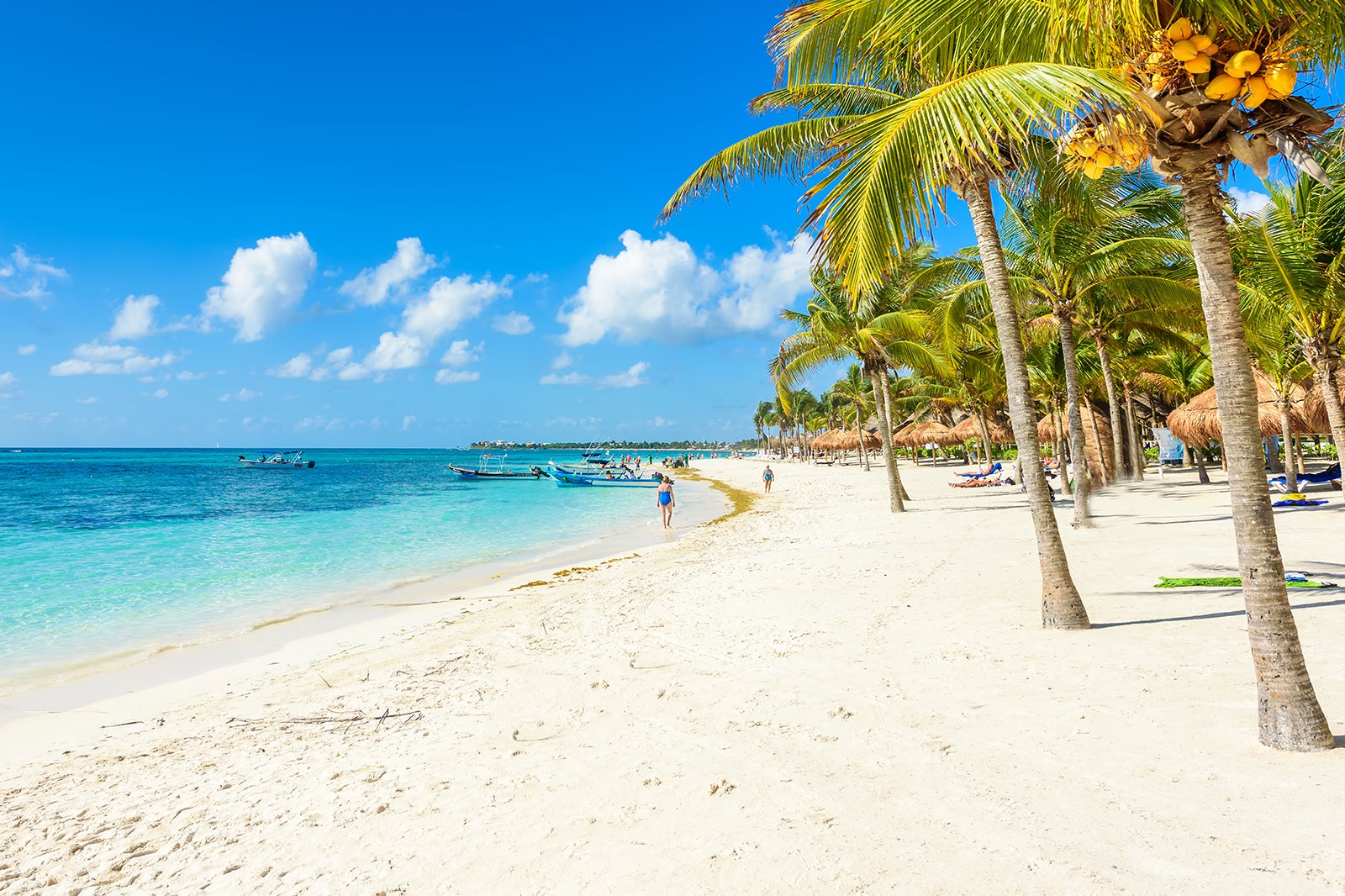 Cancun is fourteen miles long, with gorgeous white sand and crystal waters. It was originally part of the Mayan civilization, attracting visitors from everyone to see this ancient place. Cancun has an amazing coral reef that makes scuba diving and snorkeling great activities to do while you stay. You can paddleboard, fish, and kayak.
Indoor and outdoor restaurants are sprinkled everywhere, serving Mexican specialties. You can also find entertainment as well as resorts and high-end hotels. Cancun excels in tourist attractions and is constantly bustling. Its powdery beach and sparkling waters complimented by the temples make for an eye-catching location.
Isla Holbox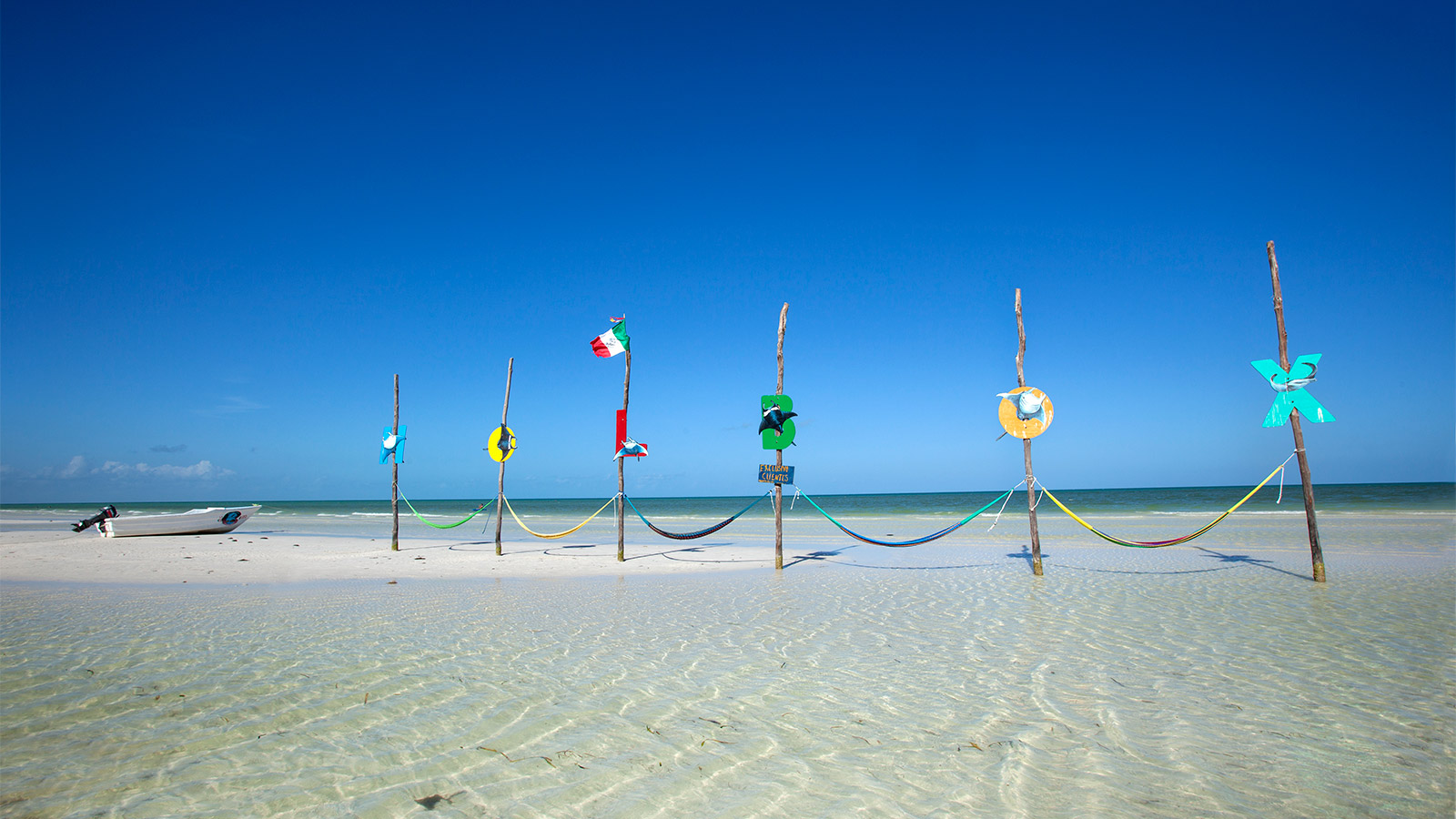 Isla Holbox is a small island three hours from Cancun. The beaches are deserted most of the time, with a lax atmosphere and shallow waters. Because of the little traffic, this beach is peaceful and quiet. You can collect seashells scattered on the beach and swim in the calm waters. Despite there not being beach facilities or upscale hotels, the view of white sand and crystal clear water is unbeatable.
Isla Holbox has a thriving coral beach on the northside, where you can also surf or swim in the shallow water. Spotting seabirds is a common occurrence.
Puerto Vallarta
Puerto Vallarta is a tropical and popular resort town, complete with cobblestone streets, shops, restaurants, and bars. You can sightsee and do other water activities such as diving, sailing, and fishing.
Puerto Vallarta has protected coves for snorkeling. This beach is a perfect vacation spot, with an amazing town, and you could easily spend countless days on the beach, enjoying the breathtaking views of the Pacific Coast. The beach has golden sand that stretches for a good distance, complimenting the deep blue water.
Conclusion
Hopefully, after reading this article, you have a better insight into which beaches you can find the clearest water in Mexico. There are plenty of locations to choose from, and you can decide what sounds best for you.
If there was a beach on this list that caught your interest, you can be sure you're going to find crystal-clear waters there. You can confidently book your flight knowing you're going to have a wonderful, eye-catching experience!
More about our TFVG Author
A seasoned traveller, Dad, and avid sports tourist, James foundered The Family Vacation Guide to share his expert vacation experiences- especially when it comes to being a travelling family man.
Featured in Travel articles such as Travel + Leisure, TripSavvy and SFGate, you know you're reading some of the best vacation tips online.